We test and review fitness products based on an independent, multi-point methodology. If you use our links to purchase something, we may earn a commission. Read our disclosures.
The Rogue Echo Bike and Assault Air Bike are two of the most popular air bikes on the market today. We've used both extensively in our home gym and commercial gym over the past three years. Although either is a good choice over the older style air bikes, the Rogue Echo Bike and its belt-driven system is our recommended choice for most home gym owners.
Video Review
What is the Assault Air Bike?
The Assault Bike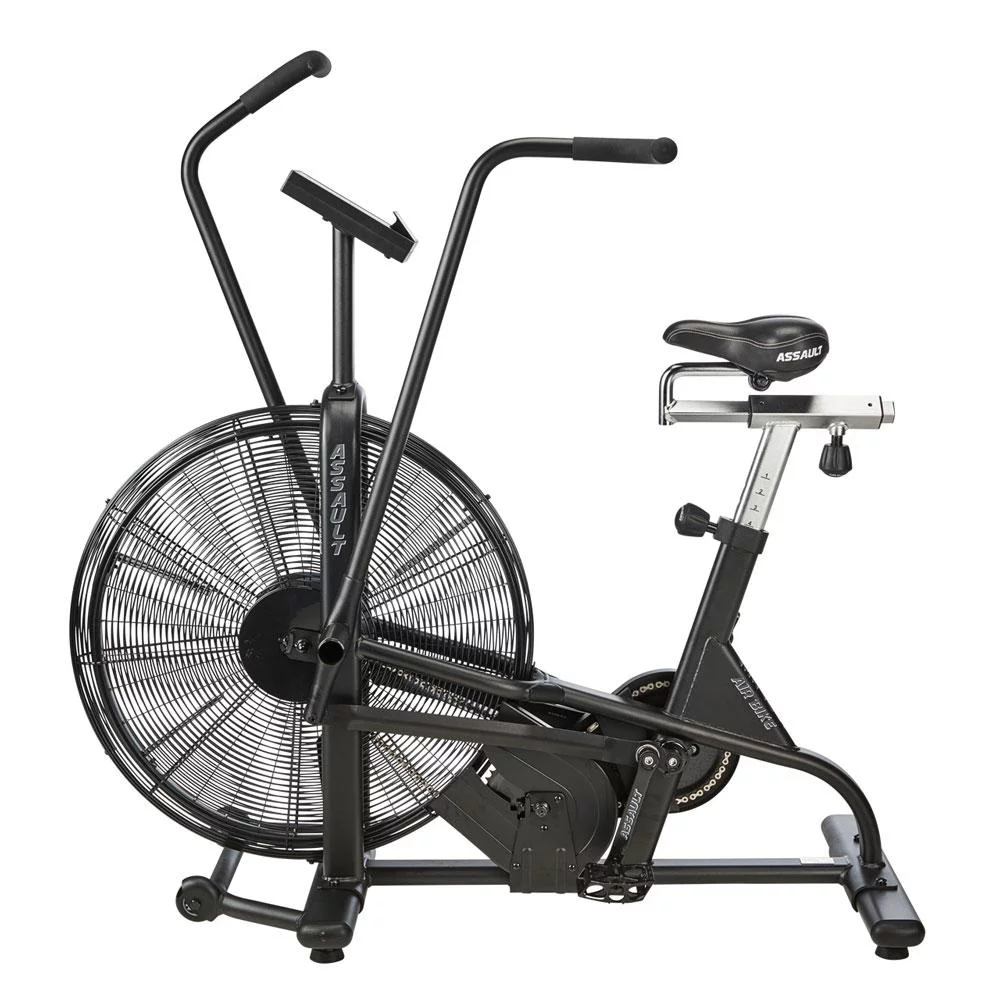 Assault AirBike
ASSAULT AIRBIKEFinally, a heavy-duty exercise bike designed directly from the feedback of athletes and coaches. The Assault AirBike reinvents and retools nearly every component of the traditional fan bike, from the frame construction to the crank, pedals, monitor and more. The series is designed and tested in the USA by the experienced team at LifeCORE Fitness in Carlsbad, California.Using air resistance, the Assault AirBike scales automatically to how hard you want to work. The harder you pedal, the greater the resistance. It's simple physics with big benefits.The great thing about the Assault AirBike is that it can work for a beginner, a rehabbing athlete, or a seasoned pro training at the highest levels of competition—no matter their sport, body type, or ambition. While fanbikes have existed for nearly half a century, modern advances in their design and function have made them increasingly in-demand among military personnel, pro and college sports teams, competitive cyclists and sprinters, and high performance athletes from the cross-training ranks. The key: you set your own pace. The resistance adapts to your own output, and the bike's multiple, custom seat adjustments make for a more comfortable, customized ride.In the age of smartphones and tablets, an old-fashioned, clunky fitness bike monitor simply doesn't cut it. The Assault AirBike's state-of-the-art LCD display console is still easy to navigate at the push of a button, but your customization options—from on-board programs to instant, multi-faceted monitor feedback—is almost limitless. Athletes can simultaneously track their heart rate, speed, RPM, time, calories burned, and more. Even watts can be monitored with precision accuracy, thanks to the AirBike's 20-horsepower electric motor and carefully calibrated torque measurement meter. You won't just feel the effects of a good workout, you'll be able to see the science behind it in real time.LifeCORE threw out many of the old stationary bike manufacturing methods and focused on a powerful new 21st century bike that could handle daily abuse at the best gyms in the world. Each bike is equipped with a thick-gauge chro-moly steel frame, with at least 1-2 sealed cartridge bearings in EVERY single pivot—from the flywheels and pedals to the bottom bracket and linkage arms. There are over 20 bearings in all, unmatched by most fitness bikes in the industry. The goal isn't just reliability—it's zero wobble and zero maintenance required over thousands of hours of use.Specifications:LCD screen outputs: Watts – RPM -- Calories – Heart Rate -- Distance – Time – Odometer – Interval Training (Tabata and custom) Heavy Duty Steel Frame eliminates side-to-side movement 25" diameter steel fan Hybrid seat with multi-adjustment options Industrial powder coating for durability Reinforced pedals and crank 20 sealed cartridge bearings, utilized in every pivot
The Assault Air Bike was the most popular air bike on the market just a couple of years ago. Now called the Assault AirBike Classic, it was seen in every CrossFit Box, most home gyms, as well as the CrossFit Games. It was essentially a reworked Schwinn Airdyne with a new paint job and a better screen. Schwinn had been resting on their laurels for some time and Assault Fitness came in and stole most of their market share with one product, the Assault Air Bike.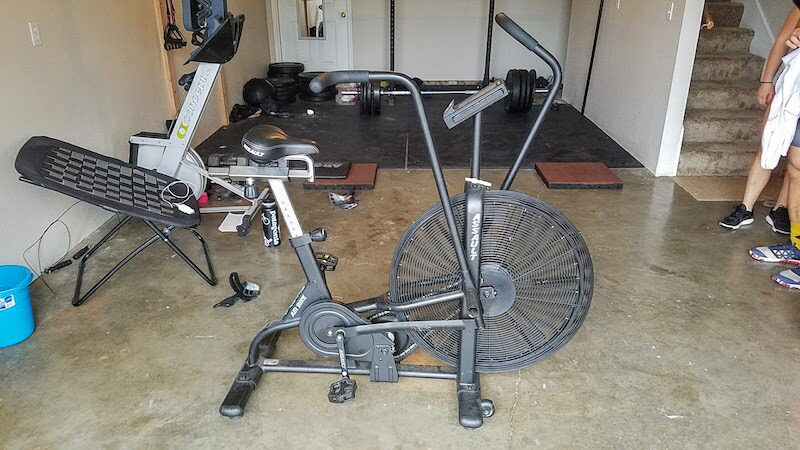 Like other air bikes, The Assault Air Bike uses a fan to provide resistance and both pedals and arm handles for the user to get a full-body conditioning workout. It's a great air bike that is still very popular despite many competitors coming to market since its creation.
What is the Rogue Echo Bike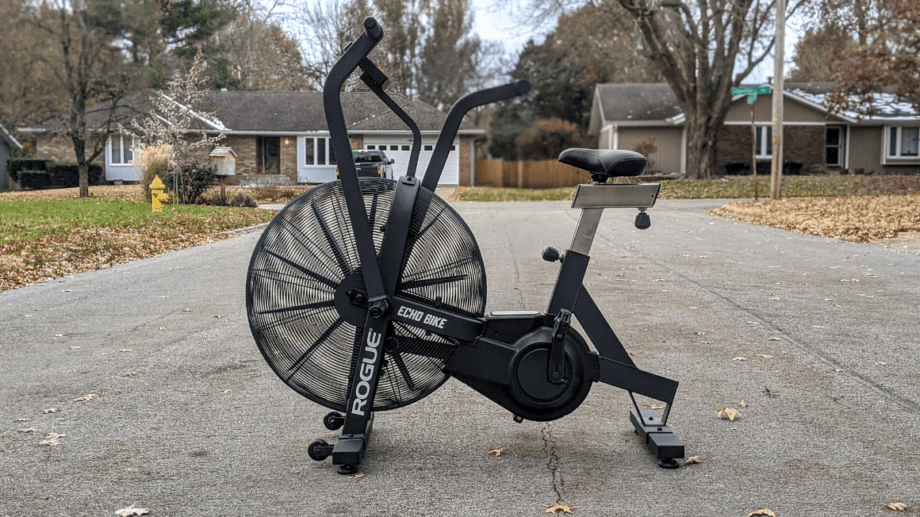 The Rogue Air Bike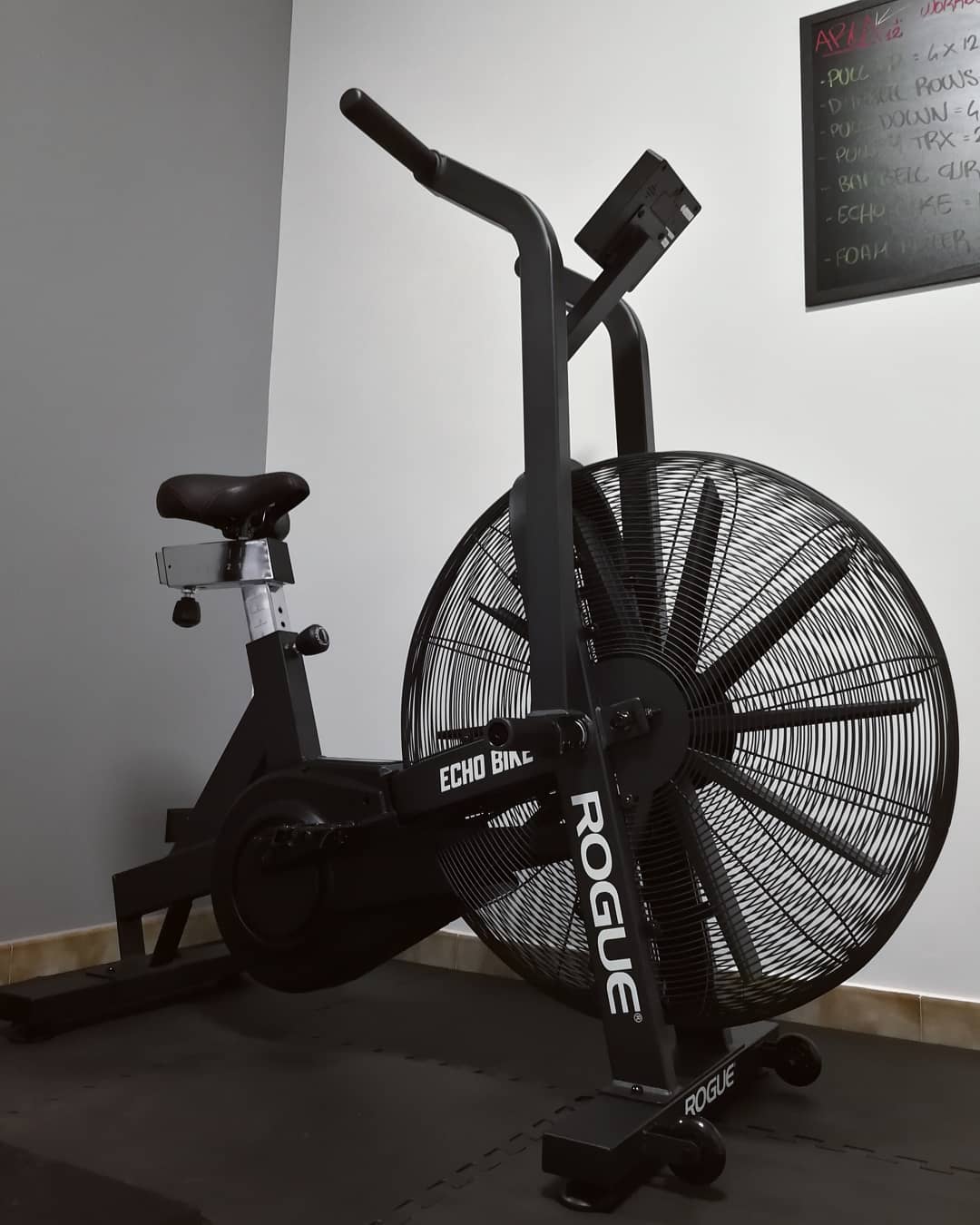 Rogue Echo Bike
The Rogue Echo Bike is durable due to its heavy-duty steel, high quality engineering, and customization that drives it to be stronger than the average fan bike. It is under warranty for up to two years from the date of purchase, assuming that the product is used under normal conditions per the User Guide. Since it is overbuilt, it creates a smoother ride. The Rogue Echo Bike is 127 pounds and has a 350-pound weight limit, which allows it to provide a sturdy foundation for max-outs and outbursts. The Echo Bike is quiet yet consistent due to its belt-driven steel fan blade. It is easily portable and has a battery powered LCD console that lets athletes track everything from distance to calories burned. Due to its weight, the Echo Bike stands sturdy and is not prone to wobbling. Its construct lends itself to balance even when pushed to max output bursts. To add to the stability, there are rubber leveling feet under each base tube that adapt to the ground and create balance even if the floor is not level. The 6.375-inch by 6.37-inch LCD console provides the athlete with a variety of modes. These include different types of intervals, target, and heart rate tracking. The crystal clear console uses two AA batteries, which come with the purchase of the bike. The Echo Bike is finished in a black powdercoat and the steel tubing is 2-by-3 inches, 1.25-by-3 inches, and 1.625-by-3.12 inches. The seat is easily adjustable and padded. It locks into eight different heights and five different front-to-back settings. The grip handles, which are made of rubber and are 1.5 inches in diameter, are a part of the bike's arms. There is a plate that is provided along with 4.5 inches long rating foot pegs and pedals. You do have to assemble the Echo Bike, but the tools you need are included with your order and align with easy to follow instructions. The fully constructed bike may sound overbearing, but Rouge has included a 1-inch wide set of wheels at the front of the unit, which allows it to easily be rolled around the gym. 
The Rogue Echo Bike is quite possibly the best-selling air bike today, and, for good reason. Rogue Fitness took the Assault Air Bike design (which is pretty much the Schwinn Airdyne design) and beefed it up tremendously. The best way I can think to describe it is that Rogue deconstructed one of their squat racks and made it into a stationary bike.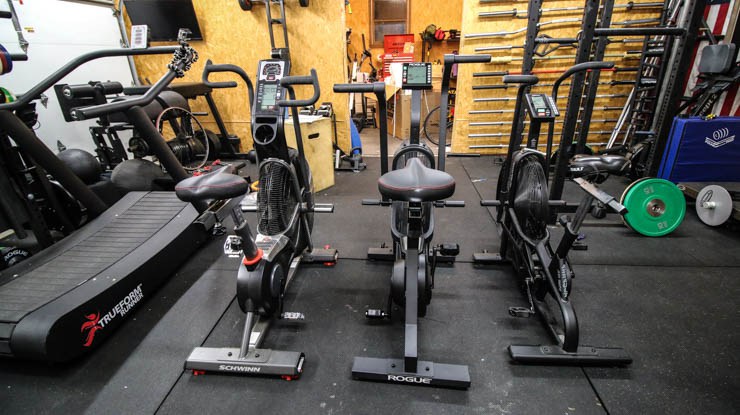 Although the Rogue Echo Bike certainly has a beefy frame, what really makes it superior to the Assault AirBike is that its drivetrain uses belts instead of chains. A chain drive requires constant maintenance, oiling, aligning, and other things no one wants to do. The belt drive on the Rogue Echo Bike uses self-tensioning belts that require zero maintenance. I know this because as illustrated later in this review, I've used the Echo Bike an insane amount over the past two to three years. The Rogue Echo Bike is essentially the new standard by which all other air bikes are measured.
Why the Rogue Echo Bike is Superior to the Assault Air Bike
I've had the Rogue Echo Bike for about two years and this is probably one of the best-selling products from one of the best-selling strength equipment companies. I've had it in many places, and a lot of people ask, if I recommend it for their home gym, well, I want to talk about how long I've had it, what's gone wrong with it, what works with it, and if I'd recommend it.
We've done a Rogue Echo Bike review in the past (and even named it our top pick for the best air bike) and this is an update after 2-years of consistent use. In addition to owning the Echo Bike, I've had an Assault Air Bike for a similar amount of time. Although the Assault AirBike hasn't been used nearly as much as the Echo Bike (simply because I don't enjoy it as much) it still has many meters put on the bike.
RELATED: How to choose an exercise bike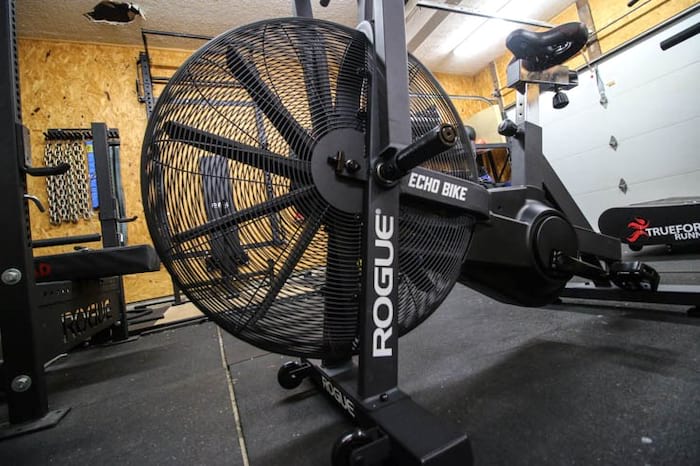 One of the questions we get at Garage Gym Reviews quite often is if you should get the Assault Airbike or should you get the Echo Bike. Or, to make things even more complicated, if you should get the Schwinn Airdyne 7 or the Xebex Air Plus, Assault AirBike Elite, or the Xebex AirMill, or the Schwinn Airdyne Pro.
There's a lot of them as you can tell and we've reviewed all of them which you can find in the best air bike guide. There used to just be Schwinn and they just had that crappy AD-4, but now there's like hundreds of these things. So, why should you buy this one versus the others?
First, I want to tell you what the Echo Bike has been through. The first place it's been is in my garage and it's been in my garage in fluctuating temperatures, extreme heat, and extreme cold, as well as all sorts of negative elements placed on it like blood, sweat, and chalk. Secondly, it's been in my friend's garage because my friend decided he wanted to use it to lose some weight.
RELATED: Are exercise bikes good for weight loss?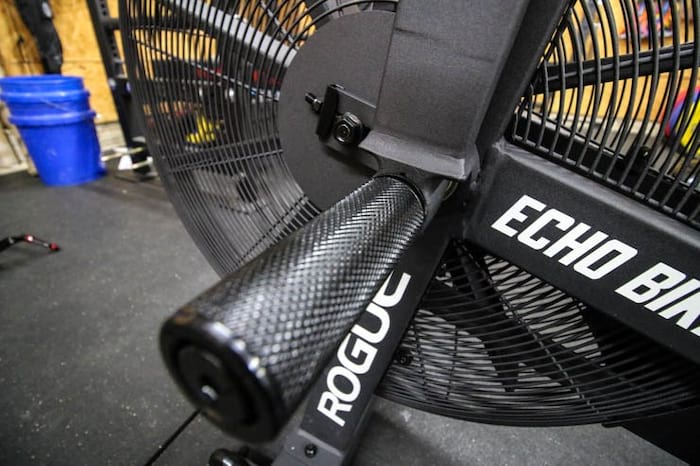 Well, two weeks later he gives me a call and says he hasn't used it once. So I went and picked it up again. Then I took it to my gym and it's been used in my gym for the past two years with ranging people. We actually had a CrossFit Games Athlete, Jessica Griffith come and use it as well as various people at our gym. So it's been used by a wide population in a lot of settings and a lot of places.
Despite having it for as long as I have, there's little we've done to it. The seat gets loose every once in a while, other than that though, there's not been any maintenance done to it. This is what we have today. Two years, folks. Here's the big reason why this still works like it did on day one. One is its stability. You get on an Assault Air Bike and you try to put the all-out effort from somebody with crazy power output, it's going to topple over.
But, because the feet on the Echo Bike are wider and also because this is about double the weight at 128 pounds. It's a heavy freaking bike. So, it's going to stay stable and do so no matter who's using it.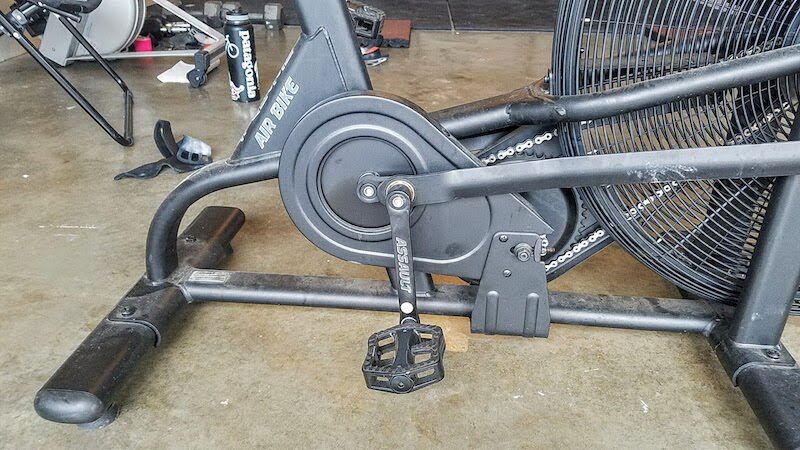 The next reason that it's still in the same great shape it has been, despite air bikes being known to be some of the worst maintenance equipment out there, is because of the belt drive system. What that means is rather than a chain drive like what's seen on bicycles traditionally, the Echo Bike uses a belt drive that's similar to what's used in your car. Not only does a belt drive last longer, but it's also much more responsive.
So as soon as you start stepping on the pedal, as soon as you start going, the fan starts going and as soon as you stop, it stops. So, there's very little play in the system. And, best of all, because it's a belt-driven system, you don't have to deal with the maintenance of a chain. Chain's, like what is used on the Assault AirBike Classic and the original Schwinn Airdynes require constant tensioning, oiling, and the like. The Echo Bike uses a self-tensioning belt chain and despite having it for two years, we haven't done any maintenance to it.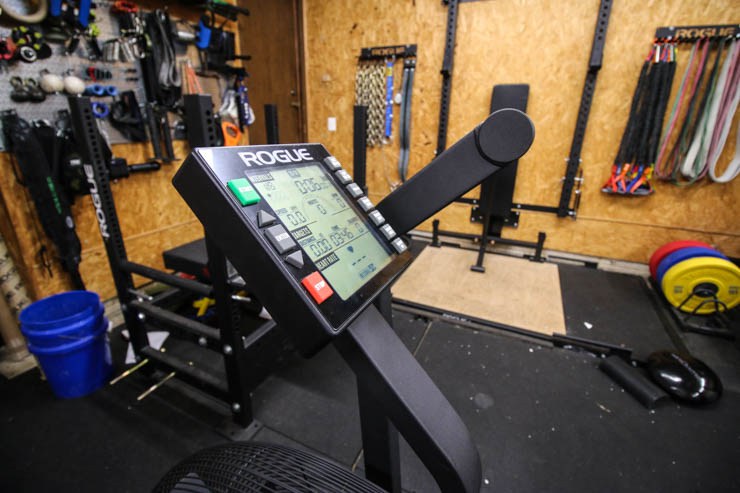 So, it still runs like day one. Now onto some of the features. One that separates it is the fan on the front that uses fully metal fan blades that are quite thick. This is the only air bike that I've seen that has a full metal air blade. I once had somebody describe the Echo Bike as Rogue just decided to take apart one of their squat racks and make it into an air bike. It's that beefy. It's that big. And this is one reason why a lot of garage gym owners like it is because it lasts a long time.
But I think even more so, is the CrossFit affiliate owner who has like 20 to 30 of these in their gym. You don't want to be having to do all that maintenance on the bike. Now I will say in comparison to the Schwinn Airdyne AD Pro, they are very similar. I also have an AD Pro that I've had for about three years and I haven't had to do any maintenance on it either. So both those bikes last a long time, much longer than many would expect.
I will say though, some people dislike the belt drive in comparison to a chain drive, and the reason is that it's a harder bike to use. So, on the Echo bike, when you start going, you have to push harder overall to start using it. Whereas with an Assault AirBike it spins a little bit quicker and then as soon as you let off an Assault Air Bike, it'll keep going.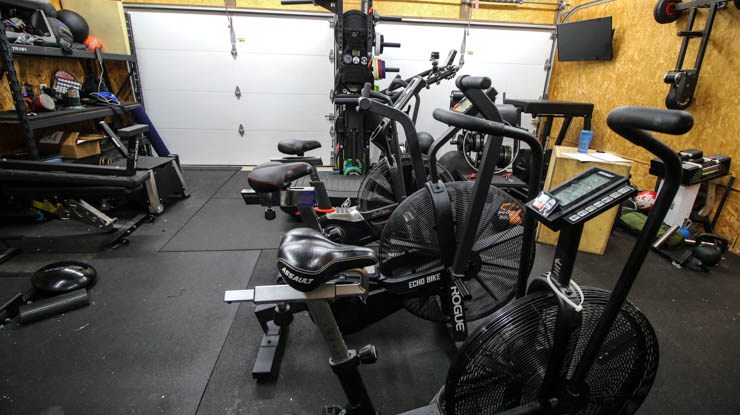 They call this ghost riding and it was from Jason Khalipa who came up with the idea at a CrossFit Games Event. As soon as you let go, it doesn't go much further so you're not going to be able to get a bunch of extra calories. It's a harder bike to use, but as I've illustrated, it lasts longer. I've used pretty much every air bike out there and if I was going to recommend a bike based on price, value, and features, I would recommend the Rogue Echo Bike.
I do really like the Concept 2 BikeErg, but that's a bit of a different bike as it's more like a traditional exercise bike. So, if you're wanting an air bike for your home gym or for your CrossFit Box or commercial gym, this is the one I would suggest. So, when considering either a Rogue Echo Bike Vs. Assault AirBike, I suggest the Echo Bike for most people. The Assault AirBike is still a good bike, but not as good as the Echo.
Frequently Asked Questions
Is the Echo Bike harder than the Assault Bike?
Overall, the Rogue Echo feels more difficult to use than the Assault Bike. It's harder to rev up and it stops more quickly than the Assault Bike. This is due to the belt drive system on the Echo versus the chain drive on the Assault Bike. Is it really "harder" to achieve distance or calorie counts once you get moving though? Not significantly.
What's the difference between the Assault Bike and Echo Bike?
The main differences between the Assault Bike and Echo Bike is the frame on the Echo Bike being larger, beefier, and more stable than the Echo Bike as well as the drivetrain on the Echo Bike being powered by self-tensioning belts instead of a chain which is more reliable.
Is the Rogue Echo Bike worth it?
In my opinion, yes, if you will actually use it. Although it's a little bit more expensive than the Assault Bike depending on the time of the year, it is by far a better bike.
Full Rating