We review free products that we receive and participate in affiliate programs, where we may be compensated for items purchased through links from our site.
See our disclosures page for more information.
The Rogue Echo Bike was Rogue Fitness' first foray into producing their own cardio machines. The Echo Bike combines features of both the Schwinn Airdyne Pro and Assault AirBike to create the best value air bike currently on the market.
This Bike is a surprising release from Rogue Fitness because Rogue has largely focused on creating strength training products like barbells and squat racks, along with the various accessories for CrossFit, weightlifting, powerlifting, and Strongman training and competitions.
Although it was somewhat of a new venture for the company, they really nailed it on the execution. We love this air bike, also known as a fan bike, and we think you will, too. In this Rogue Echo Bike review, we'll go into all the details about what makes it great, and give a nearly 4-year update on how it's holding up in my garage gym.
Why You Should Trust Us
I'm a big fan of air bikes, and as a result, I've tested nearly every single one there is out there, including the Schwinn Airdyne Pro, Xebex Airmill, and the Concept 2 BikeErg (I'll mention a few more in this review as well). The fact that I've tried out so many means I know what it feels like to ride on a high-quality air bike, and what it's like to workout on a lesser model as well.
I'm not just taking these bikes for a quick spin and giving you a first impression. These things are used in my garage gym for a while before I put my fingers to the keyboard and let you know what I think. And as you'll see, I also make sure to update you on how my gym equipment holds up over the years.
Rogue Fitness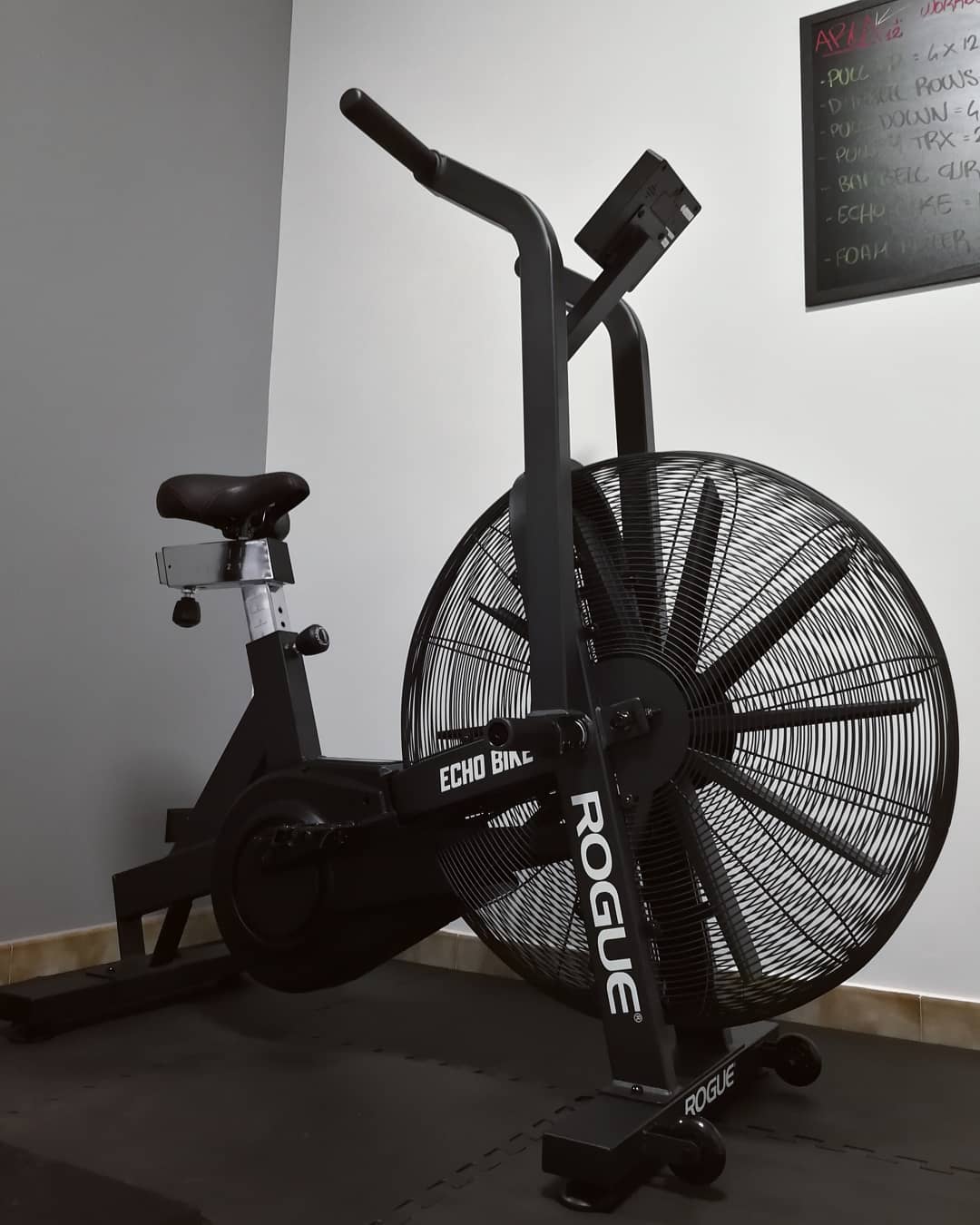 Rogue Echo Bike
The Rogue Echo Bike combines heavy-duty steel, precision engineering, and convenient customization to forge a stronger, sturdier fan bike. Overbuilt for a Smoother Ride This overbuilt 127LB, 350LB weight limit unit provides a rock solid foundation for max output bursts, while still offering easy portability around the gym via a set of 1" polyurethane front wheels. A quiet, belt-driven steel fan blade produces a smooth, consistent ride, while a high-contrast, battery-powered LCD console allows athletes to track intervals, distance, calories burned, heart rate, and more. Rogue Fitness (Rogue) warrants that the ECHO Bike (Product) shall be free from defect in material and workmanship for a period of two years from the date of purchase when the product is used under normal uses and conditions and as recommended in the User Guide. Weighing in at 127LB, 350LB weight limit, the Echo Bike is not the wobbling breed of exercise bike. Its reinforced steel construction gives it the rigidity and balance to help eliminate sways and bumps during even max output bursts, and the fan's steady response delivers a uniquely consistent, smooth riding experience. For added stability, we've included rubber leveling feet under each base tube. These feet adapt to your flooring and provide added "stick," helping to level the bike even if it's not on a level surface. The mounted LCD console measures 6.375" x 6.375" and features a crystal clear, high contrast display. Athletes can select or create a wide range of modes, including Intervals (20/10, 10/20 or a custom Work/Rest interval), Target (choose a goal Time, Distance or Calories and the console will count down based on your selection), and Heart Rate Tracking (please note that a heart rate transmitter is required to send data, but is not included). The console runs on two AA batteries, which are included. The Echo Bike is built with a range of durable steel tubing (2x3", 1.25x3", and 1.625x3.125" steel finished in a texture black powdercoat. The adjustable padded seat locks into 8 different height settings and 5 front-to-back settings, and the 1.5" diameter rubber grip handles are welded directly to the bike's arms for added rigidity. A steel step plate is provided along with knurled 4.5" long rotating foot pegs and rubber-tread pedals. The fan itself is a belt-driven, precision steel blade. Assembly is required to set-up the Echo Bike, but all necessary tools and black hardware are included standard with your order, along with easy step-by-step guidelines. While the fully constructed bike is a beast, we've included a set of 1" wide polyurethane wheels at the front of the unit, allowing it to be rolled around the gym or stored out of the way with ease. Additional Specifications: Patent Pending Design Quality Steel Construction for Dependable Stability Height: 52.75" (to top of handles) Length: 58.875" (overall with seat in position furthest from fan cage) Width: 29.875" (at handles - widest point) Footprint: 44.5" x 23.75" LCD Console Display (Batteries Included) with customizable modes Belt Driven Steel Fan Adjustable Seat with 8 height and 5 front/back settings 1.5" diameter rubber grip handles Rubber-tread Pedals Texture Black powdercoat finish Rubber Leveling Feet All Hardware & Assembly Tools Included Weight: 127LB, 350LB weight limit
A Quick Look at the Rogue Echo Bike
The Rogue Echo Bike is the first piece of conditioning equipment made by Rogue Fitness. Sure, they have sleds, and plyo-boxes that can be used for conditioning and cardio workouts, but never before have they come up with their own machine solely for aerobic conditioning.
This decision by Rogue is much more immense than many realize. Previous to the Rogue Echo Bike, Rogue stuck pretty close to what they did well–strength training equipment. On their marketplace, they offer all of their equipment alongside that of competitors.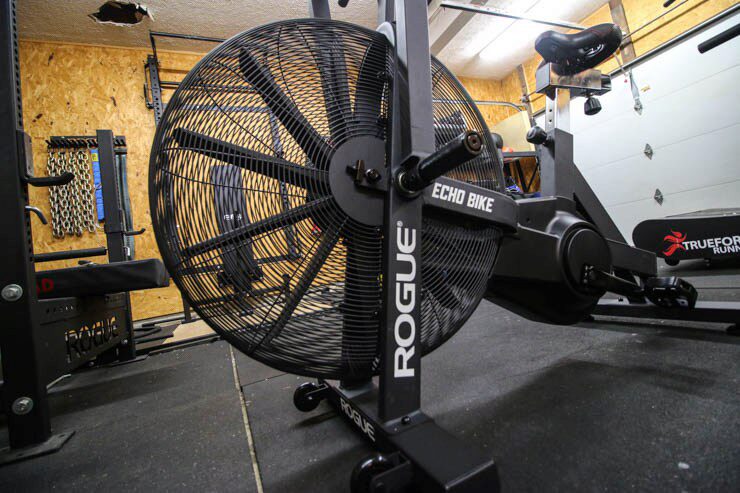 Companies that manufactured conditioning machines didn't have much to worry about. This meant companies like LifeCore Fitness (the creators of the Assault AirBike), Concept 2, TrueForm, etc., had a hold on the market and even received quite a bit of marketing directly from Rogue Fitness. Now, I don't foresee Rogue attempting to compete with Concept 2, but I would not be surprised to see a Rogue treadmill in the near future.
Fortunately for the consumer, Rogue Fitness' first step into the conditioning machine market is a strong one. The Rogue Echo Bike is one of the best air bikes currently available at any price, and it just so happens that it's one of the least expensive among the top-of-the-line options. Unfortunately for other manufacturers, the Echo Bike will force greater innovation, dedication to quality control, and tighter profit margins.
Coop's Tips:
This machine is not for the faint of heart – it requires a lot of power
You have to purchase the bottle cage and phone holder separately, but they're not expensive at all and easy to attach to the bike
My Favorite Things:
Little to no maintenance required due to the belt-driven system
Adjustable seat moves in multiple directions, allowing you to find the perfect setting
Overbuilt front wheels make it easy to maneuver around your home gym
My Callouts:
Handles aren't the best, and I wish there were multi-grip options available similar to the Schwinn AD Pro
No leaderboard capabilities, like you see with Concept 2
Frame is much bigger than most air bikes on the market, making it challenging for shorter people to use it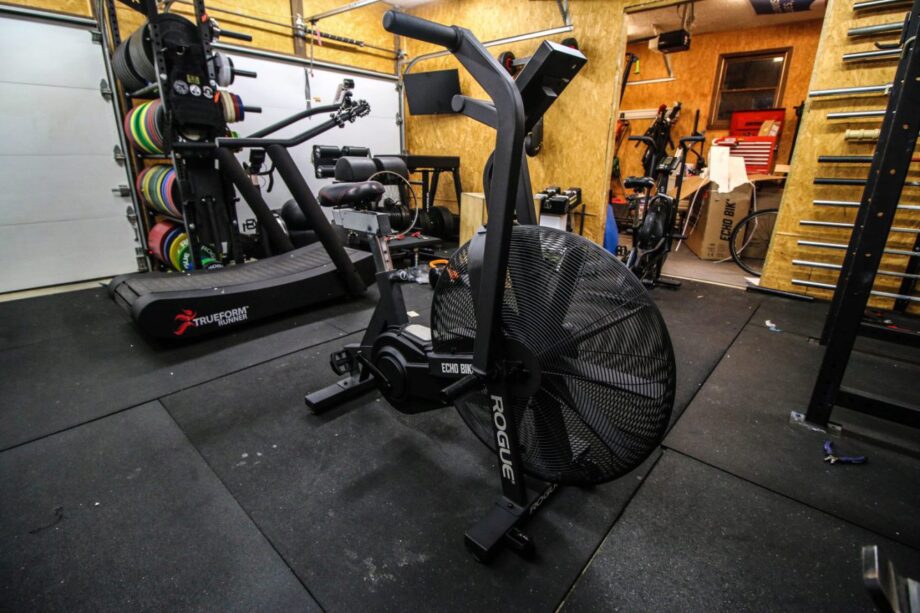 Is the Rogue Echo Bike Worth It?
Although the Rogue Echo Bike will be most often compared to the Assault AirBike, the fan bike it's actually most similar to is the Schwinn Airdyne Pro. We were big fans of the Schwinn Airdyne Pro and still are. In fact, we view the Rogue Echo Bike and Schwinn Airdyne Pro as very similar bikes with only minor differences. This said we believe the Rogue Echo Bike wins out mainly based on its price.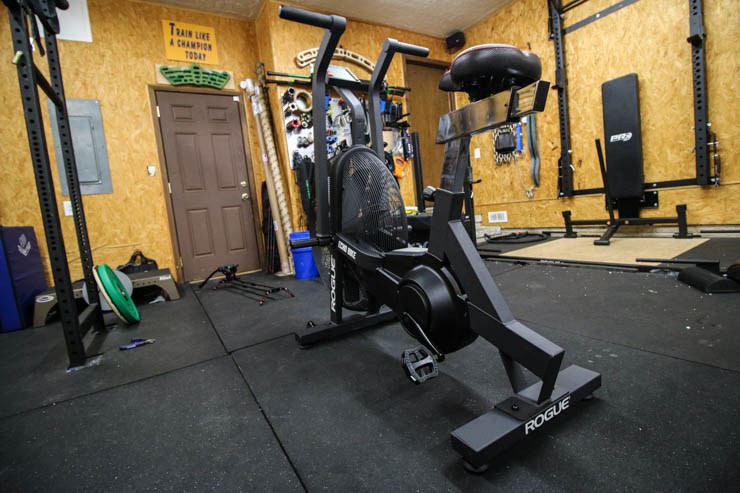 The reason the Schwinn Airdyne Pro and Rogue Echo Bike are so similar is largely due to their belt-driven systems. Nearly every air bike ever made, up to the release of the Schwinn Airdyne Pro, used a chain-drive system. Chain drives often leak energy (there's a gap between pedaling and moving the fan), require lubing and adjustment, and are much louder than the new belt-drive systems.
Overall, we are big fans of the Rogue Echo Bike and recommend it to any CrossFit affiliate, training facility, or garage gym.
Great for:
People looking for high-intensity workouts
Anyone looking for a durable machine that will last
Strong athletes looking for a bike with minimal wobbling
Not recommended for:
People who prefer chain-drive system air bikes
Smaller people, due to the bike's beefy frame
Home gym owners looking for a compact air bike
Rogue Echo Bike Specs
| | |
| --- | --- |
| Footprint | 58.8" L x 29.8 W x 52.75 H (to top of handles) |
| Weight | 127 lbs. |
| Weight capacity | 350 lbs. |
| Display | LCD console |
| Stats | Time, distance, calories, intervals, and heart rate |
| Seat Adjustment | 8 height positions. 5 front/back settings |
| Handles | 1.5" diameter rubber grip |
| Drivetrain System | Belt |
| Color | Black |
| Pedals | Metal |
| Made in USA? | No |
Working Out with the Rogue Echo Bike
If you're someone who likes to ghost-ride air bikes, when you step off an air bike and it keeps going, you're probably not going to love the belt drive of the Rogue Echo Bike, as it doesn't spin as freely as a chain drive.
The belt drive employed by Rogue Fitness is similar to what is used in automobiles. These belts can stand up to just about anything you can throw at them, and they make hardly any noise. In fact, when using the Rogue Echo Bike the only real sound you hear is wind ripping against the fan blades, similar to a high-powered fan.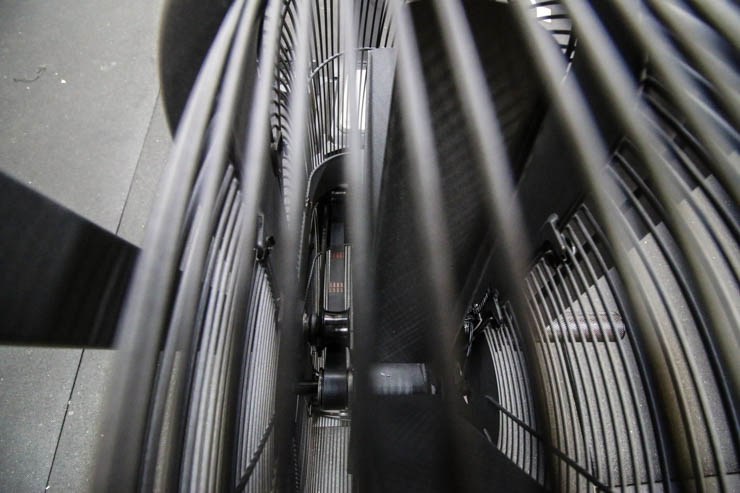 The fact that the Rogue Echo Bike produces very little noise, outside of the wind, is pretty remarkable. You have to remember, in order to make the Echo Bike as beefy and sturdy as it is, there is a lot of metal used. When using older Schwinn Airdynes, like the AD4, or the Assault AirBike, I typically used the excuse that they creaked and produced lots of noise due to their mostly metal construction.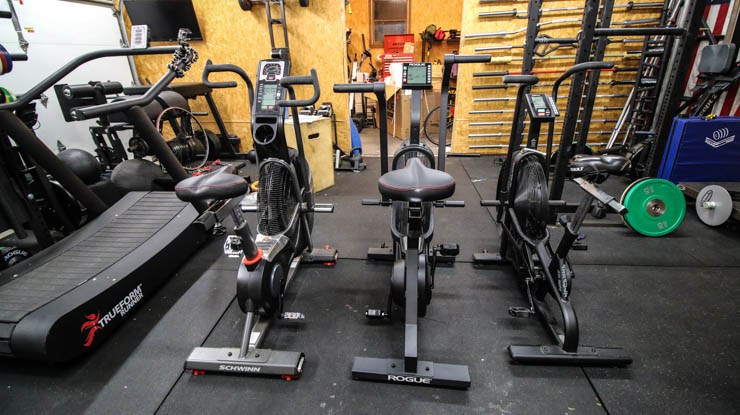 However, the Rogue Echo Bike is made of nearly all metal and produces virtually no noise. In use, the Echo Bike feels quite a bit different from an Assault Bike or other chain-driven bikes. The resistance is different also due to the size of the fan blades.
One advantage Schwinn has over Rogue is the handles, specifically its multi-grip options on the Schwinn AD Pro. This could easily be added to the Echo Bike without increasing the price.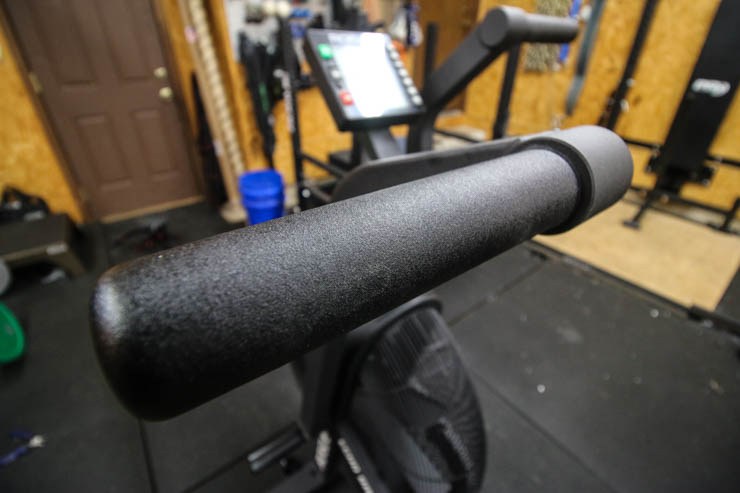 Fan Blades
One of the most unique features of the Rogue Echo Bike is the fan blades. Rather than using a bicycle rim with blades attached, or plastic blades attached to an aluminum spine, Rogue has taken thin gauge steel, cut-out fan blades, powder-coated, and welded them to a central hub inside of the fan cage. This is absolutely unnecessary, but should keep the fan from ever experiencing any failures, and it looks pretty cool.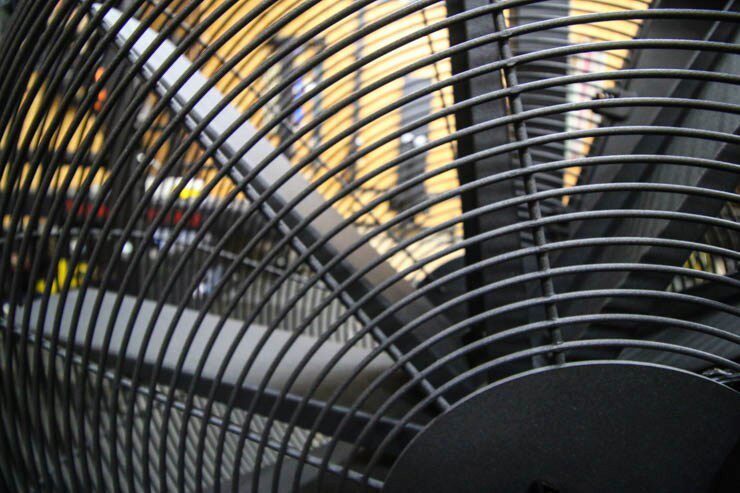 Footpegs
Another unique feature of the Echo Bike is the footpegs. Footpegs are used on every air bike and have been there since the beginning of time due to no freewheel, and for those times that you want to use arms only. The difference between the Rogue footpegs and what's on the Assault Bike is the ones on the Echo Bike rotate. This isn't revolutionary, but it is a nice touch. The pegs are also heavy-duty and feature a knurled pattern to grip your shoes.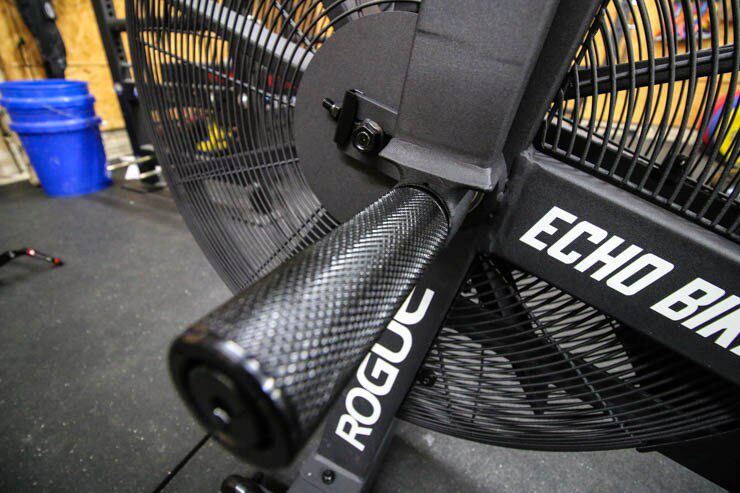 Bike Seat
The Rogue Echo Bike's seat adjusts up, down, forward, and backward. This allows the user to quickly get in the proper position thanks to the pins. The physical bicycle seat is actually the exact same seat that is used on the Schwinn Airdyne Pro, down to the color of the stitching. It would have been nice to see Rogue come up with their own seat, but I'm a fan of this seat and prefer its size to the Assault AirBike.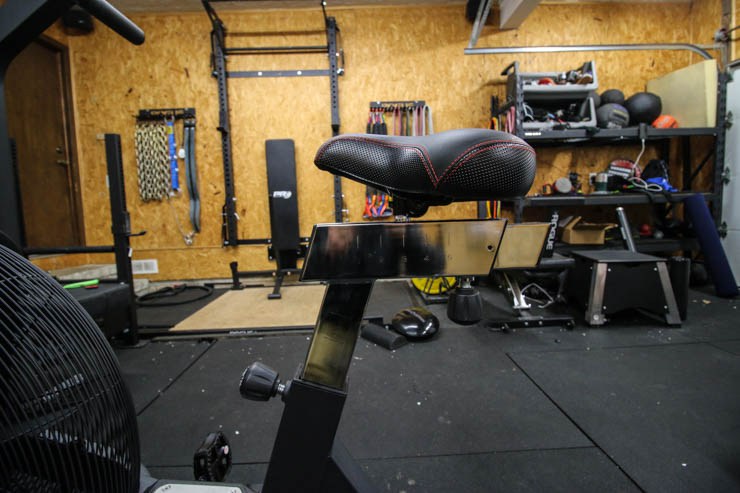 Monitor
One thing I'd like to see improved on the Rogue Echo Bike is the addition of further metrics on the monitor. It would have been awesome for Rogue to partner with Concept 2 and connect their Performance Monitors to the Echo Bike in order to utilize their worldwide leaderboard. Maybe that's something that could happen in the future.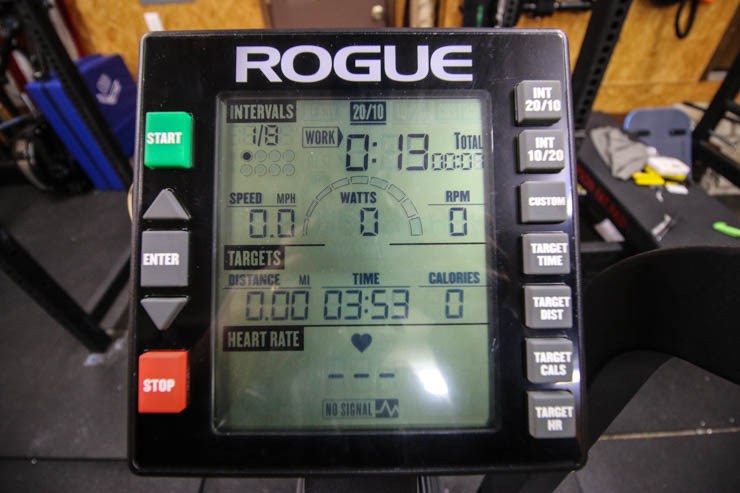 With that said, the monitor tracks every metric typically measured by air bikes, including intervals, multiple targets, calories, and heart rate tracking. It has a similar design as the Assault AirBike with quick select buttons on the right side of the monitor, and is pretty easy to see during use. The calories are counted in a very similar fashion as the Assault AirBike, as confirmed by Rogue Fitness.
Footprint, Portability, and Construction
The metal construction of the Rogue Echo Bike leads to a beefy and stable unit that, thanks to the placement of the weight, isn't all that difficult to maneuver when trying to take it from one spot in the gym to another. Weighing in at a monstrous 145 pounds, the Rogue Echo Bike dwarfs the 98-pound Assault Air Bike. In-person, the Assault Bike feels much more like a child's toy compared to the Echo Bike.
In the middle of the bike, above the internals, is an anodized aluminum step wrapped in rubber that both looks good and will provide the needed durability in a high foot traffic area. The cranks are heavy-duty and have the same metal pedals used by Assault that feature metal construction with a rubber grip top. It also comes with rubber leveling feet to keep the bike stable, even when it's not on a level surface.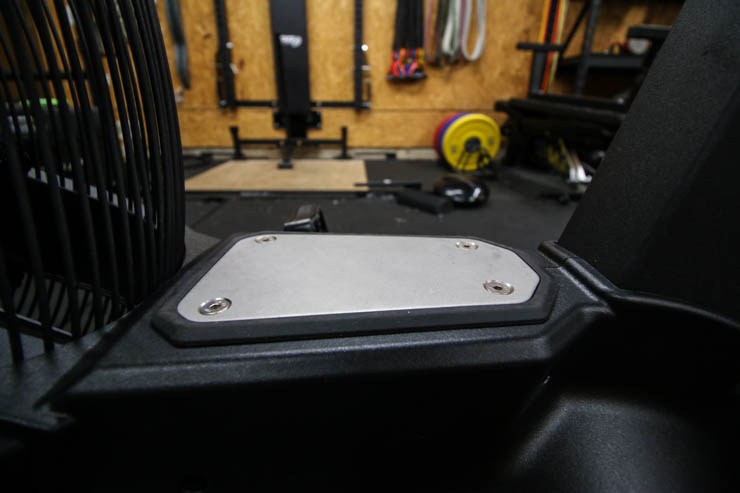 Here are the dimensions of the Rogue Echo Bike:
58.875-in length
29.875-in (with handles at their widest point)
52.75-in (to top of handles)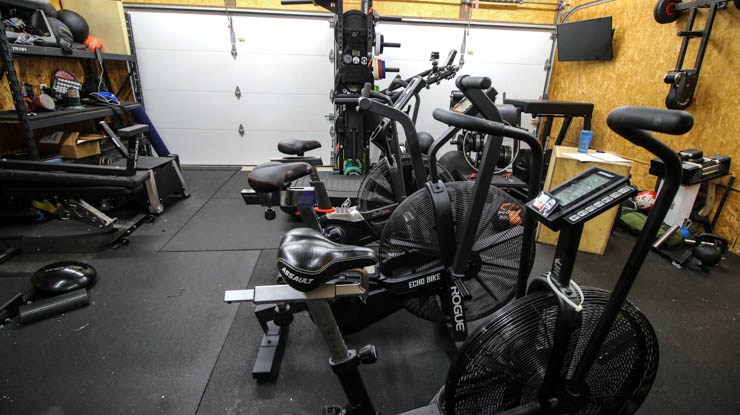 Available Accessories
The Rogue Echo Bike doesn't come with a phone holder or bottle cage but you can purchase these add-ons for $6 and $8, respectively. There are mounting holes to install these accessories on most of the Echo Bikes, with the exception of some of the earlier models sold (anyone with the serial numbers 1751-EchoBike-000001 through 1751-EchoBike-000264 will have to drill their own mounting holes).
Rogue also sells a wind guard, which helps reduce air blowback if you find the breeze from the steel fan to be a bit too much for your liking. It's also compatible with external polar heart rate monitors you can buy from Rogue Fitness.
Want to ride with cycling cleats? You can swap out the metal pedals for Shimano pedals if you choose to do so.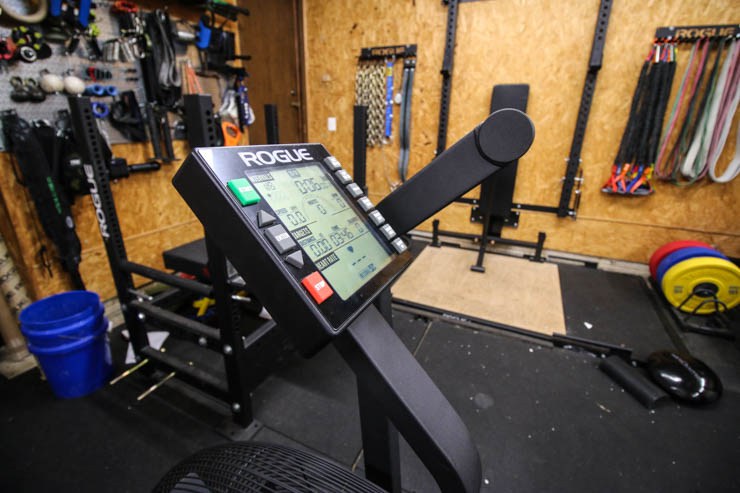 What the Rogue Echo Bike Is Like Four Years Later
So, I've had the Rogue Echo Bike for about four years now. Here's a little rundown on how it's been used during that time.
It started in my garage gym being used by both me and some buddies on Saturday workouts. These workouts consist of long duration, HIIT-style workouts that are mixed modal with squats, yoke carries, sled pushes, and the like. The people that used the bike range from 135 pounds up to 270 pounds. Their power output ranges in the same way.
In addition to being used for Saturday workouts, I also used it for my warm-up, cool-down, and some EMOM work. It should also be understood that until recently, my garage has not been climate-controlled. So it's been in both the extreme heat and extreme cold (this is just part of living in the Midwest).
After about a year, I opened a personal training studio and moved the bike there so it could be used more often. In that time, it's been used by both CrossFit Games athletes and old ladies who are simply trying to prolong their life and enjoy their golden years. The Echo Bike has also been used in various competition-type events at the gym where care for the equipment is very much secondary to the time on the clock.
With all that said, this is how it looks as of this writing: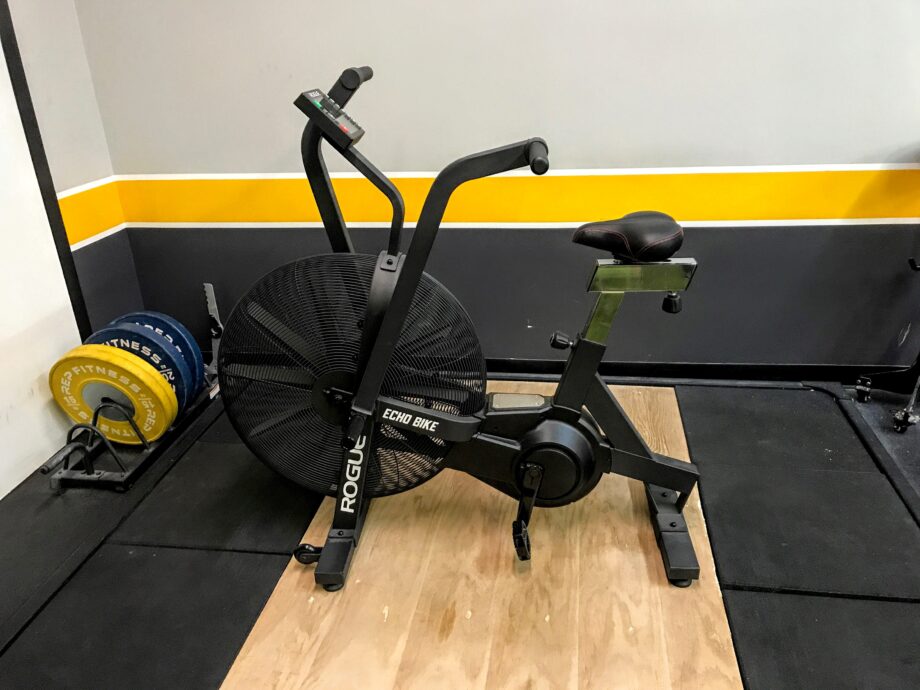 As you can see, despite all of the abuse, it looks pretty much like new. However, even more importantly and telling of quality equipment than its looks is the question, "How does it perform and how much maintenance is required?" Well, neither I nor my partner at the gym has performed a single amount of maintenance on the machine other than spraying it with some disinfectant and wiping it down.
We tightened the bike saddle, but it wasn't loose, we just didn't want it to be. I'm not kidding, after four years, we've yet to perform any maintenance on the drive train, pedals, handles, fan, or anything else.
If you've ever had an air bike with a chain drive like an Airdyne or Assault Air Bike, then I would be extremely surprised if you could say the same, even with half the use that we have on our Echo Bike. If you want a bomb-proof air bike, the Echo Bike is currently, about as close as you can get. Be sure to also take a quick look at some of the best exercise bikes here.
Rogue Echo Bike vs. Assault AirBike
Although it's never been our favorite option (the Schwinn AD Pro is superior, and the Xebex Air Bike is similar at a lower price), the Assault AirBike has long been the reigning champ in the air bike space and it's traditionally been the most adopted option among the general public, especially among CrossFit athletes and affiliates.
The big difference between the Assault AirBike and Rogue Echo Bike is the drive systems. The Assault AirBike uses the drive system that has been used since the creation of satan's tricycle (Schwinn Airdyne), and that is a chain-driven system. The Rogue Echo Bike utilizes the same drive system as our previous top pick, the Schwinn Airdyne Pro, which is a belt-drive system.
The Rogue Echo Bike is the heaviest air bike by quite a bit at 145 pounds, compared to the 98-pound Assault Bike. Rogue has taken thick steel tubing, similar to what's used on their rigs and racks, and added their signature black powder coat to create a bike that will fit into any gym environment and still hold up after frequent use.
Although we prefer the weight of the Echo Bike, it does take up a bit more space than the Assault AirBike. That said, the extra space is minimal and would only matter to those who are using the machine in very tight quarters, which if that were the case, I'd probably suggest a different form of conditioning equipment, such as a stationary bike.
Read my full and in-depth Rogue Echo Bike vs Assault Air Bike review here.
The Assault Bike was the best air bike option, but it's been blown away by the Echo Bike. The Echo Bike even managed to replace the Assault Bike as the official air bike for the CrossFit Games in 2021 (the Assault Bike had previously been used in the annual CrossFit Games since 2015). That's not too surprising, though, considering Rogue is CrossFit's official equipment sponsor.
Ordering and Assembling the Rogue Echo Bike
The Rogue Echo Bike retails at $795 and is readily available on Rogue's website. Countless reviewers, myself included, found it easy to put together with just one person. You'll find all the hardware and tools included in your order, along with step-by-step instructions on how to get your air bike up and running in no time.
Customer Experience
Rogue has a top-notch customer service team that can be reached by phone or email, though their popularity can sometimes cause delays (nothing that's too unbearable).
Returns: Rogue Fitness has a pretty strict return policy. While unused items can be returned for a full refund within 30 days of the delivery date, opened items will most likely be denied for a refund. You also have to return it in the original packaging.
Warranty: The Rogue Echo Bike is covered by a two-year warranty. It does not cover normal wear and tear on things like the foot pedals, handlebars, and casters.
Customer Reviews
To say the Rogue Echo Bike is beloved by Rogue's customers would be an understatement. It has a 4.9 average rating, out of 5 stars, and the majority of reviewers say it gave them one of the best conditioning workouts of their lives.
Most of the negative reviews revolved around the monitor, or its limited use for people of smaller sizes.
Final Verdict of Our Rogue Echo Bike Review
Call it beginner's luck, but Rogue Fitness did a great job with their first-ever conditioning machine. This is a piece of equipment that will give people of all fitness levels a hardcore full-body workout, look great in their home gym, and last for many years.
My Takeaways:
It's bigger than most air bikes, but not by much
Not for shorter people looking to an air bike
This machine will last a long time in your home gym
It's quiet, and durable
Rogue Echo Bike FAQs
Is the Rogue Echo Bike worth it?
If you're interested in HIIT-style exercises and conditioning workouts, the Rogue Echo bike is worth considering because of its strong build, belt-drive system, and personalized training possibilities.
What muscles does the Rogue Echo Bike work?
With the Rogue Echo Bike, you get a full-body workout! The Rogue Echo bike definitely works your quads, glutes, calves, shin muscles, hamstrings, core, and even upper body muscles.
Is the Rogue Echo Bike good for weight loss?
A fan bike, such as the Echo, can aid in the attainment of one's aerobic fitness goals. Cycling has been shown to provide a number of health advantages, including lowering blood pressure and body fat reduction.
Full Rating
Rogue Echo Bike
The Rogue Echo Bike is Rogue Fitness' first foray into conditioning equipment. The Echo Bike combines features of both the Schwinn Airdyne Pro and Assault AirBike to create the best value air bike currently on the market.
Product Brand: Rogue Fitness
Product Currency: $
Product Price: 795
Product In-Stock: InStock
Where to Purchase
Rogue Fitness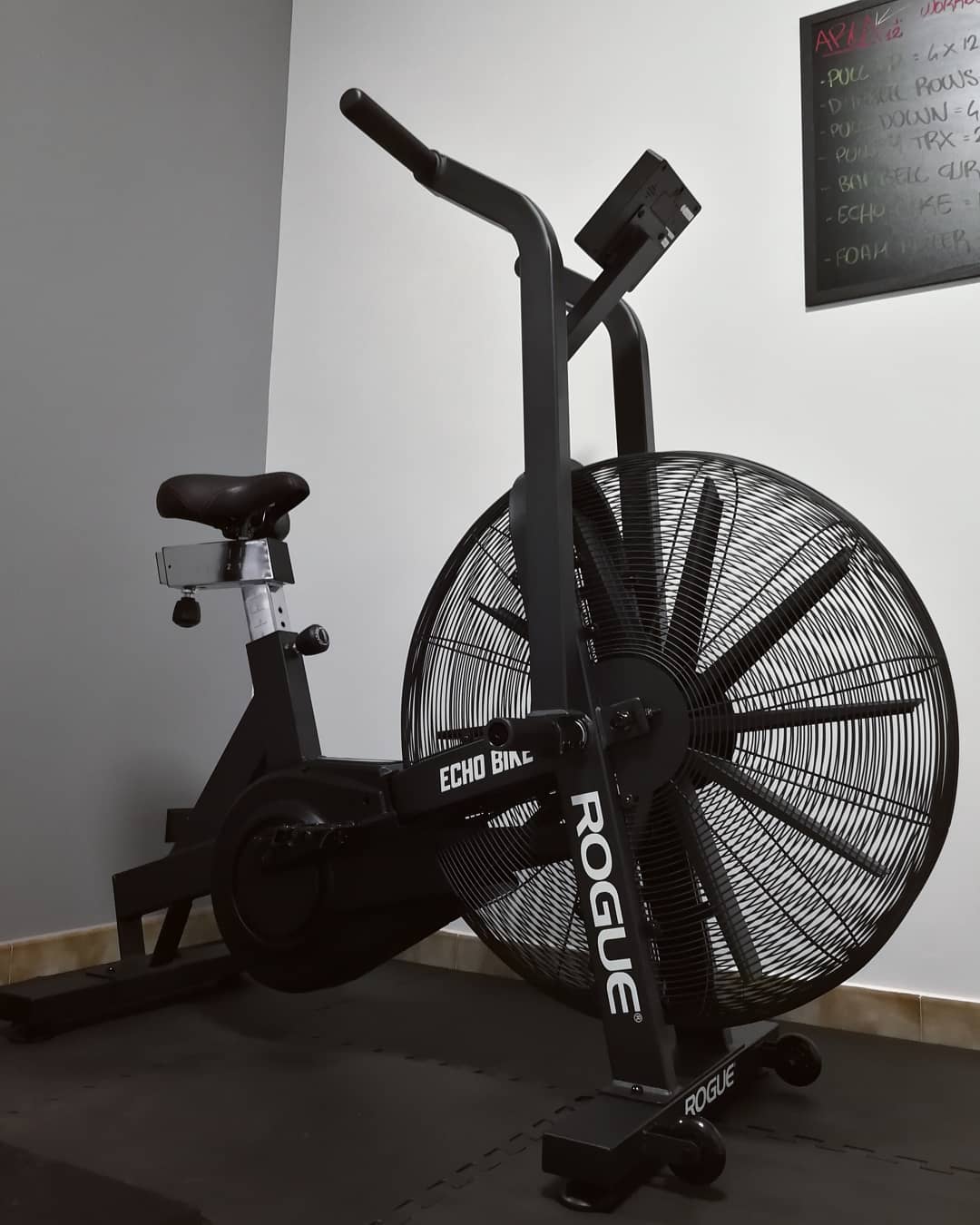 Rogue Echo Bike
The Rogue Echo Bike combines heavy-duty steel, precision engineering, and convenient customization to forge a stronger, sturdier fan bike. Overbuilt for a Smoother Ride This overbuilt 127LB, 350LB weight limit unit provides a rock solid foundation for max output bursts, while still offering easy portability around the gym via a set of 1" polyurethane front wheels. A quiet, belt-driven steel fan blade produces a smooth, consistent ride, while a high-contrast, battery-powered LCD console allows athletes to track intervals, distance, calories burned, heart rate, and more. Rogue Fitness (Rogue) warrants that the ECHO Bike (Product) shall be free from defect in material and workmanship for a period of two years from the date of purchase when the product is used under normal uses and conditions and as recommended in the User Guide. Weighing in at 127LB, 350LB weight limit, the Echo Bike is not the wobbling breed of exercise bike. Its reinforced steel construction gives it the rigidity and balance to help eliminate sways and bumps during even max output bursts, and the fan's steady response delivers a uniquely consistent, smooth riding experience. For added stability, we've included rubber leveling feet under each base tube. These feet adapt to your flooring and provide added "stick," helping to level the bike even if it's not on a level surface. The mounted LCD console measures 6.375" x 6.375" and features a crystal clear, high contrast display. Athletes can select or create a wide range of modes, including Intervals (20/10, 10/20 or a custom Work/Rest interval), Target (choose a goal Time, Distance or Calories and the console will count down based on your selection), and Heart Rate Tracking (please note that a heart rate transmitter is required to send data, but is not included). The console runs on two AA batteries, which are included. The Echo Bike is built with a range of durable steel tubing (2x3", 1.25x3", and 1.625x3.125" steel finished in a texture black powdercoat. The adjustable padded seat locks into 8 different height settings and 5 front-to-back settings, and the 1.5" diameter rubber grip handles are welded directly to the bike's arms for added rigidity. A steel step plate is provided along with knurled 4.5" long rotating foot pegs and rubber-tread pedals. The fan itself is a belt-driven, precision steel blade. Assembly is required to set-up the Echo Bike, but all necessary tools and black hardware are included standard with your order, along with easy step-by-step guidelines. While the fully constructed bike is a beast, we've included a set of 1" wide polyurethane wheels at the front of the unit, allowing it to be rolled around the gym or stored out of the way with ease. Additional Specifications: Patent Pending Design Quality Steel Construction for Dependable Stability Height: 52.75" (to top of handles) Length: 58.875" (overall with seat in position furthest from fan cage) Width: 29.875" (at handles - widest point) Footprint: 44.5" x 23.75" LCD Console Display (Batteries Included) with customizable modes Belt Driven Steel Fan Adjustable Seat with 8 height and 5 front/back settings 1.5" diameter rubber grip handles Rubber-tread Pedals Texture Black powdercoat finish Rubber Leveling Feet All Hardware & Assembly Tools Included Weight: 127LB, 350LB weight limit