We test and review fitness products based on an independent, multi-point methodology. If you use our links to purchase something, we may earn a commission. Read our disclosures.
In the world of strength training and lifting weights, there are plenty of ways to protect your hands and grip strength, like using weightlifting gloves and wrist wraps. However, another popular tool to use are lifting straps, which are one of the best pieces of support gear to secure your grip on an Olympic barbell and pull some heavy weight.
When it comes to lifting straps, though, there are a lot of things to factor in—like the style of strap, the materials, and its overall durability. The certified personal trainers, lifting coaches, and athletes on our testing team at Garage Gym Reviews were able to test out some of the best lifting straps on the market today, and have compiled this diverse list of lifting straps to help you determine which straps are best for your lifting needs and goals.
The Best Lifting Straps
Best Overall Lifting Straps: Gymreapers Lifting Straps
Good for: Those wanting a reliable strap that's very comfortable
Gymreapers Lifting Straps take our top spot of best overall straps for their versatility and super comfortable feel. These straps are lasso style, meaning they loop around the wrist and then wrap around the bar. This style of strap is going to be one of the most versatile straps available due to its tight grip on the bar, but it's still easy enough to release the bar quickly on a failed lift. Plus, they come in nine different colors (*chef's kiss*).
When I tested the Gymreapers straps, the first thing that stood out to me was the comfort. These lifting straps are cotton, and they're soft. In addition to the cotton straps, the wrists have neoprene padding to support the wrists on heavy pulls. These are some of the most comfortable straps I've ever tried.
The comfort didn't detract from their durability, though. I took these through heavy deadlifts, and they felt great. It did take me a few sets to properly wrap the straps up because of the softness of the straps. It felt like it had a little give at first, but after wrapping the straps better, I felt connected to the barbell.
These straps are only $17, but shipping is extra—unless you're planning to buy $150 of Gymreapers items in addition to the straps—so depending on your location, the straps will cost you around $23 or so. These are a little pricier than most lasso straps, but the high quality of the strap is worth it. In addition, these straps have a lifetime replacement guarantee, so if they do break, Gymreapers has you covered.
| | |
| --- | --- |
| Price | $16.99 |
| Type of strap | Lasso |
| Length | 18" |
| Material | Cotton, neoprene padding |
| Warranty | Lifetime replacement guarantee |
Best Figure 8 Straps: Element 26 Padded Figure 8 Straps
Good for: People into Strongman training, wanting to pull heavy weights
Coming from a competitive weightlifting background, I haven't used figure 8 straps much at all. This isn't something you want to admit as a strength athlete, but I'm ashamed to say I had to look up how to properly wrap them. However, once I did use them, I saw what I was missing out on. Out of the ones I tried out, I can say without a doubt that Element 26's straps were my favorite, and our pick for the best figure 8 straps.
Other figure 8 straps I had used were terribly uncomfortable, but Element 26 added neoprene padding to each loop of the strap, and it helped immensely. The material is a heavy-duty cotton that's been over-stitched, and when I locked my hand into the barbell, it felt solid, but not too uncomfortable.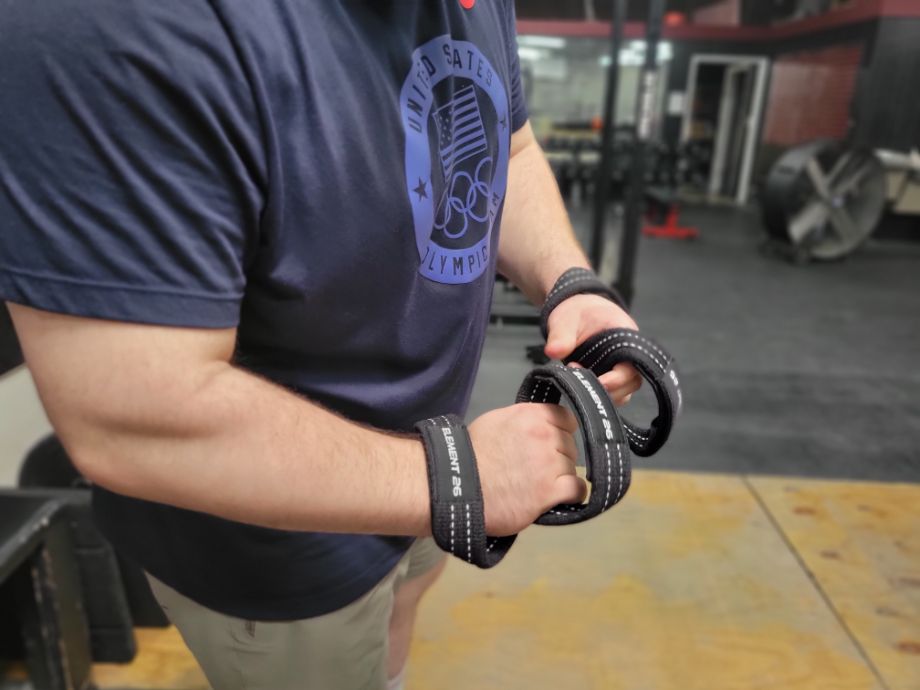 These straps come in three sizes based on your wrist size, with the large for wrist circumferences over 10 inches. I went with the mediums as my wrist was right at 10 inches (and the larges were sold out), but it turned out to be perfect for these straps. Many customer reviews recommended going a size down, as they seemed to size big, which is what I found in my experience.
Because these are figure 8 straps, they'll have you extremely connected to the barbell. However, because you are wrapped around the bar by two loops, there's no chance for a quick release. So if you're looking for more versatility, this style of strap may not be the best fit for you. This will be great for heavy deadlifts and some Strongman movements, though. Element 26 also provides a lifetime warranty with these straps.
| | |
| --- | --- |
| Price | $24.97 |
| Type of strap | Figure 8 |
| Number of sizes | 3 |
| Material | Thick cotton, over-stitched neoprene padding and seams |
| Warranty | Lifetime |
Best Lifting Grips: JerkFit Death Grips
Good for: Those wanting a quick, versatile grip for CrossFit workouts
When you think about lifting straps, you don't always think about grips; however, with the rise of CrossFit, these grips made of rubber have become more popular for pulling exercises. In particular, JerkFit Death Grips are incredibly grippy; the dry rubber grips the knurling on a barbell like nothing else.
Using these grips was pretty simple. You attach the grip to your wrist with a velcro strap, and then wrap the rubber piece around the bar, holding the grip and bar with your hand to fully grip the bar. Once I had these grips secure, I was connected to the bar and pulled heavy weights pretty easily. They were grippy and secure on dumbbells and pull-up bars, too.
These grips come in three sizes, based on wrist circumference, and I went with the large grips. They seemed to run true to size, as these were pretty comfortable and I had no trouble getting the grips to fit.
The design of these grips is pretty sharp, but the branding may not be for everyone. Death Grips have an over-the-top skull across the rubber, which I thought was fun, but I could see it not being for everyone.
While I didn't experience this personally, a few customers said in reviews that the grips got slick very easily when they got wet. I could see this happening, as the rubber is pretty smooth. Speaking of the rubber, be prepared for a bit of a smell at first. Overall, though, if you're looking for grips for your home workouts, these are a solid option.
| | |
| --- | --- |
| Price | $39.95 |
| Type of strap | Lifting grip |
| Number of sizes | 3 |
| Material | PVC rubber with neoprene-padded wrist straps |
| Warranty | No |
Best Lifting Straps for Powerlifting: Rogue Ohio Straps
Good for: Powerlifters wanting simple lifting straps durable enough for their heaviest sets
This is the style of lifting straps I used in my youth…Rogue Ohio Straps. These straps are bare bones, but they get the job done. These lifting straps are made with a heavy-duty black cotton webbing that stays pretty durable against the bar. There is reinforced stitching along the edge of the strap to prevent fraying. However, there is no padding along the wrist to help with comfort, and these were some of the stiffest cotton straps I tested.
There's no customization or color options on these, either. They're plain black, with a red Rogue logo stitched on the back of the wrists. A lot of the simplicity of the straps is to keep the cost down, and at $15, they're a pretty solid pair of straps.
I've used Rogue Ohio Straps before, and they were simple straps that lasted through solid work, only falling apart after years of weightlifting workouts. Testing them out again after quite a while, not much has changed. These straps are simple and durable. They're great for powerlifting movements and accessory work, such as deadlifts, rows, and rack pulls out of a squat rack. The grip doesn't slip at all, and with a strap length of 20 inches, you can wrap a few times around the bar to ensure it.
Although there aren't as many options as other straps, and they will take a while to break in and be more comfortable, the Rogue Ohio Straps are sure to last through quite a few workouts.
| | |
| --- | --- |
| Price | $15 |
| Type of Strap | Lasso |
| Length | 20" |
| Material | Black cotton webbing construction |
| Warranty | 90 days |
Best Leather Lifting Straps: Onyx Straps
Good for: Weightlifters needing a durable pair of lifting straps for snatches and pulls
Our top pick for best leather lifting straps—plus an all-around sharp-looking piece of support gear—are Onyx Straps, who also makes wrist wraps and weightlifting belts. At close to $40, these are one of the more expensive pairs of lifting straps on our list, but the craftsmanship and feel of these straps makes them worth the price to those who can afford it.
Our tester Brian, who is a member of GGR Head of Content Kate Meier's weightlifting team as well as a leatherworking hobbyist, has used Onyx Straps for a while now, and they still look and perform great. He says, "I've had these for a year, and they seem as good as new. Onyx recommends leather treatment oil…I have only oiled them once, and they're still great-looking."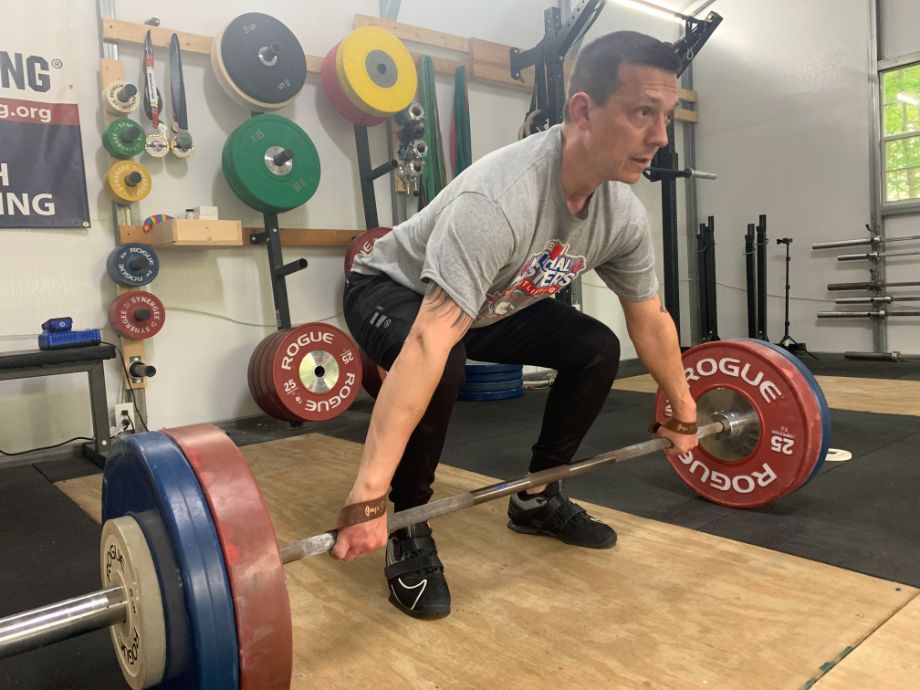 Brian rated the straps a perfect 5 out of 5 on performance, saying, "The break-in period is very short, and they give you a fantastic hold on the barbell without cutting into your skin the way some nylon straps do." Even without wrist padding, Onyx Straps are comfortable and remain grippy.
There are different colors available, as well as a "slim" and "thicc" option—basically a choice between 1.25-inch or 1.5-inch wide straps. Leather straps in general hold up well, and Onyx is no exception. In addition to oiling the straps, Onyx also recommends letting the straps air out after a lifting session; don't just stuff them in your gym bag after your workout. If you take care of them, these straps should last for years to come.
| | |
| --- | --- |
| Price | $39 |
| Type of Strap | Closed loop |
| Length | 22" connected at the end |
| Material | Leather |
| Warranty | Not disclosed |
Best Lifting Straps for Weightlifting: Weightlifting House Elite Straps
Good for: Weightlifters needing a comfortable pair of straps that elite athletes use
Our choice for the best weightlifting straps are Weightlifting House Straps. Designed to mimic the Chinese weightlifting team's style of lifting straps, these closed loop straps connect early, to allow for extra strap length to wrap around the bar. This style of closed loop helps the lifter stay more connected to the bar.
The design of this strap is sharp and functional. In addition to the extra strap length, the straps use heavy-duty stitching in the form of kevlar to ensure the durability and strength of the lifting straps. Neoprene padding is on the wrists to improve comfort while in use, and the back of the wrist has a debossed logo on it. The whole thing comes in a bag to store the straps. It's a nice look and feel. The straps only come in two colors, navy blue and black, but the design still looks sharp.
Because the straps connect early, the length is extra thick when you wrap it; if you're new to this style of closed loop straps, it may take a few times to feel comfortable with it. After breaking in the straps (it didn't take long), I felt very connected to the bar. The strap is only one size, but I felt it should work for a vast majority of wrist and hand sizes.
The closed loop style of lifting strap is very specific to weightlifting, so if you're looking for something with more grip, or a quick release from the barbell isn't as necessary for your training, then there may be other, better choices available. Nevertheless, this is a solid lifting strap for most weightlifters.
| | |
| --- | --- |
| Price | $19.99 |
| Type of Strap | Closed loop |
| Length | 26" connected at the end |
| Material | Dual-ply cotton, kevlar stitching, and neoprene padding |
| Warranty | Not disclosed |
Best Lifting Straps for Beginners: Bear Grips Lifting Straps
Good for: Beginners wanting a versatile strap with a good grip and feel
If you're new to lifting weights or resistance training, a great option for you are Bear Grips Lifting Straps. These strike a great balance between comfort and durability, with a lasso style that will lend itself to a broad number of exercises and modes of training. Also, there are lots of color options, too. I picked White Camo (*another chef's kiss*).
These straps are built from heavy-duty cotton fibers, but the cotton is very comfortable. Additionally, the wrist straps are padded with neoprene, adding to the comfort of the lifting strap. What surprised me was that the cotton is still very sturdy, and when I wrapped the lifting strap around my barbell, the strap was very grippy; there was no give.
While I had no issue with this, the sizing may not be for everyone. The length of the strap is 21 inches, which is a fine strap length. However, the width of the neoprene padding was too large for some users, according to customer reviews. I have larger hands, so it wasn't an issue for me, but I did notice the padding was a bit large compared to other straps I've used. Because of this, I knocked Bear Grips' sizing score down to a 3.5 out of 5.
Bear Grips Lifting Straps are at a pretty low price, at under $15, with free shipping if you have an Amazon Prime membership. At that price, they're a great pair of lifting straps to begin your weight training with.
| | |
| --- | --- |
| Price | $14.99 |
| Type of Strap | Lasso |
| Length | 21" |
| Material | Heavy-duty cotton, polyester |
| Warranty | 60 days |
Best Budget Lifting Straps: Harbinger Padded Cotton Lifting Straps
Good for: Those needing an inexpensive lifting strap for some pulling movements
If you need lifting straps for cheap, look no further than Harbinger Padded Cotton Lifting Straps. At under $10 on Amazon, these straps are made well enough to compliment your weight training on a budget. Plus, Harbinger backs these straps with a one-year limited warranty.
These lifting straps come in six different colors or patterns, including a camo pattern and an American flag. I went with a solid color, called Merlot, just to keep my workouts classy. The straps are cotton, with NeoTek pads along with the wrists (it's basically neoprene). In use, the 21.5-inch long straps felt comfortable and long enough to grip the bar comfortably with a few wraps.
The main concern I have with these straps has to do with their durability. Fresh out of the packaging, these Harbinger straps had loose threads that hadn't been cut off, and also some burs. While it performed fine during my testing with barbells over a few weeks, it gives me concern on how they'll perform long-term.
RELATED: Best Budget Barbells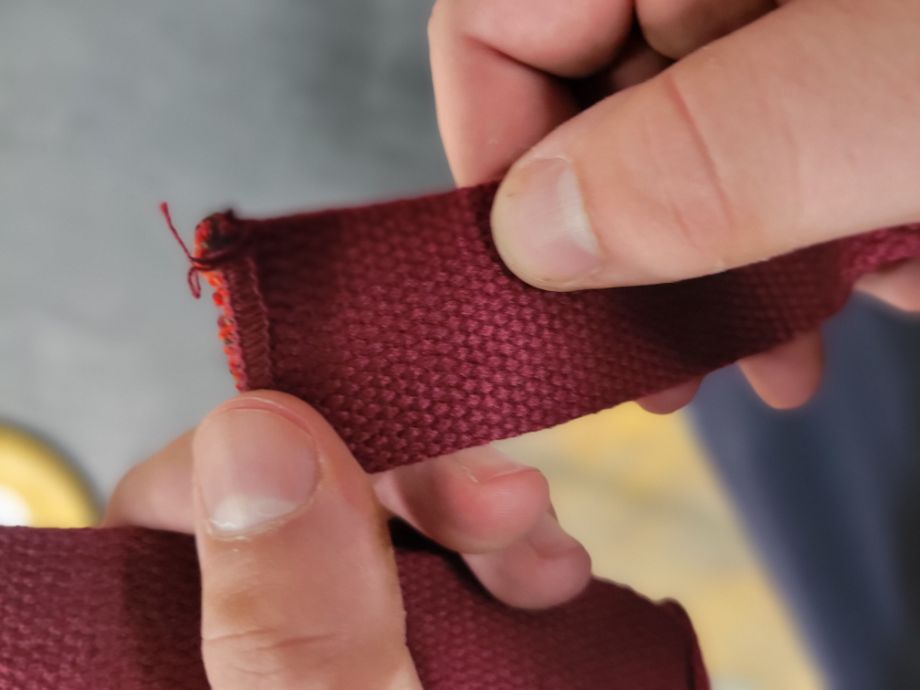 Fortunately, they'll have a warranty for the first year, but after that you may be out of luck. Regardless, if you need lifting straps for a low price point, these are a comfortable, strong option.
| | |
| --- | --- |
| Price | $9.99 |
| Type of Strap | Lasso |
| Length | 21.5" |
| Material | Cotton, NeoTek pads |
| Warranty | 1-year limited |
Best Lifting Straps for Deadlifting: Rogue Figure 8 Straps
Good for: Powerlifters needing a connected grip on the bar for their heaviest deadlifts
For an almost too solid grip, we've picked the Rogue Figure 8 Straps as the best deadlift straps. These figure 8 straps are made of an extra-strength cotton webbing in a basket weave to create a supportive and durable lifting strap.
RELATED: Muscles Worked In A Deadlift
There isn't a lot of customization to these straps, like most figure 8 straps. Rogue chose a classic black for their straps, with the Rogue logo in white on the wrists. These straps don't have any padding, so they aren't as comfortable as other straps, but the design of these Figure 8 straps will keep you secured on the bar—although there won't be any quick release. This makes them ideal for deadlifts, where a failed rep just goes back to the floor.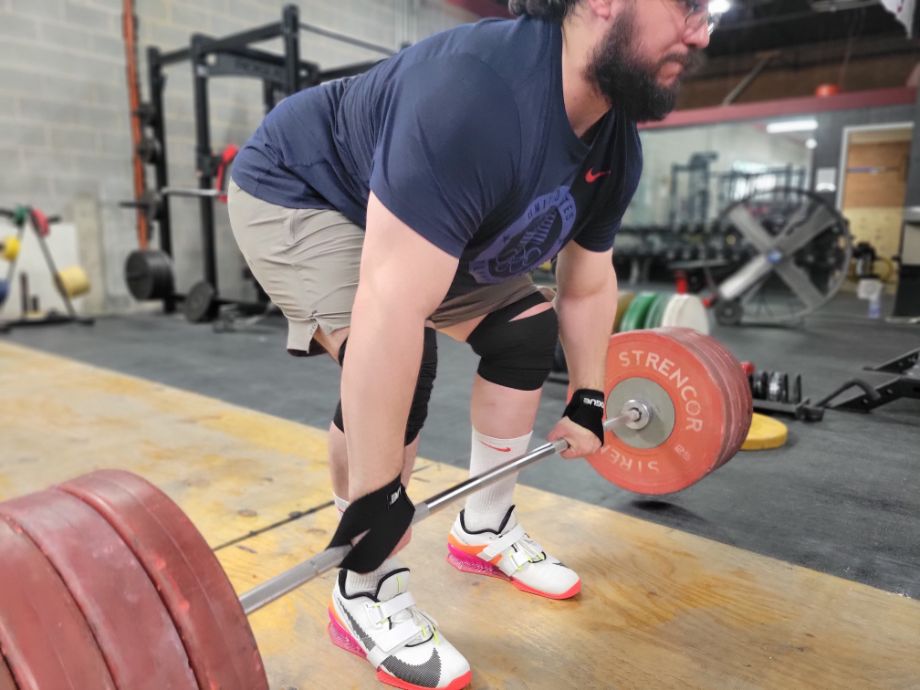 The straps are only one size, which was a tight fit for me, and I'm not sure if a larger athlete or wrist would be able to comfortably use it. Many reviews actually didn't like the sizing either, and its rating reflects it: a paltry 2.9 out of 5 stars.
However, one review spoke of using a false grip with these straps—meaning the thumbs didn't wrap around the bar. When I tried this method, the straps felt more comfortable…still tight, but a much better fit. And the straps stay connected enough to maintain a strong grip on the bar even without a full grip. With that said, for a strong grip, these figure 8 straps will do it, but be ready to use a false grip.
| | |
| --- | --- |
| Price | $33.95 |
| Type of Strap | Figure 8 |
| Sizes | 1 |
| Material | Heavy-duty cotton webbing |
| Warranty | 90 days |
Best Lifting Straps for Bodybuilding: Deselen Leather Straps
Good for: Gym goers wanting a comfortable lifting strap for high rep sets
Most bodybuilders' strength routines require a lot of repetitions and isolation exercises. To further isolate muscle groups, lifters can use straps to use less wrist and forearms in certain movements. The ideal lifting strap for bodybuilding workouts would have good grip but also be comfortable through long sets and high repetitions.
Enter the Deselen Leather Straps, our pick for the best straps for bodybuilding. These leather straps have neoprene padding on the wrist, which will add to your level of comfort during sets. What sets the Deselen straps above the rest for comfort, however, is the feel of the leather. These straps are a soft leather that's pretty much already broken in, making them feel extremely comfortable during your workout.
In my use of these leather lifting straps, I found them extremely comfortable during repetitions, and I had a great grip throughout my sets. At times, the straps felt a little long, and they are longer, with a length of 23.5 inches. Because of the slightly long length, I ranked the performance of the Deselen Leather Straps a half-point off, to a score of 4.5 out of 5.
Customer reviews agreed, as the only main complaint was that the straps were a little long. One user went so far as to cut the straps down a few inches. While I didn't go that far, I would often leave the extra piece of strap length off to the side of the barbell instead of wrapping it completely. If you're OK with working around a longer strap, the Deselen Leather Straps are a comfortable and versatile lifting strap for high repetitions.
| | |
| --- | --- |
| Price | $19.99 |
| Type of Strap | Lasso |
| Length | 23.5" |
| Material | Leather, neoprene padding |
| Warranty | 2 years |
Most Durable Lifting Straps: IronMind Strong Enough Lifting Straps
Good for: Lifters wanting a durable and versatile lasso strap
Ironmind has been in the Olympic weightlifting and Strongman communities for a long time. As a strength equipment supplier, they've offered lifting straps for a while now. Their lasso lifting straps—the IronMind Strong Enough Lifting Straps—are our favorites for the most durable lifting straps on the market.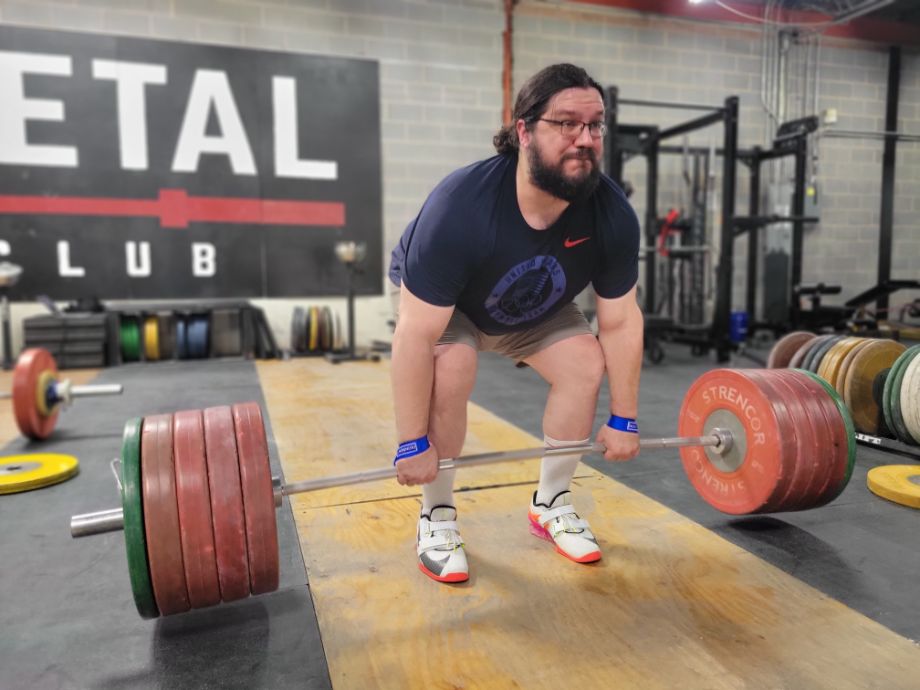 Made of a durable plastic, these nylon straps have stood the test of time for many lifters. I've had friends use these straps for several years and they've stayed solid with no fraying or breaking. In my testing, they stayed solid as well, with a solid grip and good feel against the barbell.
Being made of nylon, though, they can feel a little slick at first and take a bit of time to break in. Additionally, there's no extra cushioning around the wrists. While I thought this was more comfortable than other straps without padding, it may not be the most comfortable for multiple repetitions.
The straps are simply designed and they're available only in royal blue, with the IronMind logo stitched across the back of the wrist loops. Although a simple pair of lifting straps, these are built to last. With a price of $22 plus free shipping through Amazon Prime, these durable straps are worth the price.
| | |
| --- | --- |
| Price | $21.95 |
| Type of Strap | Lasso |
| Length | 21.25" |
| Material | Nylon |
| Warranty | Not disclosed |
Other Lifting Straps We Researched
We tested out a lot of different items for this roundup of the best lifting straps. However, not everything the testers at GGR and I tried made the list. Here are a few other products we tested or researched that are worth noting.
How We Picked and Tested
I had the honor of testing out a lot of these lifting straps, and I took them through a lot of exercises. As an Olympian in weightlifting, I knew what to look for in good lifting straps, making sure I felt connected to the bar, as well as grippiness and overall durability. Every pair of straps I tested had at least 550 pounds worth of weight plates pulled with them, multiple times.
After selecting our group of lifting straps based on materials used, construction, and value, I took each pair of straps through several workouts. Depending on the type of strap, I did Olympic lifts, deadlifts, pulls and rows, pull-ups, and even dumbbell work to test out each strap's performance.
Speaking of which, we looked at quite a few different types of lifting straps, too—closed loop, lasso, figure 8, and lifting grips—to provide you with a diverse final list of lifting straps to help you find the best lifting strap for your needs and goals.
Benefits of Lifting Straps
The main thing that lifting straps do is improve the grip strength you have on a barbell, pull-up bar, or dumbbell. Improving your grip strength allows you to not be hindered by your grip on a heavy lift, and get closer to your maximal loads. There are quite a few benefits to lifting with straps and improving your grip:
Increase Volume: Relieving your hands and grip with lifting straps can allow you to not fatigue in the hands and forearms first, allowing you to get a few more reps in before fatigue sets in. Over time, this can make your workouts more efficient and effective.
Wrist Support: Also known as wrist straps, lifting straps typically attach and wrap around the wrist, giving a bit of support during lifts, even in overhead movements like a snatch. However, it won't give the same level of support as a wrist wrap in most cases.
Protect Your Hand from Calluses: Easing your grip on the bar and relying on lifting straps can reduce the risk of calluses and blistering on your hand. It's nice to give your hands a break from time to time.
It's important to note that there's a risk of over-reliance on lifting straps. Using lifting straps all the time could actually weaken your grip strength without the straps. You may feel like you can't lift without them.
While lifting straps are great, it's good to practice moderation with them—especially if you plan on competing in a strength sport that doesn't allow them in competition, like Olympic weightlifting. Use them, but also remember to train without them at times to maintain a strong grip and forearm strength.
What to Look for in Lifting Straps
Looking at adding some lifting straps to your home gym equipment? There are a few things to consider before making that purchase.
Style of Lifting Strap
First things first: What are you wanting to use your straps for? Are you using them for Olympic lifts, or just heavy deadlifts? Perhaps you need them for high repetitions on lat pull-downs and barbell rows. The goals and training you have in mind can help determine which type of lifting straps will best appeal to you. Here's a breakdown of types of straps and where they typically shine:
Lasso style: Lasso straps have a wrist loop that secures around your wrist with a piece that then wraps around the bar. These are the most common and versatile lifting strap, as they keep you connected with the bar, but can be released quickly if needing to bail from a lift.
Closed loop: Closed loop, or single-loop straps, are most commonly used in Olympic weightlifting. These straps join together at a point in a teardrop shape, sometimes extending into a single piece to wrap around the bar. Closed loop lifting straps are quick to release, making them ideal for needing to bail out from a snatch overhead.
Figure 8: These straps are double-looped, and great for lifting heavier weights and Strongman. To properly use these loops, one loop wraps around your wrist then goes under the bar, and then the second loop goes on your wrist. This is easily one of the more connected straps for the bar, but it doesn't allow quick release by any means, so refrain from Olympic lifts with these.
Lifting grip: Lifting grips are wrist wraps with a rubber grip that wraps partially around the bar, then you grip the bar to enclose the grip. Grips keep you secured on the barbell for heavy deadlifts and reps of lat pulldowns, pull-ups, and dumbbell work—they even allow for a quick release. Still, the bulkiness of the rubber keeps me from liking them for Olympic lifting.
Materials and Durability
The materials used will help determine the durability of a lifting strap, although the construction is a major part of that. Cotton straps might be the least durable, although the sewn construction can greatly improve the longevity of these straps. If you're unsure about the durability of a cotton strap, but you like the feel, look for a strap with a good warranty.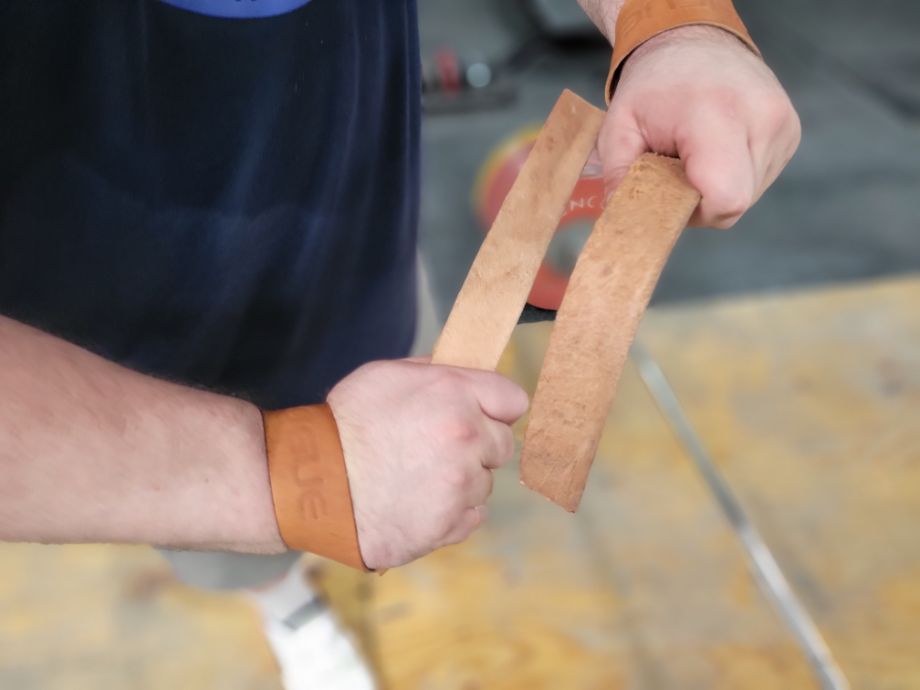 Next is nylon, which is made of plastic fibers and pretty durable from my experience. The only time I've seen nylon start to wear down is when sewn edges begin fraying, but that's taken a while. Leather straps are another durable option that will last for a long time.
Comfort
If you're planning on doing any number of reps with lifting straps, it's great for your straps to be comfortable during a long set. A lot of lifting straps will add cushioning to the wrist. The wrist padding is typically made of neoprene, and soft, water-resistant fabric.
The material used can also add or take away from your level of comfort. Cotton straps will probably be more comfortable than others, especially when wrist padding is added. Leather straps typically require a bit of breaking in before they feel comfortable.
FAQs
What brand of lifting straps are the best?
What are the benefits of using lifting straps?
Using lifting straps improves your grip strength without relying on your forearm strength. Because of these, grip isn't a limiting factor. It can allow you to increase your reps in a workout, as well as protect your hands from calluses and support your wrists a bit, too.
Are lifting straps good for deadlifts?
Lifting straps can be great for deadlifts, as the heaviest deadlifts should be a posterior chain exercise, working the legs and back muscle groups; however, often our grip gives out first. Lifting straps can give us a secure grip and allow us to isolate the muscle groups we want to actually work on.
It's great to use lifting straps, but don't develop a reliance on them. This can weaken your grip strength over time and make you feel weaker without your straps.