We test and review fitness products based on an independent, multi-point methodology. If you use our links to purchase something, we may earn a commission. Read our disclosures.
Having lived in my fair share of apartments, I'm all too familiar with hearing my neighbors through paper-thin walls. Nothing like waking up in the middle of the night to what sounds like someone performing an intricate tap-dancing routine above you, am I right?
Sometimes it can be hard to strike the balance between making minimal noise and getting a good workout in, especially when the workout in question is on a cardio machine. If you'd like to skip the noise complaints (or just stop making too much noise while your partner or roommate sleeps), we can help you find the best quiet elliptical on the market. Whether you're searching for a budget-friendly option or a compact elliptical for a small space, we have you covered (but in a super quiet way, of course). 
When it comes to finding the best elliptical that's also whisper-quiet, there's a few things that our team of certified personal trainers, CrossFit coaches, and competitive weightlifters look at:
Noise level: Is it truly quiet? Could you use it with a sleeping baby in the room?
Workout performance: How does the machine feel while in use?
Durability: Will it remain in good condition for many years?
Value: Is it worth the price tag?
5 Best Quiet Ellipticals
Best Quiet Elliptical Overall: Sole E25
Good for: Someone who wants a quiet machine with great specs
Listen up elliptical searchers: The Sole E25 is here to end your quest once and for all. This machine has a specially designed Quiet-Drive system, which is meant to make the E25 as silent as possible.
The 20-pound flywheel doesn't hurt either, as the hefty weight provides lots of secureness for the well-constructed base. The sturdier your machine is, the less noise you'll likely create, even when using a high resistance level.
Besides having a variety of resistance levels, the Sole E25 has 20 different incline options, which is especially impressive for the $1,100 price. I'm also a fan of the 20-inch stride length. If you're a taller person, you want to make sure your elliptical has a stride length of at least 18 inches, but 20 is even better. I also love the 350-pound user weight capacity, which is 75 pounds higher than the industry standard. If you're a heavier person, this is an excellent elliptical for you.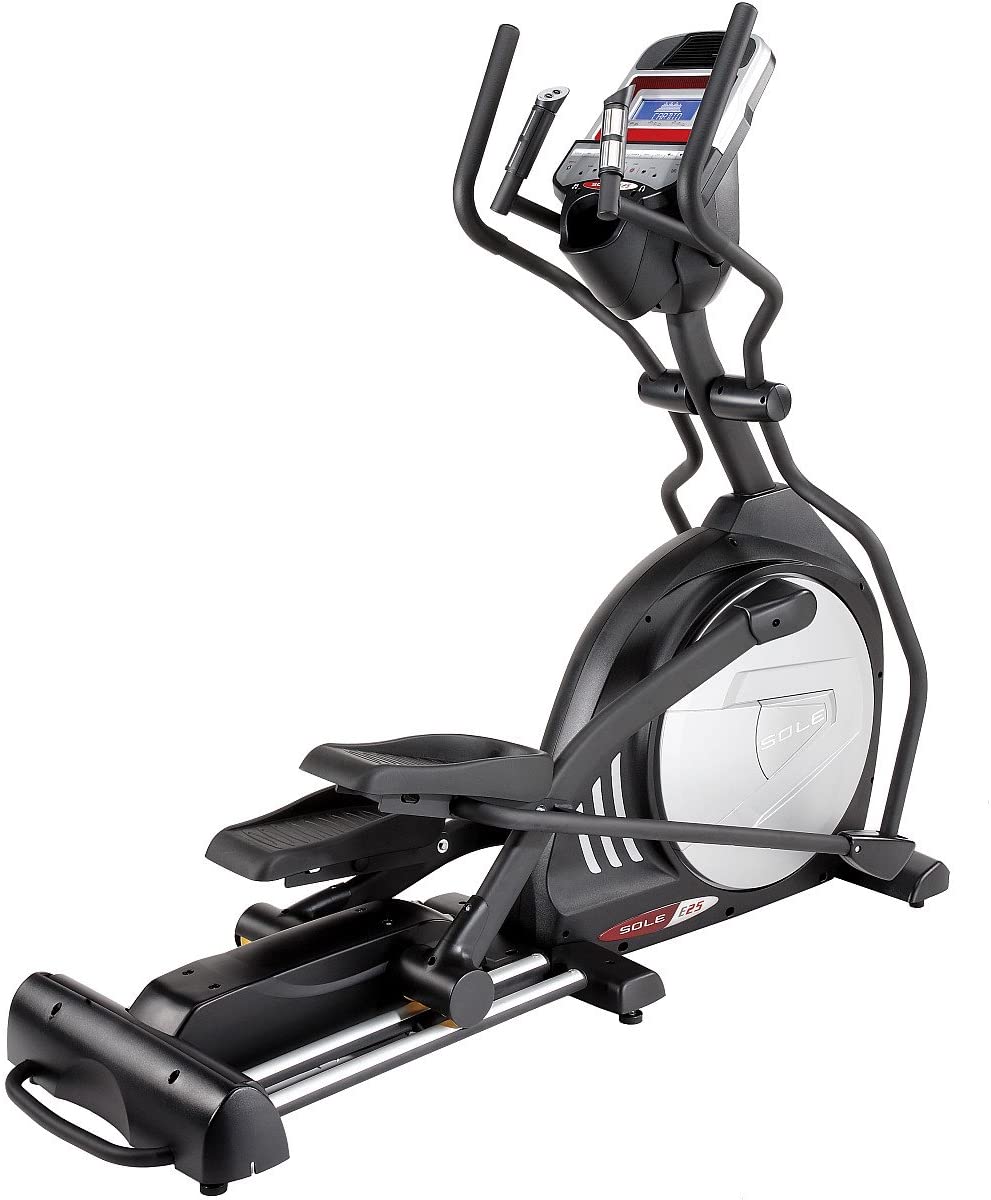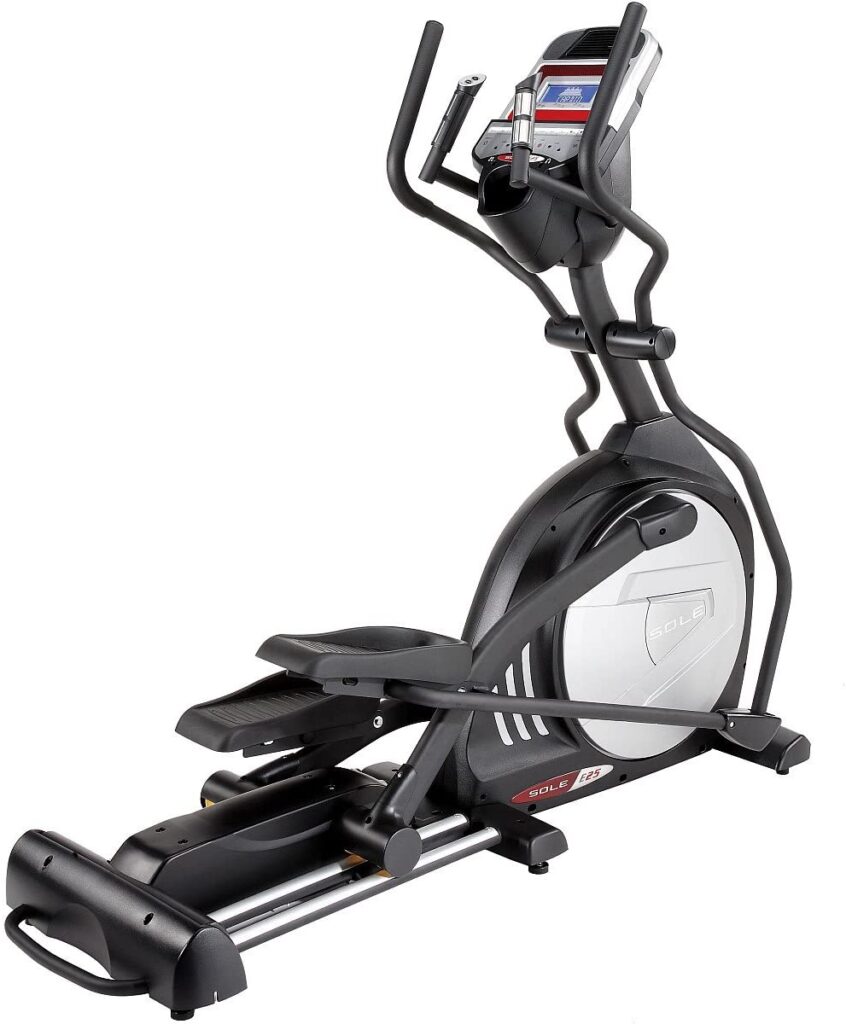 It is worth noting that this machine is not simple to assemble. If you choose to bravely go at this alone, don't. You'll absolutely need at least an additional set of hands, especially when wiring the display. If you can spare the extra cash for professional assistance, I wholeheartedly think it is worth it to save yourself the hassle.
For those with balance issues, the Sole E25 may not be your best choice. With a 14-inch step-up height, it might be difficult to mount and dismount for some prospective users.
Read all the juicy details in our Sole E25 elliptical review.
| | |
| --- | --- |
| Flywheel | 20 lbs |
| Dimensions | 70" L x 24" W x 71" H |
| Stride length | 20" |
| Weight capacity | 350 lbs |
Best Compact Quiet Elliptical: Diamondback Fitness 1280ef Adjustable Stride Elliptical Trainer
Good for: Someone who is tight on space
There aren't many compact ellipticals on the market, let alone a quiet and compact option. Diamondback Fitness must've been snooping in my diary when they created the 1280ef Adjustable Stride Elliptical Trainer, because this machine has it all.
Besides being smaller than the average elliptical trainer, this machine boasts quiet magnetic resistance and an adjustable stride length. This means the magnet and the flywheel inside of the elliptical won't be constantly grinding on each other like two 20-somethings in a nightclub. Instead, you'll have sweet, sweet silence.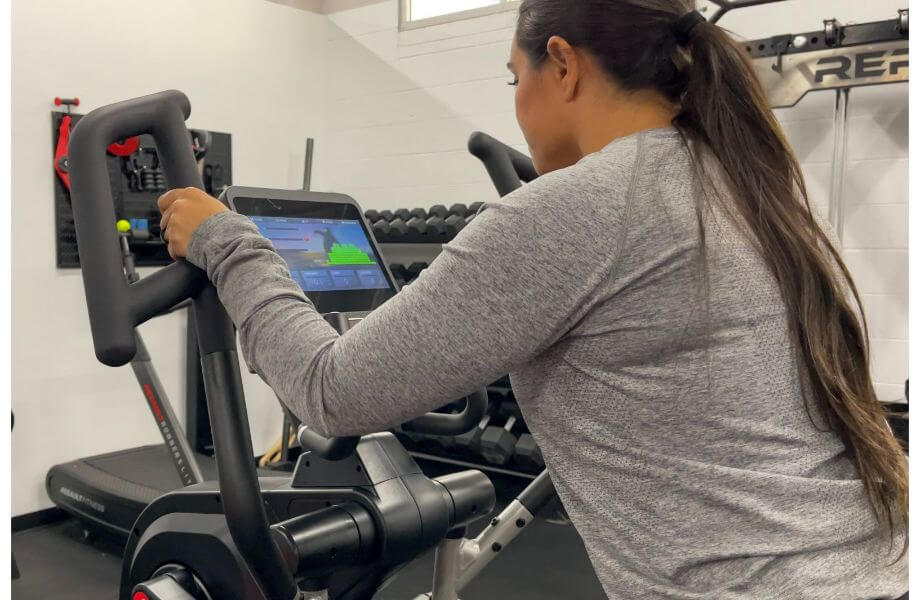 Back to the adjustable stride length: This is one of the few cardio machines that accommodate my shorter coworkers, along with myself (who, not to brag, is vertically gifted). Taller people will need a longer stride length than those who are closer to the Earth's core.
Normally priced around $1,500 (though you can catch it on sale for much less), the Diamondback 1280ef adjustable elliptical trainer provides plenty of bang for your buck. It can connect to every fitness app, with the exception of iFIT programming.
I have this bone to pick on every single one of Diamondback's currently produced machines: The warranty could be much better. On most machines you get a 5-year warranty with the option to pay more for extended coverage. This isn't necessarily awful, but the industry standard is 15 years to life, which should be hit by a company (and product) of this caliber. Although we haven't had any issues with durability yet, the 5-year cap does make me a little wary.
Take a gander at my full Diamondback Elliptical 1280ef review for more.
| | |
| --- | --- |
| Flywheel | N/A (Whisper Quiet Magnetic Resistance system replaces a weighted flywheel) |
| Dimensions | 50″ x 36″ x 66″ |
| Stride length | 17″ – 22″ |
| Weight capacity | 350 lbs |
Best Quiet Elliptical for Apartments: NordicTrack FreeStride FS10i
Good for: Someone looking to get multiple uses out of their cardio machine
Apartment owners have little to no room for single-use exercise machines, which makes the three-in-one NordicTrack FreeStride FS10i a perfect fit for people who are looking to maximize space. It can be used as an elliptical, stepper, or treadmill depending on which direction you step in.
I personally tested this machine and found the elliptical and stepper functions to be smooth, but the "treadmill" use just didn't feel right. Sure, you're moving your feet in the same direction as someone who's running but because your feet don't leave the oversized pedal it just doesn't feel right.
RELATED: Best recumbent exercise bike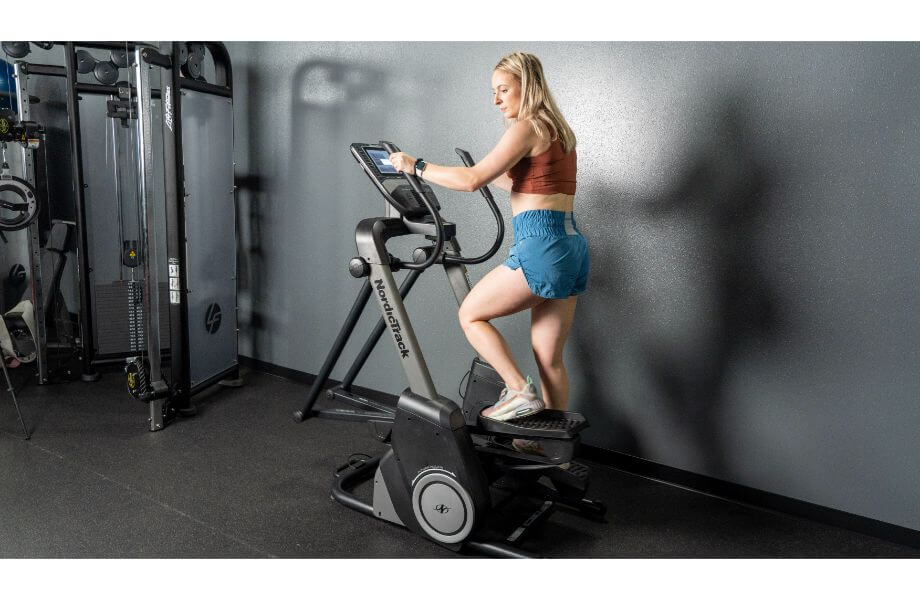 That said, it's still a highly versatile machine that takes up less room than a traditional elliptical because the 20-pound flywheel is located in the center of the machine instead of behind it. That's the good news. The bad news is you need a dedicated space for this 284-pound machine.
Taller people will be happy to know the stride length can go up to 32 inches—it has an auto-adjust feature to accommodate users of all sizes—which is much higher than the industry standard of around 20 inches.
Read my full NordicTrack FS10i review for more details on this hybrid trainer.
| | |
| --- | --- |
| Flywheel | 20 lbs |
| Dimensions | 58.5″ L x 29.5″ W x 74″ H |
| Stride length | Auto-adjustable up to 32″ |
| Weight capacity | 375 lbs |
Best Quiet Elliptical for Small Spaces: Niceday Elliptical
Good for: People who are working with limited space
If you currently live in a small space (I do, too!), you may have to get creative with your home gym. Finding a quiet elliptical without a large footprint may seem like a daunting task, but the Niceday elliptical is here to help.
This affordably priced machine can be moved around seamlessly and doesn't have to be plugged into an outlet to work. That's right, this machine can go anywhere! Your walk-in closet. Next to your oven (just don't light it on fire). Maybe even next to your work-from-home setup. Whatever works for you, works for the reasonably sized Niceday elliptical.
When I initially tried this machine, I equated it to being "as quiet as a little church mouse," and I firmly stand behind this statement. Besides not causing a ruckus, the Niceday elliptical has an impressive 400-pound user weight capacity and 16 different levels of resistance. This makes this machine a viable option for heavier people, which is always a win in my book.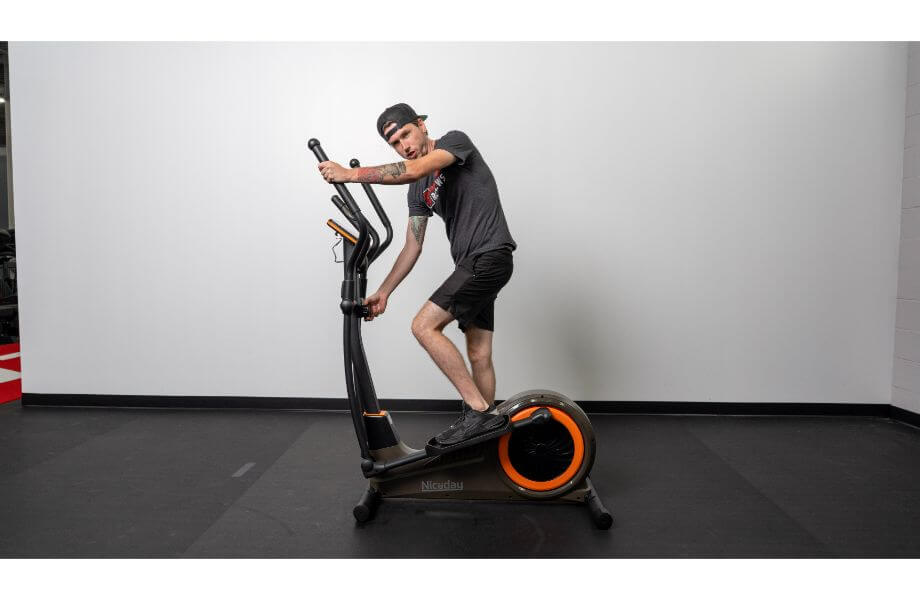 I do want to note that the flywheel is a little light for my taste. Sixteen pounds is the lowest we'd expect to see on a good elliptical, so you need to be aware that the Niceday may shake ever so slightly at higher resistance levels. However, the slight play in this machine doesn't equal noise in this case, so don't be too concerned.
Take a look at our full Niceday elliptical review for the 4-1-1.
| | |
| --- | --- |
| Flywheel | 16 lbs |
| Dimensions | 48″ L x 25″ W x 62″ H |
| Stride length | 15.5" |
| Weight capacity | 400 lbs |
Best Budget Quiet Elliptical: Schwinn 430 Elliptical
Good for: Individuals looking to spend under $1,000 on a quiet elliptical
If you want a machine that likely won't wake the baby (or piss off the neighbors) without spending a ton of cash, the Schwinn 430 elliptical might be a good choice for you. At just around $900, this cardio machine is ready to help you get your sweat on (quietly, of course).
The 20 levels of resistance go hand-in-hand with the 22 preset programs, which can help you get an excellent workout in. The 20-inch stride length is also an excellent feature of the 430, especially for all my tall friends out there. Nothing is more satisfying than a machine that actually supports your natural stride!
It is worth noting that Schwinn doesn't share the flywheel weight of the 430 on the website. I was able to find a few different guesstimates across the internet, but no definitive answer from the brand itself. I do find that slightly strange, but the machine is still quite sturdy, so it is less of a concern.
You'll also want to make sure that you have adequate space for the 430 to live full-time. This machine doesn't fold or compact at all and it has a large footprint. This isn't a deal-breaker, especially with all the other things the 430 has to offer (but it's still worth noting).
Read our full Schwinn 430 elliptical review.
| | |
| --- | --- |
| Flywheel | N/A (Not shared on website) |
| Dimensions | 70.1" L x 28.2" W x 63.2" H |
| Stride length | 20" |
| Weight capacity | 300 lbs |
Other Ellipticals We Researched
Want more inspiration for equipment that might work in your space? Check out a few of our roundups for more products we love:
How We Picked and Tested
When choosing an elliptical, we suggest asking yourself the following questions:
Noise level: How loud is this machine? Would a next-door neighbor be able to hear it during a cardio workout?
Flywheel: How heavy is the flywheel? How does this weight compare to the industry standard we've come to expect?
Price: How expensive is this elliptical machine? Would it be considered a budget option or a more expensive/high-end elliptical machine in terms of price range?
Brand: What brand is this elliptical machine? Is it Sole Fitness, Sunny Health & Fitness, Nautilus, Bowflex, or from Amazon?
Dimensions: What are the dimensions of this elliptical trainer? Is this a large footprint or a more compact design?
Adjustable: Is the stride length adjustable? Are the foot pedals adjustable?
Resistance: Does this machine have resistance options? If so, how many levels of magnetic resistance does it have?
Incline: Does this exercise machine have power incline?
Portability: Can this machine be moved easily? Does it come with transport wheels? Is it advisable to have more than one person move this elliptical machine?
Technology: Does this machine have any preset elliptical workout programs? Can the elliptical be connected to interactive programming?
Extras: Are there extras on-board like Bluetooth connectivity, a USB charging port, speakers, cooling fan, tablet holder, or water bottle holder? Does this cross trainer come with a chest strap for heart rate monitoring?
Handlebars: Are the handlebars well-cushioned? Is there a single set or a fixed set plus a non-moving set?
Display: Is the display a touchscreen, LCD, or LED digital monitor?
Foldability: Does this machine fold?
Stride length: What is the stride length? How does this match up with industry standards?
Weight: How heavy is this machine?
Weight capacity: What is the weight capacity of this elliptical machine? How does this compare to the 275-pound user weight capacity standard?
Benefits of Quiet Ellipticals
Having a high-quality, quiet elliptical is definitely beneficial––you don't need to just hear me hooting and hollering about it. Instead, enjoy certified personal trainer (and GGR writer) Anthony O'Reilly's thoughts on the matter:
"Ellipticals are one of my favorite cardio machines because they provide a full-body workout while minimizing stress and impact to your joints, allowing you to workout for longer periods of time," Anthony explains. "These machines are generally pretty quiet, and as someone who's lived with his fair share of roommates, I can tell you that it can come in handy when you're looking to get an early-morning workout in without disturbing anyone."
"Silence is also golden when it comes to a machine's durability," Anthony adds. "Noise might be a sign that an elliptical's internal gears are grinding against each other, which can wear down the mechanics over time."
Buying Guide: What to Look for in Quiet Ellipticals
When trying to find a (mostly) silent elliptical, here are the top three things I recommend keeping in mind:
Noise Level
This is obvious, but some ellipticals are just louder than others. Having an expert (ahem, me) who has tried the machines herself can be helpful in the buying process, or go in person to test a few out yourself.
Keep in mind that maintenance and lubrication are important steps in caring for your elliptical. If you regularly perform maintenance on your machine, you'll notice it will be quite a bit quieter.
Heavy Flywheel
Although a heavy flywheel isn't a necessity for an elliptical to be quiet, it can definitely help. The heavier a flywheel is, the smoother (and quieter) the overall operation will be. If having a heavy flywheel is important to you, I recommend picking one that is between 16 to 20 pounds. Think of the flywheel as the engine powering a car: The stronger it is, the easier it will be to stride and the less noise it will make.
Sturdiness
A sturdy elliptical is a quiet elliptical! When ellipticals are cheaply made or constructed mostly out of materials like plastic, this can cause the overall sturdiness to suffer. For machines that aren't sturdy, they can cause a lot of noise squeaking or thumping against the ground (since the machine isn't flush with the floor).
Quiet Ellipticals FAQs
Is an elliptical quieter than a treadmill?
Although this depends on the machine itself, I'd say generally yes. Since ellipticals are low-impact, they don't cause as much noise as treadmills. When you're running, jogging, or sprinting on a treadmill, you'll be making quite a bit of noise as your feet hit the deck versus the striding motion of an elliptical.
Are NordicTrack ellipticals quiet?
Yes, the majority of NordicTrack ellipticals are quiet. NordicTrack creates some of the best ellipticals (and exercise bikes for that matter) on the market for home workouts. I always suggest checking out the exercise equipment that they're offering because they are excellent for home use.
Are ellipticals too loud for an apartment?
Nope, ellipticals can be a great choice for apartments. The main concern with having an elliptical in an apartment is the lack of space, especially since ellipticals generally have a large footprint.
What fitness level should use an elliptical?
Everyone, from beginners to high-intensity workout fanatics,can benefit from this low-impact workout. Provided you can safely mount and dismount an elliptical, this can be a great tool for an effective workout.