We test and review fitness products based on an independent, multi-point methodology. If you use our links to purchase something, we may earn a commission. Read our disclosures.
Having lived in my fair share of apartments, I'm all too familiar with hearing my neighbors through paper-thin walls. Nothing like waking up in the middle of the night to what sounds like someone performing an intricate tap-dancing routine above you, am I right?
Sometimes it can be hard to strike the balance between making minimal noise and getting a good workout in, especially when the workout in question is on a cardio machine. If you'd like to skip the noise complaints (or just stop making too much noise while your partner or roommate sleeps), we can help you find the best quiet elliptical on the market. Whether you're searching for a budget-friendly option or a compact elliptical for a small space, we have you covered (but in a super quiet way, of course).
Helping You Not Sound like a Herd of Rhinos Since 2014
Although I do love a nice rhino, your neighbor would likely appreciate it if you didn't sound like a bloat (the fancy way of saying a herd of rhinos) while using your elliptical. That's where Garage Gym Reviews comes in. We've been a leader in the fitness space since 2014, and have tested, reviewed, and written about more pieces of fitness equipment than you probably knew existed. Plus, it's safe to say we know what we're talking about. Our team of expert product testers and reviewers are certified personal trainers, nutrition coaches, and former college athletes.
5 Best Quiet Ellipticals
Best Quiet Elliptical Overall: Sole E25
Good for: Someone who wants a quiet machine with great specs
Best Quiet Elliptical Overall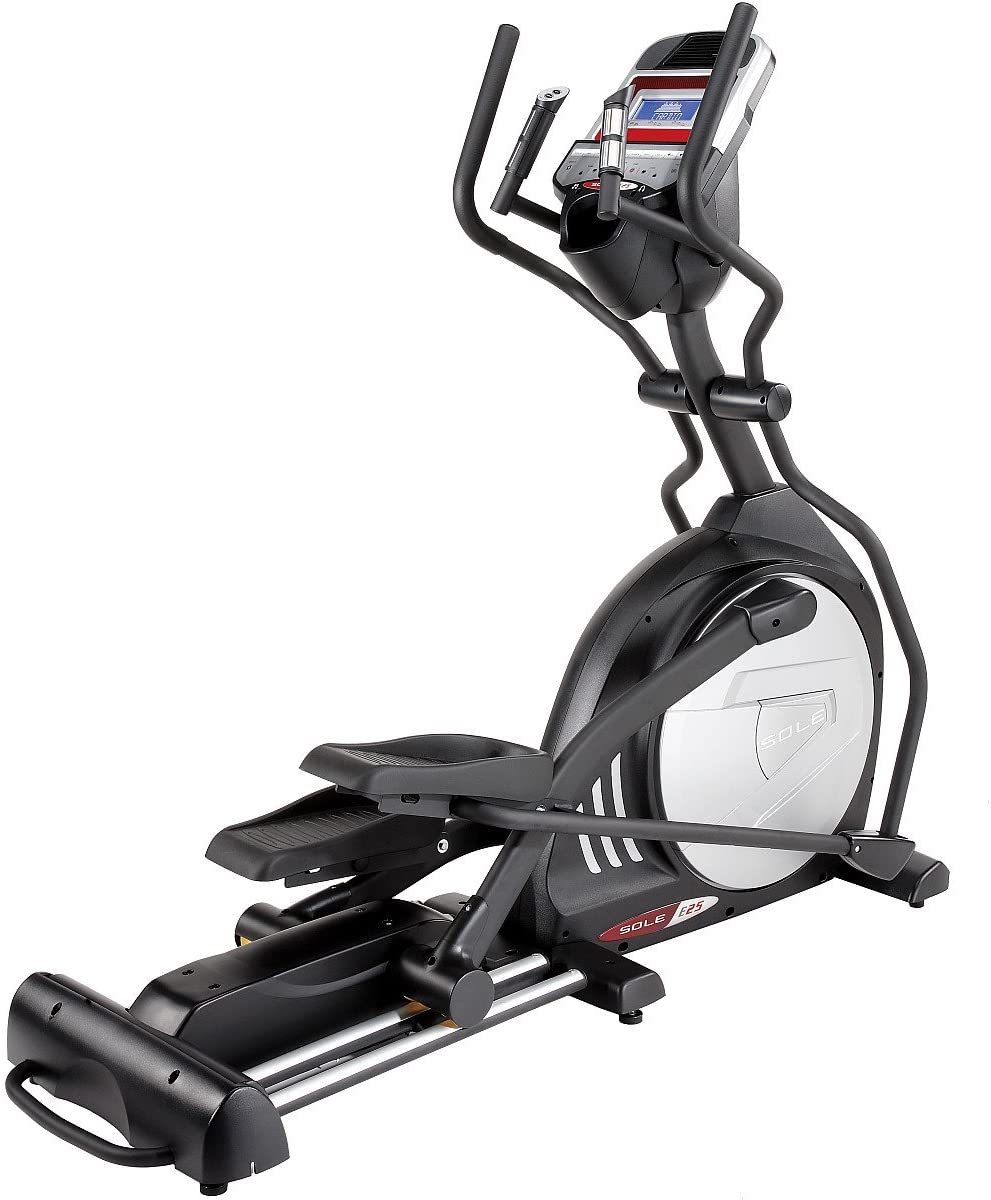 Sole E25
The SOLE E25 Elliptical provides effective workouts through its use of comfort and natural feel. The quiet front drive system, inward foot pedal design, and heavy duty steel frame all create a smooth, effective workout. In addition to the challenging workout programs, the E25 also now includes blue tooth audio and technology. Plus, enjoy a 30-day free trial of STUDIO with the purchase of a a SOLE machine. STUDIO is $19.99 per month and allows users to view a variety of workout classes on-demand.
Pros:
Quiet-Drive system
Lifetime frame warranty
350-lb user weight capacity
20-lb flywheel
20" stride length
20 incline levels
Well-constructed frame
Multiple preset programs
Compatible with heart rate monitor strap
Cons:
High step-up height of 14"
Heavy at 212 lbs
Tough assembly process
Listen up elliptical searchers: The Sole E25 is here to end your quest once and for all. This machine has a specially designed Quiet-Drive system, which is meant to make the E25 as silent as possible.
The 20-pound flywheel doesn't hurt either, as the hefty weight provides lots of secureness for the well-constructed base. The sturdier your machine is, the less noise you'll likely create, even when using a high resistance level.
Besides having a variety of resistance levels, the Sole E25 has 20 different incline options, which is especially impressive for the $1,100 price. I'm also a fan of the 20-inch stride length. If you're a taller person, you want to make sure your elliptical has a stride length of at least 18 inches, but 20 is even better. I also love the 350-pound user weight capacity, which is 75 pounds higher than the industry standard. If you're a heavier person, this is an excellent elliptical for you.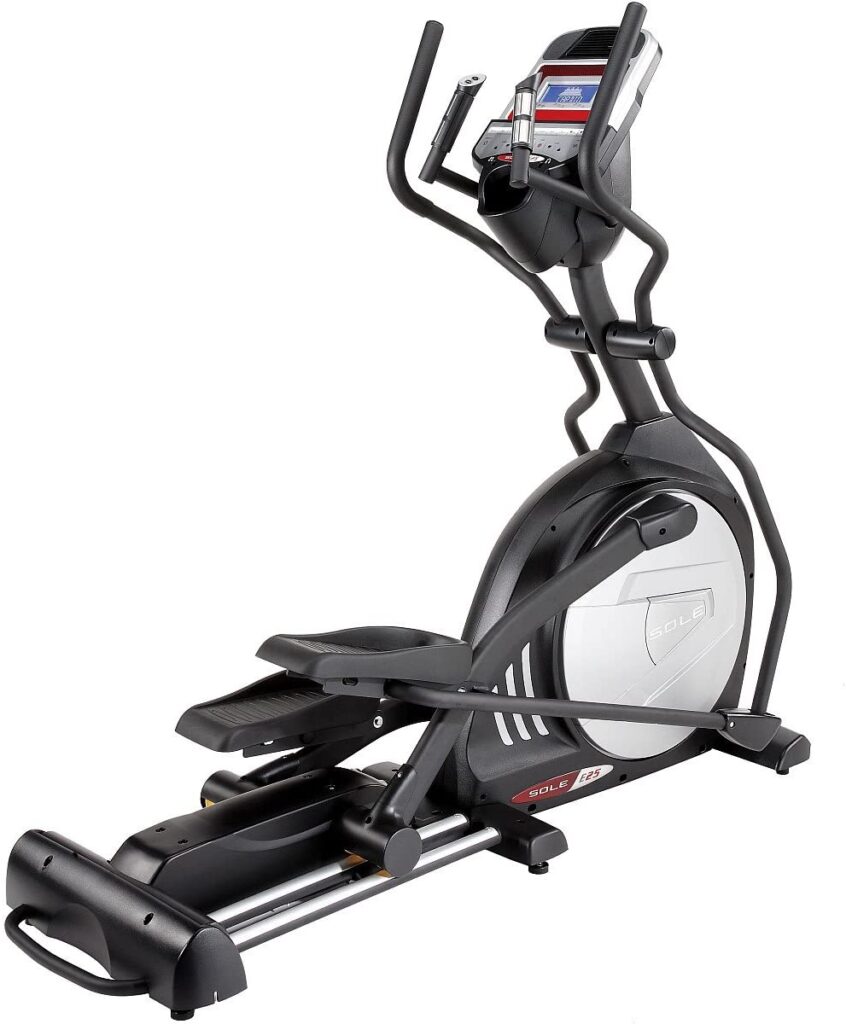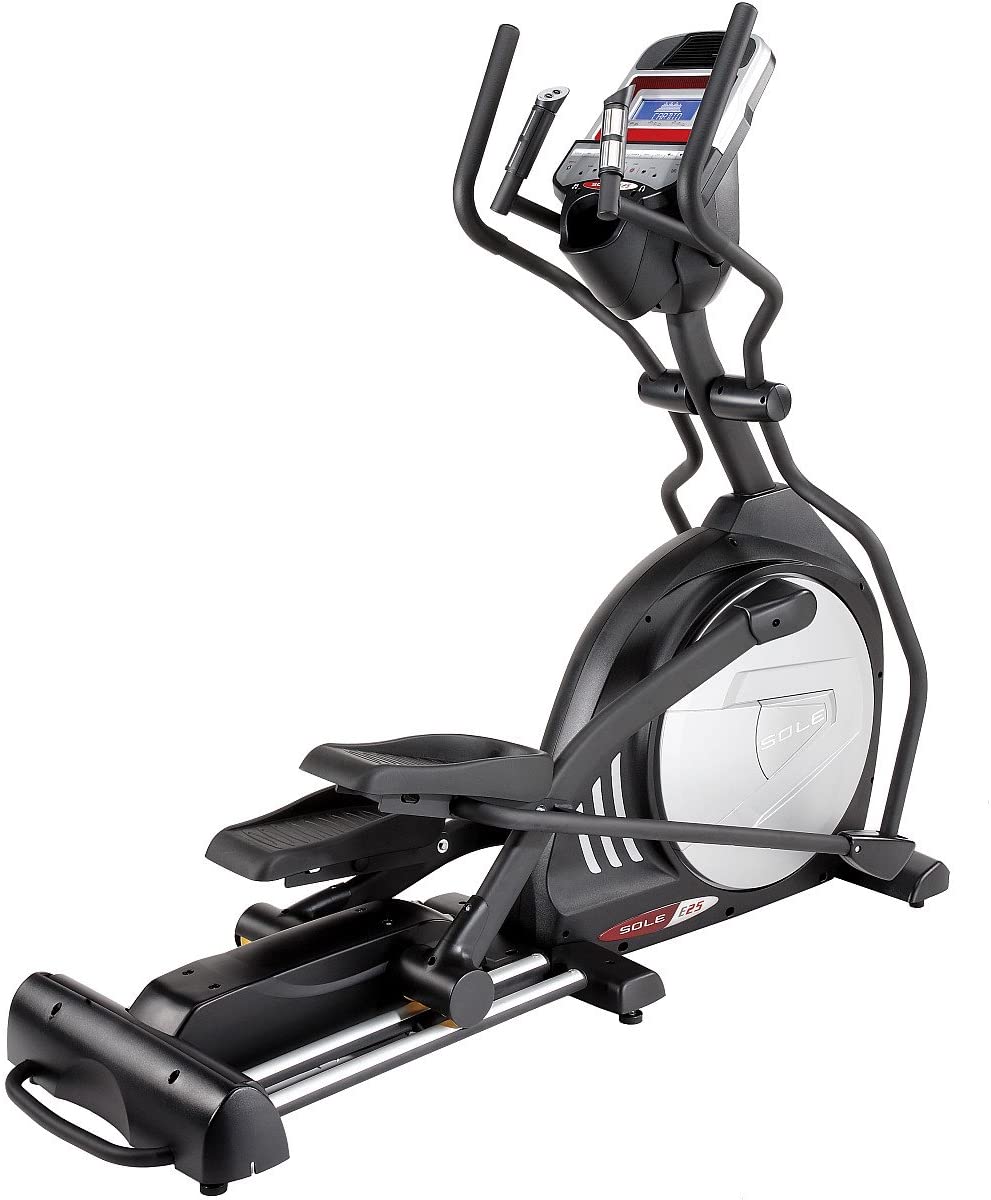 It is worth noting that this machine is not simple to assemble. If you choose to bravely go at this alone, don't. You'll absolutely need at least an additional set of hands, especially when wiring the display. If you can spare the extra cash for professional assistance, I wholeheartedly think it is worth it to save yourself the hassle.
For those with balance issues, the Sole E25 may not be your best choice. With a 14-inch step-up height, it might be difficult to mount and dismount for some prospective users.
Read all the juicy details in our Sole E25 elliptical review.
| | |
| --- | --- |
| Flywheel | 20 lbs |
| Dimensions | 70" L x 24" W x 71" H |
| Stride length | 20" |
| Weight capacity | 350 lbs |
Best Folding Quiet Elliptical: NordicTrack SpaceSaver SE7i
Good for: Someone who doesn't want their elliptical to be out all of the time
Best Folding Quiet Elliptical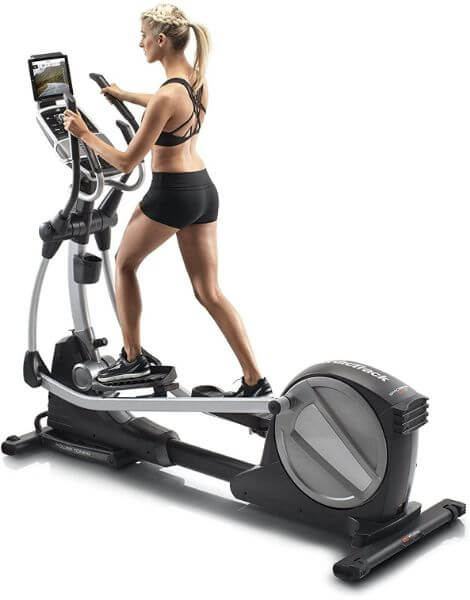 NordicTrack SpaceSaver SE7i
The NordicTrack SpaceSaver SE7i is a low-impact, multi-functional elliptical that is made to offer a gym-like workout from the comfort of your own home.With more than 17,000 workouts to choose from on the iFIT app, 22 resistance levels, and on-demand workouts with a trainer, you are bound to get a good workout every time. There is also a 325-pound weight limit and adjustable strides so most anyone can use the machine.It also has silent magnetic resistance (SMR) so you won't disturb other people in your home when it's in use. When you're not using it, fold it down for easy and convenient storage.
Pros:
Foldable
Silent magnetic resistance
Great financing options
18-lb flywheel
325-lb user weight capacity
iFIT-compatible
Comes with a touchscreen
22 levels of resistance
Cons:
Warranty could be better
Lacks incline
Around $1,300
There aren't many foldable ellipticals on the market, let alone a quiet and foldable option. NordicTrack must've been snooping in my diary when they created the SE7i, because this machine has it all.
Besides being simple to fold in half like a taco, this machine boasts silent magnetic resistance. This means the magnet and the flywheel inside of the elliptical won't be constantly grinding on each other like two 20-somethings in a nightclub. Instead, you'll have sweet, sweet quiet.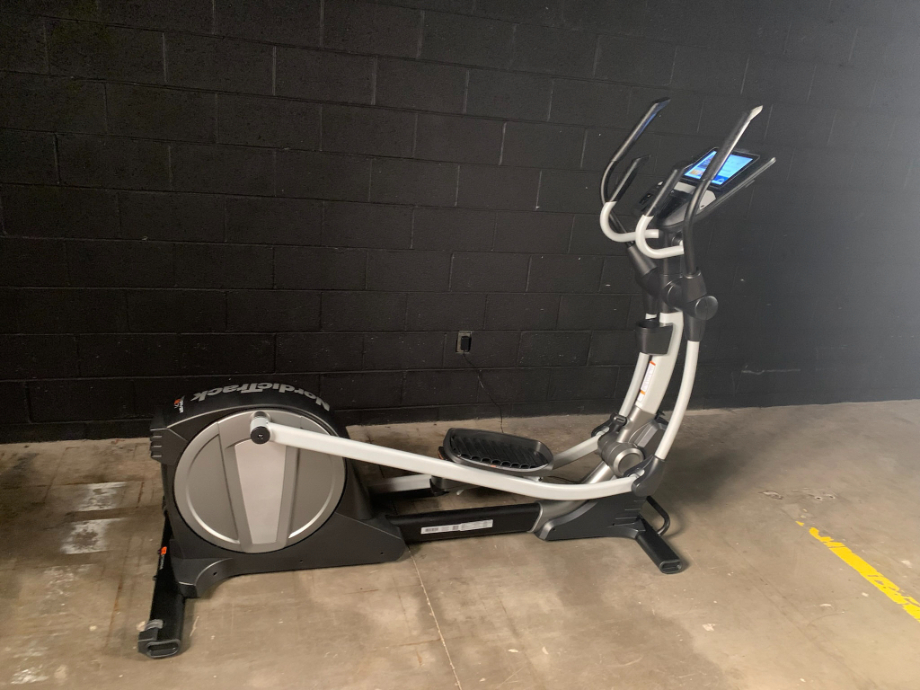 Although this is one of the most expensive machines on this list, NordicTrack provides excellent financing options (if you qualify through a credit check). Plus, since this is a NordicTrack machine, the SE7i is compatible with the always-evolving iFIT programming. You can view a variety of class options on the SE7i's 10-inch touchscreen, which is quite responsive, I may add.
I have this bone to pick on every single one of NordicTrack's currently produced machines: The warranty could be much better. With the SE7i, you'll get a 10-year frame warranty. This isn't necessarily awful, but the industry standard is 15 years to life, which should be hit by a company (and product) of this caliber. Although we haven't had any issues with durability yet, the 10-year cap does make me a little wary.
Take a gander at our full NordicTrack SpaceSaver SE7i review.
| | |
| --- | --- |
| Flywheel | 18 lbs |
| Dimensions | 80″ L x 32″ W x 67″ H |
| Stride length | 18" |
| Weight capacity | 325 lbs |
Best Quiet Elliptical for Apartments: ProForm Hybrid Trainer
Good for: Someone looking to get multiple uses out of their cardio machine
Best Quiet Elliptical for Apartments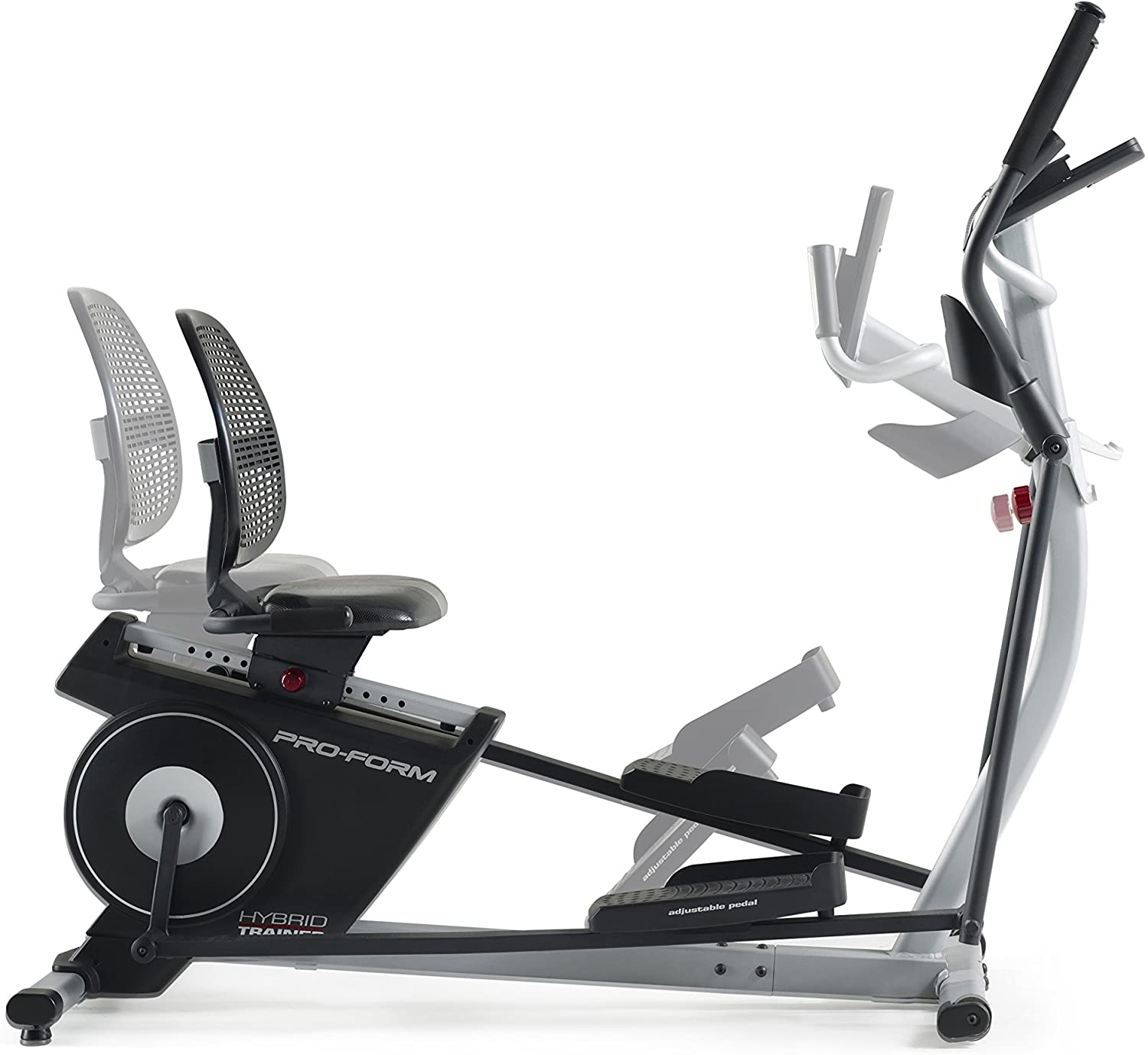 ProForm Hybrid Trainer
Now you can access the benefits of two machines in one. In two quick steps the Hybrid Trainer XT evolves from an elliptical to a recumbent bike. Simply adjust the pedals and console. And with the latest in fitness technology at your fingertips, you can enjoy daily motivation like never before with workouts designed to get you started and keep you motivated.
Pros:
Bike and elliptical in one machine
Quiet machine
Around $600
Compatible with iFIT programming
16 levels of resistance
Variety of preset programs
Fairly simple to move
Cons:
15" stride length
13-lb flywheel
250-lb weight capacity
Short warranty
Trying to decide between purchasing a recumbent bike or an elliptical machine? With the ProForm Hybrid Trainer, you don't have to pick––you'll get both! This innovative machine combines both of these low-impact exercises into one affordable package. Oh, and did I mention it is surprisingly quiet thanks to the silent magnetic resistance?
For around $600, the Hybrid Trainer has a lot to offer. Although this cardio machine doesn't have a built-in touchscreen, you can still view compatible iFIT programming on your own device using Bluetooth connectivity.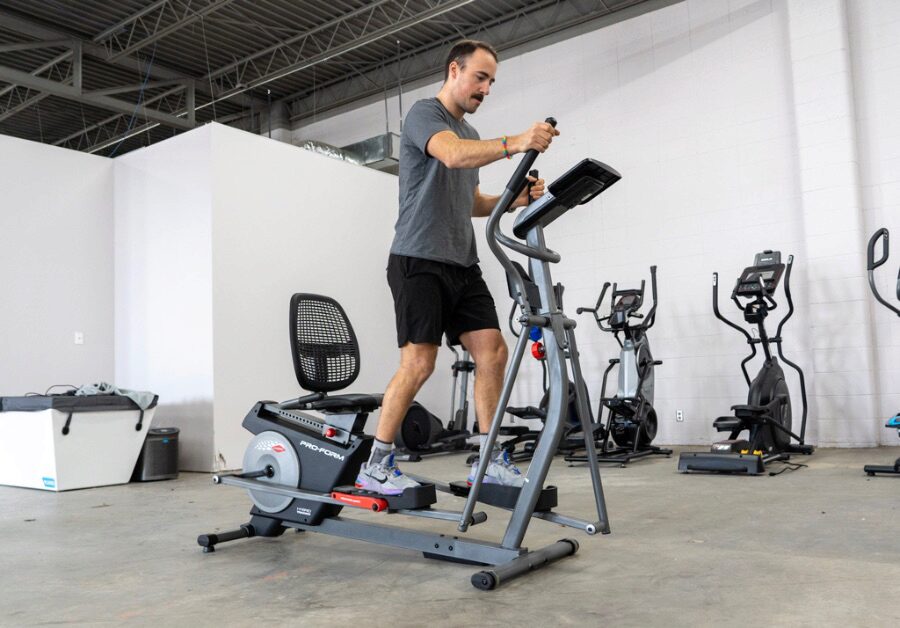 Plus, you can just as easily access the free, preset programs offered on the Hybrid Trainer, which is a huge value-add. Many companies have done away with preset programs with the rise of subscription-based interactive programming, so it is nice to see that this machine has this feature.
Although it is easy to transition between the bike and elliptical component, a combination machine does mean some compromises. The elliptical component only has a 15-inch stride length, which is below the industry standard of at least 18 inches. This means the Hybrid Trainer may feel more like a step machine than an elliptical (especially if you're on the taller side).
Want to find out more information? Take a deep dive into our ProForm Hybrid Trainer review.
| | |
| --- | --- |
| Flywheel | 13 lbs |
| Dimensions | 70.5″ L x 24.5″ W x 60.5″ H |
| Stride length | 15" |
| Weight capacity | 250 lbs |
Best Quiet Elliptical for Small Spaces: Niceday Elliptical
Good for: People who are working with limited space
Best Quiet Elliptical for Small Spaces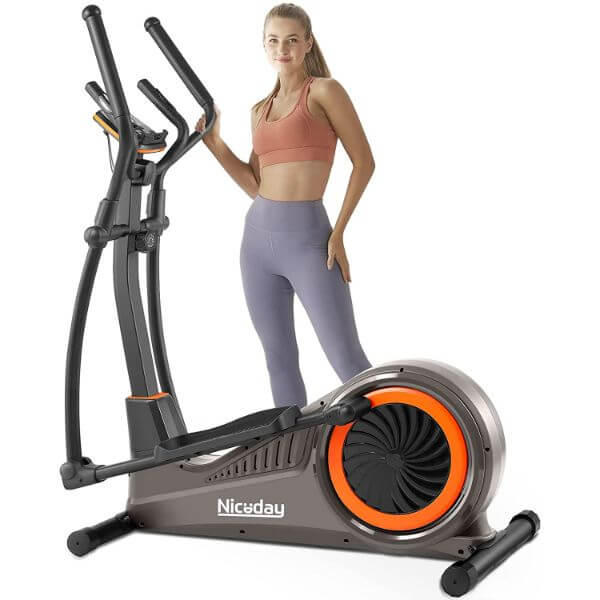 Niceday Elliptical Machine
Arriving 90% pre-assembled, the Niceday Elliptical Trainer is an easily installed, sturdy, and quality elliptical for someone looking for a low-impact, efficient workout. Equipped with large pedals and constructed with steel, the Niceday Elliptical Trainer supports weights up to 400 pounds and is designed for users between 4 feet, 9 inches and 6 feet, 2 inches tall. But, the 15.5-inch stride will likely feel too small for those over 6 feet tall.A 16-pound flywheel offers 8 levels of magnetic resistance without the need for any electrical source. A battery-powered digital monitor displays time, speed, distance, and calories so you can stay on track towards your fitness goals. According to Niceday, all data is dual-calibrated by algorithms to ensure accuracy of fitness metrics provided.The magnetic resistance is intended to reduce noise emission, which is recorded at only 20dB. There are some reports that the machine is noisier but often this is because of poor maintenance. Should there be any part that is damaged or making noise, Niceday offers a life-long promise and pays for all replacement costs.
Pros:
Easy to move around
Compact dimensions
Not noisy
400-lb user weight capacity
16 levels of resistance
Inexpensive
Doesn't have to be plugged into an outlet
Cons:
Short stride length
Flywheel could be heavier
Shakes slightly at certain resistance levels
If you currently live in a small space (I do, too!), you may have to get creative with your home gym. Finding a quiet elliptical without a large footprint may seem like a daunting task, but the Niceday elliptical is here to help.
This affordably priced machine can be moved around seamlessly and doesn't have to be plugged into an outlet to work. That's right, this machine can go anywhere! Your walk-in closet. Next to your oven (just don't light it on fire). Maybe even next to your work-from-home setup. Whatever works for you, works for the reasonably sized Niceday elliptical.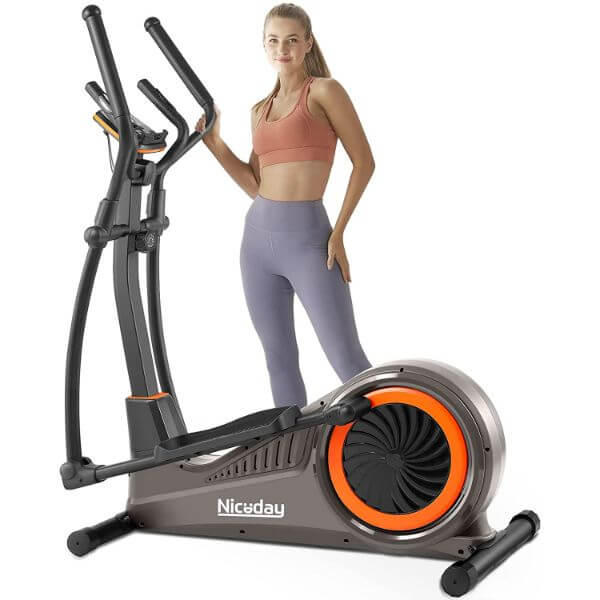 When I initially tried this machine, I equated it to being "as quiet as a little church mouse," and I firmly stand behind this statement. Besides not causing a ruckus, the Niceday elliptical has an impressive 400-pound user weight capacity and 16 different levels of resistance. This makes this machine a viable option for heavier people, which is always a win in my book.
I do want to note that the flywheel is a little light for my taste. Sixteen pounds is the lowest we'd expect to see on a good elliptical, so you need to be aware that the Niceday may shake ever so slightly at higher resistance levels. However, the slight play in this machine doesn't equal noise in this case, so don't be too concerned.
Take a look at our full Niceday elliptical review for the 4-1-1.
| | |
| --- | --- |
| Flywheel | 16 lbs |
| Dimensions | 48″ L x 25″ W x 62″ H |
| Stride length | 15.5" |
| Weight capacity | 400 lbs |
Best Budget Quiet Elliptical: Schwinn 430 Elliptical
Good for: Individuals looking to spend under $1,000 on a quiet elliptical
Best Budget Quiet Elliptical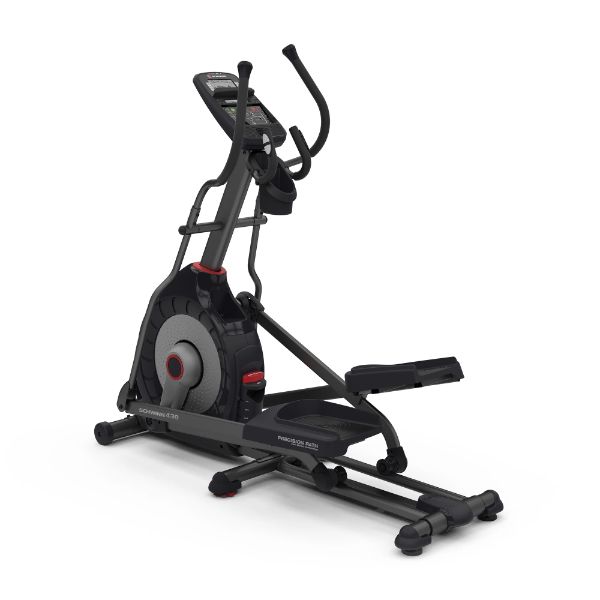 Schwinn 430 Elliptical
The Schwinn 430 elliptical comes with a lot of great features that help you get the most bang for your buck. It has a 20-inch stride, large footplates, and 20 levels of resistance. You're also able to track your heart rate on the contact grips that are part of the handlebars. While there are six levels of incline available, it's manually adjustable, which is something to note.The Schwinn 430 Elliptical comes with dual screens to easily view the pre-programed workouts, or you can use the media shelf to view your own device or reading material. There is also a charging USB port and MP3 input so you can listen to podcasts, books, and music through the speakers. Typical with Schwinn, this product is built to last. The frame has a 10-year warranty.
Pros:
Around $900
20" stride length
300-lb user weight capacity
Quiet when properly maintained
20 levels of resistance
22 preset programs
Charging USB port
Cons:
Flywheel weight isn't shared on the website
Subpar warranty
Footprint is large
If you want a machine that likely won't wake the baby (or piss off the neighbors) without spending a ton of cash, the Schwinn 430 elliptical might be a good choice for you. At just around $900, this cardio machine is ready to help you get your sweat on (quietly, of course).
The 20 levels of resistance go hand-in-hand with the 22 preset programs, which can help you get an excellent workout in. The 20-inch stride length is also an excellent feature of the 430, especially for all my tall friends out there. Nothing is more satisfying than a machine that actually supports your natural stride!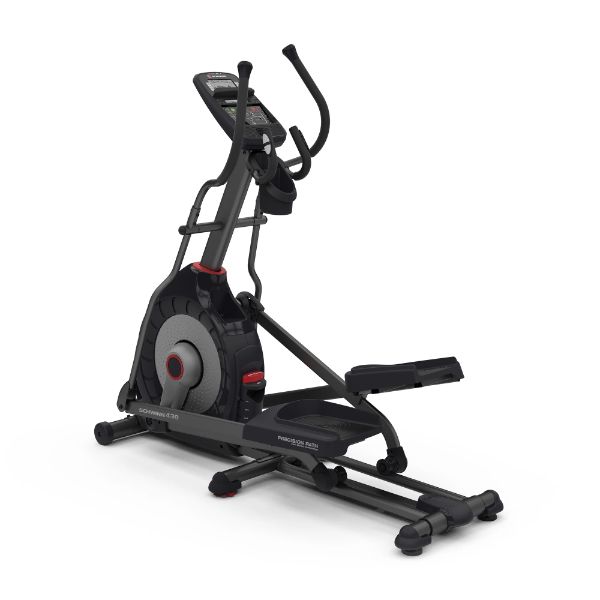 It is worth noting that Schwinn doesn't share the flywheel weight of the 430 on the website. I was able to find a few different guesstimates across the internet, but no definitive answer from the brand itself. I do find that slightly strange, but the machine is still quite sturdy, so it is less of a concern.
You'll also want to make sure that you have adequate space for the 430 to live full-time. This machine doesn't fold or compact at all and it has a large footprint. This isn't a deal-breaker, especially with all the other things the 430 has to offer (but it's still worth noting).
Read our full Schwinn 430 elliptical review.
| | |
| --- | --- |
| Flywheel | N/A (Not shared on website) |
| Dimensions | 70.1" L x 28.2" W x 63.2" H |
| Stride length | 20" |
| Weight capacity | 300 lbs |
Other Ellipticals We Researched
Want more inspiration for equipment that might work in your space? Check out a few of our roundups for more products we love:
How We Picked and Tested
When choosing an elliptical, we suggest asking yourself the following questions:
Noise level: How loud is this machine? Would a next-door neighbor be able to hear it during a cardio workout?
Flywheel: How heavy is the flywheel? How does this weight compare to the industry standard we've come to expect?
Price: How expensive is this elliptical machine? Would it be considered a budget option or a more expensive/high-end elliptical machine in terms of price range?
Brand: What brand is this elliptical machine? Is it Sole Fitness, Sunny Health & Fitness, Nautilus, Bowflex, or from Amazon?
Dimensions: What are the dimensions of this elliptical trainer? Is this a large footprint or a more compact design?
Adjustable: Is the stride length adjustable? Are the foot pedals adjustable?
Resistance: Does this machine have resistance options? If so, how many levels of magnetic resistance does it have?
Incline: Does this exercise machine have power incline?
Portability: Can this machine be moved easily? Does it come with transport wheels? Is it advisable to have more than one person move this elliptical machine?
Technology: Does this machine have any preset elliptical workout programs? Can the elliptical be connected to interactive programming?
Extras: Are there extras on-board like Bluetooth connectivity, a USB charging port, speakers, cooling fan, tablet holder, or water bottle holder? Does this cross trainer come with a chest strap for heart rate monitoring?
Handlebars: Are the handlebars well-cushioned? Is there a single set or a fixed set plus a non-moving set?
Display: Is the display a touchscreen, LCD, or LED digital monitor?
Foldability: Does this machine fold?
Stride length: What is the stride length? How does this match up with industry standards?
Weight: How heavy is this machine?
Weight capacity: What is the weight capacity of this elliptical machine? How does this compare to the 275-pound user weight capacity standard?
Benefits of Quiet Ellipticals
Having a high-quality, quiet elliptical is definitely beneficial––you don't need to just hear me hooting and hollering about it. Instead, enjoy certified personal trainer (and GGR writer) Anthony O'Reilly's thoughts on the matter:
"Ellipticals are one of my favorite cardio machines because they provide a full-body workout while minimizing stress and impact to your joints, allowing you to workout for longer periods of time," Anthony explains. "These machines are generally pretty quiet, and as someone who's lived with his fair share of roommates, I can tell you that it can come in handy when you're looking to get an early-morning workout in without disturbing anyone."
"Silence is also golden when it comes to a machine's durability," Anthony adds. "Noise might be a sign that an elliptical's internal gears are grinding against each other, which can wear down the mechanics over time."
Buying Guide: What to Look for in Quiet Ellipticals
When trying to find a (mostly) silent elliptical, here are the top three things I recommend keeping in mind:
Noise Level
This is obvious, but some ellipticals are just louder than others. Having an expert (ahem, me) who has tried the machines herself can be helpful in the buying process, or go in person to test a few out yourself.
Keep in mind that maintenance and lubrication are important steps in caring for your elliptical. If you regularly perform maintenance on your machine, you'll notice it will be quite a bit quieter.
Heavy Flywheel
Although a heavy flywheel isn't a necessity for an elliptical to be quiet, it can definitely help. The heavier a flywheel is, the smoother (and quieter) the overall operation will be. If having a heavy flywheel is important to you, I recommend picking one that is between 16 to 20 pounds. Think of the flywheel as the engine powering a car: The stronger it is, the easier it will be to stride and the less noise it will make.
Sturdiness
A sturdy elliptical is a quiet elliptical! When ellipticals are cheaply made or constructed mostly out of materials like plastic, this can cause the overall sturdiness to suffer. For machines that aren't sturdy, they can cause a lot of noise squeaking or thumping against the ground (since the machine isn't flush with the floor).
Quiet Ellipticals FAQs
Is an elliptical quieter than a treadmill?
Although this depends on the machine itself, I'd say generally yes. Since ellipticals are low-impact, they don't cause as much noise as treadmills. When you're running, jogging, or sprinting on a treadmill, you'll be making quite a bit of noise as your feet hit the deck versus the striding motion of an elliptical.
Are NordicTrack ellipticals quiet?
Yes, the majority of NordicTrack ellipticals are quiet, hence why I added the NordicTrack SpaceSaver SE7i to this roundup. NordicTrack creates some of the best ellipticals (and exercise bikes for that matter) on the market for home workouts. I always suggest checking out the exercise equipment that they're offering because they are excellent for home use.
Are ellipticals too loud for an apartment?
Nope, ellipticals can be a great choice for apartments. The main concern with having an elliptical in an apartment is the lack of space, especially since ellipticals generally have a large footprint.
What fitness level should use an elliptical?
Everyone, from beginners to high-intensity workout fanatics,can benefit from this low-impact workout. Provided you can safely mount and dismount an elliptical, this can be a great tool for an effective workout.