We test and review fitness products based on an independent, multi-point methodology. If you use our links to purchase something, we may earn a commission. Read our disclosures.
It seems like every cardio machine folds these days––you can find compact treadmills, exercise bikes, and even rowing machines that fold. But, no one ever seems to talk about foldable ellipticals. Honestly, it's likely because they're incredibly difficult to find (and I'm not 100% sure why).
Luckily, I've done the dirty work for you and found the prized crown jewel––the best folding elliptical. Save the applause, I know I'm impressive. You'll be crying tears of pure joy when you're able to actually fold and store your elliptical like a pro.
Our Reviews Don't Fold or Flop––But These Ellipticals Sure Do!
Although I very much enjoy being a silly goose, I also like being a serious goose who gets down to business (yes, I surprisingly have duality). The business in question, you may ask? Bringing readers like you reviews and roundups they can trust on the most popular exercise equipment.
Whether you're looking for the perfect barbell or a small, foldable exercise bike, our team has you covered. With countless years of experience in the fitness industry, our team brings a wealth of knowledge to the table––we're certified personal trainers, nutrition coaches, and former college athletes.
Top 3 Folding Ellipticals
Best Folding Elliptical Overall: NordicTrack SpaceSaver SE9i
Good for: Programming enthusiasts or those who enjoy HIIT/interval training
Best Folding Elliptical Overall
NordicTrack SpaceSaver SE9i
The NordicTrack SpaceSaver SE9i features an iFIT-enabled 14-inch HD smart touchscreen to stream the growing library of iFIT on-demand workouts. You can choose from you favorite trainers or you favorite scenic locations—iFIT training sessions are shot all around the globe with world-class trainers. You'll also benefit from auto-adjust technology, which allows you to follow along with the changing incline and resistance levels your trainer cues up, without ever letting your hands off the elliptical handlebars.The SpaceSaver SE9i has a folding mechanism where the upright and console portion of the machine fold downward onto the base. Once folded, the transport wheels make it possible to move it around store it vertically.
Pros:
325-lb weight capacity
14" HD touchscreen
Compatible with iFIT programming
18" stride length
24 levels of magnetic resistance
Incline options
Cons:
Cannot be stored in a garage––NordicTrack will void the warranty
Slightly shaky while being used rigorously
Water bottle holder is very small
If you're already an interactive programming fiend, the foldable and iFIT-compatible NordicTrack Spacesaver SE9i might work well in your home gym. This rear-drive elliptical folds vertically to help the user conserve precious space. I particularly enjoy the variety of incline and resistance options available––most ellipticals (let alone foldable ellipticals) don't have features like the SE9i.
RELATED: Best Nordictrack Ellipticals
Plus, at 218 pounds, the SE9i is surprisingly not that difficult to move. After folding the machine like a pancake, you'll be able to wheel it around on the included transport wheels. It is worth noting that one of the places you shouldn't be moving this machine to is the garage. NordicTrack will void any warranty when their cardio machine has been stored or used in a garage, and the SE9i is no exception.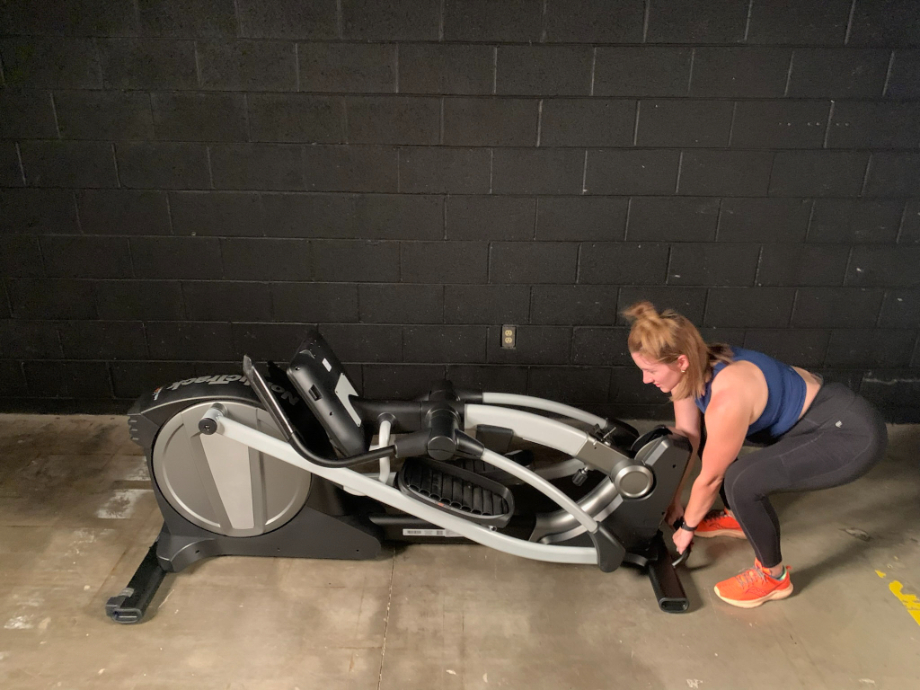 The 18-inch stride length hits the industry standard and is ideal for tall and short users alike––especially if you're looking for a traditional elliptical experience versus feeling like you're on a stepper.
Although this machine does have a weight capacity of 325 pounds, which is 25 pounds higher than the industry standard, it is slightly wobbly. I'm not even half of the weight capacity, so if you're a heavier person, you may experience more shaking. For me, it wasn't a dealbreaker, but know if you're going particularly hard in the paint, you might shake on the SE9i.
Want to learn more? Check out our full NordicTrack Spacesaver SE9i review.
| | |
| --- | --- |
| Price | Around $1,500 |
| Weight | 218 lbs |
| Warranty | 10-year frame, 2-year parts, 1-year labor |
| Footprint | 80″ L x 32″ W x 67″ H |
Best Budget Folding Elliptical: Gazelle Freestyle
Good for: Someone on a tight budget who just wants a way to get their heart rate up
Best Budget Folding Elliptical
Gazelle Freestyle
Looking for a non-impact and joint-friendly piece of fitness equipment that provides both good cardio and muscle building? If so, consider the Gazelle Freestyle glider, with which you can perform exercises that both build muscle and improve cardiovascular endurance. A basic yet functional monitor allows you to track speed, distance, and time. Equipped with pulse grips, the Freestyle also records heart rate and calories burned allowing you to stay on top of your fitness goals.The Freestyle glider is a solid option for the beginner and advanced athlete alike. The large range of motion enables you to move at any speed seamlessly without putting unnecessary stress on your joints. The Gazelle Freestyle glider has an impressive max user weight capacity of 300 pounds with a relatively compact footprint. If you are short on floor space, the Freestyle can be folded and stored out of the way when not in use. A free nutrition guide, two workout DVDs, and an exercise manual is included with your purchase. The machine is comfortable, equipped with extra-wide and non-skid platforms as well as high-density foam handlebars. There are some users who report this newer model feels less sturdy than previous ones and that the monitor is disappointing. But, the vast majority of consumers were impressed with its ease of use and effective workouts. 
Pros:
Under $250
Lightweight
Doesn't require an outlet to be used
300-lb weight capacity
Portable
Fun to use
Cons:
Lacks any resistance
LCD screen is small
Small pedals
Calling all avid QVC watchers––you may already be slightly familiar with the Gazelle Freestyle. This foldable elliptical was popularized by the network almost 30 years ago, and the price has barely changed. At under $250, the Gazelle is a crowd-favorite for budget-conscious exercisers.
If you're particularly tight on space, the Gazelle may work well for you. Besides the easy-to-fold mechanism, the elliptical has a compact footprint, and doesn't have to be plugged in to work. Since this piece of fitness equipment is user-powered, you won't have to hunt around your apartment for a plug-in spot. Plus, it's lightweight and easy to move at just 46 pounds. Heck, my dog weighs more than that and I've lifted him up the stairs.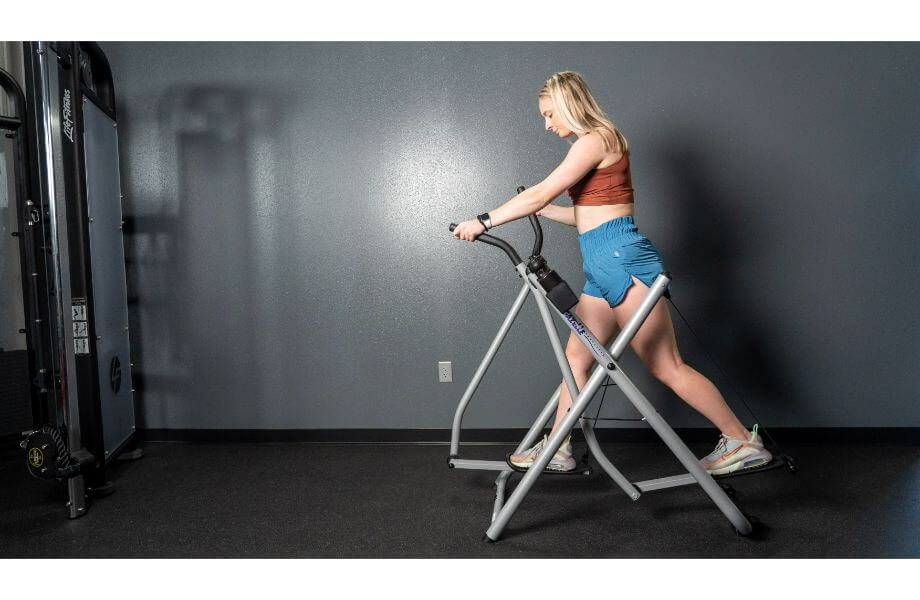 Confession: The Gazelle is also downright fun to use. You can swing front to back, and the Gazelle actually comes with a form of programming in the way of DVDs. However, if you have balance issues, this isn't your best choice. Since there isn't any resistance on this machine, you really have to steady yourself before stepping onto the pedals because they do wobble.
Speaking of pedals, it is important to note that they are very small. My size 9 women's feet barely fit, so I can only imagine how grossly undersized the pedals would be for the average man.
Hungry for more? Read my entire Gazelle Freestyle review.
| | |
| --- | --- |
| Price | Under $250 |
| Weight | 46 lbs |
| Warranty | 12 months |
| Footprint | 44″ L x 33.5″ W x 53.5″ H |
Best Folding Elliptical for Beginners: Sunny Health & Fitness SF-E902 Air Walk Trainer
Good for: People who are new to exercising and want a basic machine to get their feet wet
Best Folding Elliptical for Beginners
Sunny Health & Fitness Air Walker Trainer
Low-impact to no-impact cardio options are ideal for those looking to minimize stress on their joints. Combining the benefits of stretching, walking, running, cross-country, skiing, and aerobic dance into one machine is the Sunny Health & Fitness Air Walker Trainer. This compact and lightweight glider features non-slip pedals, a 30-inch stride, adjustable abdominal pad, and digital LCD display. Monitor the following key workout metrics as you glide away: count, time, calories, and total count.The Sunny Health & Fitness Air Walker Trainer has a folding design, which makes it easy to store when not in use. Weighing just 35 pounds, it has a 220-pound weight capacity. The Air Walk Trainer is easily assembled as well.Given the price point, it is not surprising that there are not many special features. There are no programmed workouts and it lacks a support lean bar for those who do not want the twisting motion of the moving handles.
Pros:
Simple to use
Inexpensive
Lightweight
Sizeable stride length
Compact footprint
Cons:
Lacks resistance
Subpar warranty
220-lb weight capacity
Sometimes simple really is best––especially if you're a beginner or trying something new. The Sunny Health and Fitness Air Walk Trainer is an inexpensive way for new exercisers to try an elliptical without committing to one with a huge footprint.
RELATED: Elliptical Workouts for Beginners
The Air Walk Trainer clocks in at just 35 pounds, so it can be folded and stored in a flash. This machine has a simple display, which takes any complications out of getting started. You'll be able to view a few different metrics like calories burned, time elapsed, and counts per cycle by pressing the large red button to cycle through the information.
The stride length on the Air Walk Trainer is one of the most impressive features at 30 inches. For reference, the industry standard for stride length on an elliptical is between 18 to 20 inches, so this well surpasses this expectation.
However, this isn't a machine I'd recommend for heavy people, as the weight limit is just 220 pounds. This is slightly disappointing because it is well under the industry standard of 300 pounds. I do understand that this machine is under $100, so I shouldn't hold it to as high of a standard (but I still think it is worth mentioning).
Take a closer look at our full Sunny Health and Fitness SF-E902 Air Walk Trainer review.
| | |
| --- | --- |
| Price | Under $100 |
| Weight | 35 lbs |
| Warranty | 1-year frame, 90 days parts |
| Footprint | 19″ D x 25″ W x 57″ H |
Other Folding Ellipticals We Researched
Horizon Fitness Evolve 5: RIP to the Horizon Evolve 5, which was a solid foldable elliptical taken from us too soon. People seemed to have really liked this machine because of its foldability, durability, and lengthy stride, but you'll only find it on the secondhand market today.
NordicTrack SpaceSaver SE7i: We actually also enjoy the NordicTrack SpaceSaver SE7i––it's the little brother to the SE9i. The real difference is in the size of the touchscreen. If you don't care as much about screen size but like the idea of the SE9i, this might be a good option for you.
How We Picked and Tested
In my day-to-day life, I ask a lot of questions. It isn't much of a shocker that I also carry this same, sometimes endearing trait into my work. Here is the lengthy list of questions I asked myself when evaluating these ellipticals:
Foldability: Is this a folding elliptical machine? What direction does it fold?
Price: How expensive is this elliptical? Would this price range make it a low-end, mid-range, or high-end elliptical?
Footprint: What is the footprint of this machine? Would it fit in a smaller space, or is it best in a larger, dedicated home gym?
Flywheel: Does the elliptical have a flywheel? If so, how heavy is the flywheel?
Stride length: What does the stride length look like on this machine? How does this compare to the industry standards? Is the stride length best suited towards someone who is taller or shorter? Does the stride length make this elliptical feel more like a stepper or an actual elliptical?
Weight capacity: What is the weight capacity of this elliptical machine? Would it work best for someone who is heavier or lighter?
Machine weight: How heavy is this machine? Could someone move it solo or do you need the assistance of a second person?
Warranty: What is the elliptical warranty for the frame, parts, and labor? How does this compare to the industry standard?
Levels of resistance: How many levels of adjustable resistance does this elliptical have? At the highest level of resistance, does it feel challenging?
Type of resistance: What type of resistance does this machine have, if any? Magnetic resistance, air-based resistance or something else?
Workout experience: Does the machine wobble? Is it high-quality and made of durable materials? Would this machine work for all fitness levels?
Workout programs: Does this elliptical have any preset workout programs to follow along with? Can it work with interactive programming services like Peloton or iFIT?
Display: What type of display does this elliptical machine have, if any? Is it an LCD, backlit LED, or touchscreen display?
Handlebars:Does this elliptical have dual handlebars or just a single set?
Pedals: How large are the pedals? Are they oversized or textured for a better foot grip? Would these pedals fit the average person's foot?
Extras: Does this machine have Bluetooth connectivity? Does it have a heart rate monitor or a chest strap? Is there a tablet holder? Does the elliptical have a cooling fan?
Benefits of Folding Ellipticals
Still not convinced purchasing a folding elliptical is the right choice for you? Not to worry! Certified personal trainer (and GGR writer) Anthony O'Reilly will explain why you should at least consider it in order to hit your fitness goals.
"Ellipticals are one of the best cardio machines to burn calories and work both upper- and lower-body muscles, and if you let go of the arms and contract your torso, you can use it to work your core as well," Anthony explained. "In other words, ellipticals are highly versatile machines."
"One of the biggest benefits of folding ellipticals is that it can be stowed away to help maximize your floor space," Anthony adds.
"And unlike treadmills, they're low-impact and joint-friendly, making them a great option for anyone recovering from injury and seniors."
Buying Guide: What to Look for in a Folding Elliptical
When picking out a folding elliptical, here are the top three things to keep in mind:
Foldability
Obviously, if you're looking for a foldable elliptical, you need to make sure the machine actually folds. It sounds self-explanatory, but it can be more difficult to find than you may think. Carefully check the product page of any elliptical machine you're considering to see if it has this capability.
Footprint
If you're looking for a foldable elliptical machine, chances are you don't have a lot of space to work with. Measure the area you plan to put your potential exercise machine ahead of time to ensure it will fit, even when unfolded.
Price
Ellipticals can be quite pricey, so check for additional ways to save or break payments into chunks. Plenty of brands like NordicTrack have great financing options that are worth looking into. You can also shop various sales periods, like Black Friday, President's Day, or Labor Day for the best offers on the most popular ellipticals.
Best Folding Elliptical FAQs
Which is the best compact elliptical?
Are there foldable elliptical machines?
Yes, there are foldable elliptical machines. However, there are not a ton of foldable elliptical options, so your selection may be limited.
What is the best elliptical trainer for home use?