We test and review fitness products based on an independent, multi-point methodology. If you use our links to purchase something, we may earn a commission. Read our disclosures.
Not everyone wants, needs, or can afford a high-end elliptical. Heck, many of us don't even have the space for a commercial-sized machine in our home. This is where compact and budget-friendly options come in handy, like those from Sunny Health & Fitness.
In this Sunny Health and Fitness SF-E902 Air Walk Trainer review, we'll take a look at this foldable cardio machine to see if it's worth a single C-note. Plus, we'll analyze how the SF-E902 stacks up to others we've tried in the past, and I promise I won't spare a single detail.
Bestowing a Wealth of Knowledge for Your Health
Doctors treat patients, dentists clean teeth, and Garage Gym Reviews gives you the best fitness reviews and content on the internet. This isn't just our job––it's our passion. The team at GGR is full of certified personal trainers, former college athletes, and nutrition coaches. We love sharing in-depth reviews and information you can feel confident about to help you make your best purchasing decisions.
Sunny Health & Fitness SF-E902 Air Walk Trainer
Sunny Health & Fitness Air Walker Trainer
Low-impact to no-impact cardio options are ideal for those looking to minimize stress on their joints. Combining the benefits of stretching, walking, running, cross-country, skiing, and aerobic dance into one machine is the Sunny Health & Fitness Air Walker Trainer. This compact and lightweight glider features non-slip pedals, a 30-inch stride, adjustable abdominal pad, and digital LCD display. Monitor the following key workout metrics as you glide away: count, time, calories, and total count.The Sunny Health & Fitness Air Walker Trainer has a folding design, which makes it easy to store when not in use. Weighing just 35 pounds, it has a 220-pound weight capacity. The Air Walk Trainer is easily assembled as well.Given the price point, it is not surprising that there are not many special features. There are no programmed workouts and it lacks a support lean bar for those who do not want the twisting motion of the moving handles.
A Quick Look at the Sunny Health & Fitness SF-E902 Air Walk Trainer
Sunny Health and Fitness has a lot of ellipticals to choose from––and I mean a lot. I'm talking under-desk ellipticals, striders, gliders, and electric elliptical trainers out the wazoo. The Sunny Health and Fitness SF-E902 Air Walk Trainer is one of their least expensive offerings at just under $100. 
My Tips:
Download the SunnyFit app for free, on-demand workout classes.
No need to pay for professional assembly––most people will be able to put this together in under 20 minutes by themselves.
Pros:
Under $100
Foldable
30-inch stride length
Non-slip pedals
Simple display
Easy to assemble
35 pounds
USA-based company
Cons:
220-pound user weight capacity
High step-up height
Warranty is short
Single set of handlebars
Is the Sunny Health & Fitness SF-E902 Air Walk Trainer Worth It?
Figuring out if a cardio machine is right for you is no small task––after all, there are tons of options to pick from. GGR wants to streamline the process by suggesting who the Sunny Health & Fitness SF-E902 Air Walk Trainer might work best for and who should go with something different.
Great for:
Space-saving
A budget option
Aerobic training
Beginners
Not recommended for:
Heavy people
Advanced athletes
Individuals with balance issues
Sunny Health and Fitness SF-E902 Air Walk Trainer Specs
| | |
| --- | --- |
| Footprint | 25" L x 19" W x 57" H |
| Weight | 35 lbs |
| Maximum weight | 220 lbs |
| Price | Under $100 |
| Stride length | 30 inches |
| Foldable | Yes |
| Warranty | 1-year frame, 90 days parts |
| Handlebar type | Single set of handlebars (Full range of motion) |
| Monitor | LCD monitor |
| Pedal step-up height | 7.52 inches |
| Return policy | Within 30 days |
| Pedal type | Non-slip foot pads |
Skywalkin' on These Haters with the Sunny Health and Fitness SF-E902 Air Walk Trainer
People in small spaces often get the short end of the stick when it comes to compact cardio machines. It can be downright challenging to find equipment that actually fits in your space and also stores easily when you're not using it.
Plenty of treadmills and elliptical machines have small footprints, but this doesn't always translate well to the storage aspect. This is why I was particularly intrigued by the Sunny Health and Fitness SF-E902 Air Walk Trainer––it folds for easy storage, is inexpensive, and has a small footprint.
Coop Mitchell, founder of GGR, evaluated the SF-E902 with his own bare hands (I would say feet, too, but he assured me he was wearing shoes while testing).
"At just $100, this is likely the cheapest elliptical I've ever used," Coop explained. "There's no resistance, which makes it pretty smooth."
RELATED: How to Use an Elliptical
Although I didn't personally have the chance to hop on the SF-E902, I have used the Gazelle Freestyle, which has a similar build. With gliders and air walkers like these two, you'll usually feel like you're able to take long strides, since they're meant to simulate walking and running. In the case of the SF-E902, the stride length is 30 inches, which gives users a chance to really stretch their legs.
Coop is a well-conditioned individual, so he found the lack of resistance on the SF-E902 to be a drawback. However, if you're a beginner, getting back into exercise, or just want to up your stamina, this may not matter much to you. Since you'll be swinging your legs and arms simultaneously, you'll definitely be able to pump your heart rate up without necessarily needing resistance.
One of the more interesting features on this machine is the abdominal pad. I can see it being useful for people with weaker cores or an injury that makes them pitch forward while exercising. If neither of these apply to you, you may find this add-on to be more of a nuisance than anything else. Although it is adjustable, some reviewers reported it didn't adjust enough to be usable for shorter folks, which is worth keeping in mind.
Although the footprint of the SF-E902 is already small, this elliptical can also fold. After doing a ton of research, I can confidently say that not many ellipticals or gliders fold, which makes this a great option for small spaces.
Plus, at just 35 pounds, the SF-E902 can easily be picked up by one able-bodied person and moved for storage.
Technology Benefits and Conveniences
You won't find much in the way of technology when it comes to the SF-E902. However, the simplicity can be a benefit in and of itself. You don't have to plug in this machine for it to work, so you won't have to position it carefully next to an outlet. Plus, it's more user-friendly because it truly is so simple to use.
There is a small display located about six inches underneath the abdominal pad. On it, you'll be able to cycle through a few different stats (using the red button) including calories burned, time elapsed, and the total count of your strides.
It is worth noting that there isn't a device holder or water bottle slot on this machine. Nonetheless, you can still entertain yourself by setting up your SF-E902 near a television or playing music from your own speaker.
Comparison to Gazelle Freestyle
Gazelle Freestyle
Gazelle Freestyle
Looking for a non-impact and joint-friendly piece of fitness equipment that provides both good cardio and muscle building? If so, consider the Gazelle Freestyle glider, with which you can perform exercises that both build muscle and improve cardiovascular endurance. A basic yet functional monitor allows you to track speed, distance, and time. Equipped with pulse grips, the Freestyle also records heart rate and calories burned allowing you to stay on top of your fitness goals.The Freestyle glider is a solid option for the beginner and advanced athlete alike. The large range of motion enables you to move at any speed seamlessly without putting unnecessary stress on your joints. The Gazelle Freestyle glider has an impressive max user weight capacity of 300 pounds with a relatively compact footprint. If you are short on floor space, the Freestyle can be folded and stored out of the way when not in use. A free nutrition guide, two workout DVDs, and an exercise manual is included with your purchase. The machine is comfortable, equipped with extra-wide and non-skid platforms as well as high-density foam handlebars. There are some users who report this newer model feels less sturdy than previous ones and that the monitor is disappointing. But, the vast majority of consumers were impressed with its ease of use and effective workouts. 
The Gazelle Freestyle is another glider-like machine available on Amazon for an inexpensive price. Both are pretty similar––they feature a year-long warranty, foldable frame, and zero resistance.
However, the Gazelle Freestyle does have a slightly higher weight capacity compared to that of the SF-E902. Check out the chart below to see all the similarities (and differences) between the two cardio machines.
Want to learn more? Check out our full Gazelle Freestyle review.
| | | |
| --- | --- | --- |
| Machine | Sunny Health and Fitness SF-E902 Air Walk Trainer | Gazelle Freestyle |
| Price | Under $100 | Around $220 |
| Footprint | 25" L x 19" W x 57" H | 44″ L x 33.5″ W x 53.5″ H |
| Warranty | 1-year frame, 90 days parts | 12 months |
| Max user weight | 220 lbs | 300 lbs |
| Constructed with | Steel, foam, plastic | Steel |
| Foldable | Yes | Yes |
| Resistance levels | None | None |
| Weight | 35 lbs | 55 lbs |
| Water bottle holder | No | Yes |
Customer Experience
Although we typically expect to see at least a 10-year frame warranty on most ellipticals, the Sunny Health and Fitness SF-E902 Air Walk Trainer only has a one-year guarantee. However, I think it is important to keep in mind the price when evaluating the warranty, as this machine is under $100. I'm honestly glad they gave a warranty at all for such an inexpensive piece of cardio equipment.
If you don't love your SF-E902 Air Walk Trainer, you can return the machine within 30 days for a refund. You'll begin through the traditional Amazon returns process by clicking the "Returns and Orders" button in the upper right corner.
Ordering and Assembling the Sunny Health and Fitness SF-E902 Air Walk Trainer
Ordering the SF-E902 on Amazon is simple. Add the machine to your cart, type in your credit card information, and choose your assembly option of choice. The machine will be shipped to your home in under a week with free delivery (even for non-Prime members). You'll be able to purchase professional assembly for $89, or put it together yourself at no cost.
Although there isn't financing available for this particular machine, you can save money on the SF-E902 if you are approved for an Amazon Business Card.
For those curious about the assembly process, GGR's Operations Manager Sam "asSAMbly" Presley put together the SF-E902 and said it was a breeze.
"The machine comes mostly pre-assembled," Sam commented. "You just have to add a few screws and it is ready to be used in around 20 minutes."
Customer Reviews
On Amazon, the Sunny Health and Fitness SF-E902 Air Walk Trainer has a rating of 4.2 out of 5 with over 9,100 reviews.
Pleased patrons lauded the easy assembly process, quietness, and overall sturdiness of the SF-E902.
"It took me 5 mins to put together––extremely easy to do, just a couple of nuts and bolts to screw on and it's pretty much there," customer Hannah explained. "It is also nice and compact, so it's ideal for a smaller space."
Others who purchased the SF-E902 weren't crazy about the non-existent resistance, small foot pedals, and lack of features.
"If you are looking for something to help tone, give an intense workout, or keep track of your workouts, this probably won't do the job," customer Chantal reported.
RELATED: Elliptical HIIT Workout
Final Verdict of Our Sunny Health and Fitness SF-E902 Air Walk Trainer Review
The Sunny Health and Fitness SF-E902 Air Walk Trainer delivers a decent workout for an excellent price.
If you need a compact elliptical for a small space, this compact option might work well for you for a gentle full body workout.
For more advanced athletes, the lack of resistance offered might prove to be problematic.
The SF-E902 may not last like other more expensive options would, but at $100, this may be less of an issue for you.
Sunny Health and Fitness SF-E902 Air Walk Trainer Rating
Sunny Health and Fitness SF-E902 Air Walk Trainer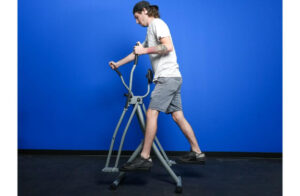 Take a look at our full Sunny Health and Fitness SF-E902 Air Walk Trainer review to see what we really think about this inexpensive cardio machine.
Product Brand: Sunny Health and Fitness
Product Currency: $
Product Price: 95.97
Product In-Stock: InStock
Sunny Health & Fitness SF-E902 Air Walk Trainer FAQs
What muscles does the SF-E902 work?
Since you'll be moving both your arms and legs while using the SF-E902, you'll get a full-body aerobic workout. However, this isn't a substitute for lifting weights, but rather a helpful addition to a strength-training routine. Some reviewers reported that their glutes and general lower-body were sore after using the Sunny Health & Fitness Air Walk Trainer.
Will I lose weight on an air walk trainer?
Combined with a good diet, frequently using an air walker trainer may support weight loss. I recommend always consulting with your doctor or a registered health professional before trying a new diet or exercise routine.
Is the Sunny Health and Fitness SF-E902 good for beginners?
Yes! The SF-E902 is an excellent way for novices to get acclimated to exercise. Plus, it is an inexpensive way to get moving without having to brave the elements of the great outdoors. Who doesn't like a little television and air conditioning while doing cardio, am I right?
What other types of low-impact fitness equipment would you recommend?
Besides the obvious elliptical, cross trainers, exercise bikes, and rowing machines provide excellent low-impact workouts. Depending on the space you have in your home gym, you might prefer one piece of equipment over another.