We test and review fitness products based on an independent, multi-point methodology. If you use our links to purchase something, we may earn a commission. Read our disclosures.
Plenty of things that were once super popular (looking at you, Shake Weight) have faded into obscurity as the population realizes they're just gimmicks. Does the hit '80s elliptical, the Gazelle Freestyle, have the same fate looming in the distance? Or will this machine have an impending comeback like the mullet has had? Find out all my thoughts in this Gazelle Freestyle review.
Detail-Oriented Fitness Professionals
Our team of expert product testers and reviewers at Garage Gym Reviews—who are also certified personal trainers and athletes ourselves—are suckers for fitness equipment (and learning all the nitty, gritty details that go along with each piece). We know there are a bevy of choices on the market today, and lots of the options seem really similar. We're here to help you sort through the insignificant jargon to find the information that actually matters. Plus, we've tested dozens of pieces of cardio equipment, so we know exactly what to look for.
Gazelle Freestyle
Gazelle Freestyle
Looking for a non-impact and joint-friendly piece of fitness equipment that provides both good cardio and muscle building? If so, consider the Gazelle Freestyle glider, with which you can perform exercises that both build muscle and improve cardiovascular endurance. A basic yet functional monitor allows you to track speed, distance, and time. Equipped with pulse grips, the Freestyle also records heart rate and calories burned allowing you to stay on top of your fitness goals.The Freestyle glider is a solid option for the beginner and advanced athlete alike. The large range of motion enables you to move at any speed seamlessly without putting unnecessary stress on your joints. The Gazelle Freestyle glider has an impressive max user weight capacity of 300 pounds with a relatively compact footprint. If you are short on floor space, the Freestyle can be folded and stored out of the way when not in use. A free nutrition guide, two workout DVDs, and an exercise manual is included with your purchase. The machine is comfortable, equipped with extra-wide and non-skid platforms as well as high-density foam handlebars. There are some users who report this newer model feels less sturdy than previous ones and that the monitor is disappointing. But, the vast majority of consumers were impressed with its ease of use and effective workouts. 
A Quick Look at the Gazelle Freestyle
The Gazelle Freestyle was created in the 1980's by fitness professional Tony Little and was previously sold on the Home Shopping Network (HSN). This machine has been around for a few decades, and we were curious to see how today's Gazelle stacks up to today's fitness equipment.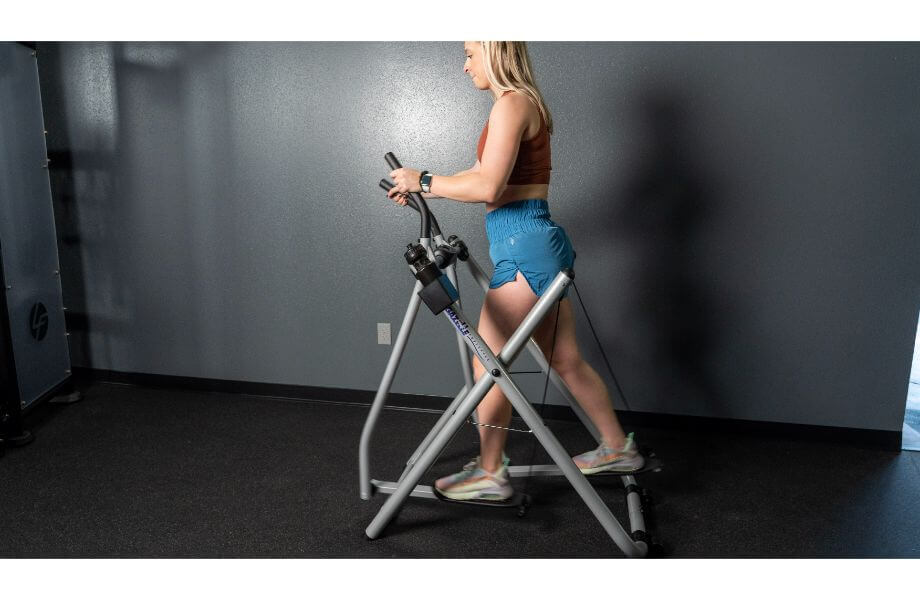 My Tips:
I suggest folding the machine before moving it. Even though it's lightweight, the legs of the Freestyle will wack you if you just try to pick it up and move it sans folding.
You get two workout DVDs with the purchase of the Freestyle (hope you have a DVD player—I don't!).
Pros:
Around $200
Foldable for small spaces
Lightweight machine at 46 pounds
User weight capacity of 300 pounds
Doesn't need to be plugged in
Cons:
Foot pads are exceptionally small
Precarious to get on and off
No incline or resistance options
Is the Gazelle Freestyle Worth It?
The Gazelle Freestyle is a unique glider/elliptical machine that some people might really enjoy. However, this isn't a catch-all product that will appeal to everyone. Here's who I think would get a lot of use out of the Gazelle, and who should save their cash for something else.
Great for:
Budget-conscious people
Shorter individuals
Not recommended for:
Folks with balance issues
Large feet
Those who want lots of technology features
Gazelle Freestyle Specs
| | |
| --- | --- |
| Footprint | 44″ L x 33.5″ W x 53.5″ H |
| Weight | 46 lbs |
| Maximum user weight capacity | 300 lbs |
| Price | Around $200 |
| Warranty | 12 months |
| Foldable | Yes |
| Folded dimensions | 66″ L x 33.5″ W x 10.5″ H |
| Made of | Steel and plastic |
| Display | Small workout computer |
| Heart Rate Monitor | Thumb monitor |
| Resistance levels | None |
Galloping on the Gazelle Freestyle
The Gazelle Freestyle is unlike any other elliptical I've ever tried (and I've tried a lot as a fitness writer). Long, steel poles topped with foam gripped handlebars and small, plastic foot platforms make up the majority of the machine. Pretty much every other component is made with plastic, which always makes me wary of future durability. In a word, this exercise machine looks austere.
However, the bare-bones appearance matches up with the very inexpensive price tag, so I can't fault the machine for being exactly as advertised.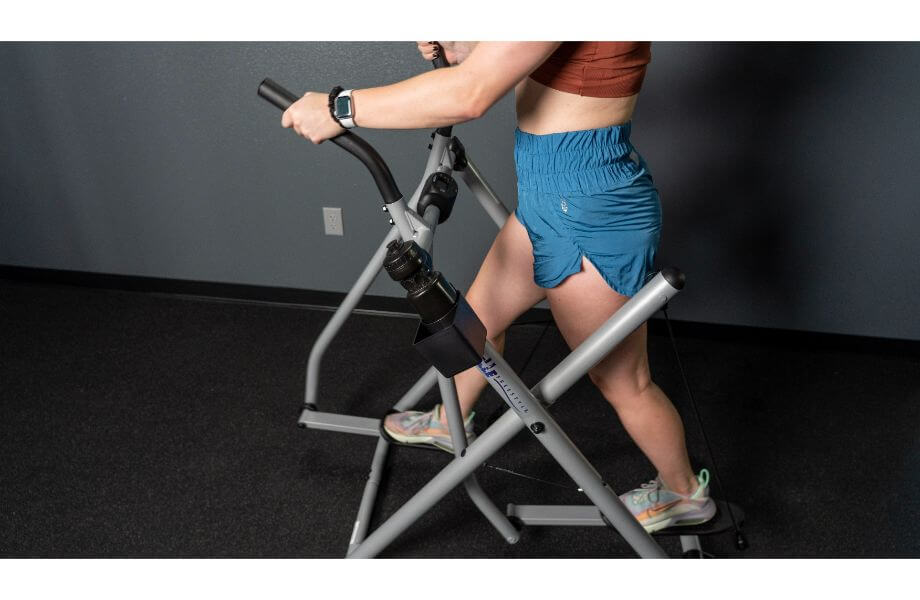 Plus, this fitness machine (which has been around for decades) has been around $200 since 2004. This means the machine has not gone up in price in almost 20 years, which would account for why there are now more plastic components than on previous models.
Garage Gym Reviews Editor Nicole Davis tested the Gazelle Freestyle alongside me. She is 5 feet, 3 inches with smaller feet, so we wanted to see how her experience would differ from mine as a tall person with big feet.
"It's unique to use compared to other machines in the elliptical category in that there's no adjustable resistance, so you are in complete control, even down to the stride pattern," Nicole explains. "It's hard to get on and off—it requires a lot of balance—and seems small overall, but if you're just looking for an easily portable machine to get some cardio in, you probably can't beat the price of this one."
I agree with Nicole––this glider isn't easy to get on and off. The foot pedals shake when you step on them, and since there isn't any resistance to keep the strides from going forward, you're one misstep away from falling onto your keister. I would not recommend this machine for anyone with balance issues or those recovering from injury.
You are able to simulate running, walking, or even a skiing motion based on how you choose to step on the Gazelle. However, they all feel kind of the same to me since there are no differences in resistance or incline.
Neither Nicole nor I had any issues with the actual frame of the Gazelle being unstable, but the machine is just 46 pounds––the weight capacity of 300 pounds seems a little wishful for such a seemingly fragile machine.
The foot pedals on the Gazelle are comically small. Nicole's women's size 7.5 foot took up almost the entire platform, and my size 9 foot verged over the edge. It's a true shame Garage Gym Reviews Staff Writer Anthony O'Reilly wasn't there to test this machine, as his men's size 15 shoe would have made this look like a machine for ants. Folks with big feet––stay away!
Here is my one hot take Nicole doesn't necessarily agree with–– I thought the machine was still fun to use. Sure, there are zero incline, decline, or resistance options, but I did feel rather gazelle-like. I am a card-carrying member of the easily amused club, so that might be why I actually had a nice time aggressively swinging my legs. I can see it working well for someone who just wants a simple home workout while watching TV or mentally redecorating their bathroom.
Foldability and Portability
One of the shining features of the Gazelle Freestyle is its foldability and portability. This is one of the few elliptical machines that actually folds, and does so pretty easily. Plus, at just 46 pounds, it isn't very difficult to move once folded. It would be a good option for someone in a small space who needs to store their machine away when not in use.
Folding Your Gazelle Freestyle
Not sure how to fold your Gazelle? Here is a quick step-by-step tutorial:
Grab the plastic foot platforms and fold them up towards the machine's arms. You'll be able to snap them in place.
Hold the back of the frame in place and slide the front frame towards you using the arms of the Gazelle.
Make sure to flip the machine onto the correct end where the transport wheels are located for easy portability.
Wheel the folded machine into your desired spot.
Technology Benefits and Conveniences
I'm going to use the term "technology" loosely in this case, okay? The only sliver of tech on the Gazelle Freestyle is the small, LCD monitor, roughly the size of a credit card. It'll cycle through a few different basic metrics, like how fast you're going, time elapsed, and possible calories burned. You'll also find a thumb pulse monitor, which I wouldn't put too much stock into info wise, as these are generally pretty inaccurate.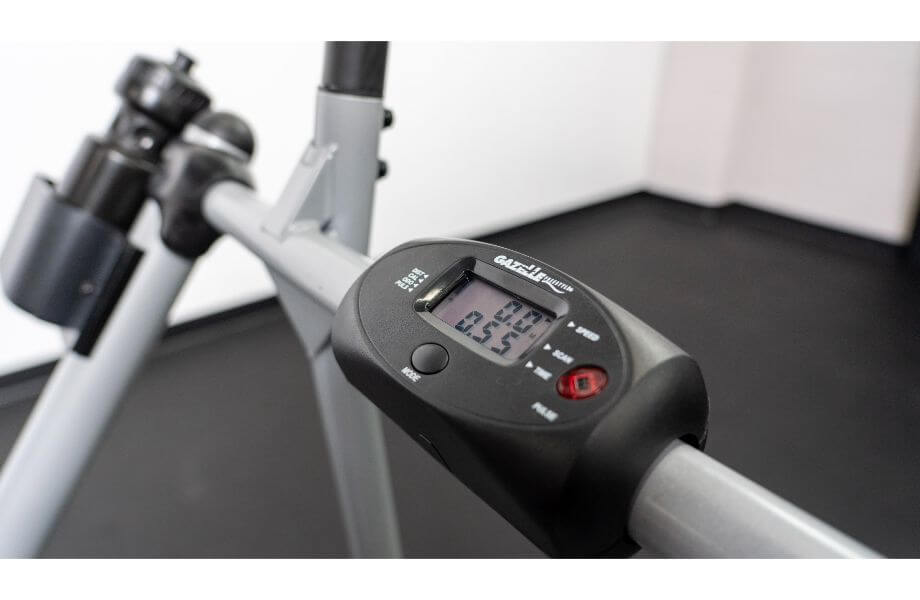 There are no preset programs on the Gazelle, although you do get two workout DVDs with your purchase.
DVDs have seemingly become a thing of the past, and I don't know many people who still have DVD players. I unfortunately was unable to access the contents of these, and wish they had made it an option to scan a QR code via your phone.
There is one convenience on the Freestyle, which is a square-shaped water bottle holder. An odd choice configuration-wise, but I won't argue with it. It can fit a standard-sized plastic water bottle, and actually comes with a black push-cap bottle if that's more your thing.
Ordering and Assembling the Gazelle Freestyle
Surprisingly, you can purchase the Gazelle Freestyle Glider from a variety of retailers, but we chose to order ours from Amazon for around $200. With your purchase on Amazon, you get free shipping (even if you're not a Prime member) and delivery within about a week.
Amazon offers professional assembly for $89, which usually isn't a bad deal for someone else putting together your fitness equipment, but in this case, it's about half the price of the machine itself. You can also purchase an additional two-year protection plan via Amazon for $24.99.
Although this isn't exactly a financing option, you can get $50 off the purchase price of your Gazelle if you're approved for an Amazon Rewards Visa Card.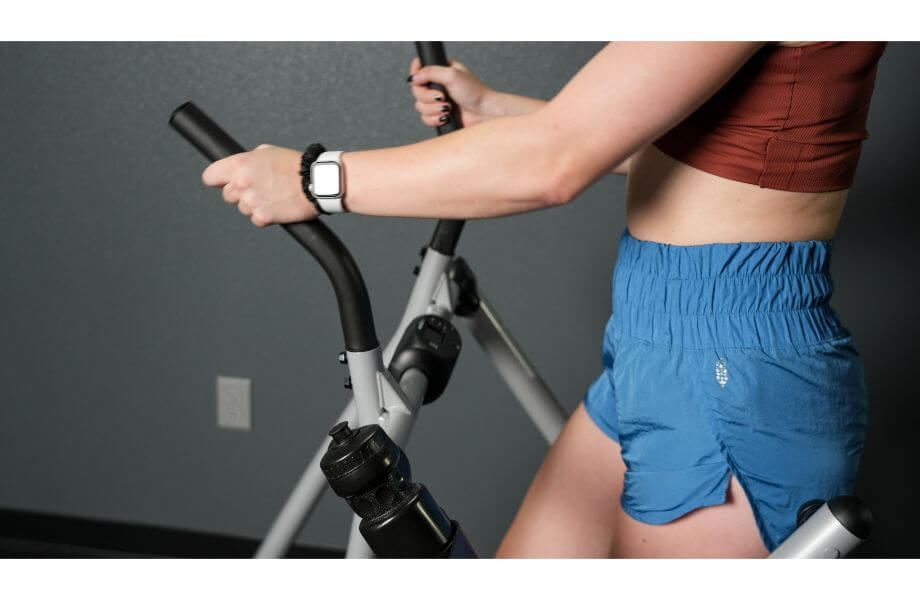 Garage Gym Review's Operations Manager Sam "asSAMbly" Presley was in charge of assembling the Gazelle Freestyle once it landed at the doorstep of our testing facility.
Sam mentioned that the Freestyle is packaged in a small box that is pretty simple for one able-bodied individual to move (not super surprising, since the machine is only around 50 pounds).
"Although there are very few pieces to the Gazelle, they did not align well with each other due to being cheaply made," Sam admitted. "I can't say I'm shocked though, as the machine is only about $200."
Customer Reviews
Whether you look at the brand's website or on Amazon, customers actually seem to love their Gazelle Freestyle. With over 1,000 reviews on Amazon, this cardio machine has a rating of 4.6 out of 5.
Happy purchasers enjoy this machine for its price, simplicity, and quietness.
"I love this elliptical," Amazon reviewer Brii explained. " I was searching for something to accommodate my weight and something to easily store and this met both of my needs.It was pretty easy to put together and it's not that heavy."
Regretful buyers were few and far between, but there were some individuals who were previous happy Gazelle customers (as the machine has been out for decades), and now find the newer machines to be low-quality.
"I loved Gazelles," customer Debbie D. says. "I had one for over 20 years that I used regularly. Back then it was built to last…this model was made of cheap plastic that broke while my husband was using it."
Final Verdict of Our Gazelle Freestyle Review
The Gazelle Freestyle is not an elliptical machine I'd recommend for a serious athlete or an individual with balance issues. However, if you're just looking to get some movement in while watching TV or listening to music (and you have great balance), you'll likely be pleased with your purchase for the money.
Gazelle Freestyle Rating
Gazelle Freestyle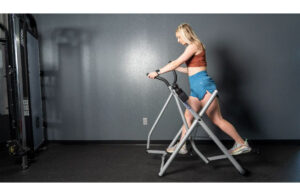 Our Gazelle Freestyle review will help you determine if this cardio machine is a thing of the past or a great budget purchase for your home gym.
Product Brand: Gazelle
Product Currency: $
Product Price: 219.99
Product In-Stock: InStock