We test and review fitness products based on an independent, multi-point methodology. If you use our links to purchase something, we may earn a commission. Read our disclosures.
What's strong, durable, and gets the job done? The ProForm 905 CST treadmill. In its heyday, it was considered one of THE best treadmills to have in your home gym. Buyers could feel more than confident that this machine could help them achieve their fitness goals. With its iFIT workout programs, fantastic warranty package, and super soft cushioning- what was not to love?
Though this machine is no longer in production, we can give you an idea of what it's like as well as offer alternatives. Keep reading to get more details about the hype surrounding this piece of exercise equipment in our ProForm 905 CST treadmill review.
We Know ProForm Treadmills
I'd consider us a pro at ProForm treadmills at this point because we've tested and reviewed so many of them! In fact, we know them so well that we can tell you how to troubleshoot a ProForm treadmill and explain how to use it without iFIT.
Our team of CrossFit L1 Trainers, certified personal trainers, and endurance athletes have tested ProForm treadmills repeatedly. Therefore, we can tell you the good, the bad, and whatever else in between. We've also had the opportunity to test out many other treadmill brands and discuss how they compare. So trust me, we know our stuff! And we're committed to ensuring you know, too, so you can find a treadmill that meets your needs.
Looking for an Alternative to the ProForm 905 CST?
Those looking for an alternative to the 905 CST can check out the ProForm City L6. It's great for individuals living in smaller spaces since it can fold completely in half. It's also considered fairly light for a treadmill, coming in at just 125 pounds. Therefore, portability wouldn't be a problem for most people. In addition, like the 905 CST, this machine, too, is iFIT-enabled and comes with ProShox cushioning throughout the deck.
I will say, though that this particular treadmill is best suited for walkers since it only has a max speed of 8 MPH, a 1.6 CPH motor, and a shorter running deck. It's also missing any incline capabilities and only supports up to 250 pounds. Therefore, it's not a good choice for taller or bigger people.
If having incline capabilities on a treadmill is important, as well as a greater max speed, I'd recommend the ProForm Carbon T7 or ProForm Carbon T10.
Best Alternative to ProForm 905 CST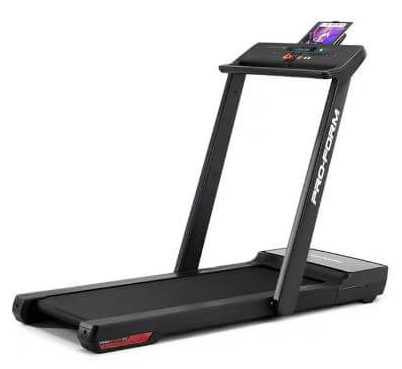 ProForm City L6 Folding Treadmill
The ProForm City L6 Folding Treadmill is the currently most affordable treadmill offered by ProForm. The L6 does not come with a built-in screen, instead it has a device holder for your table or phone. Similar to the other ProForm models the L6 utilizes iFIT programming with trainer-controlled speed, but you will have to stream classes from your phone or tablet.The L6 has a tread belt size of 17.5 by 45 inches, which is on the smaller side, but this treadmill is built to be compact. The overall footprint of this treadmill is 29 inches wide by 70.25 inches long and 44.5 inches tall. The treadmill handlebars fold down so it can be stowed away. The 1.6 CHP motor can achieve speeds of 0-8 miles per hour.There are limited online reviews of the L6 treadmill. Most users had positive experiences, enjoying the quick and easy assembly and compact design. One user did have the treadmill arrive broken and had difficulty with customer service. At the time of publishing, there are no user reviews about using iFIT with the L6 treadmill.
A Quick Look at the ProForm 905 CST
The space-saving ProForm 905 CST is an inexpensive treadmill packed with many convenient features. Although it's now discontinued, that doesn't mean it's not a quality piece of fitness equipment. In fact, for most fitness enthusiasts, it checks many boxes as being a great treadmill to add to one's home gym.
This folding treadmill has a desirable speed range and even includes incline capabilities. Although you won't find a touchscreen on it, it still has many other valuable features, like a powerful motor, shock absorption, and an amazing warranty plan.
If you've been around the fitness block, then you know that ProForm is a well-known brand when it comes to exercise machines, especially treadmills. And I can honestly say they didn't disappoint with this one. Those who might not have been fans of the ProForm 505 CST, given its smaller running area and less-than-ideal maximum speed, would probably like its 905 CST sibling.
Pros:
iFIT-enabled
3.0 CHP motor
Large running deck
Cushioning system
Cooling fan
Foldable
Cons:
Users feel forced to get iFIT membership
Challenging to hear sound system when running
Basic display
May need two people to assemble
ProForm 905 CST Specs
| | |
| --- | --- |
| Footprint | 61″ H x 36.5″ W x 78.75″ L |
| Weight | 224 lbs |
| Weight Capacity | 350 lbs |
| Motor | 3.0 CHP |
| Walking Belt | 20″ W x 60″ L |
| Display | 5" backlit display |
| Incline | 0% – 12% |
| Speed | 0 – 12 MPH |
| Programs | iFIT |
| Warranty | Discontinued Product (ProForm offers 10-year frame warranty and 1-year parts and labor warranty) |
Where Can I Find the ProForm 905 CST?
If you're shopping for this home treadmill or any others in the ProForm CST series, you might have difficulty finding it. At this juncture, most of them are even removed from the official ProForm website. Be careful of getting your hopes up if you do happen to see a CST treadmill listed there because, unfortunately, upon further review, you'll likely find that it's out-of-stock.
There are product listings for the ProForm 905 CST on Wal-Mart and Amazon websites, but those may also say out of stock or unavailable. Given that it's becoming nearly impossible to find this treadmill, it's best to get the ProForm City L6.
Key Features of the ProForm 905 CST
This treadmill's features are ones many runners are looking for. You'll find it equipped with a 3.0 continuous horsepower motor, which allows for smooth speed and incline transitions. Motors like this are made to handle heavy-duty workouts without sacrificing performance or overheating.
Another appealing feature is its 350-pound max user weight capacity. This is quite generous, as many treadmills tap out between 200 and 300 pounds. However, here is something you should keep in mind. Although the motor on here is good, it's been recommended that when users are over 200 lbs, the HP should be increased by .5 for better support. So a 3.5 CHP motor would be better here for a heavier individual, but overall, it should still allow one to get a good cardio session in.
This other feature will make runners rejoice because this treadmill has a max speed of 12 MPH! So its max speed is more than reasonable for most people, even athletes. In fact, I'd say that if you just want a treadmill to walk on, this machine wouldn't be for you as you can likely find a more affordable option.
Another feature that treadmill users will like is its maximum incline, which comes in at 12%. For the average Joe, handling a 12% incline is a lot of work, as you have to push your own body weight up. It'll undoubtedly get your heart rate up and allow you to target some different muscles.
Footprint, Portability, and Durability
One of the most attractive things about the ProForm 905 CST is its roomy running surface. It comes in at 20 inches wide and 60 inches long, which is ideal for even tall runners. Some users have complained that it's a bit restricting if you have longer strides and/or are over 6 feet tall, but most people will be more than satisfied with this.
The machine has a SpaceSaver design, so if you have to utilize your living room area to work out, you'll like this. It folds vertically, allowing you to store the treadmill elsewhere, but it is heavy (224 pounds!), which can be a deal-breaker for some people. Portability could be a concern, as some users have commented that they want to avoid moving the treadmill because of its weight.
In terms of durability, ProForm didn't skimp out there. Remember we said how this machine is heavy and how that impacts its portability? Well, you can thank the quality frame and other parts for that. ProForm and NordicTrack are both brands known for creating sturdy products that are built to last, and this one is no different.
Ergonomics
Ergonomics is all about increasing one's efficiency and reducing discomfort, and this treadmill does that. You're getting its ProShox cushioning, meaning walking, jogging, or running won't feel hard on your joints. The deck area is decked out with cushioning, so you'll get a nice, soft landing.
You'll also get digital controls on the console that allow you to quickly and instantly adjust your speed and incline. I appreciate this because it's hard to focus on working out when pressing a bunch of buttons and trying to figure out incline control.
This treadmill does have a tablet holder that lets you stream your favorite channels or access your iFIT workouts. It's close enough that you can touch it to make changes but far enough away that you don't feel like it's a nuisance.
Technology Benefits and Conveniences
I will admit that this isn't the best treadmill in terms of tech features, but it's certainly not the worst, either. With an iFIT membership, you'll be able to work out with a personal trainer who can automatically adjust your speed and incline. It does this by using Bluetooth wireless technology to connect iFIT to the treadmill. There are literally hundreds, if not thousands, of workouts you can find on iFIT, so it's a huge selling point for those who prefer the experience.
RELATED: Best iFIT Treadmills
If you're not feeling iFIT, though, you can bypass it and use the 30 built-in workouts that come on the machine. There just might be an interval training workout waiting on you to find it!
The ProForm 905 CST does have a 5-inch LCD backlit display, but it's not anything to write home about. It's a good area to see your workout stats, such as distance traveled, calories burned, heart rate, and more.
Another convenient feature is the dual 2-inch speakers. There's an audio auxiliary port you can use to plug in your iPod or a different device. If you pair that with the CoolAire workout fan, you'll feel like working out is a breeze.
It's also neat that this treadmill has an EKG grip pulse heart rate monitor so you can track your fitness progress, though pulse ratings aren't always the most accurate. You can use the wireless chest strap for a hands-free experience, and it will automatically communicate the data to your treadmill. Users do like this feature, but some complain that it only works sometimes.
Final Verdict of Our ProForm 905 CST Review
Overall, I'd say the ProForm 905 CST is a good treadmill. If bettering your health and/or losing weight are your goals, it could help you do that.
Sure, it's discontinued, but it definitely delivered during its reign. ProForm is now making room for other high-quality treadmills to help people achieve their fitness goals.
ProForm 905 CST Rating
ProForm 905 CST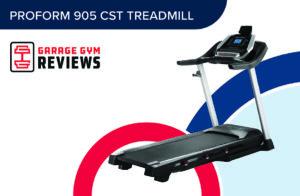 In our ProForm 905 CST Treadmill review, we take a look at the specs of this now-discontinued treadmill.
Product Currency: USD
Product Price: 599
Product In-Stock: InStock
ProForm 905 CST FAQs
Can you Run on a ProForm 905 CST treadmill?
Absolutely! In fact, I wouldn't get this treadmill if I planned on mostly walking. There are more affordable options for that. However, if you're a jogger or a runner, this ProForm machine offers the motor, incline, speed, and running surface to make it enjoyable.
Is ProForm a Good Product?
Yes, ProForm is well-known in the fitness community. They have a reputation for building affordable, iFIT-compatible treadmills, ellipticals, and more.  
Can You Run on a ProForm Treadmill?
You sure can! They are definitely created with runners in mind. However, you must be mindful of the running deck size to ensure it'll be a comfortable run for you. Some of them have a shorter and/or narrower running area. 
Where is ProForm Treadmills Made?
ProForm treadmills are created by iFIT, which is formerly known as ICON Health and Fitness, which has a headquarters in Utah.