We test and review fitness products based on an independent, multi-point methodology. If you use our links to purchase something, we may earn a commission. Read our disclosures.
For a mid-range treadmill to be good, it needs to seamlessly combine durability with a few nice extras. Of course you can't expect the best of everything and pay a middle-of-the-road price, so I believe it is wise to have realistic expectations.
In this ProForm Carbon T10 treadmill review, I'll detail the good, the average, and the bad in my breakdown of this cardio machine. Plus, stick around to see my comparison to the ProForm Carbon T7, and my take on if you should spend your money on the T10.
Dozens of Treadmills Reviewed
Me and my fellow expert product testers and writers don't just seem like we know fitness, we have the certifications to back it up. I'm a former collegiate athlete turned semi-professional soccer player and a CrossFit coach who works alongside certified personal trainers, nutrition coaches, and competitive triathletes.
I've studied the industry standards for some of the best treadmills and could actually recite them to you in my sleep. With the dozens of treadmills I've walked, ran, and jogged on, I've become even more familiar with the features and nuances customers are really looking for in a new machine. Let's get started.
ProForm Carbon T10 treadmill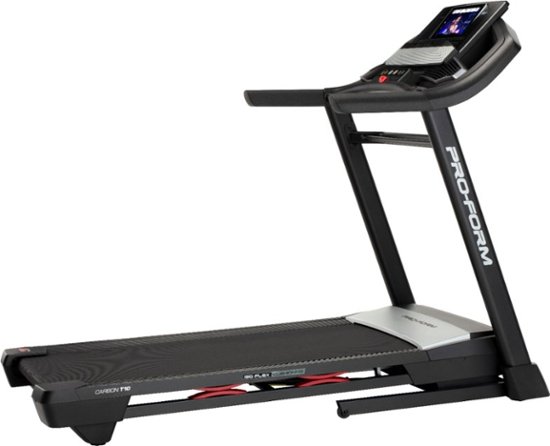 Product Highlights
Cushioned running deck

3.0 horsepower motor

Free three-year iFIT family membership

10" HD smart touchscreen 

Built-in workout fans

Dual audio auxiliary port speakers

EKG grip heart rate sensors
Pros & Cons
Pros
3 year iFIT family membership included with purchase
Interactive smart screen
Incline ranges from 0-12 percent with quick incline one touch button
Speed ranges .5-12 miles per hour with quick speed on touch button
Cushioned running deck
Foldable
30 day return policy
Cons
Smaller running belt: 20" x 55"
A 3.0 horsepower motor does not match price point
Returns will be charged a $250 shopping fee and 10% restocking fee
Bottom Line
Is the ProForm Carbon T10 a good treadmill? It really depends on your fitness goals. If you prioritize performance and durability over technology then this is not the treadmill for you. But, if you are looking for a tech savvy machine and trainer led program optionality, you will be hard pressed to find another treadmill with an interactive touchscreen and three years of iFIT membership at this price.
A Quick Look At The ProForm Carbon T10 Treadmill
ProForm is a fitness brand that mostly focuses on cardio. You'll find tons of rowers, ellipticals, treadmills, and exercise bikes on its website, as well as a smattering of strength equipment to boot.
ProForm has three lines of treadmills: Pro (most expensive), Carbon, and City (least expensive). The T10 is the middle-of-the-road option within the Carbon series, which features an included touchscreen, foldable deck, and iFIT compatibility.
My Tips:
Check out our ProForm Promo Code page for the best deals on ProForm equipment.
In order to cash in on the free iFIT trial, you'll need to enter your credit card. Don't worry; you won't be charged until your trial runs out.
Pros:
iFIT capabilities with 10-inch touchscreen
2.75 CHP motor
Simple to fold and unfold
Speeds up to 10 MPH
Incline options up to 12%
300-lb weight capacity
Heart rate sensors on the grips
Well-cushioned deck
Financing options available
Cons:
Slightly shaky when in use
20-in-by-55-in deck is average
Subpar 10-year frame warranty
Machine is 223 lbs
Is the ProForm Carbon T10 Treadmill Worth It?
The ProForm Carbon T10 Treadmill is very similar to the ProForm Carbon T7 treadmill, except it has a larger touchscreen. I would classify the T10 as being a mid-range treadmill at just over $1,300, whereas the T7 is a more budget option since it is under $1,000. Check out who we think should take a look at the T10 treadmill and who should buy something else.
RELATED: Best Budget Treadmill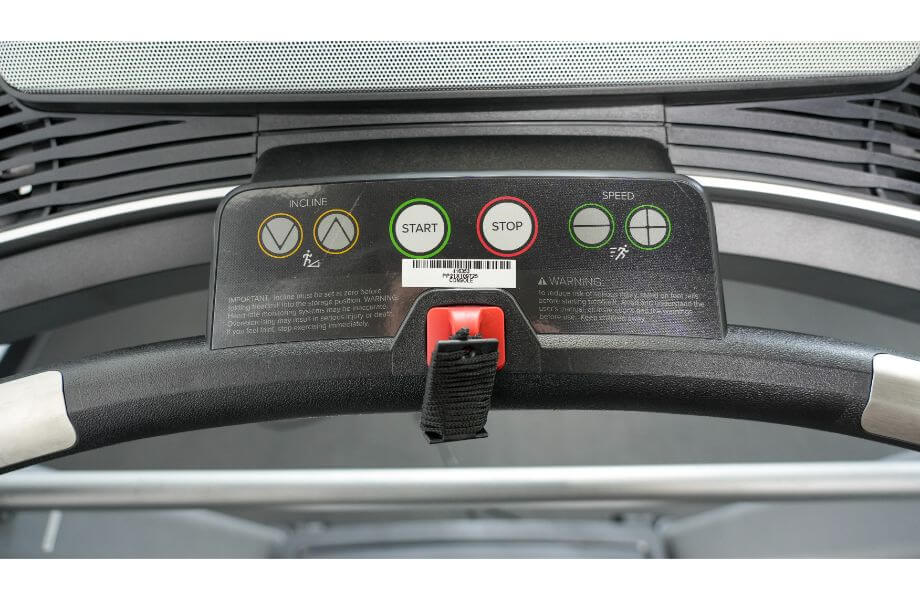 Great for:
People who want iFIT capabilities
Smaller spaces due to the folding capabilities
Those who need deck cushioning
Not recommended for:
Tall people with a long stride
A super budget option
Individuals who want a simple machine
ProForm Carbon T10 Treadmill Specs
| | |
| --- | --- |
| Footprint | 35.24" W x 74.62" D x 64.39" T |
| Tread belt | 20" x 55" |
| Weight capacity | 300 lbs |
| Motor | 2.75 CHP |
| Display | 10" Smart HD Touchscreen |
| Speed | 0 – 10 MPH QuickSpeed® Button Control |
| Incline | 0 – 12% Grade Quick Incline® Button Control |
| Rollers | 1.9" Precision-Balanced |
| Water bottle holders | Yes; 2 |
| Warranty | 10-Year Frame, 2-Year Parts, 1-Year Labor |
| Weight | 223 lbs |
| Google Maps | Yes |
| Audio | Audio Auxiliary Port with Dual 2" Speakers |
Major Key: Using the ProForm Carbon T10 Treadmill
Stepping onto the ProForm Carbon T10, I noticed something immediately. The safety key wouldn't stay in! Luckily (or unluckily), the machine won't start without it. What's a person to do? Steal the ProForm Carbon T7's safety key and stick it in the machine! Problem solved. I am an evil genius. In all seriousness, I think the key came broken, and this is not a universal experience based on the reviews I read. However, if you are also an unlucky soul who receives your treadmill broken or damaged in some capacity, give customer service a call at 1-833-680- 4348.
Running Deck
Evaluating the deck, the size is average at best. Although the 20-inch width is good, I'm not crazy for the 55-inch length. This means taller people, those with longer strides, or serious runners may struggle to comfortably use the T10. If you're over 6 feet tall, you might not be a fan of this deck, as those 5 lost inches actually do make a big difference. I'm 5 feet, 9 inches and I definitely noticed it. Plus, when sprinting, the machine does shake. Not in a deal-breaking way, but I didn't love how it felt when getting up to top speeds.
Motor
3.0 CHP is the industry standard for a treadmill that can support running, although I think the T10 could work for shorter runners, even with a 2.75 CHP motor. I do like the various speed and incline options, which is clearly a pointed effort by ProForm to make the treadmill more commercial-like.
Although you can do a manual run, walk, or jog on the T10, I'm not sure why you'd spend the extra cash to get a tech-y machine if you won't use it. There aren't preset programs (that are free) on the T10, so you'd be better off with something like the Sole F63 if that's more of your jam. However, iFIT is a lot of fun to use on this machine, so if you like interactive programming, you'll likely enjoy it.
RELATED: Sole F63 Treadmill Review
Footprint and Portability
At 223 pounds, the T10 isn't exactly a lightweight treadmill. I would definitely recommend grabbing a friend or family member to help you bring this up a flight of stairs. However, it is really simple to fold and unfold due to the included gas shock. Any time a treadmill has a gas shock or easy-fold mechanism, I am one happy camper. This add-on makes the process a lot easier (and safer) for you and your family because it prevents the deck from crushing toes or hands.
Once you have the machine folded up, there is a set of wheels that you're able to tip the machine onto. From there, you're able to scoot the treadmill around to move or store it in a closet. Although the treadmill has an overall average footprint, the foldability makes this machine a decent option for those looking to buy compact equipment.
RELATED: How to move a treadmill
How to Fold the ProForm Carbon T10
Worried about having to fold the T10? We got you! Here's the step-by-step instructions on how to get this machine compressed and out of your way:
Unplug the T10 from the wall.
Firmly grasp the sides of the treadmill's deck.
Lift using your legs to secure the deck into an upright position.
Make sure you hear the deck lock into place via the gas shock.
Do a happy dance! You did it, random internet stranger!
The Ergonomics
The ProForm Carbon T10 has special cushioning, which I enjoy. It is actually comfortable and would be a good option for someone with joint or knee issues.
In terms of extras, the T10 did a great job with the little things–– dual bottle holders, an XL cooling fan, and a speaker bar complete this treadmill.
Technology Benefits
Like most smart home gym equipment, the ProForm Carbon T10 treadmill has a number of technology benefits that we'll go over now.
Console
The ProForm Carbon T10 is a fairly technologically inclined treadmill with a nice touchscreen. Sure, it isn't the NordicTrack 1750 with a 14-incher, but size isn't everything. The T10's 10-inch screen still works well and has good graphics, so I'm not mad about it.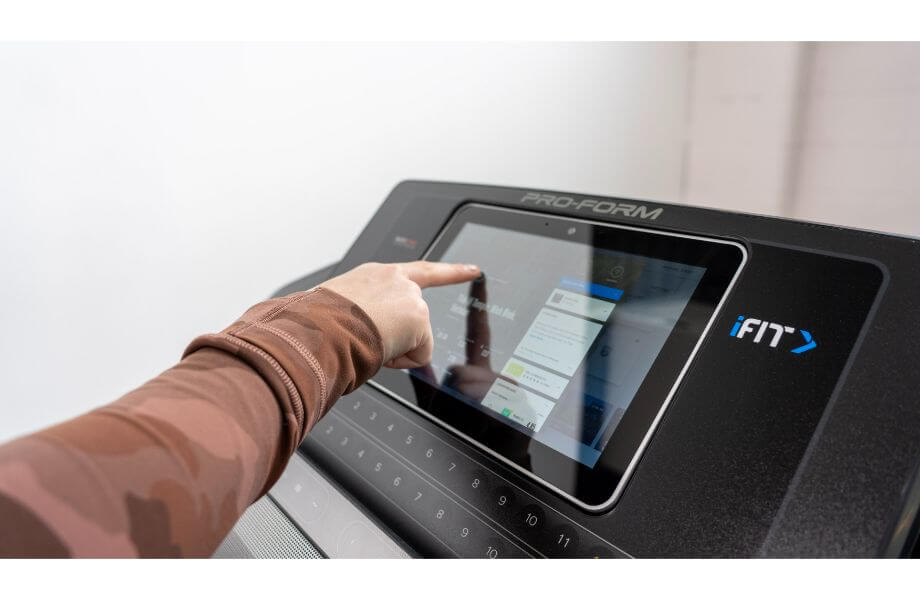 Plus, I do like the heart rate sensors on the inner handlebars. It can be a useful tool to keep track of your exertion, especially if you don't have a fitness tracker.
Manual Mode
If you're not looking to follow a guided workout class you can always use the treadmill in manual mode. Simply press the Start button and adjust the speed and incline to your liking.
iFIT Programming
In my opinion, one of the biggest draws of the ProForm Carbon T10 is the iFIT compatibility. For $39.99 per month, you can get a family membership, which allows you to have multiple profiles for your entire household. From there, you'll be able to access tons of running, walking, and jogging content to use in tandem with the Carbon T10.
I love that this machine has "Live Trainer Control" capabilities, meaning based on the class you're taking, the treadmill will automatically adjust the incline and speed to match. This takes any guesswork or additional thought needed out of your workouts. If you're someone that just wants to jump on the treadmill and have literally no thoughts, you'll go crazy for this feature.
Plus, you'll be able to take iFIT off the tread and download it to your smartphone via the app. There are tons of other types of classes available, including yoga, pilates, biking, and strength training. If you're looking for an all-inclusive workout experience, iFIT definitely delivers.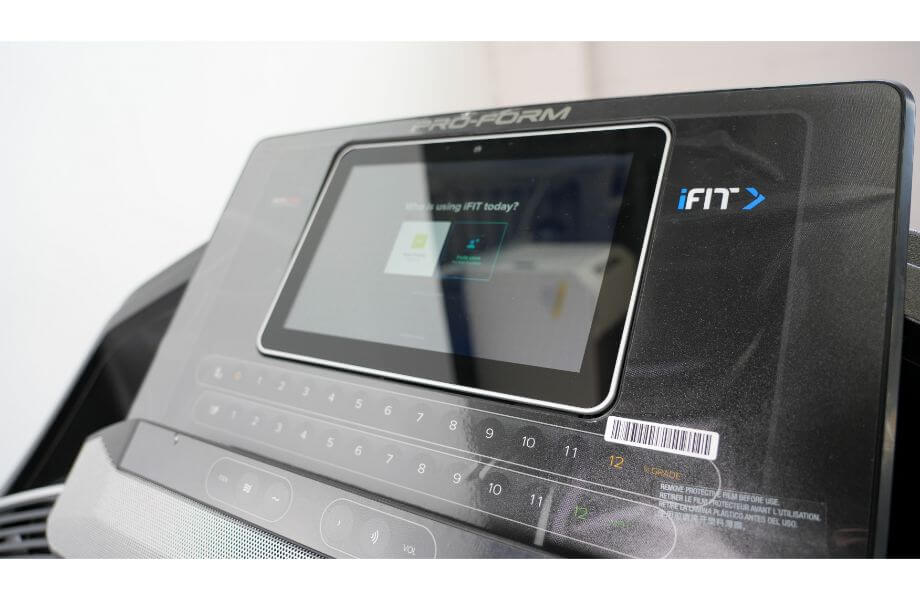 As of the time of this writing in Spring 2023, ProForm is currently offering a 3-year membership with the purchase of this specific treadmill. We aren't sure how long this deal will last, so act quickly!
ProForm Carbon T10 vs. ProForm Carbon T7
ProForm makes three different treadmills in their Carbon series, with the T7 being the least expensive at just under $1,000, and the most similar to the T10. Check out this quick comparison chart to decide which one is the better option for you:
| | | |
| --- | --- | --- |
| ProForm Treadmill | ProForm Carbon T10 | ProForm Carbon T7 |
| Display | 10-inch touchscreen display | 7-inch touchscreen display |
| Motor Horsepower | 2.75 CHP | 2.6 CHP |
| Running Deck | 20" W x 55" L | 20" W x 55" L |
| Incline Range | 0 – 12% Grade Quick Incline® Button Control | 0 – 10% Grade QuickSpeed® Button Control |
| Folding Treadmill | Yes | Yes |
| User weight capacity | 300 pounds | 300 pounds |
| Speed | 0 – 10 MPH QuickSpeed® Button Control | 0 – 10 MPH QuickSpeed® Button Control |
| Warranty | 10-Year Frame, 2-Year Parts, & 1-Year Labor warranty | 10-Year Frame, 1-Year Parts & Labor warranty |
As you might be able to tell, the differences are pretty minor. The T7 has a slightly less powerful motor, less incline optionality, and a smaller touchscreen. Otherwise, they are essentially the same machine. Heck, I've even had them side-by-side, and the only obvious way to tell them apart is through the touchscreens.
Customer Experience
To be honest, for the $1,300 price tag, I expect the warranty to be more expansive. ProForm only gives 10 years for the frame, two years for parts, and a year for labor on the Carbon T10. Generally, we expect 15 years to life for the warranty on the frame of a good treadmill. This does make me a little leery about the durability of the machine in the future, but we have not had any real issues thus far.
If you receive your T10 and don't love it, you have 30 days to return it. However, I'm not nuts for the $250 shipping cost and 10% restocking fee the company charges. This makes it a little less bearable to return since you'll be losing a chunk of change in the process.
I do like the variety of ways you can contact Customer Service. Besides having a chat box in the bottom right hand corner of the website, you can also give ProForm a ring at 1-888-742-0128, or click the 'Contact Us' link to view more options. Whether you're looking to get a hold of sales, support, or billing and returns, ProForm provides you with various methods of contact to do so.
Ordering and Assembling the ProForm Carbon T10 Treadmill
Ordering the Carbon T10 is simple; just add it to your cart on the ProForm website, and wait for it to be delivered. Standard shipping is free on the website, which is a big plus. Is $1,300 too much money for you to shell out all at once? No worries, ProForm offers stellar financing options that start at just $39 per month for 36 months with 0% APR.
I didn't see any options to add assembly for an additional fee, but you likely won't struggle too much with building the T10.
Our Operations Manager Sam "asSAMmbly" Presley said the machine is on the larger side, so he'd recommend having two people around to help with the process.
"We did not face any real problems when building this one; it just takes two people due to the size," Sam explained. "You attach the legs to the base, add the arms, and then the screen. It should take around 45 minutes. Easy-peasy."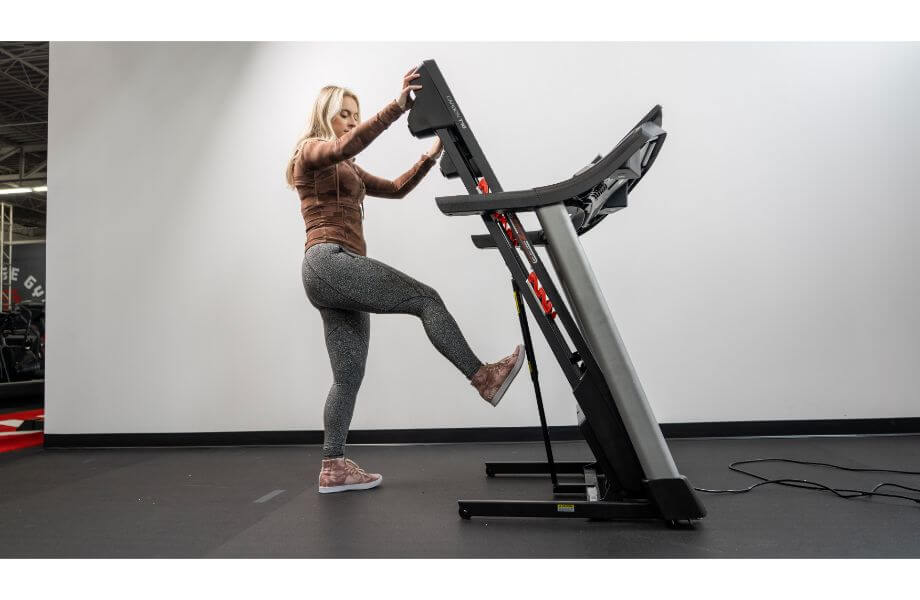 Customer Reviews
On the Best Buy website, the ProForm Carbon T10 treadmill has a rating of 4.2 stars out of 5 with 129 customer reviews. Buyers that loved the T10 gushed about the incline options, quietness of the machine, and iFIT compatibility.
Other reviews stated they had issues with the durability of the T10, the average-sized deck, and reaching customer service in a timely manner.
Final Verdict of Our ProForm Carbon T10 Treadmill Review
Overall, I like the ProForm Carbon T10. If you're on the shorter side, or you want a treadmill with an included touchscreen, you'll probably also enjoy the T10. However, if you're a serious runner or especially tall, there are better options out there for you.
ProForm Carbon T10 Treadmill Rating
ProForm Carbon T10 Treadmill Review 2023 | Garage Gym Reviews
Looking for a new cardio machine? Check out our ProForm Carbon T10 treadmill review to see if this is your Prince Charming or just another ugly frog.
Product Brand: ProForm
Product Currency: USD
Product Price: 1403.00
Product In-Stock: InStock
ProForm Carbon T10 Treadmill FAQs
Does ProForm Carbon T10 have Bluetooth?
Yes, the ProForm Carbon T10 does have Bluetooth capabilities. You can connect a heart rate monitor (sold separately) via Bluetooth to use with the handles.
Can you use Carbon T10 without an iFIT membership?
Yes, there is a manual mode on the Carbon T10. However, I would probably recommend a less expensive machine if you do not plan to use the full technology capabilities.
Does ProForm offer financing for the T10?
ProForm does offer financing for the T10. For just $39 per month for 36 months, you can get your hands on the Carbon T10.
Is Amazon the place to get the best price on a home treadmill?
Not necessarily. It definitely depends on the machine. For some, Amazon is cheaper, and for others, the brand website is less expensive.