We test and review fitness products based on an independent, multi-point methodology. If you use our links to purchase something, we may earn a commission. Read our disclosures.
I love a fitness brand that doesn't make you choose between function and fashion. Be real: Many of us enjoy feeling good AND looking good, right?
2POOD belts are some of the most recognizable weightlifting belts on the market, known for colorful designs featuring crowd favorites like sequins, donuts, and pineapples. And while there are a few less flashy belts on the site, the brand definitely caters to people who love to stand out.
I've worn a 2POOD for more than five years. Is it the best weightlifting belt out there? Maybe not, depending on your sport. But is it a great, quality belt at an affordable price? I'll tell you that and more in my 2POOD belt review.
Buckle Up: We Know Weightlifting Belts
Collectively, our team at Garage Gym Reviews has thoroughly put dozens of weightlifting belts to the test. As a competitive weightlifter, I have been using a belt for nearly a decade now. I have personally tried products from 2POOD, Eleiko, Pioneer, Gymreapers, and a few from Amazon. Right now, I own four 2POOD belts (in addition to two or three belts from other brands).
I tried my first 2POOD five years ago and have since used all three in the brand's line for barbell movements like clean-and-jerks, squats, and deadlifts, as well as CrossFit workouts.
2POOD Belt Comparison
There are three types of belts that 2POOD offers: the Straight Belt, the Petite Belt, and the Metcon Belt. The main difference among them is the width of the belt:
| | Straight Belt | Petite Belt | Metcon Belt |
| --- | --- | --- | --- |
| Price | $64.99 | $64.99 | $59.99 |
| Good for | Weightlifting, powerlifting | Athletes with shorter torsos | Support during functional fitness workouts |
| Sizes | XXXS, XXS, XS, S, M, L, XL, XXL | XXXS, XXS, XS, S, M | XXS, XS, S, M, L, XL |
| Fastening | Steel roller buckle and Velcro | Steel roller buckle and Velcro | Steel roller buckle and Velcro |
| Width | Uniform 4 inches | Uniform 3 inches | 6 inches |
| USAW & IWF Compliant | Yes | Yes | No |
2POOD also offers custom weightlifting belts that come in either the 3-inch or 4-inch style with sizes ranging from XXXXS to XXXL.
A Quick Look at the 2POOD Belt
2POOD burst onto the scene more than a decade ago, offering colorful, playful belts mainly intended for CrossFitters. The Metcon Belt quickly grew in popularity as elite athletes like Sam Briggs wore them on the competition floor for barbell movements.
A few years later, 2POOD saw the need to make a belt that complied with the under-4-inch-width rule that the International Weightlifting Federation (IWF) and the International Powerlifting Federation (IPF) enforces. Thus, the Straight Belt was born. Today, you'll find it on the greats like Mattie Rogers, Chyna Cho, CJ Cummings, Amanda Barnhardt, Jacob Heppner, and Haley Adams.
My Tips
Use 2POOD's size chart! The sizing the brand uses is NOT the same as the sizing you might be used to.
Keep the Velcro on your belt clean (read: free of lint and hair) if you want it to retain maximum support.
Great for:
Weightlifters and functional fitness fanatics
People who want an affordable but quality weightlifting belt
Those who need a belt compliant with the IWF and IPF
Not recommended for:
Powerlifters and Strongmen who typically prefer a leather belt
People who want a very soft weightlifting belt
2POOD Straight Belt Review
The Official Belt of USA Weightlifting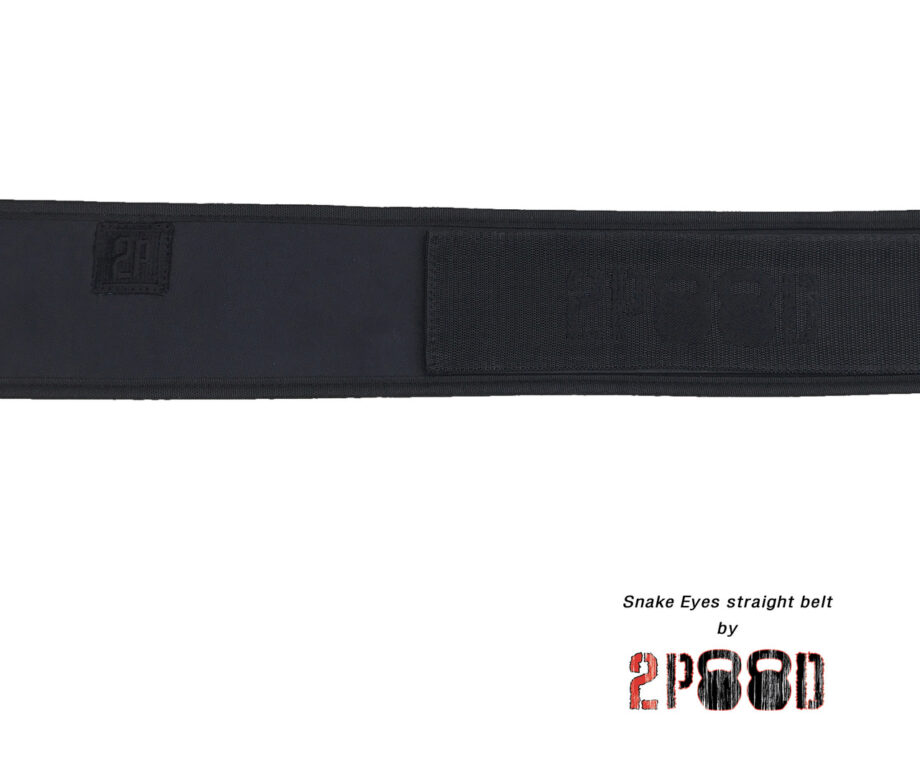 2POOD Straight Belt
The straight belt worn by Team USA stars Mattie Rogers and CJ Cummings; and Athletes Sam Dancer, Nick Urankar, Elijah Muhammad, Marcus Filly, Nathan Bramblett, Chyna Cho, Joe Scali, Melissa Doss and countless others.4" straight belt option for those that desire a USAW compliant belt or prefer a little less coverage than our metcon belt series. One of the best belts ever made in our humble opinion.Use the code GGR at checkout to save 10% on belts, apparel and more!
Pros:
Great support without being too rigid
Affordable at around $65
Comes in dozens of fun designs
Fits waists 25.5" to 50.5"
Secure closure system stays put
Uniform 4" width is IWF- and IPF-compliant
Easy on, easy off
Cons:
Might feel very stiff at first
For waists outside given sizes, you'll pay twice as much for a custom belt
My favorite of the three 2POOD belts is the Straight Belt. I bought my first one about five years ago because all the cool kids at the CrossFit gym were wearing 2POODs, and FOMO is real.
The first thing you'll notice when shopping any of the 2POOD selections is the array of designs. I was looking at sunflowers, pineapples, sequins, and camo. My pick? A belt with a shark on it, because sharks are badass predators, and I wanted to feel like a badass on the platform.
However, the second I put it on, I thought, "Ouch."
Here's what you need to know about the Straight Belt: It's rigid. It's going to take some time–weeks, at least–to break in. After years of wearing various designs of Straight Belts, I now know to fold it, roll it, and really break it in as soon as I get it.
Disclaimer: This is NOT as rigid as a belt you would wear for, say, powerlifting. I did a max deadlift in a powerlifting gym, wearing my 2POOD belt up to about 95 percent. A woman offered me her belt (a Dominion leather belt) when I went for the heavier weights, and I could literally feel the difference in my gut.
RELATED: Best Deadlift Shoes
So, all that to say that if you're into powerlifting or Strongman, I would still go the leather belt route instead of the nylon 2POOD.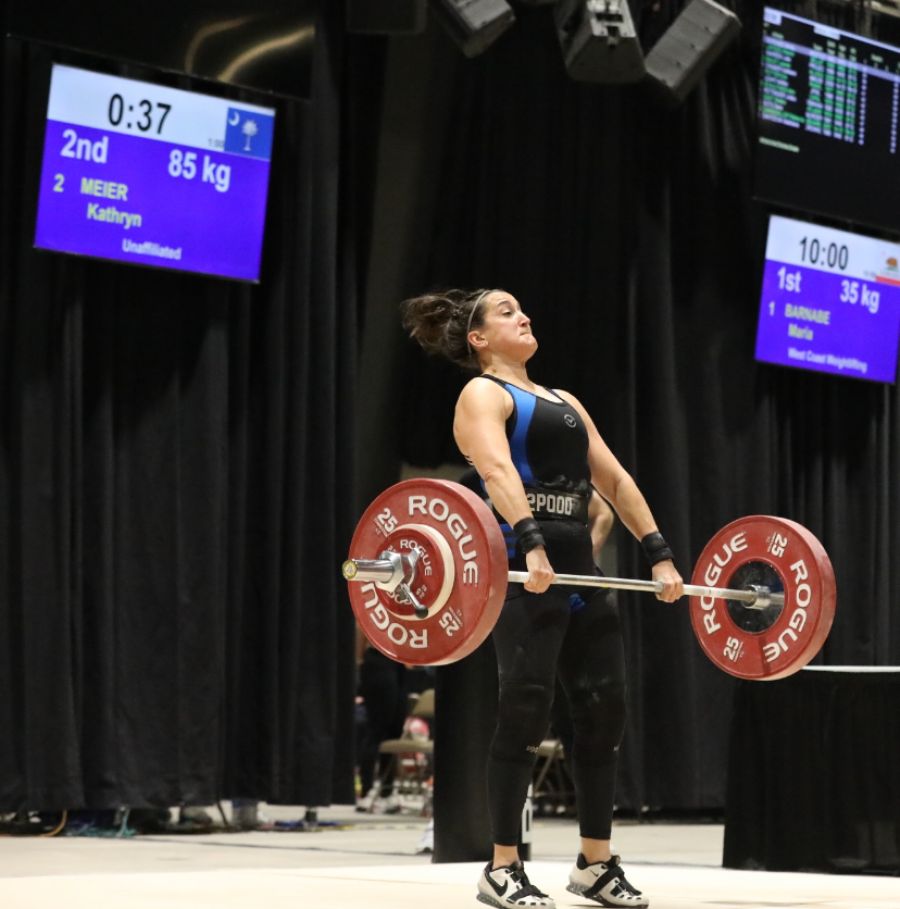 However, if you're a competitive weightlifter, like me, or you lift weights recreationally, I think 2POOD is one of the best belts out there. The Straight belt is 4 inches, which is compliant with IWF and IPF standards. It fastens with what 2POOD calls a "WODClamp," which is a metal buckle with a hook-and-loop fastening system that provides a very secure closure.
Functional fitnessers: I didn't forget about you. What is great about the Straight Belt for CrossFitters is that it comes on and off quickly. You can tighten it for heavy deadlifts then loosen it for box jumps in just seconds.
I now wear the Mattie Rogers 2POOD Straight Belt, which has angel wings on it. I've used it for many CrossFit WODs, and I wear it on the platform, like when I recently competed at the Arnold Fitness Classic. Outside the initial rigidity, I really have no complaints about the Straight Belt.
2POOD Petite Belt Review
For the Petite People
2POOD 3" Petite Weightlifting Belt
2POOD, which makes the official weightlifting belt of USA Weightlifting, has a special line intended just for people with shorter torsos. The 3" Petite Weightlifting Belt is more narrow than the brand's Straight Weightlifting Belt. This is ideal for people for whom a 4-inch belt digs into their ribs or hips.Like other belts from 2POOD, the 3" Petite comes in a number of bright colors, patterns, and even sequins. The proprietary WODClamp closure provides a secure fastening system. Additionally, thanks to Velcro, the belt is easy to put on and take off quickly, ideal for people who enjoy functional fitness workouts.The Petite belt is available in size XXXS to M, which fits waists that are 25.5 to 38.5 inches.
Pros:
Smaller 3" width for shorter torsos
Same locking mechanism as the Straight Belt
Comes in a variety of designs
Tights and loosens quickly
Uniform 3" width is IWF- and IPF-compliant
Affordable at around $65
Cons:
Only available in sizes XXXS, XXS, XS, S and M
Fewer designs available compared to the Straight Belt
The 2POOD Petite Belt is specifically made for people who have a shorter torso. Some people find when wearing the Straight Belt that the edges of the belt uncomfortably dig into their sides. These belts are more rigid than many other budget weightlifting belts on the market, so if you have a short torso, you might be extremely uncomfortable with the 4-inch Straight Belt.
I have a petite belt. My torso isn't long, and it isn't short. It's right in the middle. There are times where the 4-inch belt digs into my ribs a little too much, like when I'm going for a really heavy lift, and I pull that belt as tight as I can get it. In those instances, I have changed it up and put on the 3-inch belt before grabbing the barbell.
For me, there is a noticeable difference between the Petite and Straight belts. The 3-inch belt is definitely more comfortable at times, but I do like feeling the full support of the 4–inch belt.
There are a few other differences between the Straight and Petite belts. One is that the Petite is only available in sizes XXXS through M. Another is that the Petite Belt doesn't come in as many fun patterns and colors as the Straight Belt.
Otherwise, the belts are very similar—same WODClamp closure system, same nylon base.
2POOD Metcon Belt Review
Ideal for Taller People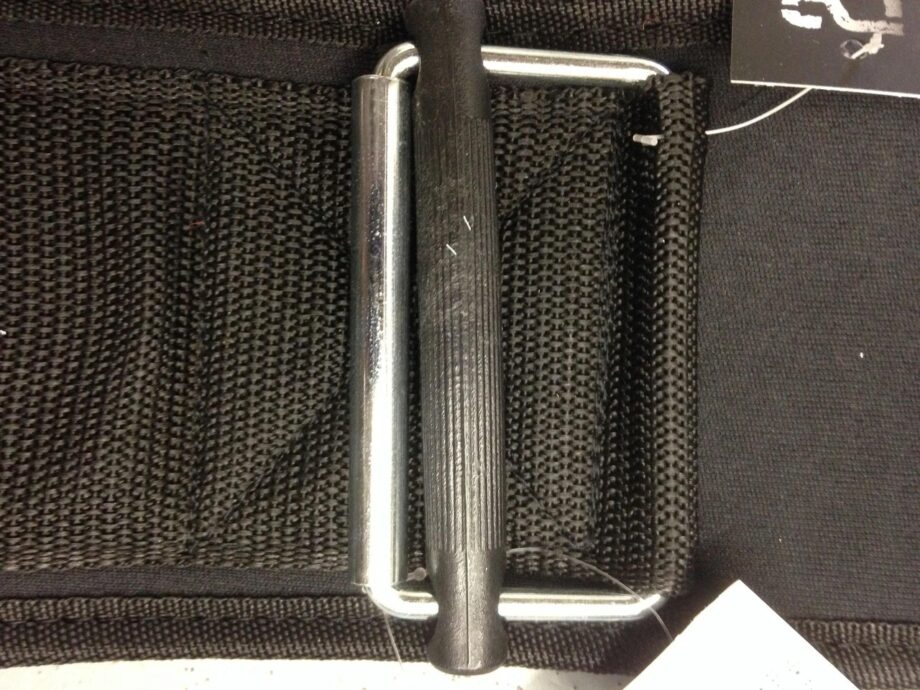 2POOD Metcon Training Belt
The 2POOD® Metcon Training belt is is designed to support your lifting technique during intense WODs and general weightlifting. The beauty of our belt is that it is lightweight, and quickly comes on/off so that you can keep moving. This belts has a steel roller buckle and vice-grip strength velcro keeps the belt securely in place. Much more convenient than a traditional leather belt. Added value of a 2POOD® belt, is that when you are going for those maximum effort lifts, the WODclamp provides extra security to the velcro for a hold just as secure as a leather belt.
Pros:
Easy to put on and take off quickly
Offers sizing for waists 27.5" to 46.5"
6" height in back offers maximum support for taller people
Affordable at around $60
Secure closure system
Lightweight
Cons:
Not IWF- or IPF-compliant
Not as many designs available as Straight Belt
Not ideal for shorter athletes
The 2POOD Metcon Belt is ideal for tall people who want more support than the 4-inch belt can offer. The front of the Metcon Belt is 4 inches, widening up to 6 inches wide in the back.
As of this writing, the Metcon Belt comes in six designs that offer sizes XXS to XL. While there is a custom belt option on the 2POOD website, it's only available for the 3- or 4-inch belts, not the Metcon training belt.
I need to point something out: More surface area doesn't necessarily mean more support. For most people, a 4-inch belt is fine, and here's why: Weightlifting belts shouldn't actually be the source of support for you during a lift. The support comes from your core muscles bracing. The belt gives you a surface you push against to create that abdominal pressure.
So if you're thinking that you need the 6-inch belt because you have a bad back and need all the help you can get, I would refer you to a physical therapist and more core work.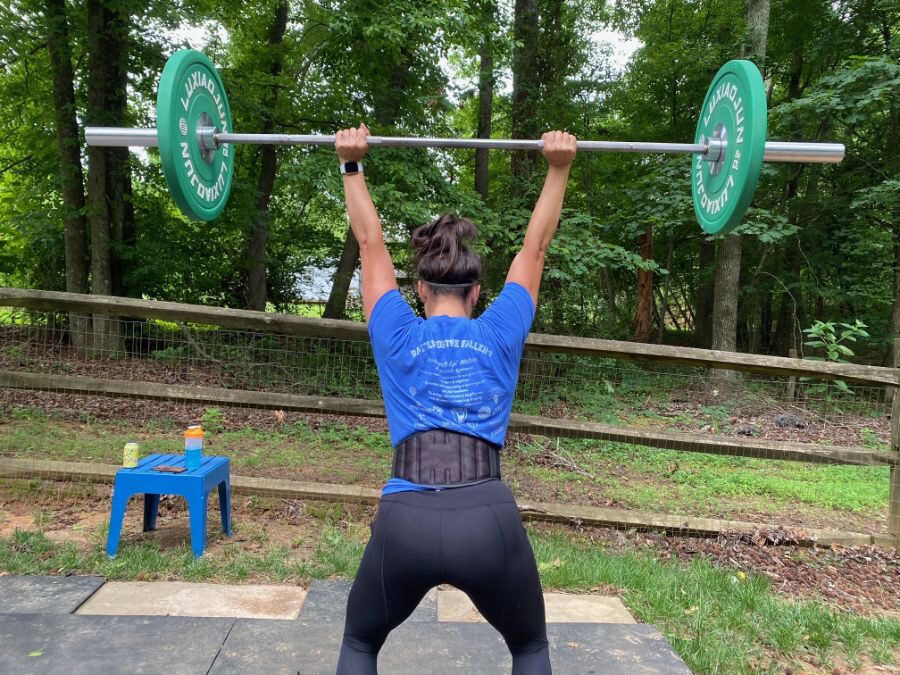 However, if you're tall or have an exceptionally long torso, a 6-inch belt might be the better fit.
I do have the Metcon Belt, and I wore it for a few workouts. However, I'm short: I'm 5 feet, 4 inches tall on a good day, so the Metcon Belt feels too big. If I go into any kind of back flexion (i.e. leaning back), the edges of the belt cut into my lower back. I'm also used to wearing a 4-inch belt, so making the jump to 6 inches doesn't feel necessary to me.
Also, I should note that a 6-inch belt is not compliant with many lifting federations' rules, so you wouldn't be able to wear the Metcon Belt in any sanctioned meet.
2POOD Belt Durability
I have been wearing 2POOD belts for years, and I have only ever had one minor issue.
In general, these are solid belts that are meant to last. I wore my first 2POOD for about three years before getting my Mattie belt, and I never had any issue with tearing, ripping, or bad Velcro.
I also take care of my belts: I pick out the lint, I close the Velcro before storing it, and I keep the belt folded nicely in my gym bag. (If you're good to your home gym equipment, it's good to you.)
The one issue I have is with my Mattie belt, which has a small tear at the seam where the Nylon strap meets the main belt.
This is due to one of two things:
I let a teammate of mine borrow it for a few lifts, and he is bigger than me, so that could be the culprit.
I put on some pounds over the pandemic shutdown, so I probably should have sized up.
I blame my 2POOD issue on myself, not the brand.
What Size 2POOD Belt Should I Get?
Do not be fooled by the sizing on 2POOD belts! If you usually wear a size large in, say, sweatpants, that doesn't mean you'll be getting a size large belt!
For example, I'm a size 4-6, which is right in between small and medium in most things. However, my 2POOD belt size is either an XXS or an XS (depending if it's bulking or cutting season, know what I mean?).
Fortunately, 2POOD offers a fantastic sizing chart:

To find your waist size, use a flexible measuring tape around your belly button. I have done this and found it to get me the exact right size belt.
2POOD vs. Gymreapers Quick-Locking Belt
Gymreapers Nylon Belt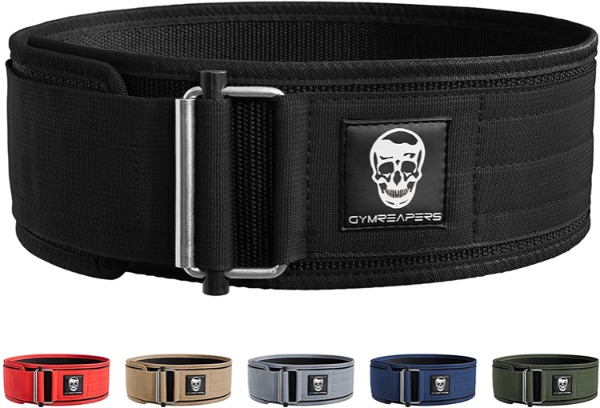 Gymreapers Quick-Locking Belt
Weightlifting belts are intended to provide core support and stability to athletes as they perform heavy lifts. Gymreapers Quick-Locking Belt does just that. This 100% nylon belt fits comfortably around your waist and assists lifters without getting in the way of the actual movement. It can be used for heavy leg day movements such as squats, deadlifts and CrossFit barbell cycling. The rolling steel buckle easily locks into place, and the Velcro allows you to customize the pressure you want providing support that will not give out. The belt fits IWF standards with a uniform 4-inch height, and the belt is offered in four colors. There is an impressive lifetime replacement warranty, which goes to show the confidence Gymreapers has in the premium grade quick-locking belt.
If you're looking for an affordable Velcro belt, there are many options. My first belt said "Fit Girl" in pink and was a belt from Amazon that someone gifted me. I had a love/hate relationship with it because ew, pink.
But, it introduced me to nylon belts, and soon after, I made my way through options from Harbinger and, most recently, Gymreapers.
The Gymreapers Quick-Locking Belt is super affordable and currently our best budget weightlifting belt pick. At just a little over $30, this belt has a similar closure system as the 2POOD Straight weightlifting belt.
As far as feel goes, the Gymreapers belt has a lot more flexibility in it than 2POOD. So if you're looking for something affordable and a little more comfortable, Gymreapers is the way to go. If you want something that comes in a lot of options for sizing and colors, go with 2POOD.
Customer Experience
I have always had a good experience ordering products from 2pood.com. I have ordered belts as well as shorts and shirts, and each time, the ordering process went smoothly, and I received my items within a week or so.
Customer Reviews
There are hundreds of customer reviews on the 2POOD website, the majority of which are overwhelmingly positive. The 1-star reviews I found mostly criticized missing orders.
Final Verdict of Our 2POOD Belt Review
There are a lot of things to love about 2POOD lifting belts: fun designs, great support, wide variety of sizing options.
These belts aren't necessarily ideal for those who need the security of, say, a leather belt, but when it comes to functional fitness and recreational lifting, 2POOD is easily one of my all-time favorites.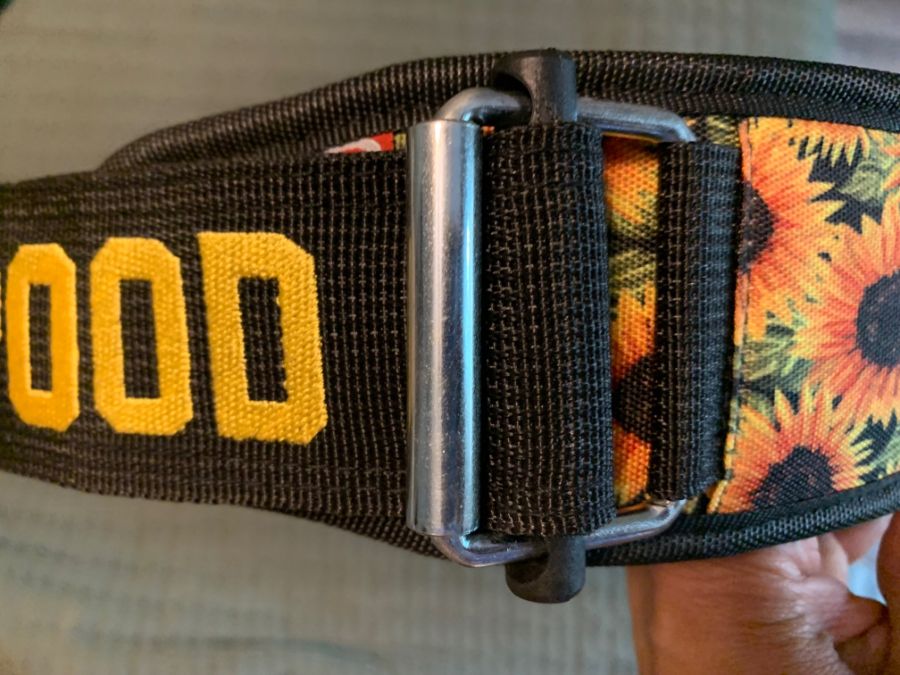 2POOD Belt FAQs
Are 2POOD belts good?
In terms of value, 2POOD belts are affordable and great quality. They are fantastic for lifters and CrossFitters. There are three types of 2POOD belts: Straight, Petite, and Metcon. Each is nylon, which can provide great support, but not quite as much rigidity as, say, a leather belt. 
How thick are 2POOD belts?
There are three different sizes of 2POOD belts: The Straight Belt is 4 inches, the Petite Belt is 3 inches, and the Metcon belt goes up to 6 inches around the back. If you need a belt for Olympic weightlifting or powerlifting in a sanctioned meet, the Straight and Petite belts meet IWF and IPF standards.
What is 2POOD?
The word "pood" comes from Russia and is now an obsolete term once used to measure weight. One pood equals roughly 16 kilograms. Kettlebells are often measured in poods, as popular kettlebell sizes include the 16-kilogram and the 32-kilogram. CrossFit popularized "2 pood" because Rx weight for men in kettlebell workouts is often the "2 pood kettlebell."