We test and review fitness products based on an independent, multi-point methodology. If you use our links to purchase something, we may earn a commission. Read our disclosures.
When you embark on your quest to find the best protein powder, you might consider whether or not it's casein, whey, pea, soy, and [insert all of the other types of proteins]-based. You might also consider whether it's organic—but what does that even mean?
The best organic protein powders aren't nutritionally better for you than non-organic protein powders. Rather, the term refers to how the ingredients were processed and manufactured, along with how the animals were treated (for dairy-based proteins) or what's in the soil (for plant-based protein powders).
RELATED: Best Protein Bars
These protein powders can help athletes, bodybuilders, and everyday people fill nutritional gaps and make sure they hit their daily protein goals while giving them peace of mind that they're ingesting only the best ingredients.
We're a team of certified personal trainers, registered dietitians, competitive triathletes, and weightlifters who know the importance of high-quality ingredients. On top of scanning the ingredients lists for more than 100 protein powders and trying more than 75, our GGR supplement testing methodology looks at important factors such as:
Formulation: Analyzing protein, carb, and fat content, plus total calories per serving. This can also include considerations around other ingredients, like flavorings or additives.
Solubility: How well does this product dissolve in the suggested amount of liquid?
Transparency: Since dietary supplements are not approved by the FDA, having an independent third-party lab verify that what's on the label is what's in the protein powder is super important, especially for athletes.
Price per serving: Price per serving can range from $1.25 on the low end to upwards of $2 on the high end.
Medical disclaimer: This article is intended for educational and informational purposes only. It is not intended as a substitute for medical advice. For health advice, contact a licensed healthcare provider.
Best Organic Protein Powder for 2023
Best Organic Protein Powder Overall: Transparent Labs Organic Vegan Protein Powder
Good for: Those searching for an all-around, high-quality organic protein powder
While Transparent Labs Organic Vegan Protein Powder is our best all-around organic protein powder for vegan gym-goers, athletes, bodybuilders, and even non-vegan dieters largely because it sports the certified USDA Organic seal.
RELATED: No Cow protein bar review
Certified personal trainer and GGR writer Lauren Strong tried the chocolate flavor and said it's not too bad for a vegan protein powder, scoring it a 4 out of 5. "It tastes like a dark chocolate drink (not milk chocolate) but with an earthy hint because of the rice and pea protein. I wouldn't suggest this for people who like sweet protein drinks, though, as there isn't that much sugar and you can really taste the cocoa powder."
Lauren also scored the solubility a 4 out of 5 because there was a noticeable residue in the bottle and in her mouth. "It's kind of like you can feel the cocoa powder," she says.
Each scoop provides 24 grams of an organic protein blend of rice protein and pea protein powders, which Transparent Labs claims to offer a complete essential amino acid profile. And, of course, we fully appreciate how they evaluated and cited research studies to support their ingredients!
And if you're worried about a vegan protein lacking protein integrity, let's debunk why you shouldn't be. Yes, vegan proteins are often deficient in lysine—an essential and branched-chain amino acid—but rice protein has some of the highest lysine contents. Research6 also tells us organic brown rice protein isolate can be used in place of animal and dairy-based options without losing essential nutrient value.
When compared to other animal-derived and commercially available proteins, a study in the Nutrition Journal7 suggests whey and rice protein isolate can improve body composition and exercise performance. Additional research8 supports that pea and rice proteins are promising allergen-friendly proteins.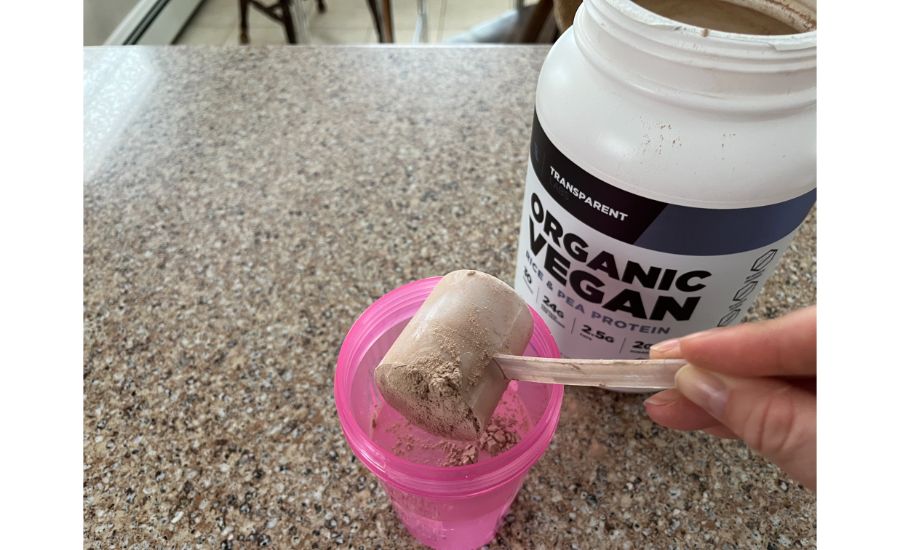 The protein powder is also a good source of vegan-friendly iron and free of GMOs, added sugar, soy, and "artificial junk" like artificial sweeteners, coloring, and preservatives. It also comes in two classic chocolate and french vanilla flavors with a subscribe and save option for 10% off and free shipping.
Transparent Labs makes some of the best protein powder for men, women, and anyone else trying to increase their protein intake, and the fact that all their flavors are pretty good.
And last, but certainly not least, Transparent Labs is, well, totally transparent. If you're curious about the fine details, you can view its Certificate of Analysis—conducted by a third-party lab—by simply searching for the lot number denoted on your selected product.
| | |
| --- | --- |
| Protein Source(s) | Organic rice protein and organic pea protein isolate |
| Calories per serving | 130 |
| Protein Content | 24 g per 1 scoop (32 g) serving |
| Flavor Option(s) | French Vanilla and Chocolate |
| Cost | $49.99/30 servings = $1.67/serving |
Best Vegan Organic Protein Powder: Ritual Essential Protein 18+
Good for: Plant-based connoisseurs who'd be delighted with a decked-out organic vegan protein powder
Ritual Essential Protein 18+ is a plant-based protein shake that provides 20 grams of plant-based protein per serving. The protein is sourced from organic pea protein and has a somewhat-complete protein source with branched-chain amino acid. We say "somewhat-complete" because while pea protein has all nine essential amino acids it's low in methionine and cysteine, though those two compounds are easily found in legumes, seeds, and nuts.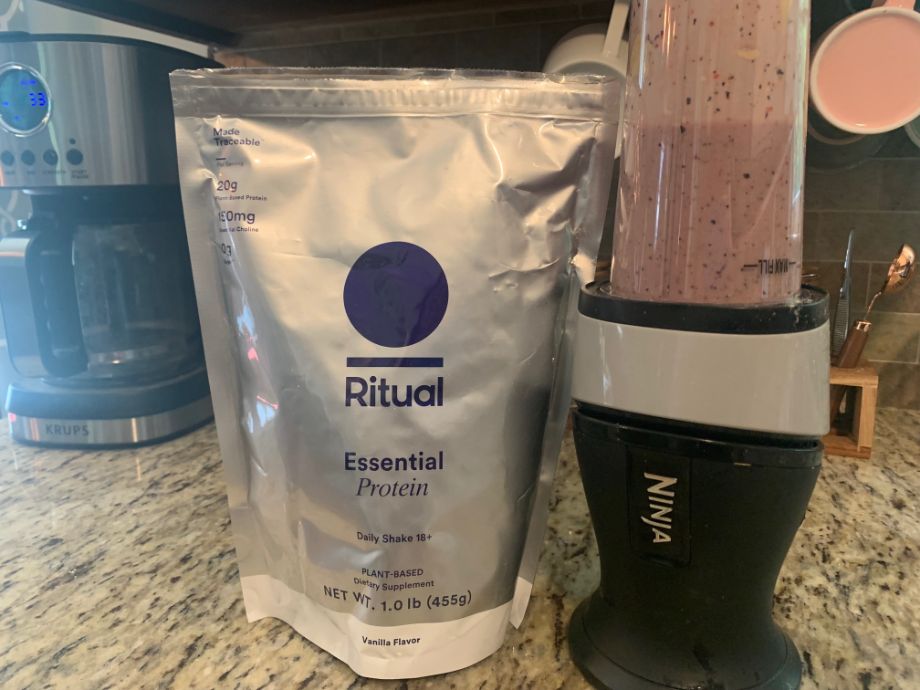 The plant-based protein is not its only highlight: All of its ingredients, down to the fermented sugarcane used to sweeten the powder, are organic and it has great taste, according to certified personal trainer and competitive weightlifter Kate Meier, who's GGR's head of content.
"Even just with water, this has a nice taste. It's not super plant-y or hemp-y like some plant-based proteins are," Kate says. "There is a very slight chalky aftertaste with water, but I could drink this with water alone and be fine with it." The taste landed at a 4 out of 5 but the solubility was a 5 out of 5. "This has a shockingly great consistency. Mixed in water, it dissolves, and it also has a really smooth texture. It's not thick, but it's not watery like some proteins are."
RELATED: Best probiotic
Third-party tested and committed to using "clean" ingredients, the protein is Informed Sport Certified, meaning it's been tested for banned substances and is safe for us by all athletes. Plus, there's a 30-day money-back guarantee, so you can try it out before committing.
Speaking of commitment, Ritual is a subscription-based company so you can't just order a single pack (though you can cancel future deliveries if you don't think it's right for you).
| | |
| --- | --- |
| Protein Source(s) | Organic pea protein |
| Calories per serving | 115 |
| Protein Content | 20 g protein per 1-scoop serving (30g) |
| Flavor Option(s) | Vanilla |
| Cost | $40/15 servings |
Best Organic Protein for Weight Loss: KOS Organic Plant Protein
Good for: Those who have weight-loss goals and care about organic products
Our team at GGR has tried quite a few vegan protein powders—more than 20 to be exact—and KOS is one of our favorites for a few reasons. For one, it actually tastes pretty good to the meat-eating folk on our team, of which there are several.
GGR senior staff writer and certified sports nutrition coach Amanda Capritto says KOS plant protein is one of the only vegan protein powders she'll willingly eat, and that's saying something. In fact, she tried this organic vegan protein powder with water, almond milk, and 2% milk and said the taste was a 3 out of 5 each time.
"It's pretty rich, which I feel is rare with plant protein powders," she says. "It's not great but it's not terrible, and honestly, what more can you ask for when you're drinking vegan protein powder?"
We also like it from a weight loss perspective, if that's your goal, because of its nutrient profile. For just 160 calories per serving, you'll get 20 grams of protein, 9 grams of carbs, and 6 grams of fat. It also contains a blend of digestive enzymes to alleviate symptoms like bloating and gas, which helps bring its formulation score to a 4 out of 5 (the omission of artificial sweeteners is also a big plus).
KOS is made of a blend of pea protein, pumpkin seed protein, chia seed, flax seed, and quinoa, and these complementary proteins ensure a complete amino acid profile, which is important, especially for plant-based eaters.
Read our full KOS vegan protein review to get our full thoughts on this product.
| | |
| --- | --- |
| Protein Source(s) | Organic pea protein, organic flax seed protein, organic quinoa protein, organic pumpkin seed protein, organic chia seed protein |
| Calories per serving | 160 |
| Protein Content | 20 g per 2-scoop serving (39 g) |
| Flavor Option(s) | Chocolate, Vanilla, Blueberry Muffin, Chocolate Chip Muffin, Chocolate Peanut Butter, Chocolate Caramel Coffee, Unflavored |
| Cost | $49.99/28 servings = $1.78/serving |
Best-Tasting Organic Protein Powder: Truvani Organic Plant-Based Protein
Good for: Those who enjoy the satisfying taste of decadent flavors, gains, and health
This isn't the first time Truvani Organic Plant-Based Protein ranks our list as one of the best-tasting protein powders. And given it only contains a slim list of simple ingredients, all without any artificial sweeteners and flavorings, this is quite impressive.
This is the only plant-based protein powder that received a 5 out of 5 on taste from certified sports nutrition coach and GGR senior staff writer Amanda Capritto. "This stuff is truly tasty, like an ultra-rich chocolate shake when mixed with almond milk," she says. "The best part: There's barely a hint of that typical plant-based protein chalkiness."
In terms of protein, Truvani provides 20 grams per serving sourced from organic pea, pumpkin seed, and chia seed concentrates. Pumpkin seeds10 and chia seeds8 are densely packed with nutrients—like essential amino acids, healthy fats, and antioxidants—and can help lower inflammation, improve blood pressure and glucose levels, and offer additional health benefits.
Truvani offers an unflavored option and a variety of flavors to choose from, including Chocolate, Vanilla, Banana Cinnamon, Peanut Butter, Chocolate Peanut Butter, and Vanilla Chai. If you're finding it hard to settle on just one flavor, you're in luck! You can also purchase a single-serve variety pack complete with seven options, making it simple to sample the flavors or keep your tastebuds curious.
Joining the USDA Organic seal, you'll find that Truvani's organic protein powder is also certified vegan, gluten-free, and non-GMO. It's also free of dairy and soy so diets of all sorts can confidently try and enjoy Truvani's organic plant-based protein.
| | |
| --- | --- |
| Protein Source(s) | Organic pea protein concentrate, organic pumpkin seed concentrate, organic chia seed protein concentrate |
| Calories per serving | 130 |
| Protein Content | 20 g per 1 scoop serving (33 g) |
| Flavor Option(s) | Chocolate, Vanilla, Banana Cinnamon, Peanut Butter, Chocolate Peanut Butter, and Vanilla Chai |
| Cost | $59.99/20 servings = $3.00 |
Best Unflavored Organic Protein Powder: Garden of Life Raw Organic Unflavored Protein Powder
Good for: Organic consumers on the hunt for the ultimate protein package
If you're looking for a way to nourish your body without sparking your tastebuds, Garden of Life Raw Organic Unflavored Protein Powder is for you—although chocolate, vanilla, and Vanilla Chai are also available.
Certified nutrition coach and GGR performance editor Anthony O'Reilly says the unflavored option is a 5 out of 5 on taste because it's truly neutral. "It's perfect for making protein muffins or in any other baking recipe," Anthony says. "I also feel like it doesn't cause as much clumping as other protein powders, which is a great thing when you're trying to use it in a recipe."
When we say this protein powder nourishes your body, we really mean nourish your body with plant-based protein, prebiotics, probiotics, and enzymes. Because we're rounding up the best organic protein powders, let's first highlight the protein.
The powder's raw organic protein blend contains quite a lengthy ingredient list of plant-based proteins, including peas, brown rice, amaranth, quinoa, garbanzo beans, and chia, flax, and pumpkin seeds, just to name a few.
Unlike other protein powders, Garden of Life lists the typical amino acid, even denoting if it's an essential or branched-chain amino acid, so you know you're actually getting 22 grams of protein per scoop.
Beyond its suave plant-based protein profile, you'll also take in digestive enzymes—like lipase (breaks down fat), lactase (breaks down the sugar lactose), and papain (breaks down protein)— and probiotics to support proper absorption and digestion.
In addition to being Certified USDA Organic, Garden of Life's protein powder is also certified vegan, gluten-free, and non-GMO. It also is Contents Certified, meaning it complies with strict standards and procedures by the NSF.
Oh, we almost forgot to mention that Garden of Life earned a spot on our best vegan protein powder list!
| | |
| --- | --- |
| Protein Source(s) | Organic pea protein, organic sprouted brown rice protein, organic amaranth sprout, organic buckwheat sprout, organic millet sprout, organic cracked wall chlorella, organic quinoa sprout, organic chia seed sprout, organic garbanzo bean sprout, organic lentil sprout, organic adzuki bean sprout, organic flax seed sprout, organic sunflower seed sprout, organic pumpkin seed sprout, organic sesame seed sprout |
| Calories per serving | 120 |
| Protein Content | 22 g protein per 1 scoop serving (28g) |
| Flavor Option(s) | Chocolate, Unflavored, Vanilla, Vanilla Chai |
| Cost | $32.12/20 servings = $1.61/serving |
Best Sugar-Free Organic Protein Powder: NOW Sports Organic Whey Protein Powder
Good for: Those who believe quality over quantity offers the sweetest benefit
NOW Sports Organic Whey Protein Powder is the one and only whey-based organic protein powder on our list. And it contains one and only one ingredient: organic whey protein concentrate.
Competitive weightlifter and GGR's Head of Content Kate Meier said that while she wouldn't drink this plain, it's still a good option and gets a 4 out of 5 on taste. "If you want something to make smoothies with or bake with, it doesn't have a taste that would overpower any other flavors you use it with," she says. "Definitely a 'whey' taste that's not good, but it's not gag-worthy."
The solubility, Kate added, earned a 5 out of 5 for dissolving completely into the liquid. "Blended just like you would want a protein powder to—no clumps, not too thick or thin."
Even with only one ingredient, we are left with several golden nuggets: For one, "organic" tells us it's, well, organic and secondly, "organic whey" lets us know the protein is sourced from organic milk produced without antibiotics or growth hormones. Also being a whey protein11, it's naturally rich in protein and contains all 20 amino acids, essential and branched-chain amino acids included.
Along with being certified organic, NOW Sports also showcases the Informed Sport logo. This purity testing certification helps instill confidence in athletes, particularly by showcasing that the product is free of 220+ banned substances by many major athletic organizations.
The unflavored, single-ingredient protein powder is naturally free of added sugars and artificial sweeteners like aspartame, sucralose, and acesulfame-K. Excluding dairy-free and vegan diets, the whey-based protein is a great option to sneak in some extra protein.
| | |
| --- | --- |
| Protein Source(s) | Organic whey protein concentrate |
| Calories per serving | 100 |
| Protein Content | 19 g protein per 1 level scoop (24 g) |
| Flavor Option(s) | Unflavored |
| Cost | $28.94/19 servings = $1.52 |
Best Budget Organic Protein Powder: Orgain Organic Vegan Protein Powder
Good for: Conscious consumers going green for gains
Orgain Organic Vegan Protein Powder might be our top pick for a low-budget organic protein, but rest assured it still checks all of our boxes, including that it's Certified USDA Organic.
While its formulation scored a favorable 4 out of 5 thanks to its 21 grams of protein per serving and all-organic ingredients, the taste fell flat at a 2 out of 5, according to certified personal trainer and GGR senior editor Nicole Davis. "it's a hint of vanilla with just straight grass flavor," she says. "I drink a protein shake almost every day…I subbed my regular vanilla whey for this and couldn't drink it."
Each two-scoop serving offers 21 grams of protein from an organic plant-based blend of organic pea protein, organic brown rice protein, and organic chia seed. Since we've already explored the great benefits of pea and rice proteins, how does chia seed stack up? Well, a 2019 review9 shares that chia seeds have a high concentration of proteins and essential amino acids, which helps enhance the overall amino acid profile of Orgain's vegan protein powder.
Because the plant-based protein stands for "good, clean nutrition," you will find cleaner ingredients with the powder made from organic pea protein, organic brown rice, and organic chia seeds. It's also produced without GMOs, soy, gluten, dairy, artificial flavors, and added sugars.
Out of all the other organic protein powders on our list, Orgain offers the most flavor options—10 to be exact! Whether you enjoy a rich chocolatey flavor, nutty peanut butter, or fruity strawberries and cream, you're sure to find an option to tickle your tastebuds. Excluding the Natural Unsweetened option, all flavors are sweetened with organic erythritol and organic stevia.
When ordering, you can choose between a 2-pound, 20-serving container or a 1-pound, 10-serving container with "subscribe and save 25%" options. Orgain also offers 10 single-serve packets that are great for protein on the go.
| | |
| --- | --- |
| Protein Source(s) | Organic pea protein, organic brown rice, organic chia seeds |
| Calories per serving | 150 |
| Protein Content | 21 g per 2-scoop serving (46 g) |
| Flavor Option(s) | Creamy Chocolate Fudge, Chocolate Coconut, Chocolate Caramel Sea Salt, Chocolate Peanut Butter, Peanut Butter, Vanilla Bean, Iced Coffee, Cookies n' Cream, Strawberries & Cream, Natural Unsweetened |
| Cost | $25.49/20 servings = $1.27/serving |
Best Gluten-Free Organic Protein Powder: Vega Organic All-in-One Vegan Protein Powder
Good for: Gluten-free (and other) dieters searching for an organic protein powder with all the bells and whistles
Vega Organic All-in-One Vegan Protein Powder is a Certified USDA Organic pea-based protein powder that provides 20 grams of protein per serving. But that's only a mere fraction of the highlights the organic, gluten-free, and vegan protein powder provides.
Vega's organic protein powder truly is an all-in-one protein supplement and your one-stop shop for plant-based protein, vitamins, minerals, probiotics, and fiber. In fact, it provides 50% daily values (DVs) of eight vitamins and minerals per serving, as well as 4 grams of fiber, 500 milligrams of omega-3 ALA, 2 billion CFUs of probiotics, and antioxidants from vitamins A and C to support immune health.
The organic protein powder comes in an Unsweetened option and a variety of mouth-watering flavors, including Berry, Chocolate Mint, and Coconut Almond. Varying sizes are also available—like single-serve sachets and small, large, and extra-large tubs—so you can get your protein servings justtt right.
Vega's plant-based protein is Certified USDA Organic and non-GMO, as well as gluten-free and vegan-friendly. It also contains no grains, added sugars, or artificial flavors—just a wholesome blend of plant-based protein and micronutrients to keep you nourished.
| | |
| --- | --- |
| Protein Source(s) | Organic pea protein |
| Calories per serving | 140 |
| Protein Content | 20 g per 1 scoop serving (38 g) |
| Flavor Option(s) | Berry, Chocolate, Chocolate Mint, Coconut Almond, French Vanilla, Mocha, Unsweetened |
| Cost | $47.99/18 servings = $2.67/serving |
Organic Food and Labels 101
Let's quickly debrief what "organic" truly entails, specifically that "USDA Organic" label. The United States Department of Agriculture (USDA)1 describes certified organic foods as being "grown and processed according to federal guidelines addressing, among many factors, soil quality, animal raising practices, pest and weed control, and use of additives."
Organic producers rely on natural substances and physical, mechanical, or biologically based farming methods to the fullest extent possible. The definition of "organic" also varies depending on the food being discussed:
Organic produce is certified to have grown on soil that had no prohibited substances—like most synthetic fertilizers and pesticides—applied for three years prior to harvest. If a grower must use a synthetic substance, it must first be approved according to criteria that examine its effects on human health and the environment.
Organic animal products—like meat and dairy—are fed with 100% organic feed and forage and produced without antibiotics or growth hormones. Regulations also require that the animals must be raised in living conditions that accommodate their natural behaviors, including the ability to graze on pasture.
Organic multi-ingredient and processed foods must contain organic ingredients and be free of artificial ingredients like preservatives, colors, or flavors. Some minor exceptions include processed organic foods that may contain some approved non-agricultural ingredients like enzymes in yogurt and baking soda in baked goods.
In tandem with understanding how organic can vary between foods, it's also important to understand the four labeling categories for organic products2:
"100% Organic" products must be made up entirely of 100% certified organic ingredients. The label must include the name of the certifying agent and may include the USDA Organic Seal and/or the 100% organic claim.
"Organic" products must contain at least 95% of organic ingredients, must include the name of the certifying agent, and may include the USDA Organic Seal and/or the organic claim.
"Made with" organic ingredients tells us at least 70% of the product contains certified organic ingredients. The USDA Organic Seal cannot be used on the product nor represented as organic.
"Specific organic ingredients" denotes that the product contains less than 70% of certified organic ingredients. These products cannot use the USDA Organic Seal or display "organic" on the principal display panel, which is the front of the package consumers most often see first.
Now, this begs the question, "Is organic the better choice?"
Is Organic Better?
This is a pretty loaded question and the answer often varies based on who you ask, but we'll lean on what the research tells us to form our best judgment.
From an environmental perspective, the Food and Agriculture Organization (FAO) of the United Nations suggests organic agriculture lessens pollution, promotes food sustainability, and reduces non-renewable energy. It also encourages biodiversity—defined as the variability among living organisms from all sources—and a 2011 study3 suggests biodiversity is one of the most important resources on earth while being threatened by human activities.
Animal welfare is another reason why farmers and consumers choose organic. The Organic Trade Association4 tells us animals raised organically are free of antibiotics or synthetic growth hormones and instead provided with 100% organic feed and open access to the outdoors to freely roam.
Looking through the nutritional lens, organic foods and crops might have an upper hand compared to conventional products. According to a study published in the Journal of the Science of Food and Agriculture5, organic crops contain fewer nitrates, nitrites, and pesticide residues but often more dry matter, vitamin C, phenolic compounds, essential amino acids, and total sugars than conventional crops. Organic crops also tend to contain more mineral compounds and have better long-term storage qualities.
But not all that glitters is gold, as there is a negative to highlight: plants cultivated in organic systems generally have 20% lower yields than conventionally produced crops. This is the major reason why organic products tend to come with a higher price tag.
We'll close out the organic chat with this: If your weekly grocery allowance is set in stone, we'd first encourage purchasing nutrient-dense foods over splurging on organic foods. But if you have wiggle room in your budget to spend on organic foods, and choosing organic is important to you, we can't wait to show you our top organic protein powder picks!
RELATED: Best Protein Powder for Women
Other Organic Protein Powders We Researched
While there are plenty of protein powders on the market, fewer are certified organic. However, other great organic protein powders we researched and approve of, just haven't tried yet, include:
Aloha Organic Plant-Based Protein Powder
Sakara Organic Protein + Greens Super Powder
Optimum Nutrition Gold Standard 100% Plant Based Protein Powder
Purely Inspired Plant-Based Organic Protein
Manitoba Harvest Hemp Yeah! Max Protein
How We Picked and Tested the Best Organic Protein Powder
Our selection process is a rigorous one—we analyze the ingredients, the reputability of the product and brand, and that's just scratching the surface. Below discloses how we picked and tested the best organic protein powders.
Protein Content
A protein powder should, well, provide adequate protein. An ideal protein powder should provide at least 20 grams of protein per serving, with lower protein content often found in vegan-based powders.
The only product on our list that contains less than 20 grams is NOW Sports Organic Whey Protein Powder, which provides 19 grams of protein per serving. However, it's important to note this is based on a 24-gram scoop and is a concentrated source of protein, as Ora's 30-gram serving provides 21 grams of protein.
High-Quality Ingredients
Because we want to fuel and recover optimally, our selection process focuses on ingredient quality. All of our top picks not only use organic ingredients but are free of added sugars, unnecessary fillers, and other unwanted ingredients.
Mixability
Have you ever been so excited to try a new protein powder only to chew the clumps before choking it down? If you have, we're sorry and understand the disappointment. If you haven't, avoid the disgust by leaning on this smooth list of mixable powders.
(But also please know vegan protein powders are naturally thicker in consistency and that we selected the best plant-based mixers on the market.)
Verifications and Certifications
Of course, all of the best organic protein powders are USDA-certified organic. But we also search for products that undergo strict testing and show off other badges of honor, including being NSF certified and gluten-free.
Variety
As they say, "Variety is the protein powder of life!" Errr… Or something like that. We made sure to capture products that fit the bill of various dietary and flavor preferences, whether that may be a chocolatey vegan powder, unflavored whey-based powder, and everything far and in between.
Price
Splurged on a new gym toy and need a more budget-friendly protein powder? Or, do you prefer using your hard-earned dollars for a pricier product?
While all of our selections are decently cost-friendly, you'll never see a product list without varying price points to best accommodate your budget. Most of our selections can be purchased with "subscribe and save" options as well.
Brand Reputation
How you build trust with a brand is personal—and that's okay! But we do encourage being mindful and thoughtful when evaluating a brand's reputation. We personally review:
Whether or not their products undergo third-party testing
If customer support is easily and readily accessible
Brand and product reviews from their consumers on their company websites, seller sites like Amazon, special media profiles, etc.
Return policies and money-back guarantees
If you're going to financially support a company and its products, it's smart to have this information—which isn't totally cumbersome to find out with info right at our fingertips.
Benefits of Organic Protein Powder
While we've already nuanced the benefits of organic protein powder, let's determine how choosing organic might be worth the spend:
Hit Daily Protein Needs
First and foremost, supplementing a balanced diet with protein powder is a great way to meet your daily protein goals. Protein is an essential macronutrient to carry out thousands of critical reactions, support a strong immune system, sustain and build muscle, and so much more.
Peace Of Mind
You are absolutely not a "bad" person for not choosing organic! But it can give consumers peace of mind knowing the product has checked the boxes of rigorous standards to be certified organic. It's also telling that supplement companies that undergo organic protocols are committed to providing high-quality products.
Shelf-Stable
Unless plant-based, protein sources—like beef, chicken, and fish—require refrigeration. Protein powders, on the other hand, are shelf-stable and can transport without the worry of keeping cold or going rancid. Post-workout nutrition has never been more convenient!
Cost-Effective
Organic products tend to be costlier compared to conventional goods. But have you ever bought a pound of chicken breasts only to *accidentally* let it expire? Not only is that wasting food, but throwing away at least an Abraham Lincoln and some George Washingtons.
Versatile
Simply mix with water for a quick post-workout protein shake, blend into smoothies, add to oatmeal, stir into yogurt… You get the idea—protein powder is extremely versatile to boost your daily protein intake.
Dosing & Interactions
So now that you've *almost* decided which protein is right for you, how much protein should you aim for? Are there any interactions you should be aware of? Let's explore protein dosing and potential interactions.
Protein Dosing
The amount of protein you need depends on a wide range of factors, including age, birth sex, activity levels, and even your body composition goals. A general starting point to determine your protein needs is by using the Dietary Reference Intake (DRI), which is 0.80 grams of protein per kilogram (g/kg) of body weight or 0.36 grams of protein per pound (g/lb) of body weight. For someone who weighs 150 pounds, this amounts to about 54 grams of protein per day.
RELATED: Best casein protein powder
However, it's important to note DRIs express the lowest daily intake value for a nutrient. Research12 suggests aiming for at least 1.2 to 1.6 g/kg of high-quality protein is a more ideal target for optimal health.
Protein needs also vary based on body composition and performance goals. For instance, if weight loss is your goal, upwards of 2.0 g/kg may protect from lean muscle loss while in a caloric deficit. Aiming for 1.2-2.0 g/kg each day shows to support athletic performance and recovery, according to supportive data.13
Now with an idea of your daily protein needs, it's important to still focus on consuming high-protein foods. Of course, protein supplements still have their time and place, but they're called supplements for a reason—they're meant to supplement a balanced diet filled with whole foods and not take the place of one.
Protein Powder Interactions
While protein interactions are not overly common, they are still worth noting. According to WebMD14, whey protein may interfere with how effectively some medications—like Levodopa and some antibiotics are absorbed. On the other hand, pea and other plant-based proteins have no noted interactions at this time.
All-in-all, protein powders—organic or not—tend to be well-tolerated by most. But for any questions regarding dosing and interactions, we recommend consulting with a registered dietitian nutritionist (RDN).
RELATED: Best Protein Chips
Buying Guide: What to Look for in Organic Protein Powder
Before purchasing out of impulse, allow us to guide you through finding the best organic protein powder for you. Let's navigate exactly what you should be looking for and considering when selecting your protein partner:
Protein content and sourcing: You should ideally choose a protein powder that supplies you with about 20 grams or more of protein per serving. Also, consider the type of protein source to align with your dietary needs and preferences whether it be a whey protein isolate or lactose and dairy-free vegan powder.
Carbohydrates and fat content: Carbs and fats are essential macronutrients but they aren't exactly necessary in a protein powder. However, if you're looking for a protein powder to use as a meal replacement, including carbs and fats helps balance out the sippable meal.
Additional ingredients: While protein should be the highlight of your protein powder purchase, some products contain additional ingredients. We encourage selecting products with beneficial ingredients—like probiotics, fiber, vitamins, and minerals—over others that contain added sugars and other unnecessary ingredients.
Certifications: When selecting an organic protein powder, be sure to select a protein powder that is Certified USDA Organic—all of our top picks check this box. Also be aware of other types of certifications and verifications that are important to you, including Certified Gluten-Free and Informed Sport.
Flavor preference: …Or lack thereof. Some organic protein powders are unflavored so you can mix them into smoothies or even baked goods without altering the flavor. A word of advice: Choose a flavor—or non-flavor—that you will enjoy.
Your budget: Organic products tend to be higher in cost, with some protein powders being more budget-friendly than others. Some brands, like Ora, offer single-serve packets—this is a great way to try before you buy a larger, costlier tub of organic protein powder. You can also "subscribe and save" with most protein powders, bearing in mind you've already tried and are committed to the product for at least one month.
These statements have not been evaluated by the Food and Drug Administration. This product is not intended to diagnose, treat, cure, or prevent any diseases.
FAQs About Organic Protein Powder
Is organic protein powder better for you?
Compared to non-organic options, organic protein powder may have a nutritional edge while being more environmentally friendly. But regardless of non-organic or organic, it's most important that you're getting enough daily protein to support your health and any additional body composition and performance goals.
What are the side effects of organic protein powder?
The biggest risk of organic protein powder comes down to it being a protein powder, particularly if you aren't consuming the right protein powder for your needs—like if you're consuming a whey-based protein and you're sensitive to dairy. Overdoing portion sizes and taking in more than you need, especially if filled with artificial sweeteners, can also give you tummy troubles and increases the risk of weight gain over a prolonged period of time. Overall, though, organic protein powder should not elicit side effects when you find the right one for your needs and consume as directed.
What are the benefits of organic protein powder?
Organic protein powders are tightly regulated so that they are free of potentially harmful pesticides and other additives. You may feel empowered to support animal welfare while getting a potential boost of nutrients compared to conventional products.
Is it safe to drink organic protein powder?
Organic protein powder is considered to be a safe and healthy option to increase your daily protein intake. The biggest concern is if you have a specific food allergy or intolerance—like dairy, gluten, and/or wheat—and should consume a suitable protein source for your dietary needs.
References: