We test and review fitness products based on an independent, multi-point methodology. If you use our links to purchase something, we may earn a commission. Read our disclosures.
Here's a familiar story: You bought what you thought was the best protein powder money can buy. It arrives at your door and you excitedly open up the box to try it out. You're stoked about your get-swole prospects, but all that excitement comes crumbling down when you take a sip of this protein powder and almost spit it back out. Chunks and floaties and an aftertaste you just can't place. Yuck.
Good news: You'll never have to endure that experience again, thanks to our guide to the best-tasting protein powder. Here, GGR product testers, personal trainers, and nutrition coaches bring you the 11 top protein powders based on real-life taste-tests.
We've Downed The Worst Of Them
In our quest to bring you the best-tasting protein powders, we've tasted a lot of great ones (which you'll find in this guide) and a lot of not-so-great ones. And that's very nicely worded. On top of the fact that we've actually taste-tested all of the protein powders we recommend here, our expertise in fitness and nutrition allows us to break down the supplement facts and recommend only the best protein powders for men, women, and everyone else based on objective information.
We're also experts in supplements ranging from pre-workout for men to creatine and everything in between, and we consult professional dietitians and nutritionists to ensure our picks are stocked with scientifically-backed ingredients.
RELATED: Best protein powder for women
Best-Tasting Protein Powders for 2023
Best-Tasting Protein Powder Overall: XWERKS Grow
Good for: People who want a high-quality supplement with an all-around great flavor lineup
XWERKS Grow, a 100% whey isolate protein powder from grass-fed cows, comes in the four standard protein powder flavors: Chocolate, Vanilla, Peanut Butter, and Strawberry. Since this is a guide to the best-tasting protein powder, I opted to select one that tastes great across the entire flavor lineup.
Members of our team have tested the Chocolate, Vanilla, and Strawberry flavors, and all have been a hit. And according to customer reviews on Amazon, people have been "blown away by the taste" and the "PB flavor is DELICIOUS," yes, in all caps.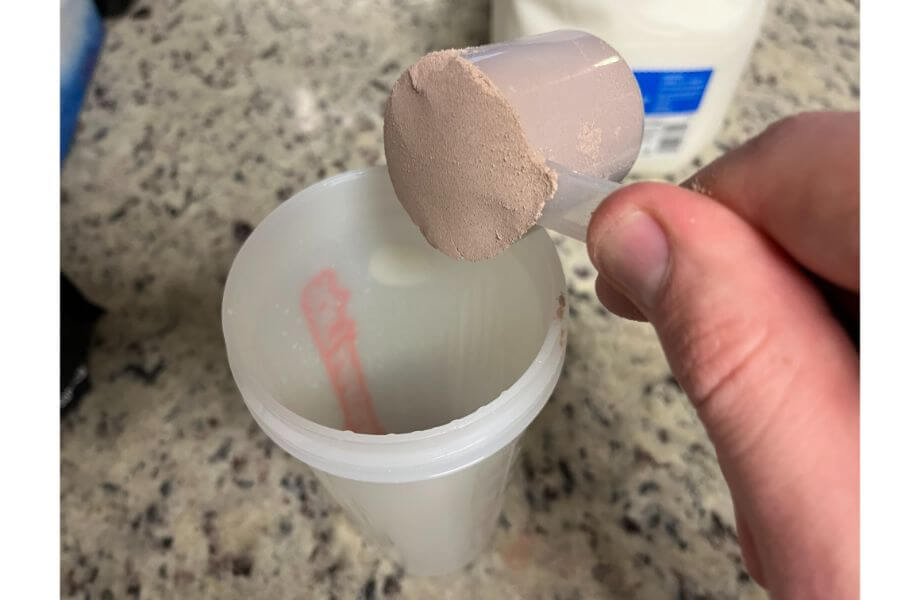 "The chocolate flavor tastes like a protein Yoohoo. 'Nuff said," according to Anthony O'Reilly, GGR product tester and writer. Agreed. Anthony also notes that he didn't have any issues with solubility and enjoyed the smooth texture when mixed with milk.
We love that this protein powder is high-quality yet clocks in at less than $2.00 per serving with 25 grams of protein per scoop. It also contains 6 grams of BCAAs and is free of artificial sweeteners, flavors, and colorings.
| | |
| --- | --- |
| Price per serving | $1.96 |
| Protein per serving | 25 g |
| Carbs per serving | 1-2 g (depends on the flavor) |
| Fat per serving | 0-2 g (depends on the flavor) |
Best-Tasting Grass-Fed Protein Powder: Transparent Labs Grass-Fed Whey Protein Isolate
Good for: Those who prioritize grass-fed protein sources and gold-standard manufacturing practices
We like Transparent Labs for, well, its transparency. You'll never wonder where an ingredient is sourced from or why it's in a product when you buy a Transparent Labs supplement. The company prides itself on using grass-fed protein sources and abiding by strict manufacturing practices.
We also like Transparent Labs for its tasty flavors. Whatever they're doing in the flavor lab is working! Transparent Labs Grass-Fed Whey Protein Isolate tastes rich and clean in both flavors we've tried: Peppermint Hot Chocolate, which is seasonal, and regular Milk Chocolate.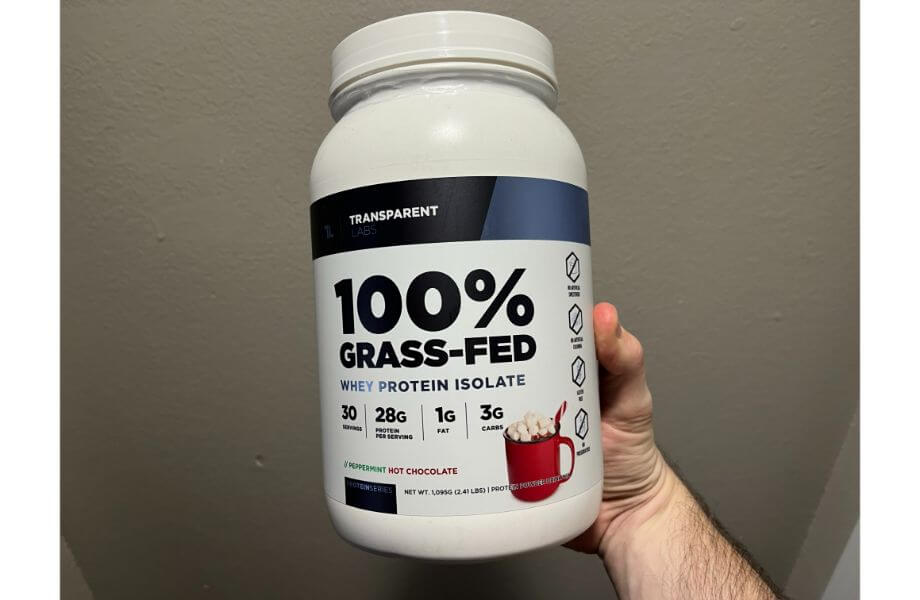 Anthony tested the Peppermint Hot Chocolate and says it tastes just like the real thing—"all you need is some whipped cream and marshmallows to complete the scene." Although I will say, if you intend on mixing protein powder with hot water, use a frother to eliminate chunks and floaties.
I'm about 10 servings into my tub of Milk Chocolate, and of the 12 tubs of protein sitting on my counter (I don't have the pantry space, OK), this is one of the options I reach for most frequently.
| | |
| --- | --- |
| Price per serving | $1.99 |
| Protein per serving | 28 g |
| Carbs per serving | 1-2 g (depends on flavor) |
| Fat per serving | 0 g |
Best-Tasting Casein Protein Powder: Legion Athletics Banana Cream Pie Casein
Good for: Anyone looking for a tasty casein supplement
Anthony is a big fan of the Legion Athletics Casein+ protein powder, specifically the Banana Cream Pie flavor.
He admits it tastes more like a banana shake than a true banana cream pie, but still, "I'm not complaining," he says. "If I were to compare it to an actual banana I'd say it's an under-ripe one, meaning it's not too sweet (which may be a good or bad thing, depending on your tastebuds)."
It definitely needs a good amount of shaking to ensure no clumps, and fair warning: If you've never had a casein protein powder before, it's much thicker than your traditional whey protein powders. But that thickness is exactly what makes casein so good in flavors like banana and vanilla, Anthony explains. 
My own pro tip here is to make pudding out of it: Instead of using a shaker bottle and making a drink, put a scoop into a bowl and mix in a bit of ice-cold water. In a matter of seconds, you have delicious, protein-packed banana pudding!
| | |
| --- | --- |
| Price per serving | $2.00 |
| Protein per serving | 26 g |
| Carbs per serving | 3 g |
| Fat per serving | 1 g |
Best Unique Flavor: Kaged Re-Kaged Orange Kream
Good for: Those looking to stray from classic choc and vanilla, but still want a dessert vibe
Anthony is "stoked" to see more unique flavors pop up along the endless horizon of chocolate and vanilla. Kaged Re-Kaged Orange Kream is a favorite: "First of all, I LOVE that someone is offering unique protein flavors," he dishes. "I tried the Orange Kream and it tasted so good. If you've had orange and cream ice cream or an ice cream float with orange soda, it tastes like that."
Well, go ahead and sign me up for orange-ice-cream-float protein powder.
Mixed in a standard Blender Bottle with a Blender Ball, Anthony didn't get any clumps, although he does admit the overall texture is slightly grainy—not a dealbreaker since the taste is pure nostalgia. Who wants to go chase the ice cream truck?
At $2.25 per serving, this is definitely on the pricey side. However, Kaged regularly makes an appearance on our guides to the best supplements because of the high-quality ingredients, as well as sourcing and manufacturing practices.
| | |
| --- | --- |
| Price per serving | $2.25 |
| Protein per serving | 28 g |
| Carbs per serving | 2 g |
| Fat per serving | 1 g |
Best-Tasting Unflavored Collagen Protein Powder: Vital Proteins Collagen Peptides Powder
Good for: People who want a truly unflavored collagen protein powder they can mix into anything
I know: Why put an unflavored collagen protein powder in a guide to the best-tasting protein powder? Well, because some "unflavored" collagen protein powders actually do have a flavor, and that flavor is garbage.
Collagen peptides may not be top-of-mind for those searching for their next favorite protein powder, but Vital Proteins Collagen Peptides Protein Powder is a great protein source that can be added to just about any liquid.

You can mix this stuff into plain water and not taste it at all. When you open the container, you'll notice how fine and light the powder is. It dissolves almost instantly and, when you give it a few seconds, your water will return to perfectly clear. (Hit it with a frother for a couple seconds to rid the glass of any stragglers.)
I've mixed these collagen peptides into coffee, greens powders, juices, sports drinks, and other protein powders and I don't notice it at all. An extra 18 grams of protein without altering the taste of a beverage? I'm in.
RELATED: Athletic Greens Review
| | |
| --- | --- |
| Price per serving | $1.67 (for 20-oz container) |
| Protein per serving | 18 g |
| Carbs per serving | 0 g |
| Fat per serving | 0 g |
Best-Tasting Budget Protein Powder: Optimum Nutrition Gold Standard 100% Whey
Good for: Anyone who wants great flavor at a great price point
I've been drinking Optimum Nutrition Gold Standard whey protein powder for years—since I first started strength training in 2014, to be exact. It's remained a staple in my supplement rotation since then, and it's a favorite of another GGR product tester, editor Nicole Davis, too.
Part of the reason I love this protein powder so much is because there's a vast flavor lineup—18 options, to be exact—and it's available in 13 size options, although availability varies. I've tried five different Optimum Nutrition Gold Standard 100% Whey flavors and I'd buy any of them again.
Of the several I've tried (Double Rich Chocolate, Cookies & Cream, Extreme Milk Chocolate, Vanilla Creme, and Mocha Cappuccino), Double Rich Chocolate is the one that keeps finding its way back to my pantry.
In addition to great flavor, 100% Gold Standard Whey comes at an affordable price point, dipping as low as $1.10 per serving for the largest size of 146 servings. That's a lot to buy at once, but if you're serious about cost savings, it's the right move (if you know you'll consume it all before the expiration date).
| | |
| --- | --- |
| Price per serving | As low as $1.10 per serving |
| Protein per serving | 24 g |
| Carbs per serving | 3-4 g (depends on flavor) |
| Fat per serving | 0-1.5 g (depends on flavor) |
Best-Tasting Fruity Protein Powder: SEEQ Clear Whey Isolate
Good for: People who are tired of the chocolate and vanilla and want some exciting fruity flavors
Protein powder flavors have certainly become more exciting in recent years; however, it still feels like a sea of chocolate, vanilla, and peanut butter. If you're looking to step away from the basics and dive somewhere new, check out SEEQ Clear Whey Isolate, which I tried as part of our testing process for supplements.
The Blue Razz Freeze flavor is scrumptious; it reminds me of Nerds candy and Fruit Roll-Ups Fruit by the Foot. I was nervous about texture, considering most protein powders create a thick, rich substance—blue raspberry and cream isn't an appetizing combo.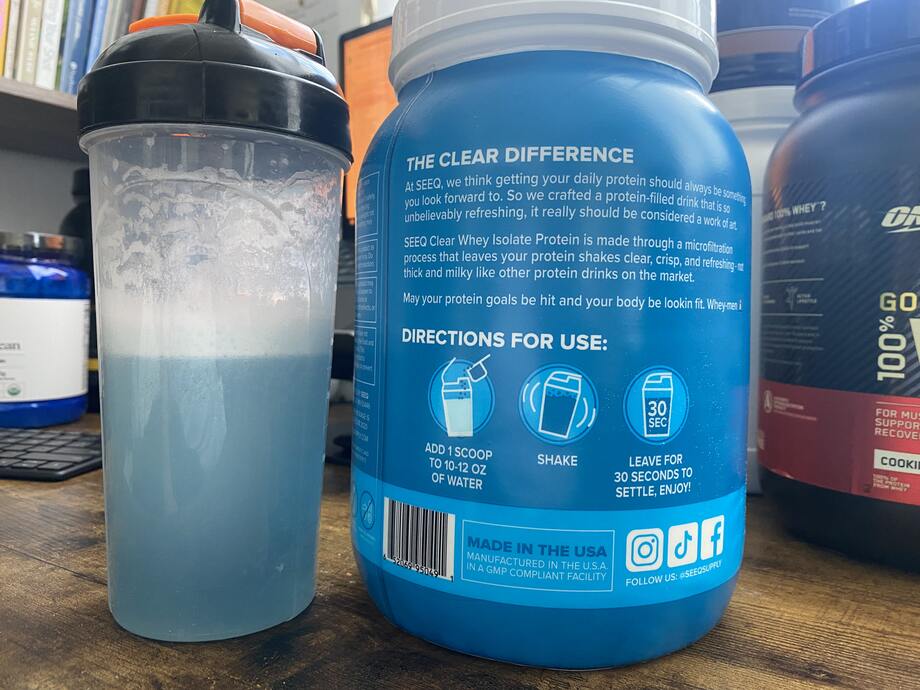 But thanks to the pure whey isolate used in this protein powder, the texture is actually quite thin when mixed with plain water (I didn't even try mixing it with something else). It tastes and feels like Kool-Aid, seriously! There is a slight grainy texture, similar to that of Ascent Recovery Water, but that's to be expected.
With 22 grams of protein, 1 gram of carbohydrates, and 0 grams of fat, the nutrient profile is on-point, too. Other flavors include Strawberry Splash and Mango Pineapple, both of which are on my to-try list.
| | |
| --- | --- |
| Price per serving | $1.79 |
| Protein per serving | 22 g |
| Carbs per serving | 1 g |
| Fat per serving | 0 g |
Best-Tasting Vanilla Protein Powder: Quest Nutrition Vanilla Milkshake Whey Protein Powder
Good for: Those who enjoy a smooth, rich, creamy texture
Not only does GGR Head of Content and product tester Kate Meier love this protein shake, but her two kids drink it willingly, too. "This protein powder really does taste and feel like a milkshake," Kate says. "It's not just in the name!"
The texture is ultra-rich and smooth, Kate emphasizes, and this is one of few protein powders that doesn't give her an artificial aftertaste (although it does contain artificial sweeteners). That taste must be hiding behind the "rich taste that is very vanilla," Kate says.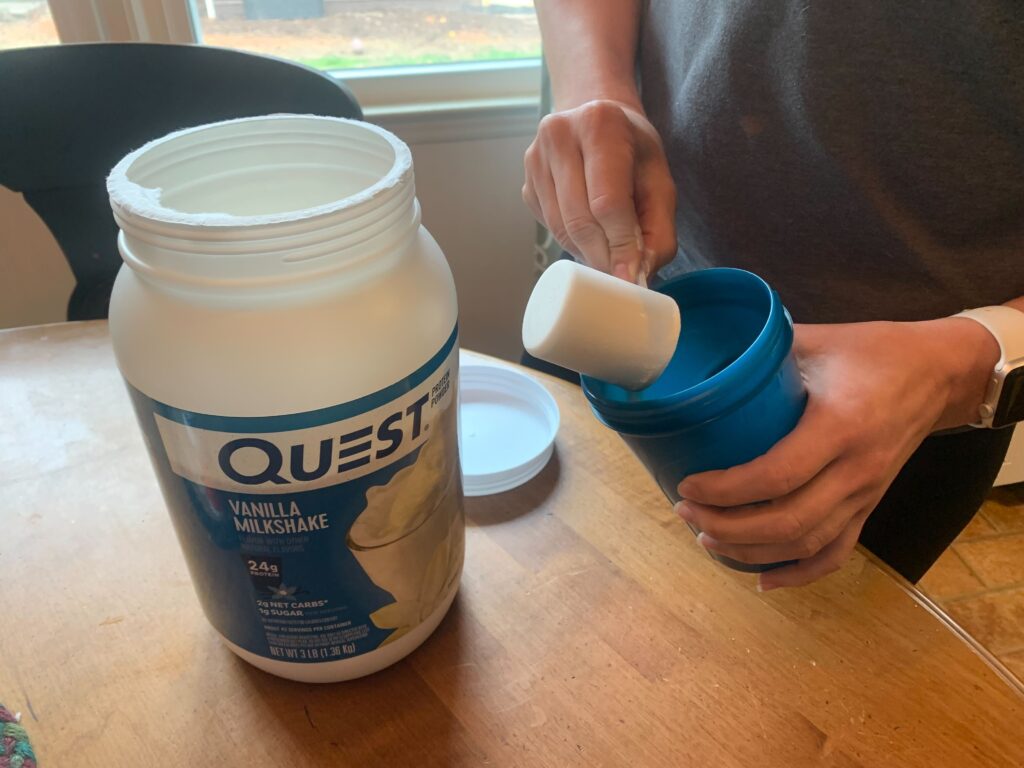 Often, vanilla protein powders must be mixed with milk or a milk alternative to actually taste good. Not this one: According to Kate, "It is great mixed with water without tasting watery and gross, and you don't need to mix this with anything else; totally awesome on its own."
This is probably due to the fact that the protein is a blend of 60% whey and 40% casein. Casein gives the powder a much richer flavor and texture.
The price per serving changes slightly based on the current price on Amazon and the size tub you buy, but the nutritional profile remains awesome: 24 grams of protein, 3 grams of carbs, and 0 grams of fat per serving.
RELATED: How much protein do I need?
| | |
| --- | --- |
| Price per serving | $1.40 (but depends on price on Amazon) |
| Protein per serving | 24 g |
| Carbs per serving | 3 g |
| Fat per serving | 0 g |
Best-Tasting Chocolate Protein Powder: Earth Fed Muscle Ca-Cow Chocolate Protein Powder
Good for: Anyone who wants their post-workout shake to taste like a chocolate milkshake
Another Kate favorite, Earth Fed Muscle Chocolate Protein Powder is not your run-of-the-mill boring chocolate powder. No, this protein is chock-full of grass-fed goodness and organic cacao beans. Sweetened with stevia, you won't find an icky artificial taste in this tub.
Weirdly, this protein powder contains zero fillers, flow agents, or synthetic blends of who-knows-what, yet it mixes unproblematically and creates one of the best protein shakes you can make at home. Earth Fed Muscle Ca-Cow only contains four ingredients total. Yes, you read that correctly: The ingredients label shows grass-fed whey protein isolate, organic cacao powder, organic stevia, and sunflower lecithin.
Kate's been buying Earth Fed Muscle protein for about five years and will continue to do so, she says. "This is probably the cleanest-tasting protein I've ever had. You can tell there isn't a bunch of crap in it. Also, even blended with water, this protein has a very smooth, rich taste. I can drink just this and water and be a happy camper!"
| | |
| --- | --- |
| Price per serving | $1.86 (but depends on price on Amazon) |
| Protein per serving | 25 g |
| Carbs per serving | 3 g |
| Fat per serving | .5 g |
Best-Tasting Organic Protein Powder: Truvani Organic Chocolate Plant-Based Protein Powder
Good for: Those who eat organic diets and want a rich, chocolatey protein supplement
I don't know how Truvani did it; I really don't. But they made the best-tasting vegan, organic, non-GMO, lactose-free, soy-free, gluten-free protein powder ever. I mean, this protein is anti-everything, yet it tastes like a dark chocolate milkshake.
There's still a hint of that plant-based protein, but it's masked by the richness of the chocolate. Mixed with almond or oat milk, the Truvani Organic Chocolate Plant-Based Protein Powder is actually something I'd willingly drink on a regular basis—not something I can say about any other vegan, organic protein powder.
It's free of artificial flavors and sweeteners and instead sweetened with monk fruit extract. The other handful of ingredients (there are only six) are pea protein concentrate, alkalized cocoa, vanilla powder, pumpkin seed concentrate, and chia seed protein concentrate.
Plus, with 20 grams of protein per serving, this product is up to par with a lot of whey protein powders. It's expensive at $2.50 per serving, but I'd gladly pay that for one of the best organic protein powders that even satisfies a non-vegetarian.
| | |
| --- | --- |
| Price per serving | $2.50 |
| Protein per serving | 20 g |
| Carbs per serving | 5 g |
| Fat per serving | 3 g |
Best-Tasting Vegan Protein Powder: Vega Sport Premium Plant-Based Protein Powder
Good for: Anyone looking for a tasty vegan-friendly protein supplement
It's not often that a non-vegan dieter likes vegan protein powder. There's a specific plant-protein taste that sneaks its way into all vegan protein powders, so the key as a whey-drinker is to find the one with the least amount of that taste.
According to Anthony (and the less-than-stellar taste-test notes on other options from our other testers), that is Vega Sport Premium Plant-Based Protein Powder.
Anthony went with the mocha flavor (peanut butter, chocolate, and vanilla are the other options) and said he "got more of a brownie flavor—not a bad thing." It's easy to mix and " tasted pretty good with my morning iced coffee," he says.
Bonus points: This protein powder comes with probiotics for digestive support and includes 30 (!) grams of protein, which is on the very, very high end for plant protein powders.
| | |
| --- | --- |
| Price per serving | $2.04 (but depends on price on Amazon and flavor) |
| Protein per serving | 30 g |
| Carbs per serving | 4-6 g |
| Fat per serving | 3.5-4 g |
Best-Tasting Personalized Protein Powder: Gainful
Good for: People who like to switch up their protein powder flavors on a regular basis
Gainful allows you to create your own unflavored protein blend by taking a short quiz on your fitness goals, dietary preferences, and body type that is then flavored with available "Flavor Boosters." There are eight options, so you're bound to find something you like or you can do what GGR senior editor and product tester Nicole Davis did, which was to mix different flavor boosters together to create an even more personalized protein powder.
"I mixed it with milk as suggested on the instructions and all flavors tasted good," she says, "even Sea Salt Caramel, which is not something I'd normally choose."
Gainful explains why they ask each question so you understand how each factor plays into developing a protein blend specifically made for your own needs.
Nicole said she found the protein powder to be a bit clumpy, even after mixing it thoroughly in a shaker bottle. Luckily Gainful has a "Happiness Guarantee" that allows you to get a new protein blend for free if you don't like your original order.
The service also provides complimentary access to a registered dietitian if you have any questions about your protein blend or protein supplementation.
| | |
| --- | --- |
| Price per serving | Starts at $45 with 14-28 servings per container |
| Protein per serving | 19-27 g (varies based on your results) |
| Carbs per serving | (Varies based on your results) |
| Fat per serving | (Varies based on your results) |
Best-Tasting Unflavored Protein Powder: Now Sports Nutrition Whey Protein Isolate
GGR staff writer and expert product tester Lauren Strong says this unflavored protein powder has a noticeable "whey aftertaste," though she adds it's easily overpowered when mixed with a beverage other than water or with something like fruit or peanut butter in a protein shake.
"Blended just like you would want a protein powder to—no clumps, not too thick or thin," she says. "Pretty decent all around."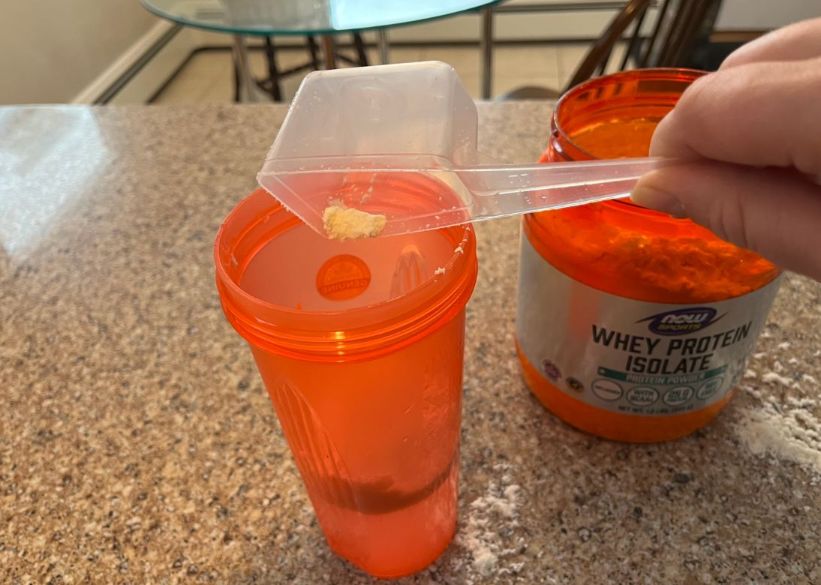 Now Sports does one thing that many unflavored protein powder manufacturers don't, and that's adding sunflower lecithin to keep the powder from clumping. We also won't complain about the 25 grams of protein and minimal fat and carbohydrate content.
| | |
| --- | --- |
| Price per serving | $0.77 |
| Protein per serving | 25 g |
| Carbs per serving | <1 g |
| Fat per serving | 0.5 g |
Other Protein Powders We Tried
The list of protein powders our product testers have tried is gargantuan. Aside from those you see above, we've also tried: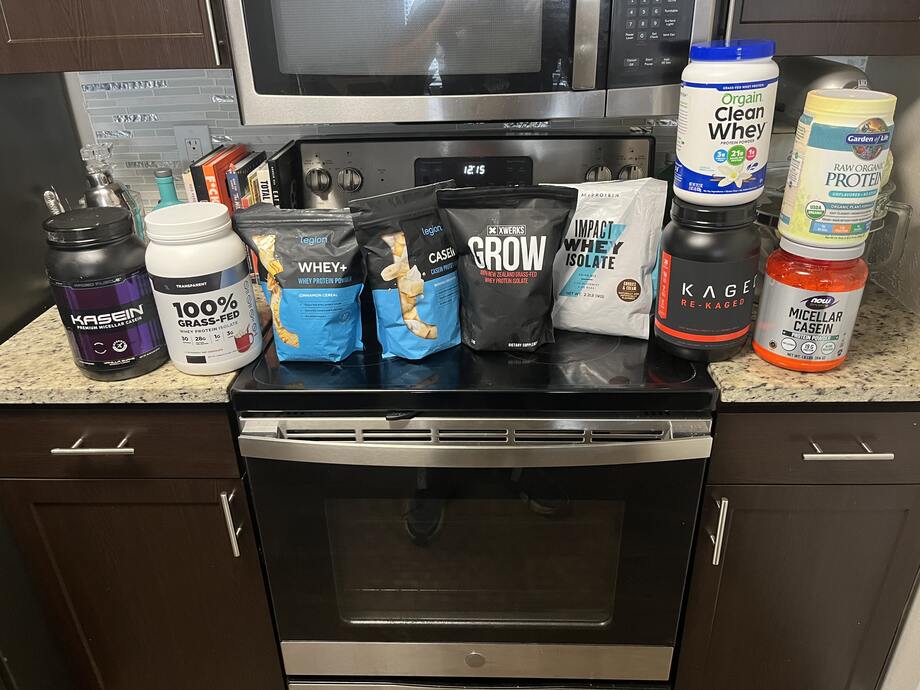 Muscle Milk Genuine Protein Powder
Kaged Whey Protein Isolate
Kaged Kasein
Legion Athletics Whey+
MyProtein Impact Whey Isolate
Muscle Milk Genuine Protein Powder
1st Phorm Phormula 1
Orgain Organic Grass-Fed Whey
Sun Warrior Protein Warrior Blend
Performix ioWHEY
Jacked Factory Authentic Whey
Garden of Life Grass-Fed Whey Protein
GNC Lean Shake Burn
Ghost Whey Protein
Now Sports Whey Protein Isolate
MuscleTech Iso Whey Clear
Huge Supplements Whey Protein
Cira Bright Whey Protein
Dymatize ISO 100 Hydrolyzed Whey
Transparent Labs Casein
Dymatize Elite Casein
Naked Casein
MyProtein Vegan Blend Protein Powder
Bulk Supplements Soy Protein Isolate
Kaged Plantein
Now Sports Plant Protein Complex
KOS Organic Plant Protein
Garden of Life Vegan Sport Protein Powder
Innermost Health Protein
Manitoba Harvest Hemp Yeah!
Ora Organic So Clean and So Lean Vegan Protein Powder
So, yeah, you could say we're serious about this taste-testing business!
How We Picked and Tested
As you can see from the behemoth of a list above, we actually tested a ton of protein powders to create our various guides to the best protein powder (see best vegan protein powder, best whey protein powder, and best protein powder overall).
RELATED: Best protein bars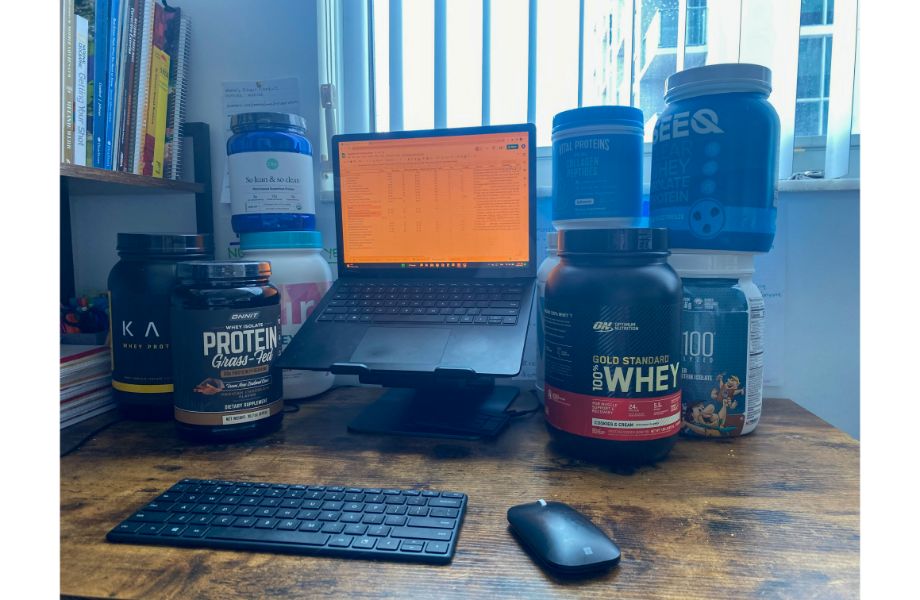 Research
Everything at GGR commences with research. We scour the web for customer reviews; we analyze products from popular and not-so-popular brands; we dig into manufacturing practices; perform cost-per-serving analyses; check ingredients and nutrition facts labels; and look at policies for shipping, guarantees, and returns.
Testing
After creating a list of products to order and try for ourselves, testing begins. We keep detailed testing notes in a spreadsheet where we can collaborate and provide input on various products we try. Here's a look at one such sheet for protein powders. These spaces are dynamic and change as we test more products and information such as pricing and nutrition facts change.
Finalizing
The culmination of research and testing is what you see in guides like this one. We create a shortlist of products and send it to our wider team as an opportunity for critique and collaboration. This step is so, so important—especially for guides based on subjective matters, such as taste. Various subject matter experts and product testers on our team provide more input and make a case as to why a product should or shouldn't be on a given list.
RELATED: Best pre-workout for women
Benefits of Protein Powder
Protein powder is one of the most popular supplements because it generally tastes decent, if not great, and it serves many purposes in the pursuit of health and fitness.
Easy Way to Increase Protein Intake
It's hard for some people to consume the recommended amount of protein per day, even when eating high-protein foods. Protein powder can make it easier to hit protein targets by providing a quick, convenient way to intake 15 to 30 more grams of protein.
RELATED: Best protein chips
Helps Build Muscle
Protein powder is an extensively studied supplement, second perhaps only to creatine. As a whole, protein is one of the most important nutrients for anabolism (muscle growth), according to a 2021 review in the journal Nutrients1.
Other scientific research shows that consuming protein supplements can lead to increases in protein metabolism2, an important part of the process by which new muscle mass is formed, especially when taken around the time of training and in conjunction with a strength training routine.
Helps With Muscle Recovery
When consumed post-workout, protein powder can aid in the muscle recovery process. Specifically, protein supplements have been shown to "facilitate muscle repair" and "mitigate muscle damage markers during recovery," according to a 2019 study published in the Journal of Sports Science and Medicine3.
Keeps You Full and May Support Weight Loss
It's well-known that higher-protein diets can help with satiety, or keeping your appetite down and feelings of fullness up. Protein is an important nutrient for weight regulation4, and some research tells us that eating more protein may help with weight-loss efforts and weight maintenance thanks to its satiating properties.
There's little evidence that protein supplements directly support weight loss, but we know that more protein in your day-to-day helps with satiety5, and protein supplementation is a convenient way to consume more grams per day.
Remember, though, that protein shakes aren't intended as meal replacements. If you're looking for a true meal replacement, look for something more nutritionally complete—meaning something that contains carbs, fats, and a micronutrient profile as well.
Buying Guide: What to Look for in Protein Powder
To help you on your hunt for the best protein supplement, here are my top things to look for.
Taste, Texture, and Solubility
Solubility is inarguably important in protein powder. Without good solubility, protein powder is trash, no matter how good the taste is—I don't know anyone who can down a chunky, gritty serving of liquid and go back for seconds.
Unfortunately, there's no real way to know if the taste, texture, or solubility of a protein powder will be acceptable to you until you try it. However, it's helpful to read customer reviews to learn more about these factors, as well as in-depth guides (like ours!).
Protein Per Serving
We like to see at least 20 grams of protein per serving, regardless of the type of protein powder. Sometimes, vegan protein powders have fewer grams per serving, but the vegan options on our list meet that 20-gram benchmark. More than 20 is great, and you'll see some with up to 30 grams per serving.
Other Nutrient Information
Don't make the mistake of only looking at the protein blend on the supplements facts label. Check the carbs, fat, fiber, and sugar per serving. Also check the ingredients list to look for any ingredients that may cause digestive problems for you, such as artificial sweeteners, sugar alcohols, added sugars, and certain thickeners, preservatives, emulsifiers, or gums.
Some protein powders also include digestive enzymes to help prevent bloating and other potential gastrointestinal side effects. Other ingredients you may find on the label are branched-chain amino acids, essential amino acids, vitamin C, calcium, and other micronutrients.
Protein Source
Whey protein concentrate and whey protein isolate are the most common protein sources in non-vegan (meaning not dairy-free) protein powders. In vegan protein powders, you're likely to find blends of brown rice protein, soy protein, and pea protein. All of these are fine; it's just about personal preference. Although, it's worth noting that plant proteins aren't complete proteins, meaning they don't contain all nine essential amino acids.
Price Per Serving
Price per serving is another important factor to consider. You may see a tub of protein for $30 and think it's a great deal, only to find out that it only contains 15 servings. Then you're looking at $2 per serving, which is on the higher end. Our list of the best-tasting protein powders contains options with pricing as low as $1.10 per serving up to $2.50 per serving, which is quite pricey. However, when you want a great taste and to satisfy several dietary preferences, you'll be looking at those higher prices.
RELATED: No Cow protein bar
Flavor Options
Are you a vanilla bean fiend? Or more of a chocolate peanut butter fanatic? Perhaps chocolate chip cookie dough is your go-to? On today's market, you'll find a seemingly endless selection of flavor options among protein powders, so you're allowed to be picky and forgo the overdone basic chocolate and vanilla flavors.
FAQs
What is the best-tasting protein powder?
Is vegan protein powder good?
It depends on who you ask. To most people who don't eat a vegan diet, vegan protein powder isn't as tasty as whey protein powder. For people who are used to a vegan diet palate, vegan protein powder probably tastes fine.
What is the best protein powder?
What is the best protein powder flavor?
While this is a very subjective question, the most common answer seems to be vanilla or chocolate. Our best-tasting protein powder is XWERKS Grow's chocolate flavor.
How can I take protein powder in ways other than a protein shake?
Protein powder can also be used in pancakes, baking recipes, or mixed with oatmeal.
References