We test and review fitness products based on an independent, multi-point methodology. If you use our links to purchase something, we may earn a commission. Read our disclosures.
Even if you have little idea about how to build muscle, you still might imagine bodybuilders choking down raw eggs, force-feeding themselves endless plates of chicken and broccoli, and chugging down a protein shake. We'll go with the latter option.
If anything goes better together for muscle growth (sorry chicken and broccoli, you're not it), it's a structured resistance training plan and adequate protein. Some protein powders even pair infamous flavor combo duos—looking at you, Chocolate Peanut Butter!
But whether you're looking to start your protein powder journey, questioning if yours is the right one for you, or simply wanting a change of protein pace, look no further. We've covered you and your muscle-gaining goals with this best protein powder for muscle gain round-up!
We're a team of certified personal trainers, competitive weightlifters, and registered dietitians who have researched well over 100 protein powders and tried 75 of them to give you our top picks. We narrowed down our choices by looking at:
Ingredients and formulation: Does it have muscle-building ingredients in clinically-recommended doses?
Protein content: Does it have at least 20 grams of protein per serving?
Taste: Does it taste good?
Price: How expensive is it?
Medical disclaimer: This article is intended for educational and informational purposes only. It is not intended as a substitute for medical advice. For health advice, contact a licensed healthcare provider.
13 Best Protein Powders for Muscle Gain
Best Protein Powder for Muscle Gain Overall: Transparent Labs 100% Grass-Fed Whey Protein Isolate
Good for: Those looking for a high-quality, whey-based protein to enhance their muscle growth and recovery
This isn't the first, second, or even third time that Transparent Labs 100% Grass-Fed Whey Protein Isolate has landed on a list of our top picks. In fact, it even made our best protein powder list, primarily thanks to Transparent Labs' commitment to transparency and quality.
Transparent Labs 100% Grass-Fed Whey Protein Isolate contains only a few high-quality ingredients, like its main feature: grass-fed whey protein isolate that provides 28 grams of pure protein with each single-scoop serving.
The grass-fed American cows that help produce the milk are naturally fed, hormone-free, and provided with access to pasture. GGR performance editor, Anthony O'Reilly, tried this protein and says that overall, he's a big fan. "I haven't experienced any stomach or digestive issues after drinking it as I sometimes do with other whey protein powders—several customer reviewers said the same thing. It mixes incredibly well with milk or water, and I can say that I feel full for quite a while after downing a protein shake."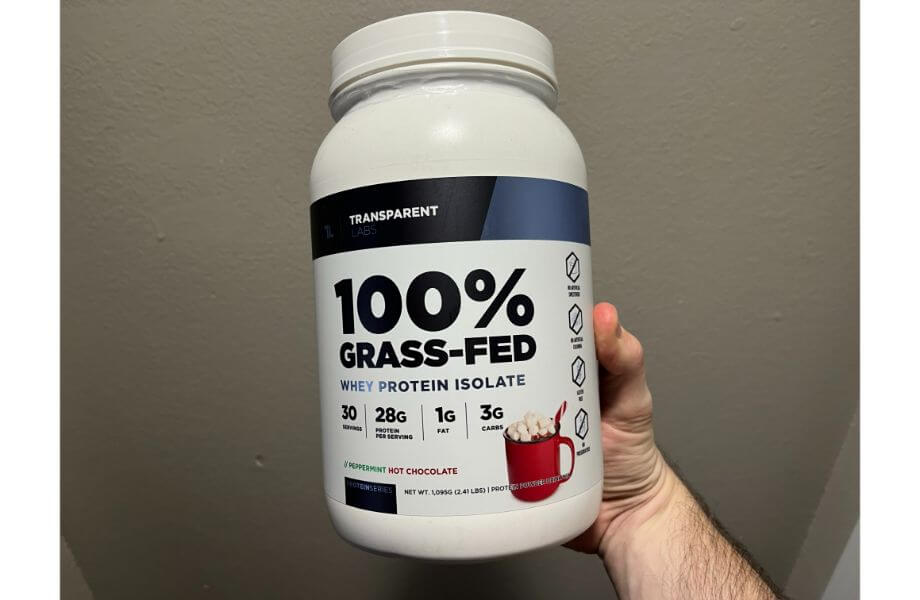 Whey protein1 and whey protein isolates are complete proteins because they provide all essential amino acids. Unlike non-essential amino acids, essential amino acids must be obtained from high-protein foods or protein supplements.
Whey is also rich in branched-chain amino acids2 (BCAAs), which may enhance post-exercise muscle recovery and function. It's particularly a tremendous source of leucine—one of the three BCAAs—that plays a crucial role in protein synthesis and growth.
Also, whey protein isolates contain more protein than whey protein concentrates, which can help spur protein synthesis and muscle growth. Isolates also contain fewer carbs, fat, and lactose, making them a possible solution for anyone with lactose intolerance or dairy sensitivities.
While a study3 found that supplementing with whey protein isolate can increase muscle mass in combo with resistance training, it's unclear if one over the other truly has the upper hand. Overall, the utmost importance is that you're consuming adequate protein from a variety of high-quality sources.
And as far as any other ingredients, Transparent Labs whey protein isolate is a "clean" product free of artificial sweeteners, coloring, and preservatives. While dependent on flavor, Transparent Labs strives to include more natural ingredients like cocoa powder, stevia, and peanut flour.
All Transparent Lab products are third-party tested; you can even view their Certificates of Analysis and Composition on their website. If you want an even MORE in-depth guide to this muscle gainer, check out our complete Transparent Labs Protein Review.
| | |
| --- | --- |
| Main Protein Source(s) | Grass-Fed Whey Protein Isolate |
| Protein Per Serving | 28 g per 1 scoop (38.5 g) serving (Chocolate Peanut Butter) |
| Flavor Option(s) | Chocolate Peanut Butter, Cinnamon French Toast, French Vanilla, Milk Chocolate, Mocha, Oatmeal Chocolate Chip Cookie, Strawberry, Vanilla Peanut Butter |
| Cost | $59.99/30 servings = $2.00/serving |
| Sweeteners | Stevia |
Best Budget Protein Powder for Muscle Gain: Jacked Factory Authentic ISO
Good for: Gaining muscle without losing out on (much) money
Like Transparent Labs 100% Grass-Fed Whey Protein Isolate, Jacked Factory Authentic ISO provides 100% grass-fed whey protein isolate—but at a lower cost. You can snag Jacked Factory's budget-friendly protein for just $1.33 per scoop or, better yet, $1.13 per scoop if you subscribe and save for 15% off (and free shipping)!
Cost in the rearview mirror, Jacked Factory Authentic ISO sits 25 grams of protein in the front seat. Also being a whey protein isolate, it contains minimal carbs (1 gram), fat (0.5 grams), and lactose.
The Jacked Factory protein also sports a tidy ingredients list that's mostly filled with natural ingredients—like Himalayan salt and stevia extract—to enhance flavor. However, and while this is a personal preference on if you wish to consume, it does contain artificial flavors and the artificial sweetener sucralose. While reviewers did not think this was the best-tasting protein powder, it does come in three flavors: Vanilla Oatmeal Cookie, Chocolate Peanut Butter, and Vanilla.
But to ride Jacked Factory into the sunset, its grass-fed whey protein isolate is manufactured in the U.S. in a cGMP (Current Good Manufacturing Practice) and FDA-registered facility. And if you aren't satisfied with the product for any reason, Jacked Factory offers a 100% hassle-free, money-back guarantee.
| | |
| --- | --- |
| Main Protein Source(s) | 100% Grass-Fed Whey Protein Isolate |
| Protein Per Serving | 25 g per 1 scoop (30.1 g) serving (Vanilla) |
| Flavor Option(s) | Chocolate Peanut Butter, Vanilla, Vanilla Oatmeal Cookie |
| Cost | $39.99/30 servings = $1.33/serving |
| Sweeteners | Sucralose, Stevia Extract |
Best Natural Protein Powder for Muscle Gain: Legion Whey+
Good for: Those who want a protein powder free of artificial ingredients
Legion's commitment to using all-natural ingredients begins with all-natural cows who graze on grass instead of artificial feed filled with artificial ingredients. Cows that eat grass produce milk that has more nutrients than dairy from grain-fed cows, plus it gives us peace of mind that there are no hormones or other junk in our protein powder.
Each batch is tested by Labdoor, a third-party laboratory that ensures the protein supplements are free of any heavy metals, toxins, or banned substances that might cause athletes to fail a drug test. Although rare, there have been cases when athletes have ingested banned materials through a supplement such as protein powder or pre-workout.
The Whey+ protein powder comes in 17 different flavors, and while we haven't tried them all the ones we have tested are some of the tastiest protein powders on the market. Anthony O'Reilly, a protein powder connoisseur and GGR's performance editor, says the Cinnamon Cereal tastes exactly like the milk that's at the bottom of a bowl of Cinnamon Toast Crunch.
RELATED: Legion Whey Protein Review
The protein content varies by flavor, but you can expect anywhere from 22 to 25 grams of protein with a minimal amount of carbs and fat.
| | |
| --- | --- |
| Main Protein Source(s) | Grass-Fed Whey Protein Isolate |
| Protein Per Serving | 22-25 g (Varies by flavor) |
| Flavor Option(s) | 17 |
| Cost | $59.99/30 servings = $1.99/serving |
| Sweeteners | Stevia Leaf Extract, Monk Fruit Extract |
Best-Tasting Protein Powder for Muscle Gain: Xwerks Grow
Good for: Lifters who enjoy the finer flavored things proteins in life
With a name like Xwerks Grow, how could it not land on our list of the best protein powders for muscle gain?
Xwerks Grow is another grass-fed whey protein isolate sourced explicitly from grass-fed cows from New Zealand. According to Xwerks, New Zealand is one of the strictest countries in the world regarding dairy quality, and you need not worry about hormones, antibiotics, or pesticides passed onto you.
The whey protein isolate supplies 25 grams of protein per scoop with over 6 grams of BCAAs. Xwerks Grow also provides the protein powder's complete amino acid profile if you're interested in the breakdown.
Xwerks Grow comes in four simple, classic flavors: Chocolate, Peanut Butter, Strawberry, and Vanilla. GGR performance editor and expert product tester Anthony O'Reilly highly enjoys Xwerks Grow and finds that the chocolate flavor tastes like a "protein Yoo-hoo."
Each Xwerks Grow flavor is free of artificial sweeteners, flavors, coloring, soy, and gluten. They're all naturally sweetened and flavored with ingredients like cocoa and vanilla beans, although they do contain xanthan gum which could cause tummy troubles in some consumers.
Xwerks does cost almost $2.00 per serving, although you can save 5% using their subscribe and save option. They also offer free shipping and a 100% money-back guarantee if you aren't completely satisfied.
| | |
| --- | --- |
| Main Protein Source(s) | 100% Grass-Fed Whey Protein Isolate |
| Protein Per Serving | 25 g per 1 scoop (30 g) serving (Chocolate) |
| Flavor Option(s) | Chocolate, Peanut Butter, Strawberry, Vanilla |
| Cost | $59.00/30 servings = $1.97/serving |
| Sweeteners | Stevia |
Best Whey Isolate Protein Powder for Muscle Gain: Swolverine Whey Isolate
Good for: Gym-goers curious about whey isolates with added digestive enzymes
Carrying on our theme of high-quality ingredients, Swolverine Whey Protein Isolate provides 26 grams of pure protein sourced from "the happiest grass-fed cows in America." And we'll assume the cows are, in fact, happy, as they are free of recombinant bovine growth hormone (rBGH) and raised in a humane and natural environment.
Swolvervine's whey protein isolate is unique because it also contains a digestive enzyme blend of papain and protease to break down proteins into amino acids and enhance their absorption. Proteolysis4—the breakdown of proteins into amino acids by enzymes—is essential to producing new skeletal muscle fibers and adapting muscle fibers to cellular stress. There's also research that suggests5 protease supplements may lessen muscle soreness and facilitate muscle healing after downhill running.
The whey protein isolate comes in four flavors—Chocolate, Honey Cinnamon Peanut Butter, Mint Chocolate Chip, and Vanilla. To enjoy, Swolverine recommends adding to smoothies, protein shakes, and even recipes like fresh baked goods. I don't know about you, but the thought of Honey Cinnamon Peanut Butter baked into almost anything sounds like the bee's knees! Amanda Capritto, GGR staff writer and expert tester, said, "The flavor of this protein is good; with milk, it tastes great." She does warn that with water instead of milk, it's thin enough to be off-putting.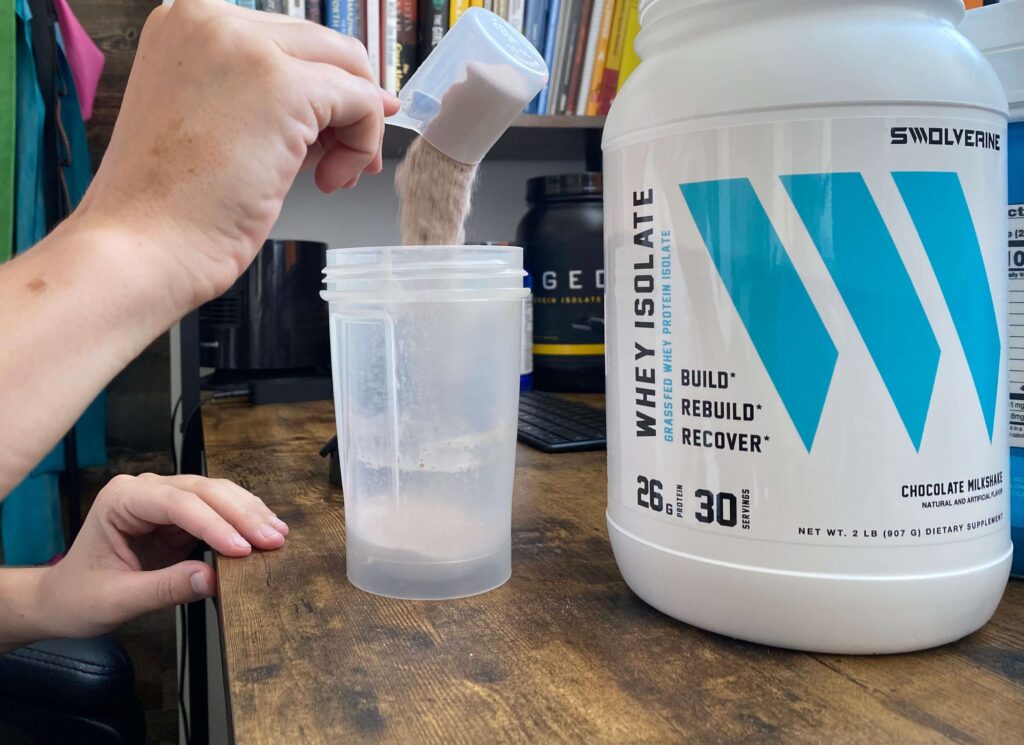 The protein is also claimed to be a non-GMO and gluten-free formula. And like all Swolverine products, it's formulated in the U.S. and third-party tested in an NSF and FDA-certified inspected facility for Good Manufacturing Practices (GMP) compliance. You can also view all of Swolerine's Certificates of Analysis that ensure each product's quality, content, and purity.
Swolverine also offers 15% off your recurring order, in which you can cancel or modify your order at any given time.
| | |
| --- | --- |
| Main Protein Source(s) | Grass-Fed Whey Protein Isolate |
| Protein Per Serving | 26 g per 1 scoop (30 g) serving (Chocolate) |
| Flavor Option(s) | Chocolate, Honey Cinnamon Peanut Butter, Mint Chocolate Chip, Vanilla |
| Cost | $62.99/30 servings = $2.10/serving |
| Sweeteners | Sucralose |
Best Protein Powder for Lean Muscle Gain: Ritual Essential Protein 18+
Good for: Those looking for a lower calorie, but still high-protein supplement
With 20 grams of protein and only 115 calories per scoop, Ritual Essential Protein 18+ is a great—and tasty—option for those who may not want too much protein in their diet. The lower calorie content can help you put on muscle without putting on too much size so you don't do a Hulk Hogan impression each time you put on a suit.
Competitive weightlifter and GGR Head of Content Kate Meier says the Vanilla protein powder is a 4 out of 5 on taste when mixed with water or smoothies (her morning shake consists of water, strawberries, blueberries, and this protein powder). "The vanilla taste is definitely detectable, but not overly strong," Kate says.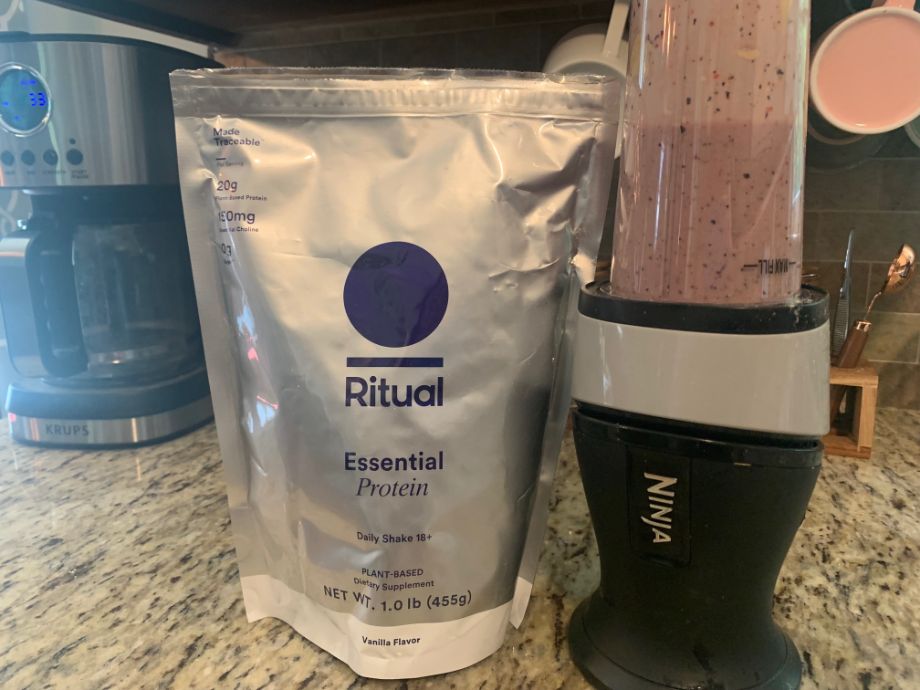 The solubility shocked Kate and earned an instant 5 out of 5. "It's not thick, but it's not watery like some proteins are," she says.
Some people might see that this protein powder is made with pea protein and be wary, and we'd understand that. After all, pea protein lacks the research-backed amount of the amino acid methionine and can't be considered a complete protein. Ritual fixes this by adding enough methionine to their supplement to up the protein quality.
It is a subscription-based company, though there is a 30-day money-back guarantee if you decide to try it and don't like it. Canceling or pausing your shipments can also be done right on their website.
| | |
| --- | --- |
| Main Protein Source(s) | Pea protein |
| Protein Per Serving | 20 g per 1 scoop |
| Flavor Option(s) | Vanilla |
| Cost | $40/15 servings = $2.67 |
| Sweeteners | Monk fruit |
Best Protein Powder for Muscle Gain with Unique Flavors: Kaged Re-Kaged
Good for: Protein buffs looking to expand their flavor repertoires
While the flavor options are not plentiful, it's hard to deny that Kaged Re-Kaged offers the most uniquely fruity selections: Iced Lemon Cake, Orange Kream, and Strawberry Lemonade… Need we say more? Well, we're gonna!
Kaged Re-Kaged contains unique ingredients beyond whey protein isolate—which is 28 grams of protein per scoop, to be exact. It also supplies 3 grams of glutamine, a conditionally essential amino acid that becomes extra crucial under times of stress, to help aid in athletic recovery and much more.
RELATED: Benefits of Glutamine
It also provides 1.5 grams each of betaine anhydrous and creatine hydrochloride (HCl) to enhance strength, power, and muscle endurance. Some of the best creatine supplements often provide 5 grams of creatine monohydrate daily. However, research suggests6 that 1.5 grams daily of creatine HCl—which may absorb faster—benefits strength and body composition.
The powder also includes a digestive enzyme (protease) blend trademarked as ProHydrolase® to enhance protein digestion and absorption. A 2020 study published in Sports7 found that adding ProHydrolase® to whey protein was the only nutritional approach to elevate amino acids 30 and 180 minutes post-ingestion compared to whey on its own.
But back to those unique and tempting flavors… Each one is free of artificial flavors and dyes and contains just 1 gram of sugar. GGR editor Frieda Johnson got this for her daughter, who is trying to build muscle and isn't a huge fan of all the chocolate-flavored protein powders on the market. She absolutely loves the Iced Lemon Cake flavor and actually looks forward to her protein shake now!
Anthony O'Reilly, GGR performance editor, also tried this protein powder and loves that the brand makes such unique flavors. "I tried the Orange Kream and it tasted so good. If you've had orange and cream ice cream or an ice cream float with orange soda, it tastes like that," he says.
We should mention that Kaged also offers a whey protein isolate, which contains pure whey protein isolate and the digestive enzyme blend without glutamine, betaine, and creatine. This is another great option—with delicious (but non-fruity) flavors like S'mores, Chocolate Peanut Butter, and Cinnamon Toast Crunch—if you're already getting those added Re-Kaged ingredients from another source or simply don't want them.
Whichever you opt for, both can support your muscle growth goals thanks to their ample protein paired with digestive enzymes. And since they're Kaged products, you can rest easy knowing that the proteins are third-party tested and certified by Informed Sport.
RELATED: Kaged Muscle Pre-Kaged Review
| | |
| --- | --- |
| Main Protein Source(s) | Whey Protein Isolate |
| Protein Per Serving | 28 g per 1 scoop (41.7 g) serving (Orange Kream) |
| Flavor Option(s) | Iced Lemon Cake, Orange Kream, Strawberry Lemonade |
| Cost | $35.99/20 servings = $1.80/serving*Was listed on sale from $44.99 |
| Sweeteners | Sucralose |
Best Grass-Fed Protein Powder for Muscle Gain: Momentous Grass-Fed Whey
Good for: Lifters who are extra cow-gnizant about the sourcing and quality of their protein powder
If you can't tell by cow now, we lean toward high-quality protein sources like grass-fed whey. And claiming themselves to be "the highest-quality whey protein on the market, period" makes us want to see if it's really worth crying about till the cows come home.
Momentous Grass-Fed Whey is a no-fuss, no-bull product that provides about 20 to 23 grams of protein per serving (depending on the flavor or lack thereof). The grass-fed whey is sourced from Irish cows that are raised on grass-based diets without growth hormones. Every cow used in production is also traceable from the exact farm where it was raised, allowing for full transparency and accountability in the production process.
The whey protein isolate is also cold-processed to preserve native protein structures, thus allowing for greater amino acid bioavailability. A 2020 review published in Foods8 tells us that cold filtration can improve quality and reduce denatured protein of whey.
It also contains 200 milligrams of ProHydrolase® (which we were just introduced to with Kaged Re-Kaged's formula) to enhance digestion and absorption of the protein. Momentous also claims to use the clinically-tested dose of 10 mg of ProHydrolase per 1 g of protein to minimize bloat but maximize amino acid absorption—and this is documented on the official ProHydrolase spec sheet.
The grass-fed whey protein isolate comes in two flavors—Chocolate and Vanilla—and an unflavored option that can be mixed in your liquid or baked into goods for a protein boost. All three options are free of added sugar, gluten-free, and soy-free. GGR's Head of Content Kate Meier is on a weight lifting team, and her teammate Hunter tried the chocolate version of Momentous. "It has a rich taste, very much like cocoa; it tastes a lot like hot chocolate (only we mixed it with ice cold water). I would buy this again based on taste alone—it goes down really smoothly."
Momentous products are also third-party tested, specifically rocking the NSF Certified Sport and Informed-Sport logos, and come with a money-back guarantee. You can also save about $10 per container if you subscribe to a recurring order with one, two, or three-month delivery options—and you might need this savings, as this protein powder is expensive, costing about $60 a bag.
| | |
| --- | --- |
| Main Protein Source(s) | Grass-fed whey protein isolate |
| Protein Per Serving | 20 g per 1 scoop (26.5 g) serving (Vanilla) |
| Flavor Option(s) | Chocolate, Unflavored, Vanilla |
| Cost | $59.50/24 servings = $2.48/serving |
| Sweeteners | Stevia |
Best Protein Powder for Muscle Gain Post-Workout: Garden of Life Sport Whey Protein
Good for: Anyone looking to enhance their post-workout routine with a high-quality protein
With a name including "sport," we can only assume Garden of Life's whey protein will take your fitness to the next level. But let's decode the ingredients and see.
Garden of Life's protein blend welcomes us with another grass-fed whey protein option—with 24 grams of protein per scoop—that's certified by Truly Grass Fed™. Truly Grass Fed™ means the dairy whey is sourced from cows that live in their natural habitat to roam and feed in pastures. The Truly Grass Fed™ is ultimately free of antibiotics and is cold-processed, microfiltered, and Non-GMO Project Verified.
Speaking of verifications, Garden of Life's protein blend rocks the NSF Certified for Sport® and Informed-Choice for Sport Certified logos. This informs us that it meets rigorous industry standards and is free of banned substances, which is important for competitive athletes.
The protein powder also provides 2 billion colony-forming (CFUs) of probiotics to support gut health. However, because there are hundreds of products containing different strains and CFU counts, we still recommend checking out the best probiotics to find what might work best for you.
It's important to note that the offered Chocolate and Vanilla flavors contain erythritol, a mostly-tolerated sugar alcohol that is known to stir up tummy troubles for some people. But the flavors are mainly formulated with "clean" ingredients, including organic cocoa, stevia, and organic vanilla flavors. GGR Head of Content, Kate Meier, said that the erythritol and stevia flavor is a bit much in her opinion. "I think it would be better in a smoothie mixed with other things rather than drinking it straight," she said. "It could potentially be good for baking, as well, because it doesn't have a very strong flavor so it wouldn't overpower a recipe."
| | |
| --- | --- |
| Main Protein Source(s) | Grass-fed whey protein |
| Protein Per Serving | 24 g per 1 scoop (32 g) serving (Vanilla) |
| Flavor Option(s) | Chocolate, Vanilla |
| Cost | $59.99/20 servings = $2.40 |
| Sweeteners | Erythritol, Stevia |
Best Personalized Protein Powder for Muscle Gain: Gainful
Good for: Anyone who wants a protein powder made just for them and is willing to pay extra for it
Your health needs and fitness goals are personal, and Gainful recognizes and accommodates just that. In fact, in addition to the growing popularity of plant-based and vegan diets, personalized food is a driving force behind an anticipated growth in protein powders within the next decade, according to a Global Market Insights report.
Everyone will have their own unique ordering experience through the Gainful website, but you'll be asked a series of questions—like the gender you identify as, various dietary preferences and restrictions, and your nutrition goals and activity levels. Collecting this info will help customize your calorie needs and the type of protein powder you receive.
I was personally welcomed with an unflavored whey-casein blend, which served as a base for single-serving "Flavor Boosts." Because there are 28 servings in my provided protein, and seven flavor servings per pack, I had the freedom to choose four different flavor packs—Sea Salt Caramel, Cookies & Cream, and Madagascar Vanilla are three of the eight flavor options.
If the flavors sound as appetizing as they did for me, you can also elect for a Variety Pack to sample more variety. Oh, and flavors only add upwards of 10 calories to your custom protein powder blend.
It's also worth adding that with a subscription-based service, you'll gain complimentary access to a Registered Dietitian. As a fellow dietitian, I love that consumers are getting expert and personalized guidance to meet their unique health goals and needs.
With your subscription, you'll also unlock Gainful Rewards so you can save on future orders. They also offer "Appreciation Tier Verification" to students, military, healthcare workers, and first responders.
Gainful also offers a "Happiness Guarantee," so you can get a new one for free if you don't love your formula. Speaking of happiness, it also makes us happy that all of their products are manufactured in an FDA-compliant, cGMP-approved facility and require all of their manufacturers to provide COAs (Certificate of Analyses) for each ingredient.
| | |
| --- | --- |
| Main Protein Source(s) | Whey, Keto, and Plant-Based Options (will vary based on your custom needs) |
| Protein Per Serving | 19-27 g of protein per serving (will vary based on your custom needs) |
| Flavor Option(s) | Caffé Mocha, Chocolate Peanut Butter, Cinnamon Toast, Cookies & Cream, Madagascar Vanilla, Rich Chocolate, Sea Salt Caramel, Strawberry Cream |
| Cost | Starting at $45.00 with 14-28 servings/container |
| Sweeteners | Monk fruit, Organic Stevia Leaf Extract |
Best Hydrolyzed Protein Powder for Muscle Gain: Dymatize ISO 100
Good for: Muscle-builders interested in a pure whey protein that offers nostalgic and sophisticated flavor options
Dymatize ISO 100 is a whey isolate-based hydrolyzed protein powder, which means that it's undergone hydrolysis—a process that uses water (hydro-) to break down (-lysis) a compound. To Dymatize, hydrolyzed equals ultra-fast absorption.
According to a 2019 meta-analysis published in Nutrients9, whether or not hydrolyzed protein powder is absorbed and digested more easily is up in the air. Moreover, the ingredients list includes hydrolyzed and whey protein isolate, so we can't assume all the provided protein in the formula undergo hydrolysis.
Regardless, Dymatize ISO 100 provides a pure form of whey protein and 25 grams of it per serving. Oh, and they offer some pretty rad flavors!
Dymatize will pull on your kid-at-heart strings with nostalgic flavors—like Fruity Pebbles, Cocoa Pebbles, and Pebbles Birthday Cake—or keep you "adulting" with caffeinated Dunkin' blends. Don't worry, more classic flavors—such as Gourmet Chocolate and Vanilla, Cookies & Cream, and Strawberry—are also available. GGR senior staff writer and expert product tester Amanda Capritto tried the Cocoa Pebbles flavor, and said that while it isn't her favorite, it's totally fine—she does recommend mixing it with milk for the best experience though.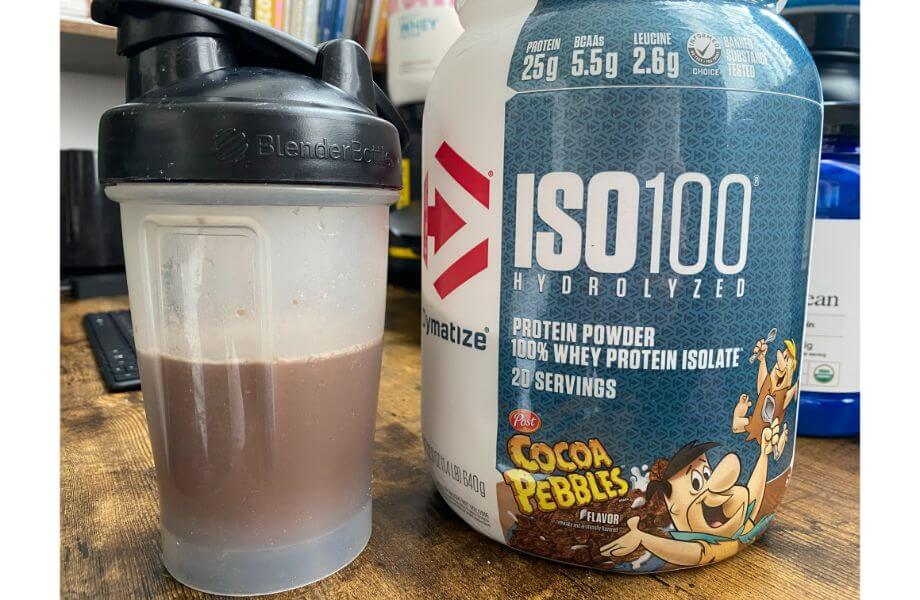 But with the fun flavors comes some ingredients to be aware of, including artificial flavors and dyes to create "edible glitter" in the Fruity Pebbles blend. However, some flavors also use more natural ingredients like cocoa powder and peanut flour.
Ingredients aside, all Dymatize products are manufactured in Good Manufacturing Practices (GMP) certified facilities and third-party certified through Informed Choice.
| | |
| --- | --- |
| Main Protein Source(s) | Hydrolyzed Whey Protein Isolate and Whey Protein Isolate |
| Protein Per Serving | 25 g per 1 scoop (30 g) serving (Fruity Pebbles) |
| Flavor Option(s) | Chocolate Peanut Butter, Cocoa Pebbles, Cookies & Cream, Dunkin' Cappuccino, Dunkin' Mocha Latte, Fruity Pebbles, Fudge Brownie, Gourmet Chocolate, Gourmet Vanilla, Pebbles Birthday Cake, Strawberry |
| Cost | $33.43/20 servings = $1.67/serving |
| Sweeteners | Sucralose, Stevia |
Best Casein Protein Powder for Muscle Gain: Transparent Labs Casein
Good for: Keeping your muscles fed for hours on end
Last but certainly never least, Transparent Labs brings its high-quality casein powder to the table. Really, given their commitment to quality and transparency, it's no surprise it made our best casein protein powder list.
While another grass-fed formula, this Transparent Labs protein contains instantized micellar casein protein. Compared to whey protein, which is known as fast-acting, casein is slow-acting and specifically promotes a slow release of amino acids.
Now whether or not casein is better for muscle growth is up for debate, especially considering it promotes satiety and is often used as one of the best protein powders for weight loss. However, whey proteins can also help you lose weight.
What's more, 40 grams of casein after an evening resistance training session, and about 30 minutes before bed, is an effective strategy to facilitate muscle recovery. And research suggests casein and whey elicit similar increases14 in muscle protein net balance.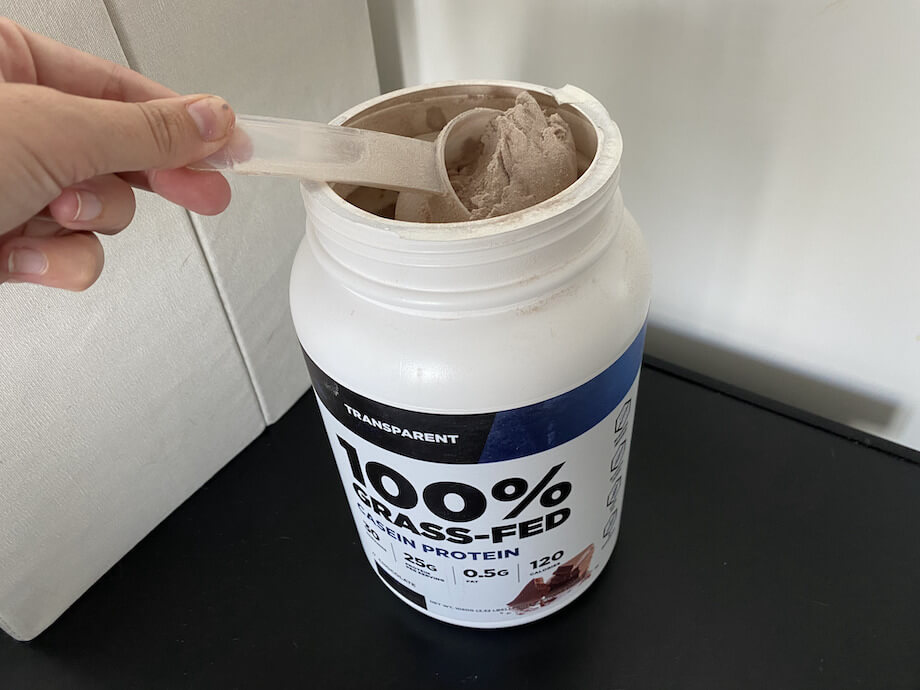 Overall, both proteins have their time and place. And the utmost importance isn't exactly which protein source is best, but that you consume sufficient protein—from high-quality sources—to support your muscle growth and health goals.
But moving a-whey from the fast-digesting protein and back to regular programming, the casein protein is also free of "artificial junk" like artificial sweeteners, fillers, and dyes. Chocolate, the only available flavor (at least at this time), is naturally sweetened and flavored with cocoa powder, Himalayan rock salt, and stevia extract. GGR staff writer Amanda Capritto tested this and said, "This stuff tastes damn near like Jell-O chocolate pudding out of the little plastic tubs when mixed to mimic pudding. It's so good! I actually crave this."
And like we've already mentioned, you can even view all of Transparent Labs' Certificates of Analysis and Composition that genuinely capture their commitment to transparency. And to extra seal the deal (once again), all Transparent Lab products are third-party lab tested.
| | |
| --- | --- |
| Main Protein Source(s) | Grass-Fed Micellar Casein Protein |
| Protein Per Serving | 25 g per 1 scoop (35 g) serving |
| Flavor Option(s) | Chocolate (Vanilla is pictured on the site but not currently an available option to select from) |
| Cost | $59.99/30 servings = $2.00/serving |
| Sweeteners | Stevia extract |
Best Vegan Protein Powder for Muscle Gain: Vega Sport Protein
Good for: Plant-based dieters searching for a robust protein source to support muscle-gaining goals
Vega Sport is our top pick as a vegan muscle gainer for a few mighty reasons. For one, it packs a whopping 30 grams of plant-based protein with each scoop.
RELATED: Best vegan protein powder
The amino acid profile also tells us that Vega Sport is a complete protein—meaning it contains all nine essential amino acids——thanks to its blend of pea, pumpkin seed, sunflower seed, and alfalfa proteins. This is an important consideration, as most vegan protein sources tend to be incomplete proteins.
It also provides 5 grams of BCAAs, 2.25 grams of which are leucine, although the leucine content isn't considered enough to maximize muscle growth. But increasing the serving size, supplementing with the best BCAAs on the market, and/or pairing with another protein-rich food source can easily fill these gaps.
Protein aside, Vega Sport is a unique plant-based formula with added tart cherry powder that may help enhance recovery and probiotics to support gut health.
Vega Sport comes in five various flavors—like Berry, Mocha, and Peanut Butter—that are all free of added sugars and artificial ingredients like artificial sweeteners and dyes. Each flavor is sweetened and flavored with more natural ingredients like stevia, cocoa powder, and peanut flour.
Whereas most dairy-based proteins provide calcium and potassium, Vega's plant blend also supplies adequate amounts of iron. If you are watching sodium content, it's also important to know that Vega is higher sodium (370 mg or 16% DV) compared to whey-based options—for context, Momentous provides 6% DV and Xwerks Grow provides 3%.
Vega is also gluten-free and third-party tested, specifically showcasing the NSF Certified Sport logo to signify it's free of banned substances from the World Anti-Doping Agency (WADA). Committed to sustainability, Vega is certified B-Corp™ and partners with veritree to help facilitate positive social and environmental change.
| | |
| --- | --- |
| Main Protein Source(s) | Pea Protein, Pumpkin Seed Protein, Organic Sunflower Seed Protein, Alfalfa Protein |
| Protein Per Serving | 30 g per 1 scoop (44 g) serving (Chocolate) |
| Flavor Option(s) | Berry, Chocolate, Mocha, Peanut Butter, Vanilla |
| Cost | $54.99/19 servings = $2.89/servings (Chocolate on Amazon) |
| Sweeteners | Stevia leaf extract |
Other Protein Powders for Muscle Gain We Tested and Researched
With hundreds of protein powders on the sports nutrition scene, it's nearly impossible to confine all of the other great options to a tidy (yet mighty) list. Other protein powders for muscle gain we stand behind include:
How We Picked and Tested the Best Protein Powder for Muscle Gain
Now you might be wondering, "So… how did you narrow down hundreds of protein powders to one list?" The short answer: rigorous testing. The longer answer: we picked and tested the best protein powder for muscle gain by reviewing the following:
Protein content: While it goes without saying, we'll say it anyway—a solid protein powder should be high in protein. Our top picks range from having 20-31 grams of protein per serving while providing muscle-building essential and branched-chain amino acids.
Protein source options: Not everyone prefers plant-based proteins, just as not all can tolerate a whey protein powder. That said, we made sure to include various types of protein sources—like whey, pea, and soy proteins—while ensuring they are high-quality protein sources.
Additional ingredients: If the protein powder contains additional ingredients, we're always inspecting the logic behind them—like adding digestive enzymes to enhance amino acid digestion and absorption. We also strive to select protein powders without unnecessary ingredients like added fillers and refined sugars.
Flavor variety: From Honey Cinnamon Peanut Butter to Iced Lemon Cake, we try to capture a flavor favorite to tickle everyone's fancy—and non-flavored options for those who'd prefer consuming protein without much notice.
Cost: Because we truly believe everyone should have access to supplements if they can help them reach their fitness and health goals, our top pick lists accommodate various budgets.
Methodology
The Garage Gym Reviews supplement testing methodology has a lot of rules but there's one that stands above all else—we actually test the products we recommend. That means drinking every protein powder you see on this list to judge things like taste, texture, and side effects (i.e. we let you know which protein powders aren't the best for a pre-date shake if you get what we're saying—you're welcome).
Benefits of Protein Powder for Muscle Gain
Some benefits of protein powder for muscle gain are obvious—yep, it can help spur muscle growth. But others are less obvious, so let's chat about it.
Promotes Muscle Growth
OK, this one is obvious but it's still worth mentioning! Protein powder contains the macronutrient protein, which is essential for muscle recovery and growth (and, really, life as we know it). But muscle doesn't grow independently with or without protein powder, as resistance and strength training is key to facilitating the muscle-building process.
Supports Overall Health
Again, protein really is key for growing and sustaining muscle AND good health. Especially in tandem with resistance training, protein powder can support overall health in various ways, such as:
Metabolic health: The more lean muscle you carry, generally the higher your metabolism. This helps you maintain, and even cut, weight more effortlessly. But building and sustaining muscle is much more than aesthetics, as a recent 2020 review15 suggests losing skeletal muscle mass may contribute to metabolic disease.
Bone and joint health: While dependent on the type of protein, protein powders are often rich in micronutrients like calcium. Plus, weight-bearing activities—like resistance training—supports bone and joint health.
Heart health: Research16 suggests whey protein and whey protein isolates assist in reducing blood pressure and cholesterol levels.
Mental health: Growing muscle with the help of protein powder does much more than the body good. There's a huge link between exercise and mental health and a recent 2020 meta-analysis17 indicates that muscular strength has a positive effect on reducing depressive symptoms.
Provides "Bulking" Solutions
If you're trying to lose weight, reducing liquid calories is often a simple solution to (more) effortlessly and naturally cut back on calories. But especially if you're a hard gainer and struggling to get enough calories and protein down, drinking liquid calories can be the answer to your muscle and weight-gaining prayers.
Of course, you can go for one of the best mass gainers—a blend of protein, carbs, and fat that serves as a higher-calorie meal replacement—but you can also rely on your trusty protein powder to do the trick. Simply bump up the calories of your protein shake by blending it with frozen banana, peanut butter, avocado, and other calorically and nutrient-dense foods.
The emphasis is on nutrient density here: rather than focusing on calories and consuming them from "empty calories" like refined sugars, nutritious and whole-food sources help support your overall health beyond muscle gain.
Offers the Ultimate Convenience
While the anabolic window is not as short as once believed, especially if you're adequately fueled and a non-competitive athlete, it's never a bad idea to have protein readily accessible. Instead of packing up chicken that can spoil in your car (insert barf emoji), just mix water and non-perishable protein powder in a shaker and sip!
How Does Protein Help Build Muscle and How Much Do I Need?
The amount of protein you need to gain muscle depends on your age, birth sex, activity level, and other factors. And, fortunately, we have the real answer to "How much protein do I need?"
But as a quick glimpse, and to provide context, we'll first mention that the recommended daily allowance (RDA) is consuming 0.8 grams of protein per kilogram (g/kg) or 0.35 grams per pound (g/lb) of body weight per day for general health. So for someone who weighs 160 pounds, that's 56 grams of protein per day.
Simply divide your weight by 2.2 to get your weight in kilograms and multiply that number by 0.8 kilograms to figure out how much protein you need.
To build muscle mass and maintain positive muscle protein balance, the International Society of Sports Nutrition18 recommends an overall daily protein intake in the range of 1.4-2.0 g/kg of protein per day. Based on the same individual who weighs 160 pounds, this would amount to 102-154 grams of protein intake daily.
Other Macronutrients for Muscle Gain
Getting enough protein is key for muscle building but the other macronutrients should not be overlooked. Because even if you hit your daily protein targets, you might not be fueling your body enough.
To help paint this picture, let's say you're consuming 100 grams of protein per day. Because protein contains 4 calories per gram, this would amount to 400 calories coming from protein (4 calories in 1 gram of protein). Unlike the pure protein in some protein powders, high-protein foods—such as sirloin, fatty fish, and beans—nourish the body with carbs and fats while boosting daily calories.
Needless to say, you must be also providing the body with adequate calories, carbohydrates, and fats to support muscle growth, training, and overall health. How you accomplish this is up to you but whole food sources should dominate eating patterns and dietary supplements be used to, well, supplement the diet as needed.
RELATED: Best Supplements for Muscle Growth
To take the guesswork out of your nutrition needs, we recommend consulting with a dietitian. They can help you create a nutritional game plan to meet your personal goals, as well as assist you in finding a reputable protein powder such as those listed above.
Buying Guide: What to Look for in Protein Powder for Muscle Gain
While all of the protein powders we reviewed are great options to assist in muscle-gaining efforts, finding the best one for you is a bit more nuanced. Before checking out your online cart, make sure it factors in and checks most (if not all) of these boxes.
Source of Protein
From whey protein to pea protein to everything far and in between, protein powders isolate their protein from various food sources. Go with a protein source—and entire protein powder formulation, for that matter—that best suits your dietary needs and preferences, including a plant-based option if you're lactose-intolerant or aiming to cut back on animal products.
The protein source should likewise match when you intend to consume it. For instance, fast-acting whey proteins will likely provide the most benefit post-workout whereas slow-acting casein might be best to take before bedtime due to sustained amino acid release.
Protein Content
Speaking of protein, try to choose a protein powder that supplies at least 20 grams of protein per serving. Also know that plant-based protein powders tend to be naturally lower in protein compared to whey-based options, although you can always bump up the portion to meet your needs.
If an amino acid profile is available, you can check the specific amounts of muscle-building BCAAs and essential amino acids.
Flavor
While protein powders might not appear as delicious as a juicy filet mignon, doesn't mean you can't enjoy them. And with countless flavor options, you should!
Also, grab a flavor that will suit how you plan to enjoy it—whether that be a fruity option blended in a smoothie, Gourmet Chocolate baked into goodies, or nostalgic Fruity Pebbles to sip on its own. If you'd prefer a sneaky protein boost, an unflavored option might be right for you.
Additional Ingredients
While the protein source and content should be the highlight, some protein powders contain ingredients—like digestive enzymes and probiotics—to enhance the overall benefit of the blend. On the flip side, also pay attention to unwanted ingredients like added fillers and preservatives.
Certifications and Verifications
Since protein powder (and dietary supplements as a whole) are not tightly regulated, we always recommend reviewing the certifications and verifications of the product of interest. At a minimum, double-check to see if the product is third-party tested and manufactured in NSF-certified, FDA-inspected, and/or cGMP-compliant facilities.
You can also decide which certifications are important to you—like being Certified USDA Organic and Certified Gluten-Free. And especially if you're a competitive athlete, it's a super smart idea to ensure the product is Informed-Sport certified.
Brand Integrity
Because you're supporting a company with your hard-earned dollars, the integrity and values of a brand are almost always worth looking into. Of course this is completely personal, and you might just like the product without the company association.
But at GGR, we are always reviewing the company behind the product and looking into these common areas:
An "About Us," "Company Mission," and other similar pages that capture their mission and core values—do they align with your values and beliefs?
Consumer reviews on the company's main website, social media profiles, and third-party seller sites as available—these can really tell you A LOT about not just the product, but how the company treats their customers (and sometimes employees).
Customer service access, money-back guarantees, and return policies (or lack thereof)—these can help you feel more confident in your purchase, specifically knowing the company will (or won't) accommodate any product issues you run into.
FAQs About Protein Powder for Muscle Gain
Does protein powder really help build muscle?
Here's the major caveat: You can gain muscle without dietary supplements, particularly if you're consistent in progressive overload resistance training and consume enough protein to meet your individual needs. BUT if you struggle to hit your protein targets and/or want a convenient protein solution, a protein powder can help you build muscle by enhancing protein intake.
What is the no.1 protein powder for bodybuilding?
Diet is never one-size-fits-all and protein powders are no different. Truly, the number one protein powder for bodybuilding is the one that meets your dietary needs and preferences, which helps ensure you'll consistently meet your protein demands. However, we do encourage choosing a high-quality protein that's rich in essential and branched-chain amino acids and third-party tested—specifically Informed-Sport certified if you're a competitive athlete.
What foods to avoid when trying to build muscle?
In the absence of food allergies and intolerances, all foods can fit into a well-balanced diet. However, "bulking" or not, it's always best to focus on wholesome food sources—like lean animal meats, plant-based proteins, fruits, veggies, healthy fats, and whole grains—over ultra-processed foods such as sugary baked goods and fried foods. Of course your favorite treats can be enjoyed in moderation while still gaining muscle, although they tend to lack essential nutrients the body needs to function, build, and recover best.
These statements have not been evaluated by the Food and Drug Administration. This product is not intended to diagnose, treat, cure, or prevent any diseases.
References