We test and review fitness products based on an independent, multi-point methodology. If you use our links to purchase something, we may earn a commission. Read our disclosures.
Optimum Nutrition is a ubiquitous supplement brand of which you can find products on the shelves of many major retailers, virtually and IRL. Walk into any GNC or The Vitamin Shoppe and you're sure to find multiple flavors of Optimum Nutrition protein powder. There's no shortage of the stuff on Amazon or elsewhere online, either.
When a product is so ubiquitous, it must be good, right?
That's not always the case (unfortunately), but you'll find out in our Optimum Nutrition 100% Whey Gold Standard Review that it is true for this protein powder. Ahead, learn everything you should know before buying Optimum Nutrition whey, including some of our staff's top flavor picks.
Medical disclaimer: This article is intended for educational and informational purposes only. It is not intended as a substitute for medical advice. For health advice, contact a licensed healthcare provider. GGR also recommends choosing a product that has been third-party tested for quality.
5 Optimum Nutrition Flavors Rated
Our product testing team has tried several flavors of Optimum Nutrition Gold Standard Whey Protein Powder, with five ultimately earning a spot on our guide to the best Optimum Nutrition flavors. Some members of our testing team, myself included, have been using this protein powder for the better part of a decade. Additionally, we're a team of certified personal trainers and nutrition coaches who can help you decipher supplement labels and understand if a product is the right fit for your goals.
Optimum Nutrition 100% Whey Gold Standard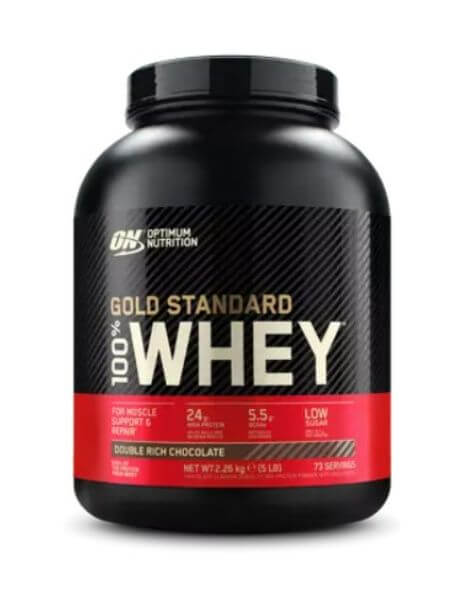 GGR Score: 4.2
Product Highlights
Contains 3 different kinds of whey protein

Tested for banned substances

Over 5 g of BCAAs per serving

Instantized to help prevent clumping
Pros & Cons
Pros
High in protein
Plenty of flavor options
Low in carbs
Cons
Some users say it's overly sweet
Contains artificial flavors
Most flavors contain sucralose
Bottom Line
With plenty of flavor and size options to choose from, Optimum Nutrition Gold Standard 100% Whey is a great basic choice in protein powder.
A Quick Look at Optimum Nutrition 100% Gold Standard Whey
Optimum Nutrition 100% Gold Standard Whey Protein Powder, affectionately shortened to "ON Gold Standard Whey" among fitness enthusiasts, is a high-quality protein supplement that comes in many different flavors. It's a relatively budget-friendly option, which means it's not the cleanest, highest-quality protein shake available.
However, due to its great macro profile—which includes 24 grams of protein per serving—and the great taste in a multitude of flavors, ON Gold Standard Whey appears on all of our protein guides (except for vegan and organic proteins):
Before You Buy
There are many, many flavors! My personal favorite is the Double Rich Chocolate flavor, and it's been a staple in my home for many years. Other members of our team love other various flavors; it's worth exploring before committing.
The price per serving decreases as the size of the container increases. Buy in bulk and save some cash (as long as you're sure about the flavor first).
ON Gold Standard protein does contain artificial flavors and artificial sweeteners, including acesulfame potassium and, in some flavors, sucralose.
Is Optimum Nutrition 100% Gold Standard Whey Worth It?
I think Optimum Nutrition Gold Standard Whey is one of the best protein powder options currently on the market. The value proposition is fantastic: 24 grams of protein, only 3 to 4 grams of carbohydrates, and minimal ingredients for a good price.
Of course, it's no grass-fed, organic, sustainably sourced protein blend like you get with products from Transparent Labs and XWERKS. But you're paying far less than $2 per serving. And this protein will help you build muscle mass and assist with muscle recovery just as well as those more expensive brands.
In other words, for bodybuilding on a budget, yes, Optimum Nutrition whey protein is worth it.
Great for:
People looking for a decent protein source on a budget
Exercisers who want a high-protein, tasty post-workout shake
Anyone looking to increase their protein intake in a convenient way
Not recommended for:
People who wish to steer clear of artificial sweeteners
Those who follow a vegan diet
Anyone who'd rather consume a grass-fed protein powder
Optimum Nutrition 100% Gold Standard Whey Specs
| | |
| --- | --- |
| Price per serving | As low as $1.10 per serving (depends on size bought) |
| Calories per serving | 120-130 (depends on flavor) |
| Protein per serving | 24 g |
| Fat per serving | 0-1.5 g (depends on flavor) |
| Carbs per serving | 3-4 g (depends on flavor) |
| BCAAs | 5.5 g per serving |
| Size options | 22 servings to 149 servings (not available in all flavors) |
| Where to buy | Optimum Nutrition website, Amazon, GNC, The Vitamin Shoppe, Walmart, Costco |
Experience Using Optimum Nutrition 100% Gold Standard Whey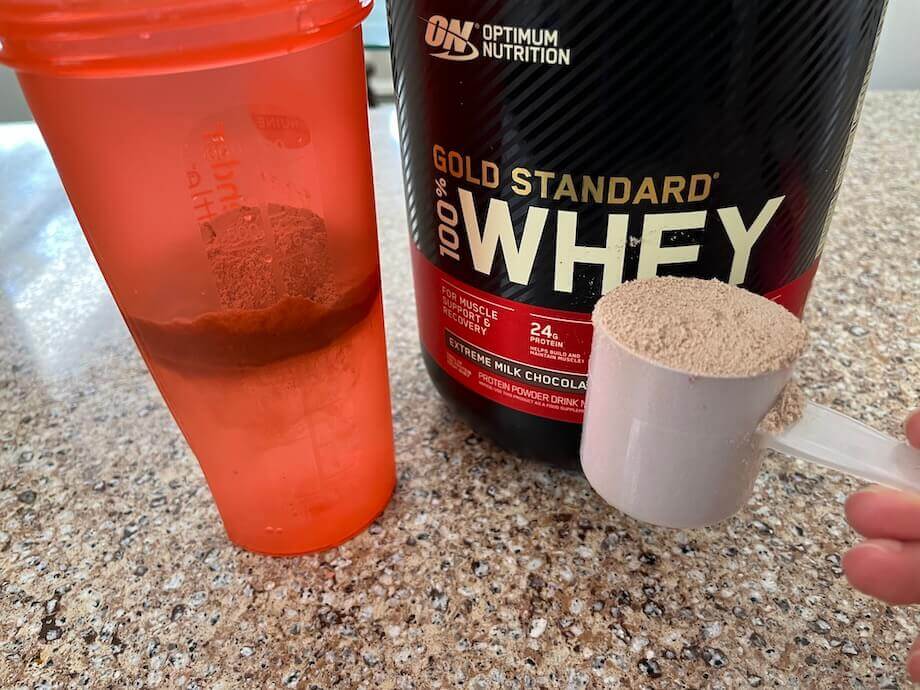 Optimum Nutrition was, for me, one of the very first supplement brands I reached for when I first started getting into fitness circa 2014. Today, it still makes a regular appearance in my pantry.
These days, Optimum Nutrition whey protein is my go-to when I need a trusty friend in the form of a high-protein beverage. I know I can count on solid flavor and that I won't be dealing with any grit or chunks. I know I can mix it with water or milk or almond milk, and it'll be fine regardless.
I've tasted many flavors and continue to return to Double Rich Chocolate, although I dig Strawberries & Cream, as well.
Price Per Serving
The price per serving varies depending on what size container you buy. Some flavors have size options ranging up to 149 servings. For the largest containers, the price hovers around $1.10 per serving, although it can change even more depending on where you buy it. Often, you'll find the best deals on Amazon.
Formulation
Optimum Nutrition whey protein is a protein blend that consists of whey protein isolate, whey protein concentrate, and hydrolyzed whey peptides. Each serving contains 5.5 grams of branched-chain amino acids.
It's low-carb, with just 3 to 4 grams per serving depending on the flavor you choose. The fat content is almost negligible, with a mere 0.5 to 1 gram per serving, again dependent on flavor.
People who are lactose intolerant will be happy to know that the whey isolate in this protein powder is heavily filtered, meaning excess lactose has been removed. If you tend to have intense digestive issues, you may still want to mix it with milk that contains lactase enzymes to further help break down the milk-derived proteins.
Optimum Nutrition whey is also gluten-free.
Taste and Solubility
One of the most appealing things about ON whey protein is the flavor lineup. There are so many that there's no way you won't find one you like.
The full lineup includes:
Banana Cream
Chocolate Coconut
Chocolate Hazelnut
Chocolate Malt
Chocolate Mint
Chocolate Peanut Butter
Coffee
Cookies & Cream
Delicious Strawberry
Double Rich Chocolate
Extreme Milk Chocolate
French Vanilla Creme
Mocha Cappuccino
Rocky Road
Strawberries & Cream
Strawberry Banana
Vanilla Ice Cream
White Chocolate
I've already told you my favorite—Double Rich Chocolate—but I also really like the Strawberries & Cream (tastes like strawberry milk) and Mocha Cappuccino.
In addition to a great taste, ON protein also has great mixability. This is probably partially due to the inclusion of soy lecithin, a common (and, yes, safe) food additive used as an emulsifier. Emulsifiers in food help keep textures smooth and rich.
But the protein powder is also instantized, which means the powder mixes quickly and easily with a basic shaker bottle, or even in a cup with a spoon. (I don't recommend the latter, though, just to be sure you don't get any chunks or floaties).
Side Effects
I've never experienced any side effects after consuming this protein powder in nearly 10 years of drinking it. None of our other product testers warn about side effects, either.
In general, whey protein powder is considered safe for consumption. If you have allergies or food intolerances, it's up to you to read ingredients labels to make sure a product is safe to consume.
Some people may experience bloating or cramping after consuming protein powder if they are new to it. As your body adjusts and gets used to consuming a large amount of protein at one time, those side effects should go away. If they don't, it's best to switch products or talk to your doctor.
Third-Party Testing
According to the website, Optimum Nutrition 100% Gold Standard Whey Protein Powder is tested for banned substances. However, I couldn't find any additional information about the testing process and whether the product is NSF Certified for Sport.
This protein powder doesn't have the US Pharmacopeia Verified mark, nor does it have a GMP mark, which isn't ideal. However, pursuing such certifications would likely significantly drive up the cost of manufacturing for the brand, and those costs would be offset onto you, the consumer, in one way or another.
Optimum Nutrition 100% Gold Standard Whey vs Dymatize ISO 100
Dymatize ISO 100 Protein Powder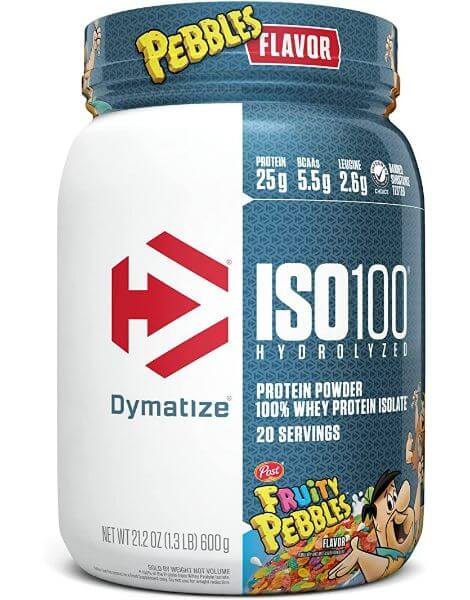 GGR Score: 3.5
Product Highlights
Each serving contains 25 g of

whey protein isolate

 

Pre-hydrolyzed protein to speed up absorption

Available in 11 flavors, including Dunkin' coffee flavors

Low in both fat and carbohydrates
Pros & Cons
Pros
11 flavor options
Includes 5.5 grams of BCAAs
Fast absorption
Flavors are highly rated
Cons
Complaints of quantity in container
Contains sucralose and stevia
Bottom Line
Available in 11 different flavors, Dymatize ISO100 is stacked with 25 grams of protein, including 5.5 grams of BCAAs and 4.4 grams of glutamine designed to enhance muscular growth and recovery.
Dymatize ISO 100 is often compared to Optimum Nutrition 100% Gold Standard Whey since they have a similar price point and macro profile. ISO 100 is also available through many retailers just like ON.
Here's a quick comparison of the two. As you'll notice, one of the main differences between them is that the Dymatize does not contain any whey protein concentrate, only isolate.
| | | |
| --- | --- | --- |
| Factor | Optimum Nutrition | Dymatize |
| Price per serving | As low as $1.10 per serving (depends on size bought) | As low as $1.00 per serving (depends on size and flavor) |
| Protein source | Isolate, concentrate, and hydrolyzed | Hydrolyzed isolate and isolate |
| Calories per serving | 120-130 (depends on flavor) | Less than 120 |
| Protein per serving | 24 g | 25 g |
| Fat per serving | 0-1.5 g (depends on flavor) | 0.5 g |
| Carbs per serving | 3-4 g (depends on flavor) | Less than 1 g |
| BCAAs | 5.5 g per serving | 5.5 g per serving |
| Sweeteners | Acesulfame K, sucralose | Sucralose, stevia |
Customer Experience
I've been using Optimum Nutrition products for nearly a decade and I've never had an issue with customer satisfaction. Granted, I usually pop over to my local GNC to buy my supplements, but I also haven't heard any major complaints about the brand from other customers.
When it comes to ON, your experience will largely be dictated by the retailer you purchase through.
Ordering Optimum Nutrition 100% Gold Standard Whey
You can order Optimum Nutrition whey protein powder directly from optimumnutrition.com or online via Amazon, Walmart, GNC, The Vitamin Shoppe, and Costco. It's likely available in-person at your local supplements store, too.
On Amazon, it arrives quickly and free from shipping charges with Amazon Prime.
Customer Reviews
Customers are generally pleased with Optimum Nutrition 100% Gold Standard Whey Protein Powder. At the time of writing, this protein powder has an average rating of 4.7 out of 5 stars on Amazon with more than 131,000 (!) whey protein reviews.
The vast majority of reviewers say the flavors are good, as is the texture.
One longtime buyer wrote:
"I've been buying Optimum Nutrition Gold Standard whey protein powder double chocolate flavor for probably 8 years now and finally leaving a review.
Pros:
Dissolves very easily in water or milk, and goes great in a smoothie, too.
Doesn't have the chalky taste or texture of some other whey powders. People who complain about the flavor are being way too picky. The double chocolate is totally fine. Not as good as a real chocolate shake obviously but also not unpleasant in the least. It's protein powder…what do you expect? I haven't bothered to try any of the other flavors so I can't comment on that.
The 5 lb bucket is a great value, compromising between economy of scale and not taking up my entire kitchen cabinet.
Long shelf life.
Gainz. Obviously.
Cons: None that I can think of, unless you are a vegan."
I must say: I'm hurt that one reviewer wrote "Double Chocolate is horrible" since that's my favorite flavor, but to each his own, I suppose. This reviewer still left a 5-star review, stating that the Rocky Road flavor resulted in forgiveness.
Some reviews indicate problems with quality assurance. One buyer wrote that they'd been buying this protein powder in 2-pound tubs for a while and decided to buy a 5-pound tub for a lower cost per serving. They were disappointed when the protein didn't smell or taste right, though, and got a refund.
Final Verdict of Our Optimum Nutrition 100% Gold Standard Whey Review
Optimum Nutrition 100% Gold Standard Whey is a solid protein supplement with a strong macro profile. It's not the "cleanest" protein powder available, but it costs less than many brands, making it more accessible to the average consumer.
ON whey protein is available in nearly 20 flavors
Its formula contains a blend of whey isolate and concentrate, and hydrolyzed whey
Each serving contains 24 grams of protein and 5.5 grams of BCAAs
Optimum Nutrition 100% Gold Standard Whey Full Rating
Optimum Nutrition 100% Gold Standard Whey
Our Optimum Nutrition 100% Whey Gold Standard Review covers the macros and flavors of this popular protein powder.
Product Currency: $
Product Price: 45
Product In-Stock: InStock
Optimum Nutrition 100% Gold Standard Whey FAQs
Is Optimum Nutrition protein powder good? 
Optimum Nutrition whey protein comes in many flavors, so it's unlikely that there's not at least one you'll like. Our product testers enjoy many flavors and like to drink it plain or mixed with smoothies. 
Is protein powder good for you? 
Protein powder can be a great way to hit protein intake goals. It's not inherently good or bad for you; it depends on your dietary preferences and needs. Those who follow specific diets, such as vegan or keto, or have dietary restrictions for health reasons, should take care to read ingredients labels.
Is whey protein isolate better than whey concentrate?
The main difference between these two types of proteins is that whey isolate undergoes a more extensive filtration process than concentrate. Thus, it tends to cost more, but it contains fewer fats and carbohydrates. People who closely monitor their macronutrients may wish to opt for isolate over concentrate.
These statements have not been evaluated by the Food and Drug Administration. This product is not intended to diagnose, treat, cure, or prevent any diseases.