We test and review fitness products based on an independent, multi-point methodology. If you use our links to purchase something, we may earn a commission. Read our disclosures.
If you're on this page, I'm assuming you're someone who identifies as a woman and is looking for protein powder, or you're looking to buy protein powder for someone who identifies as a woman.
Before getting into the thick of things, here's a quick dose of reality: Protein powders, unless they are specifically formulated for a particular women's concern or life status (such as pregnancy), don't affect men and women differently. The best protein powders for women and the best for men are largely the same: Men and women can drink the same protein powders and enjoy the same benefits, like enhanced muscle recovery after workouts, as one example.
That said, thanks to our roster of woman-identifying product testers and knowledge of women's needs, we can recommend the best protein powder for women.
Editor's note: For the purposes of this article, from here on out, we will use the words "women" and "woman" to refer to woman-identifying individuals, and will use the word "female" for any statements specifically regarding female biology and physiology.
More Than 50 Protein Powders Tested
Our roster of certified personal trainers and nutrition coaches has personally—as in, scooped and swigged—more than 50 varieties of protein powder. What's more, five members of our editorial and product testing team are women.
Best Protein Powder for Women
Best Protein Powder for Women Overall: Cira Bright Whey Protein
Good for: Women who want to buy a high-quality, nutritionally sound, and tasty protein powder from a women-focused nutrition brand
A guide to the best protein powder for women would not be complete without a shoutout to Cira Nutrition. This brand caters specifically to women and keeps female biology in mind when developing its products. Cira has a lot of female-specific products, such as its complexion support and hormone symmetry supplements.
Cira also makes a dang good whey protein powder. I tried Cira Bright Whey Protein as part of our testing, and I was very pleased with the taste and solubility. I got the Cookies n Cream flavor, and it tastes fantastic mixed with oat milk.
The texture leaves a bit to be desired when mixed with water (it's thin), but I think all protein powders should be mixed with milk or a milk alternative, personally.
At about $40 for 30 servings per tub, you're looking at a low cost-per-serving of about $1.30. Each serving is packed with 25 grams of protein from whey protein isolate and concentrate, and it's sweetened with sucralose and stevia.
Aside from Cookies n Cream, Cira Bright Whey is also available in Cinnamon Swirl and Vanilla.
RELATED: Best Pre-Workout for Women
| | |
| --- | --- |
| Price per serving | $1.30 |
| Protein per serving | 25 g |
| Carbs per serving | 2 g |
| Fat per serving | 1.5 g |
Best Premium Protein Powder for Women: Transparent Labs 100% Grass-Fed Whey Protein Isolate
Good for: Women who prioritize manufacturing and sourcing transparency
Transparent Labs makes an appearance on many of our nutritional guides, and it tops our overall best protein powder list. With 28 grams of protein from pure whey protein isolate—and just 1 to 2 grams of carbs and 0 grams of fat—a tub of Transparent Labs 100% Grass-Fed Whey Protein contains not much of anything else.
It's free preservatives, dyes, fillers, artificial sweeteners, emulsifiers, and gums. In fact, the ingredients list for the Milk Chocolate flavor contains just five items: grass-fed whey protein isolate, cocoa powder, natural flavor, sodium chloride, and stevia.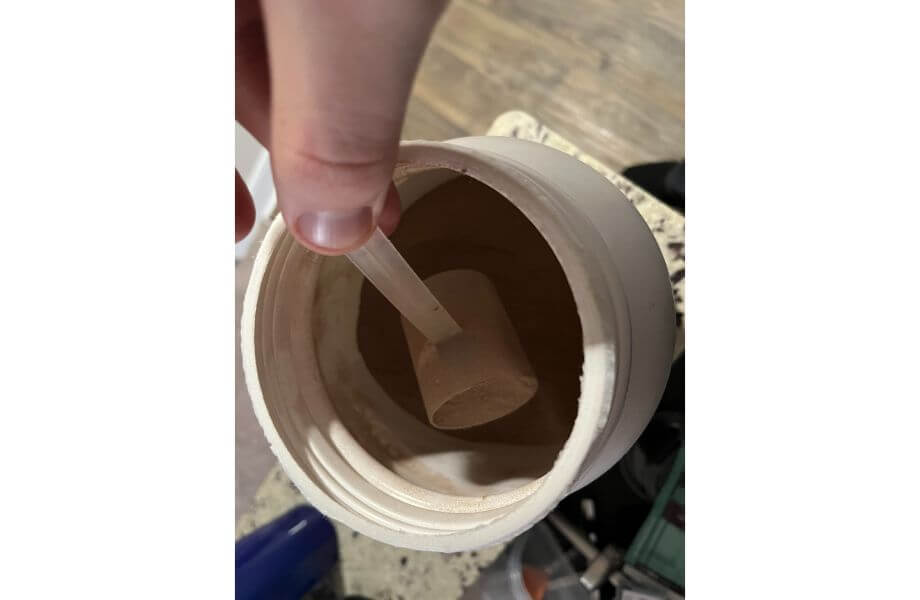 At $1.99 per serving, this protein powder is on the pricey side. But as our product testers can vouch, it's worth it when you take the first sip. This protein tastes clean and pure, and it mixes well with any method. I personally love the Strawberry flavor mixed with almond milk. It tastes like, well, strawberry milk.
In addition to the flavor and texture of this protein powder, our product testers love the product transparency you get from Transparent Labs (hence the name). We love feeling confident that what we see is what we get, and we don't have to worry about poor manufacturing practices, sketchy product sourcing, or questionable ingredients.
In fact, Transparent Labs posts its certificates of analysis and certificates of composition for all of its products. You can literally see right here that the Milk Chocolate whey protein isolate is 94.3% whey protein isolate and 5.7% flavor (such as cocoa and stevia).
| | |
| --- | --- |
| Price per serving | $1.99 |
| Protein per serving | 28 g |
| Carbs per serving | 1-2 g |
| Fat per serving | 0 g |
Best-Tasting Protein Powder for Women: XWERKS Grow
Good for: Women who want a protein powder they can trust in multiple flavors
When I wrote our guide to the best-tasting protein powder, XWERKS Grow topped the list because its flavor lineup is trusty and we've had multiple product testers (myself and senior writer Anthony O'Reilly) test and enjoy them.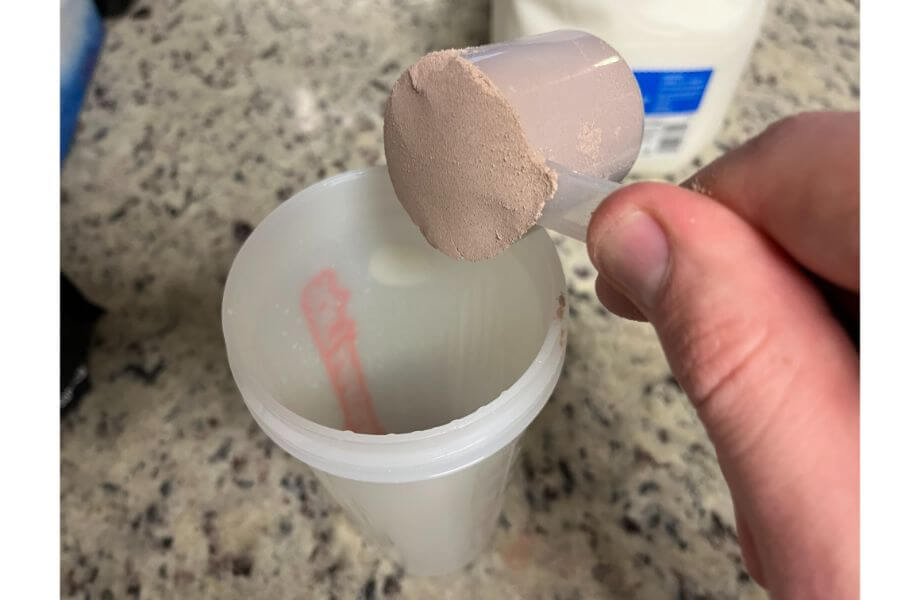 Aside from the fact that XWERKS Grow morphs into a fantastic Strawberry, Chocolate, Vanilla, or Peanut Butter quasi-milkshake, we love it for its standout nutritional profile.
XWERKS Grow contains 25 grams of protein from 100% grass-fed cows living in New Zealand, which XWERKS says is "one of the strictest countries in the world when it comes to dairy quality." Yet, it still costs less than $2 per serving.
It's also free from artificial sweeteners and flavors, dyes, colorings, soy, and gluten.
| | |
| --- | --- |
| Price per serving | $1.96 |
| Protein per serving | 25 g |
| Carbs per serving | 1-2 g (depends on the flavor) |
| Fat per serving | 0-2 g (depends on the flavor) |
Best Organic Protein Powder for Women: KOS Plant Protein
Good for: Women looking for a organic protein powder with minimal ingredients and a rich taste
If going organic is important to you, consider KOS plant protein. It goes without saying that KOS plant protein is certified USDA Organic, but it's also made without artificial ingredients and is gluten- and soy-free as well.
Made of a blend of pea protein, pumpkin seed protein, chia seed, flax seed, and quinoa, KOS' complete protein profile delivers 20 grams per serving, along with 9 grams of carbs, and 6 grams of fat—and it actually tastes pretty good for vegan protein. Available in flavors including Chocolate, Vanilla, Blueberry Muffin, Chocolate Chip Muffin, Chocolate Peanut Butter, Chocolate Caramel Coffee, and even an unflavored option, it mixes decently enough and when shaken with a cold beverage, transforms into a thick shake-like consistency.
I'm normally not a fan of vegan protein powder, just simply because of the inherent grass taste that most of them have, but KOS plant protein is top two of the vegan protein powders I've tried, and I drink it willingly. I can vouch for both Chocolate and Vanilla. If you want to read more of my thoughts about this protein powder, read my full KOS vegan protein review.
| | |
| --- | --- |
| Price per serving | $1.50 |
| Protein per serving | 20 g |
| Carbs per serving | 9 g |
| Fat per serving | 6 g |
Best Protein Powder for Women for Building Muscle: Kaged Re-Kaged
Good for: Women who are serious about putting on muscle mass
Twenty-eight grams of protein. 3 grams of L-glutamine. 1.5 grams of creatine HCL. 12 grams of essential amino acids. 6 grams of BCAAs. 280 milligrams of digestive enzymes.
That's what you'll get when you sink a shaker bottle of Kaged Re-Kaged, our protein recommendation for women who are serious about packing on new muscle. It's sports nutrition at its finest.
It's high in all the good stuff and low in all stuff you don't need in a post-workout shake: Kaged Re-Kaged contains just 1 gram of sugar, 3 or fewer grams of carbohydrates, and 1 or fewer grams of fat.
Our one gripe is that the flavors are limited—and unusual. You can't get this protein in your basic chocolate peanut butter, but it does come in Orange Kream, Iced Lemon Cake, and Strawberry Lemonade.
If you're wondering why these flavors are fruity rather than dessert-y, here's my hunch: This powder uses MicroPure whey protein, which is so micronized that it's tough to create a thick texture with it—even if you were to mix it with half-and-half (which, gross, and good luck to your large intestine).
Our product tester's notes say the Orange Kream flavor tastes like an orange Creamsicle, so we're good with it.
RELATED: Kaged Coupon Code!
| | |
| --- | --- |
| Price per serving | $2.25 |
| Protein per serving | 25 g |
| Carbs per serving | 2-33 g |
| Fat per serving | 0.5-1 g |
Best Protein Powder for Women Athletes: Onnit Grass-Fed Whey
Good for: Women who need support for active lifestyles
There are two main things a supplement must offer for an athlete: It must adequately support their nutritional needs, and it must be legal for use in sport.
That's why we chose Onnit Grass-Fed WHey as the best protein powder for women athletes. This product is, first and foremost, tested for banned substances and Informed Sport Certified. This means athletes of all disciplines can safely consume it for nutritional support with no repercussions.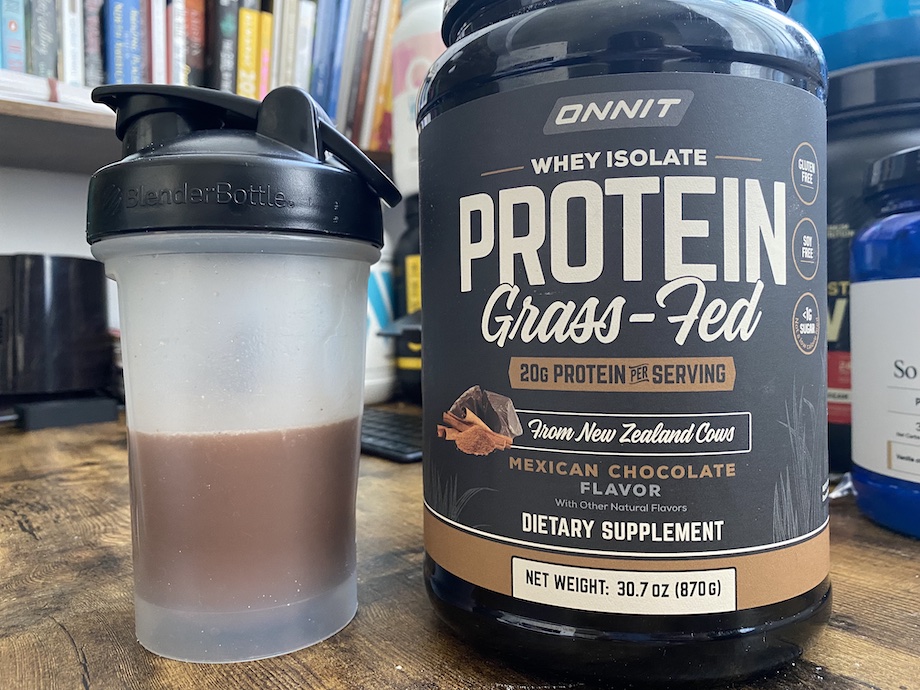 In two delicious flavors, Mexican Chocolate and Vanilla, each serving of Onnit Grass-Fed Whey offers 20 grams of protein in a 110-calorie package. Its protein source is whey protein isolate, which is typically more easily digestible than whey protein concentrate. The whey protein is also derived from New Zealand cows, a country that prevents cows from being exposed to antibiotics, pesticides, or hormones.
We know how important adequate protein intake is for growing and maintaining muscle mass—more on that below—and Onnit Grass-Fed whey is an effective supplement to support those goals. It tastes good, too—I thought the Mexican Chocolate actually had a different flavor than most chocolate protein powders, which pleasantly surprised me.
| | |
| --- | --- |
| Price per serving | $1.99 |
| Protein per serving | 20 g |
| Carbs per serving | 3-5 g |
| Fat per serving | 2 g |
Best Budget Protein Powder for Women: Optimum Nutrition 100% Gold Standard Whey Protein
Good for: Women who need high-quality protein without breaking the bank
Optimum Nutrition has been a go-to protein source for me and for other women on our team for many, many years. Why? It's relatively inexpensive, the macros are great, it's tasty and dissolves well, and there are SO many flavors to choose from.
Almost every person on our testing team has at least one Optimum Nutrition flavor they love. I love Double Rich Chocolate, Nicole enjoys Mocha Cappuccino, and staff writer Lauren Strong swears by Extreme Milk Chocolate.
If you're really budget-conscious, we recommend purchasing the largest container you can find in your favorite flavor. The price per serving goes down as the container size increases. Although it's more money you have to spend up front, it reduces your costs over time.
Plus, as stated in our guide to the best protein powder overall by registered dietitian nutritionist Laila Ouldibbat, there's a lot to love about Optimum Nutrition protein powder despite its use of artificial sweeteners: It uses two good protein sources (whey isolate and concentrate and hydrolyzed whey protein) sourced from hormone-free cows, to name just one.
One thing: The nutritional profile does vary slightly by flavor, although the protein content (24 grams) remains consistent.
| | |
| --- | --- |
| Price per serving | As low as $1.10 per serving |
| Protein per serving | 24 g |
| Carbs per serving | 3-4 g (depends on flavor) |
| Fat per serving | 0-1.5 g (depends on flavor) |
Best Vegan Protein Powder for Women: Vega Sport Premium Protein
Good for: Women looking for vegan protein powder with high protein content
It's not often you'll see a plant-based protein powder with more protein per serving than a whey protein powder. But that's exactly what you get with Vega Sport Premium Protein, which serves up a whopping 30 grams of protein per scoop.
It comes in several flavors, but our testers love the mocha flavor, which tastes like a fudge brownie with a scoop of coffee ice cream on top. (OK, it's protein powder, so not that good—but as close as you can get with a blend of pea, pumpkin seed, sunflower seed, and alfalfa protein).
I love that this protein powder is NSF Certified for Sport, Non-GMO Project verified, and certified gluten-free, making it suitable for a variety of needs and diet types. It's also keto-friendly, if that's your thing.
Vega Sport Premium Protein contains 2 billion CFUs of probiotics to help with digestibility, as well as 5 grams of BCAAs and tart cherry, which is high in antioxidants.
Plant-based people might also want to check out our No Cow protein bar review for our thoughts on a more portable protein supplement.
| | |
| --- | --- |
| Price per serving | About $2.00 (depends where you buy) |
| Protein per serving | 30 g |
| Carbs per serving | 4-6 g |
| Fat per serving | 3.5-4 g |
Best Protein Powder for Women With Collagen: Vital Proteins Collagen Peptides
Good for: Women who want a boost of protein with support for joints, hair, skin, and nails
Not all protein is created equal. And some would argue that collagen peptide protein doesn't belong on a list to the best protein powders, since collagen isn't a complete protein (it lacks one essential amino acid: tryptophan1).
However, we stand by our recommendation of Vital Proteins Collagen Peptides for the positive impact that collagen is known to have on certain tissues in the body, including hair2, skin3, and nails2. Collagen may also play a role in protecting joint integrity, as evidenced by a study4 on how collagen affects osteoarthritis symptoms.
Vital Proteins Collagen Peptides come in a couple of flavors, but we recommend unflavored, because you can dissolve it into juice, coffee, add it to another protein powder, or even drink it in plain water. The powder is fine, not granular, and it's barely noticeable in any beverage—and I've tried it in many.
And, despite the argument that collagen is an incomplete protein, it still packs 18 grams of protein into one serving.
| | |
| --- | --- |
| Price per serving | $1.67 (for 20-oz container) |
| Protein per serving | 18 g |
| Carbs per serving | 0 g |
| Fat per serving | 0 g |
Best Gut-Friendly Protein Powder for Women: Orgain Organic Vegan Protein Powder
Good for: Women who need a little digestive support with their protein
Made from a blend of pea protein, chia seed protein, and brown rice protein, Orgain Organic Vegan Protein Powder is free from common gut irritants like lactose, soy, and gluten.
While it's not the best-tasting protein powder we've tried (tester Nicole says it tastes like grass, so maybe mix it with your greens powder if you're drinking grassiness anyway), we're big fans of the moderate cost per serving and the positive customer reviews that mention ease of digestion.
RELATED: Best Greens Powder
"I love this shake mix, and being lactose-intolerant, it doesn't upset my stomach and keeps me full and fit," one reviewer wrote.
"I've tried all the other vegan shakes," wrote another. "This is the most allergy-friendly one at a great price and taste."
This protein powder does have more carbohydrates than other protein powders, but that's common among plant-based options. Plant foods contain more carbohydrates than animal foods, and that's just the way the world spins.
| | |
| --- | --- |
| Price per serving | $1.66 |
| Protein per serving | 21 g |
| Carbs per serving | 15 g |
| Fat per serving | 4 g |
Best Unflavored Protein Powder for Women: NOW Sports Unflavored Whey Protein
Good for: Women who prefer to mix their protein powder into oatmeal, mug cakes, or smoothies rather than drink it plain
If you're the type who needs something more than a protein shake post-workout, consider getting an unflavored protein powder that you can make an actual meal out of. Unflavored protein powder such as the NOW Sports Unflavored Whey Protein is a great addition to flavored oatmeal, fruity smoothies, and even for making healthy single-serve cakes.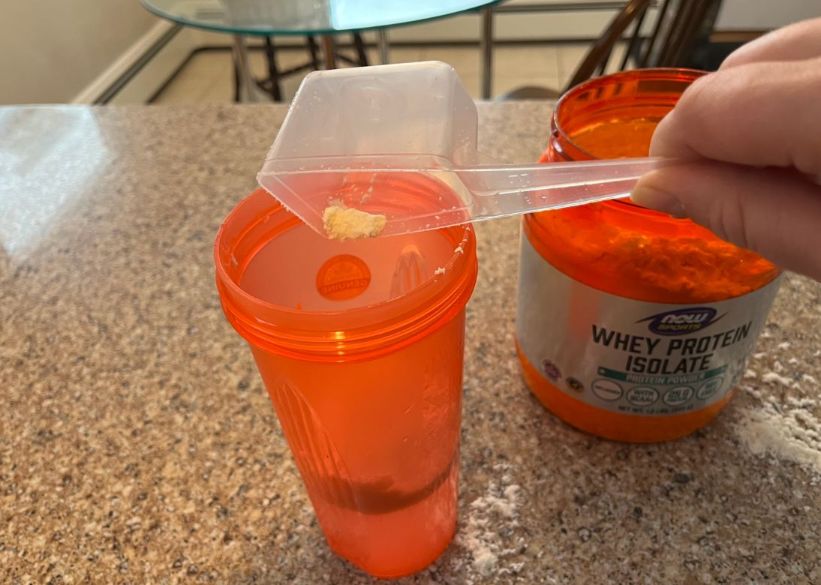 Our product tester and GGR writer Lauren Strong says this protein definitely has a "whey" flavor and aftertaste when taken alone with water, but she only did that for testing purposes to get the full effect—and wouldn't recommend it.
Instead, Lauren suggests adding this protein powder into something more substantial, like a homemade acai bowl, to add a boost of protein to an already nutritious meal. Even in plain water, the NOW Sports unflavored protein powder mixed well, creating a smooth and creamy liquid.
RELATED: How Much Protein Do You Really Need?
| | |
| --- | --- |
| Price per serving | $0.66-$1.38 (varies by size) |
| Protein per serving | 25 g |
| Carbs per serving | < 1 g |
| Fat per serving | 0.5 g |
Best Personalized Protein for Women: Gainful
Good for: Those who don't mind paying a premium for a customized protein formula
Gainful is a cool concept, and it allows for the ultimate in supplement customization. You'll head to the Gainful site and take a quiz about yourself, answering questions about your lifestyle—dietary restrictions, workout habits, etc.—as well as your goals—maintain muscle, gain muscle, recover better, etc.—and Gainful will design a custom-made protein powder formula just for you. The powder is unflavored, and you'll add on eight Flavor Boosts per order to give your powder the perfect taste.
GGR senior editor and expert product tester Nicole Davis tested out Gainful, and they prescribed her a whey/casein blend to support her goals of muscle maintenance, workout recovery, and satiety. She then added on the variety pack of Flavor Boosts so she could try different flavors, including Strawberry Cream, Sea Salt Caramel, and Cookies & Cream. "I didn't want to like this because it's so darn expensive, but I do," says Nicole. "The protein, although a bit clumpy, tastes great and makes me feel good."
Nicole's protein blend offers 24 grams of protein per serving as well as 110 calories, but it will vary based on your body and goals.
| | |
| --- | --- |
| Price per serving | Approx. $3 |
| Protein per serving | Varies based on your results |
| Carbs per serving | Varies based on your results |
| Fat per serving | Varies based on your results |
Other Protein Powders We Tried
Across our team of product testers (five of those being women), we've tested more than 50 protein powders from brands like Garden of Life, Vital Proteins, Optimum Nutrition, Kaged Nutrition, Transparent Labs, Cira, Bulk Supplements, NOW Sports, Vega, Onnit, Muscle Milk, GNC, Quest, and others.
While the above list represents our top picks for the best protein powder for women, we have plenty of other expert recommendations:
RELATED: Best Protein Bars
How We Picked and Tested the Best Protein Powder for Women
Here's a peek into our process for creating a guide like this one.
Research
We began by researching online and using our various personal experiences with protein powders to create a long (very long) list of products that we thought might contend for this guide.
Testing
We ordered dozens of protein powders and tested them over the course of several weeks, mixing them with various liquids, drinking them as post-workout shakes, or on-the-go snacks.
RELATED: Best Protein Chips
Finalizing
We took detailed notes regarding the taste (and aftertaste) of products we tested, what types of diets they suit (e.g., gluten-free, vegetarian, etc.), flavor options, nutrient profiles, and more. What you see here is the culmination of this lengthy process.
Benefits of Protein Powder
It's important to eat enough protein for a lot of reasons, but here are some of the most notable benefits of a high-protein diet.
Increases Daily Protein Intake
Increasing your daily protein intake doesn't get any easier than swigging a protein shake, or adding a scoop of protein powder to your smoothie.
Aids In Muscle Building
Consuming enough protein is important for muscle health in general, but prioritizing protein after your workouts can be an anabolic strategy5 (that is, one that helps you build muscle).
Also Aids In Muscle Recovery
Scientific research points to dietary protein, which is what you get from protein shakes, as an important nutrient for muscle repair after exercise6.
Helps Control Appetite
If one of your goals is weight loss, protein powder may be able to assist: Research shows us that dietary protein is important in both appetite regulation7 and energy balance8.
RELATED: Best protein powder for weight loss
Buying Guide: What to Look for in Protein Powder
As you're shopping for a great protein powder, keep this criteria in mind.
Taste and Texture
Take it from us: You won't consume your protein supplement if it doesn't taste good. We've tested plenty to know there are a lot of great-tasting protein powders and a lot of gross ones. A good protein dietary supplement mixes into a smooth, tasty treat.
Protein Per Serving
Make sure the product you buy meets your protein needs. A good amount of protein is 20 grams per serving. (Also check whether the serving size is one scoop or two.)
Other Nutrient Information
Check the ingredients list for artificial sweeteners, artificial flavors, added sugar, monk fruit, stevia. Many high-quality protein powder brands pride themselves on using minimal ingredients, but sometimes, the ingredients list can key you into positives, too: Some brands add superfoods like greens blends to add more vitamins, or use probiotics to support digestion.
Protein Source
There are many types of protein powders that get their protein content from different sources. There are plant proteins, like pumpkin seed protein, brown rice protein, pea protein, and chia and hemp protein.
Then there are milk-derived sources that contain lactose, like whey protein isolate, whey protein concentrate, and casein. Remember that no single vegan-friendly protein source is a complete protein (meaning they don't contain all nine essential amino acids), but whey protein powder and casein protein powder are complete proteins.
P.S. If you're looking for amino acid supplementation, check out our picks for the best BCAA for women.
Third-Party Certification
If it's important to you, check for things like the NSF Informed Choice certification or the Non-GMO Project verified label.
Price Per Serving
A good target is under $2.00 per serving, but for some of the best protein powders, you'll pay more (especially if you buy small packages rather than buying in bulk).
Flavor Options
Whether you crave a chocolate flavor, prefer peanut butter, or always go after vanilla flavor, there's something out there for you. Most protein powders at least come in some variation of chocolate, vanilla, and peanut butter.
FAQs
Which is the best protein drink for women?
Is protein powder good for females?
Protein is an important nutrient for men and women alike. It supports lean muscle growth, helps you maintain muscle mass, assists with muscle recovery, and much more. Protein powder can help women intake up to 30 extra grams of protein and reap the many benefits of this macronutrient. 
Should I drink a protein shake everyday?
It's perfectly safe to drink a protein shake daily. While some people experience minor bloating when first kicking up their protein intake (especially when that protein comes from liquid in a shaker bottle), that side effect should go away as your body adapts to the increase of the nutrient. Choosing a protein with digestive enzymes can help those who experience bloating.
Is a protein shake a meal replacement?
No, a protein shake is not a meal replacement. For a meal replacement, you'll want something that also includes carbohydrates, fats, and many essential nutrients such as vitamin C, calcium, vitamin A, and so forth.
References