We test and review fitness products based on an independent, multi-point methodology. If you use our links to purchase something, we may earn a commission. Read our disclosures.
In a seemingly endless sea of sports nutrition supplements, wouldn't it be amazing if you could have a registered dietitian nutritionist create a perfect-for-you protein shake on a dime? Well, I'm here to inform you that that's exactly what Gainful, the personalized nutrition company, does.
OK, so not exactly—you won't be doing a live intake session with a registered dietitian—but you will answer a dietitian-developed quiz with questions about your fitness and nutrition history and goals. And, once you buy, you have chat access to Gainful's staff of dietitians to ask any questions about your supplements or nutrition in general.
It's probably the closest thing you can get to personalized supplement advice without actually working one-on-one with a nutrition professional. And in this Gainful protein powder review, we're going to let you know exactly how it works, if it's worth it, and what to watch out for.
RELATED: Best Clean Protein Powder
Medical disclaimer: This article is intended for educational and informational purposes only. It is not intended as a substitute for medical advice. For health advice, contact a licensed healthcare provider. GGR also recommends choosing a product that has been third-party tested for quality.
Testing Gainful to Make Gains
Our team of product testers has tested nearly 100 different protein powders at this point in our quest to create the most comprehensive, accurate, and authentic guides to the best protein supplements. Two product testers, myself and GGR senior editor Nicole Davis, have tried Gainful protein powder to bring you this review.
Gainful Personalized Protein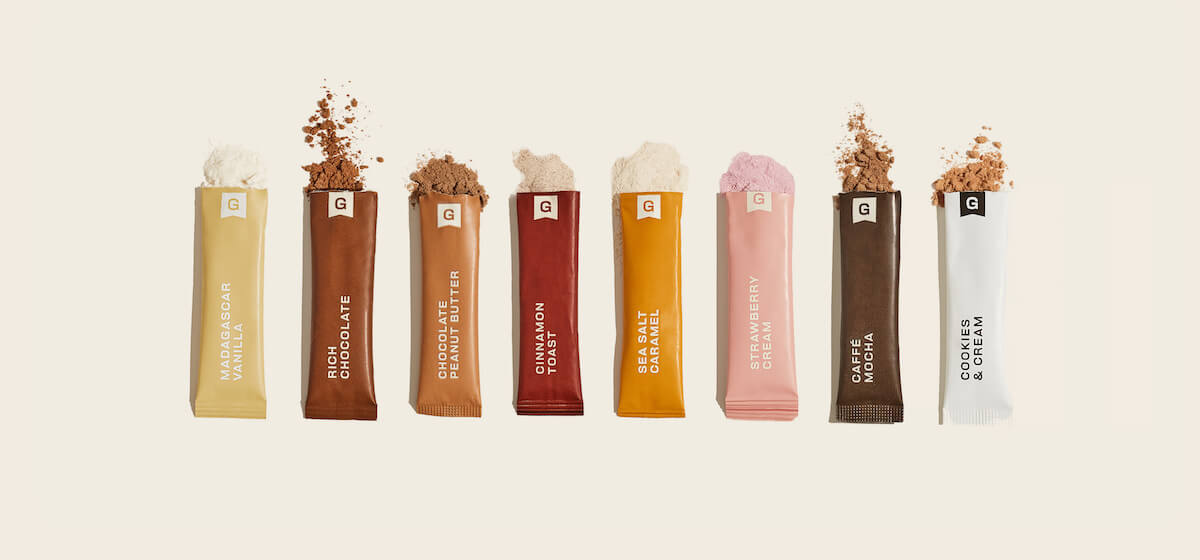 GGR Score: 4
Product Highlights
Specifically formulated for you 

Choose from a variety of flavor boosts

Contains all 9 essential amino acids 

Tailored to meet your dietary needs 

Subscription-based service renews each month

Unlimited access to registered dieticians
Pros & Cons
Pros
High-quality ingredients
Ability to work with registered dietitians
Personalized to your needs and goals
Solid profile of amino acids
No gluten, soy, artificial sweeteners, or dyes
Cons
Subscription-based
Expensive
Bottom Line
Gainful protein powder is a subscription-based supplement that is personalized by dietitians to meet your specific needs and health goals.
A Quick Look at Gainful Protein Powder
Gainful is a sports nutrition and supplement company that focuses on personalized nutrition. To do this, buyers begin with a quiz about their fitness history and goals, nutrition habits, and more.
It's one of few companies that allows the consumer to take control over the formulas of their supplements, accounting for factors like dietary preferences and restrictions, allergies, fitness goals, current fitness habits, weight loss goals, and even general wellness goals like improving sleep quality and managing stress.
The company is best known for its customizable protein powder, but you can also use this service to customize electrolyte drinks and pre-workout. There are other Gainful products that you can buy as one-off supplements, including creatine and collagen powder, when you have a subscription (meaning, you can add them onto your subscription of personalized products).
Before You Buy
To buy, you have to sign up for a subscription, but you can modify, pause, or cancel it at any time.
You can take the quiz as many times as you'd like, so don't be afraid to experiment with different variables. You're not locked into your initial formula!
The protein is unflavored, but it comes with flavor packets that you can add. There are several flavor packets available, which means you get a lot more variety with Gainful than you do with a typical tub of protein.
RELATED: Best Organic Protein Powder
Is Gainful Protein Powder Worth It?
Gainful protein powder is on the expensive side, but it is not the most expensive protein we've seen or tried. The pricing falls in line with higher-end protein powders, and the element of customization would certainly make it worth it for the right buyers.
If you have dietary restrictions or are just laser-focused on reaching specific goals, yes, Gainful protein powder would be a good investment.
Great for:
People with specific nutritional goals
Individuals with allergies or other dietary restrictions
Those who enjoy flavor variety
Anyone interested in supplements with minimal ingredients
Not recommended for:
People on a tight budget
Beginners, who may want to experiment with protein powder before spending the money on a customized option
Gainful Protein Powder Specs
The following specifications are for the whey protein powder customized by GGR senior editor and product tester Nicole Davis.
| | |
| --- | --- |
| Price per serving | $2.86 |
| Flavor(s) | The protein comes unflavored, but you can add packets in these flavors: Madagascar Vanilla, Rich Chocolate, Matcha Green Tea, Chocolate Peanut Butter, Cinnamon Toast, Sea Salt Caramel, Strawberry Cream, Caffe Mocha, Cookies and Cream |
| Protein source | Whey protein isolate, whey protein concentrate, micellar casein |
| Calories per serving | 110 |
| Protein per serving | 24 g |
| Carbs per serving | 1 g |
| Sugar per serving | <1 g |
| Sweeteners | Monk fruit or stevia leaf extract (in the flavor packets) |
| Fat per serving | 1.5 g |
| Other key ingredients | None |
Experience Using Gainful Protein Powder
To get your personalized protein powder, you'll take a short quiz that asks you a few nutrition and fitness questions. To start, you'll choose your top three goals, such as maintain or build muscle, improve athletic performance, regulate your appetite, increase calorie intake, or something else. You get to choose your top three goals.
Then, you'll provide some information about your history with fitness and nutrition, letting the algorithm know how experienced you are.
It will ask you what types of exercise you do, which for me was a bit frustrating because it only allows you to choose two. As a triathlete, I perform three sports each week, plus resistance training. I ended up selecting resistance training and cycling, since those two represent the largest percentage of my training at this time.
Other details the quiz asks for include your usual training intensity, how many times per week you train, how heavy of a sweater you tend to be, your body weight goals, your age, dietary restrictions, eating patterns, and sleep habits. You'll also be prompted to inform the algorithm of other goals, such as brain health, immune function, joint health, or bone health.
All in all, the quiz is quite comprehensive.
When you take the quiz, you'll also receive recommendations for other supplements based on your answers. I received a recommendation for hydration support with magnesium glycinate, cane sugar, caffeine, and L-theanine; I also got a pre-workout formula with creatine, L-citrulline, BCAAs, and beta-alanine.
Nicole also received a suggestion for hydration and pre-workout. "I said I lifted weights twice a week and was focused on overall health and satiety with my supplements. I also said I was a light to medium sweater," she says. "It gave me a hydration supplement with 300 milligrams of sodium, 150 milligrams of magnesium, 150 milligrams potassium and 2 grams of cane sugar."
Her pre-workout formula was similar to mine.
RELATED: Best Creatine Supplements
Price Per Serving
It seems that the price per serving for Gainful protein powder varies from person to person. My formula came out to $2.32 per serving and Nicole's costs $2.86 per serving.
Either way, this is on the high end, surpassing some of our favorites such as Transparent Labs, Kaged, and Legion Athletics. You can see the price per serving for all of our favorite protein powders in our complete guide to the best protein powder.
The pre-workout came out to about $1.86 per serving and the hydration support came out to about $1.43 per serving.
These are more in line with industry standards compared to the protein. In our guide to the best pre-workout, you'll see that our top picks range in price from as little as $0.80 to $3 per serving; in our guide to the best electrolyte powder, our top choices range from less than a dollar per serving to about $2 per serving.
Formulation
Everyone's formula will be different according to their quiz answers. Gainful intends to provide personalized protein powder that can help you reach specific goals and meet specific nutrient needs for your lifestyle, so the macronutrients and micronutrients will vary depending on your blend.
Based on my answers, Gainful created a protein powder with a blend of whey protein concentrate, whey protein isolate, and micellar casein. The blend also contains green tea extract, which Gainful claims "regulates nutrient absorption and metabolism to support either weight loss or weight maintenance."
My guess is that the green tea extract is included because I noted that I have a very high training load and want to maintain my weight.
Nicole's blend was similar, also containing a mix of whey protein concentrate and isolate, along with casein protein powder. Both of our blends contain 24 grams of protein.
However, because Nicole informed the quiz that she was pregnant, the program told her not to buy the pre-workout until after she's given birth and is done breastfeeding.
You won't find any fillers, artificial flavors or sweeteners, or other extraneous items in your Gainful protein—just high-quality ingredients intended to help you reach your specific health goals.
One thing that's missing from the supplements facts label is information about branched-chain amino acids and essential amino acids. Our top picks for the best protein powders include that information, and I'd like to see Gainful make that info available (or easier to find, if it is available, since I wasn't able to find it online). You could always take a BCAA supplement to make up for what might be missing in Gainful protein. (Learn more about the benefits of BCAAs).
Taste and Solubility
Gainful protein is really interesting in that the actual protein powder is always unflavored, but your order comes with "flavor boosts" to customize the flavor. Nicole really liked this feature, saying, "I like that you can control how much flavor you want in each shake via the packs, and even mix them, like chocolate and vanilla for instance."
"I mixed it with milk as suggested on the instructions and all flavors have tasted good—even Sea Salt Caramel, which is not something I'd normally choose," she continues.
The full flavor lineup includes:
Madagascar Vanilla
Rich Chocolate
Matcha Green Tea
Chocolate Peanut Butter
Cinnamon Toast
Sea Salt Caramel
Strawberry Cream
Caffe Mocha
Cookies and Cream
She wasn't quite so impressed with the texture, however. It's pretty clumpy when mixed in a shaker bottle with a shaker ball, Nicole says. "Because I liked the taste, I just dealt with it, but it's not great by any means."
When I tried Gainful protein a while back, I had the same issue, whether I mixed it with water, almond milk, or something else. I could never get it to blend as well as I wanted it to in just a shaker bottle, but it does fine in a blender if you're up for making smoothies.
RELATED: Best Protein Powder for Smoothies
Side Effects
Neither Nicole nor I have experienced any side effects from Gainful protein powder. Part of the draw of this protein is that you can customize it to account for any dietary preferences and restrictions, including allergens, so theoretically side effects should be non-existent.
If you're new to protein powder, you might experience more fullness than you're used to, but that's normal—protein is an appetite regulator, so it's not unusual to feel fuller when you first start using protein powders.
Third-Party Testing
Gainful protein powder is not third-party tested as far as I can tell. However, the company seems very transparent about the ingredients they use, and you can read in-depth about them on the website.
I'd appreciate a little more upfront information about the sourcing of the ingredients to make up for the lack of third-party testing, but I'm also inclined to trust Gainful because they keep a staff of registered dietitians who can answer any questions you may have.
Nicole and I didn't take advantage of the RD program, but it could definitely be helpful for people who are new to fitness and nutrition.
Gainful Protein Powder vs Transparent Labs Grass-Fed Whey Protein
Transparent Labs Whey Protein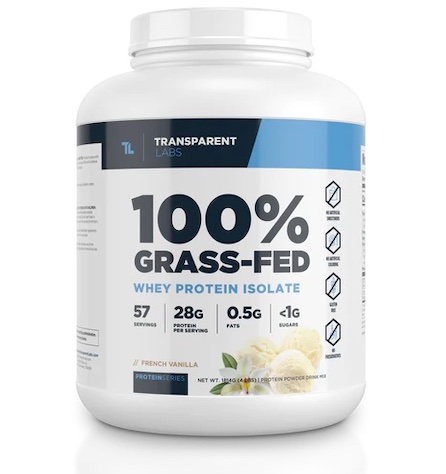 GGR Score: 4
Product Highlights
High-quality whey protein isolate
28 grams of protein per serving
8 flavors to choose from
$1.99 per serving
Pros & Cons
Pros
High-quality protein
No artificial sweeteners, food dyes, or preservatives
Lots of flavors to choose from
Good customer reviews
Whey isolate may be easier to digest for some people
Cons
Price per serving on the high end
Bottom Line
Transparent Labs 100% Grass-Fed Whey Protein Isolate is a clean, high-quality protein powder that contains 28 grams of protein per serving.
Transparent Labs Grass-Fed Whey Protein Isolate is one of our top picks for the best whey protein powder. It is 100% whey protein isolate, whereas Gainful blends (at least for Nicole and myself) contain whey protein isolate, whey protein concentrate, and micellar casein. This can, of course, change based on the information you input into the quiz.
Transparent Labs whey protein provides 28 grams per serving compared to the 24 grams per serving in my Gainful blend. It's slightly higher in calories at 120 per serving compared to the 110 in my Gainful protein. But that's a small price to pay for 4 more grams of protein.
Both protein powders are free from artificial sweeteners and artificial ingredients in general. However, I don't think that Gainful whey comes from grass-fed cows like Transparent Labs whey does; it's not indicated on the website anywhere.
I think the main benefit to Gainful here, specifically in regard to whey protein, is that the percentage of whey can change based on your goals. For instance, the reason that Nicole's powder contains micellar casein is because she indicated that one of her nutritional goals was satiety. Casein is a slow-digesting protein, so adding a bit of that in addition to whey can help you stay fuller for longer.
The flavor packets are another pro here. With Transparent Labs, and basically any other protein brand, you are stuck with one flavor for 28 to 30 days. With Gainful, you can have vanilla one day and caramel the next.
Read our full Transparent Labs protein review for more information.
Gainful Protein Powder vs KOS Vegan Protein Powder
KOS Vegan Protein Powder
GGR Score: 4
Product Highlights
Multi-source vegan protein powder 

USDA-certified organic, soy-free, gluten-free, dairy-free, non-GMO

Digestive support via DigeSEB to help maximize absorption
Pros & Cons
Pros
Manufactured in the USA
Superfood-infused
20 g protein per serving
Chocolate flavor is rich
Enhanced with digestive support enzymes
Under $1.50 per serving
Cons
Customers say it has a gritty/chalky flavor
Some users reported protein gave them stomach issues
Reports of strong sweetness and bad aftertaste
Bottom Line
KOS is a vegan protein with a lot of positive reviews, but a number of people experienced stomach issues using this protein powder.
I took the Gainful quiz a second time, which you can do by clicking "Need to Change Your Blend?" in your profile. I entered different information to receive a vegan blend, so that I could see how it compares to one of the best vegan protein powders. 
I told Gainful that I want to build muscle, maintain my weight, and improve sports performance; that I eat a vegan diet; and that I run and lift weights. It recommended a plant-based protein blend including 70% organic pea protein isolate, 28.3% organic brown rice protein, and 1.7% green tea extract.
This blend contains 10 more calories (120 total) and 1 more carb (2 grams, 1 gram being fiber) than my whey blend, but the same 24 grams of protein.
Compared to KOS Vegan Protein Powder, which contains 160 calories and 20 grams of protein, it's higher in protein yet lower in calories. It also contains very few ingredients compared to KOS: There are just three ingredients in Gainful vegan protein powder. Of course, adding the flavor packet would add more ingredients, but there are still few comparatively.
Other plant-based blends from Gainful may include protein from soy or oat sources.
Read our full KOS vegan protein review for more details.
Customer Experience
One of the biggest benefits of Gainful is the customer experience—the experience is fundamental to the business model. I love to see companies prioritizing individual customer needs and maintaining open lines of communication and support with credentialed professionals.
Taking the quiz and being provided with dietitian-developed formulas is a great way to learn about your nutrient needs and what types of supplements can fulfill them, and having access to an RD for questions is a big step above most supplement companies. For the right customers, that can more than justify the expensive price per serving of the protein powder.
Gainful also offers a "Happiness Guarantee" and promises to send a new formula if you don't like the one you got.
Ordering Gainful Protein Powder
To order Gainful protein powder, you first need to take the quiz at gainful.com so the algorithm can provide nutritional recommendations for you. After you take the quiz, you'll be provided with a protein powder recommendation and possibly other supplement recommendations.
You can choose which supplements you want, add them to your cart, and check out. Shipping is free on orders over $60, and you can modify or cancel your subscription at any time.
Customer Reviews
At the time of writing, Gainful has an average rating of 4.7 out of 5 stars. Customers seem enthusiastic about the personalization component, with several reviews saying this protein powder is the best option in a sea of protein powders.
One customer wrote," I love everything about this protein! It doesn't make me feel heavy or bloated. I love that it comes plain and I can flavor it however I want, and it tastes so good. A great product helping me reach my goals!"
The flavor packs seem extremely popular among buyers, with many noting that it's nice to be able to have a different flavor each day.
On the Gainful website, I didn't see any outright negative reviews.
Final Verdict of Our Gainful Review
Gainful is a unique and fun way to find a protein powder for your specific nutritional needs. Though it's not third-party tested, Gainful as a company feels very transparent and seems to only include essential ingredients. I would like to see some information regarding the BCAA and EAA content, but other than that, I'm quite impressed with Gainful on the whole.
Gainful Protein Powder Full Rating
Gainful Protein Powder
Wondering if personalized protein powder is worth the money? Find out in our Gainful protein powder review.
Product Currency: USD
Product In-Stock: InStock
Gainful Protein Powder FAQs
What is customized protein powder?
Customized protein powder is protein that is formulated specifically to provide the fitness and health benefits you want. You can choose protein powder suitable for a keto or gluten-free diet, for instance, or protein powder to maximize muscle growth. Gainful offers protein blends for various goals and needs.
Is custom protein better?
I wouldn't say that customized protein is inherently better than other protein powders. It certainly has its benefits, and it can be the right choice for people with dietary restrictions or specific goals and preferences. That said, there are plenty of really wonderful protein powders that aren't custom to the individual.
How does Gainful work?
To get your customized protein powder, go to gainful.com and take the quiz. After you finish the quiz, Gainful will provide supplement recommendations, and you can modify them or check out. You'll then be able to sign up for a subscription, which you can modify or cancel any time.
These statements have not been evaluated by the Food and Drug Administration. This product is not intended to diagnose, treat, cure, or prevent any diseases.