We test and review fitness products based on an independent, multi-point methodology. If you use our links to purchase something, we may earn a commission. Read our disclosures.
Some meal delivery services can leave lots to be desired, but gourmet meal delivery is different. Instead of uninspired, basic dishes, you'll get entrées that can rival those on your favorite five-star restaurant's menu. And even better? Most of them take 30 minutes or less to put together.
Our GGR team, which is made up of certified personal trainers, professional athletes, and nutrition coaches, tested more than 40 of the best meal delivery services and rated them on various criteria, including:
Price
Portion size
Meal variety
Taste
Sustainability efforts
Customer service
We also timed how long it took to prepare each meal (and how long it took to clean up) to give you a sense of what you could expect in the kitchen. We discovered that "gourmet" doesn't have to mean complicated, if you choose the right company. With that out of the way, here are the best gourmet meal delivery services according to our extensive testing.
Medical disclaimer: This article is intended for educational and informational purposes only. It is not intended as a substitute for medical advice. For health advice, contact a licensed healthcare provider.
Best Gourmet Meal Delivery Service
Best Gourmet Meal Delivery Service Overall: Blue Apron
Good for: Those who want meals on the table in around 30 minutes or less
Blue Apron is one of the OGs of meal delivery and it still reigns supreme. We gave it the best overall spot because there was plenty of variety, the portion sizes were substantial, it was easy to order from the website, and nutritional information was front and center.
Registered dietician Perry Nix says, "Blue Apron uses non-GMO ingredients, hormone-free meats, and sustainably sourced seafood. These ingredient standards support the environment, farmers, and animal welfare. Blue Apron offers unique protein options like cod and lamb that you don't find with many other meal services. All Blue Apron meals are balanced and contain a source of protein, carbs, and vegetables."
When it comes to gourmet meals, you have two options: what Blue Apron calls "Craft" meals and "Premium" meals. The craft meals are out-of-the-box, fancier takes on classic favorites, like Cheese Crisp Burgers, while the premium meals are more, well, premium—examples include NY Strip Steaks & Herb-Mushroom Pan Sauce and Seared Duck & Brown Butter-Grape Sauce.
You don't have to pay extra for these either. They're worked into the regular menu, which changes weekly and includes about 20 options each week. GGR product tester Sarah Carlton gave Blue Apron a 4 out of 5 for variety, saying the meals change regularly and you'll find a mix of new and old each week.
Taste was a little hit or miss, but this is pretty typical of meal delivery services and since it's subjective, it's to be expected based on what you personally like.
"I've had some boxes that are so flavorful and some that are just bland. One thing I like about Blue Apron is that they keep their recipes pretty straightforward, but every once in a while, the meal could use a bit more oomph to it. In my most recent box, Whole Grain Romesco Pasta was alright but wasn't wow-ing. On the other hand, the salmon was packed with flavor and so good!" Sarah says.
Keep in mind that prep is on the longer side. Sarah rated it out a 2 out of 5 for ease of preparation saying that meal timing can vary a lot and there's a lot of cleanup involved (washing pots, pans, and other prep items). But that is also to be somewhat expected when making gourmet meals.
For more, check out our in-depth Blue Apron review.
| | |
| --- | --- |
| Price per serving | Starts at $7.99 |
| Type (meal kit or prepared) | Prepared |
| Meals per week | 2-5 |
| Delivery area | Contiguous United States |
| Examples of meals we tried | Whole Grain Romesco Pasta, Salmon |
Best Prepared Gourmet Meal Delivery: CookUnity
Good for: People who are willing to sacrifice some taste for saved time
CookUnity is one of just two prepared meal services that made this list because, to be frank, we weren't really getting any gourmet vibes from most of the pre-cooked meals we tried. Even with CookUnity, you're going to have to manage your expectations a little bit. You're not going to get the same quality and taste as if you prepared the meals yourself, but the trade-off is less prep and cooking time.
GGR staff writer and certified personal trainer Anthony O'Reilly did say the portions were smaller than what was advertised (he rated it a 3 out of 5 for portion sizes), but CookUnity got perfect scores (5 out of 5) for variety and meal plans/customization. Anthony said there are "dozens of meals that fit multiple diets and lifestyles" and that customization was easy. All meals also have nutritional information, including a breakdown of macros, on the packaging so they're easy to track with a meal planning app.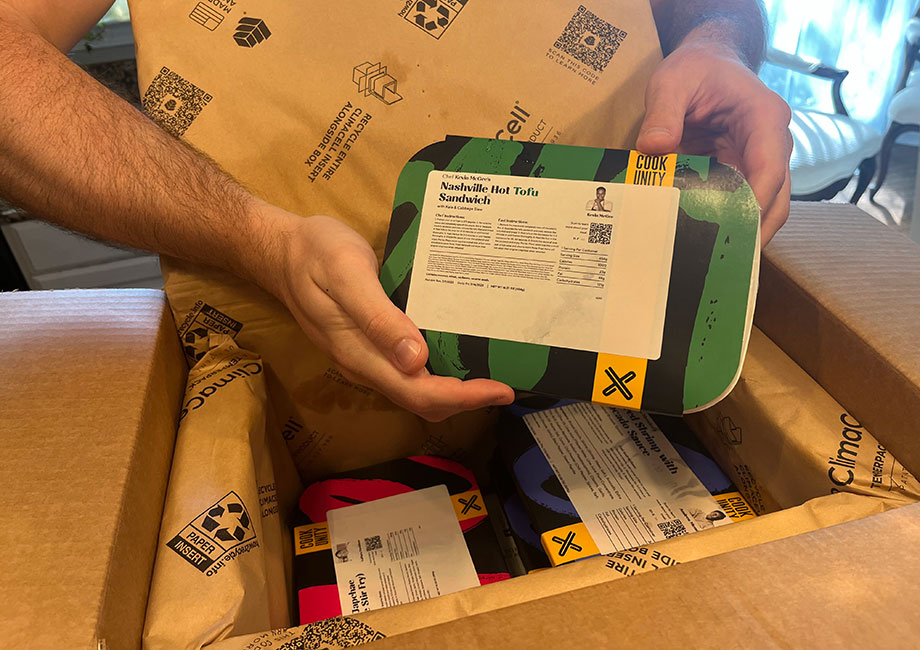 "Cook Unity is unique because it offers chef-made entrees delivered fresh to your doorstep. Its culinary artists create authentic cuisines you'd expect to get at a nice restaurant, except you can enjoy them in the comfort of your own home," says registered dietitian Perry Nix.
Meals are all designed and curated by about 70 chefs across the U.S., so depending on where you live, you may have different options than someone else, which keeps things interesting. And all of the premade meals are definitely more elevated than your typical heat-and-eat meal delivery service. You'll have options like Lamb Kebab with Turmeric Hummus and Roasted Sweet Potatoes or Seared Steak with Horseradish Cream with Oven-Roasted Brussels Sprouts.
Like other services, the taste was hit or miss. Anthony rated it a 3 out of 5 and said some meals were better than others and because you can heat them in the microwave, some of the battered coatings didn't get crispy. But all in all, CookUnity is a good option for what it is.
| | |
| --- | --- |
| Price per serving | Starts at $11.09 per meal |
| Type (meal kit or prepared) | Prepared meals |
| Meals per week | 4-16 |
| Delivery area | Most contiguous U.S., excluding parts of Montana, Wyoming, Colorado, South Dakota, North Dakota, and Nebraska |
| Examples of meals we tried | Nashville Hot Tofu Sandwich, Bulgogi Beef Japchae, Potsticker Noodle Bowl with Ground Pork |
Gourmet Meal Delivery for Dietary Restrictions: Hungryroot
Good for: People who want (or need) a lot of options and/or have more complicated diets
Hungryroot got some of the highest ratings across the board. GGR head of content and certified personal trainer Kate Meier scored it a 5 out 5 for taste, 4 out of 5 for preparation, and 5 out of 5 for meal plans and customization. While many meal delivery services cater to some needs, Hungryroot can accommodate so many dietary preferences.
"You can choose from low-sodium, low-carb, low-calorie, high-protein, vegan, vegetarian, pescatarian, dairy free, gluten-free, soy-free, tree nut-free, peanut-free, and egg-free," Kate says.
And there are a bunch of different cuisine types, too. When signing up for Hungryroot, you take a quiz to narrow down your preferences. According to Kate, you can choose what style of cuisine (Thai, Mexican, Italian, Chinese, etc.) and flavors you like, plus foods you dislike. From there, Hungryroot will narrow down the recipes it recommends so you can easily browse the ones that are most suited to you.
In addition to accommodating a lot of dietary needs, Hungryroot also got one of the highest scores for taste.
"So far, this is so good. Everything is so fresh, and you don't need to do any seasoning because most foods are prepped already for you with spices. If you wanted more salt or whatever, you could add your own," Kate says.
The meals are kind of a hybrid between pre-made and home-cooked meals. They do require more prep than oven-ready meals, but they come together in about 10 minutes (Kate timed it). Most of the ingredients are pre-cooked, but you still have to build your meals.
So, for example, you may use cooked chicken to prepare a chicken-based pasta dish or casserole. We thought this was a cool compromise and it gives the meals more of a gourmet vibe, but doesn't require a huge commitment from you—ideal for meal prep and weeknights.
"Hungryroot is for those who don't want a microwave-ready meal but also don't have lots of time to spend prepping and cooking," says Perry Nix, RD. "Many of their ingredients, such as pasta sauce, are pre-made so you spend less time in the kitchen without sacrificing on texture and taste."
| | |
| --- | --- |
| Price per serving | Starts at about $10 per meal |
| Type (meal kit or prepared) | Meal kit |
| Meals per week | Up to 8 |
| Delivery area | Contiguous US |
| Examples of meals we tried | Seared Chicken Breast and Corn Black Bean Rice Bowl, Everything Chicken Quesadillas, All-in-One Chicken Burrito Bowl, Turkey Meatloaf and Sweet Kale Salad |
Best Organic Gourmet Meal Delivery: Green Chef
Good for: People willing to pay a little more for higher-quality ingredients
"Green Chef is unique because it's a certified organic meal kit company. All of their ingredients are organic unless labeled otherwise," says registered dietician Perry Nix.
Green Chef is one of the only certified organic meal kit delivery services, but good news: That's not the only reason we picked it. GGR senior editor and certified personal trainer Nicole Davis rated it a 4.5 out of 5 for ingredient quality (which seems kind of obvious since most ingredients are organic), but also gave it a 4 out of 5 for meal plans and customization and a 4.5 out of 5 for taste.
"I tried four dinners as well as the breakfast bundle, which had oatmeal, egg white bites, muffins, and two recipes to make (French toast and breakfast sandwiches). The monterey jack cheese-smothered chicken with mushrooms and squash was delicious. So were the chicken burrito bowls," Nicole says.
The meals take about 30 minutes, on average, to cook, according to Nicole. They do require multiple pieces of equipment, but this is a typical price to pay for gourmet meal delivery. This does mean more cleanup, though, so you'll have to factor that into the total time commitment.
Green Chef scored a little lower for variety—Nicole gave it a 3.75 out of 5—but there are about 40 options each week and they change regularly. And regardless of which meal plan you sign up for, you can choose from any of the meals available that week. To make it easier to find meals that suit you, you can filter by additional preferences, like high-protein, keto, gluten-free, low-calorie, Mediterranean, and vegetarian.
The portions are on the smaller side, so if you're very active or need more calories, you may not feel fully satisfied, but you can always add a salad or an additional side to beef it up a little bit.
Get the full scoop in our Green Chef review.
| | |
| --- | --- |
| Price per serving | Starts at $11.99 |
| Type (meal kit or prepared) | Meal kit |
| Meals per week | 3-4 |
| Delivery area | Contiguous U.S. |
| Examples of meals we tried | Monterey Jack Cheese-Smothered Chicken, French Toast, Southwest Pork Tenderloin |
Best Gourmet Meal Delivery for Variety: Home Chef
Good for: Those who value ample portions as much as lots of meal options
If you want variety, Home Chef is the best meal delivery service for the job. GGR product tester, Emily Chidester, who has actually been a loyal Home Chef customer since September 2022, says there's a ton of variety and the meals switch from week to week. She scored it a 5 out of 5 for variety, portion sizes, and taste.
Yet, despite the robust menu—there are about 30 menu options to choose from each week—Emily says she's had repeat meals a handful of times in the past 10 months because she loves them.
"I've tried a few different meal delivery kit services (Hello Fresh, Blue Apron, Green Chef) and this is by far the best. My husband and I love these meals, frequently getting more than the three we typically order because they are so easy to make and are delicious," she says.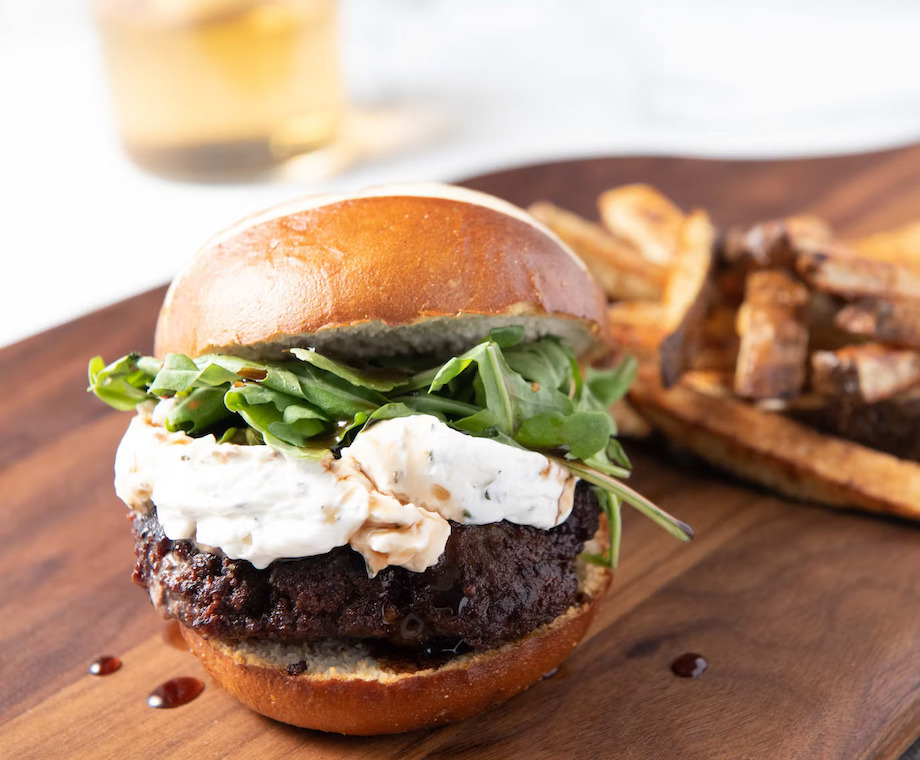 The gourmet meals are called the "Culinary Collection," and you'll find options like Herb Butter Filet Mignon with Mashed Potatoes and Asparagus or Creamy White Bean Orzo Soup with Parmesan and Pesto.
Portion sizes are also just-right, and both Emily and her husband felt satisfied after eating. There aren't meal plans per se, but there are a handful of dietary preferences, like vegetarian, calorie-conscious, and carb-conscious. You can also filter for "dislikes," or allergens, like seafood, shellfish, tree nuts, and soy.
However, "if you have severe food allergies, you may want to avoid Home Chef," warns registered dietician Perry Nix. "Meals are made in a facility that handles many common allergens, so there is a risk of cross-contamination."
Home Chef got scores of 4 and 5 on almost every attribute; ease of preparation was the only exception. Emily gave this a 2 out of 4, saying that the variety of different meal types impacts cooking time significantly, so preparation time can be all over the place.
However, she says it's extremely simple to filter by preparation time at the ordering step, and there are also "expertise" callouts (from beginner to expert) that can help you determine how much will be involved in the process.
See if you agree with Emily in our Blue Apron vs Hello Fresh vs Home Chef standoff.
| | |
| --- | --- |
| Price per serving | Starts at $8.74 |
| Type (meal kit or prepared) | Meal kit |
| Meals per week | 2-6 |
| Delivery area | 98% of the U.S. |
| Examples of meals we tried | Lemon and Herb Chicken with Pesto Butter and Ratatouille; Acapulco-Style Steak Quesadillas with Cheddar-Jack Cheese and Red Onion; Crispy Buffalo-Style Chicken Salad with Blue Cheese and Ranch; Korean-Style Fried Chicken with Cheesy Corn |
Best Splurge Gourmet Meal Delivery: Sakara Life
Good for: People who want lighter fare and don't have a strict budget
Sakara Life is definitely on the fancier side, and it has the price tag to match. Pricing depends on which program you choose, and how many meals you add to your box. GGR editor Frieda Johnson ordered breakfast for five days plus three "metabolism lattes" and the total price was $174.
The breakfasts were about $27 each, which is more than the entrees from other services. Because of this, Sakara Life got a 1 out of 5 for pricing, but it gets better from here.
Frieda rated it a 4.5 out of 5 for ingredient quality and a 4 out of 5 for variety. The menu changes weekly, so there are a lot of meals to choose from. Occasionally, the meals are really simple—for example, there were some parfaits and lots of salads—but this works well for those who want lighter options.
Registered dietician Perry Nix says, "Sakara Life strives to create colorful meals to ensure they're packed with vitamins, minerals, and essential nutrients."
It's also worth noting that many of Sakara Life's plans are targeted toward weight loss or general wellness, so while they're high-quality and nutritious, they're lighter and have smaller portion sizes.
"The meals are all organic, plant-rich, gluten-free, dairy-free, non-GMO, and made without refined sugar. I couldn't find any info on sourcing, though. I was impressed by how fresh the food seemed," Frieda says.
And as for prep? It's basically non-existent. Frieda didn't even need to heat her breakfast meals and most lunches are all salads, so you can just open the container and eat them. Some dinner meals do require heating, but "there's definitely minimal prep," according to Frieda.
Sakara Life is different from most of the other meal delivery services, but if you're looking for elevated, lighter fare, and you want to splurge, it's a good option.
Find out more in our Sakara Life review.
| | |
| --- | --- |
| Price per serving | Starts at $27 |
| Type (meal kit or prepared) | Prepared meals |
| Meals per week | Up to 15 |
| Delivery area | Contiguous US |
| Examples of meals we tried | Sexy Cinnamon Rolls, Sweet Potato-Coconut Dream Parfait, Raspberry Tea Cake |
Best Gluten-Free Gourmet Meal Delivery: Epicured
Good for: Anyone who needs to avoid gluten and/or has a sensitive stomach
Epicured is the second prepared meal delivery service that made our list. We were a little torn on this because it didn't get rave reviews for taste—GGR Everything lead reviewer Lindsay Scheele gave it an average score of 2.5 out of 5 and said many of the meals lacked in flavor.
But ultimately, we named it the winner anyway because unlike other meal delivery services that offer some gluten-free options, Epicured's menu is 100% gluten-free (and suitable for low-FODMAP diets). Since it's much easier to add some seasoning to meals than it is to find 100% gluten-free meals, we thought it was worth the trade-off.
Epicured has some other draws that make it worthwhile, too. For one, the portion size was ample, earning a 4-out-of-5 score from Lindsay.
"All meals made me full and I felt like the ratio of meat, starch, and veggies were all spot on," she says.
There's also a lot of variety. There are several meal bundles to choose from—there are curated bundles or you can create your own weekly food delivery based on your specific preferences.
There's lighter fare, like bowls, salads, and soups, as well as more gourmet entrees, like Montauk Crab Cakes, Chickpea Curry, and Seabass with Pineapple Green Sauce. You can also add sides, like Green Beans with Toasted Almonds and Cumin Roasted Carrots and Parsnips, if you want to add more to your meals.
Epicured also makes it really easy to order. There are no meal plans so you can just filter the main menu for whatever you're looking for. Some options include low-fat, vegan, pescatarian, extra-sensitive for IBS, and dairy-free.
Since this service caters to those on the low-FODMAP diet, registered dietician Perry Nix warns, "The low FODMAP diet is a very restrictive elimination diet and should be done under the supervision of a registered dietitian or physician. It's only intended to be temporary in order to determine which foods you can or can't tolerate."
This service is also unique because you don't have to sign up for a subscription. You can place a one-time order, but you do get 20% off meals if you subscribe.
| | |
| --- | --- |
| Price per serving | Starts at $8.99 |
| Type (meal kit or prepared) | Prepared meals |
| Meals per week | Unlimited |
| Delivery area | Contiguous US |
| Examples of meals we tried | Roasted Turkey Dinner, Buckwheat Pancakes |
Best Plant-Based Gourmet Meal Delivery: Purple Carrot
Good for: Anyone looking to eat more plant-based meals that are totally satisfying
Purple Carrot really does plant-based foods right. GGR performance editor Anthony O'Reilly, who is an omnivore through and through, tested this service and was highly impressed for various reasons.
Registered dietician Perry Nix says, "The company uses seasonal ingredients so you can add new foods into your rotation without ever getting bored. A plant-based diet can help reduce inflammation and decrease your risk of developing a chronic disease."
The meals feel gourmet, of course, since that's the main requirement for making this list. You'll find vegan meals like Roasted Sweet Potatoes and Beluga Lentils and Figgy Grilled Cheese Sandwiches with Pear. But they were also surprisingly satisfying, according to Anthony.
"Considering this was a plant-based meal service, I was quite happy with how everything came out and the portions were quite good," he says, adding that he always felt full.
All boxes came with fresh ingredients and he gave the meals a 5 out of 5 rating for taste.
"I only went with the meal kit (the stuff you make at home). The ingredients were fresh and I thought everything tasted really good! My favorite was the sloppy Joe (with tofu instead of meat)," he says.
And even though this is a meal kit service, Anthony says the prep required very little work. He scored it a 3 out of 5, and said most meals were easy to prepare, although the instructions could be a little too simplistic for those who are novices in the kitchen.
It's worth noting that there are two types of meal options: meal kits and prepared meals. Anthony only tried the meal kits, so he wasn't able to rate the prepared meals, but you do have that option if you want it.
| | |
| --- | --- |
| Price per serving | Starts at $11.99 |
| Type (meal kit or prepared) | Meal kit and prepared meals |
| Meals per week | 3-4 |
| Delivery area | Contiguous U.S. |
| Examples of meals we tried | Sloppy Tofu Joes; Quinoa Stuffed Peppers; Roasted Sweet Potatoes and Chickpeas |
Other Meal Delivery Services We Researched
HelloFresh: HelloFresh has some pretty impressive gourmet menu options. We've seen meals like Lobster-Filled Ravioli, Shrimp and Cherry Balsamic Bavette Steak, and Peachy Keen BBQ-Rubbed Pork Chops come through the weekly menus. But the gourmet options are limited, and most meals are actually pretty simple to make. This isn't necessarily a bad thing, but if you're looking for a gourmet meal delivery service you'll probably want to look elsewhere. Read more in our HelloFresh review.
Dinnerly: We wanted Dinnerly to be fancy enough to make this list since the meals start at just $4.99 per serving. But these are really simple meals and we didn't think they fit into the "gourmet" definition—although we did think they were really good. Here are some other cheap meal delivery services you can browse, too.
Fresh N Lean: Fresh N Lean is one of our favorite meal delivery services. It has a ton of meal plans, from paleo and keto to vegan and bulk proteins. But the meals are pre-cooked and while this is convenient, they don't look very gourmet when they come out of the microwave. They do taste good though (Kate gave the meals a 5 out of 5 for taste).
Factor: Factor is another one of our favorites, but we basically have the same comments as we do with Fresh N Lean. While the meals are convenient and require almost zero prep, they're not very gourmet. They're really basic with the typical meal prep breakdown: protein with veggies or a starchy side. Check out our Factor review if you want to know more.
Sunbasket: Sunbasket has plenty of options that we would consider gourmet, but it got average ratings for taste and preparation (3.75 and 3.5 out of 5, respectively). Because of this, we just think there are better options that did make the list. (But decide for yourself in our Sunbasket review).
How We Picked and Tested the Best Gourmet Meal Delivery Services
Our GGR team includes certified personal trainers, certified nutrition coaches, certified CrossFit-L1 trainers, and Olympic athletes who personally test almost everything we recommend (or don't).
To come up with this list of the best gourmet meal delivery, we collectively tested more than 40 meal delivery services over the course of several weeks. This included meal kits and fully prepared meals (most of which didn't feel very gourmet and didn't make this list).
We rated each meal service based on several attributes in our strict testing methodology. Ease of preparation and taste were heavily considered of course, but we also rated each service based on price, variety, and available meal plans and customization.
Ease of Preparation
If you're getting gourmet meal delivery, you can expect that preparation is going to take a little bit longer than some other meal delivery types. But you still don't want to spend too long in the kitchen. We rated each service based on how long each meal took—for gourmet delivery, around 30 minutes was the sweet spot.
Taste
It probably goes without saying, but the meals have to taste good. This is subjective based on your personal preferences, but our testers rated each meal on taste and dug into customer reviews to see what the general consensus was on meal taste and quality.
Price
Gourmet doesn't have to mean expensive in the meal delivery world. A meal can certainly feel gourmet without costing a fortune. We gave gourmet meal delivery higher marks if meals were less than $14 per serving.
Variety
Not to get all cliché, but variety really is the spice of life. Or at the very least, it's what prevents you from getting bored with your meal plan. When rating these services, we considered whether or not you could get new meals each week and how often the menu changed.
Meal Plans and Customization
Everyone has different dietary needs so when making blanket recommendations for gourmet meal delivery, we wanted to make sure the services could accommodate a range of people. The services got high marks for a variety of meal plans and the level of customization, like whether or not you could opt out of certain ingredients.
Benefits of Gourmet Meal Delivery Services
Gourmet meal delivery services can save you time and money and help minimize food waste, since you're only using exactly what you need. They can also help you break out of a takeout habit if you're relying too much on restaurant food. Here are some other benefits.
There's No Fuss
You may daydream about creating gourmet meals from scratch, but the complicated execution may be holding you back. Gourmet meal delivery services lay everything out for you, so you really just have to follow a step-by-step guide and you'll be serving up a fancy feast in about 30 minutes, on average.
They Introduce You To New Tastes and Flavors
It's easy to get stuck in a recipe rut, but gourmet meal delivery can help you break out of that. These companies show you a weekly menu full of recipes that you may have never considered otherwise. And they make it really easy to prepare recipes that you may have been too intimidated to try in the past.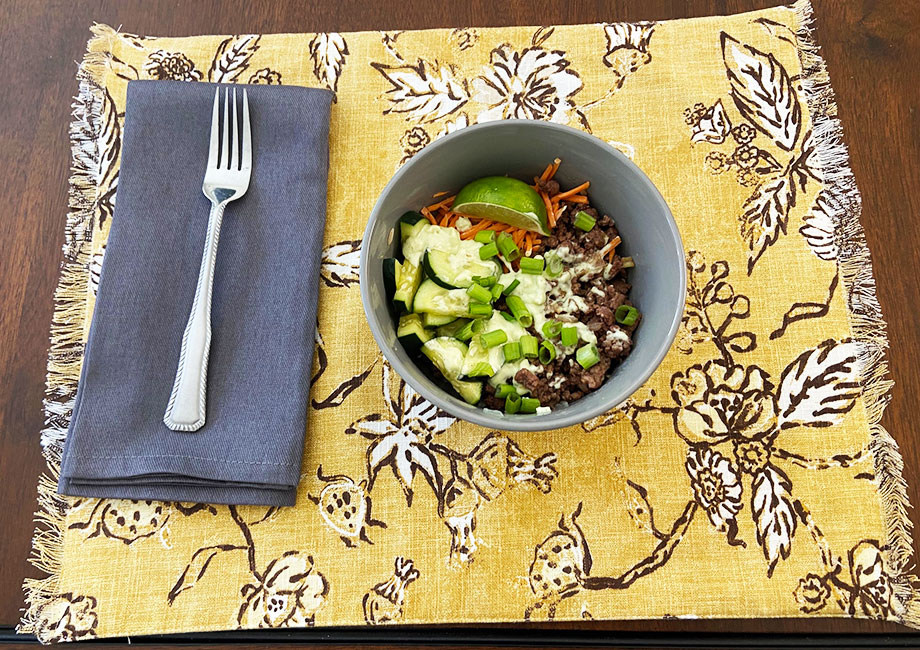 It's Still Easy to Track Your Macros
Eating gourmet meals doesn't mean throwing your macros out the window. With these meal delivery services, you can choose upscale, fulfilling meals that still allow you to hit your macro and calorie goals. And most have nutritional information easily accessible so you don't have to calculate them yourself.
Buying Guide: What to Look for in a Gourmet Meal Delivery Services
The best gourmet meal delivery for someone else may not be the best choice for you. Here are some ways you can narrow down the choices to find a good fit.
Meal Variety
If you're looking for gourmet meal delivery, you probably want a decent amount of variety to keep things interesting. Many meal delivery services show previews of their upcoming menus so you can view a few weeks to a couple months of meal options in advance.
When choosing a meal delivery service, dig into the menus and make sure there are enough gourmet food options to keep you satisfied. Many offer a couple "fancy" meals each week, while others have a more robust offering.
Meal Timing
Think about how long it takes to make each meal. If you're looking for a meal delivery service, you probably want some level of convenience, even if you're willing to spend a little more time making gourmet meals.
Look through the estimated preparation times to see how long each meal takes and make sure you're comfortable with the commitment. Typically, you can expect gourmet meals to take around 30-60 minutes to prepare.
Dietary Needs and Preferences
You'll also want to make sure that the gourmet meal delivery you choose can accommodate your specific needs. Many offer "healthy meals," but don't cater to dietary preferences or needs beyond that. If you're on a strict diet or have allergies, this is especially important.
Gourmet Meal Delivery Services: FAQs
How much are gourmet meal delivery services?
It depends on the quality of ingredients and your level of commitment—the price per meal goes down the more meals you order. The gourmet meal delivery services on our list range from a minimum of $7.99 to $27 per serving.
What is the tastiest gourmet meal delivery service?
This is really subjective, but Hungryroot, Home Chef, and Sakara Life all scored a 5 out of 5 for taste during our testing. Green Chef also got an impressive 4.5 out of 5.
What are the negatives of meal delivery services?
Meal delivery services can be more expensive than creating your own meals, but you have to consider the amount of time saved here. There's also more packaging than you'd get with grocery shopping, but many companies try to offset this by using recyclable and/or recycled materials.
These statements have not been evaluated by the Food and Drug Administration. This product is not intended to diagnose, treat, cure, or prevent any diseases.