We test and review fitness products based on an independent, multi-point methodology. If you use our links to purchase something, we may earn a commission. Read our disclosures.
Factor 75 skyrocketed to ultra-stardom faster than Eliud Kipchoge ran a world-record marathon.
I swear, it's like this meal delivery service did not exist, and then all of a sudden, my Instagram feed was serving me ad after ad of seemingly drool-worthy microwave meals. And everything's ready in 2 minutes?! Get out of here. 
I just had to try it myself. So, I jumped on the opportunity when it was decided that Garage Gym Reviews was delving into the big, big world of the best meal delivery services.
For this Factor meals review, I tested Factor for two weeks and collaborated with registered dietitian Perry Nix for a nutrition expert's take on the service. Here, I'll divulge all of the mouth-watering and not-so-mouthwatering details you need to know.
RELATED: Best Prepared Meal Delivery
40 Meal Delivery Services Tested
We don't like to toot our own horn (OK, sure, we do), but we're willing to bet that most other health and fitness review sites on the internet can't say they dedicated more than a month and the time of more than 10 employees to test approximately 40 meal delivery services.
What's more is we didn't just test out these services. We lived them. We cooked these meals and fed them to our families; we forewent midday Instacart-ed Chipotle to eat a microwave meal instead; we (I) ate frozen cauliflower flatbreads when, really, what we (I) wanted was a Five Guys burger.
Medical disclaimer: This article is intended for educational and informational purposes only. It is not intended as a substitute for medical advice. For health advice, contact a licensed healthcare provider. GGR also recommends choosing a product that has been third-party tested for quality.
Factor 75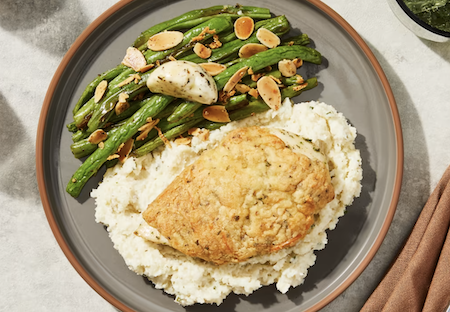 GGR Score: 4.03
Product Highlights
Heat-and-eat meals that are delivered weekly

Five menu plans, including calorie-controlled and keto

Can mix and match from different menu plans for more variety

New menus drop weekly

Can order up to 18 meals per week
Pros & Cons
Pros
Not restricted to one specific diet plan
Meals arrive fresh and ready to heat
Offers options for different dietary preferences
Can cancel or skip a delivery anytime
Cons
No options for customization
No personalized plans for weight loss
Bottom Line
Factor75 is a heat-and-eat delivery service that works well for those on specialized diets. Boxes are delivered weekly, and you can mix and match from different menu plans to maximize your menu variety.
A Quick Look at Factor Meals
Factor 75 was founded in 2013 in Batavia, Illinois, by business partners Mike Apostal and Nick Wernimont. Yep, that means the company is 10 years old! I was surprised, too, since it has so recently exploded in popularity. In 2020, HelloFresh acquired Factor 75, and its headquarters was moved to Chicago.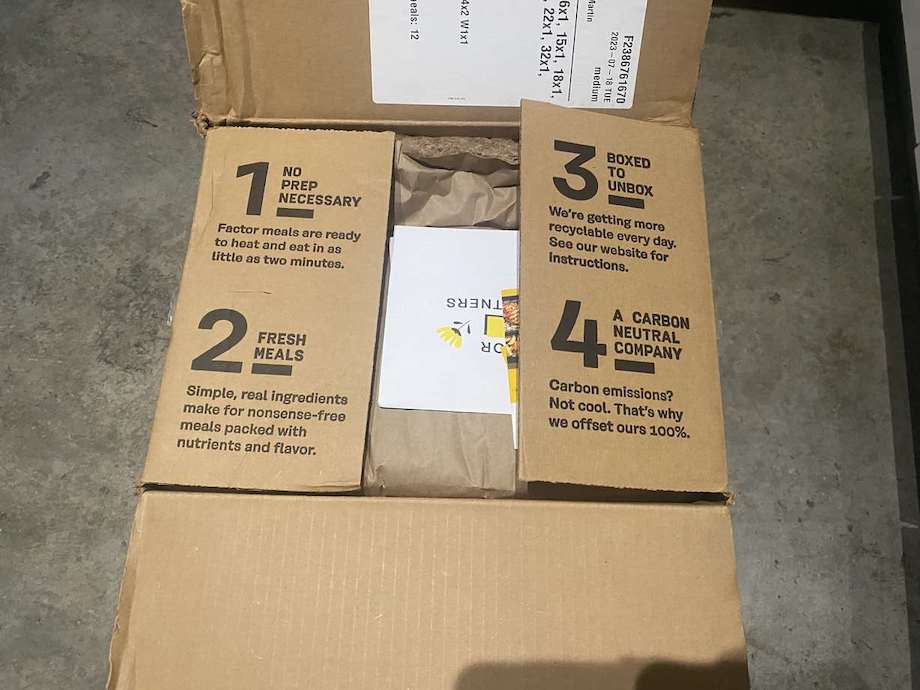 Factor produces ready-to-eat microwave meals aimed at busy individuals who don't have time to or don't want to cook (feel that!). The company offers a few different meal plans, including a high-protein track, low-carb plan, and vegetarian option.
Before You Buy
Promo codes and offers: Often, this type of meal kit service offers promotions on your first box. Before checking out, look to see if there are any codes you can apply to save some cash (sometimes codes are automatically applied for first-time customers).
Not great for families: Factor meals can get expensive quickly, and since they only come in individual portions, it doesn't make a lot of sense to use Factor for family meals.
Lots of sodium: My primary concern with Factor meals is that most of the meals contain high amounts of sodium. Sodium is not inherently bad—and some people, like myself as a triathlete, need a LOT of it—but those who need to watch their sodium intake for medical reasons should talk with a doctor or dietitian before trying Factor.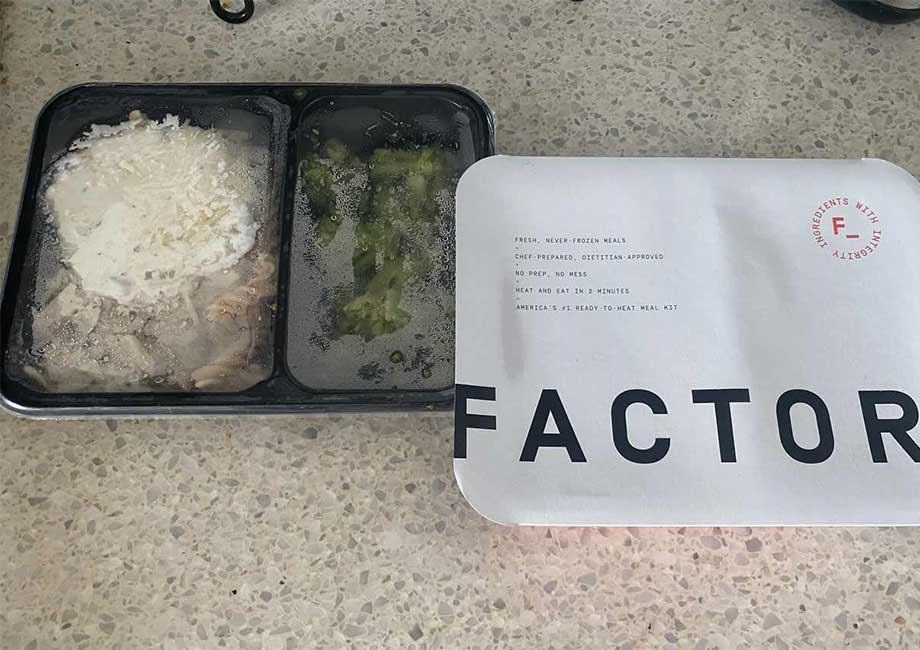 RELATED: Best Meal Delivery Service for Weight Loss
Is Factor Worth It?
As with all things, Factor meals will prove worth it for some individuals and not worth it for others. Diet and eating patterns are super subjective, not to mention taste preferences, so it's really up to the individual to decide. (But we can help.)
Firstly, I'm sure you're most concerned about the cost of the service. The price per meal changes a bit based on how many meals you order in each box, but overall, I'd say Factor is average in terms of price. We rated it as a 3 out of 5 for pricing since it aligns with the general cost we've come to expect in our testing.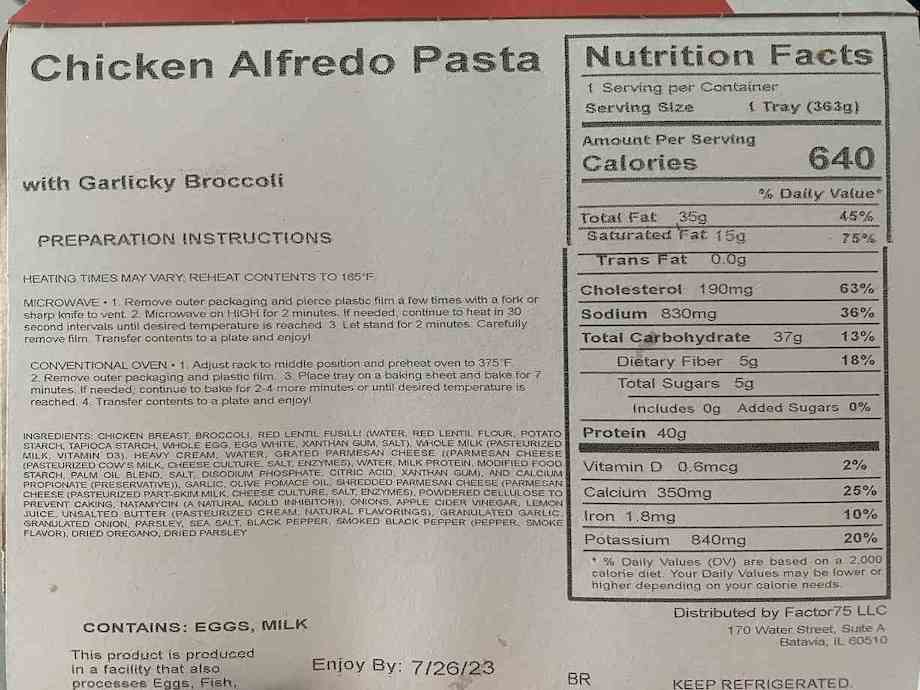 Registered dietitian Perry Nix gave us her initial impression of the service. "Factor provides fresh, ready-made meals to support those with a hectic lifestyle," she says. "Many people don't know where to start when it comes to shopping for nutrient-rich ingredients and cooking balanced meals."
"Factor does the shopping and cooking for you so you can improve your diet completely hassle-free," Perry continues. "Factor meals arrive fresh, not frozen, so you can keep them in the refrigerator and simply heat them up in the microwave when you're ready to eat."
Here's a look at who might want to consider Factor, and who should look into other meal delivery services.
Great for:
Busy individuals who don't want to or don't have time to cook
Athletes looking for quick, filling meals
People who struggle to eat enough veggies (Factor makes veggies taste good!)
Not recommended for:
People on a budget
Eco-conscious individuals trying to reduce plastic use
Those who need to watch their sodium intake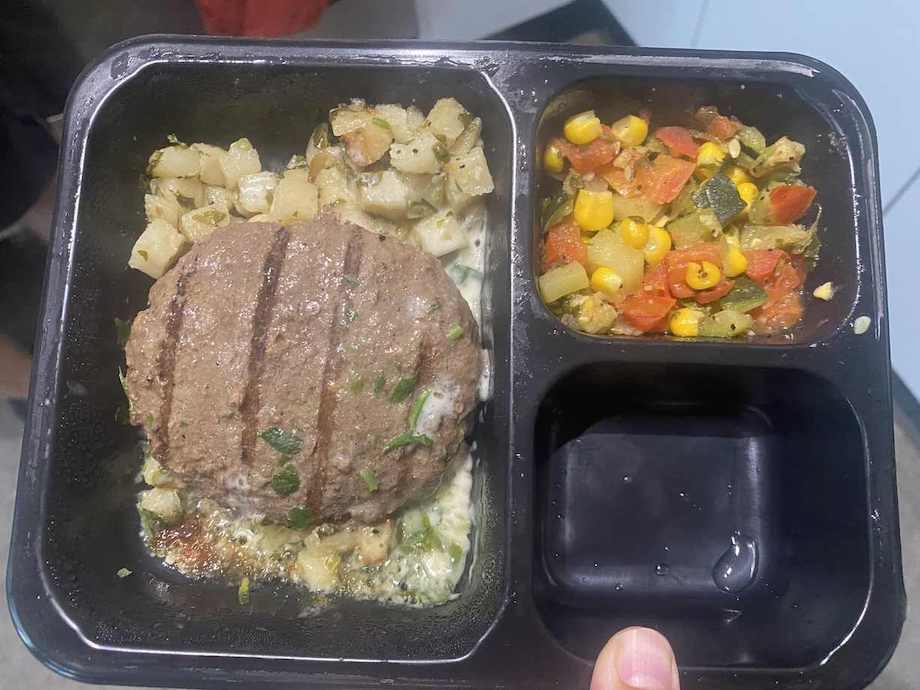 Factor Specs
| | |
| --- | --- |
| Price per meal | $74.95 for 4 meals/week (lowest option) = $18.70 per meal; $406.36 for 36 meals (highest option) = $11.29 per meal |
| Meals per week | You choose from 4 to 36 meals per box (one box per week) |
| Meal kit or prepared | Prepared; microwaveable |
| Diet options | Chef's Choice, Protein Plus, Vegan & Veggie, Calorie Smart, Keto |
| Fresh or frozen | Fresh |
| Delivery area | Nationwide except Alaska and Hawaii |
Experience Using Factor Meals
I tested Factor meals for two weeks and got eight meals per box. I chose the Protein Plus plan, which is Factor's selection of high-protein meal options. I chose a few breakfast meals—two each week—to mix things up, and the rest were lunch or dinner meals.
I typically ate the meals for lunch (even the breakfast ones) because I train in the mornings and don't always have time for a sit-down meal until lunch. I know, I know. I should have time for a microwave meal. But when I eat, I like to be away from my computer, so I often just have a shake in the mornings (shameless plug for Huel, which has grown on me and is on our guide to the best protein shakes) and then sit down for lunch later.
Usually, I like to cook dinner; it's a fun way for me to be creative and clear my head. So, my Factor meals were reserved for lunch except in the case of a real time crunch in the evening—in which cases, they truly came in clutch and saved the day.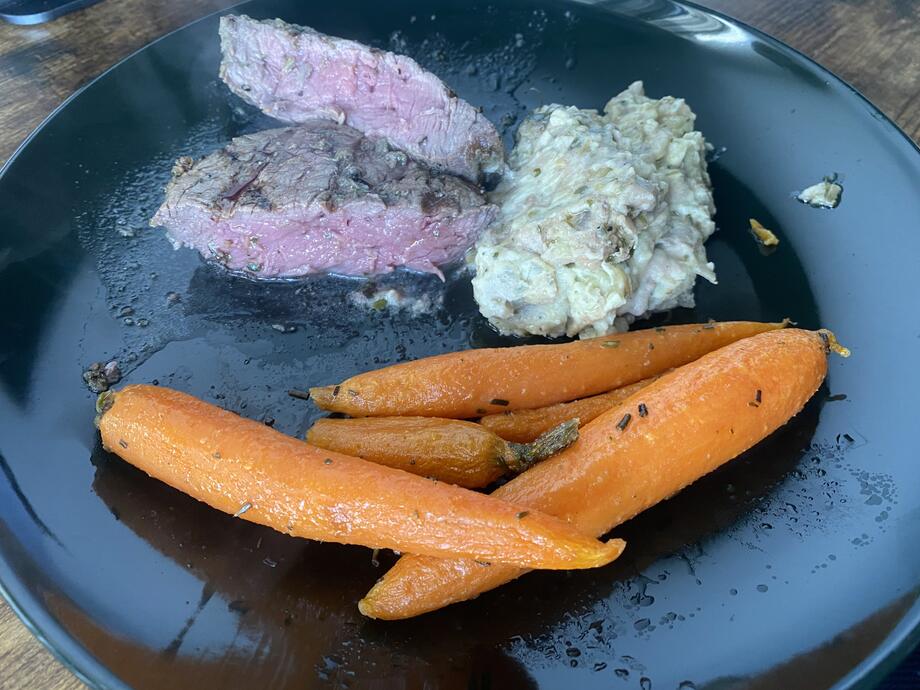 Price Per Meal
The price for Factor meals ranges from nearly $20 per meal (yowza) to about $12 per meal depending on how many meals you get in your box. The price goes down as you add more meals to your box: It costs $74.95 for the smallest box (four meals) and more than $400 for the largest box (36!) meals.
For reference, our rating system for meal delivery pricing is as follows:
To get a 1, $16 or more per meal
To get a 2, $14-16 per meal
To get a 3, $10-14 per meal
To get a 4, $8-10 per meal
To get a 5, less than $8 per meal
To enjoy that $12 per meal price, you'd have to get 36 meals in one box. That's a LOT for one week—more than 5 meals a day. This could possibly work for a family or a couple consisting of two athletes with high training volume, but people who are single or who don't have children may end up wasting food with this option.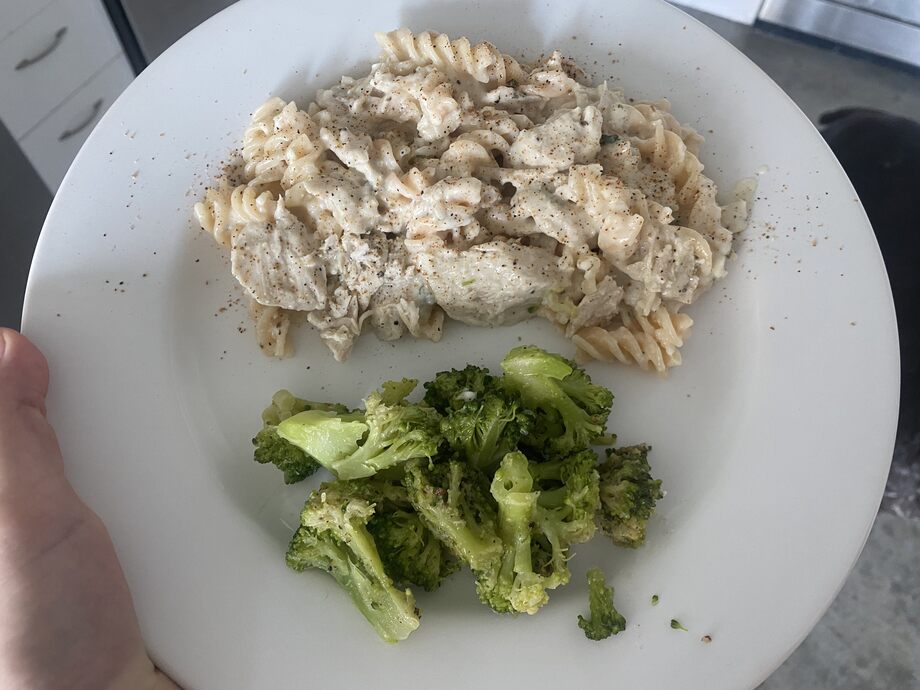 Perry says she doesn't think Factor is a great choice for families because of the price. "Factor isn't the best option for families considering you can only buy single-serve meals," she explains.
"The cost of buying several for an entire family would add up quickly."
I chose eight meals per week ($12.99 per meal) and that ended up being too many for me. I ended up eating some when I didn't want to in order to not waste them. If I ordered again, I'd choose five meals per week.
Factor Meal Preparation
There isn't much prep or cleanup involved with Factor meals, and this represents much of the draw toward the service. The target market is definitely busy people and single people, and those who don't like to cook.
It truly couldn't be easier: Just choose the meal you want, pierce the plastic film, and microwave it for two to three minutes. You can transfer the meal to a plate, or if you're savage and lazy like me, eat it right out of the plastic tray, TV-dinner style.
Even if you do transfer your meal to a plate or bowl, cleanup is minimal. All you have to do is toss the tray and film and clean your plate and fork. This caused Factor to score an easy 5 out of 5 points in this category.
RELATED: High-Protein Foods List for Weight Loss—60+ Options
Taste, Ingredient Quality, and Portion Size
When registered dietitian Perry Nix looked at Factor meals, she immediately noticed the wide range of calories per meal and how that can accommodate different people.
"Factor meals contain anywhere from 350 to 900 calories, so you can choose entrees based on your personal calorie needs and health goals," she says. "This wide range in calories makes Factor appropriate for those wanting to lose weight and those who just want to eat more nutrient-dense foods without cutting calories."
I also noticed this when I was adding meals to my box. If your goals include weight loss, you'll definitely want to double-check the nutritional information before your box ships to ensure you chose the lower-calorie options. The opposite is also true if you're in an active bulking period.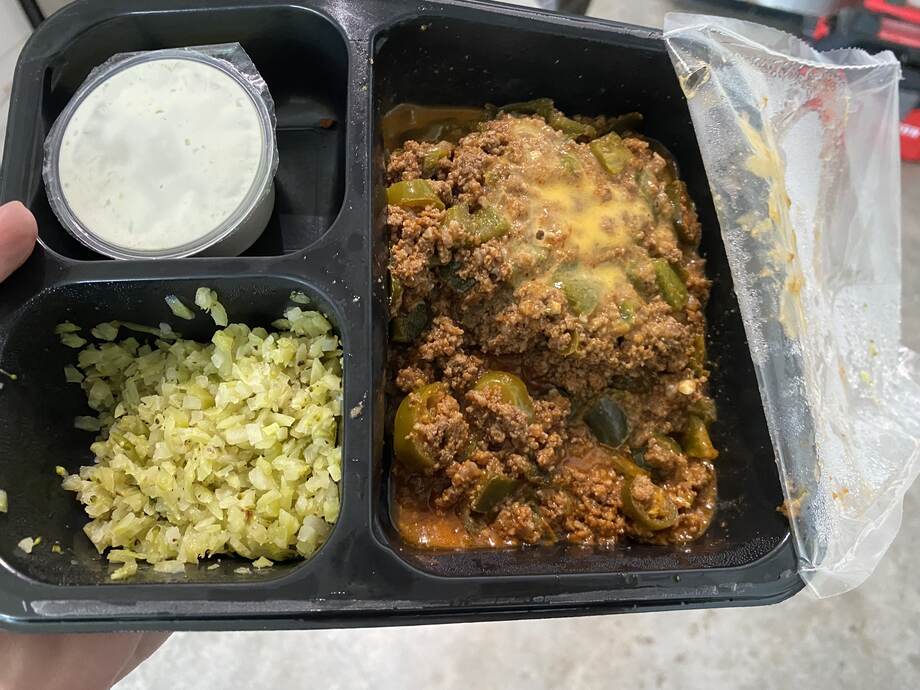 As for portion size, Factor was the only one of four meal prep services I tried that truly filled me up. I'm currently training for a half-Ironman race and my training volume is quite high, so small portions don't cut it for me these days.
Additionally, I was truly surprised at how high-quality the cuts of meat were. I chose a few steak meals despite being hesitant to microwave red meat, because I'm just so dang tired of chicken breast, to be honest. And Factor did it right: Even after 2 to 3 minutes in the microwave, the filets were pink in the middle and extremely tender. 
Other meals I liked included the garlic pork tenderloin with green beans, the chicken fettuccine alfredo, and blueberry pancakes with turkey sausage and cinnamon butter (drool). I was not a fan of the breakfast tostada bake or the spicy poblano beef bowl, but I wouldn't say they were outright bad—just not my style.
Overall, I'd rate the taste of Factor meals as better than average, but not astounding; I awarded the service 4 out of 5 points in this category. I humbly think I can make better food, but I can't make better food in 2 minutes… 
RELATED: Green Chef Reviews
Meal Plans and Customization
Factor's menu includes a variety of pre-made meals in different categories.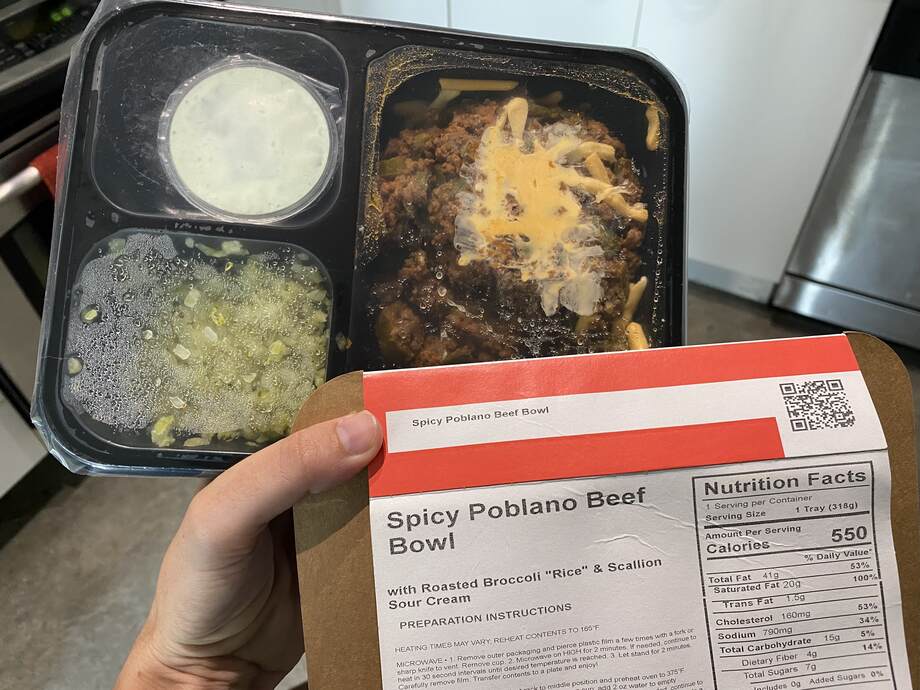 The plans are called:
Protein Plus (high-protein)
Calorie Smart (low-calorie)
Vegan and Veggie (plant-based)
Keto Diet (low-carb keto meals).
There are no explicitly gluten-free, dairy-free, vegan, or paleo options. When you choose your plan, Factor will select the appropriate meals to show for your weekly menu.
The menus are substantial, but as it's a prepared meal delivery service, I feel like you have to expect variety to be limited compared to what you can come up with if you go grocery shopping on your own. While Factor does have a large, rotating menu, I think you'd eventually hit a wall and get bored (at least, I would).
However, you can also choose add-ons to make your box more exciting and fulfill different needs. There are shakes and smoothies, soups, juices, desserts, egg bites, wellness shots, and side dishes.
RELATED: Little Spoon Reviews
Ordering, Packaging, and Shipping
Ordering Factor meals is easy. After you sign up and choose your meal plan and number of meals, all you have to do is select the meals you want to add to your box.
Once you're set up and rolling, don't forget to edit your box before the cutoff time each week, or Factor will auto-select meals for you! You should get a notification in your email inbox when it's time to choose meals for your next box, but it won't hurt to add it to your calendar.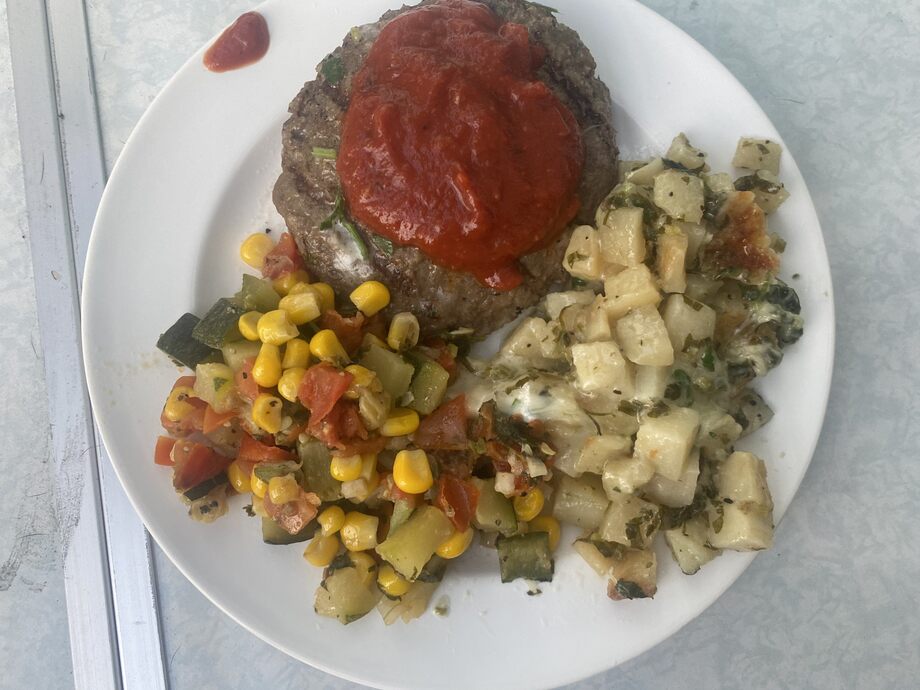 The packaging is pretty standard: the meals come in a cardboard box and are kept cold with gel ice packs. One of the gel packs in my box busted in transit, so I had a goopy mess to clean up. I can't fault Factor for this, as it likely happened during the delivery process after the box left Factor's grounds.
When you're set up with a Factor subscription, your boxes will ship weekly until you skip a week or cancel your subscription.
Factor Meals vs Trifecta
Trifecta Meal Delivery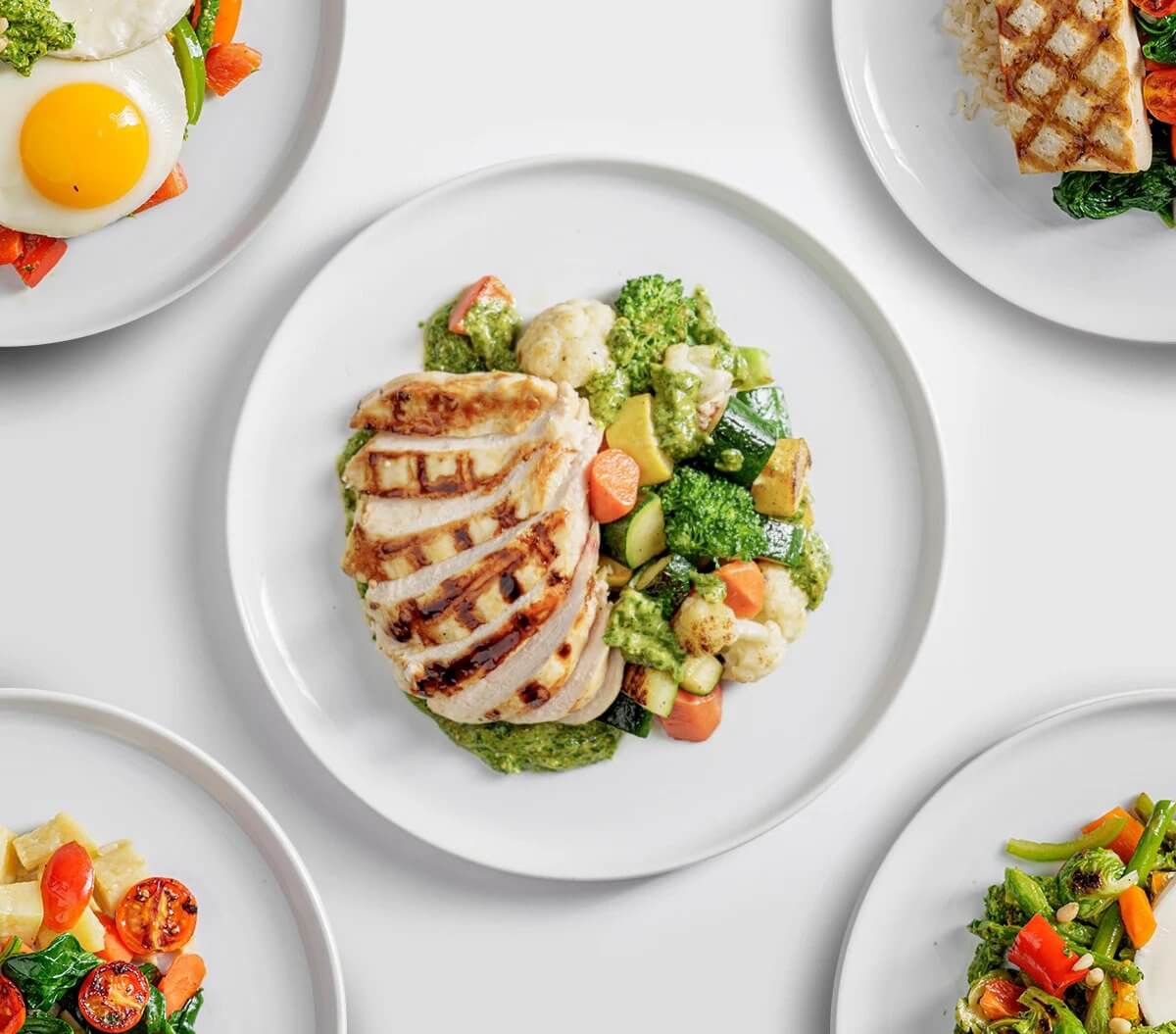 GGR Score: 4.3
Product Highlights
Meal plans or bulk meal options available

All food is pre-made and arrives fresh (but you can freeze it)

Six different menu plans, including clean, Whole30, paleo, keto, high-protein vegan, and high-protein vegetarian

Meals are delivered weekly, but you can cancel anytime

High-quality ingredients, with a focus on organic, locally sourced, and sustainable ingredients whenever possible
Pros & Cons
Pros
Several types of meal plans available
Can also choose a bulk meal prep option
Can get breakfasts as well as entrees
The company prioritizes high-quality ingredients
Some customization available
Cons
Expensive, but ingredients are high-quality
Limited personalization available
Bottom Line
Trifecta combines convenience with healthy eating. While all meals are pre-cooked and pre-portioned, the ingredients are high-quality and preservative-free.
Trifecta is another popular prepared meal delivery service, especially among athletes. Three people on our team of product testers tried Trifecta; two really loved it and one was not impressed (the one is a serious foodie, for what it's worth).
One thing I really like about Trifecta is that it offers a quiz to help you decide which meal plan to choose. You can choose from Clean, Paleo/Whole30, Keto, and Plant-Based. There are more than 100 meals to choose from between these four plans, and all of them are quick, easy microwave meals just like those from Factor. That said, Trifecta recommends heating up your meals in a skillet on the stove, and our tester's experience reaffirms this suggestion.
"You can absolutely microwave the Trifecta meals, and I did that for some of them because: convenience," says our tester, Kate Meier, GGR Head of Content. "However, the instructions on just about all the meals say that stovetop preparation makes the meals taste better, and I totally agree. I cooked the chicken and broccoli casserole and two of the egg meals in a skillet, and I do think they were better than the egg bowl I made in the microwave, which ended up soupy."
The price per meal is similar, with 10 meals per week ringing up at about $14 per meal. Trifecta is slightly more expensive—Factor's 10-meal box comes out to $12.49 per meal.
Customer Experience
Factor makes it easy on you, the consumer. The sign-up process is a breeze, and cancellation or skipping a week couldn't be easier. I didn't have to interact with a human (or a bot) at all to do either. Just navigate to your profile settings, and under Status, skip or cancel. I awarded Factor all 5 points in this category for making this so easy and not taking unnecessary time out of my day to deal with a long cancellation process.
Customer Reviews
There aren't any customer reviews on the Factor website, but on TrustPilot, Factor has an average rating of 4 out of 5 stars out of more than 40,000 reviews. That's nothing to scoff at! Clearly, subscribers generally enjoy their experience with Factor meals.
One reviewer wrote, "I am seriously blown away by how delicious these meals are. To be frank, my expectations were pretty low, as many premade meals fall short, but these definitely did not disappoint! We are fairly new to Factor so we're trying different meals and are happy to share that we haven't yet come upon one we didn't care for. There's a nice variety of meal options, appropriate portion sizes, and easy web/app interface for making selections."
One of the (very) few not-great reviews states, "The food seems to be good overall but a tad too expensive for what you get, especially when the honeymoon is over (initial promos). And the packaging seems wasteful but we understand it has to keep the meals cold for an extended period of time. Lastly, we stay away from the fish since it has that fishy smell by the time we reheat."
Many reviewers wistfully wrote that they love Factor meals, but couldn't continue on with the service due to the cost.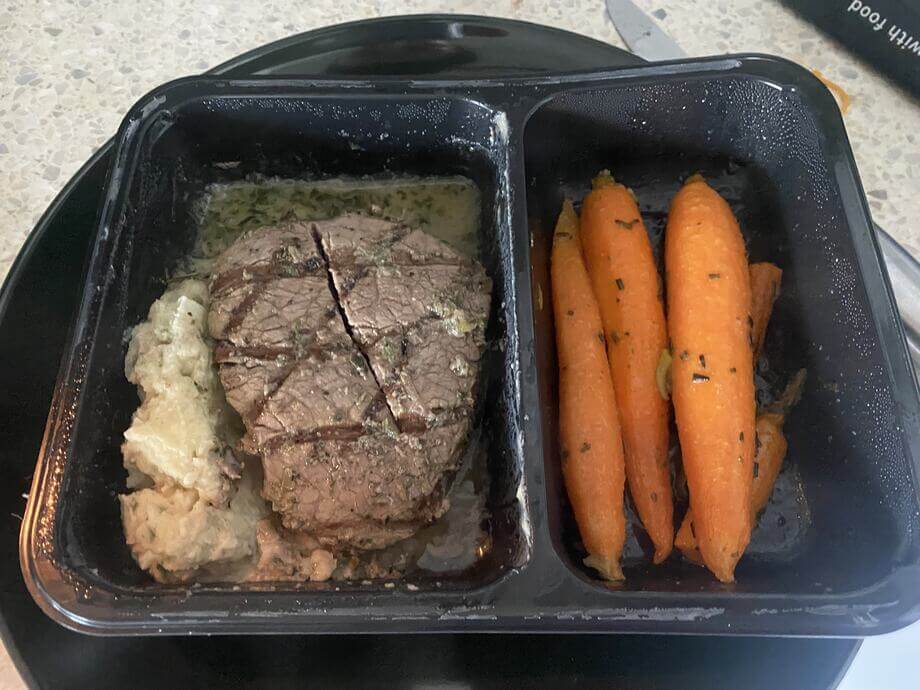 Final Verdict of Our Factor Meals Review
Factor is a good food delivery service option for people who want to remove the hassle of going to the grocery store or improving their cooking skills. It's a great subscription service for singles or people (single or not) who need a convenient but healthy meal for lunch. I'd say overall it's one of the best meal delivery services out there, although I'd like to see more meal options for different dietary restrictions.
Factor Meals Full Rating
Factor Meals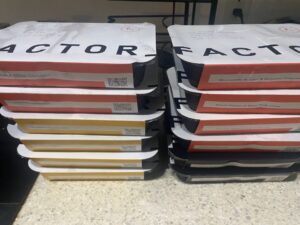 Our Factor meals review takes an in-depth, critical look at this popular meal delivery service, with insights from a registered dietitian.
Product Currency: USD
Product In-Stock: InStock
Factor Meals FAQs
Where does Factor 75 deliver? 
Factor delivers meals everywhere in the continental U.S. The company does not ship meals to Alaska or Hawaii. Factor also delivers to Ontario, Canada, and is working on expanding its delivery area.
Are Factor meals any good?
Taste is very subjective, but as someone who ate Factor meals for two weeks straight, I can say they taste pretty good. I think I can cook better from scratch for the most part, but for such a convenient and quick meal, it's certainly not bad.
Do Factor meals have preservatives? 
Factor says that all of its meals are made without preservatives. However, you may see some unfamiliar ingredients on the label, which typically are anti-caking agents, stabilizers, or other ingredients for texture, such as modified food starch or guar gum.
Is Factor 75 owned by HelloFresh?
These statements have not been evaluated by the Food and Drug Administration. This product is not intended to diagnose, treat, cure, or prevent any diseases.