We test and review fitness products based on an independent, multi-point methodology. If you use our links to purchase something, we may earn a commission. Read our disclosures.
Athletes and fitness enthusiasts alike have to dial in nutrition and recovery, and with the amount of training an athlete can perform daily, they might start looking for the best meal delivery service for convenience and to save time. One such meal service is geared toward athletes and those with fitness goals: Trifecta Nutrition.
Trifecta is made with macros in mind, making it ideal for athletes and those being conscious of their food intake. Made with quality ingredients, the meal service provides good organic ingredients, as well. But how does it stack up to other meal services? Also, is it the best meal service for athletes?
We had two different product testers try out the Trifecta meal delivery service, and we also talked to a registered dietitian for an expert opinion. Read on to learn more about the highs and lows of this meal delivery service.
Medical disclaimer: This article is intended for educational and informational purposes only. It is not intended as a substitute for medical advice. For health advice, contact a licensed healthcare provider.
Experts in Nutrition and Product Testing
When it comes to nutrition, you don't want to just guess on what works and what doesn't. That's why our team of product testers at Garage Gym Reviews live this life; we're a team of certified nutrition coaches, personal trainers, and lifelong athletes, so we know about what quality foods help fuel you as a fitness enthusiast and athlete.
In addition, we talk to the experts in the field. With Trifecta and other meal delivery services, we got the expert opinion of registered dietitian Perry Nix, who gave us her pros and cons of Trifecta. We had two product testers for Trifecta: Sarah Price, and GGR's head of content and certified personal trainer Kate Meier. They gave their honest feedback of their experience with this meal service.
Trifecta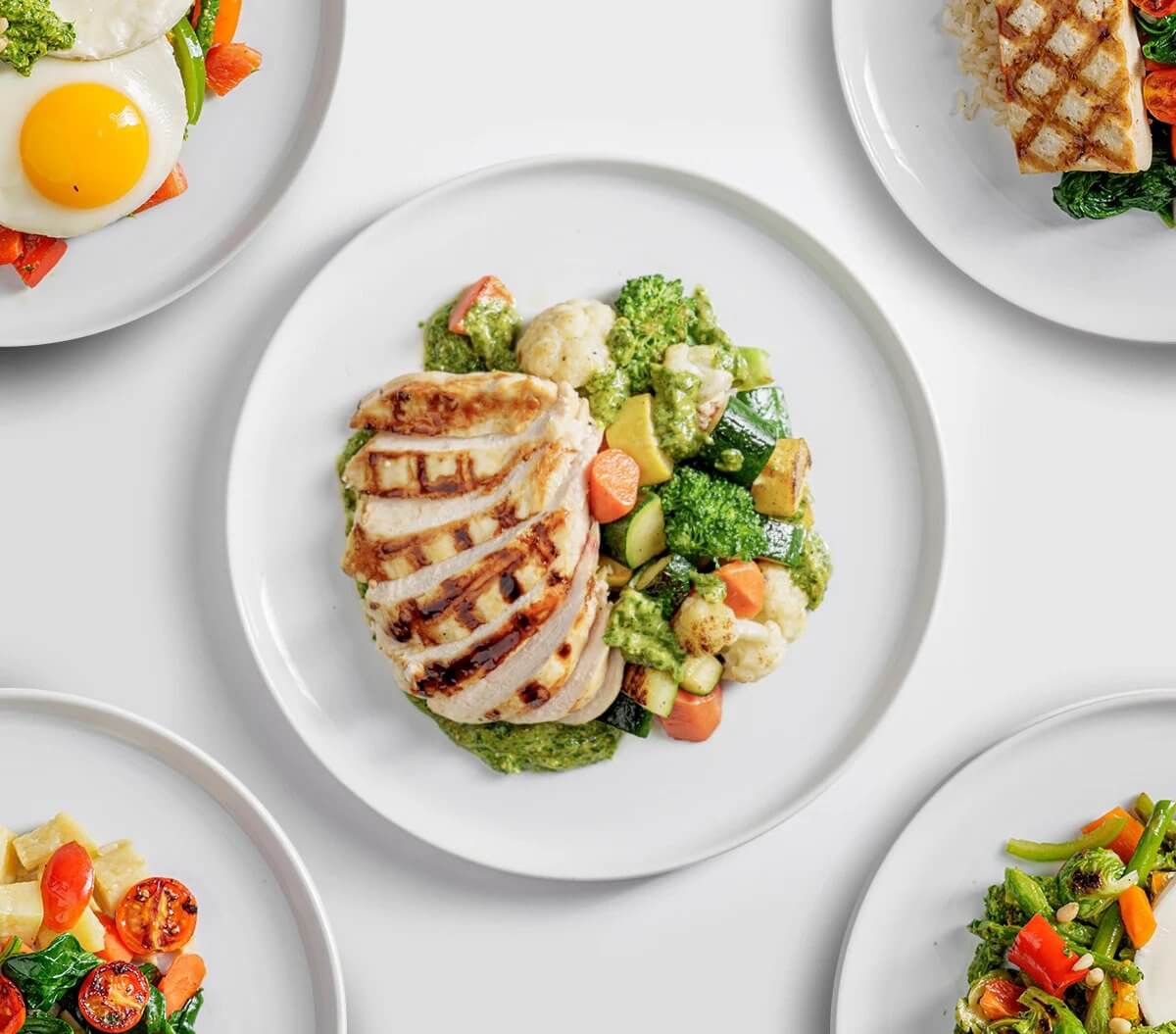 GGR Score: 4.1
Product Highlights
Meal plans or bulk meal options available

All food is pre-made and arrives fresh (but you can freeze it)

Six different menu plans, including clean, Whole30, paleo, keto, high-protein vegan, and high-protein vegetarian

Meals are delivered weekly, but you can cancel anytime

High-quality ingredients, with a focus on organic, locally sourced, and sustainable ingredients whenever possible
Pros & Cons
Pros
Several types of meal plans available
Can also choose a bulk meal prep option
Can get breakfasts as well as entrees
The company prioritizes high-quality ingredients
Some customization available
Cons
Expensive, but ingredients are high-quality
Limited personalization available
Bottom Line
Trifecta combines convenience with healthy eating. While all meals are pre-cooked and pre-portioned, the ingredients are high-quality and preservative-free.
A Quick Look at Trifecta
Based in Sacramento, California, Trifecta Nutrition Meals was founded in 2015 with the goal of helping America get back in shape. They have a "food as medicine" approach to their meals, and to meet this end, Trifecta offers meals that are designed to help lose weight, as well as help address gut health and other chronic illnesses. There are dozens of testimonials on their website that show the success of their meal plans in aiding people on their fitness journeys.
Meals can be customized as much or as little as you want, starting with one of four meal plans, and choosing either a chef's selection or you can select meals a-la-carte. From there, you can also exclude certain ingredients based on preference or dietary needs. The meals are made with macros and balance in mind, so this is a great option for athletes.
Before You Buy
Be mindful of Trifecta's cancellation policy. To cancel an account or skip an order, Trifecta requires a seven-day notice prior, meaning you'll probably have to pay for one more weekly order before actually canceling.
Although not directly noted in the four meal plan options, Trifecta does have options for gluten and dairy sensitivities. For example, the plant-based meals are gluten-free, and the paleo options won't have dairy.
We'll dive into this later, but there are several disgruntled customer reviews that report bad experiences with customer service, particularly in canceling their order. Trifecta does seem to be addressing these reviews recently, and we didn't experience any negative interactions with customer service, but it's still something to be mindful of.
Is Trifecta Worth It?
Trifecta is worth it to the right people. This is a more expensive prepared meal service; still, it's not as pricey when compared to other meal delivery services for weight loss. Prices are as low as $13.79, depending on how many meals you order each week, which is only a couple dollars more than services like Diet-To-Go. Still, the extra cost can add up, so this may not be the most budget-friendly option.
As far as the meal quality, the ingredients are high-quality, and sourced organically. Meats are hormone-free, and beef is grass-fed. So for athletes looking for quality ingredients, Trifecta is a good way to go.
Dietitian Perry Nix, RD, elaborates on the quality of Trifecta for athletes and gym goers, "Trifecta offers high-protein, macro-balanced meals, made for those looking to improve strength and build muscle. All meals are made with lean protein, complex carbs, and veggies. Complex carbs often used in their meals include wild rice and quinoa, both of which provide lasting energy."
RELATED: 10 Best High-Protein Meal Deliveries
Great for:
People looking to track macros or calories
Athletes wanting clean eating but don't want to think too much about it
Those looking for a low-calorie meal option
Trifecta Specs
| | |
| --- | --- |
| Price per meal | Starting at $13.79 |
| Meals per week | 7 to 21 |
| Meal kit or prepared | Prepared meals |
| Diet options | Keto, paleo, Whole30, plant-based |
| Fresh or frozen | Frozen |
| Delivery area | Nationwide |
Experience Using Trifecta
Our use of Trifecta was generally positive, with a few missteps on taste and portion size. Ordering was simple, as you choose from four meal plans and then can swap out meals or customize to your preferences. Our product tester Sarah Price chose the Keto Meal Plan, while GGR head of content Kate Meier chose the Whole30 and paleo meals. There are also vegetarian meal plans and clean meal plans, as well.
RELATED: Best Paleo Meal Delivery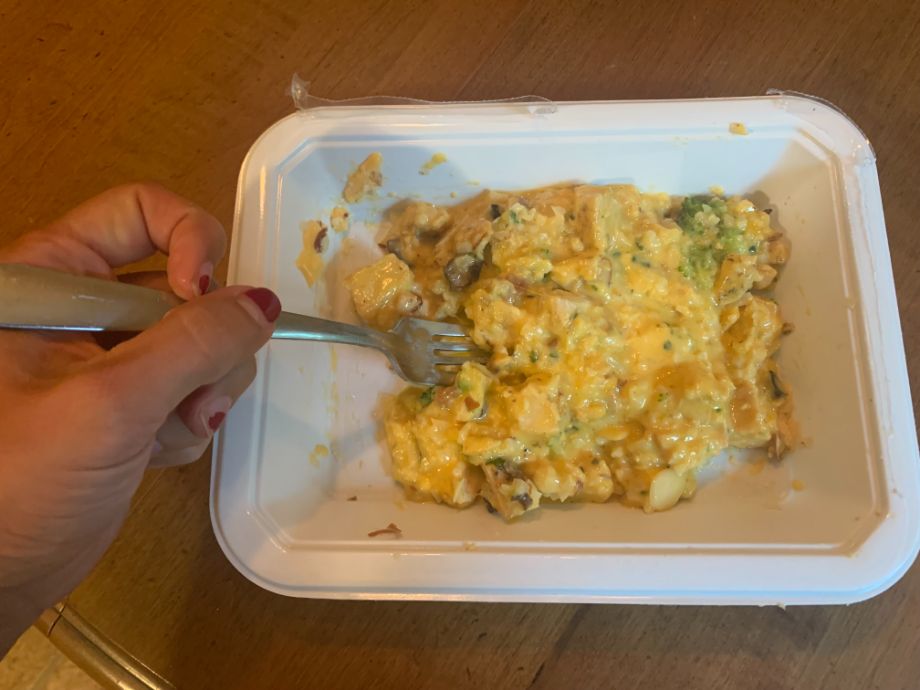 The meals were simple, but made with organic produce and veggies and lean protein. They allow you to exclude ingredients for those with food allergies. This is a great option for people tracking macros, carbohydrates, or more, as the meals are portioned out. Athletes like Trifecta as well, since the quality of ingredients allows for clean eating. The taste was a little hit and miss to our testers, but overall, it was a good experience.
Price Per Meal
Trifecta is one of the pricier meal services available, even for premade meals (which are typically a bit more expensive). The lowest price per meal is from bundling 21 meals a week, and it's $13.79 a meal, with just seven meals costing $14.99. Another of our favorite prepared meal deliveries Fresh N' Lean starts at under $10 for their a-la-carte menu.
However, Trifecta does charge a flat $9.99 shipping fee to the contiguous United States, which won't add much to your order. If you're in Hawaii or Alaska, the fee is $49.99, though. For its price per meal, we rated this meal service a 3 out of 5.
Trifecta Meal Preparation
There's hardly any preparation involved with Trifecta meals. These classic meals can be cooked over a stovetop, with an air fryer, or stuck in a microwave. You're reheating these meals, so really it's a preference thing. Because of their ease of preparation, we gave Trifecta a 5 out of 5.
Trifecta recommends reheating these meals over a stovetop or oven for the best flavor results, and GGR head of content Kate Meier agrees from her experience, saying, "The instructions on just about all the meals say that stovetop preparation makes the meals taste better, and I totally agree. I cooked the chicken and broccoli casserole and two of the egg meals in a skillet, and I do think they were better than the egg bowl I made in the microwave, which ended up soupy."
Taste, Ingredient Quality, and Portion Size
For the most part, the taste of the Trifecta food was good, with a couple of misses. Sarah didn't customize her meal plan, so she got chef-selected meals for her order, which left her with some meals she didn't prefer. "I didn't like some of the meals," she said, "One was so spicy, I couldn't eat it at all."
Kate was able to customize her meal order, and tried quite a few different dishes. "I tried multiple egg scrambles, a salmon meal, a chicken and broccoli casserole, and I really liked the taste of all of them." She adds, "For context, I typically eat pretty plainly, so I don't need a crazy amount of flavor or spice. I do think these are great for quick, healthy eating."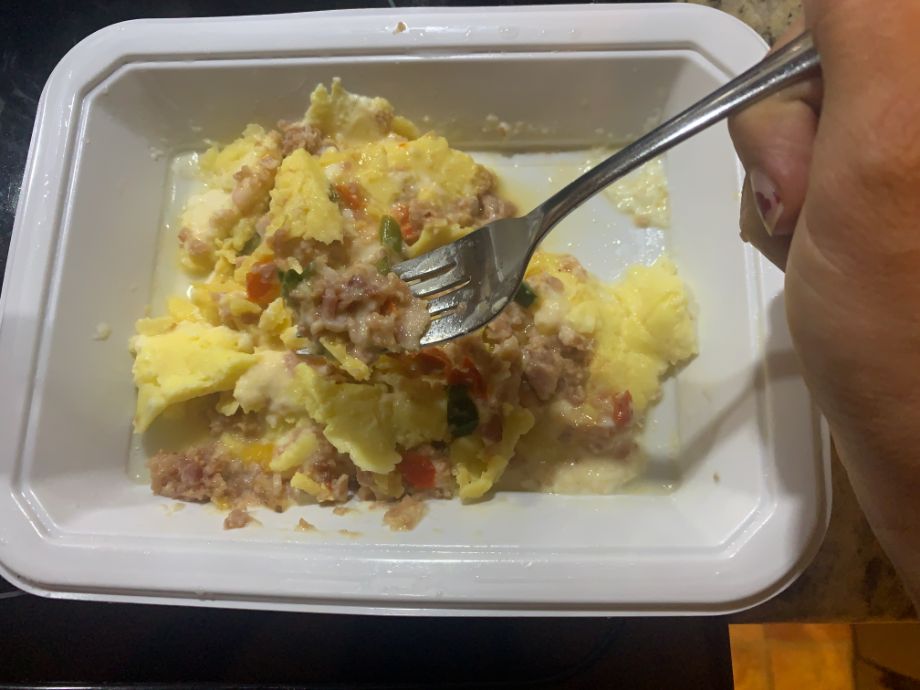 While they may not be the most seasoned meals, in our experience, if you're looking for a solid prepared meal, Trifecta is pretty good.
We gave the ingredient quality a 4 out of 5, as most ingredients are sourced organically and sustainably, although it isn't elaborated on how they source their food. In addition, Sarah notes that the organic ingredients are pretty fresh—especially considering these are frozen meals. "I really like the vacuum seal to keep the freshness in," she remarks. Beef used is often grass-fed, and meats are hormone-free and antibiotic-free.
Sarah appreciated the portion size of her low-carb meals, as the quality ingredients were measured out to fit macros. However, Kate notes, "I felt like the meals were a little on the small side. I was always hungry afterward."
This organic meal delivery service is geared for weight loss, as dietitian Perry Nix notes. "The meals are low-calorie," she says, "so you'll likely want to add snacks between meals to meet your energy requirements for the day." So while the portion sizes are good for low-calorie diets, if you're looking to get more calories out of your meals, this may not be the best plan for you.
Meal Plans and Customization
You base your weekly meals off one of four meal plans: Paleo Whole30, Clean Meal Plan, Keto Meal Plan, and Plant-Based Meal Plan. From there, you have the option of leaving the meals up to the chef, or you can choose specific meals you want for each week. If you leave it to the chef, you can exclude certain ingredients to match your dietary preferences—items like beef, pork, shellfish, salmon, spicy foods, tree nuts, turkey, and whole mushrooms.
RELATED: Best Low-Carb Meal Deliveries
While they don't outright say it on the plan names, depending on the meal plan, they have gluten-free and dairy free options for people with sensitivities or allergies.
This strikes a nice balance between the freedom to customize your plan and the option to leave it to Trifecta if people would rather not do too much choosing. For this reason, we gave the meal plans and customization a rating of 5 out of 5.
Ordering, Packaging, and Shipping
Ordering from Trifecta is pretty simple, but if you're not sure where to start, they provide a short quiz to help you along. Once you're ready, you choose from the four different plans, and you can then decide to swap out and choose your own meals if you'd like, or exclude ingredients from your order.
There is a lot of flexibility in shipping the meals, as you can select specific dates. Sarah notes, "With the summer heat, I am not sure the meals would stay fresh all day outside, even with the ice packs. So I picked delivery dates that I work from home." The boxes come with large ice packs and insulation, so with the added flexibility, we gave Trifecta a 5 out of 5 for packaging and shipping.
Comparison to Similar Products
Factor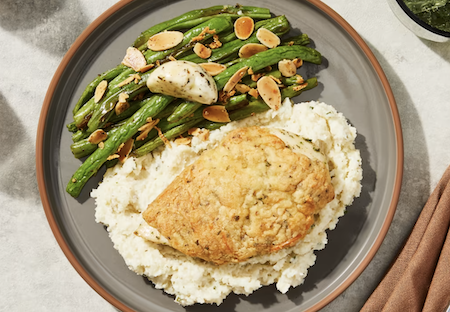 GGR Score: 4
Product Highlights
Heat-and-eat meals that are delivered weekly

Five menu plans, including calorie-controlled and keto

Can mix and match from different menu plans for more variety

New menus drop weekly

Can order up to 18 meals per week
Pros & Cons
Pros
Not restricted to one specific diet plan
Meals arrive fresh and ready to heat
Offers options for different dietary preferences
Can cancel or skip a delivery anytime
Cons
No options for customization
No personalized plans for weight loss
Bottom Line
Factor75 is a heat-and-eat delivery service that works well for those on specialized diets. Boxes are delivered weekly, and you can mix and match from different menu plans to maximize your menu variety.
Factor has fast become another popular prepared meal delivery for weight loss and for athletes. Senior staff writer and certified nutrition coach Amanda Capritto tested out Factor and was overall pleased with the prepared meal delivery service. Just like Trifecta Nutrition, these prepared meals take the stress out of meal prep and are great options for people looking to eat clean, healthy meals.
With Factor, you have a bit more versatility in how many meals you order: between 4 and 36 meals per week. Meals are microwaveable like Trifecta, as well. Like Trifecta, you can choose from different meal plans geared toward dietary needs or restrictions—high-protein, low-calorie, vegan or vegetarian, and keto-friendly—and then pick meals from those plans.
RELATED: Best Keto Meal Delivery Services
One of the biggest factors comes to the calorie count and price. Trifecta focuses on balancing macronutrients and keeping calories on the lower side, whereas Factor has a variety of options. Dietitian Perry Nix, RD, says, "Meals contain anywhere from 350 to 900 calories, so you can choose entrees based on your personal calorie needs and health goals." If you're looking for something low-calorie or macro-focused, either will work, but Trifecta will have more options geared toward that goal.
However, if you're looking at price, Factor has a bit more value, as eight meals per week will cost about $12.99 a meal. That's close to a dollar less than Trifecta's best deal at 21 meals a week—$13.79. So, if you're focusing on budget or ordering for one person, Factor may be the better option.
Read more of our thoughts in our in-depth Factor Meals review.
Customer Experience
Trifecta has many ways available to contact them on their website: a phone number and email address, as well as a live chat on the website. Orders can be paused for up to four weeks at a time, and to cancel your order, contact them through one of those channels.
Trifecta requires seven days' notice prior in order to skip a week or cancel your account, which means you need to plan for when you want to skip. While there are quite a few reviews reporting bad customer service (more on that later), we personally didn't experience anything, and therefore gave it a 4 out of 5 in customer experience.
As far as sustainability goes, our tester Sarah noticed that Trifecta sends a lot of packaging with weekly meals. "The boxes are large, the insulation is pretty significant in the box, and the ice packs are large," she adds. While it may appear wasteful to send so much, Trifecta does say all of their packaging is 98% biodegradable.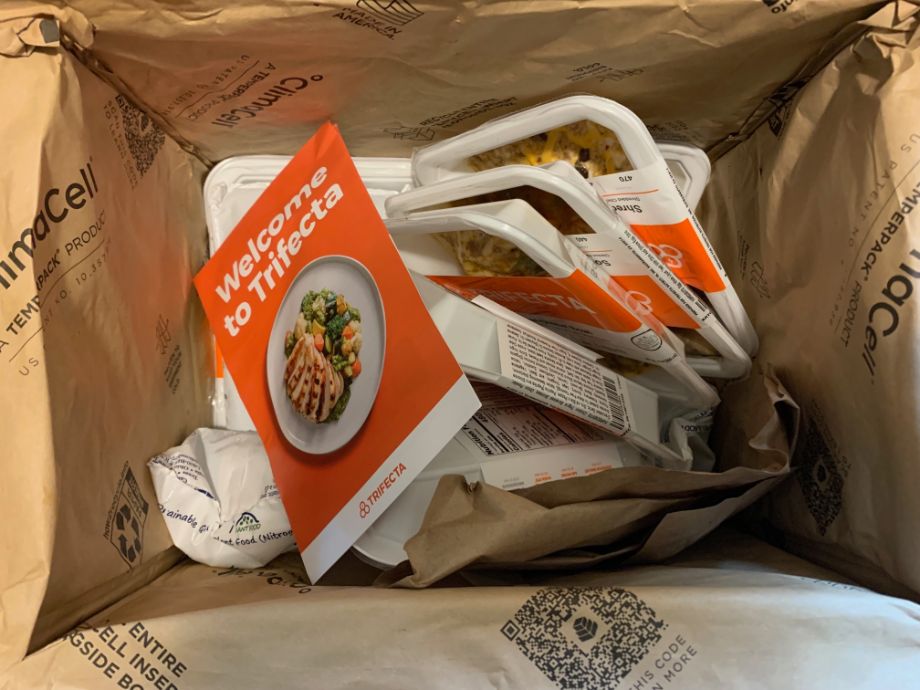 All food is prepared to order so as to minimize waste, and Trifecta says they strive to order organically from high-quality sources whenever they can. However, there is little information on how or where they source from. For this reason, we gave Trifecta a 3 out of 5 in their sustainability efforts.
Customer Reviews
There's a bit of a hit or miss when it comes to customer reviews for Trifecta.
Because Trifecta focuses on using food as a way to treat chronic illness and to aid weight loss, the website has dozens of positive success stories and testimonials—from people losing weight using their meals to people claiming it helped with gut health, heart health, and even depression.
However, Trifecta has 33 reviews on Trustpilot with a low average rating of 1.7 stars out of 5. Many of the negative reviews reported lackluster food, as well as bad customer service in rectifying the situation. Most complained about trying the food, disliking it, but then being unable to cancel their next weekly order, since Trifecta requires seven days to cancel or skip an order.
The silver lining is that Trifecta is responding to many of these reviews, although very recently—within the past week as of this writing. And while we didn't experience poor food quality or bad customer service, this is something to consider when purchasing a prepared meal delivery service like Trifecta.
Final Verdict of Our Trifecta Review
Due to the price of each meal, Trifecta may not be for everyone. However, the price may be worth it to athletes and those looking to lose weight or build muscle, especially with quality ingredients and proportioned macronutrients and calories. For the athlete or fitness lover who wants to simplify counting macros or meal prep by eating good whole foods, Trifecta is a solid choice.
Trifecta Rating
Trifecta Nutrition
In our Trifecta meal delivery review, we'll go over our experience with this meal delivery service catered toward athletes and those with fitness goals.
Product Brand: Trifecta
Product Currency: USD
Product Price: 13.99
Product In-Stock: InStock
Overall score: 4.1
Trifecta Meal Delivery: FAQs
How are Trifecta meals delivered?
Trifecta meals are delivered through a carrier such as FedEx or UPS to your door weekly. Meals are vacuum sealed in individual packages, which are then packed into an insulated box with ice packs to keep the deep-chilled meals chilled throughout the delivery process.
Are Trifecta meals worth it?
While a little pricier than other options, Trifecta provides organic quality ingredients in weekly meals, making this a convenient option for athletes or fitness enthusiasts looking to save time on their meal prep and still eat quality meals.
Are Trifecta meals pre-cooked?
Trifecta meals are pre-cooked, prepared meals delivered straight to your door. They require minimal preparation, as you're simply reheating the meals.
These statements have not been evaluated by the Food and Drug Administration. This product is not intended to diagnose, treat, cure, or prevent any diseases.