We test and review fitness products based on an independent, multi-point methodology. If you use our links to purchase something, we may earn a commission. Read our disclosures.
The paleo diet (aka the caveman diet) is popular for athletes and weight loss enthusiasts alike. The diet essentially focuses on eating whole foods like vegetables, fruits, nuts, seeds, and lean animal proteins while avoiding processed foods like chips, bread, wheat, and dairy products.
If you're already eating paleo (or want to start) but you need to find a prepared meal delivery or meal kit to reduce your time in the kitchen, then look no further than our curated list of the best paleo meal delivery services.
Our team of expert product testers includes certified personal trainers, nutrition coaches, triathletes, and Olympic athletes. Collectively, we put over 40 different meal delivery services to the test. While not all meal services we tried offer paleo-friendly options, of the ones that did offer paleo meals, we made our top picks based on the following criteria (among other factors):
Price per meal
Overall taste and texture
Ingredient quality
Customer service experience
For this list of best paleo meal delivery services, we also teamed up our Garage Gym Reviews panelist, registered dietitian and licensed dietitian Perry Nix, RD, LD, to help us break down the pros and cons of each meal delivery.
Medical disclaimer: This article is intended for educational and informational purposes only. It is not intended as a substitute for medical advice. For health advice, contact a licensed healthcare provider.
Best Paleo Meal Delivery
Best Organic Paleo Meal Delivery: Green Chef
Good for: Anyone seeking meals kits with organic ingredients
Green Chef is an organic meal kit delivery service that offers a smattering of different meal plans to suit a wide variety of dietary needs including meal plans for keto, low-carb, low-calorie, high-protein, gluten-free, vegan, vegetarian, pescatarian, mediterranean, and paleo diets.
Perry Nix, R.D., L.D., notes that, "Green Chef is unique because it's a certified organic meal kit company. All of their ingredients are organic unless labeled otherwise." And we agree that it is unique—less than half of the 44 meal services we tested offered organic ingredients.
Nicole Davis, senior editor here at GGR and a certified personal trainer and nutrition coach, gave Green Chef a 4.5 out of 5 stars for ingredient quality. While the ingredients didn't appear or taste different from some other non-organic meal kits she tested, Nicole notes that, "Green Chef is a no-brainer for those who prioritize organic food."
She gives the same 4.5-star rating for taste, too. She tested four different dinner entrees and while Nicole didn't specifically test paleo menu items, she is confident that Green Chef will deliver delicious paleo options your entire family will enjoy.
Nicole also ordered the breakfast bundle with her meal kit which induced oatmeal, egg white bites, muffins, and two recipes to make french toast and breakfast sandwiches. "The oatmeal was just OK but a good option to eat quickly in the morning," she says.
RELATED: High-Protein Breakfast Recipes
It's also worth noting that customer service with Green Chef can be hit-or-miss according to reviews on TrustPilot. However, Nicole had a pleasant experience overall, noting that she had "No issues with delivery—my box was on time mostly intact—and the ingredients were good and all there."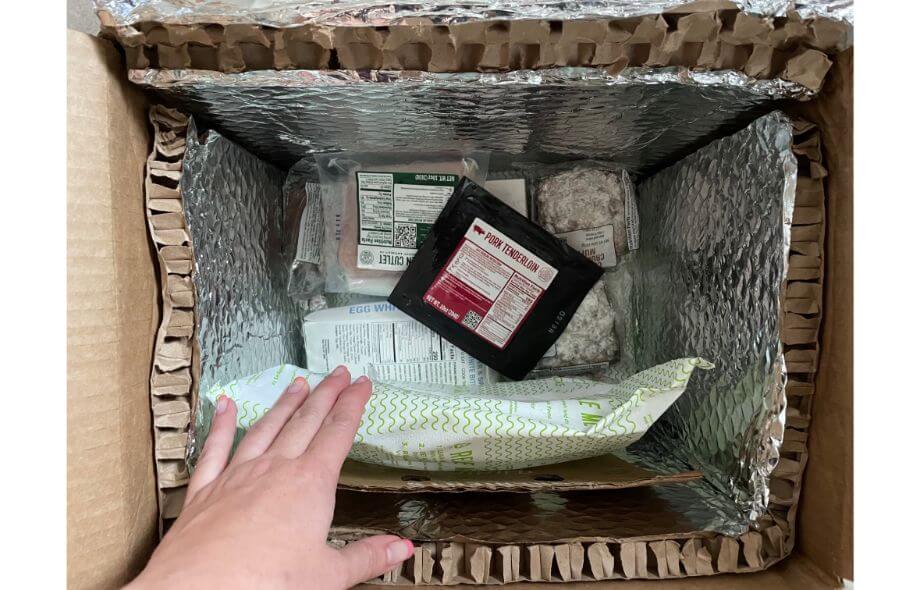 However, one thing that Nicole found annoying was the cancellation process: The brand wants you to type out a reason for canceling. "I find that obnoxious," says Nicole. "Just let me cancel and if I want to share why, I will."
You can read more about Nicole's experience in our in-depth Green Chef reviews.
| | |
| --- | --- |
| Price per serving | $12.99 |
| Type (meal kit or prepared) | Meal kit |
| Meals per week | 2-4 |
| Delivery area | Contiguous U.S. (except some parts of Louisiana) |
| Examples of meals we tried | Monterey Jack Cheese-Smothered Chicken with Mushrooms and Squash, Chicken Burrito Bowl, French Toast, and Breakfast Sandwiches |
Best-Tasting Paleo Meal Delivery: Fresh n Lean
Good for: Folks who want high-protein meals that also taste great
We picked Fresh n Lean for the best-tasting paleo meal delivery service because it knocked our socks off and blew away the frozen meal competition. The service not only offers paleo meal plans, but keto, vegan, mediterranean, and Whole30. There's even a Protein+ plan which features nearly 36 grams of protein in every meal.
RELATED: Best Plant-Based Meal Delivery
GGR's head of content, Kate Meier tested Fresh n Lean and was surprised just how tasty everything was including the sauces, proteins, and vegetables. She even notes the texture of the food was still pleasant even after reheating a frozen meal. For taste, Kate rates Fresh n Lean 5 out of 5 stars.
"The meals sounded good, but once I nuked them, I didn't think by the looks of them that they would taste so good," says Kate. "But I was surprised—The paleo red pepper chicken with sweet potatoes is delicious. Whatever sauce they used was perfect, and everything was juicy and moist.
"The steak was cooked medium and was perfect. Even the brussels sprouts (which looked a little mushy after microwaving) were still a little crispy," she adds. "My partner even said, 'this actually even tastes like a steak from a restaurant—it's actually that good.'"
Kate does note she used salt and pepper on the breakfast egg meals, but other than that didn't have to doctor anything up with sauces or extra condiments. She also notes Fresh n Lean provides healthy servings around 450 to 520 calories per meal, which was just enough to leave a little leftover for a snack.
Perry Nix, R.D., L.D., notes that Fresh n Lean is a great option for individuals or on-the-go meals but the servings are made for one. However she does mention that Fresh n Lean is ideal if you're trying to optimize your muscle and strength goals with the high-protein content.
Lastly, Kate says that her one complaint is it wasn't easy to cancel her subscription. "The website says you can do it online, but there was nowhere for me to do this. I had to directly contact customer support, which is annoying," she says. And for this reason, she gives Fresh n Lean a 4-out-of-5-star rating for customer service.
| | |
| --- | --- |
| Price per serving | $8.49 to $11 |
| Type (meal kit or prepared) | Prepared, frozen |
| Meals per week | Choose 1-3 per day (for 5- or 7-day plans) |
| Delivery area | Nationwide |
| Examples of meals we tried | Red Pepper Chicken with Sweet Potatoes and Bearnaise Grass Fed Steak with Roasted Sweet Potato |
Best Gluten-Free Paleo Meal Delivery: Pete's Real Food
Good for: Anyone who wants gluten-free paleo meals that are fresh, not frozen
Pete's Real Food is a meal service delivering fresh, prepared meals directly to your door. Not only are the meals fresh, Pete's Real Food caters specifically to Paleo diet meals and plant-based vegan meal plans—and everything is gluten-free.
It's worth noting that the menus change weekly and you won't be able to hand-select your items. Instead, you choose the number of meals you want delivered and they are pre-selected for you. Perry Nix, R.D., L.D. notes this as a potential downside if you're a picky eater or have food allergies. That said, Pete's Real Food offers an entire menu of dairy-free and gluten-free items.
RELATED: Best Gluten-Free Meal Delivery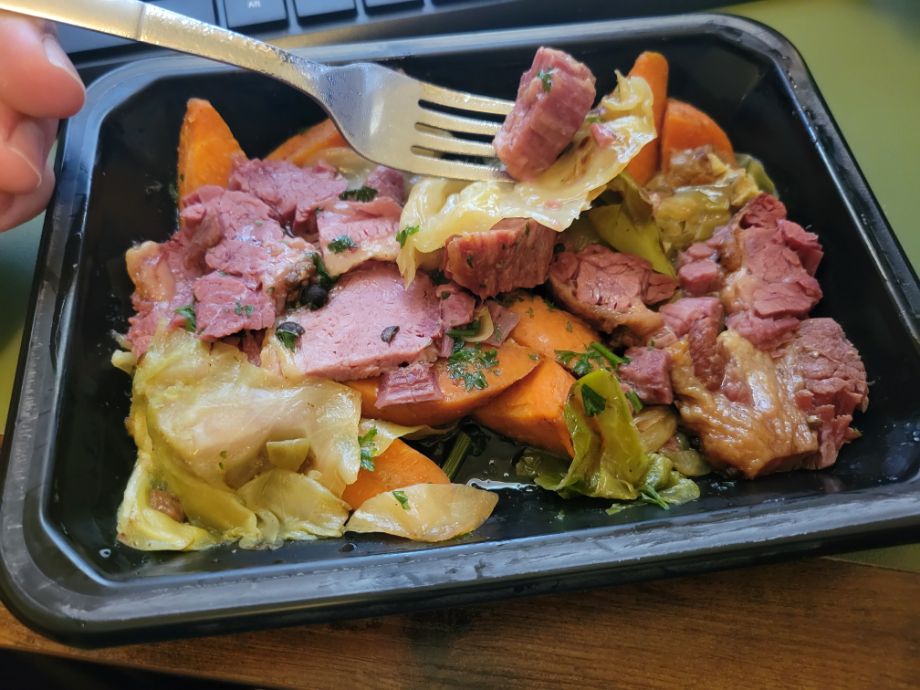 Olympic athlete, GGR staff writer, and expert product tester Caine Wilkes tested the Pete's Real Food meal delivery service and gave it a 4.5-out-of-5-star rating for overall portion sizes.
"Calories ranged from 300 to 500 per meal, with most above 400. I think the portion size will suit a lot of people," says Caine. "Although it was a hair small at times for a large athlete like myself."
That said, we appreciate the fact that you'll have the option for add-ons to your dinner entrees. You can double your protein or order an additional side, but it's only available for dinners. According to the website, Paleo meals feature the following in ounces:
Breakfast: 3.5 oz of protein and 5 oz of vegetables
Lunch: 3.5 oz of protein and 5 oz of vegetables
Dinner: 4.5 oz of protein and 7 oz of vegetables
For taste, Caine gives Pete's Real Food a 3.5-out-of-5-star rating "The food was pretty good, albeit some hit and miss," says Ciane. "The corned beef and cabbage was a highlight, but a lot of meals had bland vegetables."
Other product testers noted similar issues with bland-tasting food and we found most of our testers added salt and pepper to bring out the flavor of each meal.
| | |
| --- | --- |
| Price per serving | $14 to $17 |
| Type (meal kit or prepared) | Prepared, fresh |
| Meals per week | 5 minimum, 17 maximum |
| Delivery area | Nationwide |
| Examples of meals we tried | Corned Beef and Cabbage, Chicken with Broccoli and Sautéed Zucchini, and Egg Roll in a Bowl |
Best Prepared Paleo Meal Delivery: Trifecta
Good for: Anyone looking for a meal service that takes the meal prep out of the Paleo diet
Trifecta is a meal delivery service catered toward athletes, meal preppers, and anyone tracking macronutrients. Meal prepping with high-quality ingredients takes a lot of time (shopping, chopping, and cooking) so Trifecta is a resource for busy athletes that can help you save time with fresh, prepared meals delivered to your door.
We think Trifecta is good if you're serious about macro counting because the website states each meal is formulated with precise carbs, fat, and protein. Perry Nix, R.D., L.D., notes that, "Trifecta offers high-protein, macro-balanced meals, made for those looking to improve strength and build muscle."
RELATED: Macros for Weight Loss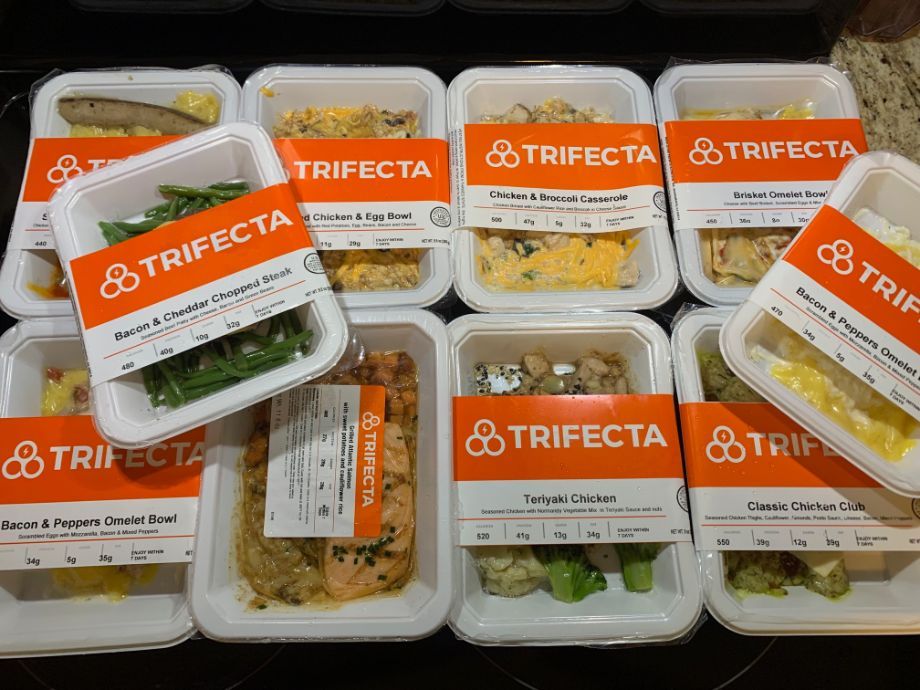 Each of Trifecta's meals average between 400 to 500 calories and are made with "Lean protein, complex carbs, healthy fats, and veggies. Complex carbs often used in their meals include wild rice and quinoa, both of which provide lasting energy," Perry adds.
Not only will these fresh and balanced meals save you time in the kitchen, we think you'll also enjoy eating them. Kate Meier, head of content for GGR, rated Trifecta at 4 out of 5 stars for taste. "I tried multiple egg scrambles, a salmon meal, a chicken and broccoli casserole and I really liked the taste of all of them," she says.
"For context, I typically eat pretty plainly, so I don't need a crazy amount of flavor or spice. I do think these are great for quick, healthy options," Kate adds.
That said, Kate mentions that the instructions on the label suggest that stovetop preparation makes the meals taste even better than reheating in the microwave. She tried both, but agrees with the instructions.
"I cooked the chicken and broccoli casserole and two of the egg meals in a skillet, and I think they were better than the egg bowl I made in the microwave, which was a bit soupy," says Kate.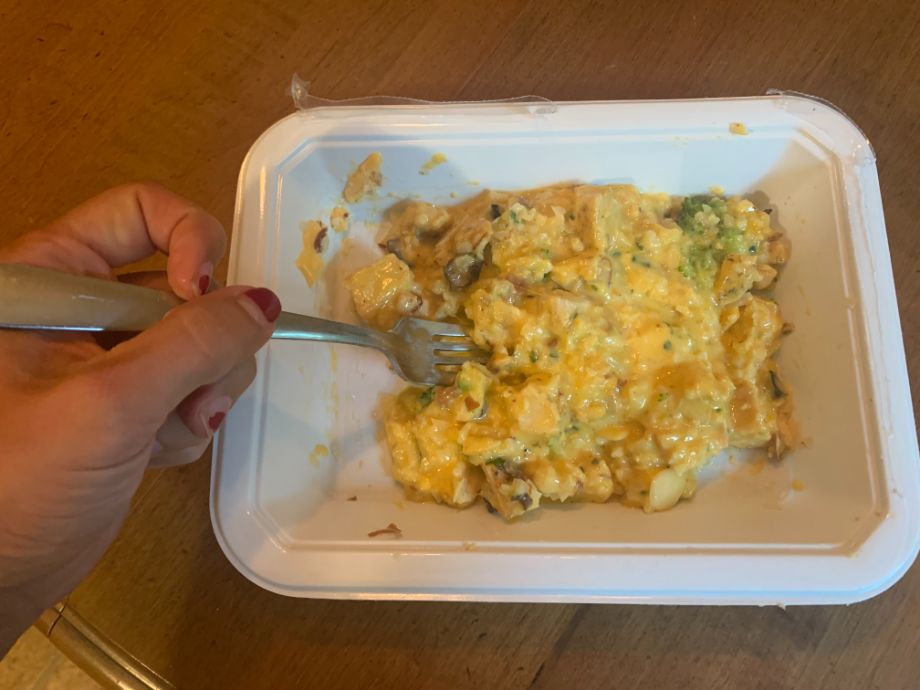 We also think it's worth mentioning that this fresh meal delivery service provides organic ingredients or sources food from sustainable farms. "The ingredients are fresh and you can freeze them for up to 3 months or eat them fresh within 5 days," Kate says in our Trifecta meal delivery review. 
| | |
| --- | --- |
| Price per serving | About $14 |
| Type (meal kit or prepared) | Prepared, fresh |
| Meals per week | 10 |
| Delivery area | Nationwide |
| Examples of meals we tried | Egg Scramble and Potato, Salmon, Sweet Potato, Mixed Vegetables, and Beef Patty, Sweet Potato, Mixed Vegetables |
Best Budget Paleo Meal Delivery: Sunbasket
Good for: Folks looking for a budget-conscious Paleo meal service
We understand that meal delivery services are not super cheap. It's certainly not as expensive as dining out, but it's usually more costly than bulk shopping and meal prepping. That's where Sunbasket comes in. It's an ideal option for anyone on the Paleo diet looking for a budget-friendly meal service.
RELATED: Cheapest Meal Delivery Services
We also like the fact that Sunbasket offers both meal kits and pre-made meals, so you can cater your order to how you want to eat or cook. Protein sources also include seafood options, which is unique because most services offer chicken, grass-fed beef, or pork. With Sunbasket you'll have meal options that feature salmon, shrimp, or scallops—which all have healthy fats and omega-3 fatty acids according to Perry Nix, R.D., L.D.
Although Sunbasket is an a-la-carte meal service with items priced individually, our expert product tester, certified sports nutrition coach and senior staff writer Amanda Capritto, noticed that meals ranged between $10 to $14, which we thought was a good deal for Paleo-specific meals. Meal kits and fresh-and-ready meals are both available to add to your cart.
However, the budget-conscious prices came at a cost. "The portion sizes are on the small side," says Amanda, who rated Sunbasket a 3 out of 5 stars for portion size.
For reference, at the time she tested Sunbasket, Amanda was in the middle of triathlon training and was eating to fuel serious daily training. "Most of the meal kits I tried would feed one and a half people—or maybe two people who don't eat a lot. I wouldn't recommend it for highly active individuals," she says.
As for taste, Amanda gives Sunbasket a 3.75-out-of-5-star rating. "Sunbasket is not terrible, but definitely not fantastic," she says.
"I can cook better on my own, honestly. I ended up doctoring up almost every meal with more spices, ingredients like honey or hot sauce, extra aromatic veggies like onion or garlic," she adds.
| | |
| --- | --- |
| Price per serving | $10 to $14 |
| Type (meal kit or prepared) | Meal kits and fresh, prepared meals |
| Meals per week | Customized a-la-carte menu |
| Delivery area | Most U.S. states except AK, HI, MT, ND, and parts of NM |
| Examples of meals we tried | Spicy Barbacoa Pulled-Pork Sliders with Apple Slaw with Braised Pork, Costa Rican Casado with Fried Eggs, Black Bean Tacos and Two Salsas, and Seared Steaks with Roasted Red Pepper Ajvar and Cauliflower with Top Sirloins |
Best High-Protein Paleo Meal Delivery: Ice Age Meals
Good for: People seeking high-protein, paleo-friendly meals
If you're looking for a paleo meal service that offers a 100% gluten-free, soy-free, and dairy-free menu, then Ice Age Meals might be the ideal service for you. Ice Age Meals is a bulk delivery service that requires you to purchase frozen meals in increments of 16, 30, or 60 meals.
"Depending on how often you eat the meals, one order could last you days to weeks. Meals are frozen, so they'll last much longer than the refrigerator meals you get from most other meal services," says Perry Nix, R.D., L.D.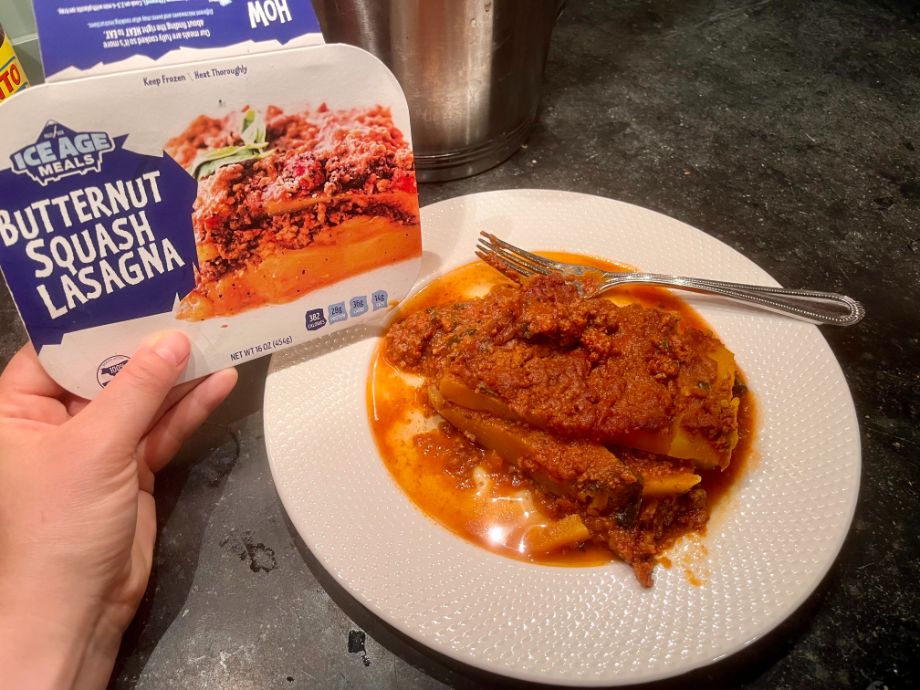 I personally tested this meal service and liked the fact I didn't have to sign up for a subscription service, which meant I didn't have to revisit the website to skip a week or cancel. It was easy to order and the delivery arrived at my doorstep quickly.
Everything is paleo-friendly, so you will not have to sift through dozens of menu items to find the right fit for your diet. Meals are pretty simple and feature a protein and a carb—fats range from 5 grams to 20 grams per meal depending on what you order. Most menu items can either be ordered on top of white rice or over sweet potatoes or squash.
For example, I ordered the Grass-Fed Barbacoa Beef with Tomatillo Salsa served over squash. I also ordered the same meal served over rice. Most of the meals I tried were at least 30 grams of protein, with some stating upwards of 40 grams per meal.
RELATED: High-Protein Foods For Muscle Building
As for taste, I give Ice Age Meals a 4-out-of-5-star rating. It was a mixed bag. Nothing was bad-tasting, but some dishes were bland or dried out easily in the microwave. I also didn't like the fact that the Chicken Tinga with Rice meal had raisins (and I love raisins, but not in chicken, please).
I think it's also worth noting every meal I tested was super filling. My husband thought so, too. Calories ranged from 400 to 800 per meal, which is quite the span, but all the meals feature healthy whole food ingredients, so it never bothered me to eat some of the high-calorie meals.
| | |
| --- | --- |
| Price per serving | Meals start at $11.99 |
| Type (meal kit or prepared) | Prepared, frozen |
| Meals per week | Order 16, 30, or 60 meals (no subscriptions) |
| Delivery area | Nationwide |
| Examples of meals we tried | Chipotle Chicken Tinga with Rice, Chicken Chile Colorado with Rice, Elk Shepherd's Pie, and Grass-Fed Barbacoa with Tomatillo Salsa and Squash |
Best Paleo Meal Delivery for Variety: Paleo on the Go
Good for: Folks who eat paleo and need AIP-compliant (autoimmune protocol) meals
Paleo on the Go is our top pick for variety because the brand offers a vast menu of paleo items and the ability to fully customize your selection. Plus, with so much variety, Paleo on the Go even has a section of the menu that will fit into the autoimmune protocol (AIP) diet, which are meals that basically do not contain ingredients that could cause inflammation in those with an autoimmune disease.
Perry Nix, R.D., L.D., notes that "Paleo on the Go doesn't lock you into a subscription, which is ideal for anyone starting an elimination diet that won't last more than several weeks.
"Few other meal delivery services cater strictly to paleo and AIP diets, so Paleo on the Go definitely fills this gap in the meal service arena," Perry adds.
Frieda Johnson, GGR editor and expert product tester, ordered Paleo on the Go and rated the service with 5 out of 5 stars for variety. "They have a very lange menu to choose from, and you can choose whatever meals you want each week. They also have seasonal foods and meals are cycled out or new ones added regularly."
She also rates Paleo on the Go 5 out of 5 stars for taste, too. "I really enjoyed the meals. They were easily as good as the meals I made from scratch when I was following the paleo diet," she said.
"However, I will note that most of the meals recommend reheating in the oven, not the microwave, and this really does make a difference. The only meal I was disappointed by was the one that I microwaved.
"And the baked goods were impressive, too. A bit of a mealy texture, but that's hard to avoid with paleo baked goods," she added.
While Frieda was impressed with many aspects of Paleo on the Go, the price is hard to swallow. The price is upward of $20 per meal and side dishes starting at $10 per serving.
| | |
| --- | --- |
| Price per serving | $20 to $25 per meal, sides range from $10 to $15 |
| Type (meal kit or prepared) | Prepared, frozen |
| Meals per week | 8, 12, or 16 |
| Delivery area | Nationwide |
| Examples of meals we tried | Cuban Empanadas, Loaded Baked Sweet Potato Soup, and Bang Bang Shrimp Tacos with Pineapple Plantain Pilaf |
Best Fresh Paleo Meal Delivery: Hungryroot
Good for: Folks looking for quick meal kits and grocery delivery
Hungryroot is a meal delivery service that provides meal kits, recipes, ready-to-eat snacks, and grocery items. While it's not a meal service that caters specifically to the paleo diet, you will be able to find plenty of paleo-friendly meals and recipes to add to your cart.
You may have to do a little more work to weed out options with grains, legumes, and processed foods to align with your paleo palate. However, Perry Nix, R.D., L.D., notes that "Hungryroot includes groceries and recipes made without common food allergens like soy, nuts, shellfish, and eggs, which is hard to find in other meal service plans."
Kate Meier, GGR head of content and expert product tester, tried Hungryroot and rated the food 5 stars for taste but only 3 out of 5 stars for the ordering process.
The first thing you do is take a quiz where you answer questions about goals, dietary restrictions, and how much you like (or don't like) cooking. You choose what style of cuisine you like (Thai, Mexican, Italian, or Chinese) and flavors or foods you dislike.
From there you pick generic meals that look ideal for breakfast, lunch, dinner, and snacks and how often you want them to send you those meals.
After the quiz you are prompted to sign up and check out. After you pay, you'll have the ability to see your cart, which is automatically loaded for you. You'll have 6 days to edit it based on your preferences. "It's honestly a little confusing. It seems like they send you some recipes and then some groceries," Kate says.
However, the taste outweighed the confusing ordering process. "Everything is so fresh, and you don't need to do any seasoning because most foods are prepared already for you with spices. If you wanted more salt or whatever, you could add your own," says Kate.
| | |
| --- | --- |
| Price per serving | About $10 per meal |
| Type (meal kit or prepared) | Meal kit, grocery items |
| Meals per week | 12 |
| Delivery area | Contiguous U.S. |
| Examples of meals we tried | Seared Chicken Breast and Corn Black Bean Rice Bowl, Everything Chicken Quesadillas, All-in-One Chicken Burrito Bowl, Turkey Meatloaf and Sweet Kale Salad |
Other Paleo Meal Delivery Services We Tested
Eatology: While not bad, our product tester, GGR senior editor Nicole Davis, thought Eatology was middle-of-the-road for taste and texture saying, "Meals were often under seasoned, and it was hard to cook out all the moisture from the meals, which left a lot of the veggies feeling soggy."
Marley Spoon: For nearly $20 per meal, our product tester, GGR performance editor Anthony O'Reilly, thought Marley Spoon was just OK. "The steak was tough, there wasn't enough spices included, and the ingredients were just not that good. The steak was advertised as a sirloin but it was all muscle and no fat," he says. "Plus there was simply not enough food for two full-grown adults."
CookUnity: This service didn't make the list mainly because product tester Anthony found that there were several meals "where the food was notably lighter on the food scale than what was advertised." And there were also several times Anthony noticed ingredients were missing from his orders.
How We Picked and Tested the Best Paleo Meal Delivery
Our team of expert product testers ordered, picked, and ate many different meal services. Each of our product testers had to consider the same list of testing methodologies and answer the same prompts for each brand tested. Here is a sampling of things we took into consideration about the paleo-friendly meal services you see above.
Price Per Meal
Price per meal varies quite a bit depending on types of food offered, whether it's organic, vegan, vegetarian, or high-protein. Ultimately, we tried to choose meal plans that offer meals under $20 per serving.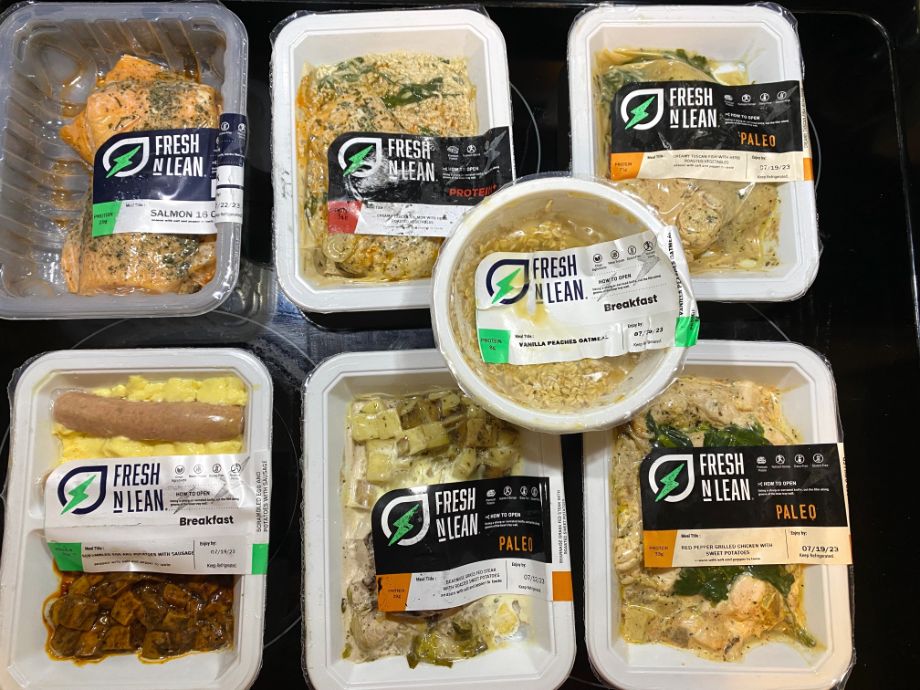 The one company featured on this best list that is over that offers paleo meals specific to folks who need to undergo the autoimmune protocol (AIP) diet, and for this reason we decided to keep it in the lineup.
Portion Size
While all our product testers are different, we wanted to be transparent about our typical meal size and how each delivery service compared. In some cases, product testers used food scales to confirm the quantity of food, but most product testers used the nutritional information, total calories, and feelings of satisfaction to gauge portion size.
Ingredient Quality
Meal services that offered a majority of whole foods (versus processed foods), non-GMO, free from preservatives were favored over services that did not. More points were given to companies that provided organic ingredients, organic produce, or sustainable farming and ethical animal farming.
Access to Nutritional Information
All of the meal services on this list offer a traditional nutritional label on each meal. You'll also be able to see most of the same information online before you order, as well.
Sustainability Efforts
All of our product testers rated each company's level of sustainability efforts on a 1 to 5 scale. We understand that shipping food can be more costly than shipping one of the best running shoes on the market. However, we gave higher scores to companies that ship products using recyclable or reusable materials.
Benefits of Paleo Meal Delivery
Generally speaking, the paleo diet is an eating plan that mimics what humans were likely consuming during the Paleolithic era when humans were hunters and gatherers. Sometimes the paleo diet is also referred to as the caveman diet.
According to Mayo Clinic1, the rough outline for accepted and unaccepted food is as follows:
What to eat:
Fruits
Vegetables
Nuts and seeds
Eggs
Lean meats, especially grass-fed animals or wild game
Fish, especially those rich in omega-3 fatty acids, such as salmon, mackerel, and albacore tuna
Oils from fruits and nuts, such as olive oil or walnut oil
What to avoid:
Grains, such as wheat, oats, and barley
Legumes, such as beans, lentils, peanuts
Dairy products, such as milk and cheese
Refined and added sugar
Added salt
Starchy vegetables, such as corn, jicama, peas, and white potatoes
Highly processed foods, such as chips or cookies
Your Fiber Will Likely Increase
There are many potential benefits from more fiber to your diet. And essentially introducing more fruits and vegetables does just that. Just for reference, legumes are also fibrous, but typically not considered paleo-friendly or true to the hunter-gatherer diet.
Perry Nix, R.D., L.D., says "Most people don't get enough fiber. But fiber is known to promote regular bowel movements, but it also supports blood sugar control, and reduces cholesterol."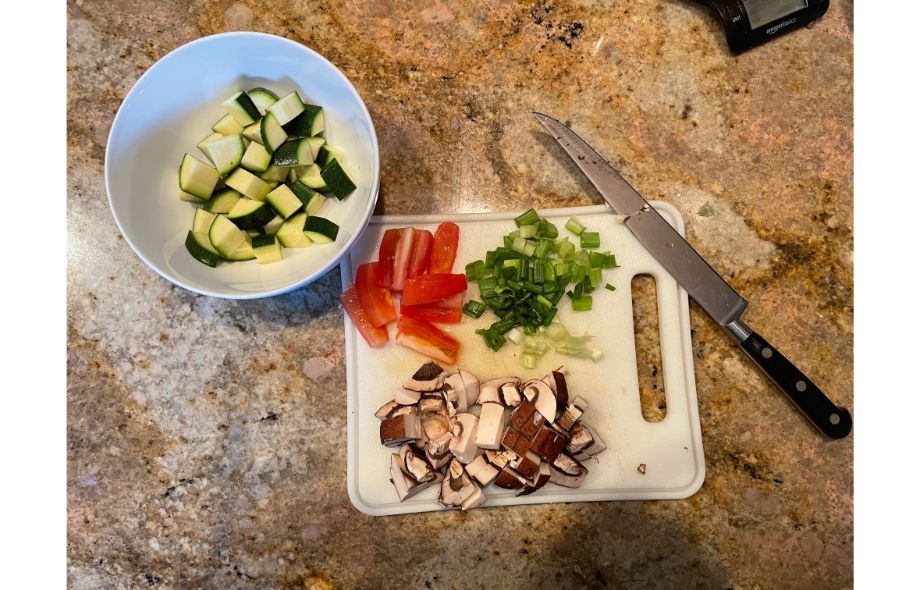 In fact, one review published but Nutrients2 states that dietary fiber is a contributing factor to overall metabolic health, mainly through insulin sensitivity, which is your body's response to insulin and carbohydrates. Essentially, fiber can help reduce major blood sugar spikes from carbohydrates and generally regulate your blood sugar levels.
This is important because chronically elevated blood sugar levels over time are related to diabetes, cardiovascular disease3, colon health, and weight gain.
Buying Guide: What to Look for in Paleo Meal Delivery
Here are some things to consider when shopping for meal delivery services with paleo options:
Price Per Meal
It's good to set some expectations around price per meal before you decide to sign up for a service where you order a ton of meals. Everyone's budget is different, but we suggest choosing a meal plan that is reasonably priced somewhere between buying from your local grocery store (per ingredient) and dining out at a restaurant.
Do You Want to Cook or Microwave?
While most meal delivery services exist to make your life in the kitchen easier, you have to decide if you're looking for a service that sends you prepared meals or meal kits that you'll cook and prepare at home.
If you want both, services like Sunbasket and Hungryroot offer prepared meals and meal kits.
Protein Intake
If you've read any of our guides on protein (like how to get more protein or how much protein do I need) you know that both our expert product testers and our panel of registered dietitians are advocates for protein.
While everyone's needs and goals are different, we suggest browsing the protein content on more than one meal on any given meal delivery service. You'll want to make sure that most of the menu items available will align with your goals.
Paleo Meal Delivery FAQs
Does HelloFresh have paleo meals?
While you can find paleo-friendly meals within the weekly menus on HelloFresh, the brand does not cater specifically to the paleo diet.
Does Blue Apron offer paleo meals?
While you can find paleo-friendly meals within menu items of Blue Apron, the brand does not cater specifically to the paleo diet.
What are some paleo meal plans?
Meal delivery services that offer specific meal plans for the paleo diet include: Green Chef, ICON, Fresh n Lean, Pete's Real Food, Trifecta, Sunbasket, Ice Age Meals, Paleo on the Go, and Hungryroot.
References
Mayo Clinic. Paleo diet: What is it and why is it so popular? Published 2022 Oct. 20.
Barber TM, Kabisch S, Pfeiffer AFH, Weickert MO. The Health Benefits of Dietary Fibre. Nutrients. 2020;12(10):3209. Published 2020 Oct 21. doi:10.3390/nu12103209
Jönsson T, Granfeldt Y, Ahrén B, et al. Beneficial effects of a Paleolithic diet on cardiovascular risk factors in type 2 diabetes: a randomized cross-over pilot study. Cardiovasc Diabetol. 2009;8:35. Published 2009 Jul 16. doi:10.1186/1475-2840-8-35