We test and review fitness products based on an independent, multi-point methodology. If you use our links to purchase something, we may earn a commission. Read our disclosures.
The best meal delivery services are supposed to make your life easier. But with so many available to choose from, decision paralysis can quickly creep in. To help you choose the best meal kit for your needs, our products testers at GGR tried about 40 different meal delivery options.
Our team includes certified personal trainers and nutrition coaches, athletes, and an expert panel of registered dietitians—not to mention a handful of foodies. Suffice it to say, we care about what we eat.
Using a meal delivery testing methodology developed in collaboration with nutrition coaches and dietitians, we rated meal kits according to:
Taste
Portion size
Ordering and delivery
Ingredient quality
Packaging and sustainability
Freshness
Meal variety
Diet types supported
And more
This guide focuses on meal kits that require cooking, but if done-for-you meal prep is more your jam, check out our guide to the best prepared meal delivery services.
Medical disclaimer: This article is intended for educational and informational purposes only. It is not intended as a substitute for medical advice. For health advice, contact a licensed healthcare provider.
Best Meal Kits in 2023
Best Meal Kit Overall: EveryPlate
Good for: Reasonably priced, healthy meals that are relatively quick to make
From the best meal delivery for weight loss to the best HelloFresh alternatives, EveryPlate has staked its claim on many of our guides to meal prep services.
"EveryPlate is one of the most affordable meal kits available," says registered dietitian Perry Nix. "In today's financial climate, groceries are expensive, and EveryPlate could help you save money on food."
Perry uses EveryPlate herself and says that she loves the recipes and kits they deliver. "Most ingredients are delivered fresh in their whole-food form with some pre-made sauces and seasonings," she says. "I find that the fresh ingredients really improve the aroma and taste of the meals."
Erin Chancer, certified nutrition coach and GGR editor, also tested EveryPlate. She rated it a 4-out-of-5 for taste, saying, "The seasoning is minimal, with a few of the recipes simply calling for just salt and pepper. That said, EveryPlate does have a few unique seasonings that don't seem to have grocery store equivalents."
Erin found most of the ingredients to arrive fresh and stay fresh until cooking time, although she noted some issues with the chicken specifically. "If we waited until the end of the week to cook a chicken recipe, the packaged chicken would be unusable," she called out. "My advice would be to start with the chicken first to avoid this." Because of this, Erin rated EveryPlate at 3.5 points out of 5 for ingredient quality.
Overall, EveryPlate earned just over 4 out of 5 possible points for our GGR score, because it received high remarks for ordering, packaging, sustainability efforts, customer service, variety, and meal customization options.
| | |
| --- | --- |
| Price per serving | Starting at $4.99, $12.06 on average for our tester |
| Type (meal kit or prepared) | Both available |
| Meals per week | Up to 6 |
| Delivery area | Contiguous U.S. |
Best Budget Meal Kit: Dinnerly
Good for: Fresh, affordable meals
GGR senior editor and certified personal trainer Nicole Davis liked Dinnerly, saying it's "super easy!" to order and, for the most part, cooking and cleanup is a breeze. It's also one of the most budget-friendly options available (see the cheapest meal delivery services for our other budget-conscious picks).
Dinnerly offers both pre-made meals and meal kits, and Nicole says she definitely recommends the recipe kits over the ready-to-eat meals. (I personally would have to concur in almost every case.)
Of the meals Nicole tried, the turkey taquitos and pastrami-crusted steak were the winners. Ultimately, she rated Dinnerly 4 out of 5 for taste. She also gave Dinnerly 4 points for portion sizes, because while they were typically filling enough for a lunch, Nicole found herself adding extra protein to most of the meals. Some of the meals only have 10 to 12 grams of protein, which is much lower than her goal of at least 20 grams per meal.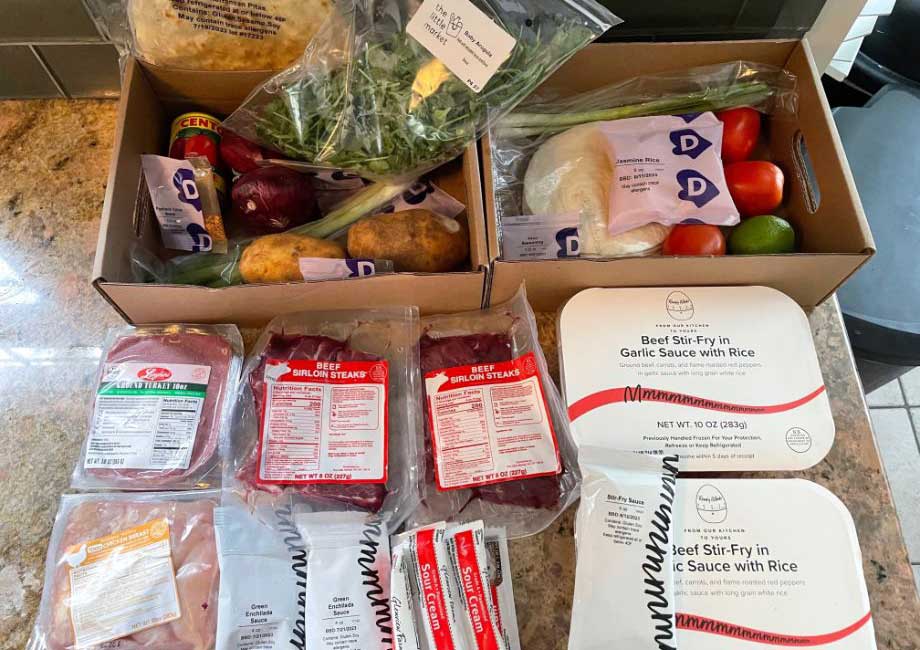 Registered dietitian Perry Nix has positive things to say about Dinnerly: "Dinnerly is a budget-friendly meal kit service that offers flavorful meals the whole family can enjoy. Many of the ingredients are pre-made and pre-measured, eliminating a lot of the prep time and making cooking a breeze."
Additionally, Perry likes that most of the meals only require five steps and less than 30 minutes to make. "It's a solid option for people trying to save money and improve their diet by going out to eat less," she says. "Simply by cooking at home, you're likely consuming less calories, salt, and saturated fat than you would be if you ordered a meal at a restaurant."
| | |
| --- | --- |
| Price per serving | Starts at $4.99 |
| Type (meal kit or prepared) | Both available |
| Meals per week | Up to 6 |
| Delivery area | Contiguous U.S. |
Best Meal Kit for Families: HelloFresh
Good for: Families who want home-cooked meals but appreciate the help of recipe cards and pre-portioning
HelloFresh is one of our favorite meal kit delivery services of all, with high remarks from myself, our other product tester Ashley Little, and registered dietitian Perry Nix.
"I really like that Hello Fresh offers family-friendly meal choices," Perry says, "As a mom of two young children, it can be difficult to find nutritious meals that everyone will eat. Also, since you cook these meals at home, the kids can help prepare their meals, which inspires them to taste new foods."
Unlike a lot of other kits, HelloFresh entrees are quite easy and quick to prepare, according to Ashley. "Prep time usually takes about 5 to 10 minutes, and cooking is usually between 20 to 45 minutes depending on the complexity of the meal," she says.
Better yet, each meal only dirties one or two pans, making cleanup "super easy." For ease of preparation, Ashley rated HelloFresh with 4 out of 5 points.
Unfortunately, HelloFresh isn't the best for those who need menu options catered to specific dietary needs. While there are some dairy-free, low-calorie, plant-based, and low-carb meal options, you kind of have to hunt to find them.
Our full HelloFresh review provides more detail on what it's like to use this service.
| | |
| --- | --- |
| Price per serving | Around $9.99 |
| Type (meal kit or prepared) | Meal kit |
| Meals per week | Up to 8 |
| Delivery area | Contiguous U.S. |
Best Organic Meal Kit: Green Chef
Good for: Those who prioritize eating organic ingredients
Green Chef is a "no brainer" for people who only want organic produce, says product tester and GGR editor Nicole Davis. In fact, Green Chef only uses USDA certified organic ingredients, so even your sauces, seasonings, and a la carte add-ons are all organic.
Registered dietitian Perry Nix has great things to say about Green Chef as well: "In addition to being certified organic, Green Chef's paleo and keto meal plans are also certified gluten-free. This means they're safe for people with celiac disease and anyone with gluten sensitivities."
Nicole gave Green Chef 4.5 out of 5 points for ingredient quality, noting that most everything was fresh, including veggies. She also rated Green Chef highly for taste, giving the service 4.5 points and noting that everything she tried was at least fine, but usually great.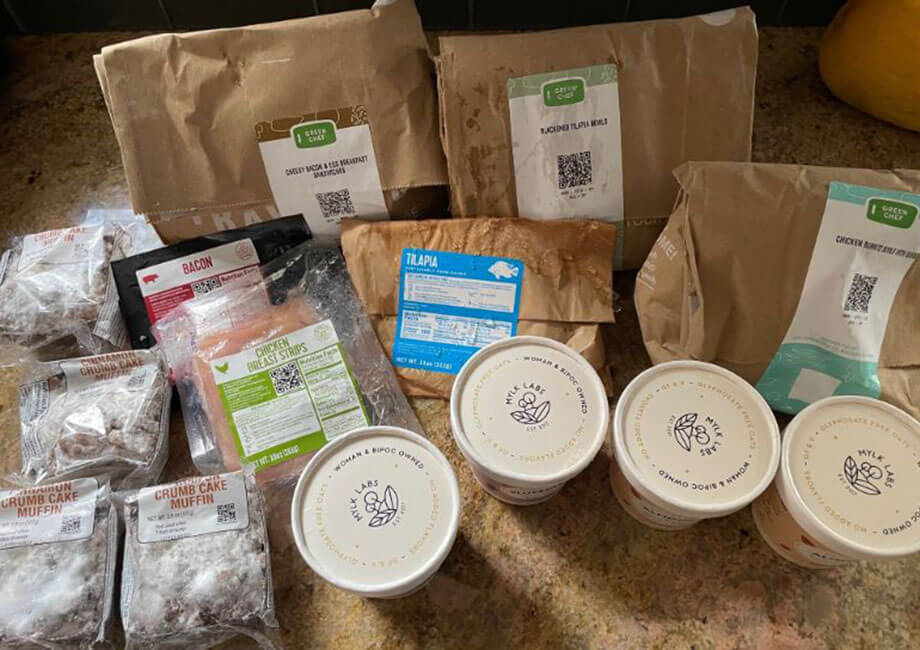 "I tried four dinners as well as the breakfast bundle, which had oatmeal, egg white bites, muffins, and two recipes to make (french toast and breakfast sandwiches)," Nicole recounts. "The monterey jack cheese-smothered chicken with mushrooms and squash was delicious. So were the chicken burrito bowls. The oatmeals were just fine and made for good options to eat quickly in the morning. The muffins were good—my kids liked them a lot."
One thing Nicole didn't like was the portion sizes. She found them a bit too small, awarding Green Chef 3 out of 5 points in this category. "I could easily eat one and some of another, and one portion would never be enough for my husband on its own," she says.
Read our full Green Chef review to find out more.
| | |
| --- | --- |
| Price per serving | About $12.99 |
| Type (meal kit or prepared) | Meal kit |
| Meals per week | 4 |
| Delivery area | Most of the contiguous U.S. |
Best Meal Kit for Dietary Restrictions: Hungryroot
Good for: Anyone with select taste or dietary restrictions
Hungryroot starts with an in-depth quiz about your dietary preferences, restrictions, allergies, and just about anything else you can think of when it comes to cooking and eating.
The quiz gets super specific, asking you what types of sauces you like (e.g., pesto, BBQ, vinaigrette), what type of meals you like (e.g., tacos, pasta), and even how much spice you want in your food. This is a huge bonus for people who need to follow specific dietary patterns, as well as picky eaters. As such, Hungryroot appears on our guides to the best gluten-free meal delivery and best keto meal delivery.
"Hungryroot helps you find the best plan for your dietary needs," says registered dietitian Perry Nix. "They include groceries and recipes made without common food allergens like soy, nuts, shellfish, and eggs, which is hard to find in other meal service plans."
But Hungryroot doesn't just provide meal kits and ready-made meals: It also works as a grocery delivery service.
"Their grocery options include a variety of plant-based meat substitutes like black bean burgers and tofu sausage crumbles that may appeal to vegetarian consumers," Perry says, although "they can be high in sodium and may not be suitable for those following a low-sodium diet."
Kate Meier, GGR head of content and product tester, tried Hungryroot and rated it positively all around. She gave Hungryroot 5 out of 5 points for taste, saying, "Everything is so fresh, and you don't need to do any seasoning because most foods are prepared already for you with spices. If you wanted more salt or whatever, you could add your own."
The portion sizes were perfect for her, albeit a bit small for her partner who is a competitive weightlifter. At 400 to 700 calories per meal for most meals, this service is likely adequate for most people.
| | |
| --- | --- |
| Price per serving | About $10 |
| Type (meal kit or prepared) | Meal kit |
| Meals per week | Up to 16 |
| Delivery area | Contiguous U.S. |
Best Meal Kit for Culinary Skills: Home Chef
Good for: People who want to expand their palate and cooking skills
Home Chef caters to many dietary preferences and offers various cuisines, from Latin American to Mediterranean to Asian and more. Adventurous eaters will appreciate the variety and ability to flex their culinary skills.
While there aren't plans serving up specific carb-conscious, high-protein, or vegetarian options, if you do some digging, you'll be able to find plenty of meals to suit your needs. Without particular tracks, though, registered dietitian Perry Nix says Home Chef isn't the best bet for people with food allergies.
"Meals are made in a facility that handles many common allergens, so there is a risk of cross-contamination," she says. "Additionally, Home Chef doesn't offer vegan, keto, or paleo-friendly meals, so if you follow these restrictive eating patterns this might not be the best choice."
Having said that, our tester Erin Chancer, GGR editor and certified nutrition coach, was very impressed with Home Chef, giving it 5 out of 5 points for taste, portion sizes, and variety, and 4 out of 5 points for ingredient quality.
"I've tried a few different meal delivery kit services and this is by far the best," she says. "My husband and I love these meals, frequently getting more than the three we typically order because they are so easy to make and are delicious."
"Many of the meals have wonderful sauces that just make the dish absolutely perfect," Erin adds. "We've learned a lot about cooking just from making different recipes."
| | |
| --- | --- |
| Price per serving | About $12 |
| Type (meal kit or prepared) | Both available |
| Meals per week | Up to 6 |
| Delivery area | Contiguous U.S. |
Best Vegan Meal Kit: Purple Carrot
Good for: Discovering new vegan meals
For tasty vegan or vegetarian meals, Purple Carrot is the way to go. Anthony O'Reilly, GGR performance editor and product tester, tested this service and was pleased with it.
He rated it 5 out of 5 for taste, noting that he was impressed with the quality and portion sizes for it being a vegan meal kit. "The ingredients were fresh and I thought everything tasted really good," he says. "My favorite was the sloppy Joe (with tofu instead of meat). Considering this was a plant-based meal service I was quite happy with how everything came out."
Aside from taste, Purple Carrot also shone in terms of sustainability. "Everything is well-packaged and there's not much plastic compared to other meal delivery services," Anthony says. "Everything is shipped with dry ice to keep it fresh," and all of the packaging is recyclable.
Registered dietitian Perry Nix says Purple Carrot is a good option for vegan dieters and omnivores alike. "Whether you're eating less meat or eliminating it completely, Purple Carrot has recipes to support your dietary preferences," she says, adding that "the company uses seasonal ingredients so you can add new foods into your rotation without ever getting bored."
Oh, and a nice bonus? "A plant-based diet can help reduce inflammation and decrease your risk of developing a chronic disease," Perry says.
The one complaint Anthony had about Purple Carrot is that access to nutrition info "isn't really their strong suit." He gave the company just 2 out of 5 points here, noting that it was tough to find the information he was looking for, except for the high-protein meal options.
Learn more about Purple Carrot and other vegan meal delivery options in our guide to the best plant-based meal delivery.
| | |
| --- | --- |
| Price per serving | $13.25 on average |
| Type (meal kit or prepared) | Both available |
| Meals per week | Up to 4 |
| Delivery area | Contiguous U.S. |
Best Meal Kit for Variety: Sunbasket
Good for: Exploring new flavors and ingredients
Sunbasket is a popular weekly meal kit service with a broad menu. Registered dietitian Perry Nix likes that "Sunbasket offers a variety of protein sources that you don't see with some other meal delivery services.
"Many meals include protein from seafood like salmon, shrimp, and scallops, which are sources of heart-healthy omega-3 fatty acids," she says. On top of that, the seasonings are often robust and meals usually include sauces, so it's definitely a top pick for people yearning to explore new foods and flavors.
You can filter meals by various needs. Options include paleo, soy-free, gluten-free, vegan, dairy-free, and diabetes-friendly. You can also filter by calorie range. Thanks to the large and varied menu, I gave Sunbasket 5 out of 5 stars for customization.
I'll be honest: I wasn't impressed with the overall quality of most of my Sunbasket meals. I had a bad experience with a package of beef tips that had a broken vacuum seal, thus spoiling the meat in transit. Additionally, some of the veggies were past their prime when they arrived. For this reason, I could only justify giving Sunbasket 2.75 out of 5 points for ingredient quality.
Sunbasket did have some redeeming meals, though. One memorable example (literally, I still think of it all the time) is the pulled pork sliders with apple slaw. This wasn't just the best meal I had from Sunbasket, it was the best meal I had from any meal delivery service I've ever tested.
RELATED: Best Low-Carb Meal Delivery
| | |
| --- | --- |
| Price per serving | $10-14 |
| Type (meal kit or prepared) | Meal kit |
| Meals per week | 4 |
| Delivery area | Contiguous U.S. excluding MT, ND, and parts of NM |
Other Meal Kits We Tried
Looking for even more ways to avoid grocery shopping? We've got your back. Here are some additional meal delivery services we tried.
RELATED: High-Protein Meal Delivery
How We Picked and Tested the Best Meal Kits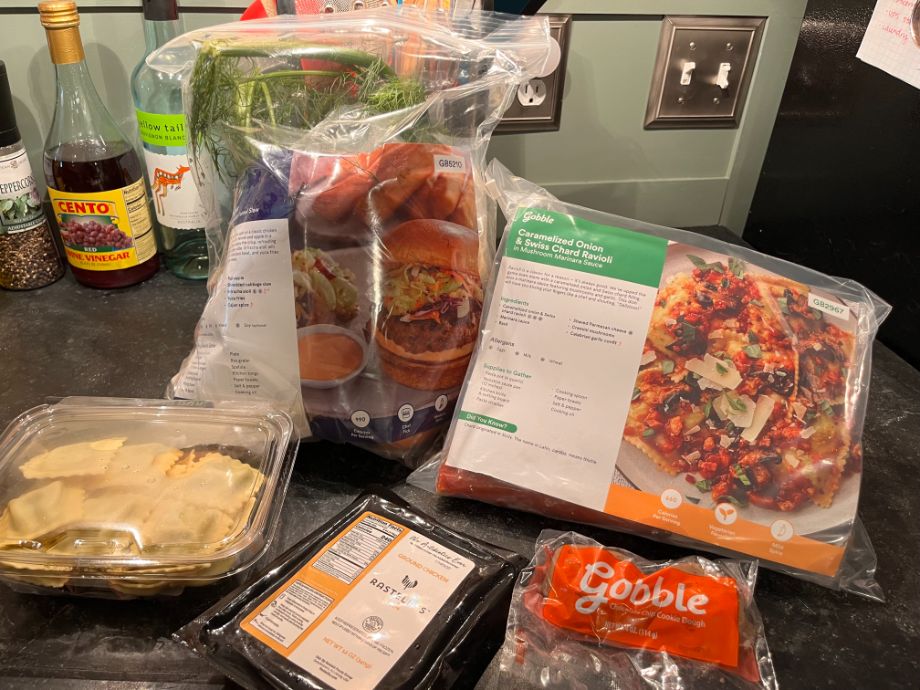 Our team of more than 10 product testers spent months trying and analyzing the best meal kits.
We set up our own accounts and ordered them to our homes, and tested them over the course of several weeks. Just like you, the consumer, would, we integrated these services into our daily lives, using them for everything from quick workday lunches to feeding entire families.
All the while, we were thinking about our testing methodology and rating the services according to several criteria.
Price Per Meal
We're consumers ourselves, and the price factor is top of mind no matter what we're testing. While we think it's worth it to pay the big bucks for something truly fantastic, we always hunt for a good value. We do our research to understand the market average so we can tell when a company is charging way too much.
Here's how we rated meal kits for pricing:
To get a 1, $16 or more per meal
To get a 2, $14-16 per meal
To get a 3, $10-14 per meal
To get a 4, $8-10 per meal
To get a 5, less than $8 per meal
Meal Variety
Some people are OK with eating the same meal over and over again. But we'd venture to guess that some—most, probably—want some variety in their weekly meals. If a service offered minimal variety, it scored low in this category. Services with the most variety and biggest rotating menus scored the highest here.
Diet Options
We specifically looked at how many diet types the services catered to and if it was easy to filter through meals by your needs. The ability to choose a specific diet track such as paleo, keto, or vegan, earned a service more points. Services scored even higher when they allowed filtering by individual ingredients or nutrients.
Portion Sizes
No matter how tasty a meal is, you won't be satisfied if it doesn't fill you up. We made sure to take note of portion sizes while we cooked and ate the meals, thinking of how the portions would work for people other than ourselves.
Ordering and Shipping
We considered how easy (or not) it was to create an account, select meals, build a box, and set up a plan. We also rated the shipping process: Did it ship on time? Did we get shipping notifications? Did it arrive on time? Was everything intact when it arrived?
Customer Service
When it was time to cancel our accounts, we took note of how easy or difficult it was. As consumers, we don't want to spend our time hassling with customer service about why we should keep our subscription. We just want to cancel, and we bet so do you.
RELATED: Best Paleo Meal Delivery
Benefits of Meal Kits
On the fence about signing up for a meal kit? These major benefits may convince you.
Easy Home Cooking
Meal kits make cooking at home easier, quicker, and often more interesting. This can reduce reliance on takeout, which ultimately can save you money in the long run. Plus, you get to learn new cooking skills and try new recipes!
Increased Variety
Even as someone with access to a collection of delicious cultural recipes (half of my family is Cajun; the other half is Italian-Honduran), I find myself making the same things over and over. Meal kits have helped me broaden my culinary horizons and discover new flavors. It helps with boredom and makes cooking more fun.
Exposure to More Nutrients
Diversifying your eating habits exposes you to a wide range of nutrients, which is great for your overall health. Meal kits can be your ticket to trying new vegetables, starches other than pasta and rice, different types of fish and meat, and more.
May Reduce Food Waste
Meal kits come with pre-portioned ingredients, typically making just enough for the planned number of people to minimize waste. While some meal kits I tried had leftovers, it was typically just one serving, perfect for the next day's lunch.
Best Meal Kit FAQs
Are meal delivery services worth it?
Depending on your needs and budget, meal delivery services can certainly be worthwhile. If you like to cook, but don't like to shop, meal kits are a good option. Pre-made meals are another option if you don't like to or don't have time to cook. Ultimately, most meal delivery services aren't any more expensive than takeout if you compare portion to portion. Another option is grocery delivery if you need to save time but want to use your own recipes. 
Are meal delivery services healthy?
The nutritional profile of meal delivery services varies substantially. Most, according to insights from registered dietitian Perry Nix, offer balanced plates and exposure to a wide range of nutrients. Depending on your specific needs, however, certain delivery options may be too high in fat, salt, sugar, or carbohydrates. If you have particular nutrition needs, talk to a dietitian to determine which meal delivery is the healthiest for you. 
How to get free meals from HelloFresh? 
Most meal delivery services offer some sort of promotion for new customers. When I signed up for HelloFresh, I received a number of meals free in my first box. There may be additional promotions from time to time, and utilizing the referral system may earn you some free eats.