We test and review fitness products based on an independent, multi-point methodology. If you use our links to purchase something, we may earn a commission. Read our disclosures.
HelloFresh is one of the best meal delivery services available—but that doesn't mean it's the best for everyone. HelloFresh is known for its wide variety of menu options ranging from simple, easy meals to culinary excellence.
However, it's understandable to look for an alternative. Maybe HelloFresh doesn't cater to your dietary needs. Maybe you're looking for something a bit more budget-friendly. Maybe your little ones are picky eaters and won't gobble up most things that come out of a HelloFresh box.
Whatever the reason, we have you covered with the five best HelloFresh alternatives. To create this guide, we turned to the experience of our product testers, who actually tried all of the subscription services featured here. We also consulted with registered dietitian Perry Nix, who helped us better understand who each service is good for.
Medical disclaimer: This article is intended for educational and informational purposes only. It is not intended as a substitute for medical advice. For health advice, contact a licensed healthcare provider.
What Is HelloFresh?
HelloFresh is a meal subscription service. It reduces the amount of time spent grocery shopping and cooking thanks to pre-measured ingredients, recipe cards, and shipments right to your door.
HelloFresh offers great deals for new customers; sometimes you can get a number of free meals in your first box. In addition to recipe kits, HelloFresh also offers add-ons that can keep you out of the grocery store even more. For instance, you can buy a breakfast bundle add-on, which comes with yogurts, smoothies, eggs, granola, oats, breakfast bars, teas, and juices.
"With Hello Fresh, they send the ingredients and recipes and you do the cooking," registered dietitian Perry Nix says in our HelloFresh review. "This is a good option for anyone who would rather eat their food hot off the stove instead of reheated in the microwave."
Why Consider HelloFresh Alternatives
HelloFresh is worth it for the right buyers, but it's not for everyone. Perry says of the service, "Hello Fresh prioritizes offering quick, balanced, home-cooked meals, but doesn't necessarily cater to a wide range of dietary preferences," she says. "The meal service doesn't offer keto, vegan, gluten-free, or allergen-free meal choices, so it's not the best fit if you require these options."
5 Best HelloFresh Alternatives
Diet-to-Go
Diet-to-Go offers specialty diet plans for different needs. Specifically, this meal service is known for its carb-conscious, diabetes-friendly plan and its Mediterranean plan, both of which are chock-full of nutritious meals.
This subscription is a great option for anyone who is trying to lose weight but doesn't have a lot of time to cook and eat meals. "Diet-to-Go aims to simplify weight loss by delivering calorie-controlled, pre-made meals to your doorstep," says Perry Nix, RD. "They take the effort out of eating healthy by eliminating prep time, cook time, and cleanup."
The meal plans include options for those following a keto, Mediterranean, or low-carb diet, Perry says, which can promote short-term weight loss. But because Diet-to-Go's ready meals are so low-calorie, Perry cautions against using this service and only this service for long periods of time.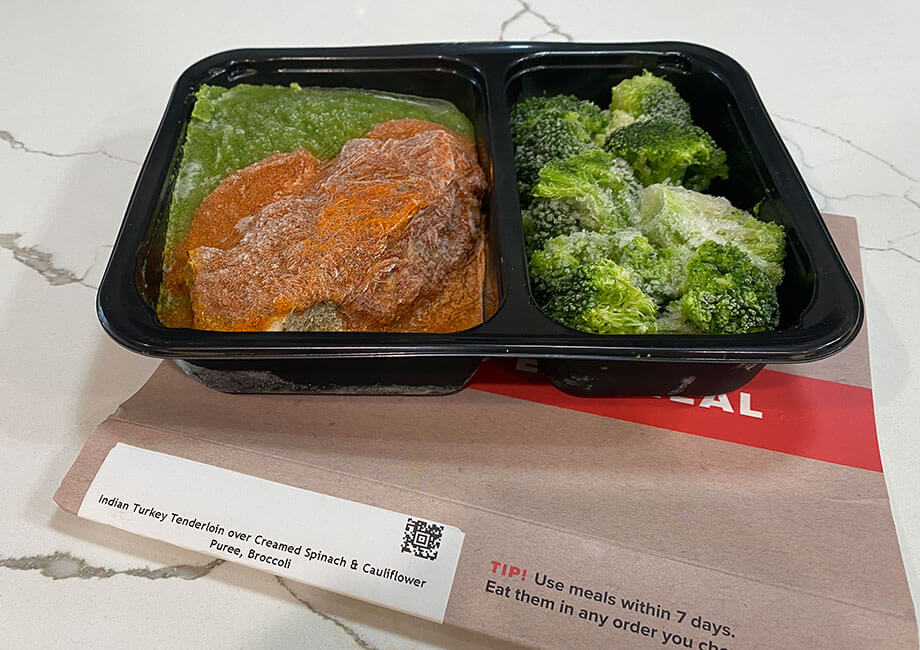 "Most Diet-to-Go meals contain between 300-500 calories, which isn't enough to sustain healthy, long-term weight loss," she explains. "Unfortunately, eating too few calories for a prolonged time can actually damage your metabolism and make it harder to lose weight."
This is to say: Diet-to-Go can be a great way to kickstart weight loss, but it's best to supplement your meal plan with calories from other sources in order to sustain healthy weight loss over time.
Our product tester, Lindsay Scheele, loved how easy Diet-to-Go meals were. She expressed that they weren't the most delicious meals she's ever tried, but the convenience was top-notch and having the nutritional information easily accessible on each meal package was helpful. However, Lindsay is an avid weightlifter and CrossFitter, so the portions proved too small for her.
RELATED: Best Meal Delivery for Weight Loss
BistroMD
Home cooks with dietary restrictions will love BistroMD. Its microwaveable entrees cater to a variety of dietary restrictions, health conditions, and cuisine preferences. You just have to answer a few quick questions online, and then BistroMD helps you determine which plan option is right for you. There are options for people who are trying to lose weight, improve their cardiovascular health, and manage blood sugar.
"BistroMD recognizes that weight loss isn't easy and that a 'eat less, exercise more' approach doesn't work for everyone," says registered dietitian Perry Nix. "Instead, these meal plans focus on fueling your metabolism, stabilizing your blood sugar, and keeping you full and satisfied, so you can burn more calories and utilize energy efficiently."
Similarly to Diet-to-Go, though, Perry thinks most people would need to eat a number of meals to meet an adequate calorie intake, even for weight loss. "For three meals and two snacks, the average calorie intake with BistroMD for women and men is 1,200 and 1,500, respectively," she says. "This is much too low, and while you could see initial weight loss, you're more likely to gain the weight back plus some."
On the positive side, BistroMD is one of the more affordable takeout-style meal subscription options, with the average price per meal ringing in around $8.99. You can choose from 10 to 20 meals per week and customize what goes in your box each week.
RELATED: Best Prepared Meal Delivery Services
EveryPlate
If you're on the hunt for high-quality ingredients on a budget, consider EveryPlate. According to our research and testing, EveryPlate is one of the cheapest meal delivery options around, with meals costing as little as $4.99 per serving.
EveryPlate caters to some dietary preferences but not too many specific diets. For instance, EveryPlate offers a popular "Veggie" plan with vegetarian meals but no explicitly vegan options. Other plans include Meat & Veggie, Family Faves, Quick & Easy, and Nutrish & Delish. Yes, it's all a little vague, but luckily, you can see the full ingredients on each meal before adding it to your box.
Our product tester Erin Chancer, CNC, enjoyed her experience with EveryPlate overall. She did notice that some ingredients, especially veggies, were past their prime when the box arrived. She describes the meals as "well-balanced" but points out that you'll need to make sure to have some basics on-hand: EveryPlate doesn't send things like salt, pepper, and butter, assuming they're household staples.
Registered dietitian Perry Nix uses EveryPlate herself and is a big fan. "I was tired of meal planning and making the same meals over and over again," she says. "I'm now cooking with new ingredients I wouldn't typically buy at the store and my family enjoys the variation in meals."
Additionally, Perry loves how affordable EveryPlate is. "In today's financial climate, groceries are expensive, and EveryPlate could help you save money on food," she says. "Most ingredients are delivered fresh in their whole-food form with some pre-made sauces and seasonings. I find that the fresh ingredients really improve the aroma and taste of the meals."
Green Chef
Green Chef offers a variety of meal kits and pre-made meals for various diet types. The plans include Mediterranean, Calorie Smart, Quick & Easy, Plant-Based, Protein Packed, Keto, Delicious Discoveries, and Gluten-Free. This meal delivery service offers 100% USDA organic meals, so it's a "no-brainer" for people who prefer an organic diet, says our product tester Nicole Davis, GGR senior editor and certified personal trainer.
Nicole appreciated the freshness of the ingredients and thought that most of the meals she tried were great—some were just OK. While Green Chef meals only take about 30 minutes to cook, Nicole says there's substantial cleanup involved because multiple pots, pans, and utensils are used. Nicole also found the portion sizes to be a bit small, especially for two people.
Registered dietitian Perry Nix is a fan of Green Chef not just for its organic ingredients, but also because there are options for people with dietary restrictions. "In addition to being certified organic, Green Chef's paleo and keto meal plans are also certified gluten-free," she says. "This means they're safe for people with celiac disease and anyone with gluten sensitivities."
Read our full Green Chef review for more information on this service.
Home Chef
For plant-based meal delivery, check out Home Chef. It's not a 100% vegan meal plan, but there are plenty of vegetarian, pescatarian, and dairy-free meals to choose from. Of course, it's not just for plant-based dieters: Home Chef has a wide range of options for most diet preferences.
In addition to a large selection of meals, Home Chef offers pre-made meals and grill-ready items in addition to meal kits with recipes.
Home Chef is a wonderful option for adventurous eaters and people who want to improve their cooking skills, says registered dietitian Perry Nix. "Eating home-cooked meals, whether using food from a meal kit or the grocery store, is linked to improved diet quality," she says. "Home Chef is a good option for those wanting to learn how to build balanced meals and acquire new cooking skills. Even if you only use the meal kits short-term, you can mimic the recipes using store bought ingredients."
However, those with severe food allergies should probably look elsewhere. "Meals are made in a facility that handles many common allergens, so there is a risk of cross-contamination," Perry says. "Additionally, Home Chef doesn't offer vegan, keto, or paleo-friendly meals, so if you follow these restrictive eating patterns this might not be the best choice."
That said, our product tester, Emily Chidester, is a big fan of Home Chef and has been using it for quite some time. She and her husband find the meals to be tasty and filling, and appreciate that the ingredients can usually last up to six days before needing to be cooked.
Even More to Choose From
We think the five featured meal kit delivery services above are the best HelloFresh alternatives, but they're not your only options. We've tested about 40 services ranging from fully prepared meals to frozen healthy meals to gourmet meal kits. There truly are seemingly endless options available. Here's a quick look at some others we encourage you to check out.
Blue Apron: Many plant-based meals to choose from
Dinnerly: One of the most affordable meal kit companies
Marley Spoon: Martha Stewart's meal kit that's great for variety with more than 100 meal options per week
SunBasket: Wide variety of meals with a creative weekly menu
Pete's Real Food: Easy meals made with organic ingredients and paleo-friendly
Factor: Meal prep with plenty of high-protein and keto meal options
Purple Carrot: Vegan and vegetarian options; great for plant-based dieters
Hungryroot: Meal kit with consistently fresh ingredients and family-friendly meals
How We Chose the Best HelloFresh Alternatives
Our product testers have collectively tried about 40 meal delivery services and we've rated them according to a set of criteria developed in collaboration with registered dietitians. When rating meal delivery services, we look at the following:
Price Per Meal
Ordering flexibility
Taste
Ease of preparation/cleanup
Portion size
Ingredient quality
Variety
Meal plans and customization
Access to nutritional information
Company's sustainability efforts
Customer service and company policies
Customer reviews
Here's a closer look at how we chose the different meal services for this guide.
Overall Experience
Our testers rated HelloFresh highly, with a GGR score of 4.13 out of 5 points. For this guide to HelloFresh alternatives, we chose the featured services by first analyzing our testers' experiences with HelloFresh and prioritizing services that, from our testing notes, showed a similarly positive experience overall.
Diet Types Supported and Variety
Because HelloFresh doesn't cater to specific diets, we tried to choose alternatives that do, but also still offer a lot of variety. For instance, Diet-to-Go and BistroMD offer weight loss programs along with diabetes-friendly and keto options. Green Chef provides 100% organic meals and has gluten-free options; Home Chef has a large plant-based selection.
Ingredient Quality
We won't recommend a meal delivery service that continually sends ingredients that are not fresh. An occasional oopsie is understandable, but consistently poor quality is unacceptable. We referred to our testers' notes to ensure there were no major complaints about ingredient quality.
Taste
If you're paying for food delivery, you want it to taste good. Although taste is subjective, we scoured our product testers' notes to make sure we included services that were rated highly for taste.
Price
We made sure to include at least one meal delivery service that costs less than HelloFresh on this guide to alternatives. If you're on a budget, check out EveryPlate, which is similar to HelloFresh but cheaper.
HelloFresh Alternatives: Final Thoughts
While our testers were happy with their HelloFresh meals for the most part, we know it's not the right service for everyone. There are dozens of meal delivery companies to choose from, and if it's out there, we've probably tried it. We encourage you to shop around and explore to find what works for you.
HelloFresh Alternatives: FAQs
Is there a cheaper alternative to HelloFresh?
Yes, there are several meal delivery companies with lower pricing than HelloFresh. One example is EveryPlate, which we featured in this guide to HelloFresh alternatives. Our guide to the best cheap meal delivery includes: 
– Best Overall Meal Delivery on a Budget: Dinnerly
– Best Organic Meal Delivery on a Budget: Fresh N' Lean
– Best Meal Delivery on a Budget for Weight Loss: Diet-to-Go
– Best Meal Kits on a Budget: HelloFresh
– Best Meal Delivery on a Budget for Variety: Hungryroot
– Best Plant-Based Meal Delivery on a Budget: Mosaic Foods
– Best Meal Delivery on a Budget for Families: Blue Apron
– Best Prepared Meals Meal Delivery on a Budget: Clean Eatz
– Best Meal Delivery on a Budget for Kids: Little Spoon
Is it hard to cancel your HelloFresh subscription?
No, it's not hard to cancel your HelloFresh subscription. You simply log in to your account and navigate to your profile settings. From there, you can pause or cancel at any time. 
Can I lose weight with HelloFresh?
You may be able to lose weight with HelloFresh, but it's not intended to be a weight loss program. Our top picks for the best meal delivery for weight loss are: 
– Best Meal Delivery for Weight Loss Overall: Diet-To-Go
– Best Budget Meal Delivery for Weight Loss: EveryPlate
– Best Vegetarian Meal Delivery for Weight Loss: Purple Carrot
– Best Organic Meal Delivery for Weight Loss: Green Chef
– Best Meal Delivery for Weight Loss for Beginners: Freshology
– Best Prepared Meal Delivery for Weight Loss: Trifecta
– Best Keto-Friendly Meal Delivery for Weight Loss: Factor75
– Best Gluten-Free Meal Delivery for Weight Loss: Epicured
– Best Meal Delivery for Weight Loss for Families: Home Chef
– Best Meal Delivery for Weight Loss for Meal Prep: Fuel Mea
These statements have not been evaluated by the Food and Drug Administration. This product is not intended to diagnose, treat, cure, or prevent any diseases.