We test and review fitness products based on an independent, multi-point methodology. If you use our links to purchase something, we may earn a commission. Read our disclosures.
Like other types of cardio equipment, rowing machines come in several different styles and run the gamut of price ranges. Water rowing machines are unique in that they truly mimic the feel of rowing a boat on the water, unlike magnetic rowing machines or air rowing machines. If you're interested in that real-water feel, keep reading for our guide to the best water rowing machines.
Row, Row, Rowing Our Way To Fitness Since 2012
Our team of certified personal trainers, CrossFit coaches, and fitness equipment experts assembled this list of the best water rowers based on our collective decades of experience with rowing machines of all types.
Best Water Rowing Machines in 2023
Best Rowing Machine Overall: WaterRower Natural Rowing Machine
Best Rowing Machine Overall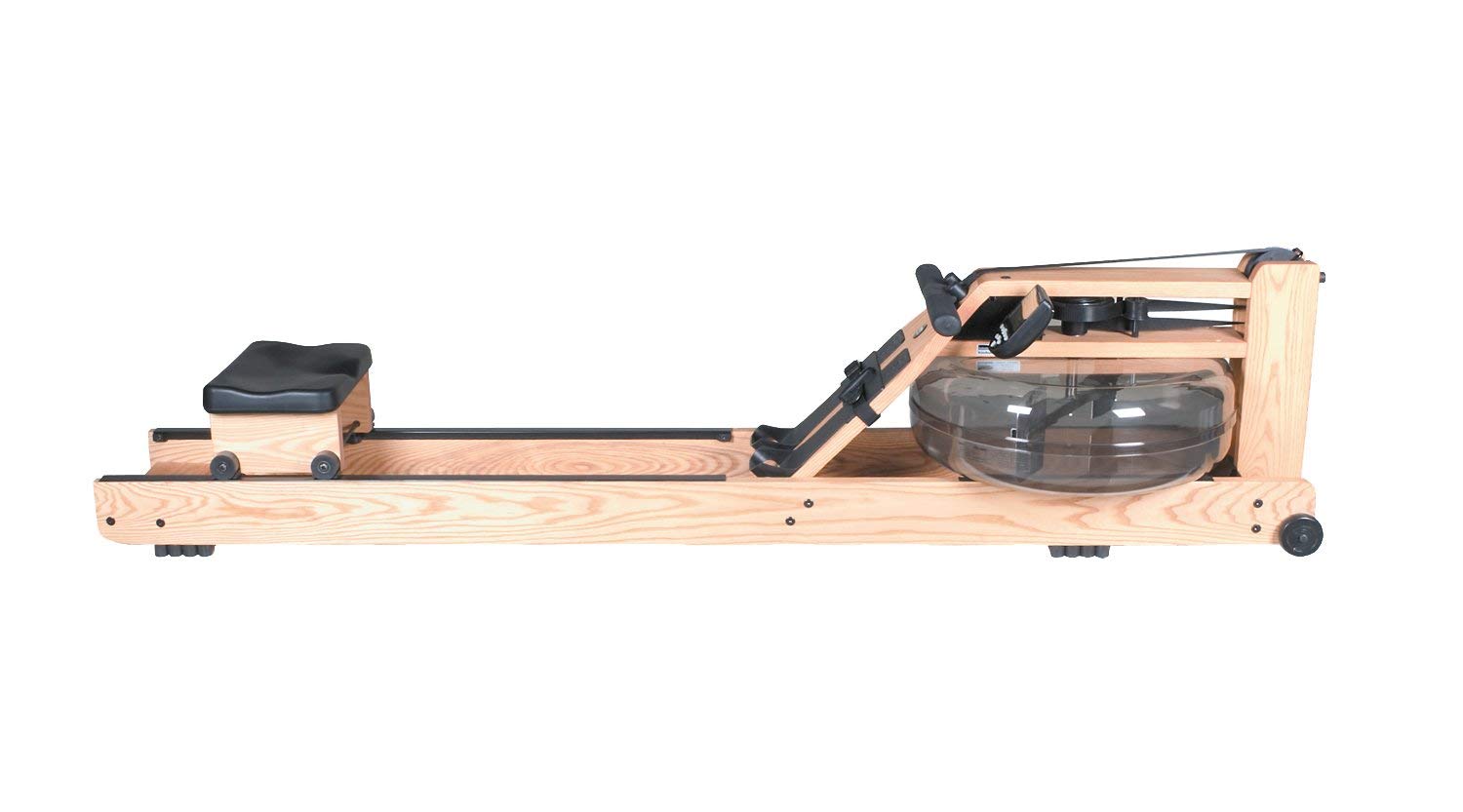 WaterRower
Rowing has long been recognized as the perfect aerobic pursuit, with naturally smooth and flowing movements that don't tax the joints but do boost the heart rate. Now you can take your rowing experience to the next level with the WaterRower Natural rowing machine. Using the same principles that govern the dynamics of a boat in water, the WaterRower Natural is outfitted with a "water flywheel" that consists of two paddles in an enclosed tank of water that provide smooth, quiet resistance, just like the paddles in an actual body of water. As a result, the machine has no moving parts that can wear out over time (even the recoil belt and pulleys don't require lubricating or maintaining). More significantly, the water tank and flywheel create a self-regulating resistance system that eliminates the need for a motor. As with real rowing, when you paddle faster, the increased drag provides more resistance. When you paddle slower, the resistance is less intense. The only limit to how fast you can row is your strength and your ability to overcome drag. And unlike conventional rowing machines, which tend to be jerky and jarring, the WaterRower Natural is remarkably smooth and fluid.From a fitness perspective, the WaterRower Natural works 84 percent of your muscle mass, helping tone and strengthen your muscles while burning far more calories than most other aerobic machines. The exercise is also low impact, as it removes all the body weight from the ankles, knees, and hips, but still moves the limbs and joints through a full range of motion--from completely extended to completely contracted.The WaterRower Natural is outfitted with a Series 4 performance monitor that's designed to balance technical sophistication with user-friendliness. The monitor--which includes six information and programming windows, six QuickSelection buttons, and three navigation buttons--displays your workout intensity, stroke rate, heart rate, zone bar, duration, and distance. Plus, the monitor is compatible with an optional heart rate chest strap and receiver, which helps you optimize your workout and achieve your exercise objectives.The WaterRower Natural is handcrafted in solid ash and stained honey oak for consistency of color. The wood was chosen due to its marvelous engineering properties, especially its ability to absorb sound and vibration, which enhances the WaterRower's quiet performance and smooth operation. Ash, like all woods used in the construction of the WaterRower, is a premium hardwood with incredible longevity and dimensional stability. In addition, the wood is harvested from replenishable forests and is hand finished with Danish oil to provide a deep luster.Other details include dual rails with four corner wheels that increase seat stability and reduce the amount of sweat buildup; a frame that flips upright for handy storage; and a weight capacity of up to 1,000 pounds. The WaterRower Natural measures 84 by 21 by 22 inches (W x H x D), weighs 117 pounds (with water), and carries a one-year warranty on the frame and components (WaterRower will upgrade the warranty to five years on the frame and three years on the components with the completion of a registration form).
Good for: People who want a classic water rowing machine with a natural wood look and simple monitor
Pros:
700-lb weight capacity
Expert assembly available
Financing available with Amazon credit card
Gorgeous natural wood look
Wooden frame is handcrafted
Free delivery with Amazon Prime
Cons:
Small display, no touchscreen
Display is in an awkward spot
Starts at about $1,200
The WaterRower Natural Rowing Machine tops our guide to the best rowing machines as the best water rowing machine. After testing and researching more than a dozen water rowing machines, our expert product testers maintain that the WaterRower brings the best value for the money.
For a tad over $1,100, you get a handcrafted rowing machine with a sturdy solid-wood frame with many à la carte tech additions and programming options.
Although the WaterRower doesn't have any built-in programming, there are many third-party options for dynamic programming. The WaterRower's S4 monitor is not innately Bluetooth-enabled—just ANT+ compatible for heart rate monitor connectivity—but the WaterRower ComModule (priced separately) turns your S4 monitor into a Bluetooth device.
If you take that route, you can then use essentially any of the best rowing apps, including WaterRower Connect, which turns your phone or tablet into a secondary performance monitor. 
There is also SmartRow hardware, which makes the WaterRower experience even more immersive. SmartRow hardware allows you to connect to the SmartRow app, which precisely calculates wattage output and provides more in-depth metric tracking.
According to our testing team, the "out-of-the-box" programming really just tracks the basics on the S4 monitor but you can manually preset some workouts, including time, distance, or stroke rate goals.
I personally love that customers can choose how tech-enabled they want their WaterRower to be. Believe it or not, not everyone wants a high-tech smart rowing machine with a fancy-schmancy HD display!
Customers love how well-made this machine is, with many reviews commenting on how quiet and smooth it is to ride as well as how nice it looks (buyers don't mind leaving it in living spaces because it looks nice).
| | |
| --- | --- |
| Price | $1,160 |
| Product Weight | 117 lbs (with water) |
| Dimensions | 83" L x 24" W x 21" H |
| Weight Capacity | 700 lbs |
| Warranty | 5-year frame, 3-year parts when registered |
| Programming | None built-in |
| Monitor | LCD display |
Best Interactive Water Rowing Machine: Ergatta
Best Interactive Water Rowing Machine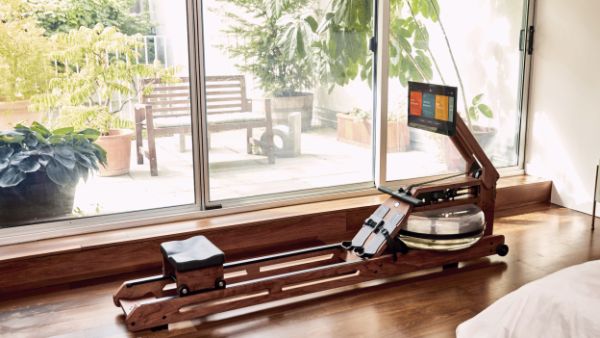 Ergatta Rower
For those who like the latest and greatest in technology-based fitness equipment, the Ergatta Rower will likely be a big hit. This rowing machine is designed with data and unique programming at the forefront. Plus, it is crafted using cherry wood to give it a streamlined appearance (for those of us who might have to store our rowing machine in our living room).Even better? The Ergatta is accommodating for a variety of heights and weights. This makes it an ideal choice for a wider range of people. Plus, if you're familiar with WaterRower, you'll find the Ergatta to be quite similar. This is because the Ergatta is actually simply a WaterRower with an attached touchscreen to view programming. It has the technology today's cardio machines demand with the quality you may be already familiar with due to the WaterRower components.
Good for: Trainees who want a smart water rowing machine with a large touchscreen display and gamified workouts
Pros:
Large HD touchscreen monitor
Delivery and installation included in purchase price
Financing available through Klarna
Gamified workout platform makes exercise fun
Cons:
Price starts at more than $2,000
Membership to access workouts costs extra
No live or trainer-led workouts on the platform
The Ergatta rower gives you everything the WaterRower provides, plus an insanely fun gamified workout platform that streams on a beautiful 17.3-inch touchscreen display—but you're gonna pay for it with a price tag starting at nearly $2,200.
Ergatta is essentially a retrofitted version of the WaterRower with more tech capabilities and built-in programming, thanks to the screen, which can stream workouts.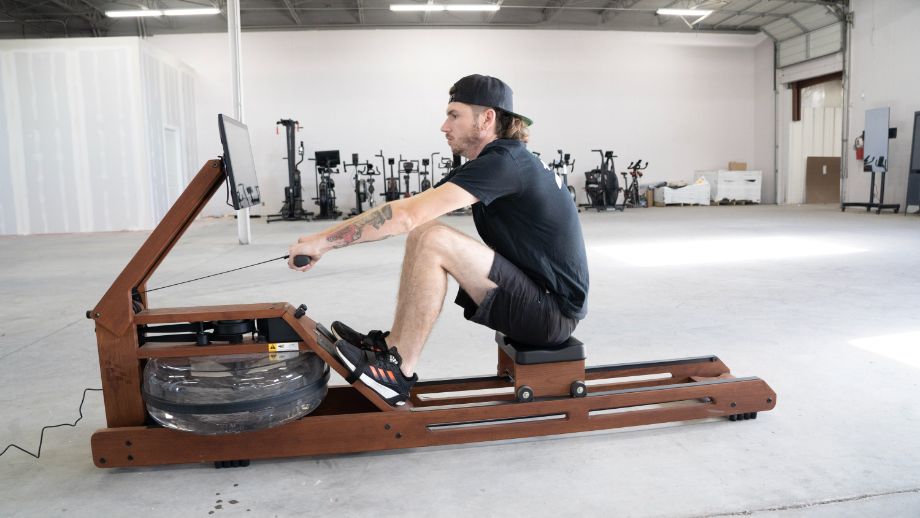 Although the Ergatta platform doesn't have trainer-led workout programs like you see from most competitors (i.e., Hydrow, Echelon), it does support various gamification methods as well as open and scenic row workouts to keep you on track to reaching your goals.
According to Coop, who has extensively tested the Ergatta rower and other smart rowers, "The way the platform is using programming to keep you on pace and to push you is very smart, and overall, I like the minimalist style of the programming. I like how simple Ergatta is. There isn't a ton to fiddle with and the data it provides is great."
Like WaterRower, the build quality on Ergatta is strong, sturdy, and natural. Wood in general won't prove as durable as steel over time, but Ergatta has a very substantial build, Coop says.
One of the best parts about Ergatta? It'll arrive at your doorstep fully assembled—all you have to do is add water.
Read our full Ergatta Rower review.
| | |
| --- | --- |
| Price | $2,499 |
| Product Weight | 103 lbs when filled (76.5 lbs empty) |
| Dimensions | 86" L x 23" W x 40" H |
| Weight Capacity | 500 lbs |
| Warranty | 5-year frame, 3-year parts, 1-year display if registered |
| Programming | Gamified workouts |
| Monitor | 17.3" HD touchscreen display |
Best Smart Water Rowing Machine: CITYROW Max Rower
Best Smart Water Rowing Machine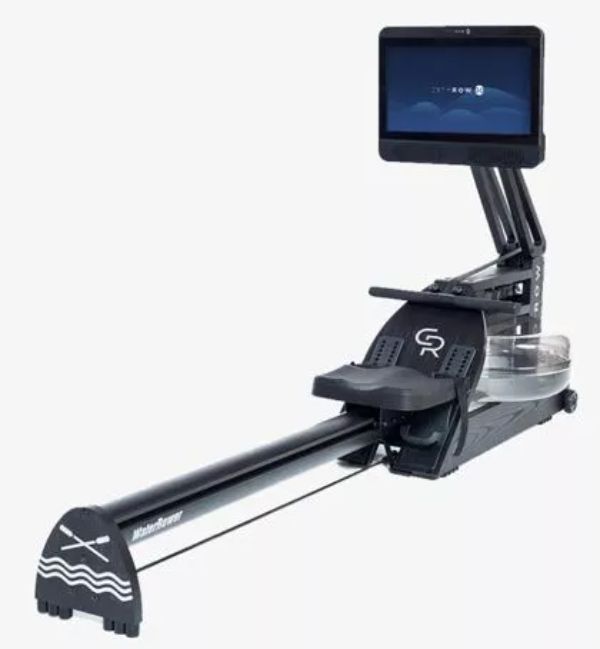 CITYROW GO Max Rower
Looking to up your cardio game? Look no further than the CITYROW GO Max Rower. This water powered rowing machine has stellar interactive programming you won't want to miss.With the traditional body of a water rower and an attached touchscreen, this cardio machine combines the best of old and new. You'll get the familiar sound of the water moving as you follow along to one of many engaging classes.
Good for: Trainees who want a platform with instructor-led workouts
Pros:
Pairs with Apple Watch
Trainer-led workouts
Financing available through Klarna
Expert assembly available
Large HD touchscreen
Cons:
Membership sold separately ($29/month)
Price starts at more than $2,000
Lower weight capacity than other wooden water rowers (375 lbs)
The CITYROW Max is a unique indoor rowing machine simply because it's one of few water rowers that features native trainer-led workouts, including live classes and on-demand workouts.
The frame and footplates of the CITYROW Max are wooden, but the slide rail looks much like what you'd find on the Concept2 RowErg (also known as the Concept2 Model D rower). It's also got an all-black design, as opposed to the cherry wood, ash wood, and other natural looks on water rowers.
This rowing machine arrives almost fully assembled; all you'll have to do is hook up the touchscreen and fill the water tank to get the full rowing experience.
RELATED: WaterRower vs Concept2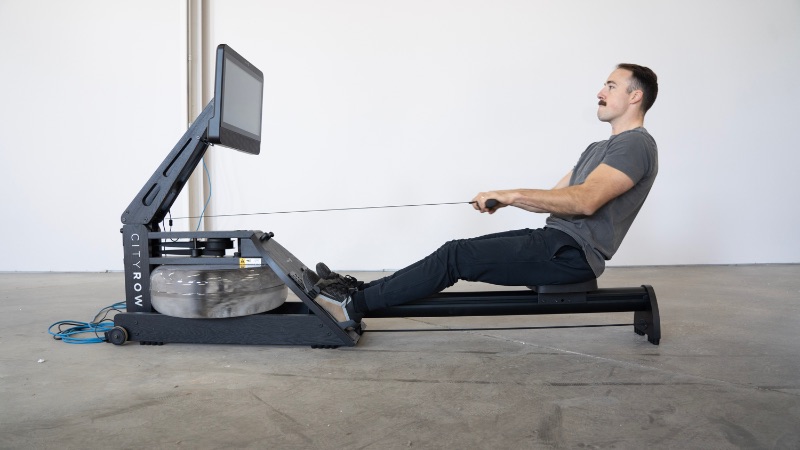 Hardware aside, the CITYROW Max is a tech behemoth: It features a large sweat-resistant screen that can connect to bluetooth headphones and heart rate monitors. You can use the chest strap style or sync your rower to your Apple Watch or other fitness tracker. The studio programming is well done with high-quality cameras and nice lighting. The touchscreen is snappy and there are physical volume rocker buttons on the side, along with the power button that's easy to access.
You do have to pay for a monthly subscription to access CITYROW GO, the app that works with this rowing machine. For $29 per month or $348 per year, you get access to a constantly updated library of low-impact, full-body workouts, so I'd say it's worth it.
Your subscription includes much more than just rowing workouts, and instead encompasses many types of =workouts you can do in your home gym: strength training, interval training, yoga, and more.
Read our full CITYROW Max review.
| | |
| --- | --- |
| Price | $2,195 |
| Product Weight | 61 lbs dry; 98 lbs with water |
| Dimensions | 83.5" L x 22.25" W x 20" H |
| Weight Capacity | 375 lbs |
| Warranty | 5-year frame, 3-year non-electrical parts, 1-year tablet |
| Programming | CITYROW GO subscription |
| Monitor | 19.5" HD touchscreen with 30-degree angle |
Best Water Rower Under $1,000: Mr. Captain Water Rowing Machine
Best Water Rowing Machine Under $1,000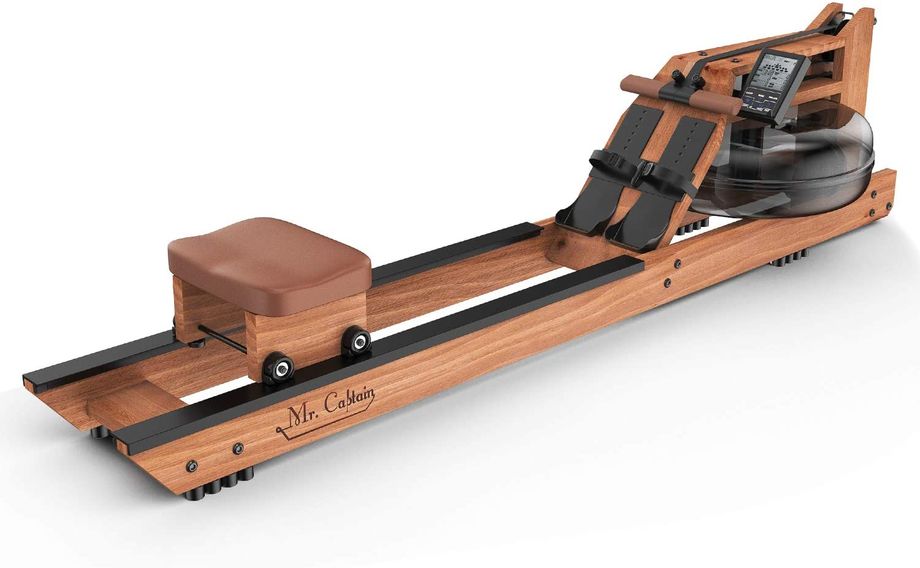 Mr. Captain Rowing Machine
Water rowing machines are known to be expensive. They are typically made of solid hardwood, after all. This is where the Mr. Captain Rowing Machine comes in: Made of MDF engineered wood with an oak veneer, it's just as functional as its more expensive counterparts, although likely not as durable. Still, for most people, this rowing machine will have plenty of longevity. (MDF is considered solid wood by modern furniture standards, after all.)The Mr. Captain Rowing Machine features three preset workout programs: manual mode, target mode, and interval mode. It also has a small LCD monitor that tracks time, strokes per minute, total strokes, calories burned, distance, and pulse if you have a Bluetooth-compatible heartrate monitor.
Good for: People who want a classic rowing machine like the WaterRower, but with a Bluetooth monitor and for less than $1,000
Pros:
Aesthetic wooden veneer
List price is less than $1,000; often on sale for less than $800
Expert assembly available for an extra fee
Rower cover and water pump included
Cons:
No native workout streaming platform
Small console is in an awkward spot on the frame
Lower weight capacity (320 lbs)
Made of engineered MDF, not solid hardwood
The Mr. Captain Rowing Machine looks a lot like the WaterRower and Ergatta, but it costs a fraction of the price. So what gives? Well, after some internet investigation (we haven't had the chance to try this machine yet), we learned that the Mr. Captain rower is not, in fact, constructed of solid wood—even though it says this in the Amazon product description.
According to several customer reviews, another in-depth Mr. Captain water rower review, and analysis of the assembly manual and product specifications, it became clear that this rowing machine is actually made of MDF engineered wood (medium-density fiberboard). The most telling factor that caused me to do further research was the low weight of this product. At 58.5 pounds dry, I immediately thought there was no physical way the rower was constructed of solid wood as the average consumer views "solid wood."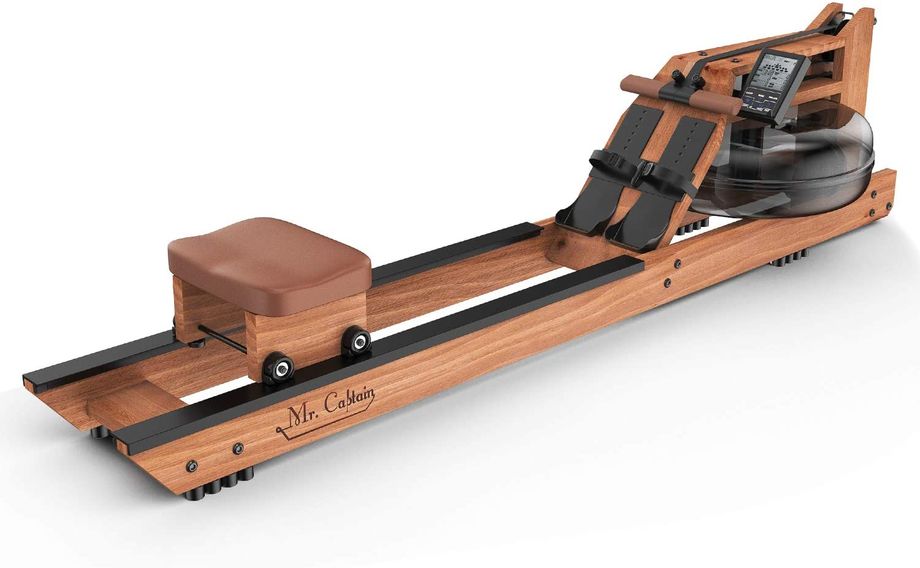 By modern furniture standards, engineered wood is often considered "solid wood," but it is not constructed of solid oak, cherry wood, ash wood, or other hardwoods you'd find on WaterRower or Ergatta.
I want to be clear that this does not mean the Mr. Captain rower is poor quality or a bad product. In fact, quite the opposite: Most buyers are happy with the build quality of the Mr. Captain rower, except for those who feel scammed by thinking they were buying a solid oak rower and receiving an MDF one.
If you know what you're buying—and you're A-OK with it—I believe you'll love the Mr. Captain rowing machine for its Bluetooth-enabled LCD monitor that tracks time, strokes per minute, total strokes, calories burned, distance, and pulse (if you have a compatible heart rate monitor.) It also features three preset workout programs: manual mode, target mode, and interval mode.
All in all, this mid-range rowing machine is a good option for people who want a nice-looking water rower with basic metric tracking, but aren't worried much about overuse of the machine or detailed, scary-accurate stat tracking.
| | |
| --- | --- |
| Price | Starting around $600 |
| Product Weight | 58.5 lbs dry |
| Dimensions | 82" L x 22" W x 20" H |
| Weight Capacity | 320 lbs |
| Warranty | 1-year frame, 180 days parts |
| Programming | Bluetooth-compatible with fitness apps |
| Monitor | LCD monitor |
Best Budget Water Rowing Machine: Sunny Health and Fitness Obsidian Surge 500
Best Budget Water Rowing Machine
Sunny Health & Fitness Obsidian Surge 500 Water Rowing Machine
Water based resistance rowers are a good, low impact cardio option but often come with a high price tag. But, the Sunny Health & Fitness Obsidian Surge 500 Water Rowing Machine, makes it possible to buy a quality water water rower at an affordable price. Resistance is dynamic and linked to the amount of water used. The more water in the machine, the greater the resistance. The water-based flywheel features 16 hydro blades designed to mimic competitive swimming. It may be a good choice for those who love the feel of rowing on open water. The sturdy frame, constructed from alloy steel, feels durable and supports weights up to 300 pounds. The molded padded seat and sweat resistant handlebar are both ergonomic and efficient. While the fitness meter display is minimal, it provides the basic fitness metrics you would want to monitor while working out. The Surge 500 boasts a 42 inch slide rail making it a solid option for taller individuals which is not typically seen at this price point. Users appreciate the smooth slide and quiet flywheel.Where this machine falls short is in its footplate design. These footplates swivel which can interfere not only with the feeling of being stable or secure but also with overall form. Several reviewers felt it encouraged poor mechanics so created their own fix by bolting the plates to prevent movement. The Surge 500 can easily be stored upright when not in use.
Good for: Beginners looking for an entry-level rowing machine for a good price
Pros:
List price $500
Flywheel has 16 hydro-blades
Steel construction should prove durable
Financing available with Amazon credit card
Monitor is ANT+ compatible
Cons:
Slide rail is short at 42 inches (may not work for taller people)
Warranty lacks in comparison to more expensive water rowers
Performance monitor is small
Sunny Health & Fitness makes some of our favorite budget-friendly rowers with magnetic resistance. After testing dozens of pieces of gym equipment from this brand, it simply felt right to include the Sunny Health and Fitness Obsidian Surge 500 water rowing machine as our best budget water rower.
Although our product testers haven't gotten their grips on the handlebars of this rower yet, we're confident in our experience with other Sunny Health and Fitness products and our expertise in rowing machines. (We've got this product on order, and if anything changes, we'll update this guide right away.)
Anyway, the Obsidian Surge 500 would suit all fitness levels fine, but it's an especially great option for beginners who aren't sure if they'll stick to rowing for exercise, thanks to its palatable $500 price point.
This budget-friendly water rowing machine features a hydro-fan with 16 blades, a lightweight but sturdy steel frame, pivoting pedals, and front-mounted wheels for transport and easy storage. It also has a large, contoured, padded seat and an LCD monitor that tracks total time, meters, strokes per minute, calories, and more (although some customer reviews say the monitor isn't as accurate as on higher-end rowers).
The 300-pound weight capacity is impressive given its low price and smaller-than-average construction—the Obsidian Surge 500 has a short slide rail of 42 inches, far shorter than the 54 inches found on Concept2 rowers, which are considered the gold standard in rowing machines.
Read our full guide to the best budget rowing machines.
| | |
| --- | --- |
| Price | $500 |
| Product Weight | 92 lbs |
| Dimensions | 80" L x 22" W x 34" H |
| Weight Capacity | 300 lbs |
| Warranty | 3-year frame, 180 days parts |
| Programming | 15 preset workouts |
| Monitor | LCD screen |
Other Water Rowing Machines We Researched
We haven't tested the below rowing machines yet, but based on their popularity on Amazon and other reviews sites, we think they're worth pointing out and briefly covering until we can get our hands on them.
This water rowing machine is similar to the Sunny Health and Fitness Obsidian Surge 500, our top pick for budget water rowers, in that it has a steel frame and small LCD monitor that tracks basic rowing metrics.
Snode Wooden Water Rowing Machine
I'm excited to try this rowing machine because it's the only foldable wooden water rowing machine that I've ever come across. It looks much like Ergatta, Mr. Captain, and WaterRower, although it is made of MDF with a beech wood veneer, not a solid natural wood.
Sunny Health & Fitness Hydro+ Dual Resistance Magnetic Water Rowing Machine
This unique water rowing machine uses both water and magnetic adjustable resistance. It's one of the only water rowers with different levels of resistance—traditional water rowers have user-dependent resistance just like air resistance rowers.
Stamina Elite Wave Water Rowing Machine
I wasn't impressed after my initial experience with Stamina rowing machines, specifically the 35-1405 ATS Air Rower. However, based on the product description (and the price tag of about $1,200), the Stamina Elite Wave Water Rowing Machine seems to have much sturdier construction and features many more tech capabilities.
Marcy Pro Water Resistance Rowing Machine
The Marcy Pro water rower (NS-6070RW) looks like a solid mid-range rowing machine with good specs for a rower under $1,000. It has many positive reviews on Amazon and, at the time of writing, an average rating of 4.6 out of 5 stars.
How We Chose The Best Water Rowing Machines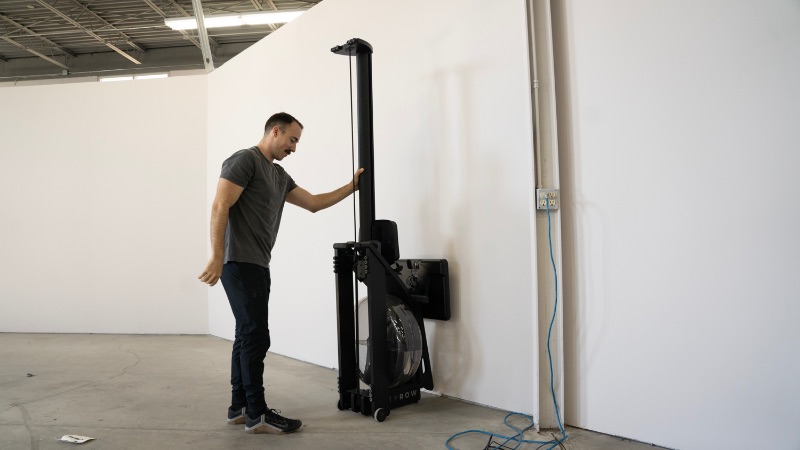 Our roster of product testers includes several industry-certified experts, including personal trainers, CrossFit coaches, functional training specialists, corrective exercise specialists, and equipment know-it-alls.
As total gear junkies and fitness enthusiasts, we invest our efforts in in-depth brand and market research and hands-on testing to bring you the best guides, including this list of the best water rowing machines.
Here are the criteria we judge rowing machines on:
Footprint (dimensions and space required)
Storage options (Does it fold? Can it store upright?)
Adjustability (foot cradle, seat, display, and handle adjustments)
Ergonomics
Delivery and setup (Is expert assembly available?)
Construction (materials used, design, engineering)
Durability
Tech capabilities (Bluetooth? App-compatible? Heart rate monitoring?)
Programming (Built-in programming? Is it interactive?)
Customer reviews (What are people saying about this?)
Customer service
Warranty, financing, and returns
Value
When testing rowing machines, our team completes a variety of workouts, including long endurance workouts, HIIT rowing workouts, and everything in between. We make sure to take full advantage of the features available on the machine to paint the best picture.
Benefits Of Water Rowing Machines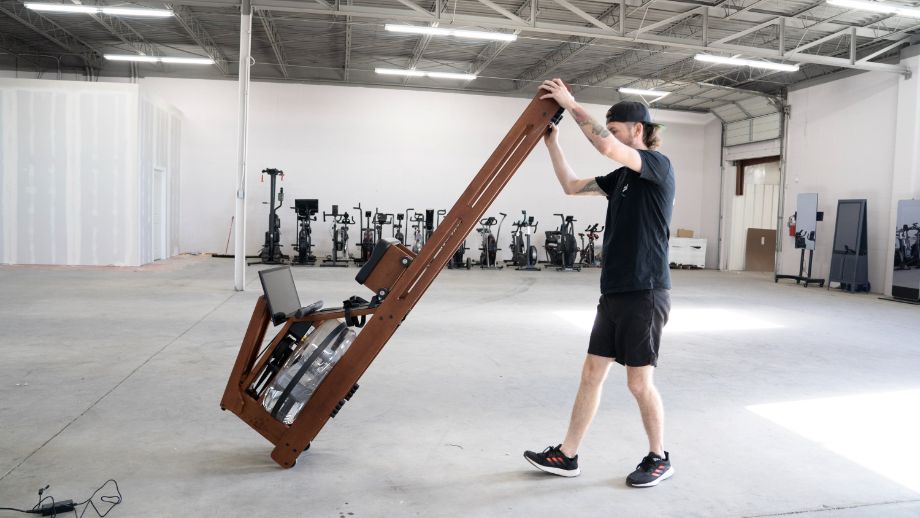 Water rowing machines provide all the benefits of rowing machines in general—improved cardiovascular health, namely—but there are also a few benefits of water rowing machines that you won't get on other types of rowers, including:
A very visually appealing piece of equipment. Many people buy water rowers specifically so they can keep the equipment in a living space without it being an eyesore.
A realistic on-the-water feeling. As much as air rowers and magnetic rowers claim to mimic the feeling of rowing in a real paddle boat, they don't…At least not as much as water rowers do.
Unlimited resistance. Water rowing machines don't have defined resistance levels like magnetic rowing machines do. When using a water rower, the faster and harder you row, the more the resistance increases due to the flywheel interacting with water in the tank.
How To Use A Water Rowing Machine
Water rowing machines operate just like other types of rowing machines. No matter what type of rower you are using, your rowing stroke should include four steps:
You can find an in-depth explanation of rowing technique, plus a video demo and free workout, in our guide: How to Use a Rowing Machine.
What To Look For In A Water Rowing Machine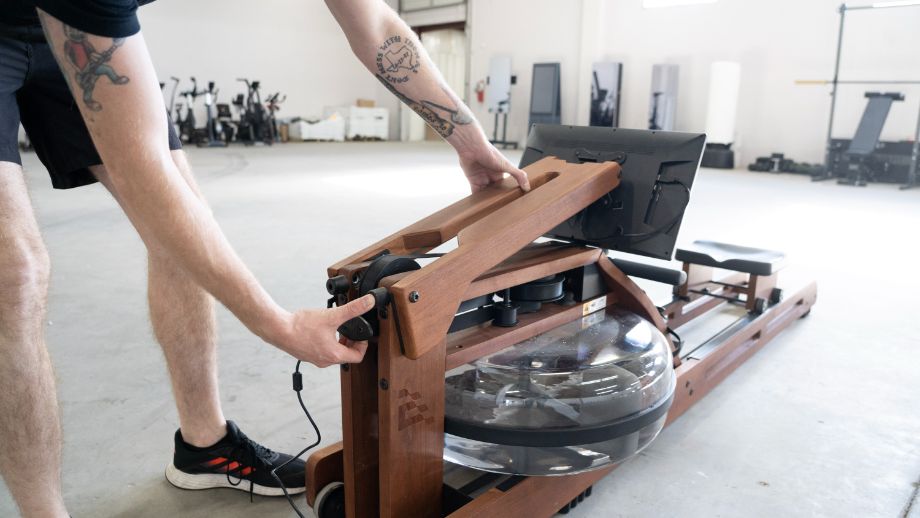 In your hunt for the best water rowing machine for you, consider these factors.
Price
A top-of-the-line water rower will cost $1,000 or more, with the most technologically advanced models costing upward of $2,000. Mid-range water rowers will run you about $700 to $900, while budget-friendly options hover around the $400 to $600 price range.
Construction And Durability
If longevity is a key deciding factor for you, look for solid natural wood water rowers or water rowers with steel frames. Make sure to read product descriptions carefully and differentiate solid natural wood from solid wood, which can often mean MDF. Water rowing machines made of engineered wood aren't bad, but they most likely will not last as long as their real wood or steel counterparts.
Console And Programming
Some water rowing machines have large, interactive touchscreen displays while others sport a basic LCD monitor. In general, those with HD displays have built-in programming or function in unison with a subscription to a workout app; those with LCD monitors typically have little to no built-in programming, but may be Bluetooth-compatible with a number of apps. Either way, you'll want a console that at least tracks your total time and total meters rowed.
Space And Dimensions
By nature, most water rowing machines are big, bulky, and heavy. Less expensive models tend to take up less space (smaller machine = lower cost of production). If space is a concern, consider a budget-friendly model or look for models that store upright or fold.
Adjustability And Ergonomics
A rower is no good if it doesn't fit your body. For example, people who are tall or who have long legs should pay extra attention to the slide rail length of a rowing machine, as this will determine whether or not they are able to reach full leg extension—54 inches is considered the gold standard of slide rail length Look also at the type and number of adjustments on the foot cradles, console adjustability, handle angle, seat contour, and the height at which the slide rail sits above the ground.
Ease of Use And Maintenance
Water rowing machines require more maintenance than magnetic and air rowing machines. Specifically, you'll need to keep the water clean and fresh so the tank doesn't grow mold or bacteria. Ideally, you won't have to change the water more than every four to six months. Some brands offer water cleaning tablets to extend maintenance intervals.
Water Rowing Machine FAQs
Commonly asked questions about rowing machines are:
Is a water or magnetic rower better?
One is not necessarily better than the other; it just depends on what you want. Water rowers are better for mimicking the real-life feeling of rowing on actual water. Magnetic rowers are better for people who want defined levels of resistance and don't want to worry much about maintenance. 
Related: Rowing Machine vs. Elliptical
How often should I change the water in my water rower?
How often you should change the water in your water rower depends on the brand and model you have. Each manufacturer should include guidelines in the owner's manual, so be sure to check there.
Can I put bleach in my water rower?
Because most water rowing machines have a polycarbonate tank, it is not recommended to put bleach in a water rower. The brand WaterRower explicitly advises against this, as bleach can weaken polycarbonate and increase the likelihood that the water tank cracks or leaks. For information on cleaning your water rowing machine, check the owner's manual.
Do water rowers get moldy?
Water rowing machines can get moldy if you don't keep up with regular maintenance, which includes periodically emptying the tank, cleaning it, and adding fresh water.
What kind of water do you use for a water rower?
WaterRower recommends using regular tap water to fill the tank on your water rowing machine. However, distilled or purified water is also acceptable.
What is the best rowing machine 2023?
Our top pick for rowing machines overall is the Concept2 RowErg, formerly called the Concept2 Model D rower. You can learn more about this rower in our Concept2 RowErg review and guide to the best rowing machines.