We test and review fitness products based on an independent, multi-point methodology. If you use our links to purchase something, we may earn a commission. Read our disclosures.
There are few things I love more than versatility, especially when it comes to fitness equipment. If a barbell, adjustable dumbbell, or even a squat rack can be used to achieve multiple fitness goals, then I'm more likely to suggest it for other people's home gyms.
The Terra-Core fits exactly into that category. Want to do some cardio work? Use the Terra-Core. Looking to strengthen some muscle groups? Terra-Core. Need a balance trainer to improve your stability? Yup, Terra-Core.
In this Terra-Core review, we'll be taking a close look at this multi-functional piece of equipment that merges the best parts of a flat weight bench and balance trainer to see who could benefit from this unique fitness tool.
Why You Should Trust Us
Remember when your parents told you not to judge a book by its cover, or even the first few pages? Well, that's my approach with these reviews. I used Terra-Core for more than two years before writing this review, giving me an opportunity to discover its full potential and put its durability to the test. First impressions can be deceiving, so I get to know a product inside and out before I say whether I truly like it or not.
And, in the case of this review, you're not just taking my word for it. You'll hear what Garage Gym Reviews staff writer Anthony O'Reilly thought about Terra-Core when he tried it out for himself.
A Quick Look at Terra-Core
Terra-Core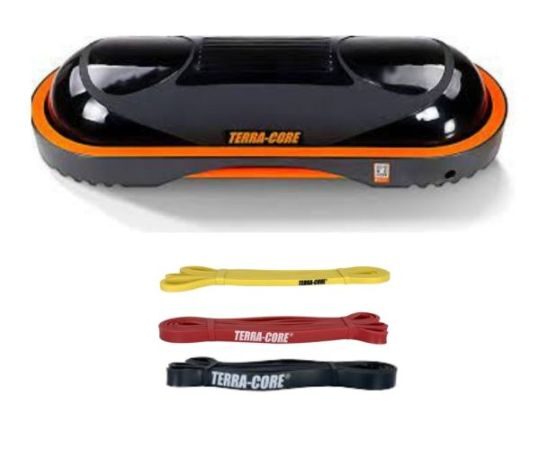 Terra-Core

Terra-Core is a functional weight bench that doubles as a stability trainer. Weighing only 28 pounds, it's perfect for people who are on-the-go or just want to switch up their training regimen.You simply fill the air bladder to your desired level with the included hand pump, and can use it to bench press, deadlift, or get in some stability training. Like a Bosu Ball, it comes with an inflated side and a flat side. The flat side can be used as an aerobic stepper, and also comes with pushup handles that can also be used to row or press the Terra-Core during HIIT workouts.If that's not enough, Terra-Core also comes with notches where you can attach your favorite resistance bands. The possibilities for this unique fitness tool are endless.
The Terra-Core is one of the many fitness products that gained popularity due to its appearance on the popular TV show Shark Tank. It's essentially a flat weight bench that also acts as a balance trainer, similar to a Bosu Ball.
You simply fill the air bladder with the included air pump and use it alongside dumbbells, kettlebells, barbells, or just bodyweight movements such as crunches and pushups. The instability provides a challenge to your entire body as you try to balance yourself throughout your workout.
Like a Bosu Ball, there are two sides: the inflated side and the flat side. The flat side comes with pushup handles and can also be used as a stepper. The handles also allow you to grab the entire thing and use it for different upper body exercises, including rows and overhead presses.
If that's not enough, there are notches on the sides of the Terra-Core that you can attach your favorite resistance bands to for use during your exercise routine.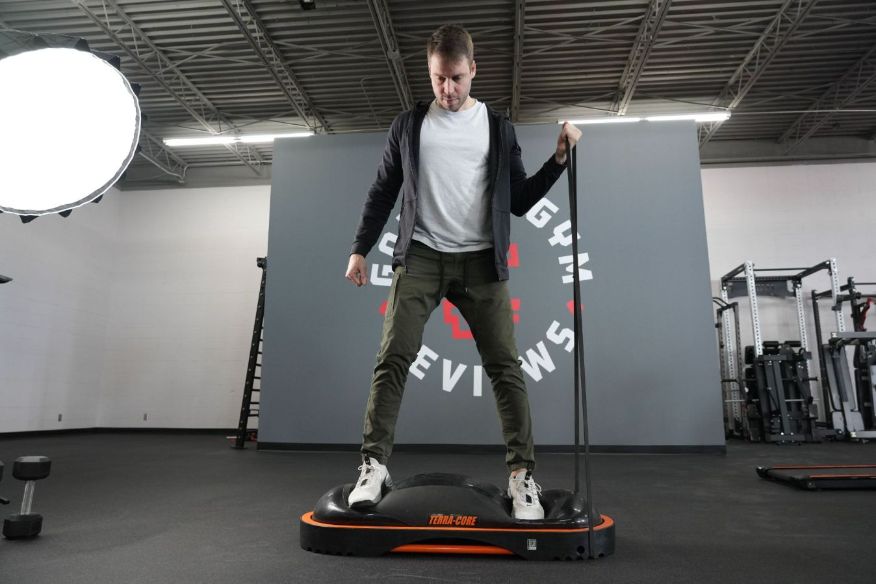 There are countless ways you can use this product, and it's great for full-body workouts, HIIT-style workout routines, and more.
Coop's Tips
I recommend starting with a full air bladder and gradually decreasing the air as you get used to it
It should go without saying, but keep this away from sharp objects
My Favorite Things:
Extremely portable and lightweight
Notches to attach resistance bands
Durable and should last for many years, as long as you don't pop it
4,500-pound weight capacity
Lifetime warranty
My Callouts:
Can't be used as an incline or decline bench
Only one color option and two sizes (the smaller one is called the Terra-Glide)
Not the best value for a weight bench
Is Terra-Core Worth It?
The Terra-Core sells for around $300 and comes with the bench itself along with an air pump to fill the bladder, workout poster with different exercises for the upper and lower body, a 14-day trial to the Terra-Core Fitness app, and an unconditional lifetime warranty.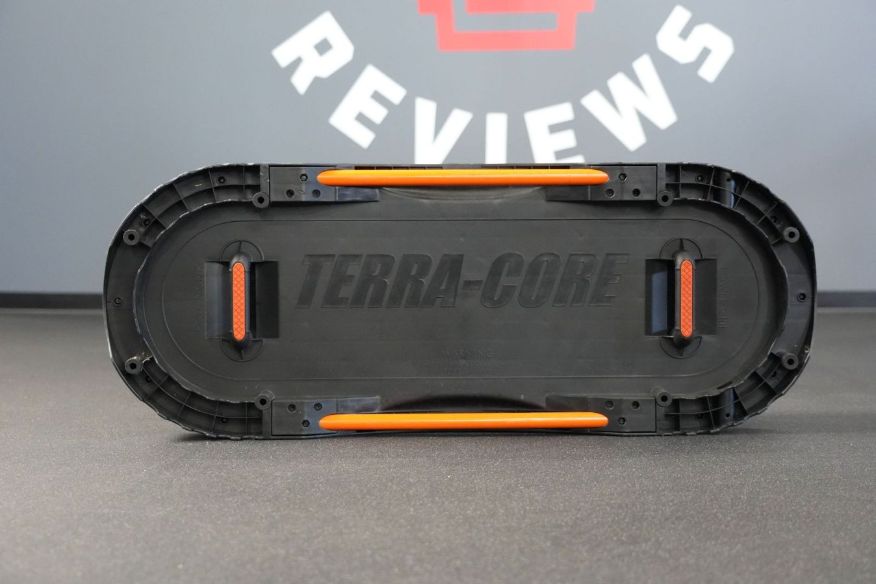 One of our fitness writers, Anthony O'Reilly, got to test it out, and he could see how someone would pay full price for it. "If you're just looking for a general piece of fitness equipment to work on things like core strength, then it's totally worth it in my opinion," he says. "I'd love to have one of these for my home workouts."
But if you're just looking for a weight bench or solely searching for a balance trainer, there's probably better value elsewhere. That is, unless you're looking for something that's portable and lightweight–in which case this would be a great pick.
Great for:
Anyone looking to improve their balance
Those who need a portable, functional bench
Anyone looking for a versatile piece of fitness equipment
Not recommended for:
Lifters who need an adjustable bench
Trainees who primarily focus on strength training
Terra-Core Specs
| | |
| --- | --- |
| Footprint | 47" L x 18" W x 6.75" H |
| Weight | 28 lbs |
| Weight capacity | 4,500 lbs |
| Color | Orange and Black |
| Warranty | Unconditional Lifetime |
| Materials | High-Density Polyethylene |
Working Out With Terra-Core
Both Anthony and I had a lot of fun testing out the Terra-Core. I personally have been using it for about two years, and from time to time I'll use it in place of my regular weight bench for presses. These days, I typically use it for warm-ups by doing one-legged jumps off the air bladder, and occasionally I'll jump onto the bladder to increase the difficulty (hopping onto an unstable surface takes quite a bit of coordination).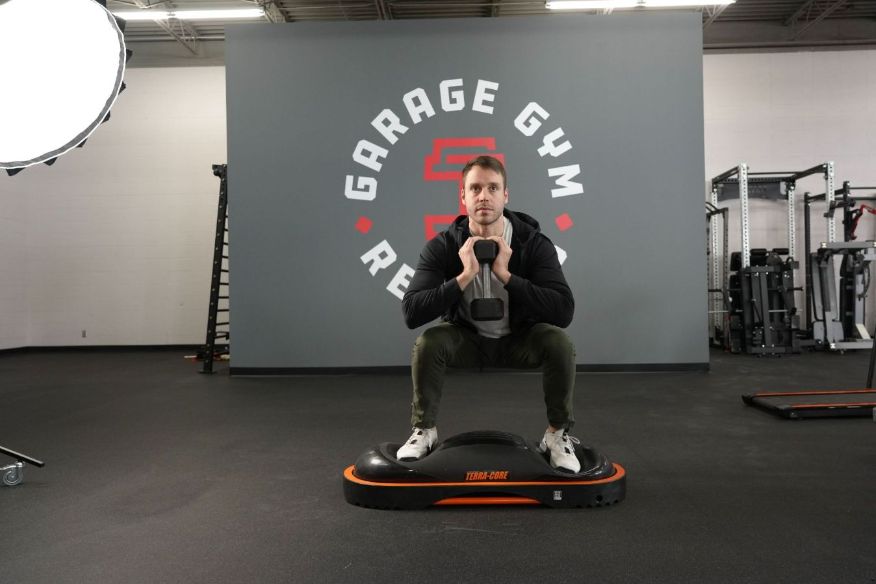 Terra-Core isn't necessarily a new concept. In fact, it is somewhat of a rebrand from a company called Vicore (now defunct, I'm pretty sure) that used a similar air-filled bladder on flat benches, adjustable benches, and even GHD's. These pieces are somewhat unicorns at this point and highly valued by many.
For those who might be worried about using something that's inflated as a weight bench, let me tell you that I've seen people much stronger than myself (not that there's many who fall into that category) bench several hundred pounds on this. The bladder is made of polyethylene, aka plastic, and though not quite as grippy as vinyl, you won't be slipping around on it.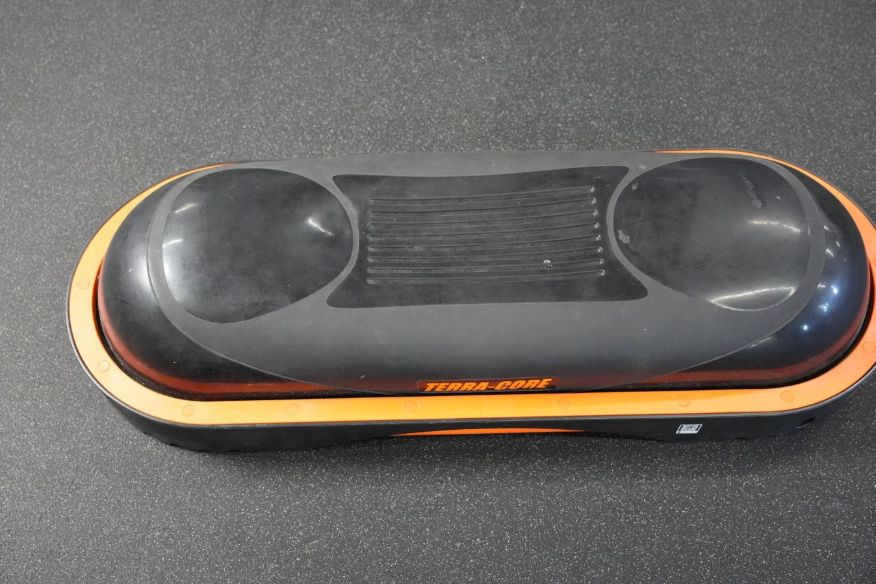 Anthony eked out a couple of dumbbell presses with it and never felt insecure. He did, however, notice that the air-filled surface required him to use more of his stabilizing muscles compared to a regular bench, which provides more muscle activation and can lead to increased strength gains.
"It did feel weird at first, and honestly I think I should've started off with a little more air in it," he told me.
Honestly, I feel like that's good advice for balance training beginners and pros alike. Even if you're used to things like a medicine ball, I'd suggest starting off with a full air bladder and gradually deflating it over time as you get used to the way it feels.
As the company's name suggests, Terra-Core is also great for core exercises like push-ups, burpees, and planks. While these can certainly be done on the inflated side, the air bladder will provide an extra challenge, you can also use the flat side where you'll find two handles.
The handles can also be used to row the entire Terra-Core, or even press it overhead like Anthony did. "Obviously it wasn't the biggest challenge," he says, noting that it weighs just around 30 pounds, "but it was still fun."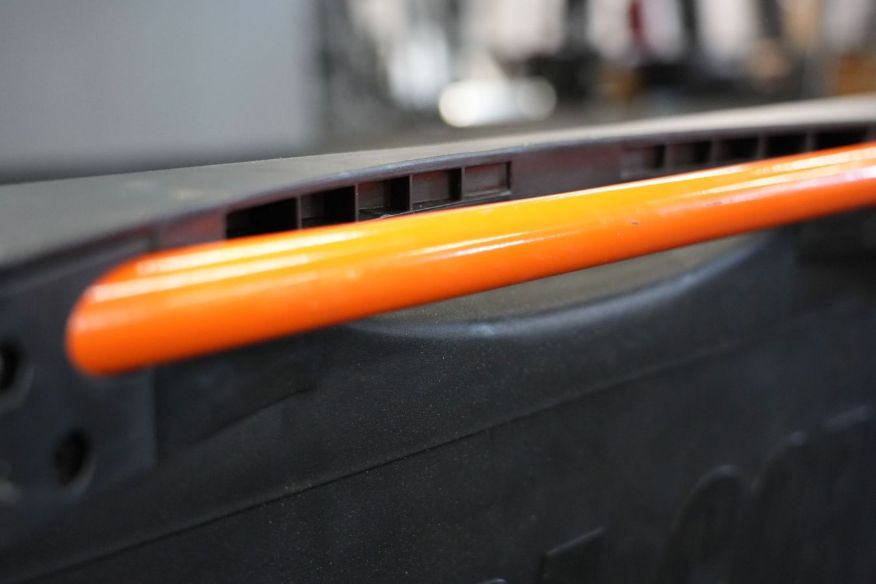 One other thing I really like are the notches where you can attach resistance bands. This, in my mind, is one of the things that makes it great for people who are on the go. Really, this can be paired with just about any exercise equipment you can find–there are many people who use it while doing Romanian deadlifts.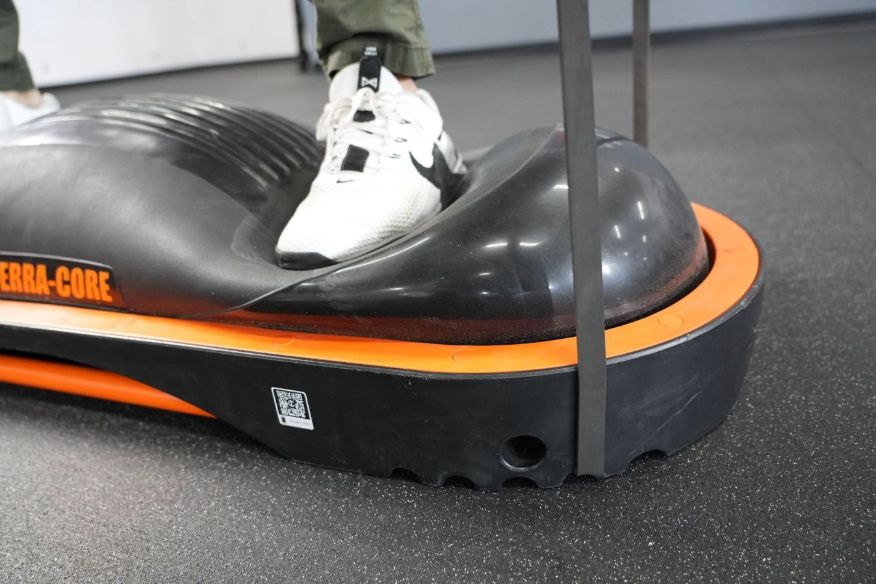 While I haven't tried this myself, many reviewers say it's great for bodyweight training such as TRX. The possibilities are endless with this thing and you're really only limited by your imagination.
Terra-Core Fitness App
Every Terra-Core purchase comes with a 14-day trial to Terra-Core Fitness app, which features on-demand workout classes and exercise guides. It costs $19.99 per month after the 14-day trial, or $149.99 for the whole year if you pay the annual cost upfront (which amounts to $90 saved).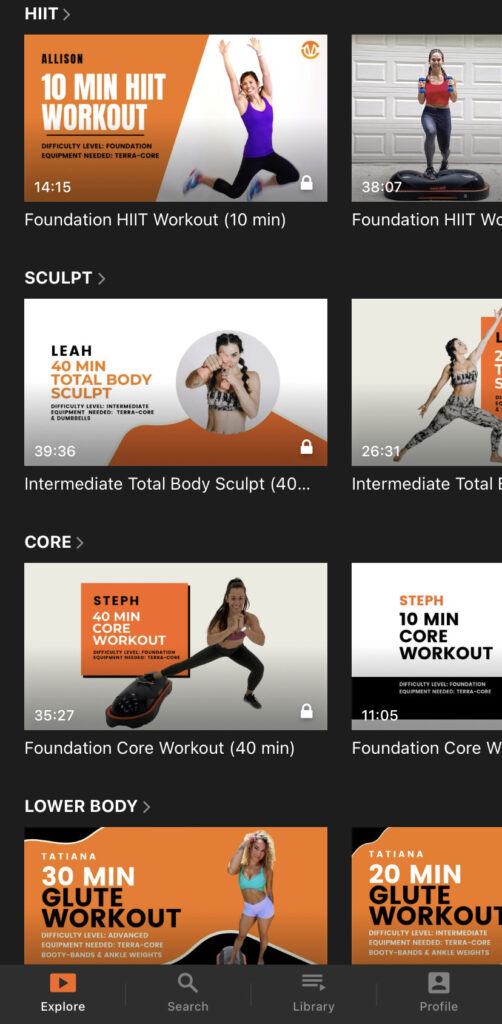 In my opinion, this app is geared more toward the general trainee than a high-level strength trainer or someone who lives and breathes fitness. I do like that it offers options for people of all fitness levels, and even has options for pregnant mothers looking for prenatal workouts.
Footprint and Portability
The Terra-Core is the type of home gym equipment Anthony wishes he had when he was sharing a 300-square-foot apartment with his girlfriend and their cat. "This would've made our quarantine days just a little more bearable," he says.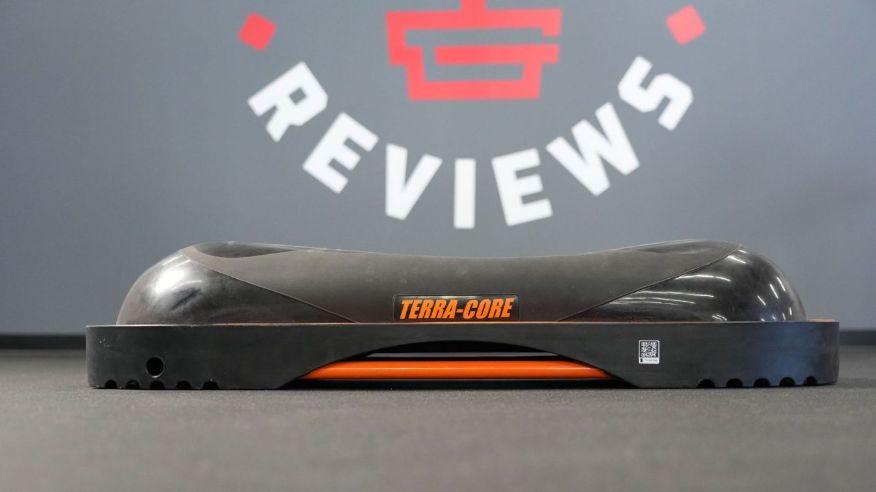 The whole unit only weighs 28 pounds, and the bladder can be easily deflated if you want to put it in your trunk during road trips. For people in small spaces, like Anthony used to be in, it can easily fit under a bed or couch when not in use.
Here are the dimensions of the Terra-Core.
47 inches in length
18 inches in width
6.75 inches in height
Durability
Terra-Core's air bladder is made from high-density polyethylene, which is a fancy way of saying plastic. There are videos of people deadlifting and benching way more than 315 pounds for reps on these things, and they stand up to the abuse.
My Terra-Core hasn't shown any signs of wear and tear in the two years I've had it, and I think with proper care it should last a very long time. The only way it could stop working is if it pops, so even though I don't think I have to say it you should keep any sharp objects away from this.
Terra-Core vs. the Bosu Ball
Bosu Ball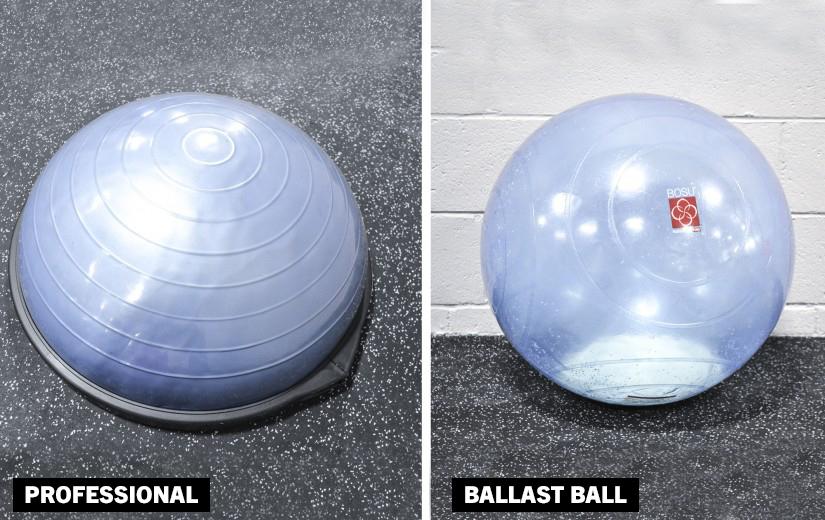 Bosu Balls

One of the most underrated, all-around tools for functional fitnessThe Bosu ball is the top of the line for auxiliary work. It is one of the best investments to train midline strength and stability, as well as balance and coordination. These are the keys to any skill or effort in athletics and the Bosu Ball has contributed greatly in their development. An improvement in these under-developed skill sets can pay huge dividends. Make stability and strength your foundation.The BOSU Professional includes a pump, plug, and an Owner's Manual. The BOSU Pro Balance Trainer weighs approximately 17LB, constructed with a dually overmolded platform which is heavier, smooth and non-skid, non-marking and a 8.25LB bladder. It comes with a 1 year Limited Warranty. Designed specifically for Club use, User weight limit 300LB, Made in the USA.BOSU® Ballast® Ball stays put, so that balls don't wander around the gym floor. Constructed of high-quality, burst-resistant material, it has a six-sided design for proper alignment and positioning. With the BOSU® Ballast® Ball, individuals can perform exercise progressions and dynamic drills that aren't possible on a regular stability ball. The product is translucent light blue with white multi-dimensional material, and includes a foot pump. Product can be inflated between 55CM and 65CM, 6.5LB. Maximum user weight is 300LB. Made in the USA.*Pump is included with all BOSU Balls.
The Bosu Ball is the balance trainer most people are probably familiar with, and for a very good reason: it's a classic. If you're looking to work on core strength or improve your stability then it's an excellent choice.
When trying to decide which one is the best for your home gym, you should consider how you're going to use each. Those who just do bodyweight exercises and want to test their balance every now and then should probably go for the Bosu Ball, as it's cheaper than Terra-Core.
But if you're looking for versatility, the Terra-Core balance trainer is the winner hands-down. I probably wouldn't trust the Bosu Ball for something like a bench press as your entire body wouldn't be able to fit on the surface during the move.
Benefits of Balance Training
The instability offered by Terra-Core may seem a little gimmicky, but there are actually multiple benefits of balance training, sometimes called stability training. The concept behind this training method is that you strengthen the muscles that keep you upright (which is all of them, but it focuses on your core and lower-body muscles).
Balance training can help prevent falls and also improve your ​​proprioception, or your body's ability to sense movement and its location in proximity to other objects and people. These are both things you want to work on as you age, but they can also be beneficial to learn how to keep your balance during heavy lifts (something the pros at Squat University try to drill home in just about every video).
There are some studies that show using unstable surfaces, such as Terra-Core, during strength training can increase muscle endurance and overall strength, though the increases are small and not as dramatic as some marketing campaigns make them seem.
If anything, benching or deadlifting on a balance trainer may activate some of your stabilizing muscles that aren't required on a traditional flat bench. After all, you need to work harder to keep your core stable during the lift since you're on an unstable surface. This can lead to increased overall strength, but again it won't be anything life-changing.
Ordering and Setting Up Terra-Core
You can either purchase the Terra-Core on its own, or opt to pay a little more for a set of resistance bands and an extended trial of the Terra-Core Fitness app.
As far as setup goes, there's no assembly required and the only thing you have to do is fill the air bladder using the air pump. This only takes a few minutes, and you'll get a nice tricep pump by the time you're done.
Returns, Financing, Warranty
Terra-Core's customer service page is enthusiastic, and it's filled with a lot of marketing jargon that frankly makes it unclear what their return policy is. From our reading of the page, it seems like there's no limit on when you can return your Terra-Core for a full refund.
It also says to return it in the original box "if possible," unlike other companies who make that condition mandatory.
The warranty is a little more clear, as it states in bold letters that it's covered for life. So no matter what happens you'll be able to get a new one at no cost to you.
As far as financing, you can split the cost into four interest-free installments using Shop Pay at checkout.
Customer Reviews
Terra-Core only has 5-star reviews on its website (Terra-Core reviews every comment before it's posted to the site), and has an average rating of 4.7 stars on Amazon.
Several personal trainers on Amazon said they've started using Terra-Core to help their clients achieve their strength building and weight loss goals.
The few negative reviews centered around the air bladder leaking air, and a few people complained about having to pay $19.99 per month for the app.
Final Verdict of Our Terra-Core Review
At the end of the day, I think Terra-Core is a fun piece of fitness equipment that's great for general trainees and dedicated fitness enthusiasts. But I think it lends itself more toward the former, especially for those who may be in small spaces and want something versatile.
Terra-Core is also a great fit for those who are on-the-go, want a different style of weight bench, are into HIIT-style workouts, or want to improve their balance. Personally, I use it to provide variety to some of my upper-body training days and would love to see others use it in a similar fashion as well.
Terra-Core
The Terra-Core is a functional weight bench that doubles as a stability trainer. It's great for people in small spaces, or those who want to shake up their fitness regimen with a versatile piece of equipment.
Product Brand: Terra-Core
Product Currency: USD
Product Price: 300
Product In-Stock: InStock
Terra-Core FAQs
Is the Terra-Core worth it? 
We think there are several people who would find Terra-Core worth it, and they include: general trainees looking for a versatile piece of equipment, those who workout in small spaces, and strength athletes looking to introduce stability training into their workouts.
Did Terra-Core get a deal on Shark Tank?
Yes! Founder Greg Nigro received a deal for $300,000, in exchange for 22.5% equity of his company, from Lori Greiner.
How heavy is a Terra-Core? 
The Terra-Core is 28 pounds. 
How does Terra-Core work? 
Terra-Core is a flat weight bench that has an air bladder with a hand pump. By filling the bladder with air, you can introduce some stability training to your training regimen. It also has a flat side with pushup handles, and notches to attach your favorite resistance bands to.