We test and review fitness products based on an independent, multi-point methodology. If you use our links to purchase something, we may earn a commission. Read our disclosures.
Row, Row, Row Your Way to Improved Fitness
Rowing workouts often takes a backseat to running or cycling, likely due to the fact that it's not as familiar for many exercisers, especially beginners. Most of us have been running or riding our bikes since we were little, but have spent less time in the water paddling. As such, getting on the rowing machine can feel a little more intimidating than other exercise machines, at least until you get proper rowing technique down.
If you're looking for some ideas to get you started, we've got you covered. From rowing machine workouts for beginners to more advanced Tabata-style rows, we've developed the best rowing machine workouts for all fitness levels. We are aware that rowers aren't the most intuitive piece of cardio equipment, which may make using it scary. So we'd also like to spend some time here working on your form and technique.
Medical disclaimer: This article is intended for educational and informational purposes only. It is not a substitute for health or medical advice. For medical advice, contact an appropriate healthcare provider.
Benefits of Rowing Machines
Rowing benefits has a lot going for it. Aside from being an effective cardiovascular workout, rowing can improve muscular endurance, increase lower- and upper-body strength, and contribute to weight loss by boosting fat oxidation.
Rowing is also a versatile workout that can act as cardio and high-intensity resistance training in one. Because the movement works a lot of muscles at once, it allows you to maximize your results, according to John Gardner, a NASM-certified personal trainer and the CEO and Co-Founder behind Kickoff, a remote personal training platform.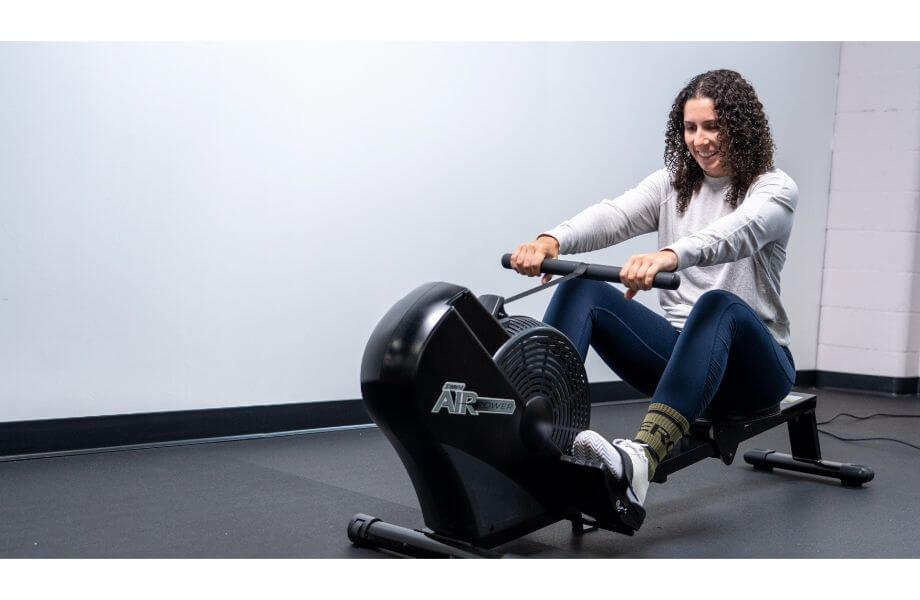 Due to the full-body effort required during rowing, it's not easy to slack on a rowing machine, Gardner says. You can get impressive results from quick rowing workouts—especially if you up the intensity.
Using an indoor rowing machine can also be good for your mental health. Aside from the mood boost that goes hand in hand with the release of endorphins, the steady rhythm involved in rowing can help relieve stress and physical and mental tension, according to Caley Crawford, NASM-certified personal trainer and Director of Education for Row House.
And since it's low-impact, it's gentler on your joints than running or plyometrics.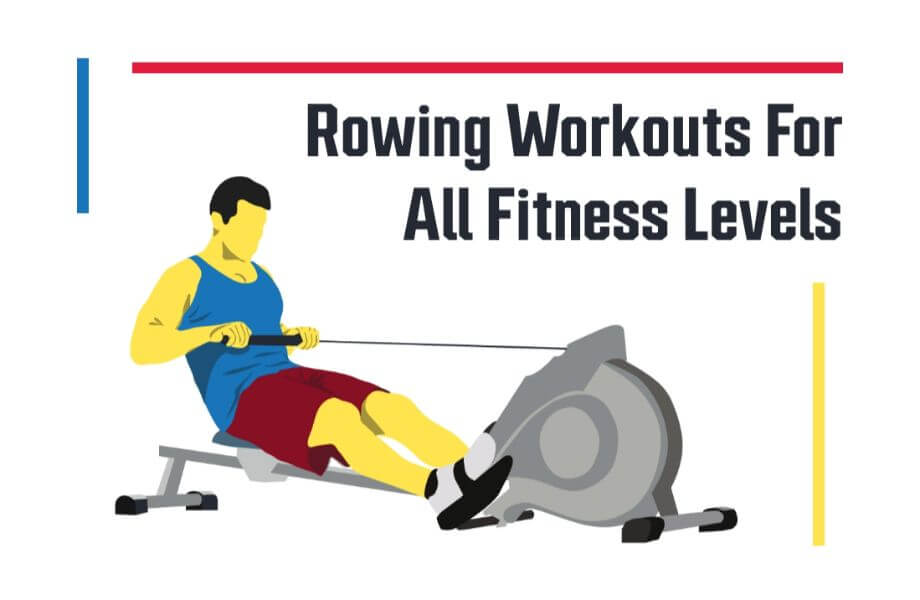 Rowing Machine Technique
Getting a good rowing machine workout is all about your form. You can check out our full step-by-step guide on how to use a rowing machine for detailed explanations on each step, but here's a quick rundown:
To get the proper rowing stroke, make sure you're properly set up in a good starting position by sitting with a neutral spine, engaging your core, and gazing forward; this reduces your risk of injury and helps maximize your workout.
Once you're settled into position, with your feet resting between the foot straps and heel cradles, the next step is to push with your legs, driving through your heels. As you approach full extension, lean back to create a 100-degree angle between your torso and legs. As you reach the end of your lean, pull with your arms.
The last step is to return to the starting position—what's called the reverse, or recovery. Extend your arms back to the starting position, lead forward, and bend your knees. Then do it all over again.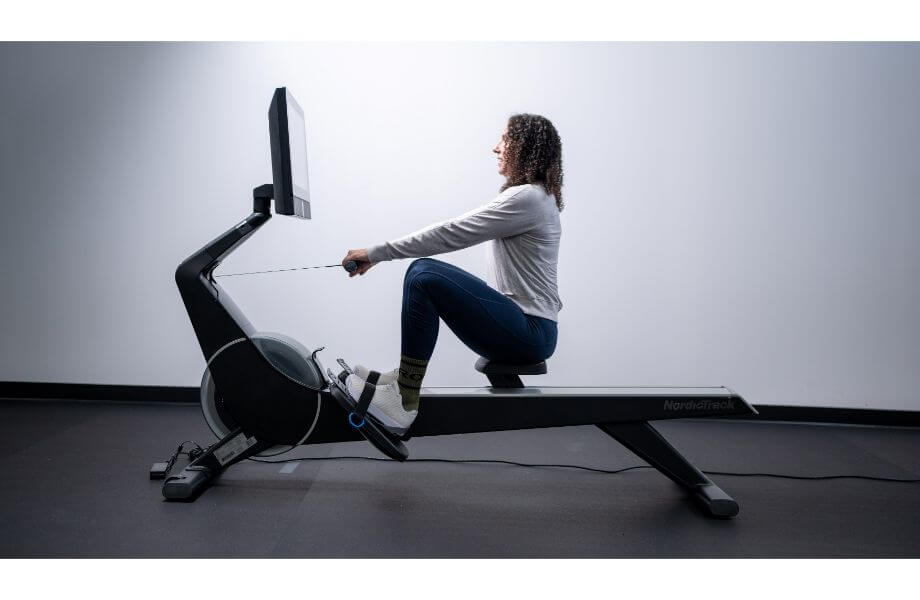 Rowing Machine Workouts For Beginners
When you're just starting out, you want to concentrate more on form than speed and power, says Caroline Grainger, ISSA-Certified Personal Trainer at FitnessTrainer.
"One of the keys to safely and effectively using a rowing machine is to do your best to maintain a steady, smooth motion throughout the process. Yanking on the pull cords on your way back can feel good, but it's also a great way to injure your arms or back," Grainger says.
This quick rowing machine workout is a great starting point for beginners.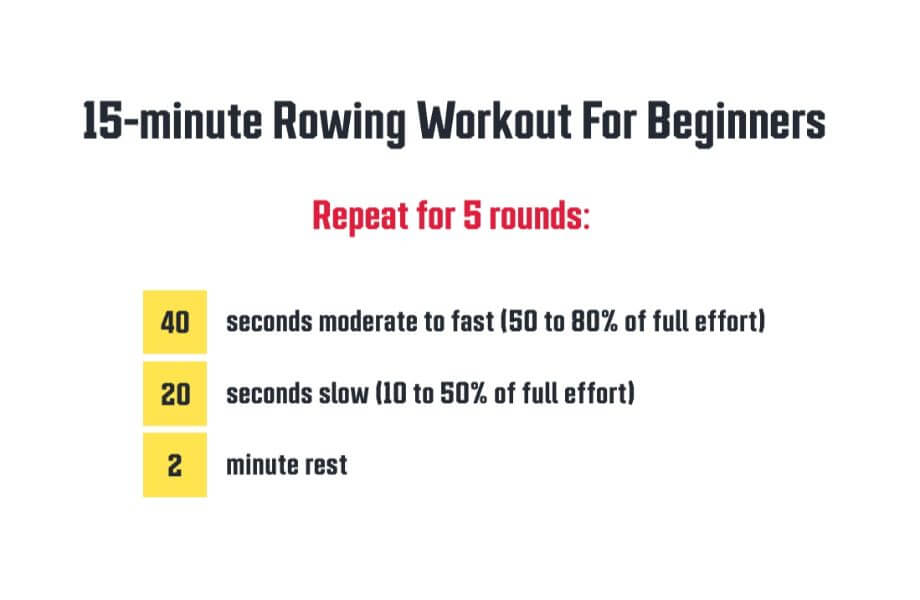 15-minute rowing workout for beginners:
Repeat for 5 rounds:
40 seconds moderate to fast (50 to 80% of full effort)
20 seconds slow (10 to 50% of full effort)
2 minute rest
Advanced Rowing Machine Workout
As you get comfortable with the rowing machine, you can pick up the pace and intensity a bit. This rowing machine workout, which utilizes interval training, is ideal for advanced users that have built up a little endurance and can pull a little harder on the flywheel.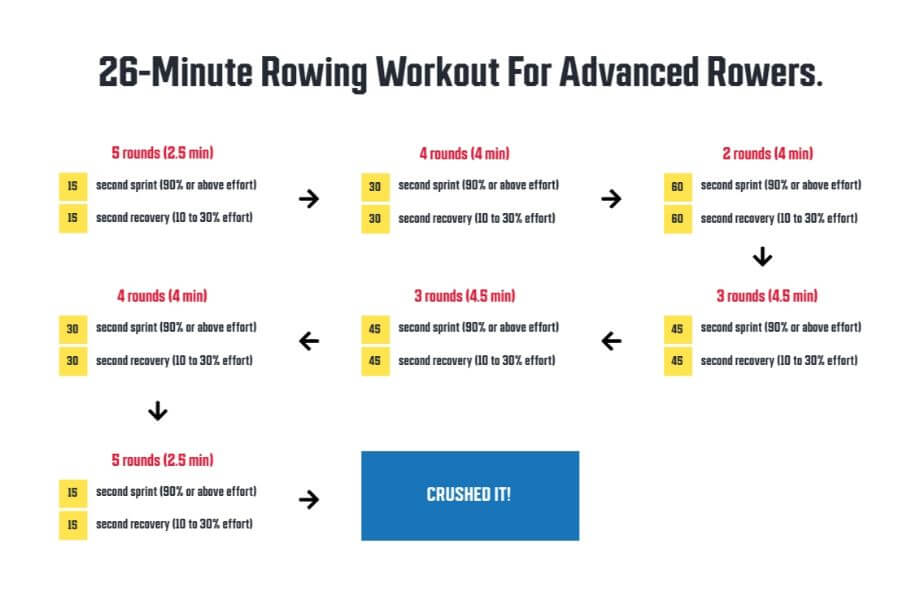 This 26-minute rowing workout is for advanced rowers:
5 rounds (2.5 min)
15-second sprint (90% or above effort)
15-second recovery (10 to 30% effort)
4 rounds (4 min)
30-second sprint (90% or above effort)
30-second recovery (10 to 30% effort)
3 rounds (4.5 min)
45-second sprint (90% or above effort)
45-second recovery (10 to 30% effort)
2 rounds (4 min)
60-second sprint (90% or above effort)
60-second recovery (10 to 30% effort)
3 rounds (4.5 min)
45-second sprint (90% or above effort)
45-second recovery (10 to 30% effort)
4 rounds (4 min)
30-second sprint (90% or above effort)
30-second recovery (10 to 30% effort)
5 rounds (2.5 min)
15-second sprint (90% or above effort)
15-second recovery (10 to 30% effort)
Quick Rowing Machine Workout
If you're working with a short amount of time (even if you only have five minutes), you can still get an effective workout with high-intensity interval training (HIIT), which has been shown to increase muscle endurance, power output, and speed, according to Reda Elmardi, Certified Strength and Conditioning Specialist Trainer and certified nutritionist.
"HIIT is great for athletes who want to get faster at their sport but don't have time to train full-time," he says.
This quick 4-minute rowing workout follows the Tabata format, which is commonly found in CrossFit programming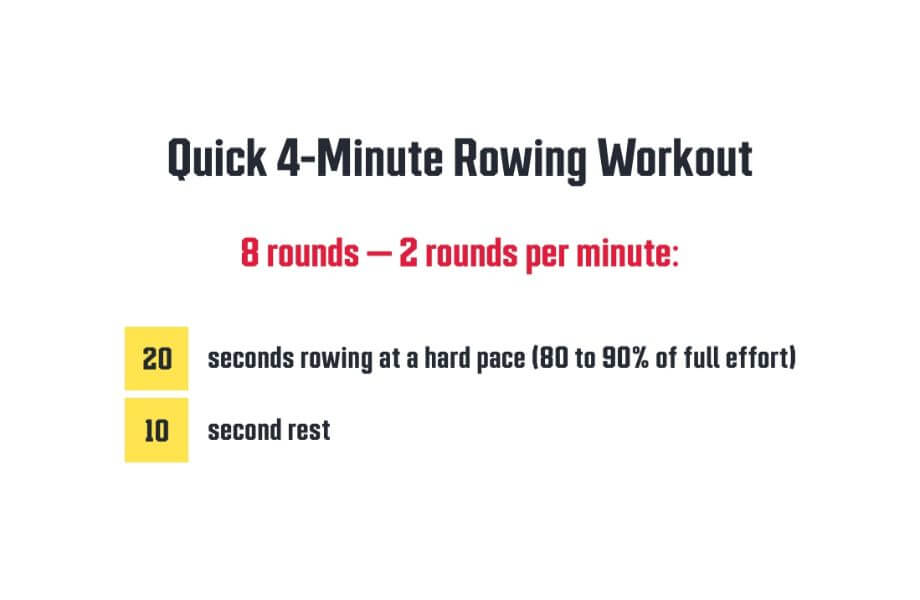 Quick 4 minute rowing workout (8 rounds—2 rounds per minute):
20 seconds rowing at a hard pace (80 to 90% of full effort)
10-second rest
Rower Recovery Workout
Every good workout needs an equally good recovery period and, according to Elmardi, rowing machines are great tools for the job since they provide a low-impact workout.
Rowing also helps reduce stress and tension in your body and allows you to work at a slower pace than running or cycling, he says. This allows you to focus on form instead of speed.
You can use the rowing machine as a warm-up or cooldown by trying this recovery workout:
Complete 5 to 8 rounds at a moderate pace (60 to 80% of full effort):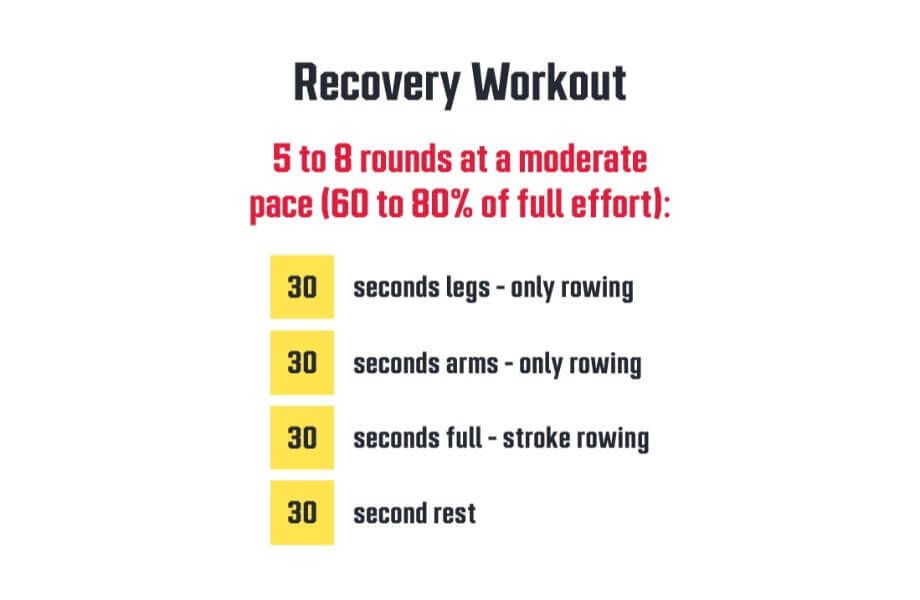 Recovery rowing machine workout:
30 seconds legs-only rowing
30 seconds arms-only rowing
30 seconds full-stroke rowing
30 seconds rest
Rowing Machine Workouts FAQs
Is rowing good exercise?
Rowing is an excellent form of cardio exercise, and it's also one of the only non-weight bearing sports that engages all the major muscle groups, like your quads, glutes, and hamstrings, according to Crawford. In other words, it can give you a total-body workout.
Indoor rowers are also extremely versatile. "Long, slow cardio, as well as rowing machine HIIT workouts, are possible, and strength training can even be done with some models, depending on how the resistance is applied," says Grainger.
Is 15 minutes of rowing enough?
A 15-minute rowing session can be a great workout, and an excellent addition to your daily cardio routine. However, if you want to meet 150 minutes of exercise per week, as recommended by the Department of Health and Human Services' Physical Activity Guidelines for Americans—you'll have to add in some other forms of exercise, such as bodyweight strength training or training with weights like dumbbells or kettlebells. 
Is rowing good for fat loss?
Like all cardio workouts, rowing can help you burn calories, which can translate to weight loss when combined with a balanced lifestyle. Rowing is also a full-body workout that helps you build lean muscle, and studies show that rowing can lead to a greater rate of fat oxidation, or fat burning, than other forms of cardio, such as cycling on an exercise bike. However, it's important to keep in mind that proper nutrition is vital to optimal fat loss.
How long should you exercise on a rowing machine?
There's no set period of time you should exercise on a rowing machine. You can get a quick heart pump in by doing a 4-minute HIIT-style workout or, if you have more time (and you're a more advanced rower), you can bump up to 30-minute HIIT-style or steady-state rows. The baseline recommendation is to get in 150 minutes of exercise every week; how you want to break that up is up to you.
How do you create a good workout on a rowing machine?
It depends on your goals. You can create some good rowing machine HIIT workouts by alternating short periods of sprints with short recovery periods. If you want to get in some cardio without so much intensity, you can do a 20-minute steady-state workout with a consistent stroke rate that keeps your heart rate elevated. No matter which type of workout you choose, the key is to make sure you always focus on your rowing technique and maintain good form.