We test and review fitness products based on an independent, multi-point methodology. If you use our links to purchase something, we may earn a commission. Read our disclosures.
Commercial treadmills are what you would typically see in big box gyms, but that doesn't mean that they can't live in your garage as well. After testing some of the best treadmills, our team truly believes that the NordicTrack Commercial 1750 is one of the best-motorized options available–as long as you want interactive programming, a tech-friendly machine, and are willing to pay for it.
Since our initial NordicTrack Commercial 1750 Treadmill review two years ago, the brand has updated this machine with a larger touchscreen that swivels, lower deck, and what the brand calls "Active Pulse technology," which means the machine uses your heart rate to adjust your workout. We got to test some of these features on the Commercial 1250 and are here to tell you all about it.
Expert-Tested and Reviewed
Durability: Does it shake much during use?
Programming: Are the available workouts easy to follow?
Noise level: Is this treadmill loud during use and during incline changes?
NordicTrack Commercial 1750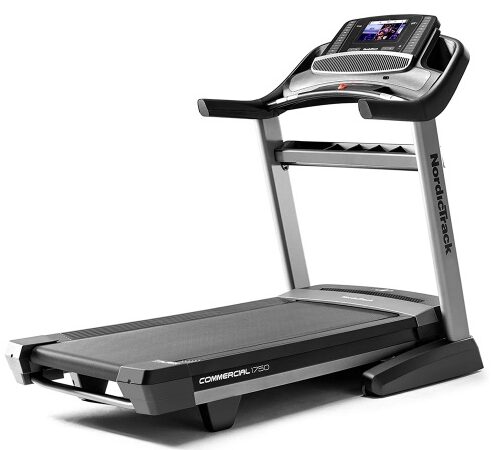 GGR Score: 4.5
Product Highlights
Spacious running deck
Compatible with iFIT
14-inch touchscreen
Incline and decline training
Financing available
Pros & Cons
Pros
Compatible with iFIT
3.5 CHP motor
Free trial of iFIT subscription with purchase
Treadmill with incline and decline training
Foldable to save space (EasyLift Assist)
Run that feels similar to road running
Financing options available through NordicTrack
Generous speed range
Wide running deck
Cooling fan
Cons
Big footprint
Heavy and not the easiest to move
Price is around $2,000
Warranty is voided if the treadmill is used/stored in a garage
Bottom Line
If you're looking to add a workhorse of a treadmill to your home gym, we recommend the NordicTrack Commercial 1750.
A Quick Look at the NordicTrack Commercial 1750
Make sure you grab a friend or family member to help you properly assemble the Commercial 1750. It's way easier with two people.
Take full advantage of your 30-day free trial of iFIT; there are a variety of classes to try besides running-related ones.
NordicTrack Commercial 1750 Video Review
Is the NordicTrack Commercial 1750 Worth It?
NordicTrack Commercial 1750 Specs
Our Experience Using the NordicTrack Commercial 1750
You can find all our NordicTrack treadmill reviews over on our Best NordicTrack treadmills page.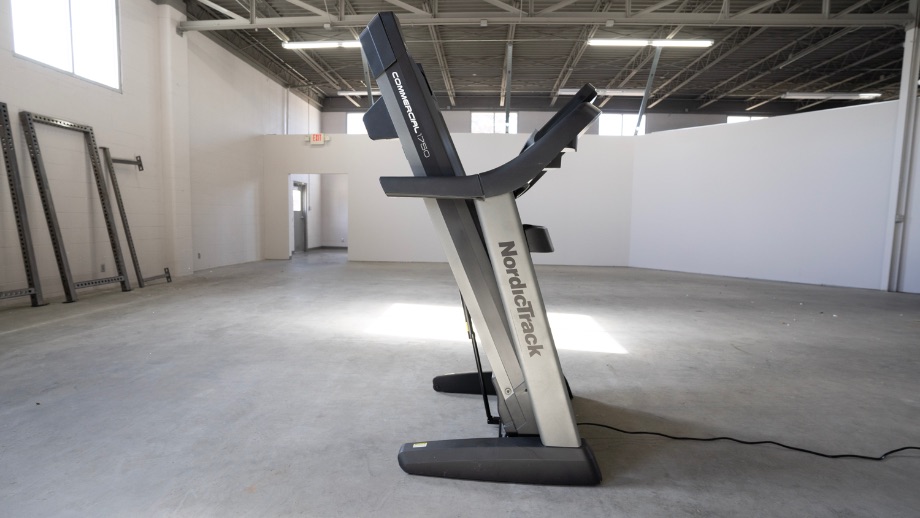 Footprint and Portability
When it comes to footprint and portability, the 1750 scores just above average at 3.5 out of 5. This is for a few reasons.
Conveniences and Ergonomics
14-inch, full-color, HD touchscreen that swivels for off-machine workouts
Water bottle holder
Tablet holder, in case you want to stream something while you run
Big accessory tray to put your smartphone or headphones
Two speakers
Bluetooth connectivity to your headphones
Two cooling fans that blow on you as you run
Cushioning
Runners Flex cushioning gives you the option to turn on the machine's cushioning to lessen the blow on your joints. If you turn it off, you have more of a road running experience.
Incline And Decline Training
One feature you don't often see on treadmills is the ability to do decline running. It adds to the size of the machine as well as the cost. But, if you really want to feel like you're running hills, without actually going out and running hills, then this is what you need. The Commercial 1750 can go to a -3% decline and up to a 15% incline, which is a nice value add.
Powerful Motor
For a home treadmill for running, having a super high-powered motor isn't exactly all that important because, unlike treadmills at commercial gyms, at-home machines aren't used by multiple people all day long. But, you also don't want a super weak motor, because that can lead to the breakdown of parts.
The Commercial 1750 has a 3.5 continuous horsepower motor. I'd say the best treadmills for runners are the ones with a 3.0 CHP motor or higher. This supports higher speeds and heavier usage. (Just an aside, NordicTrack's other treadmills in this line – the 1250, 2450 and the 2950 – boast motors at 3.0, 4.0, and 4.25 CHP).
Technology
Right away, you notice the 14-inch touchscreen display. While this isn't the biggest screen on this line of treadmills (2950 has a 22-inch touchscreen), it's still a beautiful sight.
The screen on the original 1750 was 10 inches. We thought that was pretty cool; now, however, the 2023 version has a 14-inch screen that swivels so you can do workouts off the machine. We got a taste of this technology when we tested the NordicTrack Commercial 1250, which has a 10-inch tilt-and-pivot screen.
Lindsay Scheele, who tested the 1250 at our GGR equipment facility, said of the screen: "The touchscreen is quite a bit smaller than the actual console. However, it's not that the screen is too small (I mean, I do wish it was bigger) but the console itself is big and I think the screen could take up a little more space." Therefore, the screen on the 1750 might be just right!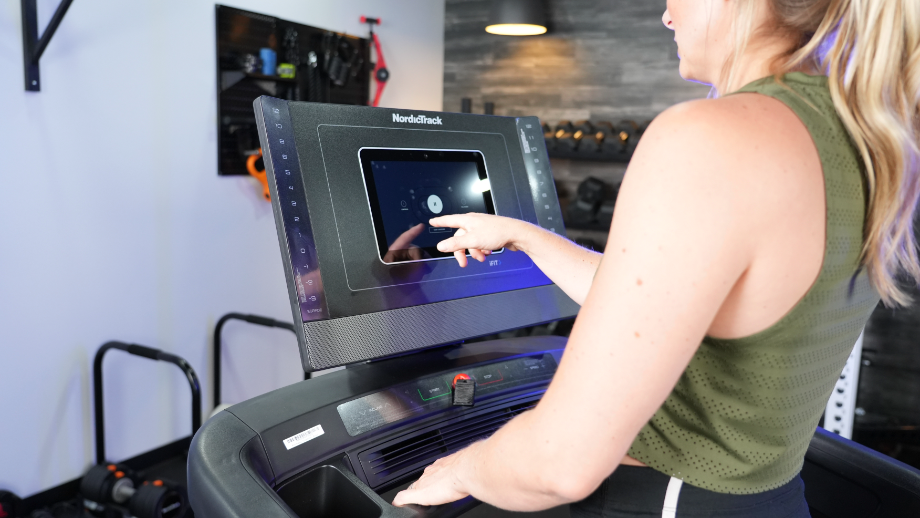 During your run, all the data is on a scroll across the top: time, distance, calories, speed, heart rate, etc. There is heart rate monitoring via the sensors on the handlebar, but of course, Bluetooth connectivity enables you to use a wireless heart rate monitor (strap not included).
There are two speakers through which the iFIT personal trainers give instruction, or you can listen to the iFIT music. The treadmill is Bluetooth enabled so you can sync your headphones with the machine and cut down on noise that others in your home or area would hear.
NordicTrack 1750 and iFIT Interactive Programming
Arguably the most impressive aspect of the Commercial 1750 is iFit. Most major cardio brands are coming out with apps that provide some kind of interactive training: Peloton, Bowflex, Echelon, and many others have online programming of some sort.
RELATED: Echelon vs Peloton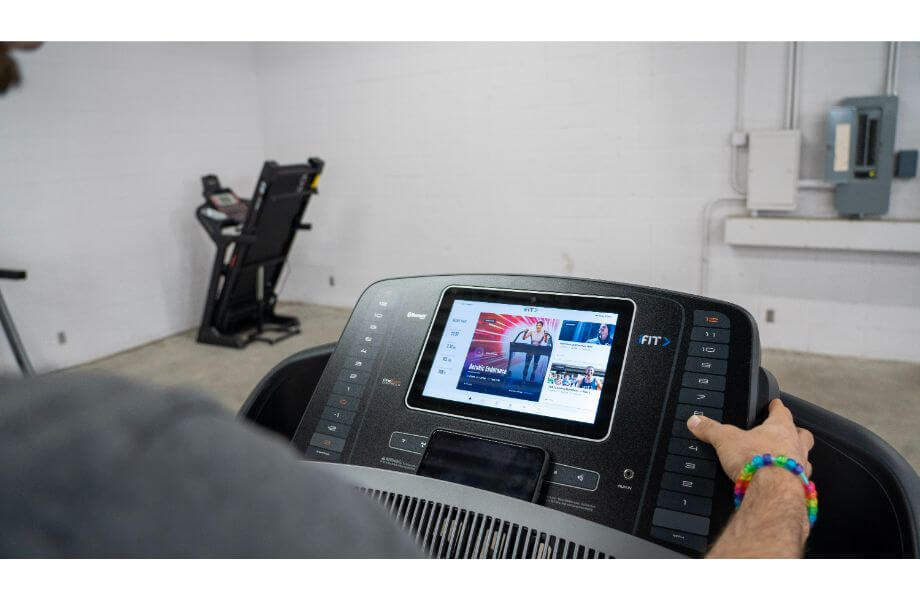 NordicTrack is part of the iFIT family that includes NordicTrack and ProForm. iFIT, formerly known as ICON Fitness, has actually been around for decades. iFIT programming has been around for almost as long, as it's been on VHS and CDs, that's how old it is. However, it wasn't until 2016 that iFIT Coach was released, which is really what drives the connected fitness machines because it integrates Google Maps, health tracking, and more.
Why does this matter?
Because iFIT is like having a personal trainer with you while you're on the treadmill. It will automatically adjust your speed and incline through different workouts. Also, you can run through Costa Rica or the mountains or countless other locations displayed on that big touchscreen.
I personally have completed the Hawaiian Endurance Series on iFIT using a NordicTrack treadmill. I found the coach to be really engaging and encouraging. You have the option to listen to the coach, or to turn up the accompanying music instead. I kept the music at a low volume so I could still hear the coach, because I really liked that he would share information about the places where we were running.
RELATED: Best Online Workout Programs
iFIT isn't just running: You can do all kinds of workouts. So your subscription covers everything: bike workouts, floor exercises, HIIT treadmill workout, stretching, etc. You can also use your membership on other NordicTrack or ProForm machines, like the NordicTrack Commercial S22i Studio Cycle.
RELATED: Best Exercise Bikes
You get 30-day trial of an iFIT family membership with the 1750, which means you can set up different user profiles for three other people. When that trial expires, you can renew it for $396 a year or $39 a month. You can also opt for an individual membership for $180 a year (there doesn't appear to be a monthly subscription for individuals.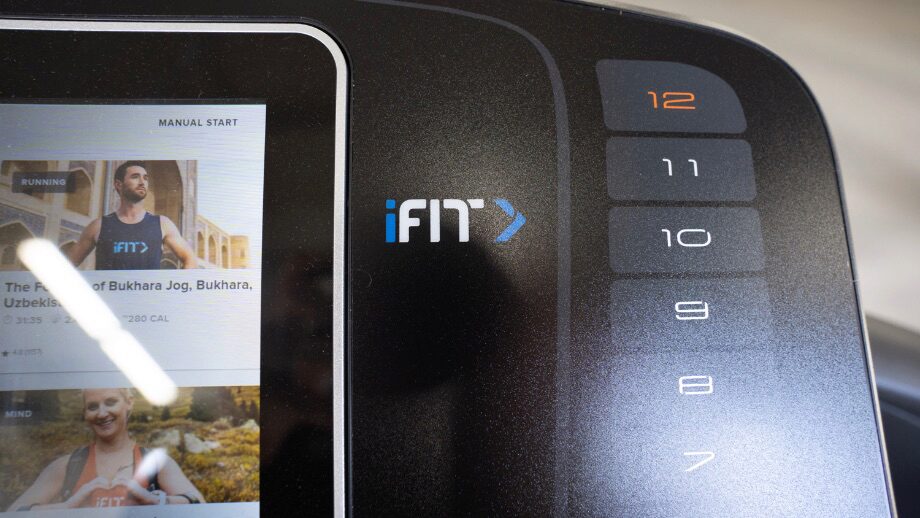 Compatibility
If you use other apps, like My Fitness Pal or Strava, iFit syncs your data … sort of. You have to log into your iFit account, export the information to a file and then upload that into My Fitness Pal. I like the idea of it, but I think this is definitely something that could be improved upon in future models.
NordicTrack Commercial 1750 Changes from 2021 to 2023
Since our first NordicTrack 1750 review, a few things have changed. Although subtle, the NordicTrack Commercial 1750 treadmill did get a slight facelift in 2023. We have personally used the 2021 version of this treadmill, and we have also used the Commercial 1250, released in 2023.
The upgrades from the 2021 version to the 2023 version of the 1750 include:
Bigger HD touchscreen (from 10 inches to 14 inches) that swivels
Quicker decline and incline adjustment
Easier to step up on due to lowered deck
Better quality speakers
"ActivePulse Technology"
Financing, Warranty, Returns
NordicTrack has a 10-year warranty on the frame, a two-year warranty on parts, and one year on labor. Industry-wide, this is the middle range. Brands like Horizon offer lifetime warranties, and Peloton offers a 12-month warranty.
The warranty will be voided by NordicTrack if you store 1750 in the garage. I find this to be ridiculous, but it is unfortunately in the fine print and something to be aware of.
There is a 30-day window for trying out the treadmill. If you don't like it, you have to return it before those 30 days are up to even be eligible for a refund, which isn't actually a full refund. Even if the product is new, you will have to pay a 10% restocking fee, and you have to pay $250 for shipping. If there is damage, you could be held responsible for it.
We do love good financing, and NordicTrack financing is pretty solid. As of this writing, you can finance the 1750 for $70/month at 4.99% over 39 months, which increases the price by a few hundred dollars.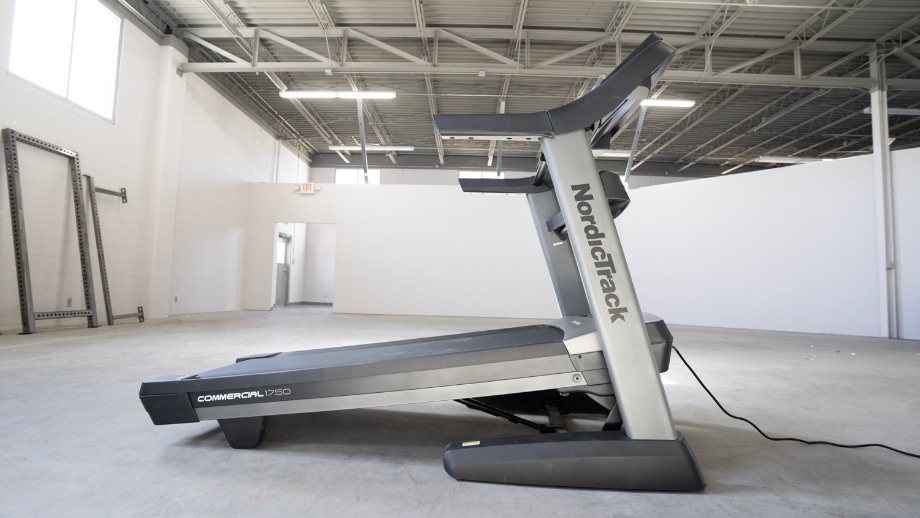 NordicTrack Commercial 1750 vs ProForm Pro 2000
ProForm Pro 2000 Treadmill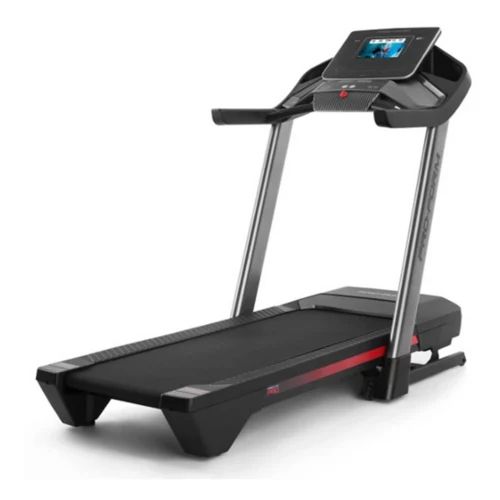 GGR Score: 4.2
Product Highlights
10-inch interactive touchscreen

Built-in console cooling fans

Bluetooth audio capabilities

60-inch-long running deck

Incline and decline training
3.25 CHP motor
Speeds up to 12 mph
Pros & Cons
Pros
10-inch interactive touch screen
Cushioning reduces impact on joints
Folds up and locks when not in use
Motor is ideal for walking or jogging
iFIT comes free for 30 days
Large running surface
Incline and decline training
Built-in cooling fans
Bluetooth speakers
Cons
Motor doesn't support long-distance running
iFIT requires a subscription
Bottom Line
At an affordable price, the ProForm Pro 2000 is a great buy with notable specs, features and size for anyone looking to walk, jog or do some light running.
ProForm and NordicTrack are in the same family; they both fall under the iFIT umbrella, which means both the NordicTrack 1750 and the ProForm Pro 2000 are compatible with iFIT programming.
We have personally used the ProForm Pro 9000, which has just slightly upgraded features compared to the Pro 2000. So we can confidently say that we know how the Pro 2000 operates, and that it's a good machine.
Both of these treadmills have spacious running decks, incline and decline capabilities, and top speeds of 12 MPH. There are just a few difference. First, the price: The 1750 is about $700 more expensive. Why? Well, it comes with a slightly more powerful motor and it has an upgraded 14-inch tilt and swivel touchscreen. The 1750 is also a much heavier, sturdier machine.
If you want a treadmill with all the bells and whistles, go with the 1750. If you're willing to make some smaller sacrifices on tech and durability, go with the Pro 2000.
Read more in our NordicTrack Commercial 1750 vs ProForm Pro 2000 comparison.
| | | |
| --- | --- | --- |
| | NordicTrack Commercial 1750 | ProForm Pro 2000 |
| Price | Around $2,500 | Around $1,800 |
| Footprint | 80" L x 38" W x 65" H | 77.3" L x 35.3" W x 59.6" H |
| Running surface | 20" W x 60" L | 20" W x 60" L |
| Workout programs | Compatible with iFIT (subscription sold separately) | Compatible with iFIT (subscription sold separately) |
| Display | 14-inch HD touchscreen display | 10-inch HD touchscreen display |
| Weight | 340 lbs | 262 lbs |
| Motor | 3.5 CHP | 3.25 CHP |
| Incline and decline | -3%-12% | -3%-12% |
| Speed range | 0-12 MPH | 0-12 MPH |
| User weight capacity | 300 lbs | 300 lbs |
| Wi-Fi | 2.4 GHz & 5 GHz Wi-Fi connectivity | WiFI connectivity |
| Warranty | 10-year frame, 2-year parts, 1-year labor | 10-year frame, 2-year parts, 1-year labor |
Customer Reviews
iFIT workouts on the Commercial 1750 has, at the time of this writing, 19 customer reviews on the brand's website with an average score of 4.5 out of 5 stars. These people are mostly reviewing iFIT, and not the machine itself.
On Amazon, there are more than 3,500 reviews with an average of 3.9 out of 5 stars. Most complaints have to do with the technology not working seamlessly.
My sister, who owns a NordicTrack treadmill, has said that the programming does get a little glitchy on occasion, but she has been running on it for years without issue.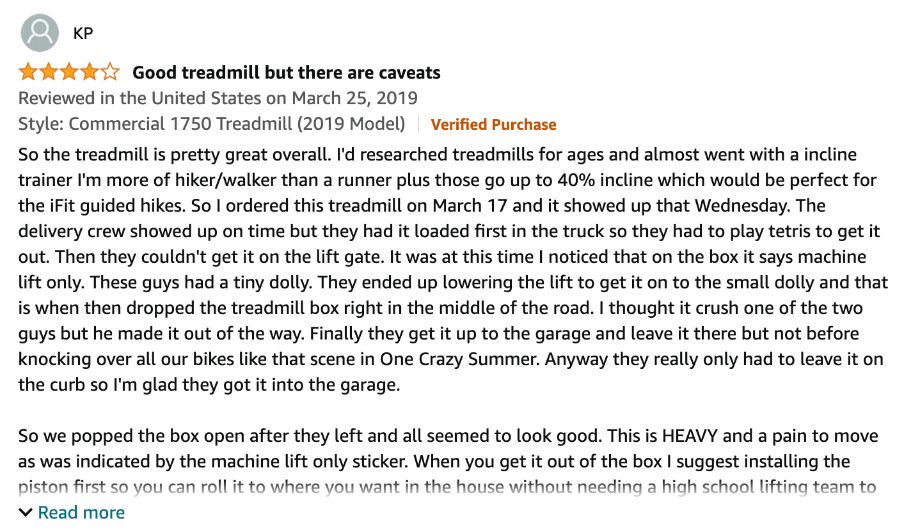 Ordering and Assembling the NordicTrack Commercial 1750
You can order the Commercial 1750 from Amazon, which gives you free shipping to the "first dry area" at your residence. Probably your driveway or porch. Other options include a fee to get the machine delivered to the room of your choice and an extra charge for delivery and assembly.
I put the machine together myself because I like to know what it's like and pass that information on to you. Also, I'm pretty good at assembling fitness equipment by now. That said, paying $199 might be worth the professional assembly if you aren't comfortable with the thought of using tools and doing some heavy lifting.
This treadmill weighs 339 pounds, so be prepared for a bit of a sled push workout in addition to assembly as you scoot the box around your space. Word to the wise: assemble the machine where you plan to use it.
It took me about 90 minutes from start to finish, which isn't surprising for a machine with all these bells and whistles (if you want a treadmill with a super-easy assembly, check out the Echelon Stride). Attaching the console, doing the wiring, and putting the hydraulics in under the deck really makes this a two-person job. The wiring you have to do involves pulling a few wires up from the bottom of the treadmill through one of the arms to plug into the console. You can really mess this up if you don't follow instructions or you've never had to thread wire before.
NordicTrack includes the tools you need, but I used my own socket wrench and screwdriver to speed up the process. Overall, the instructions are really clear and easy to follow. If you've ever put together furniture from IKEA, you will probably be just fine to do this on your own. Otherwise, just spend the money.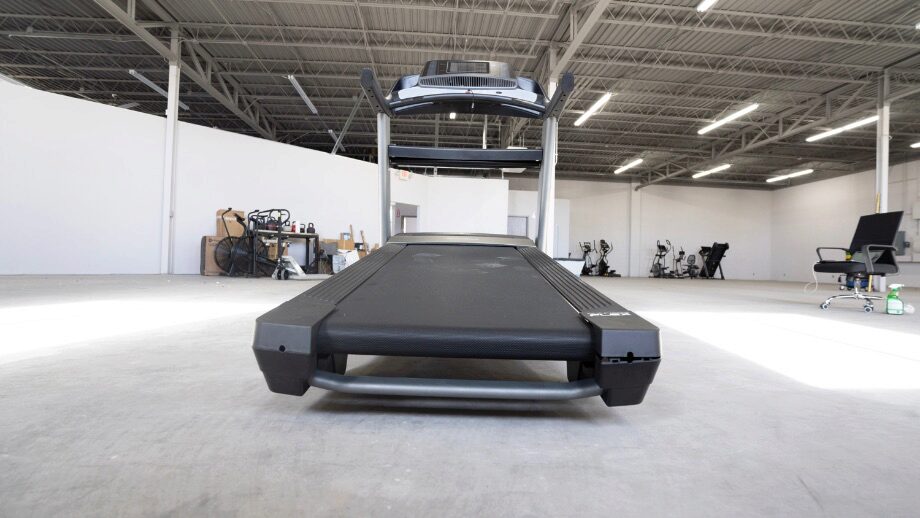 Final Verdict of Our NordicTrack Commercial 1750 Review
After spending some time with the NordicTrack Commercial 1750 treadmill, here are my biggest takeaways:
Really love the workout programs offered through iFit membership
Machine performs really well in terms of offering a smooth, comfortable run
The extras are cool, like the big screen and fans
The assembly can be complicated and overwhelming
If you're into tech, interactive programming, and a bunch of conveniences, this could be a great fit. However, it's important to note that with more features, there are more things that could eventually require maintenance. If these things aren't as important to you then there are plenty of other options for finding the best treadmill and best cardio machines for your home.
Full Rating on the NordicTrack Commercial 1750 Treadmill
NordicTrack Commercial 1750 Treadmill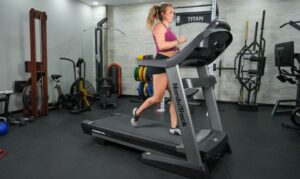 Commercial treadmills are what you would typically see in big box gyms, but that doesn't mean that they can't live in your garage as well. As I found in reviewing the NordicTrack Commercial 1750, these machines can be an incredibly valuable (and expensive) asset in your fitness equipment arsenal.
Product Brand: Nordictrack
Product Currency: USD
Product Price: 1899
Product In-Stock: InStock
NordicTrack Commercial 1750 FAQs
Can you watch YouTube on NordicTrack 1750?
Despite the big beautiful screen, there is no streaming functionality on this treadmill. There is a tablet holder where you can place your own device. If you're looking for a treadmill that streams shows, check out the Bowflex Treadmill 10.
Is NordicTrack 1750 quiet?
It's as quiet as any treadmill can be, which is to say it makes minimal noise but there is some sound from the tread.
Does the NordicTrack 1750 screen tilt?
Yes, the 2023 update to the NordicTrack 1750 is a bigger screen at 14 inches that tilts and pivots.
Is NordicTrack worth it?
NordicTrack makes some of the most high-end treadmills and cardio equipment on the market today, but they're not a good choice for people who are on a budget. We think it's worth the investment for those looking for a high-quality machine with all the bells and whistles
Does the NordicTrack Commercial 1750 require a subscription?
No, you don't necessarily need to subscribe to iFIT in order to use the 1750; however, this is a very expensive machine that only has a few free iFIT workouts included. iFIT is one of the main selling points of the machine, as you get running workouts as well as strength, yoga, and more. If you don't want the subscription, I'd recommend looking for a more affordable treadmill.
Is the NordicTrack 1750 hard to assemble?
I personally put together the NordicTrack Commercial 1750. While the brand says it has an "out-of-the-box-easy-assembly," this isn't quite true. It took me about 90 minutes to put together by myself. I would have preferred to have someone else there for a few reasons. First, this machine weights more than 300 pounds, so moving the deck around before you get this assembled isn't easy.
Secondly, attaching the console is tricky because you have to hook up some wiring and hold the console in place while screwing it in tightly. Another set of hands would have made this easier on me.
While NordicTrack supplies you with the tools you need, I found it much easier to use my own socket wrench instead of the basic wrench you get in the kit.
What is the top speed of the NordicTrack Commercial 1750?
The Commercial 1750 has a speed range of 0 to 12 MPH.