We test and review fitness products based on an independent, multi-point methodology. If you use our links to purchase something, we may earn a commission. Read our disclosures.
Looking for the best treadmill for your home gym but don't know where to start? Well, you lucky son of a gun, you stumbled upon the right place. I've tried some of the best budget treadmills on the market today, including options from Sole Fitness, XTERRA, Lifepro, Echelon, Sunny Health & Fitness and more.
In this Horizon 7.0 AT treadmill review, I'll break down all the stats and information on this machine using a research-based approach. I'll be sure to analyze the good and the not-so-great about this cardio machine to give you my honest take.
Why You Should Trust Us
Garage Gym Reviews is the name and fitness equipment is the game. Not only are we passionate about working out (and great products of course), but we love diving deep into the specs that matter to you.
Treadmills are no different—I've tested and analyzed well over 30 of these machines. I know the industry standards so well on every aspect of treadmills that I could recite them to you in my sleep. I take being a product expert seriously and aim to give you the best information possible.
Horizon 7.0 AT Treadmill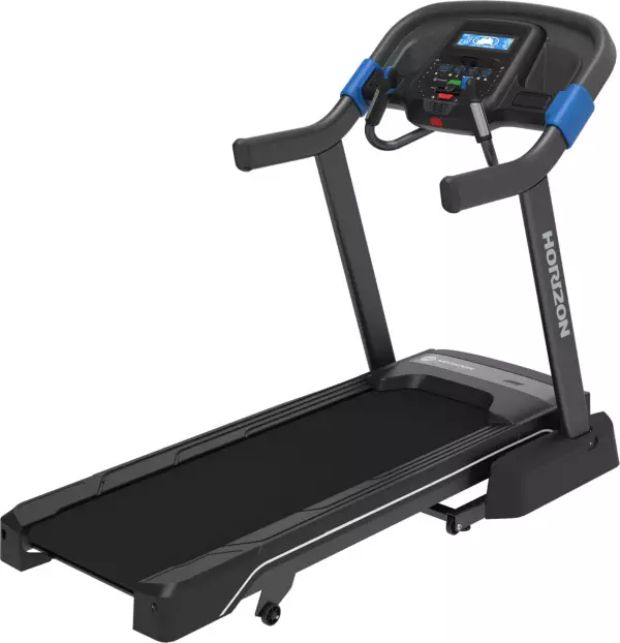 Horizon 7.0 AT Treadmill
Tired of searching for a budget treadmill that'll support your running habits? Look no further than the Horizon 7.0 AT Treadmill. This machine has a well-cushioned deck to aid in a more comfortable indoor run as well as a 60-inch deck (which is what we'd recommend most for running). I also enjoy the QuickDial adjustment feature, which allows users to change their speeds and incline up to "33% faster than other treadmills." This is useful if you love doing HIIT or sprints where you may need to quickly adjust the speed or incline.I would recommend shelling out the extra cash to get professional assembly. The 7.0 AT is a weighty cardio machine, and would best be completed with another helper (or a professional).
A Quick Look at the Horizon 7.0 AT Treadmill
Horizon Fitness manufactures a wide range of cardio machines including rowing machines, ellipticals, spin bikes, and treadmills. Of their treadmills, Horizon has two different series: The Go Series and the Studio Series.
RELATED: Exercise Bikes vs Treadmill
Generally speaking, the treadmills within the Go Series are more budget-friendly options with less bells and whistles (T101, T202, and T303). These machines range in price from $649 to $1,099.
The Studio Series features three slightly more feature-heavy machines: the 7.0 AT, the 7.4 AT, and the 7.8 AT. The 7.0 AT, which I'll be reviewing today, is the cheapest option in the Studio Series for just $999.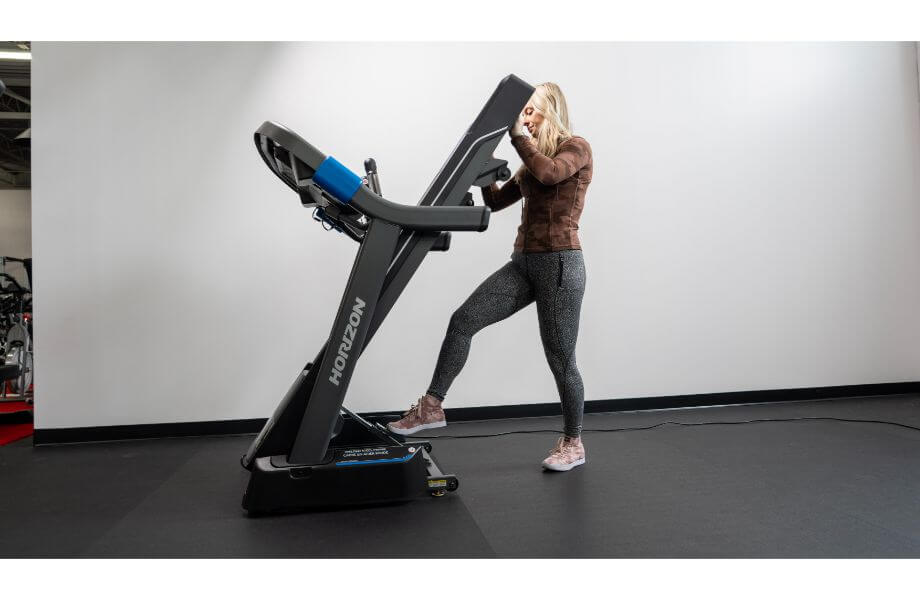 My Tips:
Don't forget to register your Horizon 7.0 AT on the website. This is how you'll be able to cash in on your warranty if you need a new part or repair.
Need some inspiration on what workouts to do? Check out our best treadmill workouts to try something new.
Pros:
Under $1,000
20″ W x 60″ L deck
Financing available through Horizon
Lifetime frame and motor warranty
Cons:
Display is not a touchscreen
Deck thickness of 0.7″ is below the industry standard
Lot of plastic used on this treadmill
Is the Horizon 7.0 AT Treadmill Worth It?
For under $1,000, the Horizon 7.0 AT treadmill has a lot to like. However, nothing is perfect for absolutely everyone. I'm going to break down who I think this machine is best for and who should leave it behind in favor of something different.
Great for:
Budget-conscious people
Tall runners
Beginners
People who need a foldable treadmill
Those who want Bluetooth speakers
Not recommended for:
Tech-obsessed individuals
People who want a lot of extras
Individuals who want a thick deck
RELATED: Best Treadmill for Tall Runners
Horizon 7.0 AT Treadmill Specs
Footprint
Weight
Weight capacity
Speed range
Fitness app

Display
Deck size
Warranty

Bluetooth
Foldable
Incline Range
Belt
76.5″ L x 36″ W x 59″ H
253 lbs
325 lbs
0.5 –12 mph
No native option, but is compatible with other training apps
7″ LCD screen
20″ W x 60″ L
Lifetime for frame and motor, 3 years for parts, 1 year labor
Yes
Yes
0-15%
1.6mm, silicone
Using the Horizon 7.0 AT Treadmill
Although I haven't personally tested the Horizon 7.0 AT, I have used (and sweated) on the Horizon 7.4 AT, which is the 7.0's big brother machine. The 7.4 AT is a stable machine that can support intense runs, sprints, and even steady state cardio. Both the 7.4 AT and the 7.0 AT have Quick-Change Dials on the handlebars, which allows you to easily change the speed or incline.
RELATED: HIIT treadmill workout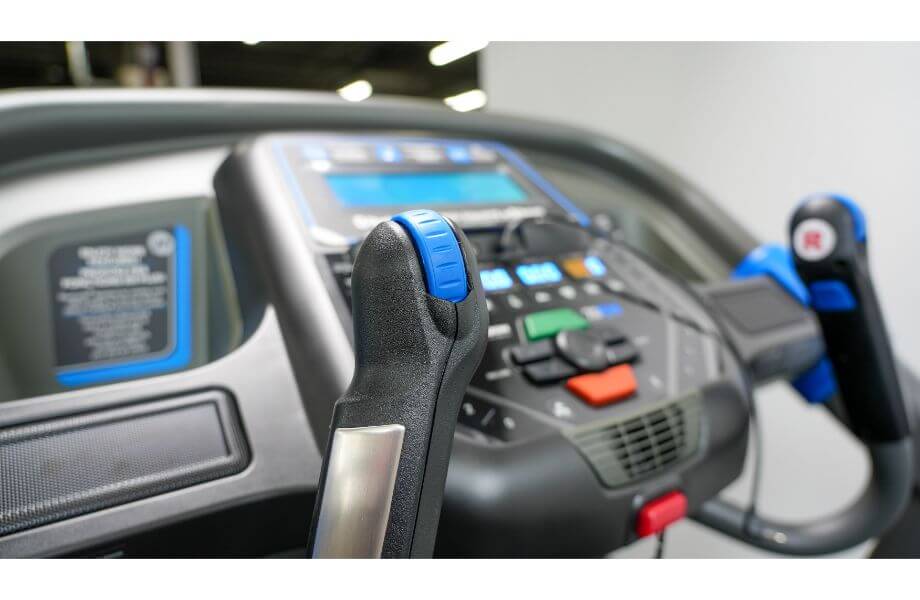 I wouldn't call either machine super quiet, but they aren't insanely loud either. However, you won't get away with using these machines while someone is sleeping in the room over, because you'll likely wake them up.
After careful research, I've found that the 7.0 is similar to the 7.4, but there are a few key differences.
The 7.4 AT has a slightly wider deck of 22 inches versus the 20 inches of the 7.0 AT. Both treadmills have a 60-inch long running area, which is ideal for taller people or runners. For a machine under $1,000, this is a wonderful bonus to have.
Unfortunately, the 7.0 AT does have a thinner belt, so if you have bad knees, this may not be the best treadmill for you since it will feel less cushioned.
However, this is an ideal budget treadmill for heavy people, because the machine can accommodate a person of up to 325 pounds, which is above the industry standard of 300.
For those who need a folding treadmill due to space constraints, you'll likely enjoy the 7.0, as it is able to be compressed to a footprint of just 41 inches by 36 inches by 70 inches.
RELATED: Best Treadmill for Bad Knees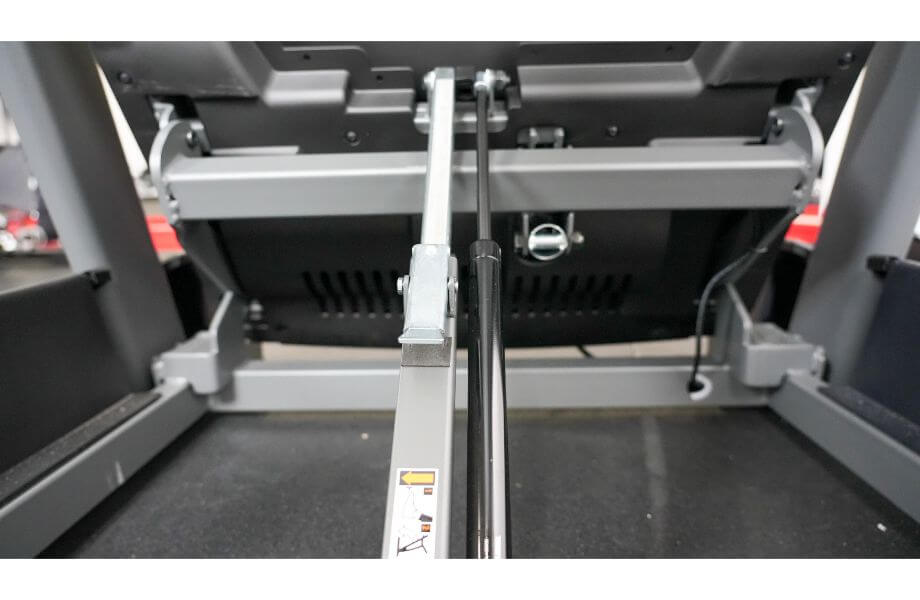 RELATED: How to move a treadmill
Preset Programs
Like all of the Horizon treadmills, the 7.0 AT has a few preset programs if you want to hit a button and get going. Here's a quick look at the options:
Calorie
Manual Mode
Target Heart Rate
Hill Climb
Fat Burn
My First 5K
Distance
Display
For the price, it isn't surprising to me that the 7.0 AT does not have a touchscreen. Instead, this machine has a 7-inch LCD screen. However, if you want to use the device holder, you'll have to stick your tablet or iPhone over the small screen. I don't think this is a big deal, but it is something to be aware of.
On the dashboard, you'll be able to view a variety of stats such as calories burned, distance traveled, time elapsed, and speed. To the left and right of these stats, you'll find jump buttons for both the incline and the speed. You'll also find the preset program buttons underneath the stats.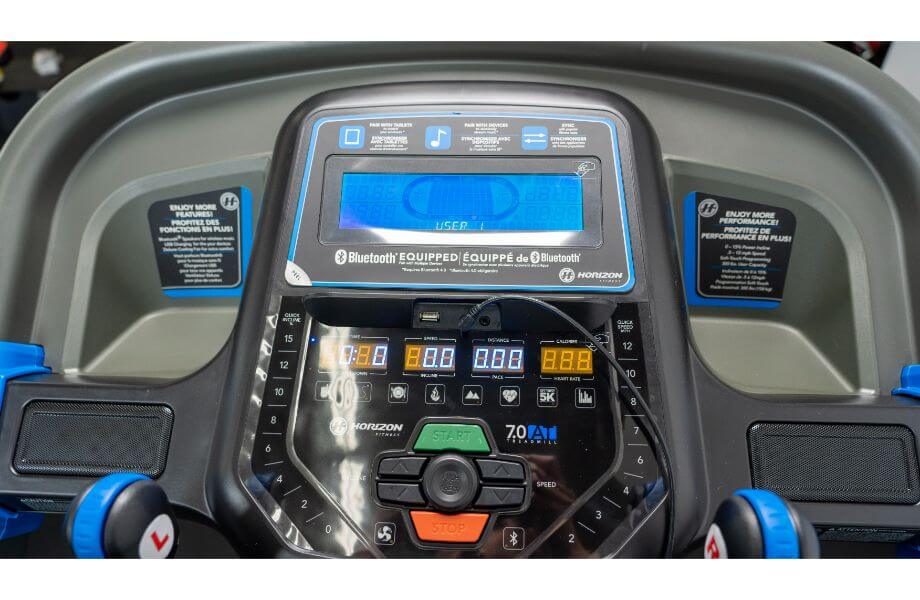 The Quick-Dial system on the pulse grips is a useful way to quickly jack up (or down) the speed and incline if you don't want to use the jump buttons. I like this feature because it makes the 7.0 AT a good option for interval training where you have to frequently switch between speeds.
Technology Benefits
While Horizon doesn't have their own interactive programming, they suggest a variety of apps (subscription/membership purchased separately) to use in conjunction with their machines. Here are a few they recommend:
Peloton App: All-access membership is $39 per month
STUDIO: $199 per year
ALO Moves: $20 per month
Apple Fitness+: $9.99 per month
BitGym: $9.99 per month
Interestingly, only certain apps have connectivity through Bluetooth, which Horizon hypes for its Studio Series treadmills. For example, an app like Peloton is able to connect via Bluetooth to hear audio over the speakers, have media center controls, and view heart rate (if you have a heart rate monitor). Others, like Zwift, can connect to everything for you to fairly accurately see things like distance traveled, time elapsed, and more. It's worth checking out to see if the app you prefer to use is compatible with the Horizon Studio series treadmills.
Horizon 7.4 AT vs. Sole F63 vs. Horizon 7.0 AT
The Horizon 7.4 AT is the upgraded version of the Horizon 7.0 AT and the Sole F63 is a very similar model to the 7.0. I thought it would be interesting to compare the three treadmills and see how they differ. Check it out below:
| | | | |
| --- | --- | --- | --- |
| Treadmill: | Horizon 7.4 AT | Horizon 7.0 AT | Sole F63 |
| Price: | $1,599 | $999 | $999.99 |
| Deck Size: | 22" W x 60" L | 20" W x 60" L | 20″ W X 60″ L |
| Weight: | 318 lbs | 253 lbs | 254 lbs |
| Weight Capacity: | 350 lbs | 325 lbs | 325 lbs |
| Display: | 8.25″ LCD Screen | 7″ LCD Screen | 6.5″ LCD Screen |
| Warranty: | Lifetime on frame and motor, 5 years on parts, 2 years on labor | Lifetime on frame and motor, 3 years on parts, 1 year on labor | Lifetime on frame and motor, 3 years on deck, electronics and parts, 1 year on labor |
| Dimensions: | 76″ L x 37″ W x 63″ H | 76.5″ L x 36″ W x 59″ H | 82" L x 35" W x 66" L |
| Foldable: | Yes | Yes | Yes |
Conspiracy theory time: I think the Horizon 7.0 AT and the Sole F63 are essentially the same machine. I mean, come on: the price, warranty, deck size, and user capacity are the exact same. The only real differences are the slightly smaller LCD screen and the larger footprint of the Sole F63. Otherwise, they are pretty dang similar, but I'd recommend the Horizon 7.0 AT treadmill over the F63 for those tiny reasons.
Obviously, the Horizon 7.4 AT offers a bit more than both models, which I would hope so for the additional $600. You get a slightly wider deck, increased warranty, and a bigger LCD screen.
RELATED: Sole F63 Treadmill Review
Sole F63 Treadmill
Sole F63
Named "Best in its Price Range" by Fit Rated, Run Reviews, Treadmill Reviews, and many others. Easy Assist Folding Deck Design makes storing your treadmill easy and convenient. High-end rollers create a static free motion leading to a long lifespan. Smoothest treadmill when making adjustments mid-workout. LCD screen provides real-time statistics to monitor progress towards goals.Plus, Sole has recently released its own version of Peloton-esque programming: STUDIO. You can access a variety of on-demand classes for just $19.99 per month.
Horizon 7.4 AT Treadmill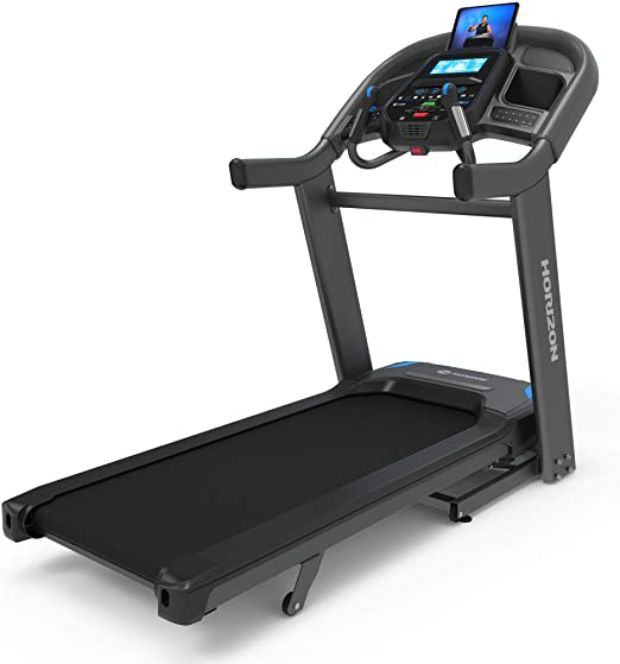 Horizon 7.4 AT Treadmill
The Horizon 7.4 AT treadmill is a workhorse. It isn't a Peloton Tread, nor does it claim to have all the bells and whistles that a technology based treadmill might offer. However, with a 3.5 CHP motor, you'll be able to do pretty much any type of cardio your heart desires. If you're in the mood for some all out sprints, the 7.4 can accommodate you with maximum speeds up to 12 mph. Want to feel like you're climbing a mountain? The 7.4 can help you there too with a 15% incline. Plus, if you're into regular steady state cardio, the 7.4 has a XL running deck of 60 inches, so you can stride without the fear of falling off.Plus, the warranty on this treadmill is stellar. You get a lifetime warranty on the frame and the motor, plus two years on parts and one year on labor. What more could you ask for?
Customer Experience
Warranty-wise, Horizon rarely disappoints on any cardio machine, and the 7.0 AT is no exception. Standard with purchase, the 7.0 AT comes with a lifetime warranty on both the frame and motor. You also receive three years for parts and a year for labor. Make sure to register your treadmill on the Horizon website in order to cash in on your warranty in the future.
If you're willing to pay a bit extra, Horizon also offers extended warranty boosts for additional fees. You can add three years to your labor and parts warranty for $119.99 or five years for $149.99.
If you want to return the Horizon 7.0 AT, you have 30 days from the date you purchase the machine to send it back in new condition. You'll have to include the original packaging and pay the return shipping fee yourself (this isn't uncommon, but it still isn't my favorite). Horizon also mentions on the website that you may be charged a 20% restocking fee, but don't detail the conditions of how that comes to be, which I find to be odd.
For customer service inquiries, you can direct your questions through one of many contact options: the help/chat button in the bottom right corner, by calling 888-878-9011, or using the "Contact Us" form to submit a request.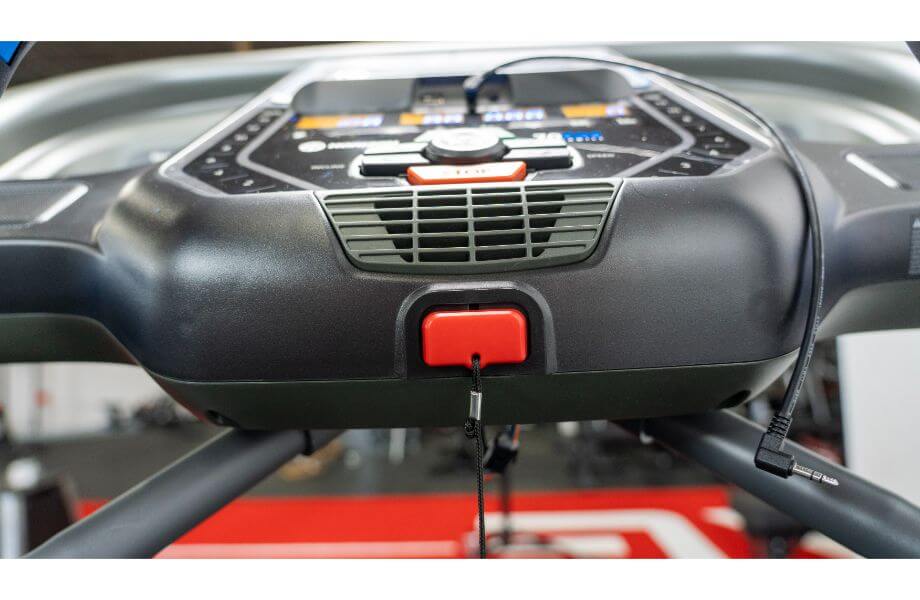 Ordering and Assembling the Horizon 7.0 AT Treadmill
Ordering the Horizon 7.0 AT Treadmill is a simple process. Just add the machine to your cart, choose your desired method of delivery, and voila! You'll likely receive the 7.0 AT within 10 days.
There are four different shipping options to choose from at checkout:
Curbside shipping
Standard delivery
In-room delivery
White glove delivery and assembly
Price-wise, each delivery option is different depending upon your zip code. If you're willing to spend the extra cash to get the machine put inside your room and assembled, I would honestly do it. At 303 pounds boxed, you'd be a smart cookie to avoid throwing out your back and doing it yourself, especially if you want this machine on the second floor.
Related: Treadmill Safety 101: 11 Tips To Stay Safe
Even though the machine is only around $1,000, I love that Horizon still offers financing options with 0% APR. You can choose to finance the 7.0 AT for 6, 12, 24, or 36 months starting at just 28 dollars per month.
Customer Reviews
On the Horizon website, the 7.0 AT receives 4.5 stars out of 5 with over 950 reviews.
Customers said they liked the durability of the machine, the quietness, and incline options. On the negative side of things, others weren't thrilled with the customer service, glitchy display, and heaviness of the 7.0 AT.
Final Verdict of Our Horizon 7.0 AT Treadmill Review
Overall, the Horizon 7.0 AT is very similar to the Sole F63, which we know very well and think is a great treadmill. It's a solid budget option for under $1,000 that also offers a sizable deck for running or walking.
RELATED: Best Treadmill for Walking
Horizon 7.0 AT Treadmill Rating
Horizon 7.0 AT Treadmill
Looking for a cardio machine under $1,000 that can support running? Check out our Horizon 7.0 AT treadmill review to make an informed decision.
Product Brand: Horizon
Product Currency: $
Product Price: 1999.00
Product In-Stock: InStock
Horizon 7.0 AT Treadmill FAQs
Does the Horizon 7.0 AT have a fan?
Yes, the Horizon 7.0 AT treadmill does have a fan.
How much does the Horizon 7.0 AT weigh?
The Horizon 7.0 AT weighs 253 pounds once unboxed and assembled. The machine will arrive at your home weighing 303 pounds boxed.
What are some things I should look for in a treadmill?
Obviously this varies by person, but you generally should look for things like:
High user weight capacity (Over 300 pounds is ideal)
Bluetooth connectivity
Over a 2.5 CHP motor
Solid cushioning
Compatibility with workout apps
Preset workout programs  
Large running deck (20" W x 60" L)
Tablet holder
Chest strap for heart rate monitoring
USB port
Water bottle holder
For more information, check out our treadmill buying guide.