We test and review fitness products based on an independent, multi-point methodology. If you use our links to purchase something, we may earn a commission. Read our disclosures.
Prevent Accidents and Make the Most of Your Treadmill Workouts
Treadmills seem like a relatively benign piece of equipment, right? You simply step on and start moving, after all.
But everything is not always as it seems: According to the U.S. Consumer Product Safety Commission (CPSC) as told to The Washington Post, there were more than 22,000 treadmill-related injuries reported in 2019 alone; and the CPSC estimates there are, on average, three treadmill-related deaths per year based on data collected from 2003 to 2012.
Treadmills are considered more dangerous than many other types of cardio equipment, such as ellipticals and rowing machines, due to the use of a motor.
As with most things, your risk of injury via treadmills lessens with proper handling. Laura Flynn Endres, a track coach, and certified personal trainer helped us put together this guide to treadmill safety for home gym owners.
Treadmill Safety Tips
Treadmills are heavy, powerful pieces of fitness equipment. To avoid home treadmill injuries, keep these treadmill safety tips in mind.
1. Always Look Forward (Not Down!)
This tip applies to road running and treadmill running alike. (And basically, every other form of exercise, while we're at it.) Keep your gaze forward and avoid looking down at your feet while running.
"It's pretty common to want to look at one's feet while running on a treadmill," Endres says, "because it's natural to get nervous about missing a step or running with too large a stride."
However, she continues, it's safest to keep your eyes forward to maintain good balance and prevent falls.
2. Wear the Safety Clip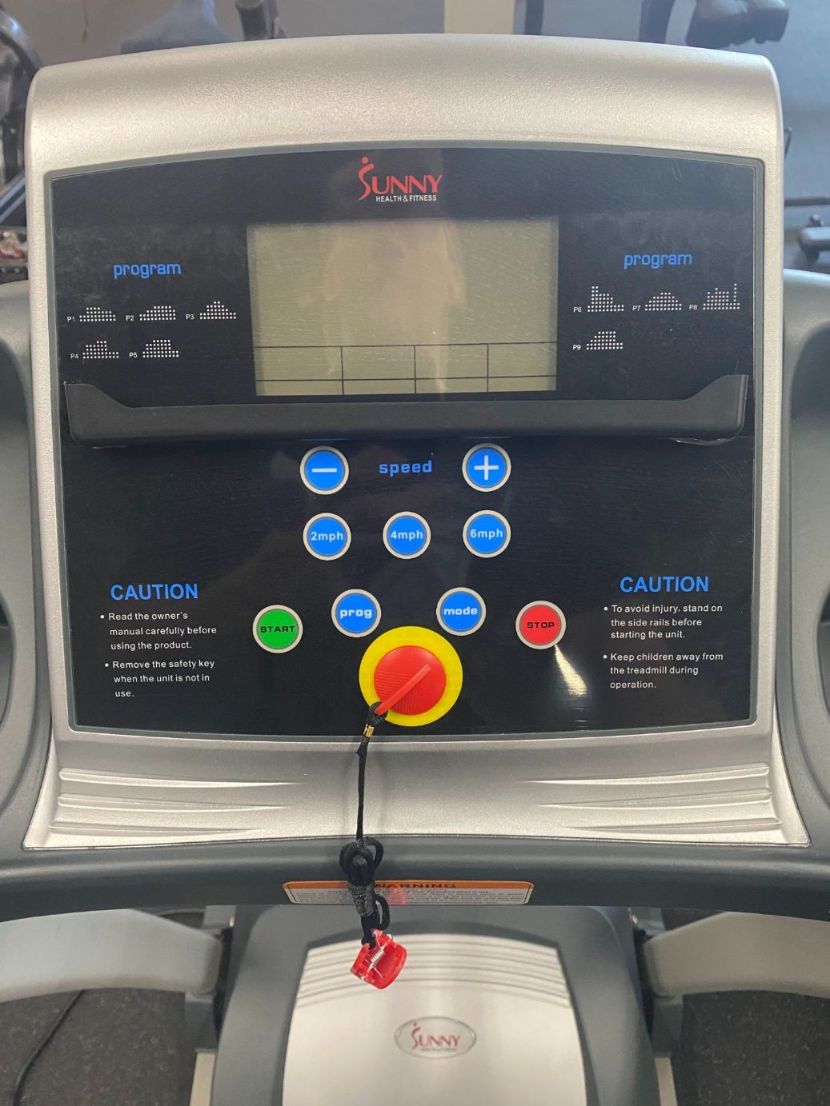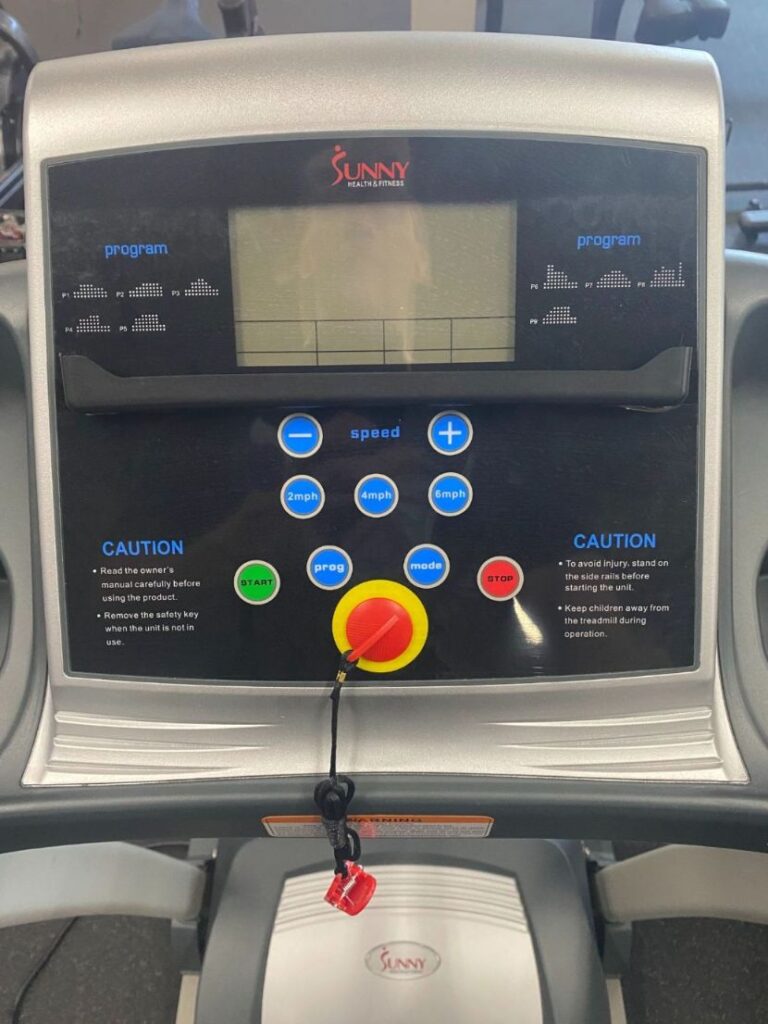 The safety clip is there for a reason. Wear it. Yes, it might feel silly because you're an adult and you know how to run, and who's clumsy enough to actually need the safety key?
Well, accidents can happen to anyone, and when it comes to treadmill safety, you need to leave your ego at the door.
"I think most treadmill users are guilty of skipping the safety clip sometimes, but it's really important to emphasize that even the strongest runners can slip and fall," Endres says. "The safety clip will cause the treadmill to automatically and immediately stop if you fall, so as to prevent limbs or clothing from being pulled under the running deck."
3. Wear Proper Shoes
Okay, this should truly go without saying, but please wear sneakers when running or walking on a treadmill (or any other exercise equipment, for that matter). Wearing flip-flops or sandals is dangerous, and going barefoot isn't recommended unless you're an experienced barefoot runner, Endres says.
"Proper running shoes keep your feet secure and help you maintain a consistent stride, which reduces the risk of tripping while on the treadmill," she says.
And don't forget to tie your laces!
RELATED: How to Choose Running Shoes
4. Clear the Workout Area of Items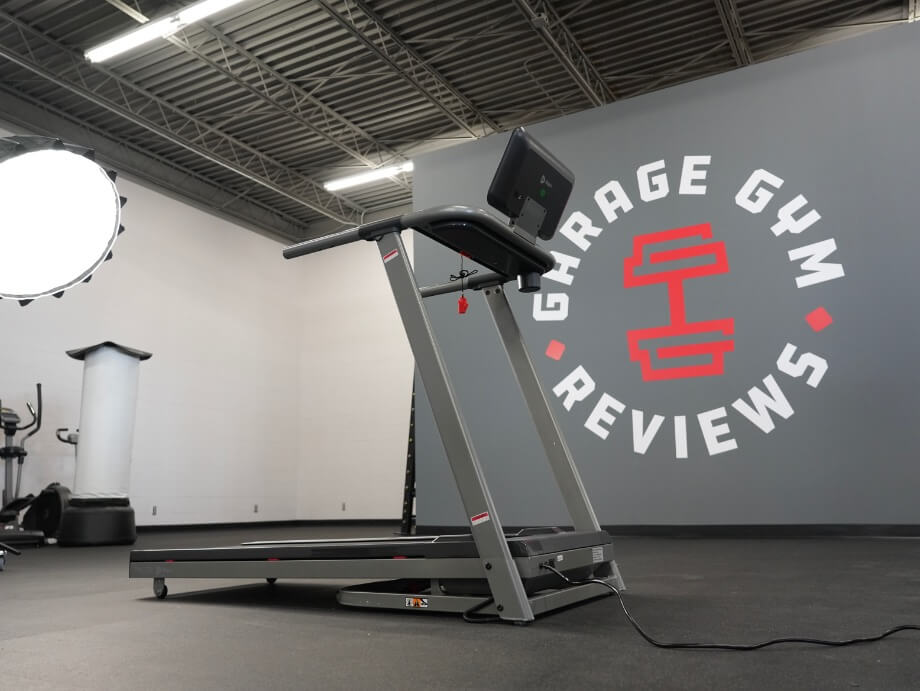 If a piece of clothing, a shoe, or a child's toy becomes snagged in the treadmill deck while running, the machine may malfunction, causing you to injure yourself.
Not to mention, whatever got pulled beneath the machine is probably a goner. Keeping your workout space clean will prevent this from happening.

Additionally, maintaining a clutter-free space around your treadmill means you're less likely to trip after getting off the treadmill. Oh, and please don't hang things on the handrails while using the treadmill. That's a tripping hazard waiting to happen.
If you're working in a small space, a compact folding treadmill might be the best option for you.
5. Don't Step Off While the Tread Is Moving
This might sound like common sense, but you should never attempt to step off of your treadmill with a moving belt.
"Wait until the treadmill comes to a complete stop before stepping off of the deck," Endres says. "This is primarily a safety measure, but allowing the treadmill to slowly come to a stop is also a good opportunity to complete a cool-down and bring your muscles back to a resting state after a tough run."
Once you press the stop button, the moving treadmill should come to a stop within a few seconds. Take care not to confuse the regular stop button with the emergency stop button, because pressing the emergency stop button may jolt you and cause you to fall.
6. Increase Speed or Incline Independently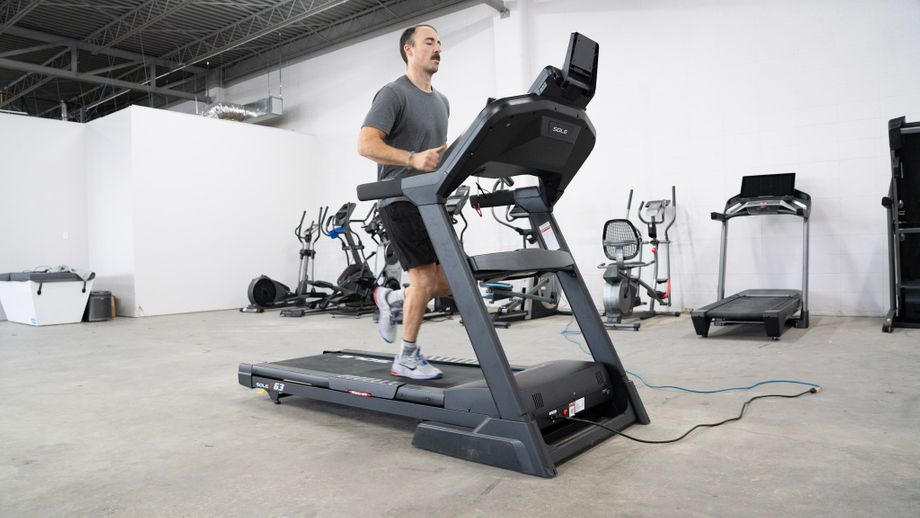 If you're running outside and come to a hill, are you going to suddenly and dramatically enter a sprint to run up it? Probably not. You're likely going to try to maintain your pace while you tackle the incline. (At least, that's what you should do, Endres says.)
This same concept applies to treadmill running. It's generally not advised to manipulate too many variables at once, Endres says, for both safety and fitness purposes. Some treadmills don't even allow for a simultaneous change of speed and incline, and even if yours does, that's a lot of buttons to be pressing while running.
RELATED: HIIT Treadmill Workout
7. Increase Speed Gradually
Unless you're a very experienced treadmill runner who can change pace quickly, you'll want to slowly increase speed while using your tread.
Even if you are an experienced runner, it's still advised to slowly increase speed if you're on a treadmill you're not familiar with. Different treadmills have varying bounce, cushioning, and deck length, which can cause anyone to have an accident.
"Not only is increasing speed gradually essential for easing into your run, but it also helps prevent tripping and falling," Endres says. "By slowly bringing yourself up to speed, you can focus on your form instead of haphazardly entering a full-out sprint from zero."
RELATED: Best Treadmill Workouts
8. Follow Routine Machine Maintenance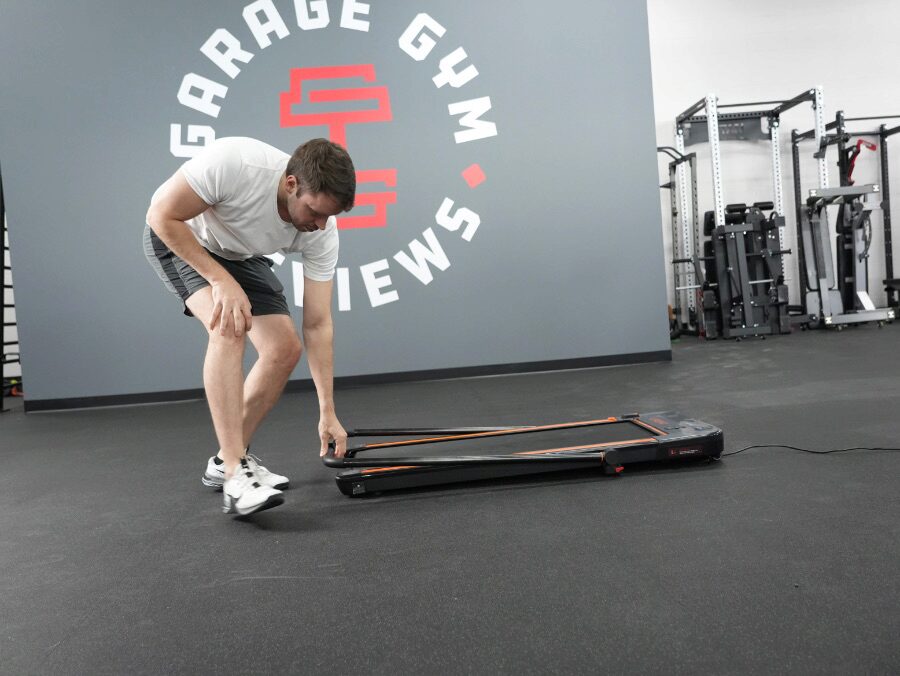 Keep your treadmill in working order by performing regular maintenance on it, as specified in the owner's manual. Maintenance is never fun, but think of your treadmill like your car: It's not smart to skip oil changes or tire rotations and it can lead to bigger problems down the road.
RELATED: How to move a treadmill
9. Read the Owner's Manual
We know: boring with a capital B. If you're not going to study the whole thing (we can't say we blame ya), at least peruse the thing to make sure you're not missing any pertinent information that could keep you or your family safe.
Definitely follow the assembly instructions to a T in order to ensure your treadmill is put together and set up properly. The manual will point out important safety features and specify things you may not think of yourself, such as how far from a wall or furniture to place the treadmill.
10. Choose a Treadmill With the Appropriate Size and Power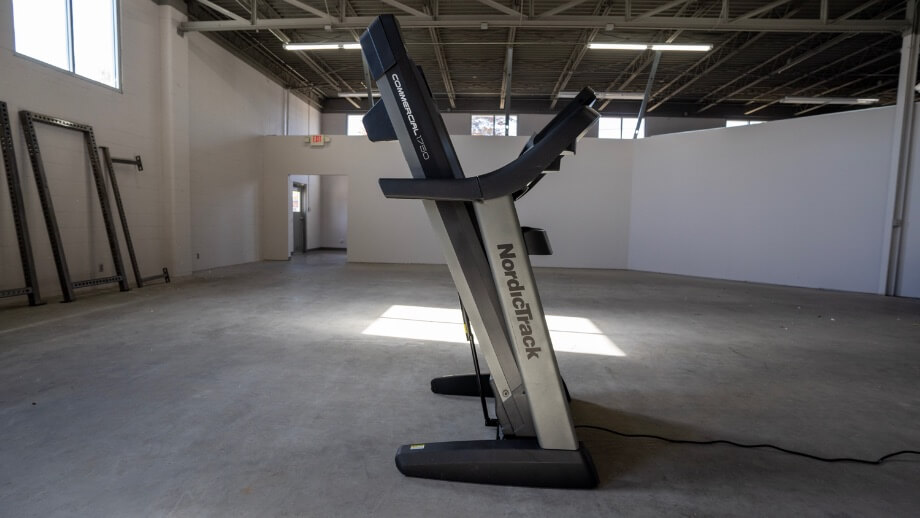 Before you buy a treadmill, make sure it can support your body weight, exercise style, and exercise volume—because the best treadmill is the one that works best for you.
For example, an experienced athlete training for competition sprints won't do well with a light-duty treadmill with a shorter-than-average running deck. However, someone who just wants to walk daily for health reasons will do just fine with that sort of 'mill. (Related: Best Treadmills for Walking.)
Another spec to look for is weight capacity. Most treadmills support weights between 300 and 350 pounds, but some cheaper treadmills only support up to 250. On the flip side, commercial-grade treadmills and manual treadmills often support up to 400 to 500 pounds.
11. Supervise Children
Never let children on or around a treadmill without careful, constant supervision—and even then, only if they meet or exceed the minimum age specified in the treadmill owner's manual. Keep children away from treadmills when unsupervised.
"It's just not safe for unsupervised children to be around a treadmill, nor is it safe for children younger than the minimum recommended age to use a treadmill," Endres says. "Remember: It never feels like it can happen to you, until it does."
Treadmill Safety FAQs
Can treadmills be dangerous?
Yes, treadmills can certainly be dangerous and pose risks to your health, as well as the health of other family members and pets in your household. It's important to practice treadmill safety and maintain awareness while using a treadmill to prevent accidents and injuries. Treadmill accidents are responsible for many emergency room visits each year, according to the U.S. Consumer Product Safety Commission (CPSC), so it's important to heed treadmill safety tips. 
What should you not do on a treadmill?
When using a treadmill, you should not: Look down at your feet, allow children or pets to be near, wear improper shoes or clothing, lean on the railings, ignore the safety clip, or walk backward. Doing any of these things can cause serious injury, including broken bones, friction burns, and even death, such as in the Peloton Tread+ cases.
Where should I put my treadmill in my house? 
Place your treadmill in an area with plenty of floor space that's free of clutter. Ideally, your treadmill will be in an area with at least 7-foot ceilings to allow for proper running posture. Make sure to follow your owner's manual guidelines for spacing and placement.
Can you put a treadmill on the carpet?
Some treadmills perform fine on the carpet, but not all. Lighter-duty treadmills may shake and tremble when used on carpet, but heavier, more rugged treadmills generally don't. However, it's generally recommended to place a treadmill on a hard surface. Alternatively, you can buy a treadmill mat to go beneath your treadmill if you want to place it on the carpet. 
Can I put a treadmill next to the wall? 
It's not recommended that you place a treadmill up against a wall, because it can be dangerous should you fall off. Your treadmill should come with an owner's manual that specifies how much square footage of space you need between the treadmill and a wall, furniture, or other objects.