We test and review fitness products based on an independent, multi-point methodology. If you use our links to purchase something, we may earn a commission. Read our disclosures.
I like to think of purchasing a treadmill mat as a way to protect your assets. Whether you're a renter or a homeowner, no one wants to scratch their floors. Say you forget to put down a mat before positioning your new cardio machine on the floor to use it. Six months later, you find deep divots in your hardwood or a chunk of carpet astray. You may end up not getting your security deposit back (the horror), or are left with a hefty bill to fix the issue.
Only you can prevent floor damage (Smokey Bear reference, if bears liked treadmills), which is why you need the best treadmill mat. Whether you're looking for a cheap option or a mat suitable for carpet, we have you covered with our five top picks.
Gym Mats for Gym Rats
Although actual rats would probably appreciate a cushioned treadmill mat to lay their heads down on at night, we're shockingly not here to help rodents. Our team of expert product testers and reviewers are committed to helping (human) gym rats find the best equipment for them. And it's safe to say we really know fitness––we're former college athletes, certified personal trainers, and nutrition coaches.
5 Best Treadmill Mats
Best Treadmill Mat Overall: SuperMats Solid P.V.C. Mat for Treadmill
Good for: A long treadmill that needs a tough/durable mat
Best Treadmill Mat Overall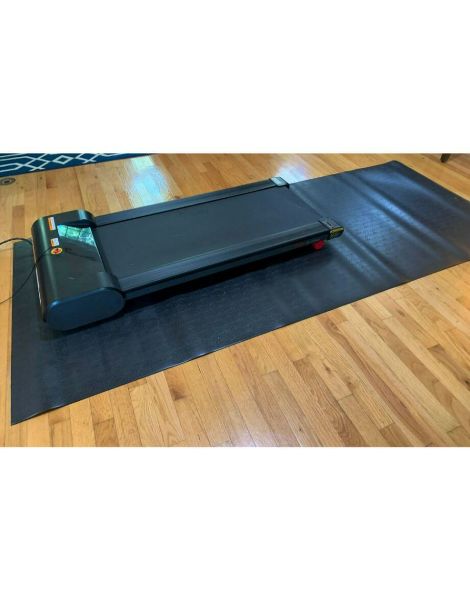 SuperMats Solid P.V.C. Mat
The SuperMats Solid PVC Mat is a vinyl mat designed to protect your flooring from heavy duty exercise equipment. The mat is 90 inches long by 36 inches wide. This mat is longer than many competitors and will accommodate even the biggest machines. The mat is .13 inches thick and has a non-slip surface.SuperMats claims this mat will help prolong the life of your equipment by preventing floor and carpet dust from entering your machines. They also state that the mat helps to decrease noise of the machine by dampening vibrations generated by cardio equipment.Reviewers generally liked the mat. They enjoyed the size and the non-slip surface. They also shared that it flattened out fairly quickly after being delivered rolled-up. Some reviewers found the mat to be too thin. They found that their machines made indents in the mat and the underlying carpet and wished they had purchased a thicker mat.
Pros:
Made in the USA
Extra-long for larger treadmills
Material didn't dent
Durable
Muffles extra sound
Simple to clean
Cons:
Heavy
Black coating rubs off on skin
Strong smell
If you're looking for a lengthy mat that'll fit comfortably underneath your large treadmill, you'll likely enjoy the SuperMats Solid P.V.C Mat. Available for purchase on Amazon, this 90-inch-by-36-inch treadmill mat will work well for bigger treadmills, such as the NordicTrack EXP 7i.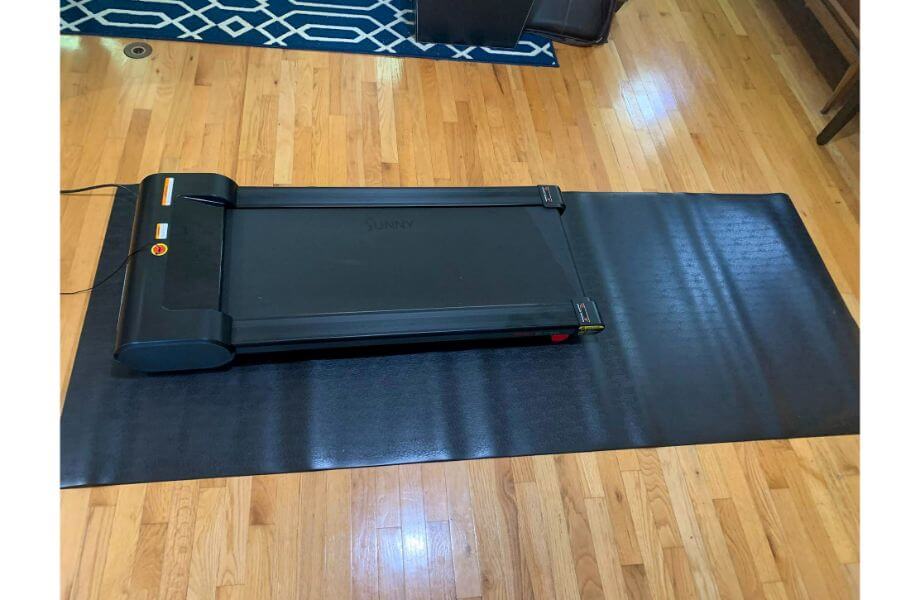 I was impressed by the durable vinyl material and didn't notice any denting at all from my treadmill after moving the machine. This gives me the impression that the mat won't rip easily, even in higher-pressure spots.
Unlike some of the other treadmill mats I tested, the SuperMats didn't have to be flattened out with heavy books––it came out of the package ready to be used.
However, it is worth noting that this mat has some sort of black, powdery residue, which reminds me quite a bit of what you'd find on the Rogue Monster bands. It feels like a combination of dust and chalk, and left my fingertips discolored.
Luckily, a damp paper towel was able to remedy the situation fairly quickly. If you purchase this mat, make sure to give it a good wipe down before bringing it into your home––I'd hate for a light-colored rug or your carpet to be stained.
| | |
| --- | --- |
| Price | Under $80 |
| Dimensions | 90″ L x 36″ W |
| Material | Vinyl |
Best Budget Treadmill Mat: ProsourceFit Puzzle Exercise Mat
Good for: Individuals trying to save a few bucks
Best Budget Treadmill Mat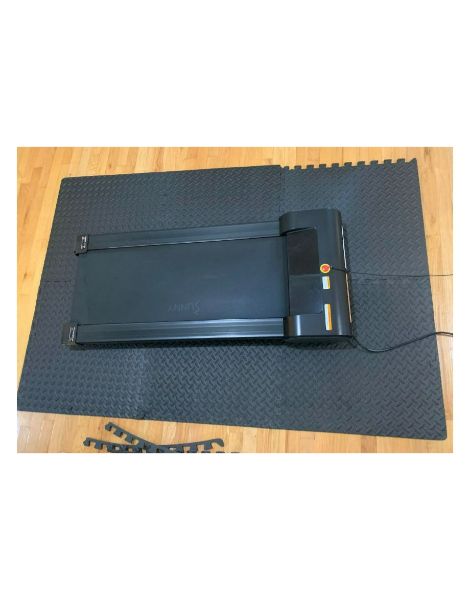 ProsourceFit Puzzle Exercise Mat
ProSource Puzzle Exercise Mats are 24-inch square tiles made from high density EVA foam. This package includes six tiles and twelve end borders which will cover 24 square feet. They are a half-inch thick. The puzzle design allows you to arrange the mats however you like, and you can easily expand your workout space with more mats.ProSource states that these protect your flooring and create a comfortable exercising space. They also claim these help to reduce noise.Reviews were mixed on these mats. Most users found them best for under machines or for stationary exercises. Users liked that they were able to cover a large area at an affordable price. They found that the puzzle pieces pulled apart really easily and suggested taping the joints together. Reviewers also found that they became extremely slippery when wet.
Pros:
Inexpensive
Lifetime warranty
Textured surface
Customizable pieces
Easy to put together
Cons:
Some of the pieces don't fit correctly
You may have to purchase more than one pack
Quality control is lacking
I'm not sure about you, but when I was a child, I had large, connective foam puzzle pieces as my playroom floor. Now as a grown woman, I feel like my playroom (ahem, my home gym) deserves a similar treatment. With the ProsourceFit Puzzle Exercise Mat, you, too, can relive happy childhood memories (sans the color).
The ProsourceFit Puzzle Exercise Mat is a budget-friendly option to stick underneath your treadmill. At just $26, it's less of an investment than a jumbo candle from Bath and Body Works. Also available on Amazon, the ProsourceFit Puzzle Exercise Mat includes six pieces, which can be connected to suit whatever shape you want. If you have a large treadmill, I'd recommend purchasing a second set in order to cover more ground.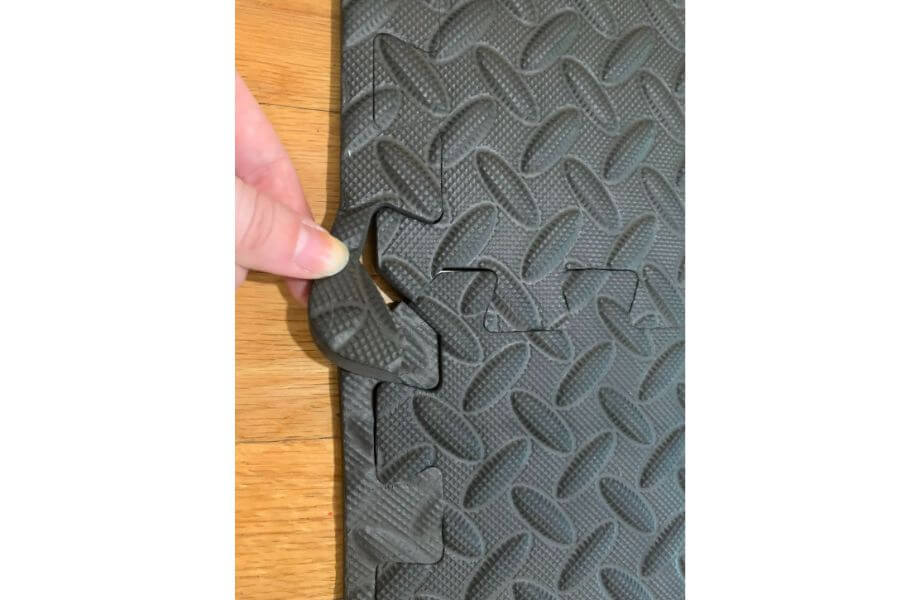 At half-an-inch-thick, this exercise mat will help you dampen some of the unwanted sounds that may come with a treadmill workout. I was also impressed with the lifetime warranty that comes with the ProsourceFit mat. If yours happens to rip, ProsourceFit will send you a replacement set.
I will say, I was slightly confused by some of the outer pieces of the ProsourceFit mat. You're able to take off the edging (in the event that you want to add additional pieces) and put it back on. I did notice some of the pieces didn't quite fit right, but I'm assuming this may have been a quality-control issue.
| | |
| --- | --- |
| Price | Around $26 |
| Dimensions | Includes 6 tiles; each is 24" L x 24" W (Additional sets available) |
| Material | Ethylene Vinyl Acetate |
Best Treadmill Mat for Carpet: Sunny Health and Fitness Home Gym Foam Floor Protector Mat
Good for: Someone with a carpeted home
Best Treadmill Mat for Carpet
Sunny Health & Fitness Home Gym Foam Floor Protector Mat
The Sunny Health and Fitness Foam Floor Protector mat is available in 4 different sizes to help you protect your floor from exercise equipment of all sizes. The Sunny Health mat is made from PVC foam. The mat absorbs vibrations to protect both your expensive fitness equipment and your flooring. It is also water-resistant and anti-slip. Sunny Health & Fitness shares that you can also use the mat as an exercise mat.Reviews of the mat are mixed. Users really appreciated that the mat came in multiple sizes. They also liked that it didn't smell and became flat quickly. However, some users experienced the mat ripping while they tried to get their machine on the mat or adjust the mat under their machine. People that tried using the mat as an exercise mat found it to be very slippery when attempting yoga poses.
Pros:
Works well on carpet
Inexpensive
Comes in multiple sizes
Lightweight
1-year warranty
Cons:
Thin
Made in China
Needs to be flattened before use
You know what? I'll say it: I enjoy carpeting. It feels nice on my feet and my dogs like it. For those of you who agree with me (or are at the mercy of whatever your landlord likes), you'll want to find the best treadmill mat for carpet. In this case, I'd recommend the Sunny Health and Fitness Home Gym Foam Floor Protector Mat. Phew, that was a lot, but luckily, the price sure isn't. For just around $34, you can pick up your own Sunny Health and Fitness treadmill mat from Amazon.
I tested this mat out under my Sunny Health and Fitness Under-Desk treadmill, and was pleased at how stable it felt. I didn't feel like the machine's deck was wobbly or unsupported, even though the mat was resting on my carpet as I walked. Although I chose the medium-sized mat, there are a variety of other sizes to choose from to fit your personal treadmill.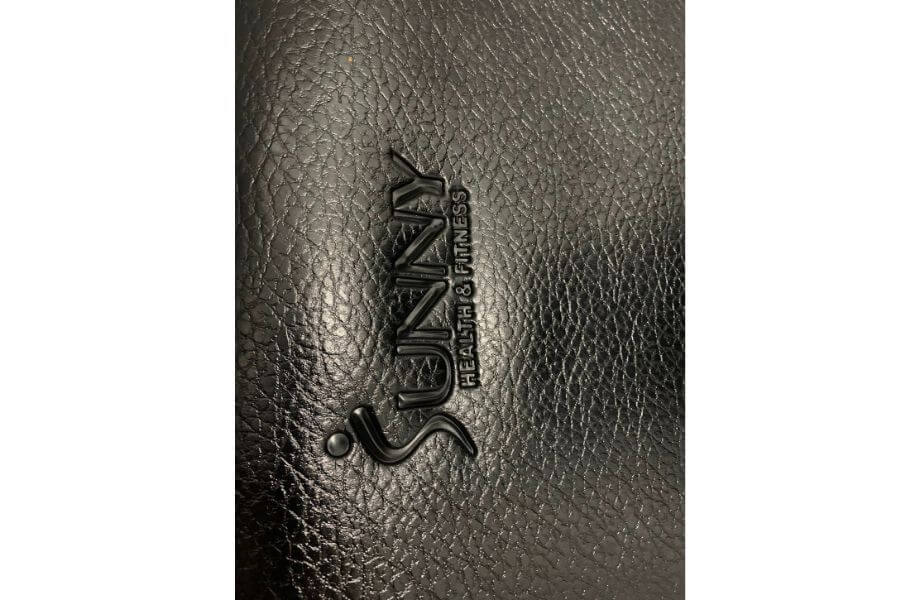 This mat is also very lightweight, so you'll be able to move it around without a care in the world. However, it is worth noting that this mat needs to be flattened by a heavy object (or two) before being used, otherwise the edges will curl up. Shoutout to the random college textbooks I used—I knew you'd come in handy again some day!
| | |
| --- | --- |
| Price | Around $35 |
| Dimensions | 79″ L x 35.5″ W |
| Material | Polyvinyl Chloride |
Best Treadmill Mat for Light Machines: Bowflex Cardio Machine Mat
Good for: Under-desk treadmills or other light, foldable cardio machines
Best Treadmill Mat for Light Machines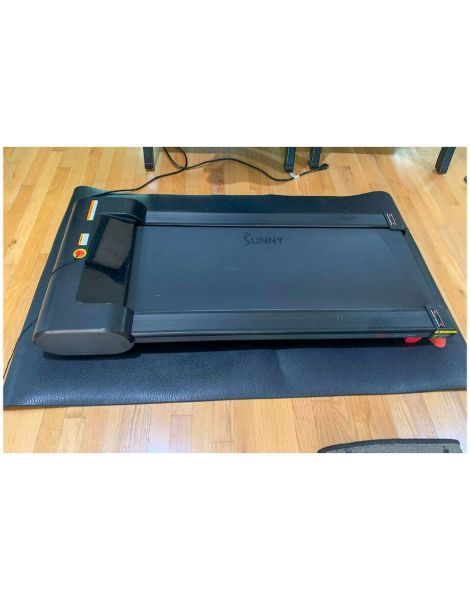 Bowflex Cardio Machine Mat
The Bowflex Cardio Machine Mat is a professional quality mat designed to be used under Bowflex cardio machines. The mat is made of a rubber material and designed to protect carpet, wood, and tile flooring from the wear and tear of heavy exercise equipment. Bowflex also claims that the mat will increase the stability of the machine and will help decrease noise.The mat is 57 inches long by 35 inches wide and one-eighth of an inch thick. This mat is shorter than many of its competitors and many pieces of cardio equipment.Some reviewers did not love this mat. Many of them had it included for free with their purchase of a Bowflex cardio machine. They found that the mat rips easily, and many people experienced ripping when trying to move their machine onto the mat. They recommended getting a cheaper mat elsewhere.
Pros:
Ideal size for an under-desk treadmill
Comes in a compact box
Pebbled texture for grip
Easy to wipe down
Can be rolled up
Cons:
Needs to be flattened out after unboxing
Sharp edges
Too short for large treadmills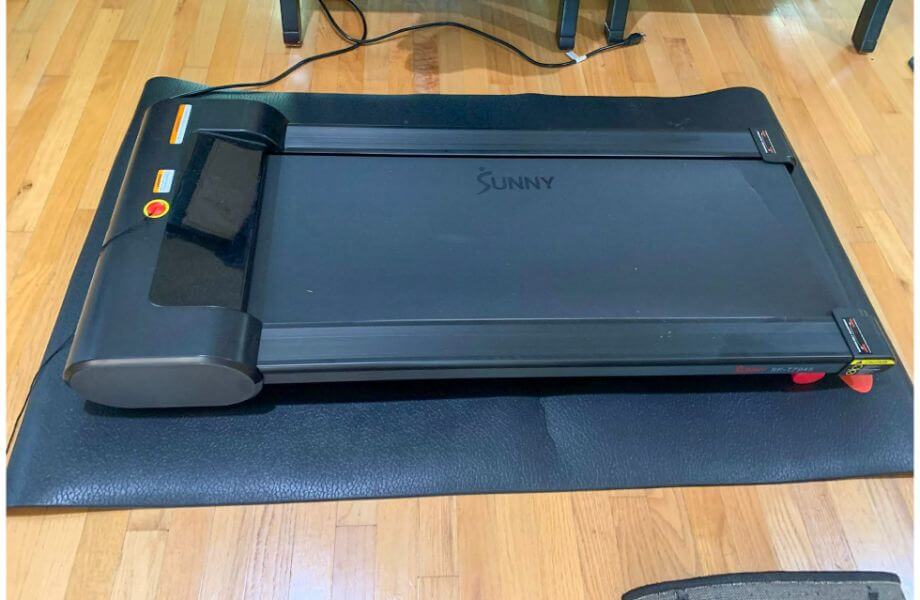 Not all of us need a humongous treadmill mat, which is where the Bowflex Cardio Machine Mat comes in handy. This compact mat fits below a light, under-desk treadmill like a WalkingPad, a REDLIRO, or a UREVO 2-in-1. Plus, when you aren't using the Bowflex Cardio Machine Mat, it can be easily rolled up and stored underneath a bed or within a closet.
Even with the occasional bead of sweat hitting the mat, I was pleased at how simple it was to wipe off with a cloth. On the Bowflex website, it also mentions this mat fits well under some of their other cardio machines, such as the Bowflex VeloCore or any of the TreadClimbers.
The slightly pebbled texture gives this mat a bit of grip, which is always a good thing when it comes to keeping a treadmill in place. Besides working well on harder floors, this mat also was just fine on carpet.
It is worth noting that you'll need to flatten this mat out before shoving it underneath your treadmill. I will warn you––this mat is SHARP. The edges of the Bowflex Cardio Machine Mat are clearly reinforced and actually gave me a (paper?) cut on my pointer finger.
| | |
| --- | --- |
| Price | Around $100 |
| Dimensions | 2'11" W x 4'9″ L |
| Material | Composite |
Best Treadmill Mat for Heavy Machines: BalanceFrom High Density Treadmill Equipment Mat
Good for: NordicTrack treadmills or other particularly heavy cardio machines
Best Treadmill Mat for Heavy Machines
BalanceFrom High Density Treadmill Exercise Bike Equipment Mat
The BalanceFrom High Density Equipment Mat is made from PVC and is 78 inches long by 36 inches wide. It is designed to help protect a variety of floors from heavy duty exercise equipment. BalanceFrom does not share the thickness of the mat. The mat also has an anti-slip pattern so that your machines will not move once placed on the mat. BalanceFrom states that the mat can also be used as a yoga mat for floor exercises.BalanceFrom claims that the mat will help decrease noise by absorbing vibrations. They also share that the mat will help prolong the life of your equipment. You can select either a traditional design or foldable design. They are both the same size, but the foldable design is divided into six 13-inch folds.Reviews of the BalanceFrom mat have been mixed. Many people like the anti-slip surface and size of the mat. They also appreciated that it was available in a foldable design. However, multiple users experienced the product failing. They experienced ripping when attempting to roll their machines onto the mat. Additionally, some people experienced the support feet of their machines punching through the mat after a few months of use.
Pros:
Durable enough to support heavy machines
Inexpensive
Comes with a two-year warranty
Rolls flat right out of the box
Feels cushioned
Cons:
Strong odor
Sticky surface
Doesn't really dampen noise
Is your treadmill really freaking heavy? If it is, you'll need to get your paws on the BalanceFrom High Density Treadmill Equipment Mat. The polyvinyl material feels durable and cushioned without being overly stiff.
Besides working well for underneath a treadmill, this mat would also be suitable for underneath a rowing machine, elliptical, or exercise bike. Plus, this $30 mat has a two-year warranty and rolls flat immediately after being unboxed (no heavy college textbooks needed).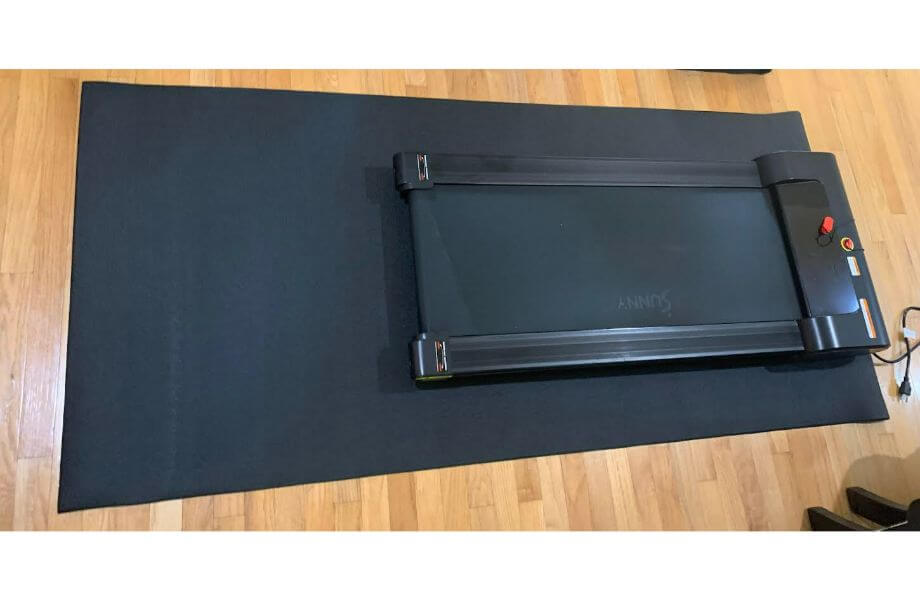 I was intrigued by the mat's stickiness. I'm not sure if this is intentional, or if it'll come off with time. I attempted to clean it off with a wet paper towel, but didn't see much improvement on the sticky factor. On the plus side, maybe it's the key to keeping your heavy treadmill nice and centered on the mat.
It is also worth noting that this mat doesn't seem to dampen noise at all. If you're looking to protect your floors, you'll love this. However, if you're looking for a mat to lessen sounds coming from your treadmill, this won't help much.
| | |
| --- | --- |
| Price | Around $30 |
| Dimensions | 3' W x 6'6" L |
| Material | Polyvinyl Chloride |
Other Treadmill Mats We Researched
BestXD Treadmill Mat Pads: If you're looking for thick, heavy-duty rubber to live underneath your treadmill's high-contact areas, this is a good pick for you. Unlike the other treadmill mats I've mentioned, the BestXD Treadmill Mat is actually six small rubber mats to stick under the points of your machine that would scratch the floor. I think it's an interesting concept, but I personally wouldn't trust small chunks of rubber to protect thousands of dollars of flooring.
Amazon Basics High Density Exercise Equipment and Treadmill Mat: A lot of people sleep on Amazon Basics, but they actually make some excellent products. This treadmill mat appears to be no exception (although it does look a touch thin). You can choose between two different sizes and even get a pair of dumbbells with your mat if you wish.
Marcy Fitness Equipment Mat and Floor Protector for Treadmills: This foam-based floor mat comes in two different lengths, which is ideal for people with both small and large treadmills. I will say, the coating on the mat does not look like it is anti-slip, so I would worry slightly about putting gym equipment on top.
How We Picked and Tested
When testing any product, we ask ourselves a variety of relevant questions in order to give our readers the most information possible. Here are the things we asked ourselves while testing a bevy of treadmill mats:
Price: How expensive is the mat? How does this compare to other heavy-duty mats?
Works under: Does the mat work best under a folding treadmill, elliptical, exercise bike, or rowing machine? Would it be best under another type of workout equipment?
Thickness: Is this a thick mat? What is the cushioning like? Will dents pop up under heavier pieces of equipment? Will it help with reducing noise or give floor protection?
Foldable: Can the mat be folded when not in use or is it more similar to gym flooring that cannot be folded?
Dimensions: What are the dimensions of the mat? Would it work under most regular-sized treadmills? Can you purchase the mat in different sizes?
Warranty: Are there any warranties on the treadmill mat?
Material: What is the treadmill mat made of? Does the mat have a textured surface? Is it made out of recycled rubber or high-density PVC? Can it be cleaned with a damp cloth? Does the mat have interlocking tiles or a non-slip surface? Is it made of a high-density foam? Is it water-resistant?
Useful for: Is the treadmill mat best under hardwood floors or carpet? Will it work on a concrete floor?
Benefits of Treadmill Mats
"Treadmill mats are one of those things that aren't necessary but are nice to have and can provide many benefits to your home gym space," certified personal trainer and GGR writer Anthony O'Reilly explains.
"One of the biggest reasons why you should consider a mat is they can protect your home gym flooring. Treadmills are heavy and have been known to cause indentations, but the mat can also protect the flooring from the vibrations caused by your feet repeatedly hitting the tread."
"Quality mats can also reduce the noise created by a treadmill, which is especially good if you're living in an apartment," Anthony admits. "They also help keep treadmills stable, which is not only good for the machine, but for the person on it as well."
Buying Guide: What to Look for in Treadmill Mats
Luckily for you, finding a decent treadmill mat isn't rocket science. Check out the top three things I'd keep in mind when making your purchasing decision:
Price
As with anything else, prices can vary wildly with treadmill mats. Decide what your budget is ahead of time (and stick with it) or take advantage of any financing options available. However, it is reasonable to expect to pay between $25-$100 for a good treadmill mat.
Dimensions
If you already own a treadmill, it is important to measure it before purchasing a mat. You'll want to make sure that the dimensions of your machine will work with any option you're considering. Luckily, a lot of brands make the same mat in a few different sizes, so you'll be able to choose what works best for you.
Thickness
Depending on if you want your treadmill mat for sound-dampening purposes or to protect your floors, you may choose a different mat thickness. If you want a treadmill mat that will reduce noise or thumping, choose a thicker option (in the size of about half-an-inch thick).
Treadmill Mats FAQs
What is the best mat to put under a treadmill?
After testing some of the most popular treadmill mats on the market, I've decided I like the SuperMats Solid P.V.C. Mat for Treadmills best. It is long, feels durable, and is available on Amazon.
How thick should a treadmill mat be?
This depends on what you're looking for. If you want to dampen noise, a thicker mat up to half-an-inch thick could be just what you need. For those of you who are simply looking to protect your floor, having any type of barrier is useful.
What should you put under a treadmill?
I would recommend measuring your treadmill's dimensions and finding a treadmill mat that will be the ideal size. You don't want to have multiple extra feet of vinyl hanging out of the back or not enough room for the length of your treadmill deck. Once you have the correct dimensions, you should purchase a treadmill mat to protect your flooring and reduce noise.