We test and review fitness products based on an independent, multi-point methodology. If you use our links to purchase something, we may earn a commission. Read our disclosures.
You decided that you want to incorporate a treadmill into your home gym. Great! You might be asking yourself: Do I have enough space? Will it hurt my hardwood floors? Can I add a desk and incorporate it into my home office? Does it matter if a treadmill is upstairs or downstairs?
As experienced home gym owners, we can tell you that it's important to put your treadmill where you will actually use it. Here, we will guide you through where to put a treadmill in your home, noting the pros and cons of different locations.
Why Treadmill Positioning Matters
How your treadmill is positioned is not only important for the functionality of the treadmill, but also for safety. While you might not need to worry about lawsuits from gymgoers as this gym did, you can learn from their mistakes and set up your exercise equipment at home in a more efficient way that takes into account safety precautions.
Also, consider that where you put a treadmill could have warranty implications. After you have picked the best treadmill to build up your home gym, read through the owner's manual and follow their directions on how and where to position your treadmill so that you don't void any warranty coverage.
Key Factors in Deciding Treadmill Placement
Here are a few things to take into account when assessing where to put a treadmill: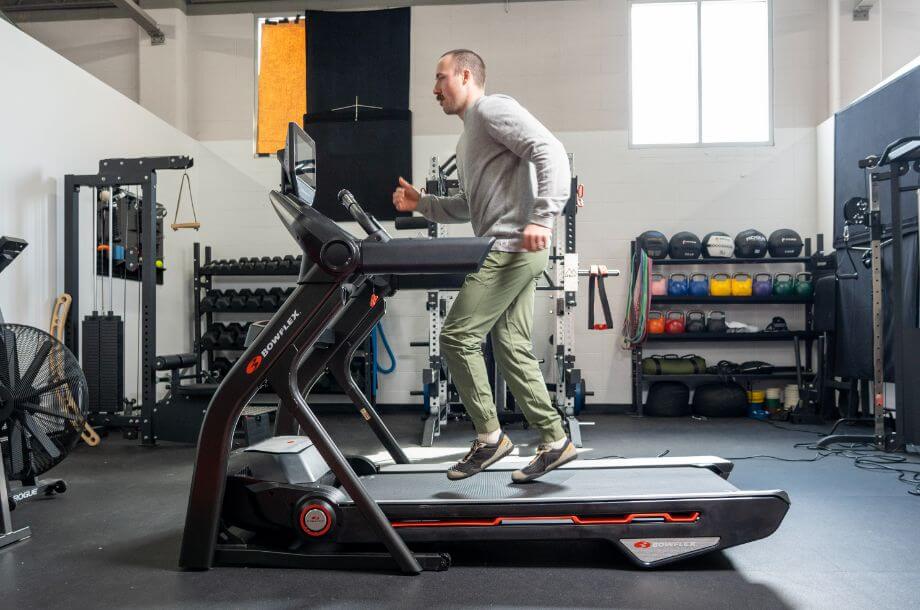 Open Space
You don't want your treadmill rubbing against other pieces of furniture, or set in a low-clearance area where you might hit your head while running, or where the cord might get tangled in someone's feet. Look around your home and see where you have enough room so that you can have plenty of floor space to complete your treadmill workouts.
Take into account the treadmill's footprint and measure the space you want to put it. Be sure to add at least 12 inches of space around the treadmill's measurements to account for getting on and off the machine comfortably.
Noise
These machines make noise (though we do know of some great quiet treadmills). Between the treadmill belt running and the sound of your feet pounding the deck, the noise could be disruptive. Therefore, find a space where being loud isn't going to stop you from completing your workout. There are treadmill mats you can buy that help reduce noise, especially if you happen to have your treadmill on a second floor, but they won't take the sound away completely.
Safety
According to U.S. Consumer Product Safety Commission, treadmills cause the most at-home, gym-equipment-related injuries out there. Anytime you bring something into your home, take all precautions necessary to set it up and use it in the safest manner possible.
So, what kind of treadmill safety should you consider when looking for a spot? For starters, place the machine in a spot where it doesn't pose a threat to small children and pets. Also, the floor under the machine should be level, as an uneven foundation could lead to serious injury.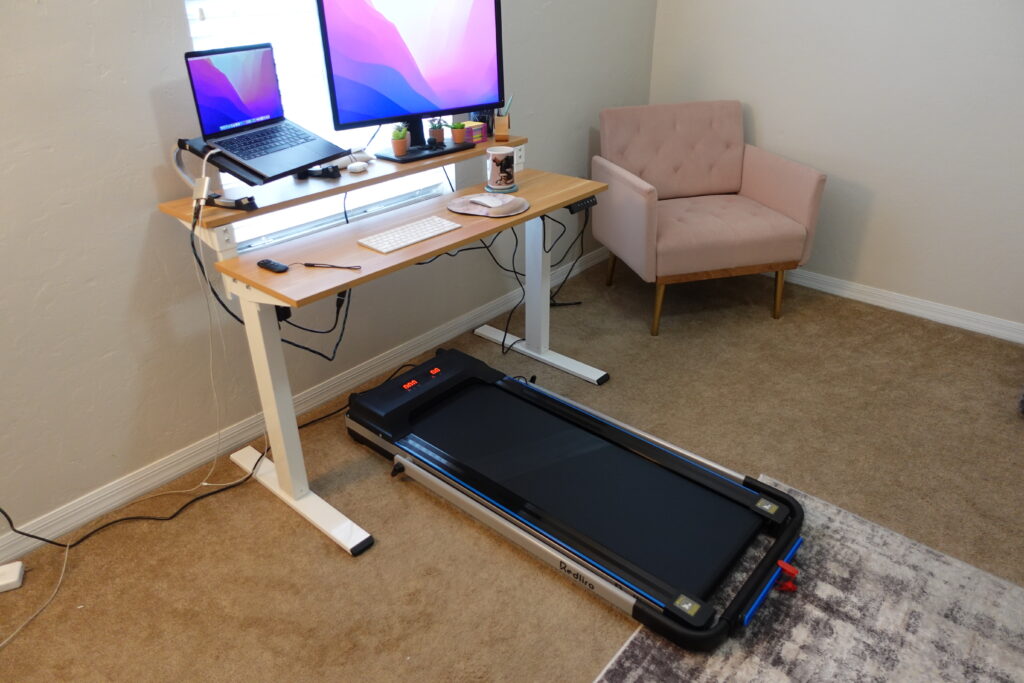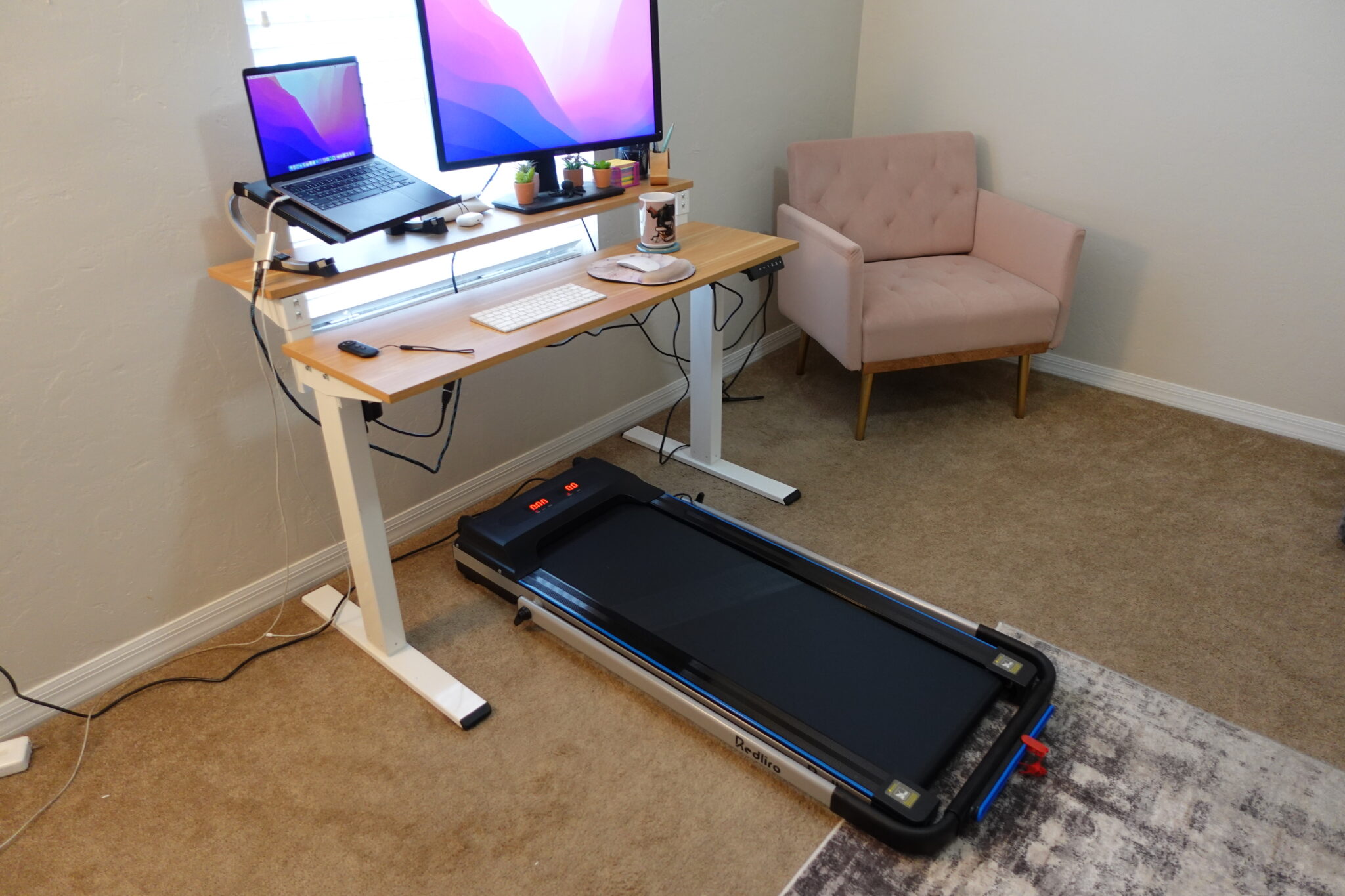 Garage and Basement Considerations
Garage and basements are one of the most popular places for people to put their new treadmills. This space is also typically away from kids and pets and doesn't disrupt the overall flow of your home. You also have the ability to open the garage door or basement windows for fresh air while you complete your treadmill workout.
Building a home gym in your garage or basement also gives you a bit more freedom in your decorating. You can use your creative side to build a vision board and fill your walls with motivational posters that get you excited to get out there and put your treadmill to good use.
Now, there are some downsides, including exposure to extreme temperatures. You may need to invest in a space heater for the winter and an oscillating fan for the summer, depending on where you live. Not only that, but extreme hot or cold could actually damage your treadmill.
Storing your home treadmill in the garage could expose it to more elements like dust and even void certain warranty stipulations. There is also the fear of flooding in basements. These factors can shorten the life of your treadmill compared to it being in a temperature-controlled environment.
| | |
| --- | --- |
| Pros of Garage/Basement | Cons of Garage/Basement |
| Doesn't disrupt main home | Extreme temperatures |
| Potentially lots of open space | Could void treadmill warranty |
| Noise doesn't affect others | Could lead to damaged machine |
Bedroom Placement
The bedroom might not be the first place you think of; however, for those living in small spaces, it may be one of the only viable options.
One of the pros of putting your treadmill in the bedroom is that you will see it every day. This keeps your home fitness goals top-of-mind. You could work on building up a routine where your shoes are right by the treadmill so it's easy to hop on first thing in the morning and get some movement to start your day on the right foot (literally).
On the other side, if you share your bedroom with a partner, the noise of the treadmill could limit the opportunities available to use it.
It is also strongly discouraged to put a treadmill in the bedroom if you follow the Feng Shui principles in your home setup, as treadmills bring out strong energy vibes and many want to keep the bedroom as a space of rest and peace. Also consider that if you don't use the treadmill for home fitness and end up storing clothes or other items on it, you may bring negative energy into your bedroom.
| | |
| --- | --- |
| Pros of Bedroom | Cons of Bedroom |
| Everyday reminder to use it | Noise could disturb others |
| May be convenient | Could end up as a clothes hanger |
| May be the only option | May make bedroom less peaceful |
Living Room Considerations
The living room brings a multitude of pros and cons when you're considering where to put fitness equipment. For starters, many living rooms tend to have open spaces and even provide some of the best views. Putting a treadmill in this shared space also may encourage multiple members of a family to be more inclined to use the machine.
On the other side of that coin, it also means there are more safety issues to consider. If you have small children or pets, you may need to take some extra precautions. The living room can also bring in more toys, pillows, and other safety hazards that don't mix well with a moving treadmill belt.
One concern people may have is that a living room is meant for living space, not a space for exercise. However, a folding treadmill or compact machine can be easily pulled out and then stored away in a closet or under a couch.
The noise is another factor to consider when placing your treadmill in the living room. While you might be able to put in earbuds and listen to your favorite podcast or playlist, it may make it hard for someone else who might be trying to watch a TV show.
| | |
| --- | --- |
| Pros of Living Room | Cons of Living Room |
| More open space | Loud noises |
| Climate-controlled | Safety concerns with children and pets |
| May have great views | May be an eyesore |
FAQs About Where to Put a Treadmill
Where should I put my treadmill at home?
The best place to put your treadmill in your home is where you will use it the most. Every person's needs and spaces are going to be slightly different, and if you put your treadmill somewhere that doesn't work for you, then you aren't getting the most of your investment. Space, noise, and others in the home will play a role.
Can a treadmill be placed in a bedroom?
You can place a treadmill in the bedroom even if it's upstairs or on a hardwood floor. Investing in the proper mats will help reduce noise and protect your flooring. 
Where should a treadmill be placed in a gym?
A treadmill should be placed in a gym where it has plenty of open space on all sides, at the back, and plenty of open head space. All cords should be out of the way or covered with mats to reduce the chances of people tripping. 
Should a treadmill face a wall?
You can have your treadmill face a wall but keep in mind that might get kind of boring to look at on long runs. Add some motivational posters or a vision board to help keep you running even when you want to stop.