We test and review fitness products based on an independent, multi-point methodology. If you use our links to purchase something, we may earn a commission. Read our disclosures.
An at-home gym is convenient for busy people, making physical exercise and wellness accessible. When you do your treadmill workouts at home, you save money on gas and membership fees, and you can go for a run whenever you want. If you have limited space inside or small children around often, having access to exercise equipment in the garage could make your fitness activities a little easier.
The garage can be a functional, semi-private space to workout on the treadmill, stretch, and prioritize your health. But, is it ok to put a treadmill in a garage?
Tips for Storing a Treadmill in a Garage
Before you pop that garage door open, get some fresh air, and start cardio training, follow a few steps to ensure your garage, treadmill, and space work for your needs:
Select a treadmill with a warranty covering garage gym equipment.
Learn what weather conditions can impact the treadmill's lifespan.
Create an open space in your garage and measure the area for the treadmill.
Prepare to clean dirt and debris more often, as it will build up faster in the garage.
Warranty and Manufacturer Guidelines
As you search for the right machine, looking at the treadmill manufacturer's guidelines and warranty is an excellent place to start. Each warranty timeline varies; some will void your warranty if it doesn't meet their guidelines.
For example, brands like TrueForm, Sole Fitness, and Echelon appear to have warranties that stand regardless of if you put your treadmill in the garage or not.
Brands that may void the warranty of a garage gym treadmill include: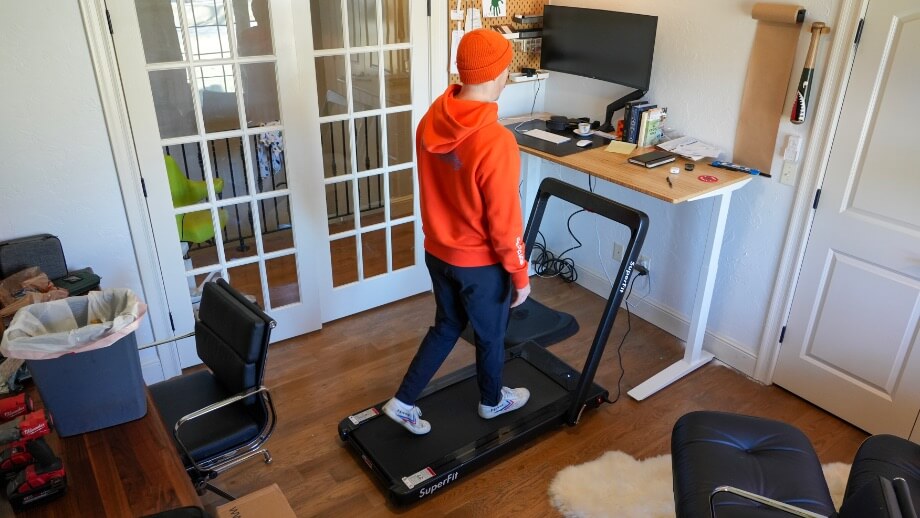 Weather: Hot vs. Cold Garage
Now that you know some of the best treadmill warranties, it's time to check if your garage stays at a consistent temperature throughout the year.
Unfortunately, machinery in treadmills may start to malfunction if it's too hot, too cold, or otherwise impacted by the weather. So, for a longer treadmill lifespan, never store it in a space that drops below 50 degrees Fahrenheit and over 105 degrees Fahrenheit.
Risks of keeping your treadmill in a HOT garage:
The treadmill motor can malfunction from overheating.
The belt can stop working or running smoothly.
Direct sunlight can melt parts.
Power issues can cause the circuit board, LCD screen, and motor function to stop working.
Risks of keeping your treadmill in a COLD garage:
Cold weather typically makes electronics slow down.
Moisture and humidity follow the cold weather and can cause water damage.
In addition, motor parts like the incline function and LCD screen can stop working.
If you have an unheated garage, you may want to consider insulation or a heat source to keep the garage at a consistent temperature.
Related: How to Fix a Treadmill
Size of the Machine
Another essential step of setting up a garage gym is ensuring you have enough space for the treadmill. Consider that most quality treadmills are between 6 and 7 feet long and around 3 feet wide. You'll also need extra space around the treadmill for getting on and off the machine.
This home gym is a space where you should feel safe and won't bump into hazards and potentially hurt yourself. Move other machinery, sharp objects, and dangerous items away from the treadmill workout area. If space is an issue, there are compact and folding treadmills on the market.
RELATED: 30 Minute Treadmill Workout
Dirt and Debris
Tiny pieces of dirt and build-up over time can ruin your treadmill, especially in a dusty garage.
Here are some ways to protect your treadmill from dirt and debris:
Wipe down the screen, hand grips, and the treadmill belt with a damp microfiber cloth after every use.
Find a waterproof treadmill cover or blanket to cover the treadmill when it's not in use.
Leave your car in the driveway when it's raining to avoid bringing water into the garage.
Try sweeping and blowing the garage once a week for regular care.
Check your garage regularly for any water leaks. You can also buy a water leak detector on Amazon that plugs into an outlet in the garage.
You can't always prevent dirt, dust, snow salt, and grass shavings from entering the garage. But, these are just some ways you can reduce build-up and extend the lifespan of your treadmill.
RELATED: Treadmill Mistakes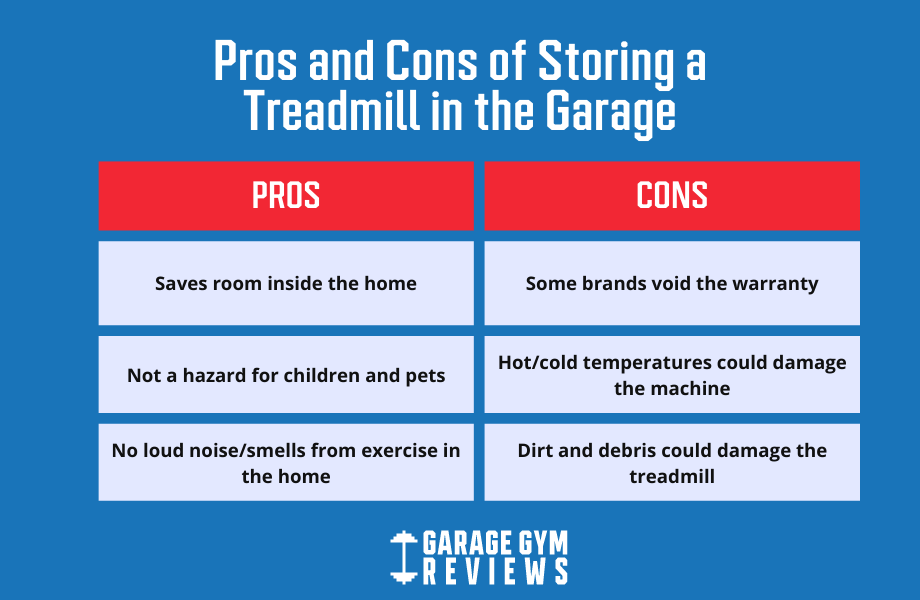 Pros of Putting a Treadmill in a Garage
There's more room inside the home.
It doesn't ruin your home decor, look bulky, or take up living room space.
The garage is a semi-private space so you can work out and focus on yourself.
It's safe and away from small children and pets.
Weather won't impact your workout.
There's less damage, scratches, scuffs, and gym smell inside the house.
The garage muffles a lot of the sounds, so you can use the treadmill without disturbing anyone inside.
RELATED: Best Quiet Treadmill
Cons of Putting a Treadmill in a Garage
Not all brands will honor a warranty on your garage gym treadmill.
The hot and cold temperatures can mess up your treadmill motor and function.
Exposure to moisture and water can break the treadmill.
The garage must be swept, blown, and cleaned to avoid dirt build-up.
Debris and dust can damage the moving parts in a treadmill.
While exercising, your garage might not have the best views or things to look at.
It may not save you time having a high-maintenance treadmill at home.
Check out more pros and cons about running on a treadmill vs outside.
Final Thoughts
Creating a home gym in your garage has some upsides and downsides. But hopefully, with this guide, you're ready to set up your new garage gym treadmill and start cardio training at home.
Is It OK to Put a Treadmill in a Garage FAQs
Why shouldn't you put a treadmill in the garage?
There are a few downsides to putting a treadmill in the garage. For starters, it can be a pain to maintain in terms of keeping dirt and debris away. In addition, some treadmill manufacturers do not recommend putting a treadmill in a garage because of the temperature, dirt, and issues that can break the machine. However, there are many benefits to keeping a treadmill in the garage.
Can the cold ruin a treadmill?
Yes, putting a treadmill in a cold garage or outdoor space can ruin the machine. Electronics generally don't perform well in temperatures below 50 degrees Fahrenheit; also, cold weather brings in water and destroys treadmills.
What temperature is too cold for a treadmill?
The treadmill may stop working optimally if it's continuously exposed to cold temperatures below 50 degrees Fahrenheit.
Do you need a mat under a treadmill in the garage?
Yes, it is recommended to have a thick treadmill mat under your machine to reduce debris, and protect the treadmill and the garage floor. You can find reasonably priced and different styles of treadmill mats on Amazon.