We test and review fitness products based on an independent, multi-point methodology. If you use our links to purchase something, we may earn a commission. Read our disclosures.
With an estimated 53 million users in the United States alone, treadmills are one of the most popular pieces of cardio equipment you can own. With so many people running, walking, and jogging on this machine, treadmill mistakes are bound to occur. Check out this guide to see the seven most common blunders, plus the best ways to avoid them.
1. Repeating the Same Workout Over and Over
Although being consistent in your workout plan or routine is a good thing, doing the exact same workout every time you step on the treadmill isn't. According to University Hospitals, varying your workouts can prevent overuse injuries and lead to less muscle soreness overall.
Even people who are training for a marathon don't run marathon distances every single day. They change up the pace, duration, and incline on various training days to prevent injury and allow their body to adapt to different conditions.
Plus, repeating the same workout everyday can lead to burnout and disinterest. Changing your routine up can make the treadmill more exciting and feel like less of a chore.
Solution
Thanks to the internet, different workouts are right at your fingertips. Utilize platforms like Pinterest or TikTok and try the hottest new workouts, like the 12-3-30 workout, an incline walking workout popularized by YouTuber Lauren Giraldo.
You can also check and see what preset programs your treadmill has––many will have fat burn, distance, HIIT, and heart rate programs you can easily click on and get started with in a flash.
Still feeling stuck? Check out an interactive programming app like iFIT or Peloton. For as little as $12.99 per month, you can follow along with various classes led by instructors who are there to motivate you.
Whether you're more of a beginner who enjoys walking, or someone who wants to sweat their guts out with a sprint session, you'll be able to find what works for you on these apps.
Plus, you don't have to have a Peloton or a NordicTrack treadmill to use these programming services––they can be used in tandem with any treadmill with your own smart device.
2. Forgetting Your Warm-Up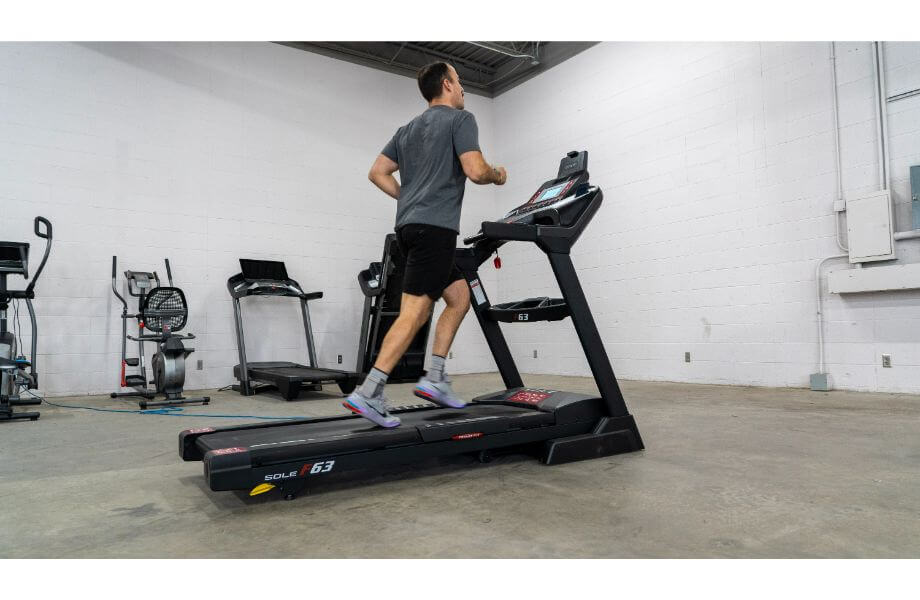 Even on hot days, it's crucial to get your body moving before starting a workout. A warm-up helps to elevate your heart rate and gets the blood flowing to your muscles, allowing them to rev up to peak performance.
It can be tempting to jump right into your workout without warming up, especially if you are short on time. However, completing a warm-up can get both your body and mind in the right place to have a great workout.
Certified personal trainer (and GGR writer) Anthony O'Reilly also is a big fan of leading clients through a warm-up before starting a workout.
"Warming up improves your muscle tissue's flexibility and can also gradually increase your heart rate," Anthony explains. "This helps reduce overall injury risk and can help with your workout performance."
Solution
Spend five to ten minutes prior to your treadmill workout just warming up. This can look like dynamic stretching or walking on the treadmill. At the end of your workout, spend a few minutes on a cool down to bring your heart rate back down to rest.
"This is the time to utilize recovery tools like foam rollers or massage guns to help loosen sore muscles," Anthony says. "Plus, it feels good and can be a motivator to get to the end of your workout."
3. Wearing the Wrong Shoes
Obviously, you shouldn't wear a pair of stilettos on a treadmill (you'd likely look fabulous though!). Beyond that, choosing running or walking shoes can be tough. There are tons of options on the market, and some may not be suited for your particular foot.
If you find you constantly have pain in your arches, pinched toes, or sore feet after a treadmill workout, you may be wearing the wrong shoes.
Solution
First things first: Make sure you're wearing the correct size of shoe. Running shoes can run small, and always choosing your typical size may result in pinched toes and an uncomfortable workout. You don't want to make a treadmill running mistake before even stepping on the machine!
Going into a store and trying on the running shoes available will give you the best indication of sizing. Still not sure? Visit a specialized running store. Many of the employees are happy to give you their expert opinion on the shoes you're looking to purchase. I've even been able to test shoes on a treadmill they had in store used to help analyze customers' gaits.
If you find yourself suffering from foot pain or sore arches, you may need a more cushioned running shoe, like the HOKA Bondi 7s. If this doesn't solve your problem, you may need to see a foot specialist. I have collapsed arches from years of overuse, and the medical professional I saw recommended custom insoles. I get a new pair each year for my running shoes and have seen a big improvement in how my feet feel after a treadmill workout.
RELATED: Check out our guide on How to Choose Running Shoes
4. Ignoring Safety Features
Safety features are present on a treadmill for a reason, so it is wise to actually use them. Don't ignore the safety clip or hop onto the side of the treadmill while it is moving quickly. It may seem silly to clip the safety key to your shirt, but it can stop the belt of the treadmill if you fall for any reason.
Even the most experienced runners can make mistakes and injure themselves if they aren't careful. Why not set yourself up for less injuries by utilizing the safety features available to you?
Solution
Check your surroundings before starting the treadmill or unfolding the deck. You don't want to unintentionally injure yourself, pets, or kids playing nearby.
Utilize the safety key by clipping it to your shirt.
Read the manual and instructions to see if your treadmill has additional safety features you should be aware of.
Unplug your treadmill when you're done using it.
Teach your children to be safe around the treadmill and emphasize that it isn't a toy to be played on.
5. Relying Too Much on the Handrails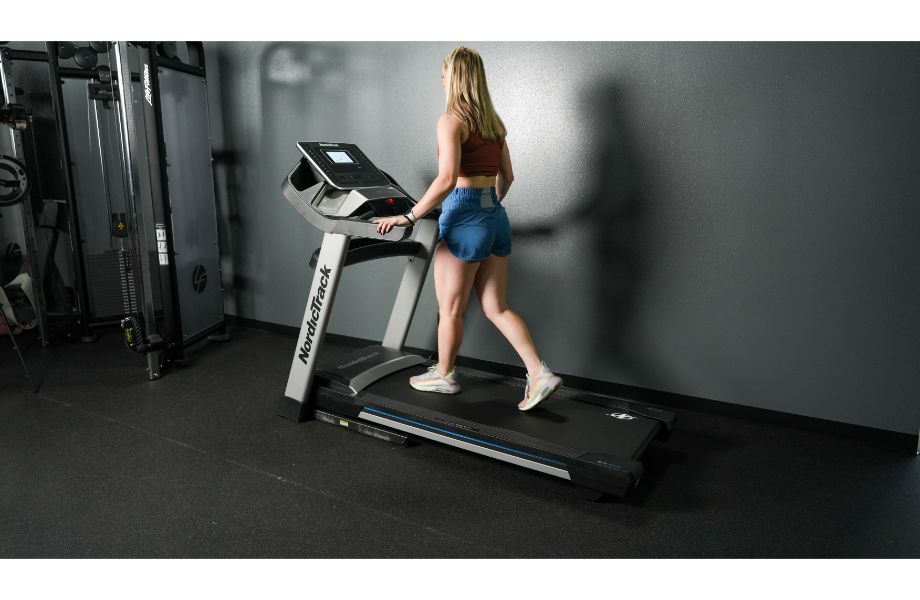 You may walk into a gym and notice people grasping the handrails for dear life, or maybe this is you. No shame if it is, but you could be getting way more out of your workout by letting go.
Hanging onto a treadmill's handrails can keep you from activating your core muscles, which help you stand up straight. Plus, if you're hanging onto the treadmill, you aren't swinging your arms, which can burn additional calories and pump up your heart rate.
Solution
It might feel a lot easier to hold on to the handrails, but this is because it actually is. You're relying on the machine to hold your upper body versus engaging it while you walk or run, which means fewer calories burned.
Start at a slower pace than you may be used to going. You'll need a little time to acclimate to moving your arms and standing up straight on your own versus holding onto the handrails for assistance.
6. Not Eating Enough
Getting lightheaded during a treadmill run can be scary and downright dangerous. You may pass out and fall if you're overexerting yourself without enough food. It can feel convenient at the moment to skip lunch, but you'll pay for it later in your treadmill workout.
Food is fuel, and your body is using the fuel you have given it to power your workout. Just like you wouldn't let your car run on empty up a mountain, you shouldn't expect your body to give you 110% without any fuel.
Solution
Take to a certified nutritionist to make sure your body is getting the proper amount of calories and nutrients it needs. Every single person has different needs, so there is no one-size-fits-all approach to nutrition.
The only advice I can give you is to make sure you're eating throughout the day, coupled with enough water intake to propel you through a treadmill workout.
7. Using Poor Form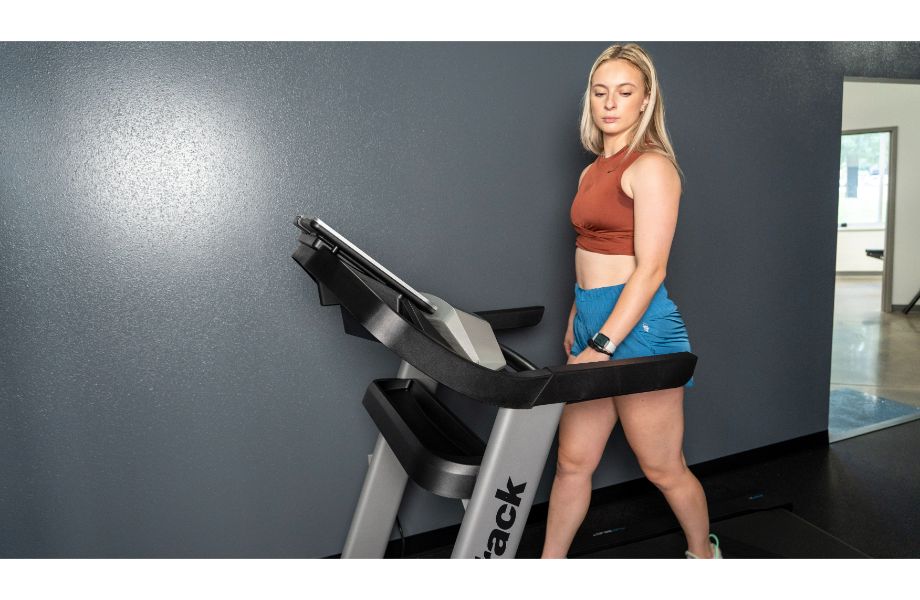 Do you find yourself overstriding and frequently hitting the front of the treadmill? If you are, you're likely putting extra pressure on your knee. Try to take slightly shorter strides to activate your glutes and hamstrings more, plus put less unnecessary force on your knees.
Do you feel like you could be running faster or with better arm drive? Remind yourself to drive your arms from your shoulders in a straight front-to-back motion. People tend to want to move their arms from side to side while running or walking, but this expends excess energy and doesn't propel you forward.
It is also important to avoid craning your neck and hunching your shoulders when possible. Good posture on a treadmill can prevent unnecessary injury and promote better core strength.
Solution
Not sure how to nail your running form? Consider a private training session or two with a running coach, who can guide you through the correct way to run in a hands-on fashion.
Not in your budget? Take a look at content from coaches or other fitness professionals on YouTube, like the Global Triathlon Network. I find that watching someone run properly is easier to follow than detailing it out in writing.
Treadmill Mistakes FAQ
How long should you walk on a treadmill?
This depends on what you're looking to get out of your walk, what your fitness level is, and how much time you have to spare. A good starting point is walking at a moderate pace for 30 minutes. If you want to burn more calories to support a weight loss goal, plus raise your heart rate, power walking on an incline for 30 minutes may be more up your alley. Don't forget good walking form! Swing your arms from the shoulder in a straight line to get the most out of your workout.
What should you not do on a treadmill?
You should only use your treadmill for its intended purpose. Don't allow your children to hang on the treadmill like a jungle gym or carry heavy weights on a motorized treadmill. Both of these things can damage the treadmill and render it useless.
Should I eat before I run on a treadmill?
I recommend talking to a nutritionist if you have specific questions about your diet. A general rule of thumb is to eat 1 to 2 hours before a workout, with a focus on carbs and protein. Everyone is different, so it is best to consult a medical professional with any questions about your personal diet needs.
Should I do a hill workout on my treadmill?
Utilizing the incline on a treadmill can be a great way to activate your lower body and hit your fitness goals. Like anything else, I would not recommend doing this every single day, as it could cause overuse injuries and be a treadmill walking mistake.