We test and review fitness products based on an independent, multi-point methodology. If you use our links to purchase something, we may earn a commission. Read our disclosures.
Whether you're purchasing a new treadmill or already have one, it's important to consider safety. Treadmills are not light pieces of home gym equipment and should be kept out of a child's reach. Even if you purchase one of the best folding treadmills on the market, it still poses a big risk.
At-home exercise equipment is incredibly convenient, but if you're not careful, you or someone else could suffer from some serious injuries. Safety is one area that you don't want to be an afterthought when it comes to home treadmills. Understand that many treadmill-related injuries are entirely preventable, so it's better to be proactive than reactive. Therefore, if you have a treadmill in your home and especially if you have small children, you'll want to keep reading to learn seven tips for children-treadmill safety.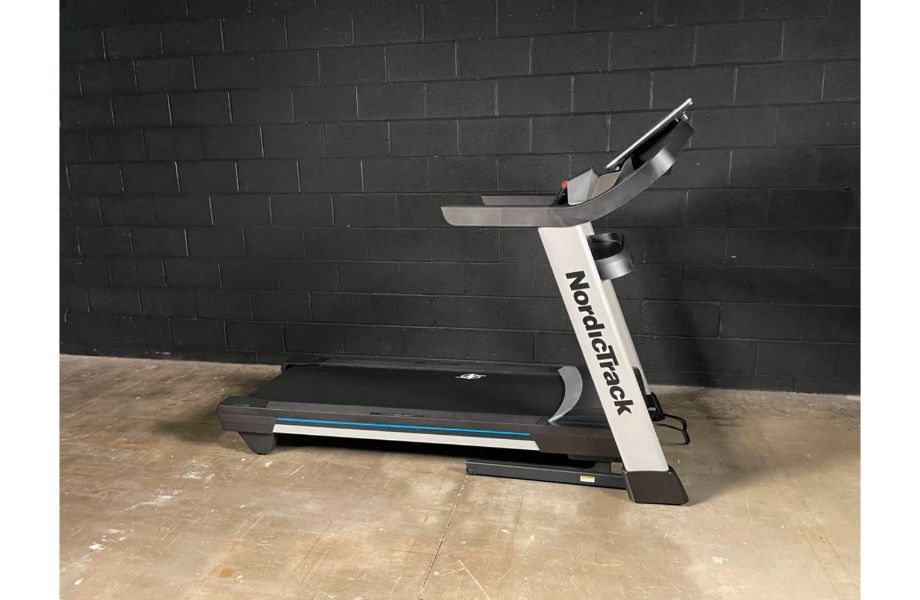 Common Risks Associated With Home Treadmills
Naturally, when you think about treadmills, you don't think about how risky they might be. All you're usually thinking about is how it'll help you meet your fitness goals. However, it's necessary to consider some of the common risks associated with treadmills too.
For instance, the U.S. Consumer Product Safety Commission (CPSC) warned consumers about the dangers of the Peloton Tread+ back in 2021. They stated that this particular exercise machine posed a hazard to small children and pets and advised consumers not to purchase one if small kids and pets were in the home. Unfortunately, one accident involving that same Peloton treadmill left a 6-year-old child dead.
Understand, though, that this isn't just a Peloton issue. Treadmill injuries send thousands of people to the emergency department each year. The risk of injury is possible whether you have a budget-friendly treadmill or a more expensive one with interactive programming. Therefore, let's explore what risks you should be aware of regarding treadmill accidents.
The Running Belt
One part of the treadmill you must be mindful of is the running belt. If you accidentally fall while working out and your skin meets the walking belt while it's still moving, you might experience a friction burn. Something like that may require a skin graft, which is a surgical repair where they take healthy skin and place it over the injured skin.
In addition, keep children away from the moving belt and possibly the treadmill as a whole. A child's curious mind might lead them to turn on the treadmill just to see what will happen. There have been incidents reported of both younger and older children operating the treadmill, speeding up the running belt, and inevitably flying off of the machine. Such an incident puts them at risk of concussions, abrasions, and more.
Don't Forget The Space Between The Frame and Belt
If you really look at your treadmill, you might notice a gap between the frame and the belt. Many companies try to conceal these exposed spaces, but young children might still get to them. If they put their tiny fingers in the gap, it's possible that it could trap them. The situation could be even worse if an adult is on a moving treadmill when a child places their finger in the gaps. Such a scenario could lead to amputation of the fingers.
Always Pay Attention to the Cords
Another part of the treadmill that's easy to overlook is the cords. Power cords and console cords can present a child safety issue if you're not careful. Sadly, Mike Tyson's 4-year-old daughter died from a treadmill cord accident, so make sure your cords are not within a child's reach.
7 Tips for Treadmill Safety
Now that you're aware of the parts of a treadmill that can cause safety issues, I'll provide you with some tips to prevent personal injury.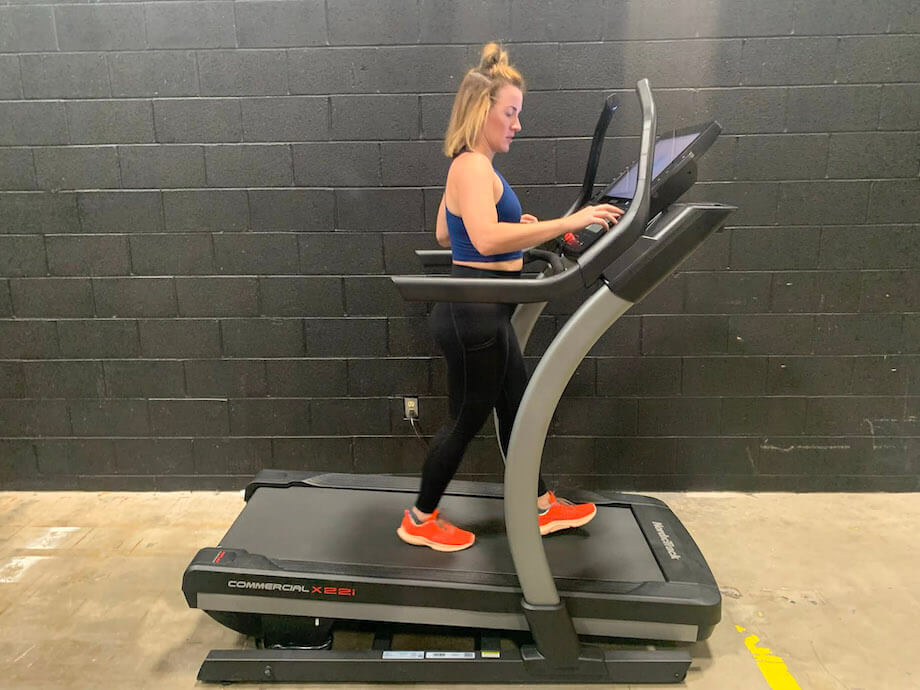 1. Put Your Treadmill in a Locked Room
If you have children or pets, the best thing to do is place your treadmill in a location where they can't easily access it. For some people, the best place is in the garage or basement. Others may have a dedicated home gym room that they can easily lock up.
RELATED: Is It ok to Put a Treadmill in a Garage?
Laura Flynn Endres, a track coach and certified personal trainer stated, "It's just not safe for unsupervised children to be around a treadmill, nor is it safe for children younger than the minimum recommended age to use a treadmill."
When space is an issue, look into getting a portable gate. Whatever room you decide to put the treadmill in, set it up so it's facing the doorway. This will help you spot your pet or child if they enter the room where you're working out.
2. Don't Leave Your Treadmill Running Unattended
An important treadmill safety rule is to wait until the moving belt completely stops before you get off it. This rule is in place so you don't trip, fall, and seriously injure yourself. If you leave your treadmill running unattended, these same injuries could happen to someone else. So think twice before you get off your treadmill while it's still running to quickly do something else. An injury only takes a few seconds.
3. Enter a Security Code
One handy feature is having to enter a security passcode before you can use your treadmill. The Peloton Tread added a password lock screen to improve safety, and we're sure other high-end treadmill brands will begin doing the same.
4. Don't Forget About The Safety Clip and Key
Ever noticed the string hanging from the treadmill that has a clip on the end of it? That there is a safety clip, and it can help you if you fall when you attach it to your clothing. We like to think that it couldn't and wouldn't happen to us, but things do happen.
The clip is set up in a way that allows it to detach the treadmill safety key from the treadmill if you fall, which will stop the running belt. This is helpful because if you did fall, your limbs or clothing might get caught up in a walking belt IF it's still moving.
However, although this is a safety feature, it's also a safety hazard to young children. They're small enough to be choking hazards, which is another reason to keep your treadmill and other fitness equipment in a room that's not easily accessible to children.
5. Keep Treadmill Cords Out of the Way
Treadmill cords are a lot more dangerous than you might think. If a mat isn't covering the power cord, you or someone else could trip over them. If you don't have a mat, affix the cords them to your treadmill or try out cord protectors. Overall, it's essential to ensure they're not in the way. You don't want to trip over them, and you certainly wouldn't want a child to accidentally loop it around their neck.
6. Read The User Manual
I understand that reading the user manual isn't the most fun activity, but it is one that could save someone's life. The manual will likely mention safety features and touch on things that you might not have considered.
For instance, do you know how far from the wall you should keep your treadmill? If not, we're sure that the user manual will tell you. In addition, it gives you step-by-step assembly instructions, which is very important. Incorrectly setting your treadmill up isn't just a child safety hazard; it's an overall hazard.
7. Conduct Routine Maintenance
It would be nice if treadmills didn't require any treadmill maintenance, but these sturdy machines do. Always check your surroundings before and after using your treadmill. If there are objects near the machine that could get caught up in the running belt, be sure to move them. Check the parts on your machine to see if anything is loose or missing.
Make sure the motor is operating smoothly, and your electronics are in tip-top shape. In addition, address burning smells right away. All of these things can protect you, young children, and pets.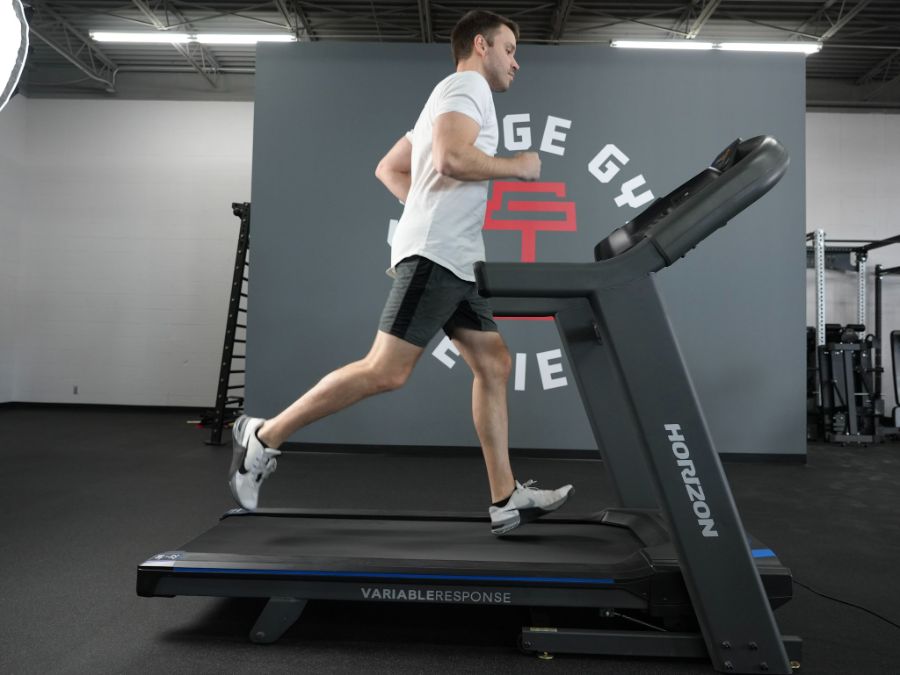 Children Treadmill Safety FAQs
How can I protect my kids from the treadmill?
The best way to protect your kids from the treadmill is by placing it in a location they can't easily access. If space is an issue and you can't put your treadmill in a dedicated room, use a portable gate to keep small children and pets away. I'd also recommend using a treadmill that requires you to enter a passcode before use. That way, it's not operable to those who don't know the code. 
How old should a child be to use a treadmill?
It's best to check the user manual to see the appropriate age for using a treadmill. Manufacturers typically set their own guidelines regarding age ranges. However, some people might say using a treadmill is safe for children who are at least 12 or 13 years old. 
Can a 6-year-old walk on a treadmill?
There are several risks associated with young children operating or being near a treadmill. Therefore it wouldn't be safe for a 6-year-old to walk on a treadmill, even if supervised. 
Can a 13-year-old use a treadmill?
It's always best to double-check the user manual to see what age they recommend. For example, the user manual for the NordicTrack Commerical 1750 says to keep children under age 12 and pets away from the treadmill at all times. Therefore, they'd deem 13 years old an appropriate age to use that specific machine. However, discernment plays a part here too. You have to ask yourself if the 13-year-old you know is mature enough to handle using the treadmill in question.