We test and review fitness products based on an independent, multi-point methodology. If you use our links to purchase something, we may earn a commission. Read our disclosures.
Home treadmills come in a wide range of options. There are budget models, manual machines, and foldable options, most of which our product testers have firsthand experience with. But with financing options increasingly available, more and more people are looking for the best high-end treadmills.
There isn't a single definition for what makes a treadmill "high-end," but usually it's some combination of advanced technology, a powerful motor, a smooth belt, and a sturdy frame that doesn't shake even at the highest speeds.
Yes, these are expensive treadmills—some costing upwards of $3,000—but if you're looking for a heavy-duty cardio machine that's built to last and will help you reach your fitness goals, they're worth the upfront investment. In this guide, we'll go through our top seven picks, highlighting both the pros and cons to help you make a decision about which model will work best for you.
We've Had Our Feet on the Best
At Garage Gym Reviews, we've personally run (and walked) hundreds of miles on dozens of different treadmills. Our goal is to provide an unbiased, expert opinion on everything from setup to performance and, eventually, longevity to help you make a decision that works best for you.
Our lineup of product testers includes certified personal trainers, certified Crossfit L-1 trainers, marathon runners, and nutrition experts. Not only do we have a personal interest in exercise equipment, it's our professional mission to find the best of the best.
Best High-End Treadmills
Best High-End Treadmill Overall: NordicTrack Commercial 1750
Good for: All types of workouts and anyone looking for a high-quality machine from a reputable manufacturer
Best High-End Treadmill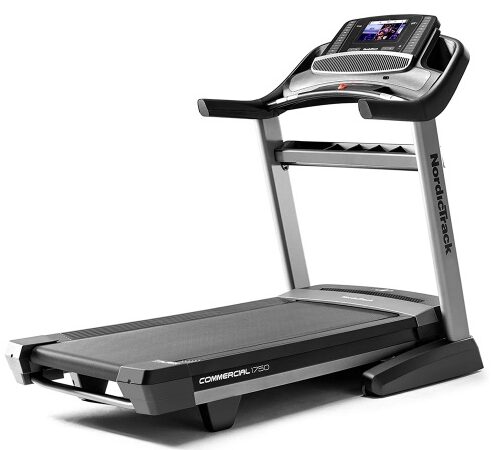 NordicTrack Commercial 1750
The NordicTrack 1750 treadmill features a 14-inch HD adjustable touchscreen with which you can stream iFIT programming on (sold separately). The under $2,000 machine can be financed through the NordicTrack website where you can get deals as low as $49 per month with 0% for 39 months.Models from 2013-2021 of the 1750 had adjustable cushioning, but the 2023 model no longer has this feature.iFIT workouts incorporate Automatic Trainer Control, which allows your trainer to digitally adjust your incline, decline, and speed. This is a nice feature to have because all you have to do is focus on the workout at hand versus frantically switching the controls.
Pros:
Offers interactive training with an iFIT membership
Declines for downhill training
Large touchscreen
Cons:
Limited workouts without additional iFIT membership
Really large footprint (and it's heavy!)
Putting it in your garage voids the warranty
The NordicTrack Commercial 1750, which is also Garage Gym Reviews' best treadmill overall pick, is loaded with features. It's ergonomically designed with a roomy 22-inch-by-60-inch running belt that sits lower than the previous version for an easier transition on and off the machine.
There's a generous incline and decline range of -3% to 15%, so you can simulate outdoor running workouts and/or target different muscle groups than you would running on a flat or elevated surface. This treadmill is also equipped with AutoAdjust technology, so your trainer can control the incline and the speed (which tops out at 12 miles per hour) remotely when you're doing instructor-led workouts via iFIT.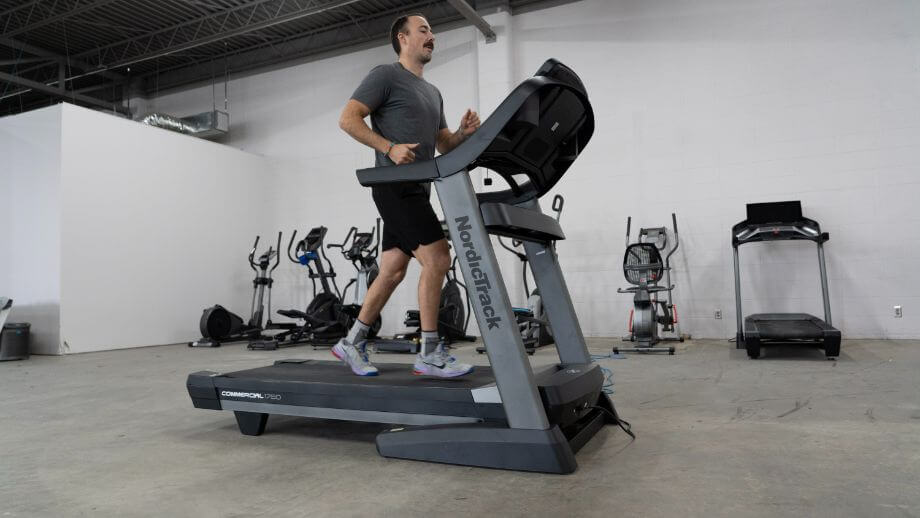 If you buy the treadmill directly from NordicTrack, you'll get a free 30-day membership to the fitness app, which includes both on-demand classes and live workouts, as well as studio classes. Coop especially enjoys the various walking and running programs that take you all over the country, since you get immersed in the scenery and it serves as a welcome distraction from a tough workout.
For better viewing, the revamped 14-inch touchscreen is tiltable and pivotable, so you can get the right angle when running, or the ability to turn it when you're doing work off the treadmill.
There are some downsides, though. For one, storing this treadmill in your garage voids the warranty—it needs to be in a climate-controlled space for coverage. It's also large, heavy and bulky, which isn't exclusive to this model, for the record. You'll see this common theme with most high-end treadmills.
| | |
| --- | --- |
| Footprint | 81.25" L x 39.25" W x 62.75" H |
| Tread Belt | 22" x 60" |
| Weight Capacity | 300 lbs |
| Motor | 3.5 CHP |
| Warranty | 10-year frame, 2-year parts, 1-year labor |
RELATED: NordicTrack Commercial 1750 treadmill review
Best High-End Treadmill for Running: ProForm Pro 9000
Good for: Runners looking for a sturdy machine and who do regular incline/decline training
Best High-End Treadmill for Running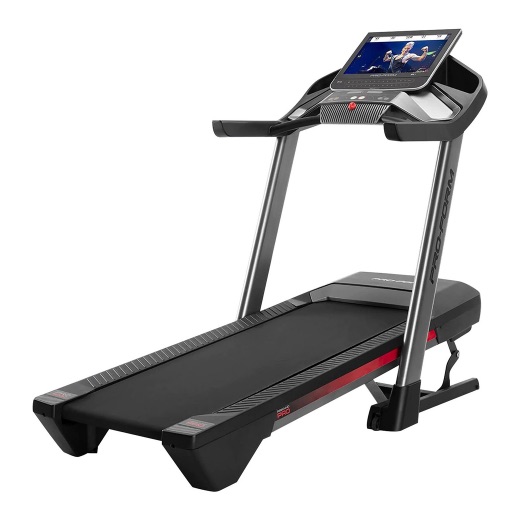 ProForm Pro 9000
Take your training to the next level with an iFit Family membership on the Pro 9000 treadmill. Engage in a whole new workout experience as streamed live and on-demand personal trainers lead you in studio classes and take you all around the world, automatically controlling your treadmill's speed, incline, and decline to give you a unique, hands-free workout.
Pros:
Powerful 3.6 CHP motor
Hands-free incline and decline adjustments
Foldable
Cons:
Heavy and not easy to move
Can't store it in the garage or it voids the warranty
Limited workout options without an iFIT subscription
If you're going to be using your treadmill primarily for running, you need a machine that has a powerful continuous motor and a cushioned belt with extra shock absorption to take some of the pressure off your joints.
The ProForm Pro 9000 has a 3.6 CHP motor that's ideal for high-volume runners and a 20-inch-by-60-inch deck that's built with the brand's ReBound Pro cushioning. This lessens impact on landing so you can run faster and longer with less muscle and joint fatigue.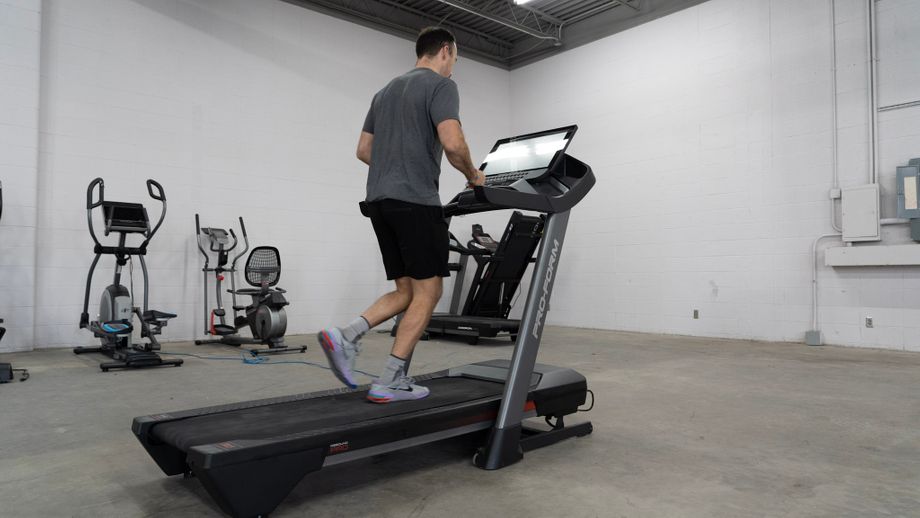 The result is a steady, comfortable running experience: "Even at a full sprint, I could feel the benefits of the cushioning under the tread belt and it made my runs a lot more comfortable and enjoyable," says Coop.
The incline grade maxes out at 12%, which is a little short of most of the others on this list, but still plenty for most runners. It also declines down to -3% to simulate the outdoor workout experience. Of course, since it's a high-end treadmill, it comes with advanced technology like a 22-inch HD touchscreen, Bluetooth compatibility, and access to all the streaming services (separate subscriptions required).
Because ProForm is owned by the same parent company as NordicTrack—Icon Health & Fitness—you also get access to iFIT, and this 'mill is compatible with AutoAdjust. iFIT free for 30 days if you buy directly from the brand's site, but will cost you $39 per month for a family membership afterward.
| | |
| --- | --- |
| Footprint | 77.3" L x 35.3" W x 59.6" H |
| Tread Belt | 20" x 60" |
| Weight Capacity | 300 lbs |
| Motor | 3.6 CHP |
| Warranty | 10-year frame, 2-year parts, 1-year labor |
RELATED: ProForm Pro 9000 treadmill review
Best High-End Manual Treadmill: AssaultRunner Elite
Good for: People looking for a non-motorized high-end treadmill
Best High-End Manual Treadmill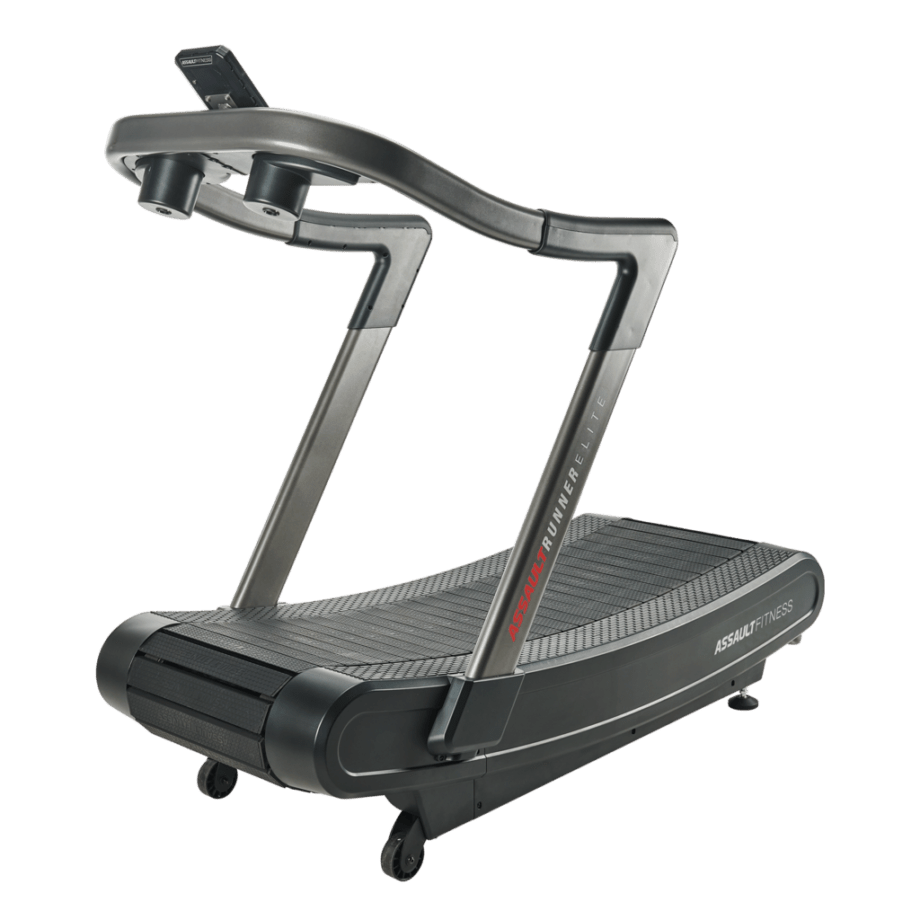 AssaultRunner Elite
Introducing the most powerful and personalized manual treadmill ever created. The brand new AssaultRunner Elite is expertly crafted to meet the specific needs of professional athletes, home gym users, and commercial owners alike.
Pros:
Extra-long running deck
Belt spins quickly when sprinting
Has 9 pre-programmed workouts
Cons:
Expensive for the lack of technology
Plastic is prone to cracking
Basic display
AssaultRunner makes the most well-known manual treadmills in the industry, largely thanks to CrossFit. The AssaultRunner Elite is the upgraded version of the AssaultRunner Pro (formerly called the Assault Air Runner).
It doesn't have the same technological bells and whistles as other high-end treadmills, like a touchscreen display, but its monitor is fairly impressive compared to other manual treadmills.
It comes with nine built-in programs, including quick-start, competition mode, target heart rate, target time, target distance, target calories, custom intervals, 20/10, and 10/20 intervals. It's also compatible with Bluetooth and ANT, so you can connect it to a third-party app like Zwift via a tablet if you want to turn it into more of a smart machine.
The real beauty of this machine lies in its construction. It has a 62-inch curved belt that makes for a more ergonomic run and accommodates a longer stride than most other treadmills. This makes running a breeze for users even over six feet. The belt is also really smooth and spins quickly, which is especially great if you like doing sprinting intervals, according to Coop.
It has an internal powder-coated steel frame that makes for a super sturdy run, although the plastic on the sides of the machine is prone to cracking. This doesn't affect the functionality; it's more of a visual bummer if it happens.
Since the AssaultRunner Elite is user-powered, you don't have to plug it in, which means you're not tied to an outlet and can put it in the middle of your garage if you wanted to.
| | |
| --- | --- |
| Footprint | 69.9" L x 31.7" W x 64.4" H |
| Tread Belt | 17" W x 62" L |
| Weight Capacity | 400 lbs |
| Motor | N/A |
| Warranty | Lifetime belt, 10-year frame, 2-year parts, 1-year labor |
RELATED: AssaultRunner Elite treadmill review
Best High-End Treadmill for Heavier Runners: Sole TT8
Good for: People who want or need a treadmill with a very powerful motor and high user weight capacity
Best High-End Treadmill for Heavier People
Sole TT8 Treadmill
The Sole TT8 is one of the luxury treadmills available from Sole Fitness. This high-end tread sports a 60-inch by 20-inch running surface to accommodate runners of most heights, and the 2-ply cushioned deck alleviates pressure and impact from the joints.Although there is no touchscreen display on the Sole TT8, it does have a sturdy smart device holder where you can place your smartphone or tablet. You can then stream fitness classes from a third-party app to keep you motivated and entertained.One of our favorite things about the Sole TT8 is its impressive incline and decline range. To simulate the natural terrain you'd encounter while running outdoors, you can push the grade down to -6% or bump it up to 15%.
Pros:
Spacious belt
Impressive incline/decline range
Tablet holder so you can follow along with an app
Cons:
No touchscreen
One of the more expensive motorized treadmills on the list
Doesn't include a chest strap
If you're planning to use your treadmill mostly at lower speeds, you can get away with a slightly less powerful motor. The Sole TT8 has a powerful 4.0 HP motor and an impressive 400-pound weight capacity—25 to 100 pounds more than others on this list!
It has a generous incline/decline range of -6% to 15% so you can simulate outdoor walking with your treadmill workouts and a maximum speed of 12 miles per hour.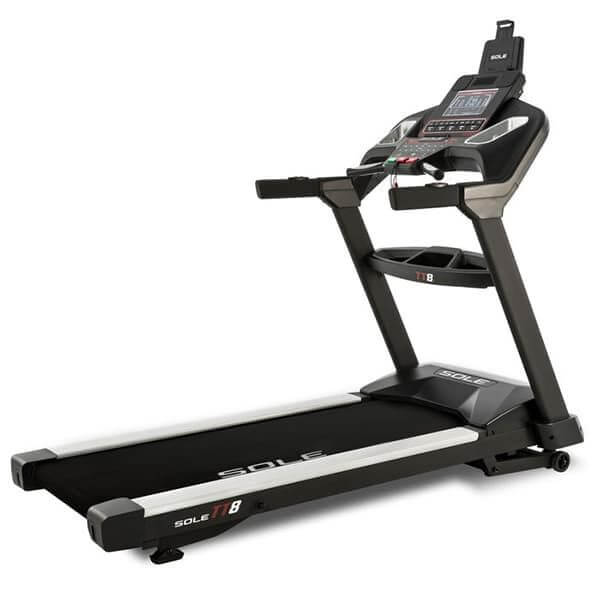 The LCD screen isn't as impressive as comparable motorized treadmills. It's not a touchscreen, but it displays basic metrics and has a handful of preset workout programs if you don't want to control it manually. There's also a tablet holder right above the display so you can follow along with on-demand workouts in a separate app if you have a subscription.
At 22 inches by 60 inches, the shock-absorbing running surface is spacious and can accommodate various stride lengths. It's made with a two-ply belt that's meant to mimic the soles on running shoes; it absorbs impact so you feel less pressure on your joints if you decide to pick up the pace from a walk to a jog or run.
There are other comfort and convenience features, too, like a cooling fan, a USB charging port, and Bluetooth-compatible speakers. It also has heart rate monitoring, but you'll have to bring your own chest strap as it doesn't come with one.
RELATED: How to Choose Running Shoes
| | |
| --- | --- |
| Footprint | 82" L x 36" W x 58" H |
| Tread Belt | 22" x 60" |
| Weight Capacity | 400 lbs |
| Motor | 4.0 HP |
| Warranty | Lifetime frame, motor, and deck; 5-year electronics; 2-year labor |
Best High-End Incline Treadmill: Bowflex Treadmill T22
Good for: Those looking to splurge on a treadmill with an impressive incline range
Best High-End Incline Treadmill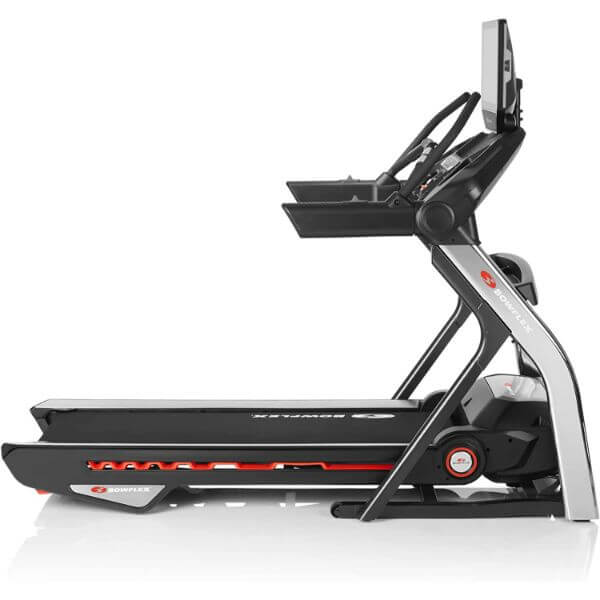 Bowflex Treadmill 22
The Bowflex Treadmill 22 is a high-end treadmill packed with features and specs that may make it attractive to serious runners and beginners alike. Some of the most notable features include a 22-inch interactive console with an HD touchscreen, speeds ranging from 0 to 12 miles per hour, and inclines ranging from -5% to 20%, offering plenty of variability to challenge even the seasoned runner.Fully equipped with the JRNY fitness platform, you can expect an immersive training experience at your fingertips. JRNY houses coach voice-led workouts, as well as over 200 scenic routes with curated playlists to keep you motivated on your next run.Additionally, with the JRNY membership, you can access and stream entertainment apps including Netflix, Hulu, Disney+, HBO Max, and Amazon Prime Video. A one-year membership is included in your purchase of the 22. However, beyond that one-year timeframe, you will need to pay for a membership in order to use the Bowflex Treadmill 22 and access all of its features.The specs and components on this treadmill are noteworthy. The 22-inch by 60-inch cushioned running deck is spacious enough to accommodate users of varying heights and, with a max user weight capacity of 400 pounds, this treadmill will work for the vast majority of the population.While some buyers found the console to be slightly confusing, it offers a lot of features well worth the time it takes to figure them out. Speed and incline knobs allow you to make adjustments to the intensity mid-stride and the built-in fan will keep you cool on those hot days. You are able to monitor your progress with key fitness metrics on the HD screen to stay in the zone. The 22 comes with heart rate hand grips as well as Bluetooth compatibility and an arm heart rate band for more accurate heart rate training.When you are done with your workout, the Bowflex 22 can be folded using the Softdrop folding system claimed to reduce the footprint by more than 40% — a perk for those with limited floor space. Unfortunately, Bowflex does not provide any information on the motor's power, but given the vast range in speed and incline, it should be plenty powerful for all users.
Pros:
Spacious, cushioned deck
22-inch adjustable, immersive touchscreen
Most generous incline range, from -5% to 20%
Cons:
Requires a JRNY membership for full functionality
Extremely large footprint (and it's bulky, too)
Very expensive
The Bowflex Treadmill 22 is one of the most expensives model on this list. And while it's definitely a hefty investment, it has a lot going for it. It has the most impressive incline range of the bunch, going from a -5% decline all the way to a 20% incline. If you want the most realistic simulation of outdoor hill running, this treadmill is the one for you.
The 22-inch-by-60-inch deck is bigger than most and it's equipped with Comfort Tech cushioning to ease impact when you land—a favorite feature amongst Garage Gym Reviews testers. Plus, with a 400-pound maximum user weight and a 4.0-horsepower motor, it can accommodate runners of most sizes.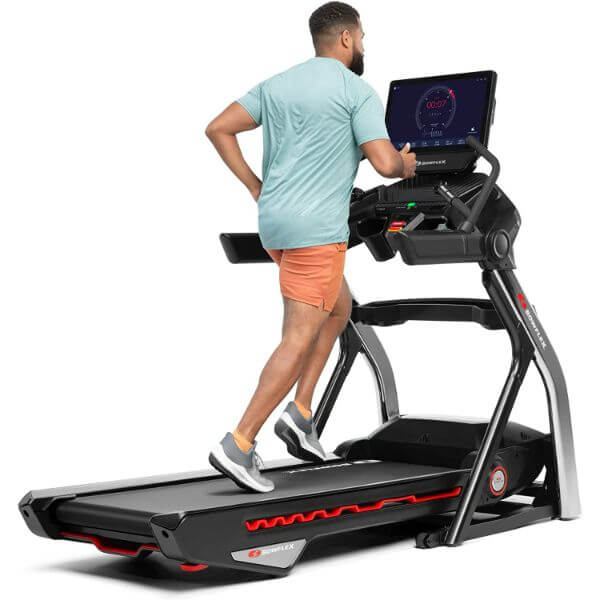 You get a maximum speed of 12 miles per hour, a 22-inch immersive touchscreen, and Bluetooth speakers. You can also use the Bluetooth connectivity to hook up a heart rate monitor or other smart devices. You do need to subscribe to JRNY, Bowflex's fitness app, to access the treadmill's full functionality. Without it, you'll be limited to manual use.
While this treadmill does have a SoftDrop folding system that makes it easier to lift the deck when not in use, it still has a pretty large footprint, even when stowed away. The Bowflex T22 is also one of the tallest treadmills, so you'll have to double check that you have enough overhead clearance before committing to it.
| | |
| --- | --- |
| Footprint | 85" L x 39.6" W x 70" H |
| Tread Belt | 22" x 60" |
| Weight Capacity | 400 lbs |
| Motor | 4 HP |
| Warranty | 15-year frame and motor; 5-year mechanical parts; 2-year labor; 1-year electronics |
Best High-End Treadmill That Doesn't Require an App: Horizon 7.8AT Studio Tread
Good for: People who want the option to choose their own fitness app (or none at all)
High-End Treadmill With No Subscription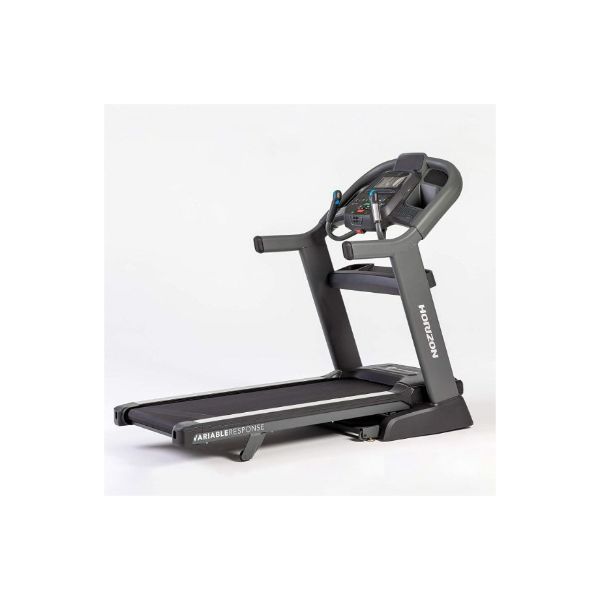 Horizon 7.8 AT Treadmill
One of the most respectable treadmills in Horizon's lineup is the Horizon 7.8 AT, the highest-grade model in the Studio Series. This treadmill features impressive specs, including a 22-inch-by-60-inch cushioned running deck, a powerful 4.0 CHP motor, a colorful 9.3-inch monitor, integrated speakers for an immersive experience, a rapid-charge USB port, and an included Bluetooth 4.0 heart rate strap. With the 7.8 AT, users can stream fitness classes from popular fitness platforms like Studio, Zwift, and Peloton all without a required subscription. That said, connection to third-party apps does require a personal smart device to access touch screen content, videos, or online classes. If you're someone who enjoys interval training, the 7.8 AT will likely be a great fit. Equipped with exclusive QuickDial controls and an integrated Sprint 8 HIIT program, runners can quickly and conveniently control speed and incline with the roller style control. Unlike grip-mounted buttons, the rollers allow users to tweak the speed or incline with minimal interruption to their run. Horizon provides an impressive lifetime warranty on both the frame and motor, which is testament to its quality design and components. As with all models in this Studio Series, the 7.8 AT features a folding design and transport wheels. However, with a weight of 330 pounds, it's not easily moved around. Additionally, when folded, it still has a large footprint so it's not very space-saving.
Pros:
Can connect with third-party fitness apps
Spacious, cushioned running deck
Access to preset workouts without a subscription
Cons:
Screen is on the smaller side
No decline function
Basic console with no touchscreen functionality
Many high-end treadmills require a monthly subscription to the brand's own fitness app for full access to all the features. This isn't necessarily a bad thing, but it's definitely something you have to consider as part of your budget. If you don't want a separate subscription, the Horizon Fitness 7.8AT Studio Tread is the best choice for you.
It includes a Bluetooth chest strap that can link up with third party fitness apps like Zwift and Peloton. This gives you the same immersive experience as some of the others, but you're not limited to a specific platform. If you choose not to set up a fitness app, you'll still get access to several preset workouts, including but not limited to, 5K, Fat Burn, Hill Climb, and Sprint.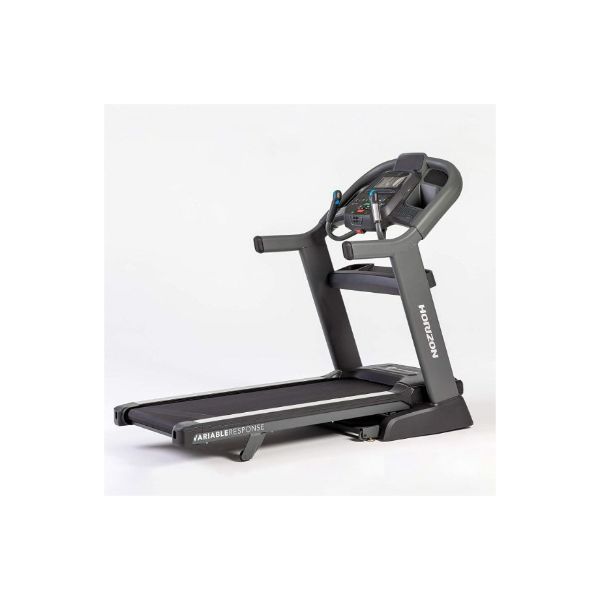 This machine also has a spacious 22-inch-by-60-inch cushioned running deck, a 9.3-inch full color digital display, and a 4-horsepower rapid sync motor. This responsive motor is ideal for interval training since it responds to changes more quickly and won't lag or delay when you change speed and/or incline levels.
Speaking of which, speed maxes out at 12 miles per hour and the incline range goes up to 15%. There's no decline function. It also comes with your basic convenience and comfort features, like a water bottle holder, a fan, a media tray, and a tablet holder so you can stream workouts from any of the compatible apps.
| | |
| --- | --- |
| Footprint | 76" L x 37" W x 64" H |
| Tread Belt | 22" x 60" |
| Weight Capacity | 375 lbs |
| Motor | 4 HP |
| Warranty | Lifetime frame and motor; 5-year parts; 2-year labor |
Best High-End Treadmill for Studio Workouts: Peloton Tread
Good for: People looking for a wide range of live and on-demand workout classes
High-End Treadmill for Studio Classes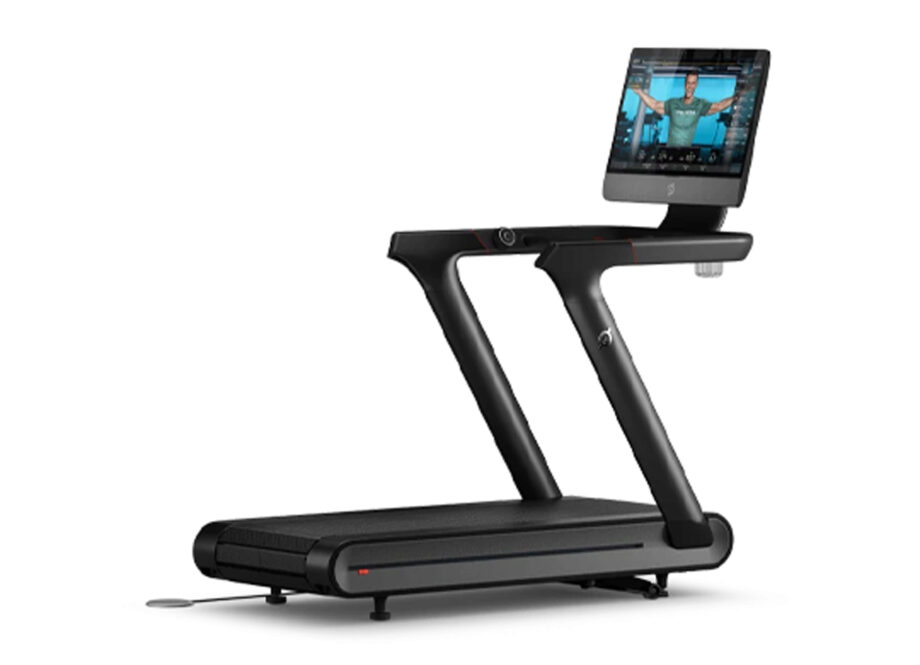 Pros:
Has an enormous touchscreen that tilts
Peloton All-Access Membership has a wide range of workout types
Spinning speed and incline knobs integrated into the handles
Cons:
Motor is less powerful than others at this price point
No decline
Running belt is a few inches shorter than most on this list
The Peloton Tread likely needs no introduction, but if you're looking for a machine that's optimized for studio workouts, this is it. Not only can you access running and walking programs, you can follow along with strength training and bootcamp classes. Peloton's app also has yoga, stretching, meditation, pilates, and barre programs.
While you won't be doing these workouts on the machine, you can follow along with them from the enormous 23.8-inch touchscreen. Unlike the Peloton Bike+'s screen, this one doesn't fully rotate, but it does tilt up to 50 degrees. There are front- and rear-facing speakers so you can clearly hear your instructor even if you're not directly in front of the screen.
Even without the studio workouts, which unsurprisingly come with an extra monthly subscription fee ($44 per month), the Tread is a solid machine with decent specs. It has a 3.0 HP motor, which is on the lower end for a machine at this price point, but it can still handle higher speeds without any major issues. The 59-inch running belt is a few inches shorter than most of the others, but will still comfortably accommodate most stride lengths.
The Tread tops out at a 12.5% incline—it doesn't decline—and has a max speed of 12.5 miles per hour. There are speed and incline knobs integrated into the frame handles that make it easy to change both without breaking your stride.
| | |
| --- | --- |
| Footprint | 68" L x 33" W x 62" H |
| Tread Belt | 20" x 59" |
| Weight Capacity | 300 pounds |
| Motor | 3.0 HP |
| Warranty | 5-year frame, 3-year motor and belt, 1-year touchscreen and components |
Other Treadmills We Tried and Researched
The following treadmills didn't officially make our list, but they're still high-quality machines from reputable manufacturers. We've tested many of them. The ones we haven't have been thoroughly researched and come with many of the same features as our favorite models.
Bowflex Treadmill 10: The Bowflex Treadmill 10 ($1,999) is the entry-level model from Bowflex, but it's still a high-end treadmill by most standards. It maxes out at 12 miles per hour and has a 10-inch HD touchscreen, decline and incline settings, and Bluetooth connectivity. It must be connected to the JRNY fitness streaming app to access the full range of features. (Read our full Bowflex T10 review.)
NordicTrack Commercial x22i: Another high-end option from NordicTrack, the Commercial x22i has a max incline grade of 40%. Since most max out at 15%, that's one of the biggest standouts of this machine. It also has a large, 22-inch HD touch and iFIT compatibility with the option for remote trainer control.
AssaultRunner Pro: This model is the flagship AssaultRunner treadmill. Coop thinks it's a great machine (it was named the best manual treadmill overall); it's just not as heavy-duty as the AssaultRunner Elite. Nevertheless, this one is a slightly more affordable way to get one in your home gym.
Sole ST90: A slightly upgraded version of the Sole TT8, this treadmill has a slat belt design similar to the AssaultRunner machines. It features a 10.1-inch LCD touchscreen, 15 levels of incline, and a top speed of 12.5 miles per hour. We think the TT8 is a better option for most people.
How We Picked and Tested
All the treadmills on this list were tested and handpicked by Coop and the Garage Gym Reviews team. They were used multiple times for a variety of workouts, from casual walking to interval training to running at max speed. In addition to making note of the machine's performance (stability, smoothness of the belt, etc), these are the other variables that were factored in:
Ease of setup
Compatible apps
Pre-programmed/included workouts
Technology
Incline/decline range
Dimensions/overall footprint
Durability
Price
Warranty
Extra features
With high-end treadmills, the team pays special attention to the technology and durability, since these are two major things that set these more-expensive machines apart.
What type of technology is included with the treadmill? Does it have built-in workouts?
What's the additional cost for the compatible fitness app?
Is it easy to use (touchscreen, conveniently placed buttons, etc.)? Does it glitch?
Durability is best judged over time, but the type of frame and the strength of the motor give major clues what the treadmill's potential lifespan will be, as do the stability and the performance of the belt.
Benefits of High-End Treadmills
Treadmills come in a huge range of price points, some as low as a few hundred dollars. So why splurge on a high-end treadmill? These are some of the biggest reasons.
Technology
High-end treadmills are all about the technology. They typically have larger and higher-quality screens and access to more training programs (often via subscription-based apps). Many also give you access to streaming services, like Netflix or Hulu, so you catch up on the latest binge-worthy show while you're getting your cardio in.
Comfort
In general, high-end treadmills have wider running decks with more cushioning, which makes for a more comfortable workout. They also have additional comfort features like water bottle holders, fans, and media shelves.
Longevity
High-end treadmills aren't just about fancy technology or bigger belts (although they have these things, too), they have sturdy frames and heavy-duty motors that are built to take the beating that can come with regular use.
When it comes to longevity, "You get what you pay for," says Coop. "In general, the more money you can invest in a treadmill, the longer it will last.
Stability
Sturdy frames don't just contribute to a machine's longevity, they also ensure stability even at higher speeds. This is less important for casual walkers, but if you like to run or do HIIT training, you want a machine that's not going to shake or have a jumpy belt.
Buying Guide:What to Look for in a High-End Treadmill
So what is it that makes a treadmill high-end? And how do you choose the one for you? Here's what the testing team at Garage Gym Reviews thinks you should look for.
Technology
Advanced technology is one of the major things that sets high-end treadmills apart from budget models. Most elite treadmills come pretty stacked, but here are some things to consider:
Screen size and functionality
Bluetooth and/or Wi-Fi capabilities
Customized user profiles
Heart rate monitoring
Streaming services
Training Options
Most high-end treadmills are compatible with the brand's corresponding fitness app. For NordicTrack and ProForm, it's iFIT. Bowflex uses JRNY, and the Peloton Tread uses the Peloton app. When choosing a high-end treadmill, consider what you get with each program. Are there live and on-demand workouts? How often do new workouts drop? Does it offer more than just running workouts?
You also want to think about how the treadmill will function without a subscription. NordicTrack and Bowflex treadmills will let you operate in manual mode only, but the Horizon Fitness 7.8 AT Studio Tread offers pre-programmed workouts without a subscription.
Space
High-end treadmills are big. Some of them are folding treadmills and some aren't. But either way, you want to make sure you have the space for them. Carefully measure the room you plan to put the treadmill in, considering the overhead clearance too.
Other Conveniences
Other conveniences also sweeten the deal a little bit. Here are some things you can look for:
Media shelf
USB charging port
Cooling fan
Cushioned deck for shock absorption
Storage tray
Budget
You're obviously going to have to shell out more cash for a high-end treadmill than you would a budget model. Don't just look at the retail price of the treadmill; factor in the monthly or annual cost of the subscription service if you're planning to use the machine to its full capabilities.
RELATED: History of Treadmills
Best High End Treadmills FAQs
How much is a high-end treadmill?
The price of a high-end treadmill varies based on the features and the strength of the motor. The Garage Gym Reviews testing team's top picks have a price range of $1,799 to $4,000, but most fall around $2,000 to $2,500.
Is it worth buying a high-end treadmill?
If you're looking for a quality treadmill that's built to last, it's definitely worth spending the extra money. While the initial price tag is higher, high-end treadmills have sturdier frames and more reliable motors than budget models. Because of this, you'll likely get many more years of use before you'd have to replace it. While the price point doesn't automatically mean it's the best treadmill, Coop is firm in the belief that you get what you pay for when it comes to gym equipment.
What is the best commercial treadmill for home use?
In our opinion, the NordicTrack Commercial 1750 is the best commercial treadmill for home use. It has a 3.5 CHP motor, an incline range of -3% to 15%, and an enormous touchscreen display that allows you to immerse yourself in iFIT workouts. The treadmill belt is also spacious and smooth at all speeds, so it's ideal for everything from walking to interval sprints.