We test and review fitness products based on an independent, multi-point methodology. If you use our links to purchase something, we may earn a commission. Read our disclosures.
If the film industry has taught us anything, it's that making a sequel can be a risky move. You either get something like The Godfather Part II, which is arguably better than the original (yeah, I said it), or you get Grease 2, which was so bad I bet most of you didn't even know it existed.
Our Peloton Bike+ review looks at whether this revamped version of the world's most famous indoor cycling bike is one of the good sequels, or if it's a major flop. We'll also give you our thought on whether those who already own the original Peloton Bike should bother upgrading to the Bike+.
The Amount of Exercise Bike Reviews We've Done Is Off the Chain
Listen, I'm just going to give it to you straight: We know our stuff when it comes to exercise bikes. We've sat on and pedaled on dozens of them to learn the best ones for your home gym, whether you're just looking for a stationary bike, a bike you can use at your desk, or an air bike to prep for your next CrossFit competition.
We've also used many of these bikes in our roles as certified personal trainers, CrossFit coaches, and competitive athletes. You can count on us to recommend fitness equipment that will work for you no matter your training goal, budget, or space constraints.
Peloton Sequel
Product Highlights
Top-notch immersive training
Live classes and leaderboards
Requires monthly subscription

23.8-inch HD rotating touchscreen

Constructed from welded steel
Powder coat finish
Pros & Cons
Pros
Rotating screen to easily transition between workout modalities
Compact footprint
360-degree sound
Quiet
Top-of-the-line technology features
Comfortable
Free delivery
Cons
Disappointing warranty
Subscription is required to use bike
Expensive
Bottom Line
The Peloton Bike+ is a piece of cardio equipment that brings training from home to a new level. With exclusive access to countless workouts and virtual scenery, this bike could be a worthy investment for anyone who has the means.The Peloton Bike+ also makes it easy to stay on track with your fitness goals as users can easily pair their Apple Watch to share metrics. In fact, users can just tap their Apple Watch to the Bike+ screen to instantly track cycling workouts. If you're someone who loves to analyze workout stats, these features make it seamless.
A Quick Look at the Peloton Bike Plus
The Peloton Bike+ was released in September 2020, in the thick of Peloton's peak of popularity, as an upgraded version of the original bike. The bike itself, from the handlebars down to pedals, is largely the same as the first one, but with a few additional features.
The Bike+ has a 23.8-inch screen that rotates 360 degrees (the OG model has a 21.5-inch screen that tilts), a better audio system, and an auto-follow function that automatically adjusts the resistance to your Peloton trainer's instructions. The bike plus also has a digital resistance calibration that allows for a smoother ride.
Just like the first Peloton, an all-access membership to the Peloton app is the best way to get the ultimate Peloton experience. The live classes and on-demand home workouts are still some of the best we've seen on any piece of smart home gym equipment.
Our Tips
Not sure this is the right stationary bike for you? Peloton offers a 30-day home trial period so you can try it out for yourself.
Pros:
Front-facing speakers make for a more immersive workout experience
Auto-follow function automatically adjusts resistance to trainer's recommendations (this can be turned off if you want)
Rotating screen allows you to easily follow off-bike workouts
100 micro-adjustable resistance levels
Cons:
Only compatible with Delta cycling cleats
Sometimes difficult to get repairs
Requires monthly subscription to access most features
Is the Peloton Bike Plus Worth It?
We wondered the same thing, so we reached out to our friend Alie Atkins, who was a big fan of the original Peloton and recently upgraded to the Bike+. Her answer was a definitive "yes."
And though the Garage Gym Reviews team hasn't tried it out for ourselves just yet, we can see why she'd say that. We've used the OG Peloton Bike as well as several Peloton alternatives that have many of the same features, so we can see how coupling them with the great Peloton classes would make this a go-to pick for anyone looking for a great exercise bike.
RELATED: How to Choose an Exercise Bike
At just under $2,000, it's also one of the best values for those looking to replicate the boutique studio cycling class experience at home.
But that doesn't mean we'd recommend it for everyone. Here's a few people we think might enjoy it as much as Alie, and those who might want to look at other exercise bikes.
Great For:
Home gym owners looking to access the best on-demand and live cycling classes
Anyone who likes competition and seeing themselves move up in leaderboards
Those looking for an exercise bike with Bluetooth and fitness tracker connectivity
Not Recommended For:
Anyone who's a casual rider
Those looking for a budget exercise bike
Riders taller than 6 foot, 4 inches
Peloton Bike+ Specs
| | |
| --- | --- |
| Footprint | 59″ L x 59″ H x 22″ W |
| Weight | 140 lbs |
| Display | 23.8" touchscreen |
| Pedals | Delta-compatible aluminum pedals |
| Connects to Fitness Trackers? | Yes |
| Seat Adjustment | Horizontal and vertical |
| Max User Weight | 297 lbs |
| User Height | 4'11"-6'4" |
Taking the Peloton Bike+ For a Ride
The Peloton Bike+ shares many of the same specs as the original Peloton Bike: A 38-pound flywheel, 100 levels of micro-adjustable magnetic resistance, and easy adjustment of the seat and handlebars. So we, along with Alie, expected the same Peloton experience from the Bike+ as the first one.
But Alie says pedaling on the Bike+ feels "smoother" than it does on the original, which is something we noticed in other online reviews. Both bikes have the same flywheel and belt drive system, so in theory there shouldn't be any difference between the two.
RELATED: Peloton Bike Review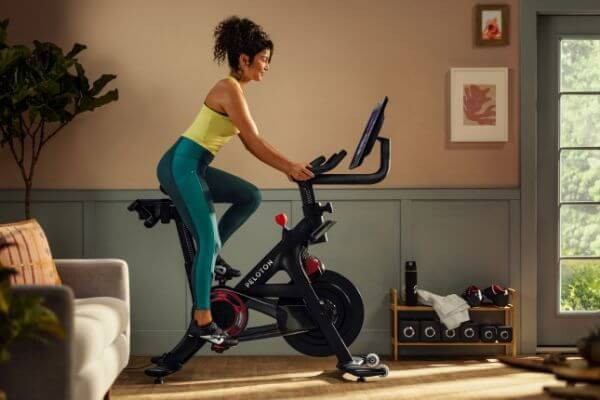 This smoother ride is due to the fact that the second Peloton has an auto-calibrated resistance system, which essentially adapts to your resistance changes overtime.
With the first Peloton, there's no such function and you may need to calibrate the bike's resistance system if you're experiencing any issues with it (which involves removing the water bottle holder with a screwdriver and placing a wedge tool in between the flywheel's magnets).
Automatic Resistance Adjustment
The automatic resistance adjustment is something we've used on the Echelon Smart Connect EX-3 bike, and we liked it there. On the Peloton Bike+, this feature kicks on during on-demand classes when a trainer instructs you to either increase or decrease the resistance. But instead of having to turn the resistance knob, your bike adjusts the difficulty for you (this feature can be turned off if you prefer to change the resistance manually).
Alie says she has a love-hate relationship with the auto-follow feature.
"I struggle a little bit more in terms of trying to keep up and not feeling like I'm either going to quit because it's too hard, or that my legs aren't turning to jello with it automatically adjusting," she says. "It definitely makes for a harder cycle and pushes me to do what I should have been doing."
Her fiancé, on the other hand, is a big fan. "He thought it was annoying having to manually change the resistance on the old bike and felt like it caused some delay or focus away from his workout each time the instructor has you change resistance speeds," she says.
Rotating Screen
The Peloton Bike+'s rotating screen not only makes following off-bike workouts like bootcamp much easier, but it also comes in handy during cycling classes that end with stretches.
"I like being able to get off the bike, move away from it, and still be able to finish the cool down stretch without feeling like I had to be right up against the bike to follow along," Alie says.
Sound System
The Bike+ has front-facing speakers with rear-facing woofers (which help with bass) to create a surround sound system for the rider. Alie and other reviewers said they were blown away by the sound quality, and that it helped get them through their workouts.
"I'm a music person when I workout, so this was huge for me in terms of keeping me in a motivated state," she says.
Alie's not alone, and there's a lot of research backing up the idea that a great playlist can help you complete a grueling cardio session.
Other Tech Features
The Peloton Bike+ can connect to your Apple Watch (via the Apple GymKit integration) or other fitness tracker to track your heart rate and other metrics.
There's also a USB port that allows you to charge your phone, a camera and microphone for video chats with friends during live classes, Bluetooth connectivity, and a headphone jack.
Pedals
Peloton utilizes Delta-compatible aluminum pedals, which requires cycling shoes or cleats. You can swap out the pedals for ones that can be used with athletic shoes.
Conveniences
The Peloton Bike+ has two water bottle holders and dual dumbbell racks. You don't get a media shelf or fan, but you can easily find some on Amazon that are compatible with the Peloton.
Classes
Don't get us wrong, Peloton makes a great bike, but what they're really known for is their live and on-demand classes. Thousands of people have canceled their gym memberships because they find they're able to get just as good of a workout, if not better, at home through the classes.
RELATED: Best Online Workout Programs
Alie says she struggled to find classes or exercises that she actually looked forward to every day, but that the Peloton changed that. It's not hard to see why, as Peloton has some of the best instructors in the industry. Many of them have gone on to become celebrities themselves and launch their own online training programs, bringing thousands of their adoring fans along with them.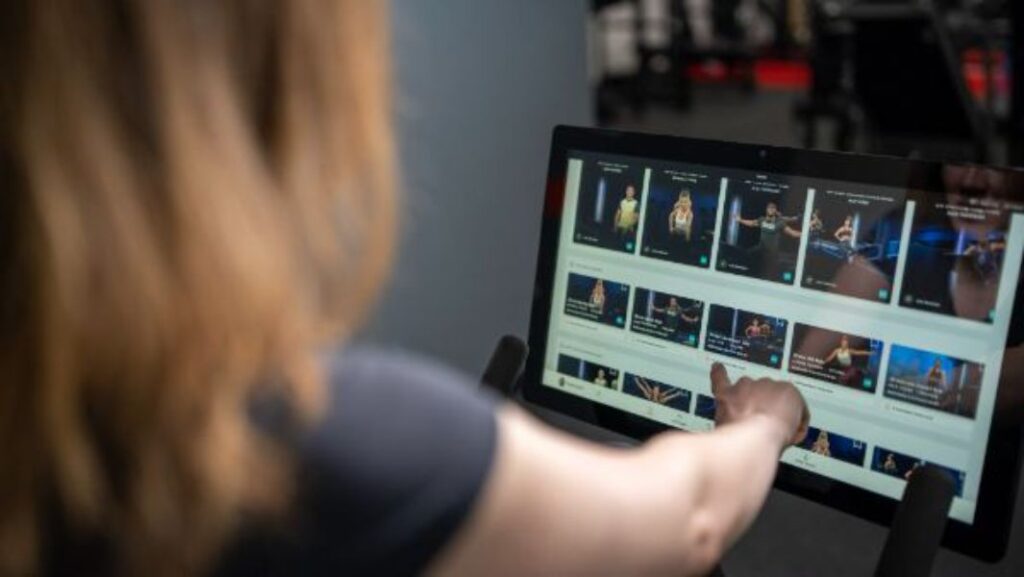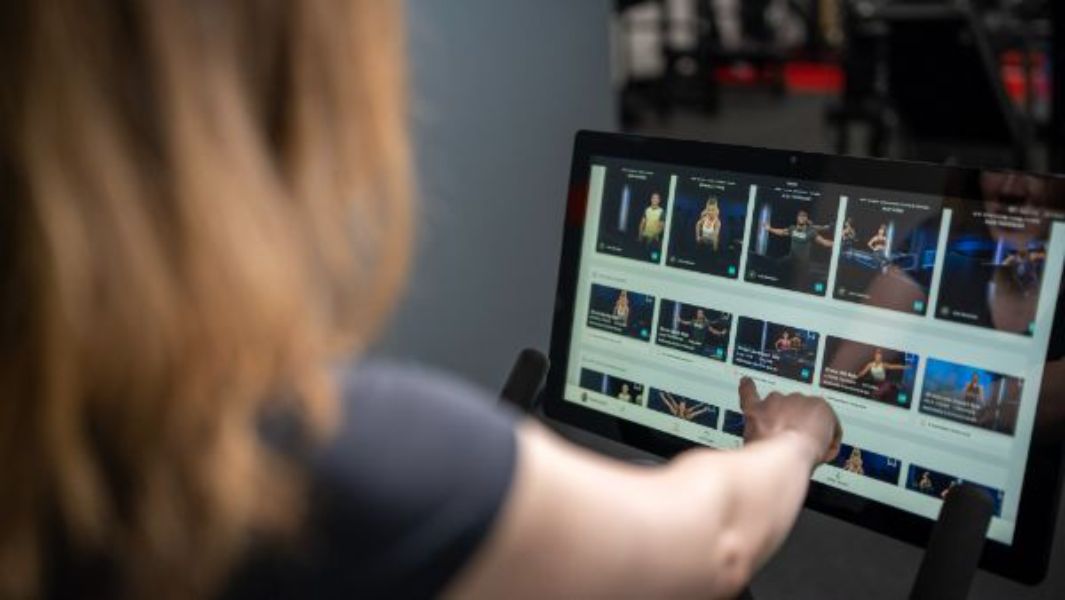 For $44 a month, you get an all-access membership to the Peloton app and its thousands of classes and workouts for everything from cycling (obviously) to bootcamp, strength and conditioning, yoga, pilates, and more.
You can access Peloton classes via the app and without a Peloton bike for $12.99 per month.
Durability and Construction
The Peloton Bike+ is a well-made piece of equipment, featuring a welded steel frame that has a 297-pound weight capacity. There are more budget-friendly exercise bikes with higher weight capacities (the MYX II Bike can hold 350 pounds), but we haven't seen many complaints about Peloton wobbling when used by taller or heavier riders.
There are some complaints that Peloton's hardware isn't the best, and one of the most common issues was the pedals falling off. This is annoying in and of itself, but customers have also complained that it's difficult to schedule a repair for any such issues.
Portability
The Peloton Bike+ weighs 140 pounds, but the transport wheels make it a breeze for anyone who needs to move around their home gym or apartment. At 59 inches in length and 23 inches in width, we don't anticipate many people having difficulty fitting it into their workout space.
Peloton Bike+ vs Peloton Bike
The Original
The question most people are probably asking: "Is the Peloton Bike+ any better than the original Peloton?" We asked Alie, who has used both Pelotons, and she responded that she would go back in time and just get the Bike+ in the first place.
"After having the first bike and then upgrading we were like, 'OK, we should've just gotten the Bike+," she says.
Her reasoning for saying this included the better sound system, smoother flywheel, and the auto-follow function. Alie got hers when Peloton was offering a rebate for trading the first Peloton in for the new bike, but if you have neither and are wondering if it's worth the extra $800, we'd say we agree with her for the most part.
Despite the large price difference between the two Pelotons, you're still only getting a five-year frame warranty for the Peloton Bike+, and only 12 months for all other parts. In our opinion, we think a more expensive bike should come with a better warranty, especially since the industry standard is around 10 years for the frame.
There's also been multiple complaints of poor customer service when people need to take advantage of the warranty.
We're happy to hear that the Peloton Bike+ seems to have a smoother ride than its predecessor, but we're not big fans of the seat or pedals that either bike uses.
The rotating screen is a big upgrade from the original's swiveling screen, especially if you're looking to take advantage of the wide array of classes offered through the Peloton app, which in our opinion is one of the best personal training apps for Android or iPhone users.
If you're a cyclist who's just looking for the best value exercise bike, we think the OG Peloton is the better option. But if you're someone looking for a piece of equipment with the best features, especially when it comes to getting an immersive workout experience, the Peloton Bike+ is the way to go.
Check out our full Peloton Bike vs Peloton Bike Plus comparison piece for a full showdown between these two bikes.
| | | |
| --- | --- | --- |
| | Peloton Bike+ | Peloton Bike |
| Price | $1,995 | $1,195 |
| Footprint | 59″ L x 59″ H x 23″ W | 59″ L x 53″ H x 23″ W |
| Weight | 140 lbs | 135 lbs |
| Resistance | 100 micro-adjustable magnetic levels | 100 micro-adjustable magnetic levels |
| Display | 23.8" rotating touchscreen | 21.5" swivel touchscreen |
| Pedals | Delta-compatible aluminum pedals | Delta-compatible aluminum pedals |
| Connects to Fitness Trackers? | Yes | Yes |
| Seat Adjustment | Horizontal and vertical | Horizontal and vertical |
| Max User Weight | 297 lbs | 297 lbs |
Peloton Bike Plus vs Echelon EX-8s
A More Expensive Alternative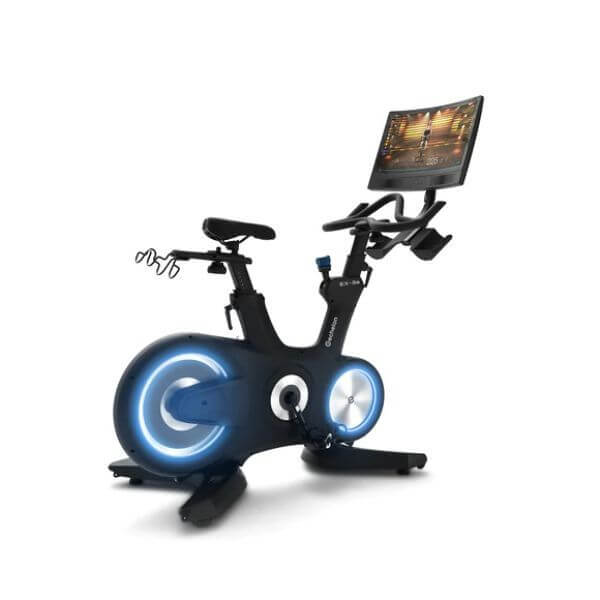 Echelon EX-8s

Exercise bikes have become much more than just a bike, taking on an entirely new immersive experience that branches out beyond cycling. Smart exercise bikes are taking the at-home workout experience to the next level offering a connected, high-tech, interactive, and motivating fitness routine. The Echelon EX-8s is a premium smart bike designed to add to user's motivation and to enhance the immersive nature of the entire experience.The EX-8s features a 24-inch curved interactive HD screen that not only mimics the feeling of being in a cycling studio, but also enhances the entire experience. While a curved screen may not seem like a big deal, trust us when we say it is. What's more, this screen swivels 180 degrees, which allows users to jump off the bike and into another workout by just flipping the screen.This bike is incredibly cool-looking as well. Its sleek design is highlighted by the dual-ring design that includes illuminating wheels. These wheels rotate through 15 LED color variations synced to your live fitness metrics. You can literally watch the colors change based on the intensity of the workout, which is very motivating. The EX-8s is equipped with some impressive specs including adjustable handlebars that  maximize comfort and enable good form. These handlebars have control buttons that allow users to change resistance levels even when out of the saddle, a feature not seen on many other smart bikes. Other notable features are the Bluetooth 5.0 connectivity, a fast processing speed, 32 levels of magnetic resistance, and water bottle holders to keep you hydrated throughout the workout. The EX-8s does require a membership to Echelon's online fitness platform, which costs $35 per month. Without it, the bike really cannot be used, which is a bummer. That said, the platform is stacked with live and on-demand workouts, a ton of music and playlists, and over 60 world-class instructors. 
The Echelon EX-8s is the top-of-the-line model in Echelon's Connect Bike Series, which was launched to compete with Peloton. The EX-8s is the most like the Peloton Bike+ in terms of functionality and the features it comes with, but at a price tag of around $2,300.
There are 32 magnetic resistance levels that can be controlled via Bluetooth, dual front-facing speakers, a curved HD touchscreen that replicates road cycling and can be rotated 180 degrees for off-bike workouts, and a flexing frame to reduce impact to your joints.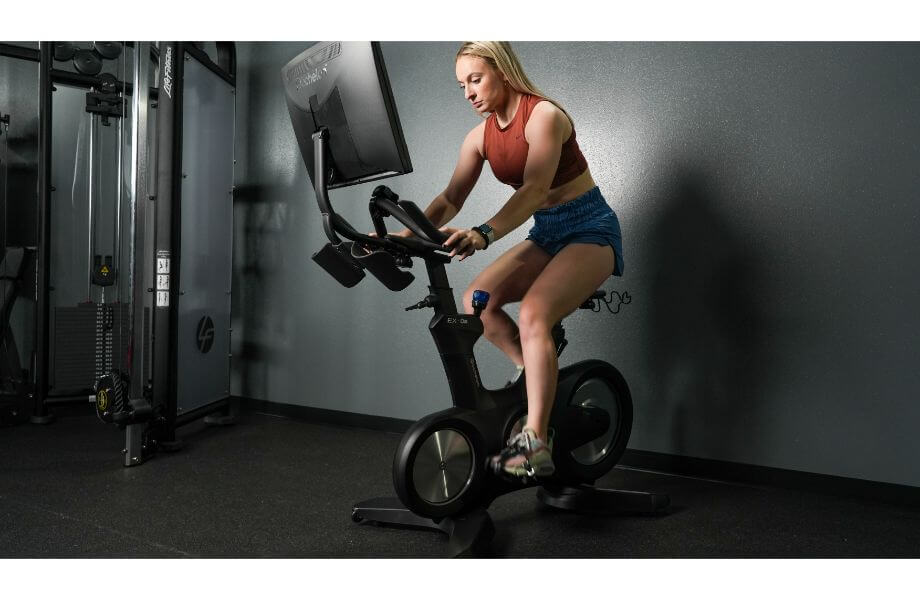 The Echelon Fit App costs $34.99 per month for an all-access membership, and like Peloton also includes strength, yoga, and other non-bike workouts. The instructors aren't as motivating as Peloton's, and the production quality is a bit lower as well, but it still offers great programming for people of all fitness levels and interests.
Despite being a more expensive bike, Echelon only gives you a year of coverage on the bike, which is worse than Peloton's five-year warranty. That, along with the fact that the Peloton Bike+ is $300 cheaper, is why we'd recommend Peloton over Echelon.
Want a look at Echelon's other bikes? We pitted Echelon vs Peloton in a showdown that features all of the company's bikes.
| | | |
| --- | --- | --- |
| | Peloton Bike+ | Echelon EX-8s |
| Price | $1,995 | $2,299 |
| Footprint | 59″ L x 59″ H x 23″ W | 59″ L x 65″ H x 23″ W |
| Flywheel weight | 38 lbs | 38 lbs |
| Weight | 140 lbs | 124 lbs |
| Resistance | 100 micro-adjustable magnetic levels | 32 magnetic levels |
| Display | 23.8" rotating touchscreen | 24" curved HD touchscreen |
| Pedals | Delta-compatible aluminum pedals | Dual-sided: SPD clips/adjustable toe cages |
| Connects to Fitness Trackers? | Yes | No |
| Seat Adjustment | Horizontal and vertical | Horizontal and vertical |
| Max User Weight | 297 lbs | 300 lbs |
Peloton Bike+ vs NordicTrack S22i Studio Bike
A Great Alternative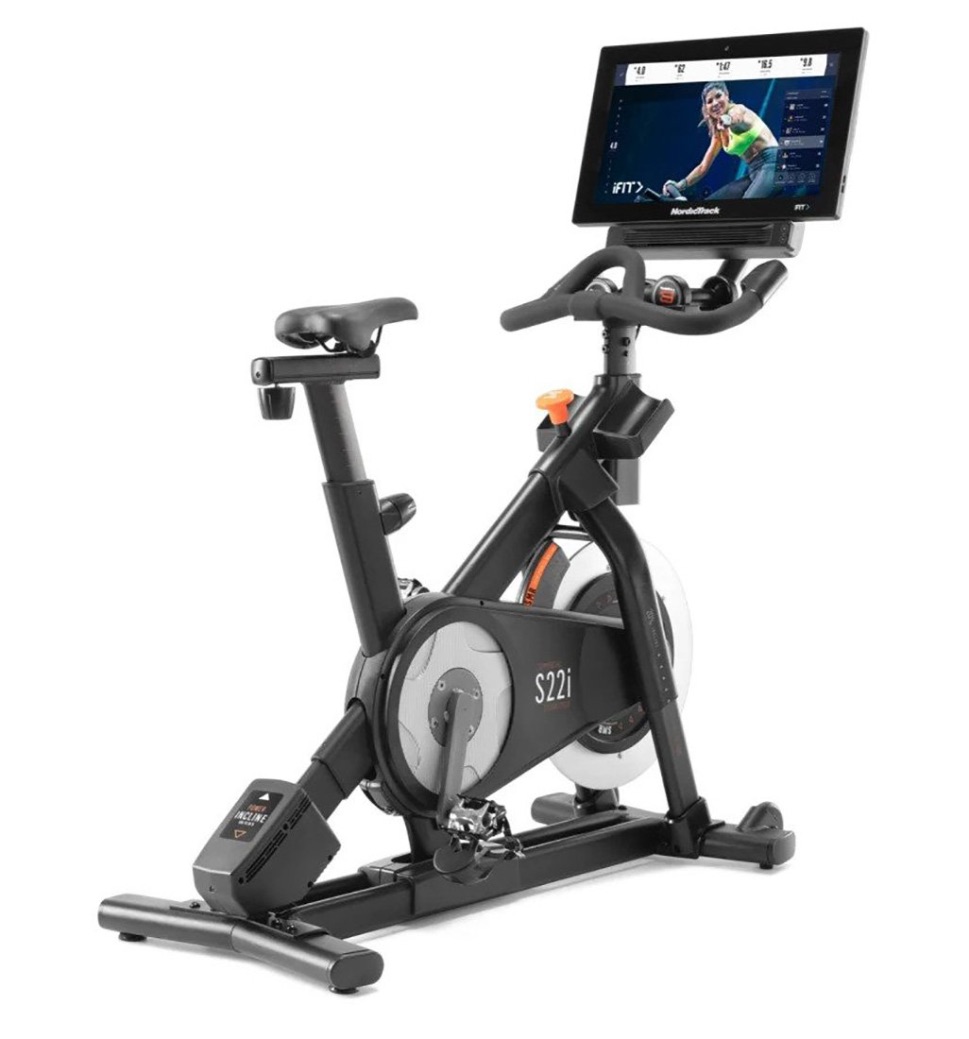 NordicTrack S22i Studio Bike

Join high energy studio classes, mountain bike rides in Moab, or ride a Tour de France stage all from the comfort of your home. Access on-demand classes with the world's best personal trainers for beginners or the hard-core cyclist. Interactive Personal Training comes to life as your personal trainer controls the incline, decline and resistance of your ride, a truly Interactive Experience.
NordicTrack vs Peloton: A battle of cardio giants. But who's the victor here?
Both the Peloton Bike+ and the NordicTrack S22i Studio Bike have a rotating touchscreen (Peloton's is 23.8 inches and NordicTrack's is 22), automatic resistance adjustment, front-facing speakers, and magnetic resistance (NordicTrack only has 24 resistance levels, compared to Peloton's 100).
One big thing NordicTrack has that Peloton doesn't have is incline and decline options, which is particularly great if you're a cyclist looking to replicate outdoor riding or just want to challenge yourself.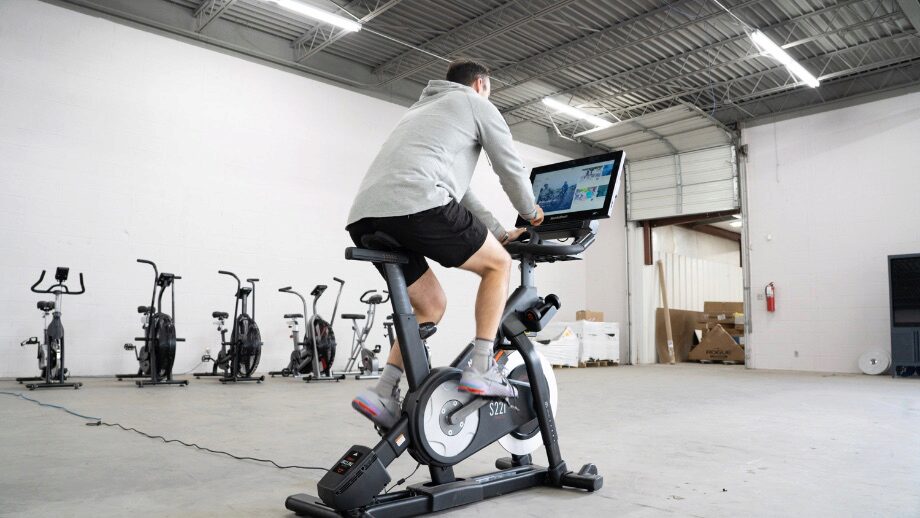 You also get hybrid pedals, so you can wear cycling shoes if you like with the added convenience of being able to ride with athletic shoes.
If space is a big deal for you, Peloton is the way to go. The S22i Studio Bike weighs more than 200 pounds, and we found the screen got in the way when you went to move the bike. If space isn't a concern, we personally recommend NordicTrack because it comes with incline/decline, a 10-year warranty on the frame, and it's about $100 cheaper.
Check out our full NordicTrack S22i review for a full look at one of our favorite exercise bikes.
| | | |
| --- | --- | --- |
| | Peloton Bike+ | NordicTrack S22i Studio Bike |
| Price | $1,995 | $1,899 |
| Footprint | 59″ L x 59″ H x 23″ W | 63" L x 60" H x 22" W |
| Weight | 140 lbs | 203 lbs |
| Resistance | 100 micro-adjustable magnetic levels | 24 digital resistance levels |
| Display | 23.8" rotating touchscreen | 22" rotating touchscreen |
| Pedals | Delta-compatible aluminum pedals | Dual-sided: SPD clips/adjustable toe cages |
| Connects to Fitness Trackers? | Yes | Yes |
| Seat Adjustment | Horizontal and vertical | Horizontal and vertical |
| Max User Weight | 297 lbs | 350 lbs |
Peloton Bike+ vs Bowflex VeloCore
Lean With It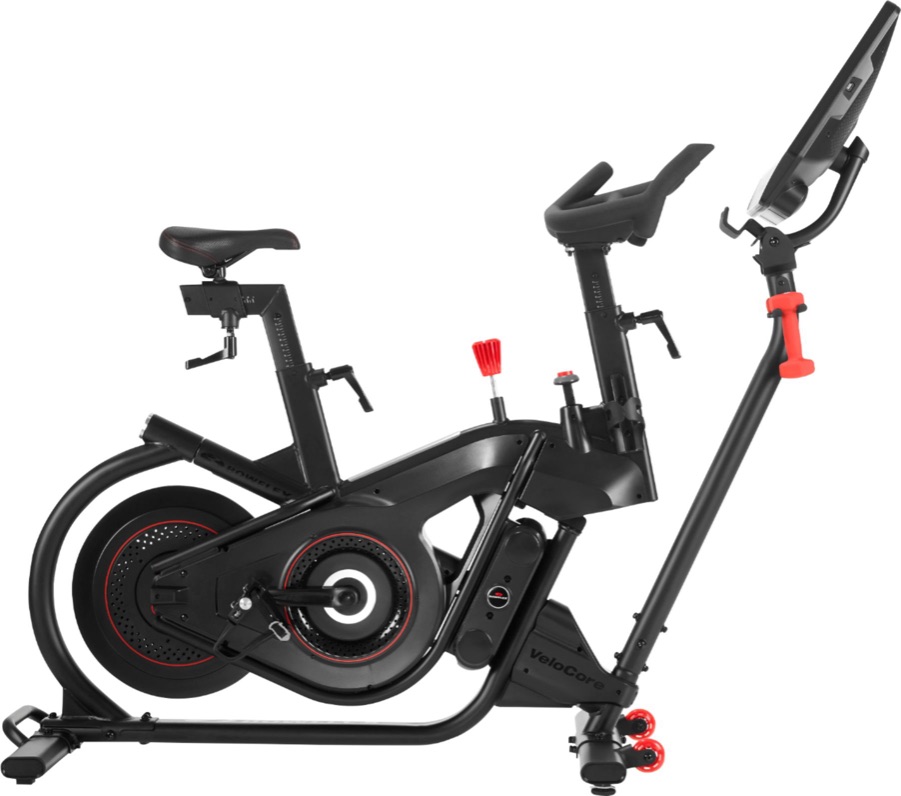 Bowflex VeloCore

Meet the indoor bike that's thoughtfully engineered with leaning mode to create a wildly immersive riding experience. You'll rock, sway, and bend to life down winding roads. Tilting gently from side to side as you sprint like a banshee toward the finish line. It's a high-intensity escape that'll help to ignite your arms, core, and your thrill for epic outdoor adventure…all from your living room.Take a look at our full Bowflex VeloCore Bike review.
The Bowflex VeloCore's main appeal is its "leaning feature," which helps to activate more core muscles and makes you feel like you're trying to hook a turn on an actual bike.
These two bikes are for two different people: The Peloton Bike+ is for the person who wants engaging programming and an easy-to-use stationary bike to stay fit at home, whereas the VeloCore is for those who want to feel like they're on a bicycle even when they're indoors.
Check out our full Bowflex VeloCore review for more information on this bike.
| | | |
| --- | --- | --- |
| | Peloton Bike+ | Bowflex VeloCore |
| Price | $1,995 | $1,799 for 16" console, $2,199 for 22" console |
| Footprint | 59″ L x 59″ H x 23″ W | 59.8″ L x 55.3″ H x 24.1″ W |
| Weight | 140 lbs | 158.3 lbs |
| Resistance | 100 micro-adjustable magnetic levels | 100 micro-adjustable magnetic levels |
| Display | 23.8" rotating touchscreen | 16" or 22" HD touchscreen |
| Pedals | Delta-compatible aluminum pedals | Dual-sided: SPD clips/adjustable toe cages |
| Connects to Fitness Trackers? | Yes | Yes |
| Seat Adjustment | Horizontal and vertical | Horizontal and vertical |
| Max User Weight | 297 lbs | 325 lbs |
Warranty, Financing, Returns
Peloton's warranty is disappointing, to say the least, with only five years for the frame and a year for all other parts. That's not the worst policy we've seen on an exercise bike, but considering the price you're paying for it we would've liked to see something closer to the industry standard of 10 years.
There are financing options that allow you to pay as little as $47 per month, with 0% APR if you qualify.
Still not sure if the Peloton Bike+ is for you? You can try it out for 30 days and return it if you end up not liking it.
Ordering and Assembling the Peloton Bike+
All Peloton bikes are assembled by a customer representative, which is included in the $250 fee that's tacked onto your order price. This can lead to a delay in delivery times, depending on how many people Peloton has available for a certain area.
Customer Reviews
With more than 2,100 reviews as of this writing, the Peloton Bike+ has a 4.7 average rating. Many claim the bike helped them commit to reaching their fitness goals during the pandemic, and that it was well worth upgrading from the original Peloton bike.
The main complaints center around the poor durability of the bike's hardware, specifically the pedals.
Final Verdict of Our Peloton Bike+ Review
Are you looking for top-notch programming and like cardio machines that come with cool tech features? We think you'll love the Peloton Bike+, and to be honest, the price tag isn't the worst when compared to other high-end exercise bikes.
We think serious road cyclists will want to look elsewhere for a more durable bike, as well as one that can recreate the feeling of pedaling on an open road. But if you're simply looking for a quick cardio workout in your home, the Peloton Bike+ can deliver.
Peloton Bike+ Rating
Peloton Bike+
Our Peloton Bike+ review looks at whether this bike is truly better than the original Peloton exercise bike.
Product Brand: Peloton
Product Currency: USD
Product Price: 1995.00
Product In-Stock: InStock
Peloton Bike Plus Review FAQs
Is it worth getting the Peloton Bike plus?
There are a lot of great features that make getting the Peloton Bike+ worth the price tag, including front-facing speakers, auto-follow resistance adjustment, and a rotating screen that makes it easier to follow off-bike workouts.
When was the Peloton Bike+ released? 
The Peloton Bike+ was released in September 2020.
Are Peloton workouts worth it?
We believe Peloton instructors are some of the most motivating in the industry, and the production value is unmatched by any other fitness app on the market today.