We test and review fitness products based on an independent, multi-point methodology. If you use our links to purchase something, we may earn a commission. Read our disclosures.
The home gym equipment industry, like anything else, seems to go through certain phases, with the latest one being centered on exercise bikes. With more people working from home, there's a need to provide them with quality and affordable products that can help them reach their fitness goals.
In this MYX II Bike review, we'll examine one of the latest releases that promises to give users a studio cycling experience in the comfort of their own home.
With so many exercise bikes on the market today, we'll let you know how this bike performs on its own, and compared to some of its competitors.
Hands-on Testing From Industry Pros
The Garage Gym Reviews team—full of expert product testers—has many talents, chief among them being some of the best certified personal trainers, CrossFit coaches, and competitive weightlifters out there (we challenge you to find a squad better than us). We all started fitness as a hobby, but it quickly became more than that to us and now we've made it our full-time jobs.
We're also very curious people, so when we're working out or reviewing products for work, we're always examining the equipment. When it comes to exercise bikes, we spend extended time on just about every part, paying special attention to things like how loud they are, how smoothly the flywheel turns, and how comfortable the seat is throughout the ride.
MYX II Plus Bike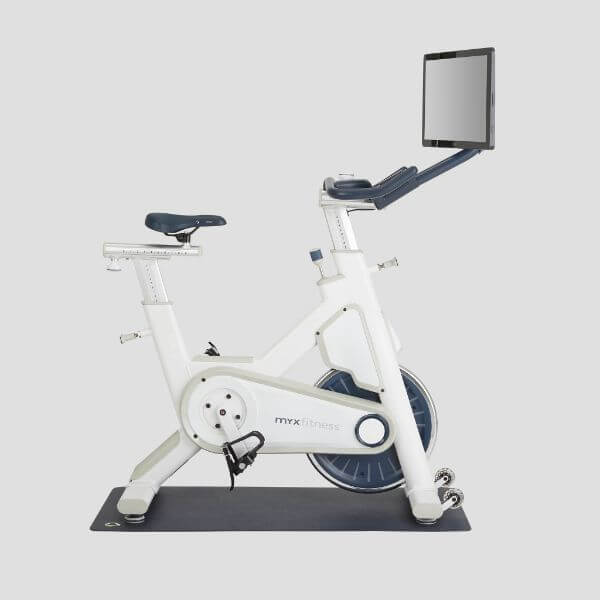 A Quick Look at the MYX II Bike
MYX Fitness, owned by Beachbody, released the MYX II Bike in 2021 after its first iteration made a splash in the home gym equipment industry as one of the best Peloton alternatives at a much cheaper price.
The MYX II Bike is a redesigned version of the original MYX Bike, but also comes with a built-in cadence and speed sensor (located near the pedals). We actually tested the MYX II Bike Plus, which is the same bike but it comes with extras—a stabilizer and exercise mat, foam roller, resistance band, six-piece weight set, and kettlebell.
Because it's owned by Beachbody, Beachbody on Demand Interactive (BODi) classes can be accessed via the bike, but that's a separate annual $99 membership fee on top of the $39 monthly MYX+OpenFit membership you need to use the bike's basic features.
My Tips:
While the seat (which is uncomfortable) can be replaced, doing so voids the warranty so proceed with caution.
Pros:
Heavy 41-pound flywheel provides a smooth and quiet ride
Sturdy even when pedaling at high velocity
Comes with plenty of tech features
Swivel screen makes it easy to follow on-screen instructions when you're off the bike
Hybrid pedals can be used with cycling cleats or cross-training shoes
Multiple class options such as cycling, barre, pilates, and yoga
Cons:
Uses friction resistance, which will require maintenance down the line and isn't as smooth
Instructors and music aren't as high-quality as Peloton or iFIT
The touchscreen can make it awkward to move around when needed
Frame and handlebars felt gritty
Is the MYX II Bike Worth It?
The MYX II Bike isn't what most people would consider "affordable." As of this writing, the bike itself is $1,399 and the MYX II Bike Plus is $1,599. That's around the price of some of our top picks for the best exercise bike, and hundreds of dollars more than a few of them. (For comparison, the Peloton Bike is now around $1,200.)
RELATED: Peloton Bike Review
To be blunt, we don't anticipate the MYX II Bike being a part of that list. Even without comparing it to similar models, the overall quality of the bike seemed lacking in some key components, such as the use of friction resistance, which means you're going to have to do maintenance down the line.
We don't think this is a bad bike, but at this price point, there are better options out there.
That being said, you may disagree with us! Here's who we think might enjoy this stationary bike, and who should look elsewhere.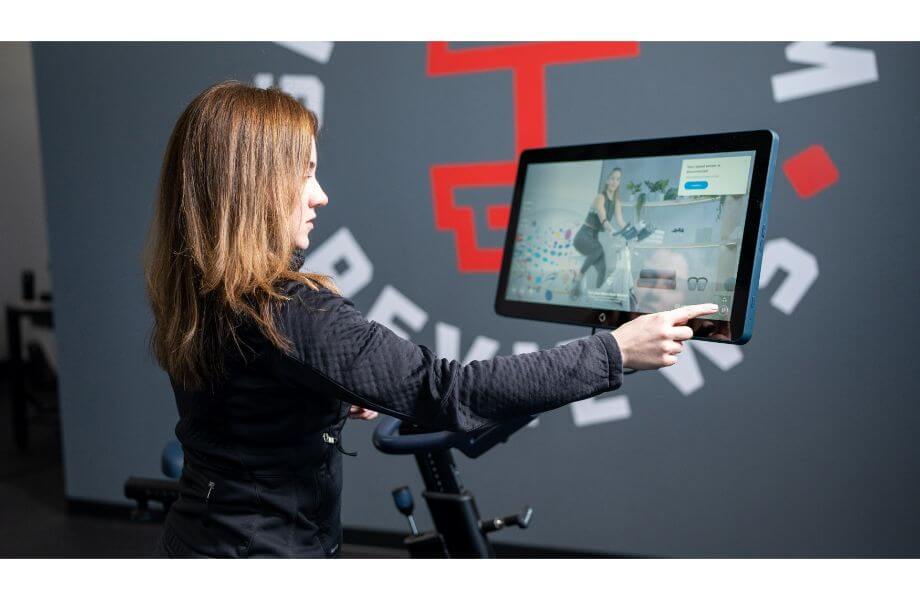 Great for:
Those who like strength/yoga classes over cycling
Those who value tech-compatible home gym equipment
Trainees who want to wear athletic or cycling shoes during their exercise bike workout
Not recommended for:
Anyone who's looking for the best exercise bike
Those who like decline/incline training options
Someone looking for a budget exercise bike
MYX II Bike Specs
| | |
| --- | --- |
| Footprint | 54" L x 21" W x 47" H |
| Weight | 150 lbs |
| Max user weight | 350 lbs |
| User height | 4'11" – 6'8″ |
| Flywheel weight | 41 lbs |
| Resistance | Friction |
| Drive system | Belt |
| Seat adjustment | Horizontal and vertical |
| Display | 21.5" touchscreen |
| Incline/Decline? | No |
| Footprint | 54" L x 21" W x 47" H |
Workout Experience With the MYX II Bike
Garage Gym Reviews Editor and certified personal trainer Nicole Davis and myself both tested out the MYX II Bike, and found that it was actually pretty good in some areas. It was very quiet, didn't wobble at all, and the resistance was pretty challenging for both of us.
One big problem we both encountered was that there were big and inconsistent jumps in the adjustable resistance. Typically, if you increase a bike's resistance by even one notch you're going to feel a slight difference, but on this one, you could move the knob and feel nothing. So you decide to move it up a little bit more, and still nothing. OK, one more.
And then boom! All of a sudden the resistance goes from feeling like a scenic ride in the park to an uphill climb. The screen also lacks any way to track what resistance you're on, which makes it hard for the rider to customize their experience.
The Schwinn IC4, which also offers digital resistance, has a way to track what your level you're on through its screen. One of the great things about exercise bikes is people of all fitness levels can share them, from the beginner who's never used one before to the lifetime athlete.
But both of those people need to know what setting is best for them, whether that's a number on a knob or some sort of metric shown on screen, and we'd like to see that done if there's ever a third MYX Fitness Bike.
While the bike itself felt fine, I personally couldn't ride it for very long simply because the handlebars felt gritty, which is something Nicole noted as well. I'd even use the word "sticky" to describe the feeling, and it honestly reminded me of when you pick up a child's toy that's been drooled on one too many times. Blech.
Workout Classes
The MYX bike workouts are based on heart rate monitoring, so you'll be chasing different heart rate zones throughout the workout. You can track your heart rate either through an Apple Watch, or the included Polar OH1 heart rate monitor.
The bike requires a $39 monthly MYX+OpenFit membership (which gives you access to the OpenFit app) to access most of the bike's features, including the live and on-demand cycling and strength and conditioning workout classes.
You can access more live cycling classes through the BODi app, but that's a separate membership ($99 per year) and is on a different interface than MYX+OpenFit. New workouts, for cycling and other things like kickboxing, are added to both apps each week.
Our only other beef with the MYX classes is that the music felt out of sync with what was going on during the 10-minute HIIT ride and 10-minute recovery ride Nicole did on the bike. It honestly felt like an afterthought, and it would've been nice to see them pair the more intense parts of a HIIT workout class with an equally intense soundtrack.
Of course, you can pick from different class options depending on what you're looking for on a specific day.
RELATED: HIIT Bike Workout
Pedals
This is one area where the MYX II Bike has a great amount of versatility. You can use either one side, which has clip-in pedals, or the other with adjustable toe cages.
Flywheel
The MYX II Bike has a 41-pound flywheel, which is a pretty good weight. Generally, you want a heavier flywheel because although it takes more energy to get it moving, once it pops the fun doesn't stop—and by that we mean they spin faster and longer than lighter ones, and it mimics the feeling of road cycling.
Nicole, though, felt it wasn't the smoothest ride, which may be due to the friction resistance it utilizes. Friction resistance is cheaper to manufacture than magnetic, but because the pads keep grinding against the flywheel you'll have to pay more to maintain it in the long run.
Console
The MYX II Bike has a 21.5-inch touchscreen that is WiFi- and Bluetooth-compatible, and it can swivel when you need it to if you're taking a strength training or pilates class. The screen is also where you can track all your metrics, like total mileage and heart rate, and where you can access leaderboards for any classes you're a part of.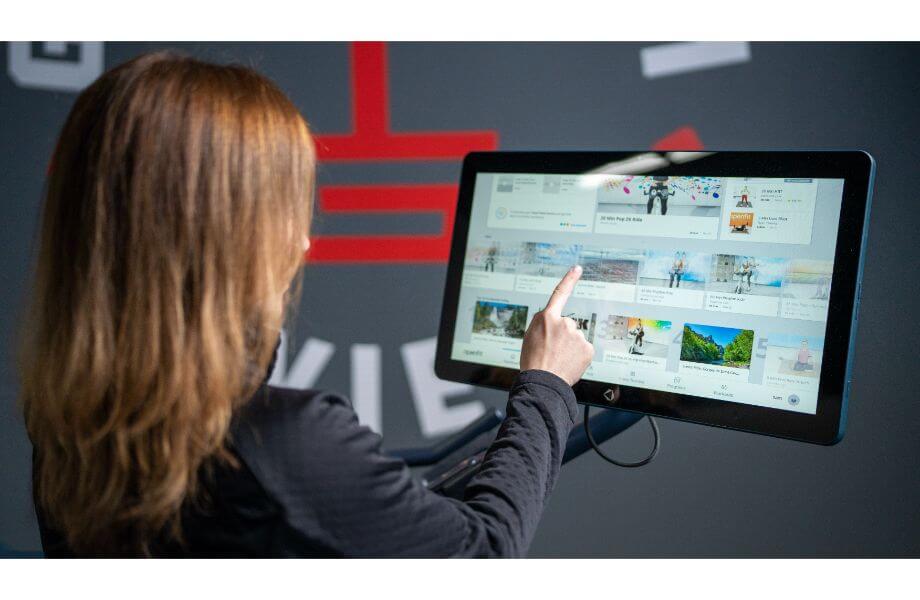 The bike has USB-C and USB-A ports for charging, and separate volume controls for the music and the instructor. This can be a good thing for some people, who may want to focus on the class leader's instructions rather than the soundtrack, but to us it was a missed opportunity to merge the two in a way that would motivate riders.
You'll also receive a Polar OH1 heart rate monitor, which you attach via an arm strap. If you don't want to use it, feel free to connect your Apple Watch or other fitness tracker.
Conveniences
The MYX II Bike comes with two water bottle holders, but doesn't come with a media shelf or dumbbell holder. This isn't a problem as long as you just get the MYX II Bike, but if you go with the Plus option you're going to have to find a way to have the weights within reach.
Adjustability
The MYX II Bike's seat can be adjusted horizontally and vertically, and you can also change the handlebars height and depth. We always appreciate seeing this because it allows riders, no matter how tall or short they are, to feel comfortable.
Durability and Construction
The MYX II Bike is made with rust-proof and hypoallergenic 316L stainless steel, the same material used on Star Trac bikes.
Nicole noted that the MYX II Bike's frame felt slightly gritty, and the padded seat was uncomfortable. While you can remove the seat and replace it with one of your choice, you risk voiding the warranty by doing so.
Portability and Footprint
The MYX bike is 47 inches tall, 21 inches wide, and 54 inches in length, which is overall a pretty compact exercise bike. It weighs 150 pounds, and has front wheels to make it easy to move if needed.
MYX II Exercise Bike vs. The Original MYX Exercise Bike
The original MYX Exercise Bike is no longer available for sale, unless you happen to find it on Facebook Marketplace, but if you have the OG model and are wondering if it's worth upgrading to the MYX II Exercise Bike, here's what you need to know.
The bike itself is largely the same, but the II has better speakers, Apple Watch integration, and speed, cadence, and distance sensors. The MYX II Bike is also compatible with the OpenFit and Beachbody apps, whereas the original is not.
MYX II Bike vs. Peloton Bike
Still the Best
Nicole put this best: "If you're calling a Peloton the Rolls Royce, the MYX is maybe the cheapest BMW you can buy." We've done a full comparison on the MYX vs. Peloton, but to make a long story short: The Peloton has a better build, more durable materials (it uses magnetic resistance, which won't deteriorate over time like friction resistance), and has a smoother ride.
This is a personal preference, but we also preferred the Peloton classes over the MYX ones, and the music was more in sync with the workouts.
When it comes to price, the Peloton Bike is only $200 more than the MYX II Bike and the same amount cheaper than the MYX II Plus Bike. There was once a time when the MYX II Bike would've been a better deal, but that time has passed and if you're going to spend that amount of money on an exercise bike, it makes sense to go for something that's going to last you longer.
Ordering and Assembling the MYX Bike
When the MYX Bike arrives, it will appear in one large piece. To assemble it, all you have to do is attach the touchscreen and pedals to the frame, and make sure a few wires are attached properly.
Customer Experience and Policies
You can reach out to MYX Fitness through its website or social media.
You can try the MYX Bike for 30 days, and if you don't like it you can return it for a full refund. After that, the bike's yours and you won't be able to return it.
MYX Fitness offers financing options as low as $28 per month at 0% APR.
The warranty on most parts of the bike is 12 months, except for the frame which has a 5-year warranty.
Customer Reviews
MYX Fitness has no published reviews for the MYX Bike on its website, but the bike has a 4.1 average rating on Amazon at the time of publishing this article. Those who left high praise enjoyed the bike's cardio workout programs and felt it was a high-quality machine.
The negative reviews centered around frustration in getting certain parts of the bike to work, such as the heart rate sensor, and several people complained the seat hurt.
Final Verdict of Our MYX II Bike Review
Is the MYX II Bike a bad bike? No. Is it one we'd recommend to most looking for an indoor cycling experience? Also no. For the same price, or even less, you can get something from Echelon or NordicTrack that has higher quality construction and more features.
While this exercise bike gives you a smooth and quiet ride, the resistance is too inconsistent, the construction doesn't feel refined for the price they're asking for.
MYX II Bike Rating
MYX II Bike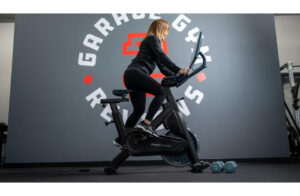 In this MYX II Bike review, we give our honest assessment of one of the most popular Peloton alternatives on the market.
Product Brand: MYX
Product Currency: USD
Product Price: 1399.00
Product In-Stock: InStock
MYX II Bike FAQs
Are MYX bikes worth it?
The MYX bikes are good exercise bikes that can be used with or without a subscription, which can be a huge plus. However, in terms of value we think there are better options out there.
What is the difference between the MYX and MYX II?
The MYX II Bike comes with better speakers, cadence and speed sensors, and is compatible with the Beachbody and OpenFit apps. Otherwise, it's the same bike as the MYX Exercise Bike.
Why is MYX better than Peloton?
We actually don't think that it is. Peloton has a better bike frame and workout classes, and as of this writing doesn't cost that much more than the MYX II. You do need a subscription and cycling cleats to use the Peloton, which might make the MYX a better option for some people.