We test and review fitness products based on an independent, multi-point methodology. If you use our links to purchase something, we may earn a commission. Read our disclosures.
Despite their recent troubles, it's undeniable that Peloton has revolutionized the home gym equipment industry when it comes to the best exercise bikes. Just about every indoor bike release is trying to be or is being compared to a Peloton in terms of the quality, versatility, and tech compatibility.
MYX Fitness claims to have built a superior exercise bike than the Peloton, in the MYX II Bike.
We'll take a look at the case of MYX vs Peloton, and let you know our honest opinion on which indoor cycling bike you should buy for your home gym.
Why You Should Trust Us
Big fitness brands earn their reputation for a reason, but that doesn't mean there aren't tons of other options that may be better for some people. Case in point, we've created a roundup of the best Peloton alternatives out there that can give Carrie Bradshaw's least favorite piece of exercise equipment a run for its money.
We do this because we realize the "best" isn't always feasible for people who have budget or space restraints. Our objective is to find home workout equipment that works best for your needs, and we won't stop until we find the perfect fit for your home gym.
MYX II Plus Bike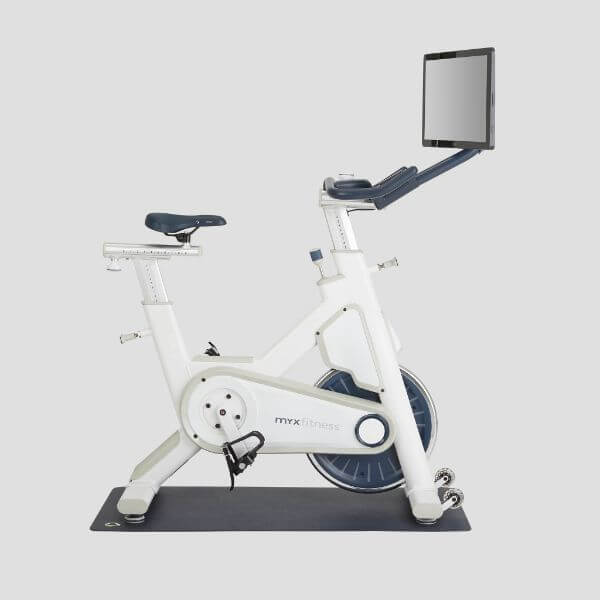 MYX II Plus Bike
Immersive virtual training is taking the world by storm and MYX Fitness has developed a state-of-the-art bike to add to the mix of technology-driven training. This bike is durable, hypoallergenic, and, with a compact footprint of about 4 feet wide by 6 feet long, will fit in most home gyms. MYX is intended to work for users ranging from 4 foot 11 inches to 6 foot 8 inches tall with a weight capacity of 350 pounds. Featuring top-of-the-line sensors measuring speed, cadence, and heart rate (via an included chest strap), users can track fitness data to assess progress towards their desired results. A 21.5-inch interactive, swivel HD touchscreen display encourages users to immerse themselves in both live and on-demand classes via the MYX fitness platform. We should note that there are no cycling classes, however.What's more, this membership (about $39/month) provides workout routines for a variety of fitness genres including weightlifting, recovery and speciality training programs and challenges. Simply swivel the screen when doing other workouts. Buyer beware, though, that a membership is required to utilize the touchscreen display and sensors. MYX states that this bike is professional-grade and used in elite studios, but there are some users who found the bike uncomfortable and reported parts breaking after several rides. That said, bike riding can feel uncomfortable at first, so it's important to give yourself time to acclimate to it. Users can utilize the SPD clip pedals or flip them over to use the toe cages instead. The adjustable handlebars and seat allow for a customized fit, and a rear stabilizer ensures a sturdy ride.Another impressive perk is that a Polar OH1 heart rate monitor, six-piece weight set with kettlebell, stabilizer mat, exercise mat, EVA foam roller, and resistance band are included with your purchase of the MYX II Plus. These accessories facilitate a variety of workouts. 
Peloton Indoor Exercise Bike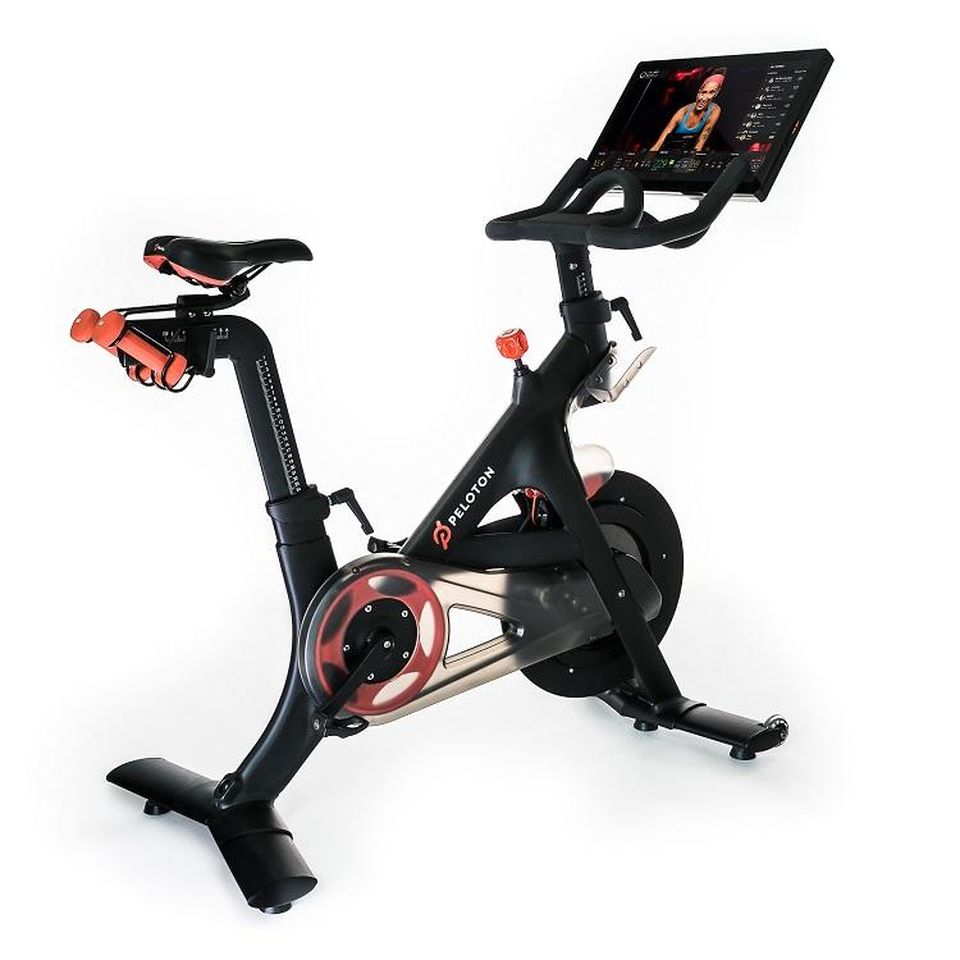 Peloton Indoor Exercise Bike
Peloton has taken the fitness world by storm, gaining celebrity-like status—and for good reason. The Peloton fitness community offers exclusive access to thousands of live and on-demand fitness classes, challenges, leaderboards, and an endless variety of workout types. And, their line of premium cardio machines is as impressive as their platform. Perhaps most well-known in the Peloton line of fitness equipment is the Peloton Bike. This bike has a compact footprint at only 2-feet by 4-feet, which makes it a good fit in both small and large spaces. In addition to the virtual training platform, the Peloton Bike itself comes with top-of-the-line components. Its heavy-duty frame is made from welded steel and powder coated for a sleek look. The power transmission belt drive is responsive and provides enough resistance to challenge any athlete. An ergonomic Sports series saddle takes some time getting used to, but it's suitable for most users. The bike supports a user weight up to 297 pounds. The Peloton Bike comes equipped with a vivid, 10-point multitouch, 21.5-inch  touchscreen display that displays in-workout metrics like power, cadence, resistance, and heart rate. What's more, this screen tilts to adjust to user height, which enhances the immersive experience. A rear-facing stereo speaker system, a 5-megapixel front-facing camera, a built-in microphone, and Bluetooth 4.0 connectivity keeps you entertained and connected throughout any workout. A monthly subscription to Peloton—$39 for the all-access membership (going up to $44 per month on June 1, 2023)—is required to use the bike, which does add to the total cost. But, the reality is that if you're considering a Peloton bike, it's probably because you plan on becoming a part of the Peloton fitness community. While this bike carries a hefty price tag, it comes with many impressive features and connectivity that can enhance your exercise routine.
A Quick Look at MYX vs Peloton
The Peloton Bike was released in 2014 and quickly became the go-to cycling bike for studios and home gyms everywhere. People loved the high-quality construction of the bike, but the live workout classes were what made Peloton a household name.
Each class almost became its own family, with instructors bonding with their students (and vice-versa) and participants becoming friends with each other—some people have even found love.
There's the classic Peloton Bike and the Peloton Bike+, which is essentially the same bike but with a larger HD touchscreen that fully rotates (the Peloton Bike's screen only swivels), better tech features, and an auto resistance option that sets the resistance for you during on-demand workout classes.
RELATED: Peloton Bike Review
The MYX II Bike is similar to the Peloton Bike, complete with its own workout classes, touchscreen, Bluetooth connectivity, and more. We tested the MYX II Plus, which is just the MYX II Bike that comes with a six-piece weight set, a kettlebell (rack not included), a stabilizer mat, an exercise mat, a foam roller, and a resistance band.
The MYX II bike comes in two colors: Deep Charcoal (which looks a lot like the Peloton's black) and Natural White. Both come with striking slate blue accents, which add a nice design-forward touch.
Although it looks and acts like a Peloton, the key difference is the latter has higher-quality construction when it comes to one crucial aspect: resistance. The Peloton uses magnetic resistance, whereas the MYX II bike uses friction, which requires a lot of maintenance and doesn't produce as smooth of a ride.
That said, the MYX II bike does have some advantages over the Peloton Bike: It has a higher weight capacity (350 pounds compared to Peloton's 300 pounds), comes with more pedal options, and you're not stuck with only one color option.
MYX vs Peloton: Which Should You Choose?
If this were written a few months ago, we might have told you that the MYX II is a better value than the Peloton because of the large price difference (the former was once $900 cheaper than the Peloton). But now, the MYX II Bike is actually more expensive than the Peloton (by $200 as of this writing) if you only get the stationary bike. The MYX II Plus package, with all the additional equipment, is $400 more expensive than the Peloton Bike alone.
RELATED: How to Choose an Exercise Bike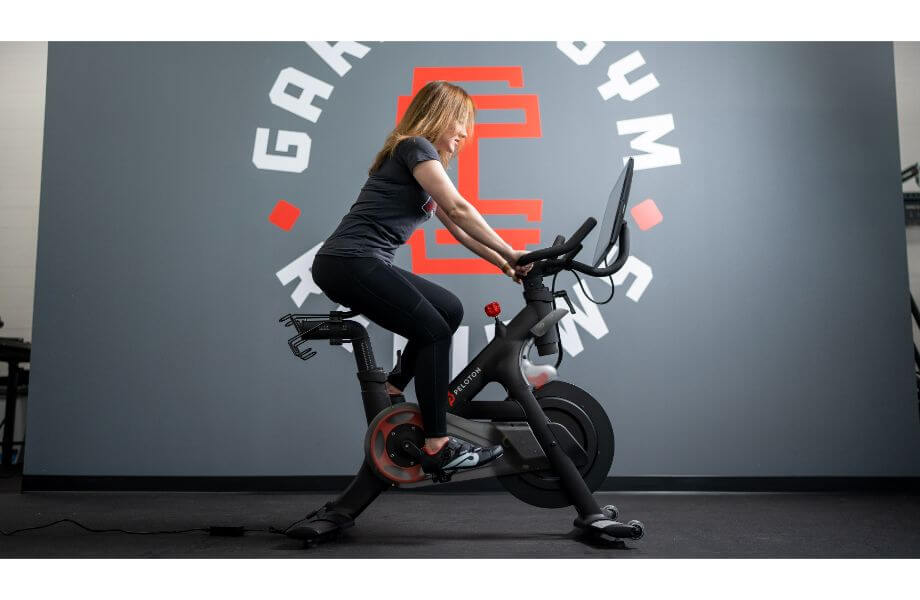 The Peloton is made with more durable materials, provides a smoother ride, and has live cycling classes with better instructors. In our opinion, that's worth the extra cash. The extra stuff included in the MYX II Plus isn't enough to make us like it more than Peloton.
One of our big complaints about Peloton has been the $39 monthly subscription fee, but MYX Fitness charges exactly the same (also the same as Echelon's). Peloton's, though, is a better value because the instructors were more thorough and motivating.
If the MYX Bike were on par with the Peloton, we might say it'd be worth going for it, but the ride experience didn't impress us enough.
Check out the Echelon vs Peloton comparison.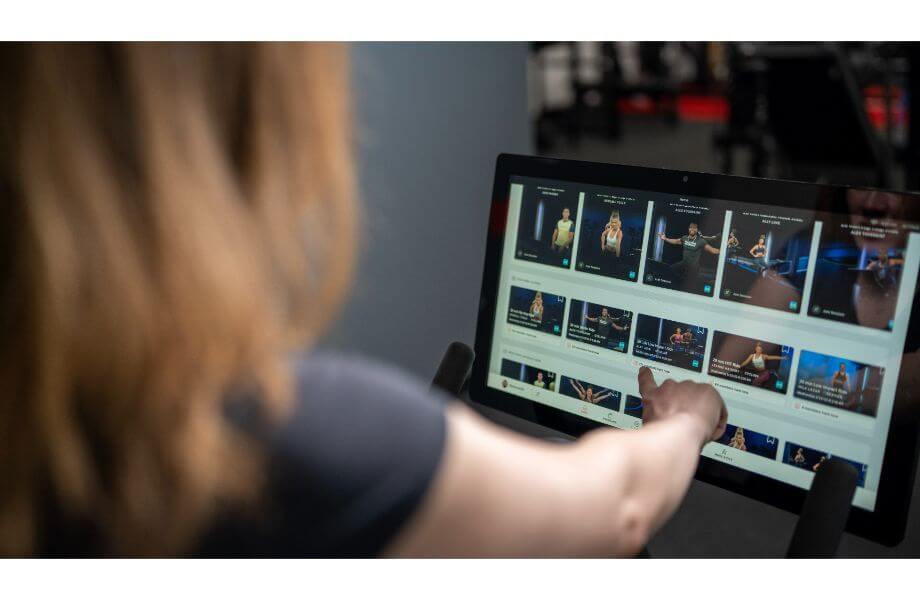 Who Should Pick the Peloton Bike:
Those who want all the bells and whistles on an exercise bike
People who enjoy live workout classes
Anyone who isn't on a budget
Who Should Buy the MYX II Bike:
Trainees who don't care for live cycling classes
People who love tech-compatible home gym equipment
Trainees who enjoy wearing athletic shoes and cycling shoes on their exercise bike
| | | | | |
| --- | --- | --- | --- | --- |
| | MYX II Bike | MYX II Bike Plus | Peloton Bike | Peloton Bike + |
| Price | $1,399 | $1,599 | $1,195 | $1,995 |
| Footprint | 54" L x 21" W x 47" H | 54" L x 21" W x 47" H | 59″ L x 53″ H x 23″ W | 59″ L x 59″ H x 22″ W |
| Weight | 150 lbs | 150 lbs | 135 lbs | 140 lbs |
| Max user weight | 350 lbs | 350 lbs | 297 lbs | 297 lbs |
| User height | 4'11"-6'8″ | 4'11"-6'8″ | 4'11"-6'4" | 4'11"-6'4" |
| Flywheel weight | 41 lbs | 41 lbs | 38 lbs | 38 lbs |
| Resistance | Friction | Friction | Magnetic | Magnetic |
| Drive system | Belt | Belt | Belt | Belt |
| Seat Adjustment | Horizontal and vertical | Horizontal and vertical | Horizontal and vertical | Horizontal and vertical |
| Display | 21.5" touchscreen | 21.5" touchscreen | 21.5" touchscreen | 23.8" touchscreen |
| Connects to Fitness Tracker? | Yes | Yes | Yes | Yes |
| Display | 21.5" swivel touchscreen | 21.5" swivel touchscreen | 21.5" HD touchscreen | 23.8" HD, anti-reflective touchscreen |
| Pedals | Toe cage/SPD clip hybrid | Toe cage/SPD clip hybrid | Delta-compatible aluminum pedals | Delta-compatible aluminum pedals |
| Conveniences | Two water bottle holder | Two water bottle holder | Two water bottle holder, dumbbell holder | Two water bottle holder, dumbbell holder |
| Comes with | Polar OH1 Heart Rate Monitor | Polar OH1 Heart Rate Monitor, 6-piece weight set with kettlebell, stabilizer mat, exercise mat, foam roller, resistance band | Just the bike | Just the bike |
MYX vs. Peloton: Which Has the Better Workout?
Garage Gym Reviews Editor and product tester Nicole Davis had not used the Peloton Bike or the MYX II prior to testing both at our headquarters and after using both, she's on Team Peloton. It's not that the MYX II bike is bad—she actually had a lot of positive things to say about it.
For one, it's a very sturdy bike and there was no wobbling during intense rides. For a bike that utilizes friction resistance, it's pretty quiet, which is always a plus, but that will likely change over time as the pads start to wear down the more they come in contact with the flywheel.
The touchscreen can swivel 360 degrees—the original Peloton Bike cannot—which could come in handy during workout classes where you need to follow the instructors.
But that's about where the MYX's wins seem to end. Nicole tried out one of the on-demand classes and said there was too much guesswork involved when it came to resistance.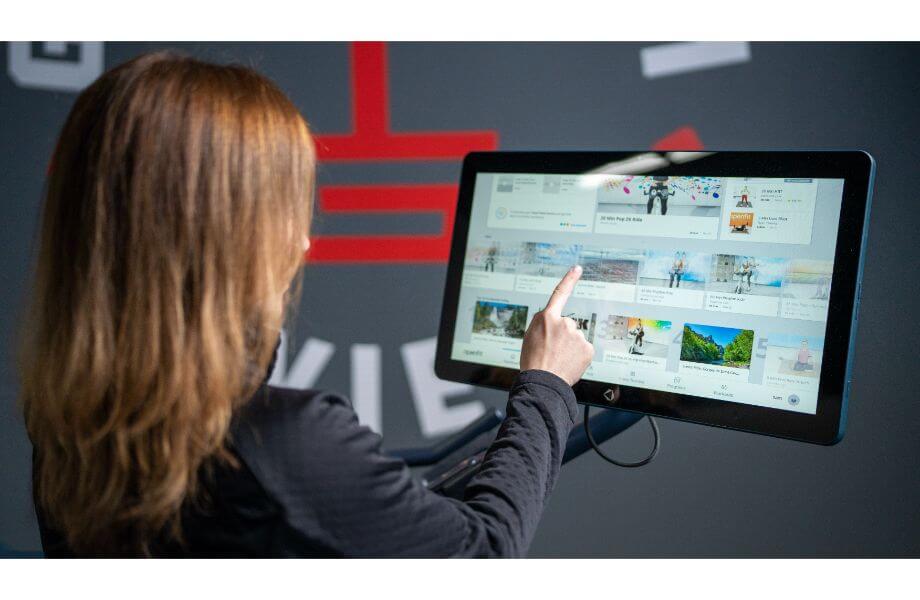 "The cadence isn't tracked on-screen, so you're just guessing where you are and where you should be," she says. "You have to rely on the instructors telling you to make it easier or harder, and listen to their cues about what you should be feeling (i.e. 'you should feel like you're riding on an open road with a slight breeze coming at you.')
The problem is that's an incredibly subjective experience, as someone with a higher fitness level could feel that on a higher resistance level than a novice. Although there are a ton of micro-adjustment levels, there's nothing to tell you your exact cadence like there is on the Peloton.
MYX vs Peloton: Workout Classes
MYX Fitness has tons of on-demand cycling classes but has no live option, which seems weird for a product that's centered around cycling. Peloton does offer live and on-demand classes and both companies offer live dual strength and cardio classes, as well as yoga demonstrations and other off-bike workouts.
A Peloton membership costs $39 a month, the same as MYX/OpenFit, but in our opinion, the tie goes to Peloton because their instructors were a little more thorough than those found on MYX through the OpenFit App, or BeachBody on Demand (BODI).
Peloton instructors were also much more motivating, especially during live workout classes. One of the things people love about Peloton is when instructors call out specific people during live workouts—MYX doesn't have live classes, and the on-demand ones aren't as engaging.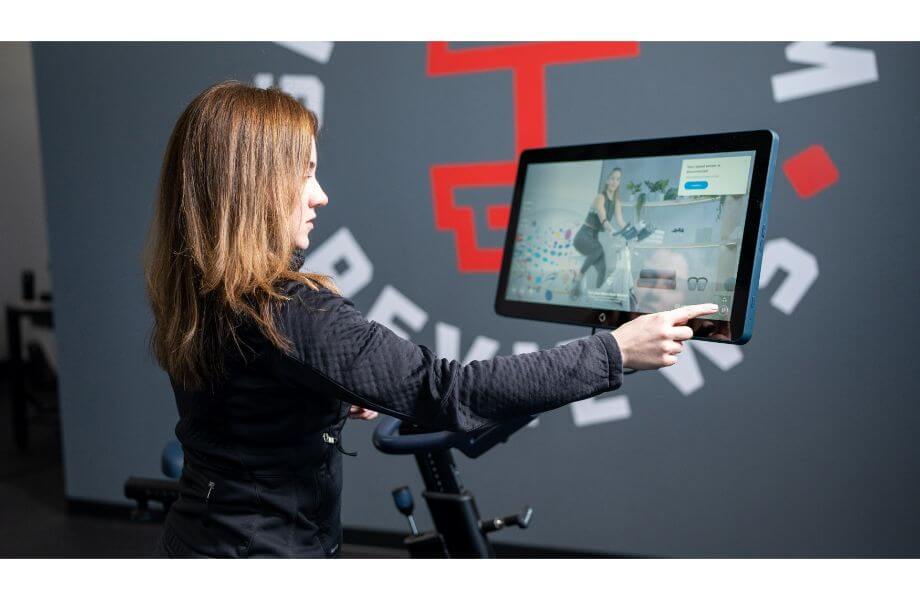 The two also offer other cross-training fitness classes for those who are interested.
During the MYX workouts, Nicole noticed the music wasn't totally in sync with what she was doing and felt like it was more like background noise. That might seem like a nitpicky comment, but if science has shown us anything in recent years, it's that our workout soundtrack has a bigger impact on our performance than we thought.
Seriously, can you imagine listening to the slow part of a song while you're at the peak of a HIIT workout? Music matters, people.
The MYX workouts themselves are based on heart rate monitoring, similar to Orange Theory, so you'll be chasing different heart rate zones throughout the workout. Of course, you can pick from different class options depending on what you're looking for on a specific day.
Peloton has a number of themed workouts, from HIIT or low-impact workouts to rides inspired by the 1980s. There are also many broken down by fitness goals, so whether you're looking to burn calories or increase endurance, you can find something for you.
RELATED: HIIT Bike Workout
MYX vs Peloton: Specs and Features
Here, we'll go a little more in-depth on how the Peloton Bike and the MYX II Bike differ from each other.
Flywheel
The MYX Bike comes with a 41-pound flywheel, heavier than the Peloton's 38-pound flywheel. The heavier a flywheel, the more energy it takes to get it moving, but once it's in motion, it tends to keep spinning faster than lighter ones. The heavier ones also make indoor bikes feel like you're road cycling (think about the amount of force you have to use to get a road bike moving).
That said, Nicole felt the MYX Bike didn't feel as "smooth" as the Peloton, which is probably due to the friction resistance system. Friction resistance is cheaper to manufacture than magnetic, but in the long run you'll have to pay more to maintain it.
Pedals
Some cyclists might appreciate that the MYX Bike has hybrid clip-in pedals that have toe cages on one side and an SPD clip on the other. The Peloton comes with a pedal known as "Look Delta," which is compatible with a specific type of cycling cleat, which cost an additional $125 on Peloton's website.
The different clips on MYX's bike might not be noticed by many, but it's a nice touch that helps increase its versatility. It should be noted you can change the pedals on a Peloton, but that costs extra money.
Tech Features
The MYX II and Peloton Bike both come with a 21.5-inch touchscreen that is WiFi- and Bluetooth-compatible (Nicole was able to connect her AirPods to both with no problem).
The bikes also have built-in cameras, and USB-C and USB-A ports for charging. The MYX II Bike has separate controls to change the volume of the music and instructor, a feature not found on Peloton. Both screens also track all your metrics, such as total mileage and heart rate.
The MYX bike comes with a Polar OH1 heart rate monitor, which is attached to you via an arm strap. Peloton sells a heart rate band, but it's sold separately from any of its bikes.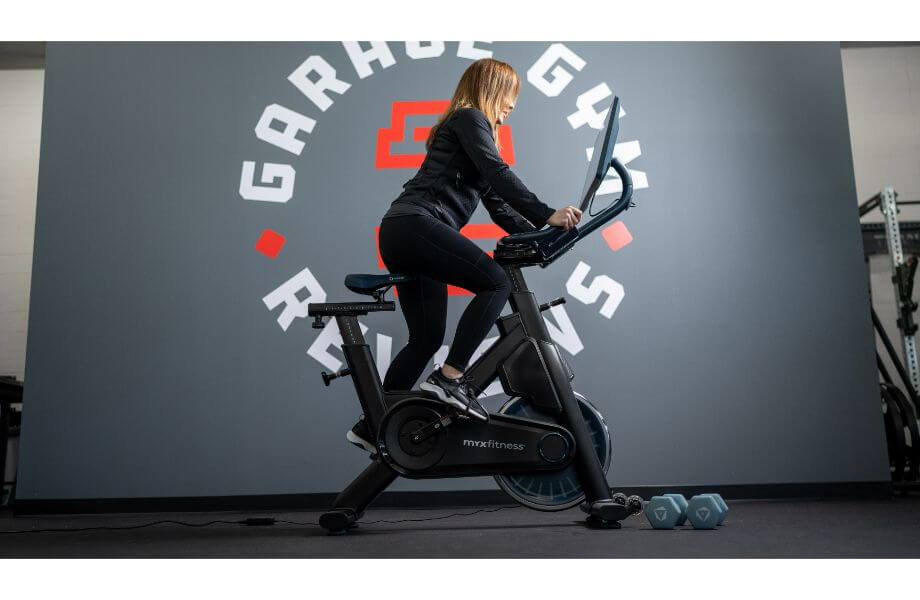 Both bikes can also connect to your Apple Watch or other fitness trackers.
Both Peloton and MYX Fitness utilize leaderboards, which can also be found on NordicTrack's iFIT. There's actually been studies that show this can encourage people to continue their strength training or conditioning journeys, so we always like seeing that feature on exercise bikes.
Conveniences
The MYX Fitness Bike comes with two water bottle holders, but no media shelf or dumbbell holder.
The Peloton Bike comes with a dumbbell holder and two water bottle holders, but no media shelf.
Adjustability
Both the MYX II and Peloton allow you to adjust your seats horizontally and vertically, and change the handlebars height and depth. This makes for a comfortable ride no matter how tall or short a rider is.
Durability and Construction
The MYX bike's frame feels similar to a Peloton, but is made with a specific type of steel called 316L stainless steel, which is rust-proof and hypoallergenic (the metals in it won't cause any allergic reactions), the same material used on Star Trac bikes.
Peloton is constructed with carbon steel, which is incredibly durable.
Nicole felt the MYX Bike didn't feel as durable or high-end as the Peloton, and that the frame had a slight gritty feel to it, whereas the Peloton had a smooth powdercoat finish.
The padded seat wasn't super comfortable, and while it's removable you risk voiding the warranty by changing it out for one of your choice.
Portability & Footprint
The MYX II weighs about 150 pounds, not that much more than a Peloton (135 pounds), but the front wheels make it pretty easy to move around if needed. It does need to be near an outlet for it to work, though.
The MYX bike is pretty compact, and clocks in at 47 inches tall, 21 inches wide, and 54 inches in length. The Peloton Bike is only a little larger at 53 inches tall, 23 inches wide, and 59 inches in length.
The MYX Bike may be a good choice if you're really tight on space, but for those people we'd recommend one of our best folding exercise bikes instead.
Ordering and Assembling the MYX Bike
The MYX Bike arrives in one large piece, and all you have to do is attach a few things (like the touchscreen and pedals) to the frame. It shouldn't take you any longer than 30 minutes, especially if you have a friend to help you out.
The "Plus" features—the six-piece weight set, a kettlebell (rack not included), stabilizer mat, exercise mat, foam roller, and resistance band—don't require any assembly.
Ordering and Assembling the Peloton Bike
Someone from Peloton will come to your house to assemble and set up the Peloton Bike or the Peloton Bike+ right inside your home gym.
MYX vs Peloton: Customer Experience
MYX Fitness can be reached through social media, or its website.
Peloton can be reached via a live chat function on its website, email, phone, and social media.
MYX vs Pelton: Returns, Financing, Warranty
MYX: You can try the MYX Bike for 30 days, and if you don't like it you can return it for a full refund. After that, the bike's yours and you won't be able to return it.
MYX Fitness offers financing options as low as $28 per month at 0% APR.
The warranty on most parts of the bike is 12 months, with the exception of the frame which has a five-year warranty.
Peloton: Peloton offers the same warranty on the Peloton Bike and Peloton Bike+: five years on the frame, and 12 months for parts and labor.
Peloton has multiple financing options, but they start at $45 per month.
Peloton also offers a 30-day home trial, with the option to return it for a full refund (minus shipping and handling).
MYX vs Peloton: Customer Reviews
MYX Fitness
MYX Fitness has no published reviews for the MYX II Bike on its website, and though this might sound nitpicky, I never like it when I see that. It might be because they haven't updated their website to include that feature, but not being able to see customer reviews is a bit of a red flag to me.
Luckily, the MYX II Bike is listed on Amazon and has a 4.1 average rating there at the time of publishing this article. Those who left high praise enjoyed the bike's workout programs and felt it was a high-quality machine.

The negative reviews centered around frustration in getting certain parts of the bike to work, such as the heart rate sensor, and several people complained the seat hurt.
Peloton
The Peloton Bike has a 4.8 average rating, with more than 15,300 reviews as of this writing. Many of the recent reviews say it's worth the hype.
There are negative reviews published on the website as well, with some claiming the bike has poor quality while being so expensive.

Peloton Bike+
The Peloton Bike+ has a 4.5 average rating, with a little more than 300 reviews as of this writing. Many people had high praise for the auto resistance feature, and said it was worth the extra cost.
But there were still complaints of poor durability.
MYX vs. Peloton: The Bottom Line
As we previously mentioned, there was a time when it might have made sense to go for the MYX Bike over the Peloton. It's a fine bike that will challenge your cardio fitness, has all the features you need, is incredibly versatile, and all at a lower price tag (when you consider everything you're getting) than a Peloton.
But the Peloton is now cheaper than the MYX Bike, and it's a high-quality cycling bike that's still one of the best on the market.
There are a few things MYX Fitness can do to maybe change that, such as having better instructors and live classes for cycling, as well as paying attention to how their music syncs up with the workouts. It's a bike with great potential, but in our opinion, the experience isn't there yet.
Peloton still reigns supreme.
MYX vs Peloton FAQs
Why is MYX better than Peloton?
We don't necessarily agree that MYX is better than Peloton, but it could be a better fit for certain people. On the other hand, there are cases where Peloton may be better for someone's home gym.
Can you do Peloton workouts on MYX?
No, the MYX II Bike comes with its own software that does not support Peloton programming. MYX offers on-demand classes from the OpenFit App, or BeachBody on Demand.
Does MYX track distance?
Yes. The MYX II Bike tracks your time, distance, speed, cadence, and calories burned.