We test and review fitness products based on an independent, multi-point methodology. If you use our links to purchase something, we may earn a commission. Read our disclosures.
The decision to add an exercise bike to your home gym was easy. How to choose an exercise bike, on the other hand, may not be so easy. A thrilling and enjoyable technique to enjoy exercise while moving your body is cardiovascular training. But occasionally, nothing quite compares to being inside. Both can be satisfied by an exercise bike, enabling you to work out effectively in the convenience of your own home.
Exercise bikes come in three basic designs: upright, recumbent, air, and indoor cycling. Each provides a variety of benefits and training incentives to meet your needs. With so many options and features to consider, some might say the process is overwhelming. Another way to look at it? Those endless options mean you get to find the perfect bike for you, and the process becomes that much more fun!
Whether you're an experienced rider or someone new to cycling, stationary bikes offer a wide range of benefits. Bringing the right bike home is the first step to taking advantage of those rewarding workouts and reaching your fitness goals.
Our team of product testers—who are also certified personal trainers, CrossFit coaches and weightlifting coaches—is ready to help you navigate through the decisions ahead so you can find your bike among the sea of offerings.
Different Types of Exercise Bikes
When shopping for a stationary bike, a great place to start is addressing your goals. For example, are you looking to build strength and endurance? Pursue weight loss? Rehab an injury? Understanding your needs will help you know what to look for in a stationary bike, as each type offers its own benefits.
RELATED: Can You Lose Weight on an Exercise Bike
Spin bikes, for example, are great for programming, while recumbent bikes are excellent for people who need a lower-intensity ride. On the other hand, air bikes are ideal for CrossFit-type workouts, and foldable bikes can be great for home gyms with limited space.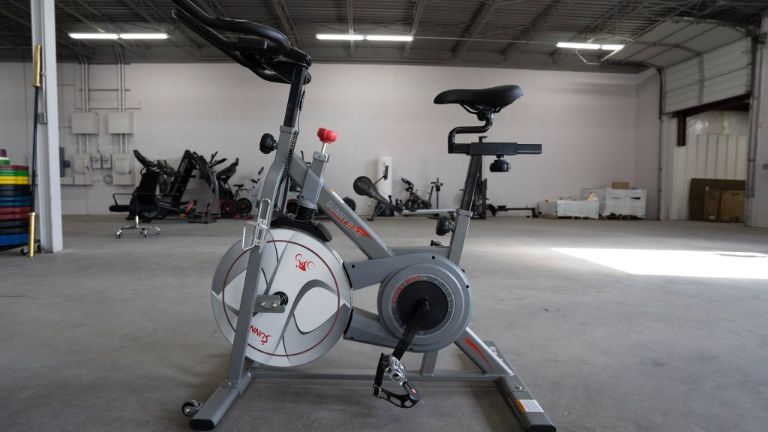 Cycling Bike
Cycling bikes are typically characterized by their exposed flywheel and their use of either magnetic or friction resistance to adjust the ride's intensity. With friction resistance, felt or rubber pads press on the flywheel to create resistance as you pedal. Cycling bikes with this design have a dial or knob that allows you to adjust the resistance on the wheel, and because the adjustments are continuous, your resistance options are endless.
For example, if you want to simulate a big Missouri hill, crank the resistance knob to the right and feel the burn. Want to pretend you're riding the flat streets of sunny Florida? Lighten the resistance by turning the knob to the left and cover that mileage.
Magnetic resistance bikes usually have a quieter and smoother ride when compared to friction resistance bikes. They are also more precise as the resistance levels come pre-programmed and usually adjust with the click of a button. This is something to consider if you prefer flexibility in your workout.
There has been an increasing interest in cycling bikes with the growing accessibility to technology in the market. Many cycling bikes, such as Peloton or Peloton alternatives, have programmable features and the ability to pair with training subscriptions from the comfort of your living room.
My recommendation for the best cycling bike: NordicTrack S22i Indoor Cycling Bike
Recumbent Bike
Recumbent bikes are unique in that they position the cyclist lower to the ground in a semi-reclined position instead of in the upright position of more traditional bikes. With their larger seats and supportive positioning, many people are drawn to the low-intensity, low-impact ride they offer.
Though recumbent bikes can work for most riders, they are especially great for older adults, riders with disabilities, and people recovering from injuries. Recumbent bikes offer more support for the back and spine, take pressure off the neck and knees, and are typically heavier than most upright bikes making them easier to balance. Some recumbent exercise bikes even have an elliptical built in.

My recommendation for the best recumbent bike is: ProForm Hybrid
Air Bike
For those who are hopelessly devoted to their local CrossFit affiliate, you are probably quite familiar with air bikes and their resistance-driven workouts. Air bikes are powered by your legs—the large fan at the front of the bike is the catalyst for the resistance the user feels when pedaling.
Unlike a traditional exercise bike, the harder the user pedals on the air bike, the more resistance they'll create. These bikes usually have a simple LCD screen that tracks things like time elapsed or calories burned. If you're looking for a bike with advanced programming, an air bike may not be your best bet. However, if you're looking for a cardio machine that will provide you with an intense workout and get your heart rate going, you'll love an air bike. There's a reason these heavy-duty machines are commonplace in WODs and high-intensity workouts alike.
My recommendation for the best air bike is: Rogue Echo Bike
Folding Exercise Bike
If you're tight on space but still looking to log some miles on a stationary bike, a folding bike might be just what you need. Folding bikes are becoming increasingly popular with people who need to be creative with their space. These bikes have a small footprint and can be stored away when not in use. They are easily transported and often more affordable than other bikes.
However, lower costs and added convenience come with sacrifices in other areas. Foldable bikes are simplified versions of the traditional exercise bike, but they don't have all the bells and whistles that other bikes offer. Folding exercise bikes typically have an LCD screen that tracks time elapsed, distance traveled, and average calories burned, and they usually come with preset resistance levels.
Still, even though they may not have the "wow factor" that other bikes have, they have the basic mechanics to give you a good sweat.
My recommendation for the best folding exercise bike is: Marcy Foldable Upright Exercise Bike
Things to Consider when Choosing a Bike
Choosing an exercise bike can be an overwhelming task. With so many options and features on the market, it's no wonder your head is spinning. Not to fear. Here's what to look for in an exercise bike.
Price
A wide range of options comes with a wide range of price tags when it comes to exercise bikes. But you don't necessarily have to budget for the most expensive bike to be happy with your purchase.
Expect to spend upwards of $2,000 for the creme da la creme of cycling bikes, including the CAROL bike. The NordicTrack S22i, MYX II Bike Plus, and Bowflex Velocore are other options in the $1,500 to $2,000 range.
RELATED: CAROL Bike Coupon
If you're looking for a bike around $1,000, the Schwinn IC4 offers a smooth ride with the capability of pairing with other training apps. Or, you can get yourself a Rogue Echo, which is the best air bike in our humble opinion.
If you're on a strict budget, there are quite a few options here, too. For under $500 the Sunny Health and Fitness SF-B1002 is an effective option, and you could check out the YOSUDA bike as well.
Finding the sweet spot between cost and functionality is key to choosing the stationary bike that will bring the most to your home gym.
Flywheel
The flywheel is a weighted disc on a stationary bike that connects to the pedals by way of a chain or belt. It stores the rotational energy that is generated as you pedal. It's an important factor to consider when choosing a stationary bike as it's one of the mechanisms that contribute to the bike's overall stability. You should ideally see a flywheel weight of at least 30 pounds.
Saddle
The saddle is the position in where you sit when riding an exercise bike. These often range between wider saddles which are wider and have more cushioning, and more of a performance saddle, which are longer, thinner, and most likely have less padding.
Pedals
Exercise bikes have a few options when it comes to pedals. It may seem like a small part to consider, but they can make a big difference in your ride.
In general, there are three types of pedals: clipless style, toe clip or toe cage, and flat pedals. Some bikes come equipped with flat pedals, similar to those we had on our bikes as kids. They may seem the most comfortable at first, but they are not the most energy-efficient compared to clip and cage pedals.
Where you gain movement on the downstroke of the flat pedal, cages and clips include the upstroke, increasing your advantage and momentum. Clip-style pedals require you to wear shoes with cleats that can connect to the cleat bracket on the pedal.
Not interested in clipping in just yet? Toe cages are a great way to incorporate the pulling motion of the upstroke. You place your shoe in the toe cage and pull the nylon strap snug around your foot to give your pedal stroke an efficient connection.
Another thing to consider is the ability to change the pedals if you so decide. Can you swap the pedals for a different option and if so, is it easy to do?
Warranty
The industry standard for warranties is 15 years to lifetime on the frame, two years on parts, and one year on labor. Obviously, if you purchase a $200 foldable exercise bike from Amazon, you wouldn't expect this kind of warranty. However, if you're spending serious money on a bike, make sure you're clear on the warranty ahead of time just in case your machine has issues in the future.
Many companies will require that you register your bike on the website with the serial number once you receive it in order to cash in on any part of your warranty, so make that a priority to protect yourself down the line.
Resistance
Some bikes have 10 resistance levels, some have 30, and some have 100. Since companies create and measure the magnetic resistance differently, how do we decide if the bikes we're considering have the levels we need?
Generally speaking, you want to look for at least 12 levels of resistance to give yourself some room for variability in your workout. Any additional levels allow you to adjust resistance in smaller increments and further individualize your workout.
Display
There are a few common display setups in the market. Some high-end programmable bikes have HD touchscreens that can make you feel like you're in the cycling studio with the app's instructors. Other bikes have a simple LED screen or a more primitive LCD setup. It really just boils down to how you want your bike to display your workout settings and progress.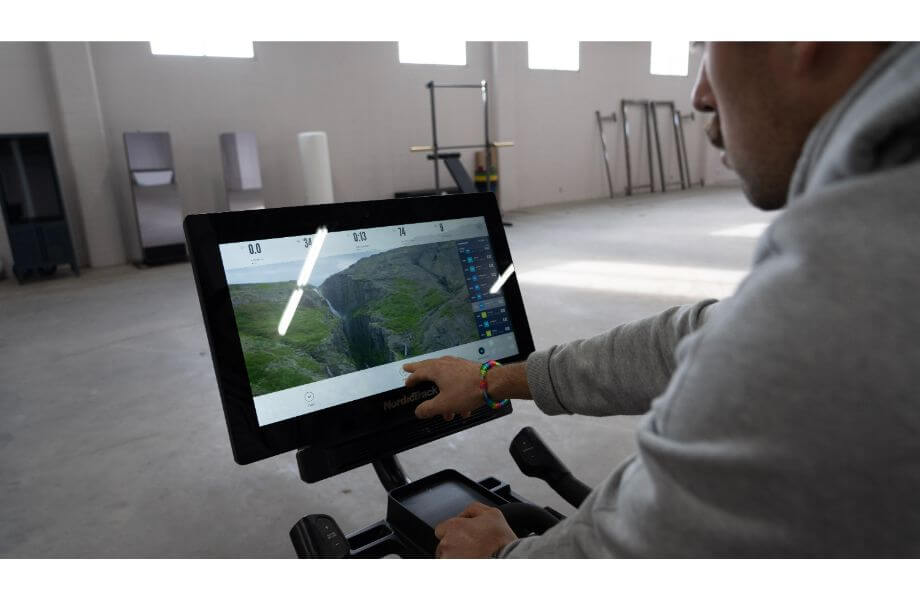 Interactive Programming
With more people working out at home, interactive programming continues to grow in popularity. Not too long ago, people were flocking to the gym to join local cycling classes. Now you can join people from around the world in a virtual spin class right from the comfort of your own living room.
These engaging workout programs usually have a monthly subscription and can be streamed straight to the bike's display if it has one, or to your own smart device if not. Examples of these programs include memberships with Peloton, iFIT, Echelon, and others.
Adjustability
Exercise bikes are adaptable for people of all builds because they allow riders to adjust their settings to better fit their stature. Most bikes have adjustable seats and adjustable handlebars that let you change their height and depth. The better your fit on the bike, the better your form. And we all know form goes a long way when getting the most out of your workout.
Safety
Lastly, consider where you intend on putting your exercise bike. You'll want to make sure you have adequate clearance around the bike so you can get on and off freely without obstacles.
You'll also want to make sure it fits in a room that doesn't get too cold in the winter or too warm in the summer. Cycling in uncomfortable temperatures isn't ideal for a safe workout. Also, some companies will void a warranty if the equipment isn't stored in a temperature-controlled area—another thing to check your warranty on.
Other Extra Features
Once you figure out the big stuff, you can always look at extra features that add a little luxury to your ride. Things like USB ports, cooling fans, water bottle holders, Bluetooth connectivity, and device holders might really kick training up a notch.
How To Buy An Exercise Bike
Once you decide what type of exercise bike you want, you'll have a few options to purchase.
Purchase directly from the manufacturer, like Peloton or NordicTrack.
Purchase from a large retailer like Amazon.
Purchase secondhand from someone locally.
If you buy the bike online, check on shipping charges and assembly fees, if applicable. If you purchase directly from the manufacturer or even some large retailers, you may have options for financing, too.
Final Verdict
Choosing an exercise bike is an exciting step to building your home gym. There are an abundance of options out there, so you're smart to do your research before buying. Know what your goals are for your time on the bike and:
Pick the type of bike that best suits those goals
Set your budget
Prioritize what features you need most to rock your workouts
Then go for it!
Exercise bikes can be instrumental in improving your cardiovascular health, and experienced riders and beginners alike have much to gain from pressing those pedals. The best exercise bike for you is one that will help you reach your goals.
How to Choose an Exercise Bike FAQs
Are exercise bikes worth it?
Yes, exercise bikes are definitely worth checking out. Stationary bike benefits include improved cardiovascular health and endurance, plus they're low-impact and accessible to many people. Whatever gets you excited to workout is worth it.
How much should I spend on an exercise bike?
Before deciding how much you want to spend on an exercise bike, I'd recommend determining which of the four types you want to purchase. After deciding that, you'll be able to get a more accurate picture of the amount you'll need to spend to get a good machine. The amount you should spend in order to get a good folding exercise bike versus a feature-filled cycling bike are completely different. For a folding exercise bike, under $500 will be just fine. For a cycling  bike, expect to spend as much as $2,000 if you want interactive programming and a touchscreen. 
Which is better, a treadmill or an exercise bike?
Deciding between an exercise bike vs treadmill is definitely a personal choice. Both can deliver a solid cardio workout, but they aren't exactly the cheapest things you could add to your home gym. Consider which form of exercise you enjoy more—walking/running or riding—and what kind of space you have available, then go from there.