We test and review fitness products based on an independent, multi-point methodology. If you use our links to purchase something, we may earn a commission. Read our disclosures.
A few years ago, I went on an intense yoga kick. I was on a quest to feel "more centered", whatever the heck that actually means. Although I did not find the panacea for inner peace during my eight months of Surya Namaskar, I found that some people did actually experience feeling centered. Since I'd never experienced this unattainable thing, I attempted to equate it to the best center-drive elliptical: The core of the being resides in the center, and all else flows from it.
In the case of a center-drive elliptical, a flywheel housed in the center of the machine allows the machine to stay steady and stable, virtually unmoving. Luckily, I'm a lot better at evaluating fitness equipment (particularly cardio machines) than I am at being personally centered. I'll guide you through the best center-drive ellipticals on the market and the good, average, and penalty-box bad" (as they say on the Kitchen & Jorn Show) features of each.
Always the Center (Drive) of Attention
GGR is always the center of attention when it comes to fitness equipment reviews, but for good reason: We have multiple, qualified fitness professionals at our disposal. Whether you want a certified personal trainer to weigh in on a product, or a former college athlete's guidance, Garage Gym Reviews has someone for the job.
4 Best Center-Drive Ellipticals
Best Overall Center-Drive Elliptical: NordicTrack FS14i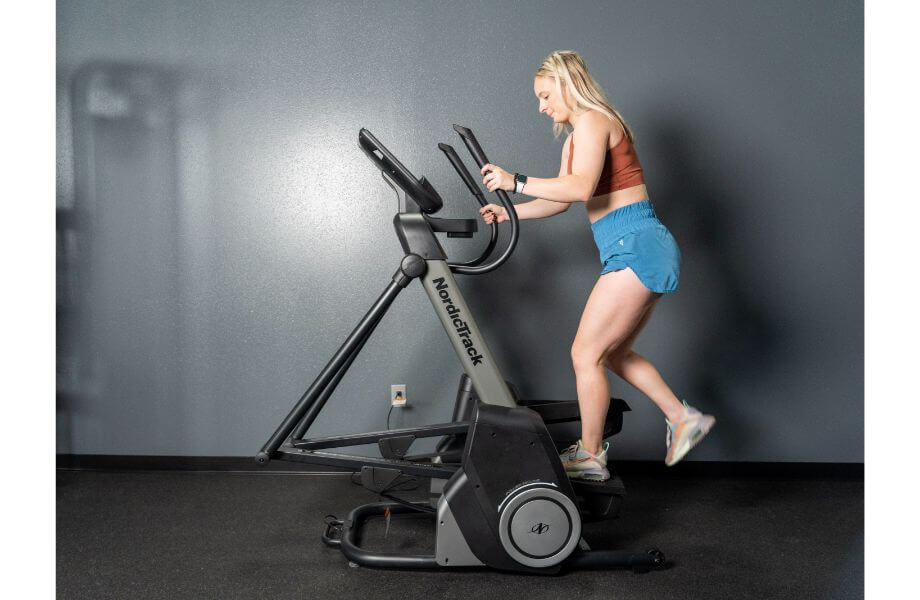 Good for: Someone who wants a center-drive elliptical from a trusted brand
In my not-so-humble opinion, the NordicTrack FS14i wins as the best overall center-drive elliptical. Although you'll be paying a cool $2,500 for this machine, you get the versatility of three different pieces of equipment in one. Not sure what I mean? Allow me to explain: The FS14i can be utilized as an elliptical, stepper, and loosely, a treadmill depending on the way you step.
With a 32-inch adjustable stride length, the FS14i is ideal for people of all heights (and weights up to 375 pounds). The machine follows your lead: Whatever way you step or stride, the machine will oblige. It can be slightly complicated to get started on, but once you get the hang of it, it's a breeze.
I also personally enjoy the 14-inch touchscreen, which can be used with iFIT's comprehensive interactive programming (sold separately). If you're someone who geeks out on tech-y features and great extras, you'll love what the FS14i has to offer: Google Maps, incline, decline, AutoAdjust technology, and a cooling fan.
It is worth noting that the FS14i is similar to the other center-drive ellipticals on this list in that it cannot fold or compact. You'll also need an additional person to help you move this machine (even from room-to-room) because it is unwieldy, weighing 287 pounds.
Want to learn more? Take a look at our full NordicTrack FS14i review.
| | |
| --- | --- |
| Price | Under $2,500 |
| Footprint | 58.5″ L x 29.5″ W x 74″ H |
| Stride length | 32" auto-adjustable stride |
| Flywheel | 20 lbs |
Best Center-Drive Elliptical for Beginners: Body Solid E5000 Commercial Elliptical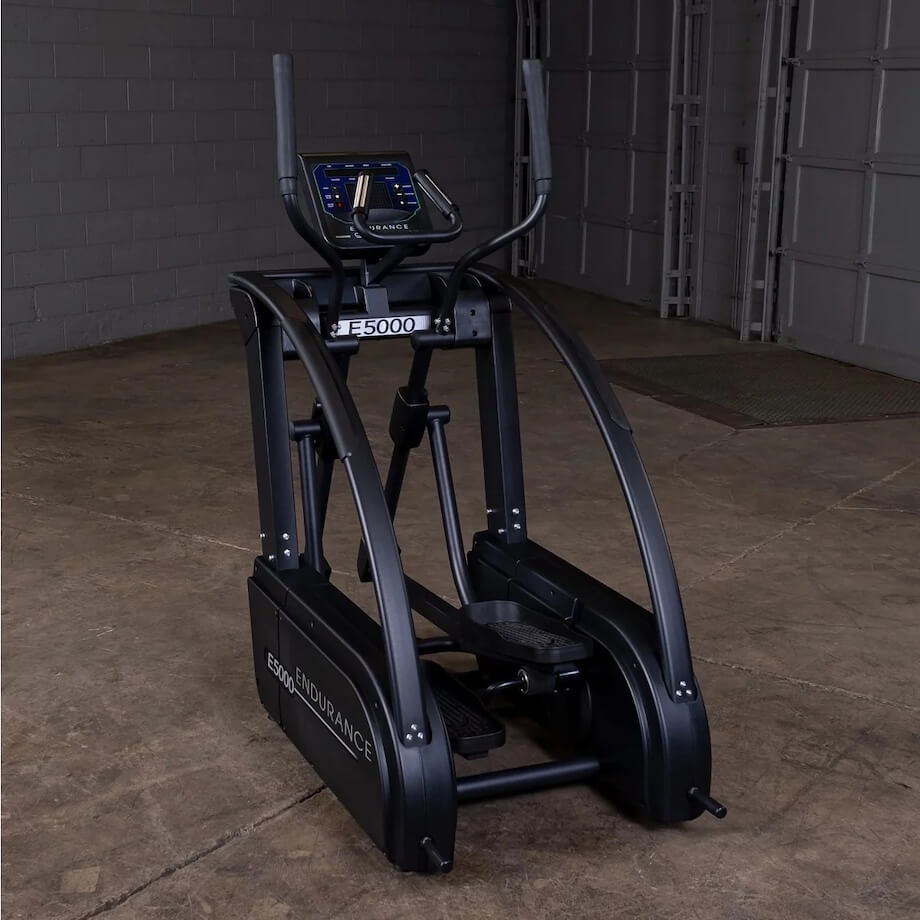 Good for: Those who want preset programs as an easy way to get started
Getting started with a new piece of equipment can be challenging, but not when you have preset workout programs available to guide you. The Body Solid E5000 Commercial Elliptical has seven different preset programs that allow you to hop on and get sweating right away.
Plus, with a 325-pound user weight capacity, the E5000 can support heavier folks who want to use an elliptical machine. I'm also a fan of the 21-inch stride length and 20 levels of resistance. Unfortunately, these features come with a hefty price tag. You can expect to pay upwards of $3,000 for the E5000.
Luckily, the lifetime frame warranty (for residential use only) makes the expensive price tag easier to justify. And, if you want to use the Body Solid E5000 in a commercial setting, the brand will still give you a 15-year warranty on the frame. That's hard to beat, if you ask me.
| | |
| --- | --- |
| Price | Under $3,100 |
| Footprint | 68" L x 31" W x 69" H |
| Stride length | 21" |
| Flywheel | N/A |
Best Center-Drive Elliptical for Seniors: Landice E7 Elliptical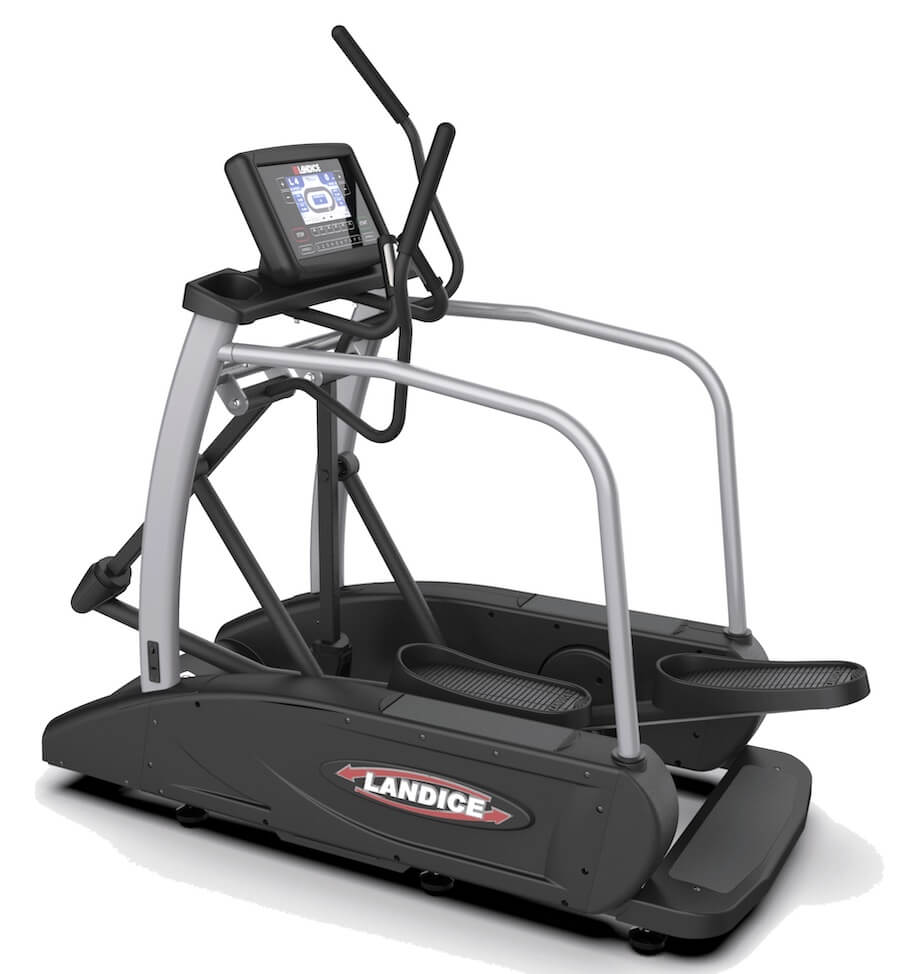 Good for: Seniors or older adults who need additional support
The Landice E7 elliptical is an ideal choice for an older adult or someone who needs a low-impact way to get their cardio fix in. Although this machine will work for almost all fitness levels, it's even simple enough for a beginner to use. The display is user-friendly and intuitive, with an emphasis placed on the large, main jump buttons.
With the E7, you'll also be treated to a 500-pound user weight capacity, which is 200 pounds over the industry standard. Talk about a sturdy machine.
The E7 elliptical also has a special continuous handrail, which allows the user to hold on to the machine for additional stability during rehab exercises or a workout. This feature is on top of the already-existing double arms of the elliptical, so you have many choices for hand placements.
You'll also find a smattering of useful extras on the E7, like a water bottle holder, contact heart-rate monitor handles, and a USB port. I'm particularly a fan of the seven-inch step-up height on this machine, which is one of the lowest I've seen on an elliptical. This reduced step-up height will allow folks with balance issues to use this machine with more ease.
It is worth noting that this elliptical (like pretty much all of Landice's cardio machines) is quite expensive. Before adding upgraded entertainment or additional accessories, you'll be looking at an almost $4,300 price tag for the E7.
| | |
| --- | --- |
| Price | $4,300+ |
| Footprint | 35″ W x 68″ L x 67″ H |
| Stride length | 21" |
| Flywheel | 20 lbs |
Best Value Center-Drive Elliptical: Best Fitness BFE2 Center-Drive Elliptical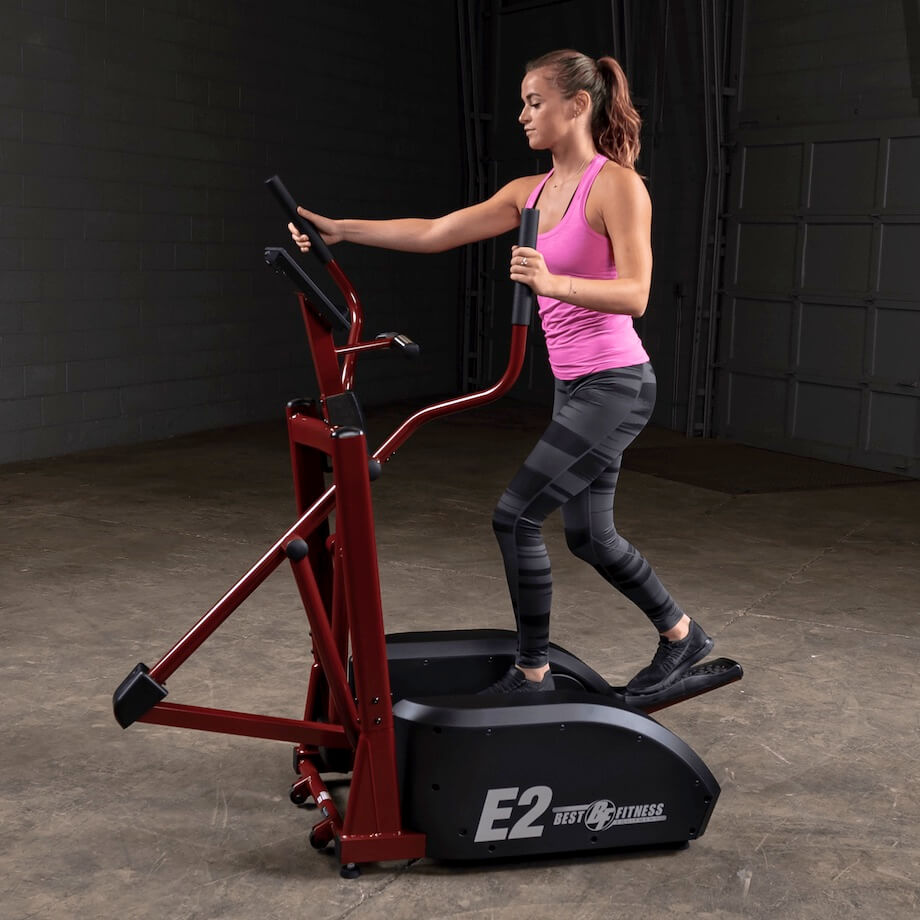 Good for: Someone who doesn't want to pay an arm and a leg for a center-drive elliptical
Most center-drive elliptical machines aren't cheap, but the Best Fitness Center-Drive elliptical is about as close to a budget option as you'll find. Clocking in at around $1,300, this compact elliptical features a variety of preset workouts, sturdy aluminum construction, and an easy-to-use display.
Plus, this elliptical has a 15-year frame warranty, which hits the industry standard for what we'd expect. Even better? The Best Fitness Center-Drive elliptical has a 21-inch stride length, which is even longer than the industry standard of 18 to 20 inches. This means people with lengthier strides or taller folks will be able to move more freely during a workout.
The 275-pound user weight capacity is slightly disappointing. Although this is one of the least expensive center-drive ellipticals I've seen, I'd expect a higher user capacity for the price. For context, the industry standard is at least 300 pounds, although higher is better.
| | |
| --- | --- |
| Price | Around $1,400 |
| Footprint | 48" L x 30" W x 66" H |
| Stride length | 21" |
| Flywheel | N/A |
Other Ellipticals We've Tested
There may not be a ton of center-drive ellipticals on the market, but there are quite a few rear- and front-drive options. Check out some of our other favorites (if you're not set on a center-drive elliptical):
How We Picked and Tested
Before adding any ellipticals to this list, here are the questions we made sure to ask ourselves:
Flywheel location: Based on flywheel placement, is this a center-drive, rear-drive, or front-drive elliptical?
Dimensions: What are the dimensions of this machine? Will it fit in a small condo, apartment, or another compact space? Can the elliptical be compacted in any way?
Price: How pricey is this elliptical? Is it considered mid-range, high-end, or an affordable price?
Stride length: What stride length does this center-drive elliptical have? Will this work for shorter people and tall people alike? Is the stride length conducive to a smooth workout or more similarly to that of a stepper?
Warranty: What is the warranty on this machine? How does this compare to what we normally expect on the average elliptical?
Step-up height: What is the step-up height? Is it considered high or low?
Display: Display-wise, what type does this center-drive elliptical have? Is it a touchscreen, digital display, LCD display, or LED screen?
Weight: How heavy is this machine? Can it be moved by one person or will you need another set of hands to help?
Weight capacity: What is the weight capacity of this machine? How does this compare to the industry standard?
Financing options: Are there any financing options available? If so, what is the payment per month, APR, and duration of payments?
Resistance levels: What resistance levels does this machine have? How does this compare to the industry standard?
Pedal: Are the pedals oversized? Are they textures or cushioned? What does the pedal spacing look like?
Customer reviews: What do the customers who have purchased this machine have to say?
Extras: What extras does this machine offer? Does it have any adjustability, Bluetooth connectivity, cooling fan, Google Maps, or a heart rate monitor?
Benefits of Center-Drive Ellipticals
GGR writer and certified personal trainer Anthony O'Reilly is a fan of center-drive ellipticals, and he's excited to tell you why:
"The biggest benefit of center-drive ellipticals is that, because of their design, they allow the user to have better posture while using this machine for cardio training," Anthony explains. "This allows for a much more natural walking position, which greatly reduces impact to the joints, reduces the risk of injury, and allows the user to go for longer distances."
"The space between the pedals is typically much narrower than a front- or rear-drive elliptical, which is especially important to those with hip problems," Anthony adds."Center-drive ellipticals also tend to be much more compact than other models."
Buying Guide: What to Look for in Center-Drive Ellipticals
Here are the top three things you should keep in mind before buying a center-drive elliptical:
Stride Length
Depending on how tall you are, stride length may be more or less of a concern for you. If you're tall, you'll want to go for an elliptical stride length of at least 20 inches, but even longer is preferable. For those who are shorter, make sure your elliptical has at least an 18-inch stride length (unless you want your cardio machine to feel like a stepper).
Flywheel
Ideally, your new elliptical should have a flywheel that weighs anywhere from 16 to 20 pounds. Having a heavier flywheel means your machine is able to generate and sustain power for longer. Plus, if you have a weightier flywheel, your elliptical will likely be more sturdy and will not be prone to rocking side-to-side.
Dimensions
Before purchasing a new elliptical, consider the footprint of your space. Will your machine need to be more compact, or can you purchase a machine that will need to sit out 24/7? Asking yourself this question will prevent any unneeded frustration when your machine arrives at your doorstep.
Best Center-Drive Elliptical FAQs
Are rear-drive ellipticals better?
Not necessarily, as rear-drive ellipticals tend to take up more space. Plus, it doesn't really matter where your flywheel is at the end of the day (except in the case of space concerns)––only the heaviness of the flywheel actually means something.
What is the best elliptical to buy for home use? 
What are things I should look for in a good in-home center-drive elliptical?
Besides looking for general durability, I recommend finding an elliptical that fits your space and budget. In terms of features, cushioned handlebars, ergonomic textured pedals, and a long stride length are all things I endorse.
However, it is worth considering other cardio machines, especially if you particularly enjoy one form of exercise over another. Take a look at treadmills, cross trainers, recumbent bikes, and rowers before making a final decision––after all, you want to make sure you actually enjoy the cardio workout you're doing.