We test and review fitness products based on an independent, multi-point methodology. If you use our links to purchase something, we may earn a commission. Read our disclosures.
There's a reason that almost all of the ellipticals are occupied anytime you are in the gym: They are low-impact cardio machines that are effective in helping people meet their fitness goals. Do a quick search and you'll find all kinds of ellipticals on the market: compact ellipticals, hybrid ellipticals, and budget-friendly machines.
If you plan to put an elliptical through tough workout after tough workout, and you want a machine to last you a long time, it would be wise to consider a commercial elliptical. They are built to accommodate multiple users throughout the day and offer top-notch conveniences. We've personally tested and used the best commercial ellipticals on the market to give you our top choices.
Dozens of Elliptical Machines Tested
Our testers have trained on dozens of elliptical cross trainers from high-end brands to budget-friendly machines on Amazon. Our team includes certified personal trainers, athletic coaches, and gym fanatics who know what makes a great commercial elliptical stand out from a just-okay one.
6 Best Commercial Ellipticals
Best Overall Commercial Elliptical: NordicTrack Commercial 14.9
Good for: People who want a huge video library of workouts prepared by elite trainers while using a high-quality commercial elliptical
Best Overall Commercial Elliptical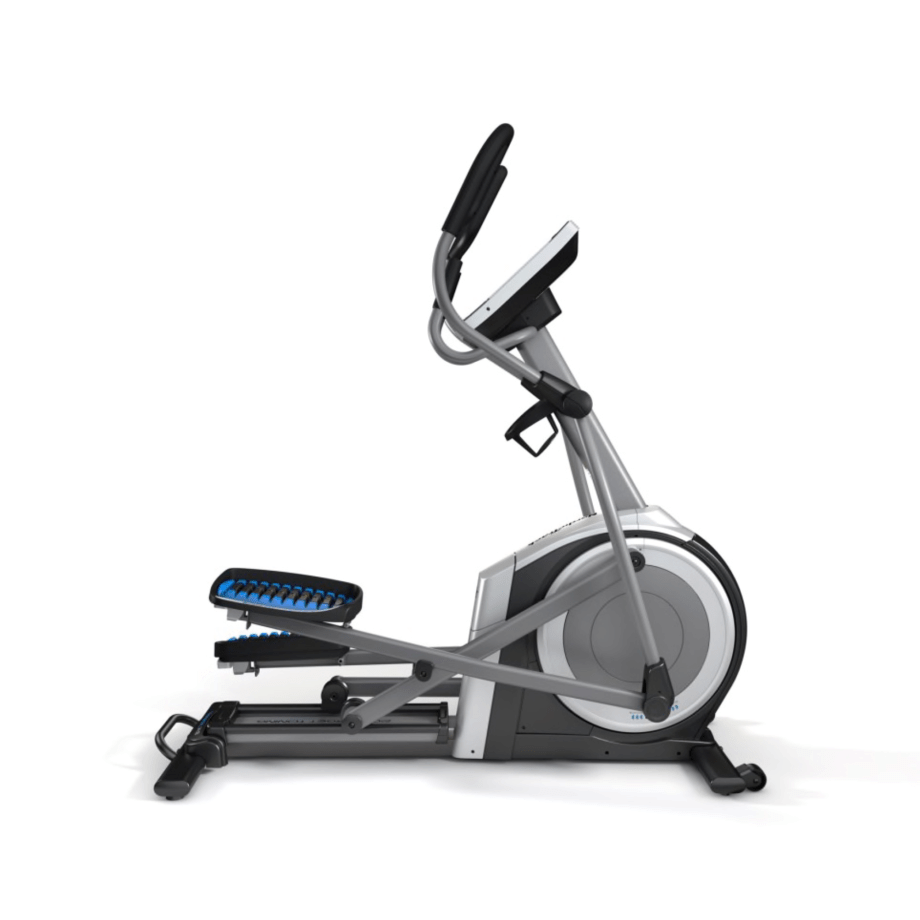 Nordictrack Commercial 14.9
The NordicTrack Commercial 14.9 will give you a highly customizable workout with adjustable pedals, stride, resistance, and incline. The 14.9 also features a heavy 32-pound flywheel to challenge even the most experienced cardio athlete.The NordicTrack Commercial 14.9 features a 14-inch, built-in, HD touchscreen enabled with iFIT technology. iFIT will bring shake up your cardio routine with a growing library of on-demand workouts featuring world-class trainers. The iFIT auto-adjust technology will change your elliptical's incline and resistance with the cadence your trainer's cues, so you won't have to lift a finger to kick your workout up a notch.
Pros:
14" HD touchscreen
Adjusts automatically to the trainer's demands during workouts
Up to 20% incline
26 levels of silent magnetic resistance
Records workout stats
Heavy-duty 32-lb flywheel
Financing available
Free 30-day trial of iFIT
350-lb weight capacity
Cons:
Pricey around $1,800
Large footprint
Very heavy at 210 lbs
iFIT requires monthly subscription after trial
Large machine with complicated assembly
The NordicTrack Commercial 14.9 elliptical trainer provides all the bells and whistles that make it an easy pick for the best overall commercial elliptical.
The machine's standout feature is iFIT, which is a streaming workout service that the 14.9 displays on a 14-inch high-definition touchscreen. Elite fitness trainers take you through elliptical workouts as well as yoga, strength training, and total-body options you can do off-machine. With your purchase of the 14.9, you get a 30-day free trial of iFIT. After that, a family membership is $39 a month.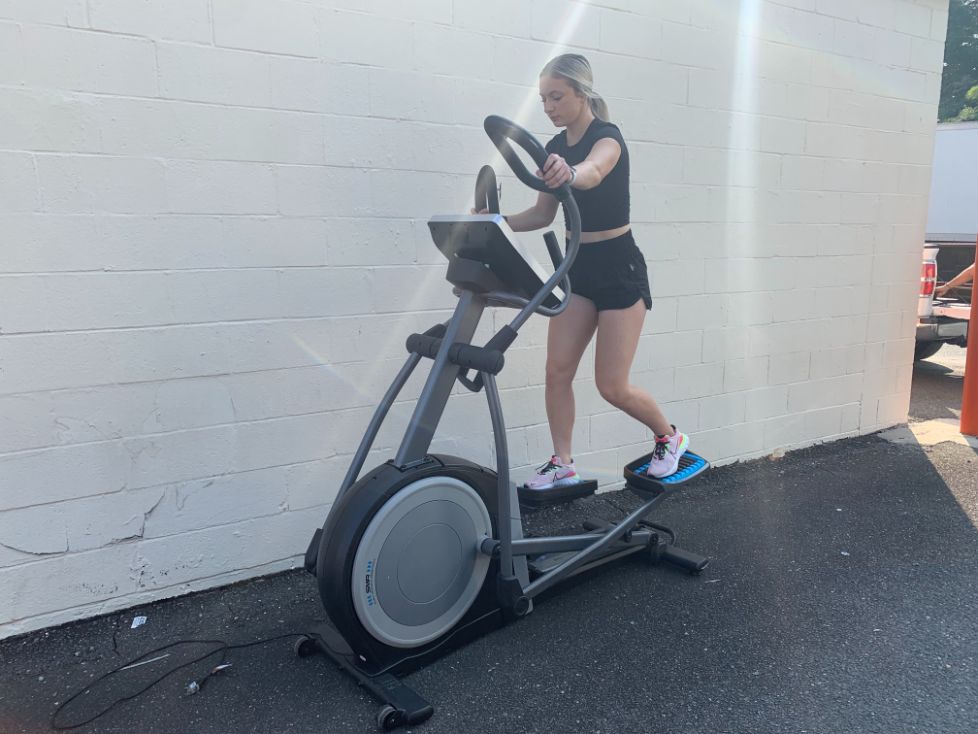 Our testers particularly like iFIT's auto-adjust features in which the machine's incline and resistance automatically change as the workout progresses—no button-pushing needed! And while we are on the topic, the 14.9 delivers inclines of up to 20% and 26 resistance levels. That's the kind of workout customization we love to see on a commercial elliptical.
Beyond the interactive programming, the Commercial 14.9 is packed with ergonomic extras: an adjustable stride that moves between 17.5 and 18.7 inches, a cooling fan, cushioned pedals, and levelers you can adjust if your flooring isn't perfectly flat.
Let's talk price: This elliptical clocks in at around $1,800, which is definitely on the high-end side. However, the cost includes free basic delivery (you'll have to pay extra for assembly, which we recommend because our product testers found the process to be very involved). Also, this machine weighs 210 pounds, and it isn't easy to move around, so build it where you plan on using it.
For more, check out our NordicTrack Commercial 14.9 review.
| | |
| --- | --- |
| Footprint | 67″ L x 29″ W x 69″ H |
| Built-in Workouts | iFIT-compatible, few free workouts through iFIT |
| Resistance Levels | 26 digital silent magnetic resistance levels |
| Extra Features | Cushioned pedals, adjustable stride length, fan, Bluetooth speakers, and water bottle holder |
Best Budget Commercial Elliptical: Horizon 7.0 AE
Good for: A powerful commercial elliptical for those who don't want to break the bank
Best Budget Commercial Elliptical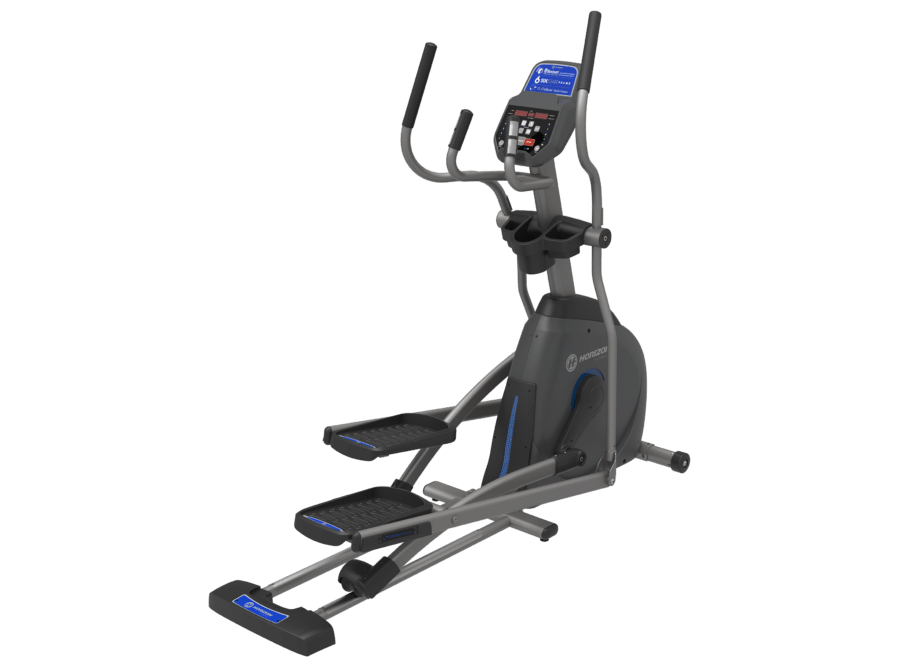 Horizon 7.0 AE Elliptical
Bring your fitness classes, music and entertainment to your workouts with advanced Bluetooth speakers. Smart fitness technology pushes data to your favorite tracking apps. Ergonomic Six-Star Frame encourages ideal body position and movement for a more efficient and comfortable workout. Achieve better muscle tone and burn more calories with advanced power incline.Read my full Horizon 7.0 AE Elliptical review.
Pros:
Priced under $1,000
8 preset workouts
Connects to fitness apps through Bluetooth
20 levels of resistance
Sturdy 23-lb flywheel
Long 20-inch stride length
Built-in cooling fan
Built-in speakers
325-lb weight capacity
Financing available
Cons:
Basic 7-inch LCD
Heavy at nearly 200 lbs
Large footprint
If you're on a budget, the Horizon Fitness 7.0 AE is an elliptical under $1,000 that doesn't sacrifice much in the way of features. Our testers loved this machine because it has a high-end feel thanks to a 20-inch stride length and one-touch controls to move among 20 levels of resistance and 20 incline levels.
While there is no fancy touchscreen to stream workouts, the 7.0 AE can connect via Bluetooth to Horizon's free workout app that will control your resistance and incline automatically. The app will also send your data to certain fitness apps to track your progress. The elliptical's basic 7-inch LCD shows all the metrics you need, like time, distance, and speed. There is also a media shelf to hold your smart device if you prefer to stream a show while you sweat or use other fitness apps like Zwift.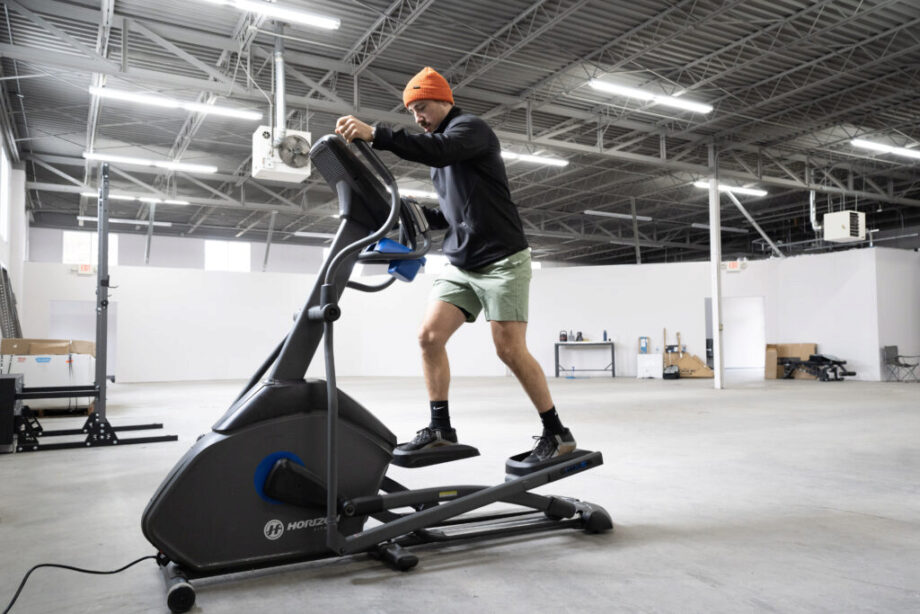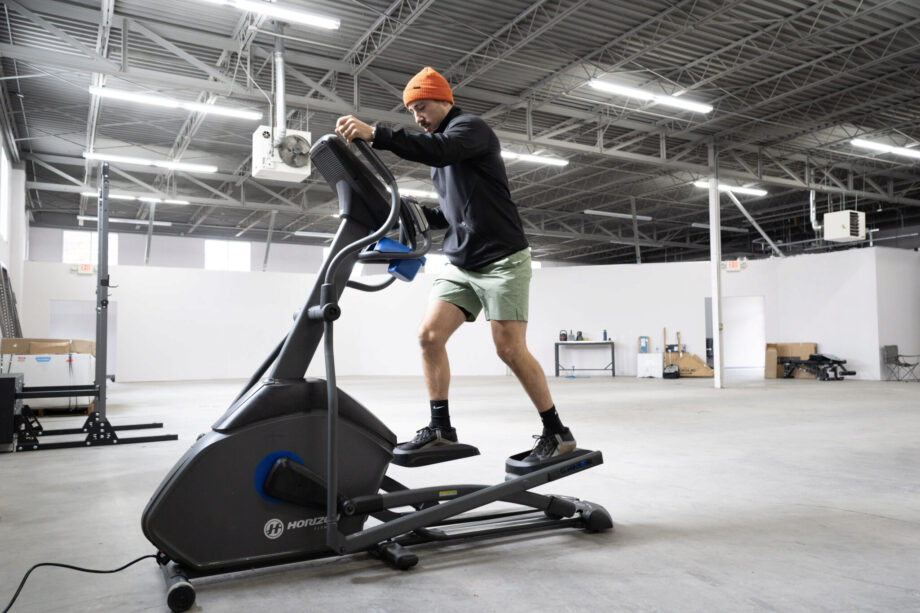 Our team is impressed with all the other "extras" that come with this machine: a cooling fan, Bluetooth speakers, USB charging port for your smart device, eight preset workouts, and a water bottle holder.
Horizon backs up the 7.0 AE with a lifetime warranty on the frame and brake, but just a one-year warranty on the flywheel. Just like other commercial-grade ellipticals, this machine has a large footprint and weighs close to 200 pounds. It isn't easy to move or put together, so we recommend taking advantage of the brand's professional assembly.
For more, read our Horizon 7.0 AE review.
| | |
| --- | --- |
| Footprint | 76″ x 24″ x 65.5″ |
| Built-in Workouts | 8 built-in workout programs, also connects to a free app with more workouts |
| Resistance Levels | 20 resistance levels |
| Extra Features | Bluetooth speakers, rapid-charge USB port, fan, tablet rack, and water bottle holder |
Best Commercial Elliptical Hybrid: ProForm Hybrid Trainer XT
Good for: A person who wants both bike and elliptical options for their cardio workouts
Best Commercial Elliptical Hybrid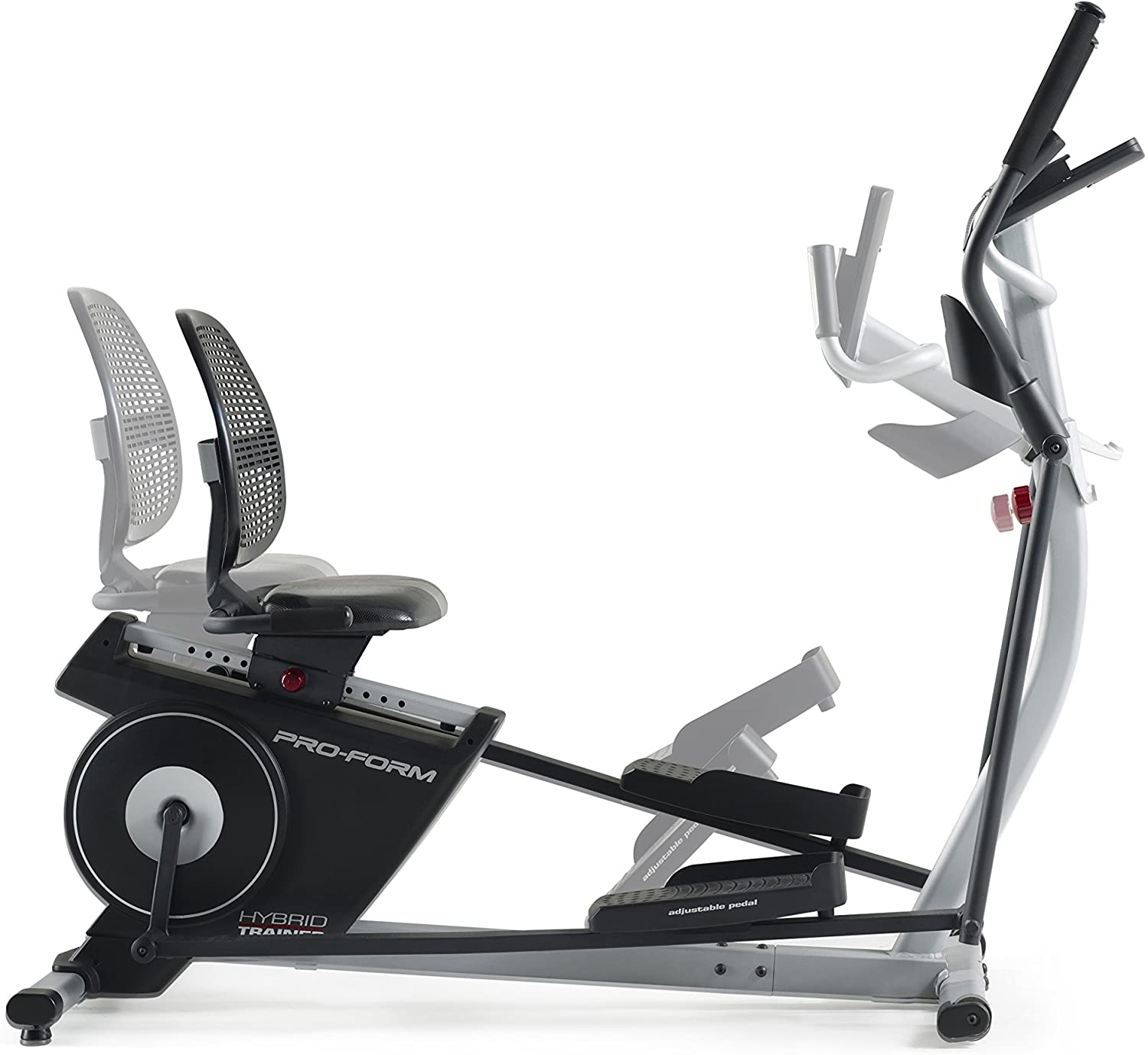 ProForm Hybrid Trainer
Now you can access the benefits of two machines in one. In two quick steps the Hybrid Trainer XT evolves from an elliptical to a recumbent bike. Simply adjust the pedals and console. And with the latest in fitness technology at your fingertips, you can enjoy daily motivation like never before with workouts designed to get you started and keep you motivated.
Pros:
An elliptical and a recumbent exercise bike
Priced under $700
Compatible with iFIT
16 built-in workouts
Extremely comfortable seat
Adjustable monitor
Cons:
Testers found it to be a little shaky
iFIT subscription required after free trial
Short 15" stride length
Large footprint
When a machine allows you to do more than just one exercise, your home gym suddenly has much more to offer. The ProForm Hybrid Trainer XT does just that: It's a two-in-one machine that serves as an elliptical or a recumbent exercise bike (and moving it from one mode to the other happily reminds me of watching the Transformers cartoon back when I was a kid).
The Proform Hybrid Trainer XT is priced under $700—a great deal for getting two cardio machines in one. Use the large, cushioned seat for recumbent biking, or move the adjustable monitor and stand in the pedals for an elliptical workout. Our product testers found the transition from bike to elliptical (or the other way around) to be incredibly smooth and easy to do.
Like other budget-friendly cardio equipment, the Hybrid XT saves you money by ditching a high-tech screen and instead having a basic LCD display that measures distance traveled, resistance, and calories burned.
Your purchase includes a free month of iFIT if you are interested in streaming workouts to your own device, which can be stored on the media shelf. After that, an individual iFIT monthly membership is $15. If you don't want to use iFIT, there are eight elliptical and eight bike workouts built into the machine. Plus, it has 16 resistance levels, so you will have options on how difficult you want the workout to be.
There are some drawbacks, starting with the short 15-inch stride length on the elliptical. This might feel awkward for taller users. Also, with just a 13-pound flywheel, we found the elliptical trainer would shake at higher speeds. Lastly, given that this is two machines in one, you can bet it has a larger footprint.
To learn more, head over to our ProForm Hybrid Trainer XT review.
| | |
| --- | --- |
| Footprint | 60.5" H x 24.5" W x 70.5" L |
| Built-in Workouts | 8 bike, 8 elliptical, compatible with iFIT |
| Resistance Levels | 16 resistance levels |
| Extra Features | Tablet holder, speakers, water bottle holder, and transport wheels |
Best Foldable Commercial Elliptical: NordicTrack SpaceSaver SE9i
Good for: Individuals who have the need to save space with a foldable commercial elliptical.
Best Foldable Commercial Elliptical
NordicTrack SpaceSaver SE9i
The NordicTrack SpaceSaver SE9i features an iFIT-enabled 14-inch HD smart touchscreen to stream the growing library of iFIT on-demand workouts. You can choose from you favorite trainers or you favorite scenic locations—iFIT training sessions are shot all around the globe with world-class trainers. You'll also benefit from auto-adjust technology, which allows you to follow along with the changing incline and resistance levels your trainer cues up, without ever letting your hands off the elliptical handlebars.The SpaceSaver SE9i has a folding mechanism where the upright and console portion of the machine fold downward onto the base. Once folded, the transport wheels make it possible to move it around store it vertically.
Pros:
Folds
14" smart high-definition touchscreen
Compatible with iFIT
24 resistance levels
Up to 10% incline
Uses Google Maps
18" stride length
Financing available
Cons:
Price tag close to $1,700
Can feel shaky at times
Storing in your garage voids the warranty
The NordicTrack SpaceSaver SE9i is a fairly unique rear-drive elliptical trainer because it folds. The console and handles fold down on top of the machine, shaving several feet off the height of the elliptical. While that isn't flat enough to wheel it under a bed, it may make storing it in a small closet easier.
We also love that this elliptical comes with an impressive 14-inch touchscreen, 24 resistance levels, and up to 10% incline. With your purchase is a free month of iFIT interactive programming that will control the machine's settings as you exercise.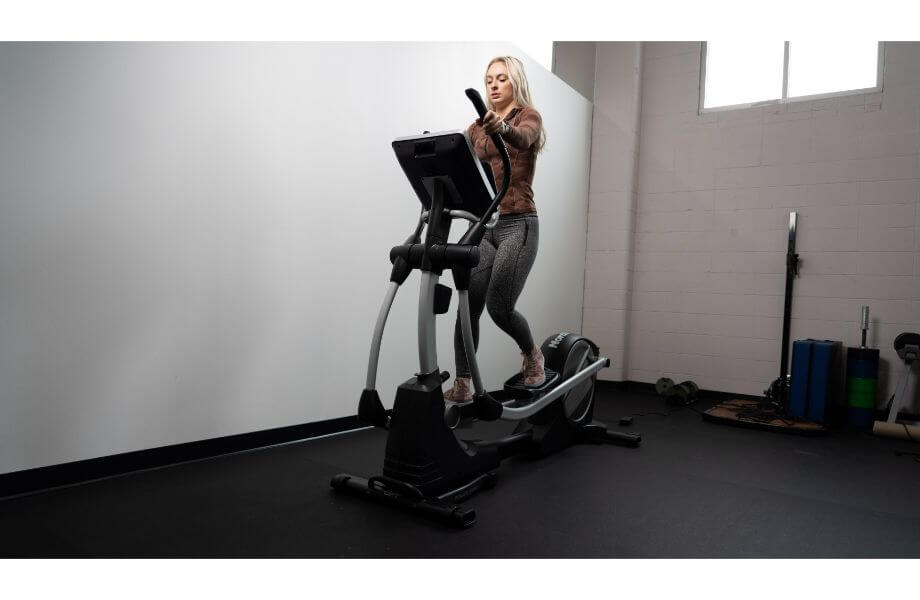 As far as ergonomics go, NordicTrack placed cushioned pedals on the SpaceSaver. This is especially beneficial for people who have joint issues and are looking for a lower-impact workout.
While we largely had a good experience on this machine, our testers did report that it shook a little while in use. Also, be advised that NordicTrack warranties do not extend to machines stored in the garage.
Word to the wise: The NordicTrack SpaceSaver SE9i listed on Amazon is priced at $2,300 (with free shipping) and is an early model with only a 7-inch touch screen. The SE9i listed on the NordicTrack website is currently $1,699 (with free shipping) and is the latest model.
To learn more, read our in-depth NordicTrack SpaceSaver SE9i review.
| | |
| --- | --- |
| Footprint | 80″ L x 32″ W x 67″ H |
| Built-in Workouts | Compatible with iFIT |
| Resistance Levels | 24 resistance levels |
| Extra Features | Cushioned pedals, small water bottle holder, Bluetooth speakers, fan, 14" touchscreen |
Best Commercial Elliptical for Bad Knees: Sole E35
Good for: People who could use extra low-impact features such as adjustable pedals to save their joints.
Best Commercial Elliptical for Bad Knees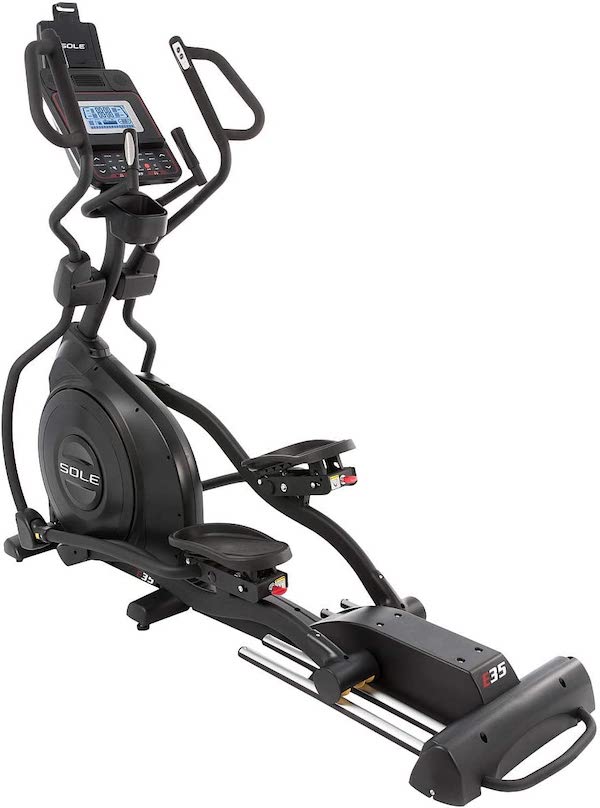 Sole E35 Elliptical
Reviews say that the Sole E35 elliptical is a quiet machine providing a smooth ride. This can be partially attributed to the 25-pound flywheel and weight of 231 pounds. According to Sole, engineers designed the adjustable 15-inch foot pedals at a 2-degree inward slope to reduce stress on your ankles and knees. These pedals move forward and backwards to help make your workouts more versatile. This elliptical has some notable features. For instance, it comes with built-in speakers that enable you to play music via Bluetooth from your audio device. It also comes with an integrated tablet holder so you can follow your own workout routines or watch TV. No worries about your device dying, because this elliptical also comes with a USB port. If this technology is not for you, it also comes with a 7.5-inch LCD console that has 10 built-in workouts that you can follow. The built-in fan will also keep you cool as you glide through the 20 different levels of resistance that allow you to find the perfect level for you. 
Pros:
Foot pedals engineered to reduce stress on joints
25-lb flywheel
375-lb max user weight capacity
20 incline levels
Cooling fan
Bluetooth speakers
USB charging port
Media shelf
Financing available
Cons:
Pricey around $1,700
Large footprint
Basic LCD display
The Sole E35 is a solidly built elliptical trainer that should be very stable with a 25-pound flywheel located at the front of the machine. While we didn't get to test the E35, we have plenty of experience with the base model of Sole's elliptical line, the E25.
What we love most about this machine: It's great for people with bad knees or joint issues. Not only are the pedals cushioned, but Sole actually worked with a physical therapist to engineer a 2-degree inward slope in order to take unnecessary stress off the joints. Additionally, the pedals adjust! You can move them to a position that feels the most natural for your stride. Lastly, the E35 has an impressive 20-inch stride length that accommodates users of all heights.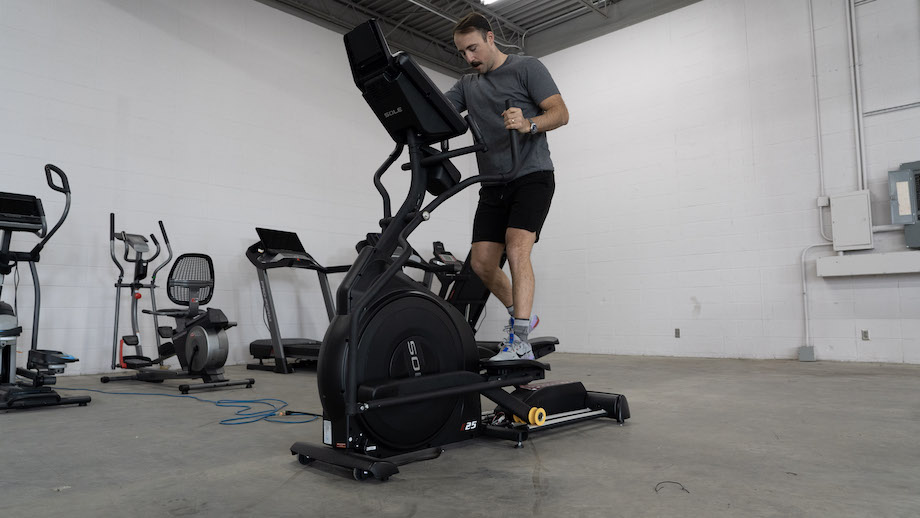 The basic 7.5-inch LCD display is a bit of a letdown with the price of this machine. However, the E35 does have a USB port, tablet holder, and Bluetooth speakers so you can use your own device to stream workouts or shows. Thanks to the simple setup (which we also saw on the E25), getting started on your workout takes just a couple of button pushes.
As of this writing, the E35 is listed at $1,699 and includes free shipping. It is a large piece of fitness equipment that weighs 231 pounds, and with the size of the elliptical, you will want to find the perfect spot in your home for it and leave it there. It is not an easy one to move!
To learn more, read our in-depth Sole E35 review.
| | |
| --- | --- |
| Footprint | 82" L x 71" H x 31" W |
| Built-in Workouts | 10 preset programs, compatible with Studio |
| Resistance Levels | 20 resistance levels |
| Extra Features | USB port, tablet holder, adjustable foot pedals, chest strap heart rate monitor included |
Best Commercial Elliptical for HIIT Training: Bowflex Max Trainer M6
Good for: Individuals who are in need of a compact elliptical that can deliver results in perhaps a shorter amount of time.
Best Commercial Elliptical for HIIT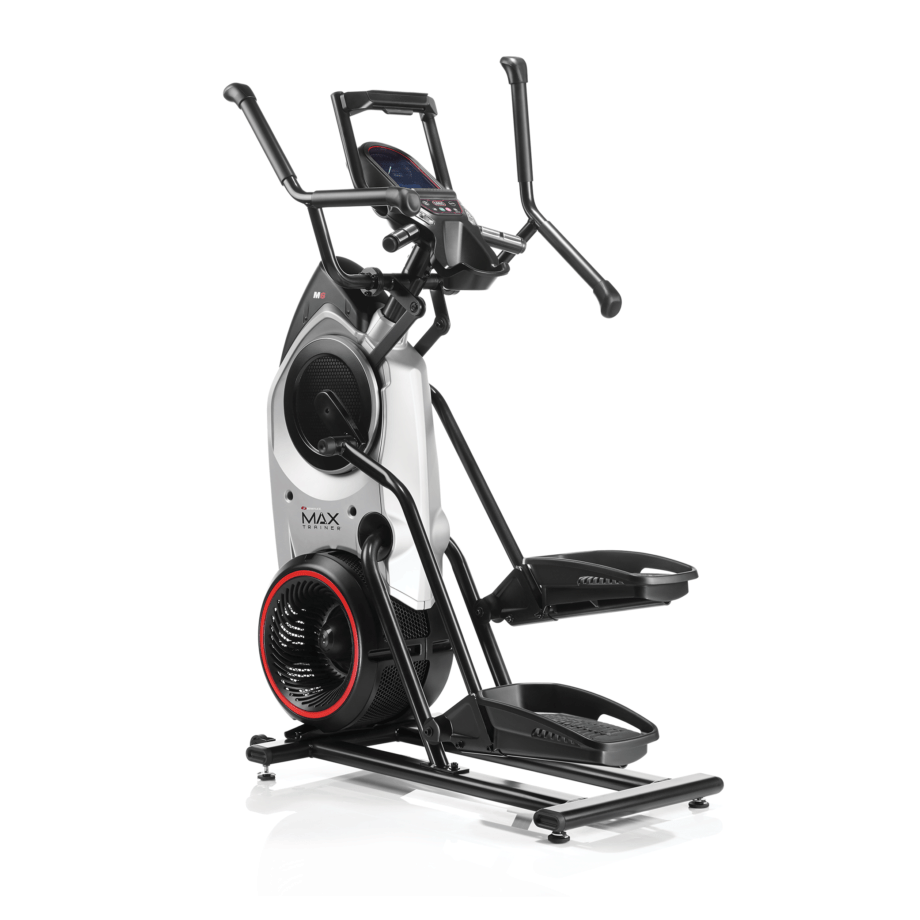 Bowflex Max Trainer M6
The Bowflex Max Trainer delivers full-throttle, high-intensity cardio that progressively gets harder as you get stronger. Challenge yourself with addictive, fast-paced, HIIT-style workouts that skyrocket your heart rate and propel you into the best shape of your life.
Pros:
Delivers intense workout through stair-stepper design
Sets targets during the workout to push user
Compact size
Easy to move
Financing available
Cons:
Some people may not like that it isn't a traditional elliptical
Priced around $1,500
Basic display
The Bowflex Max Trainer M6 is not like an ordinary commercial-grade elliptical. It is sort of a crossbreed between an elliptical and a stair stepper. If you've ever been on a stair climber, you know the burn! Our testers found heart-pumping, sweat-inducing workouts on the M6, whose selling point is a one-click button that will take you straight into a MAX 14-minute high-intensity interval training session.
This stair-stepper-like design is why the M6 is also an incredibly compact machine. Whereas most commercial ellipticals are up to 7 feet in length, this is less than 4 feet long. That's great news for people living in small spaces.
It is nice that Bowflex is currently offering a free year-long membership to the JRNY workout app that provides trainer-led videos. You'll have to sync JRNY to the machine through your own smart device, as the M6 only has a basic LCD screen. At the price of $1,499, we expected something a little more advanced.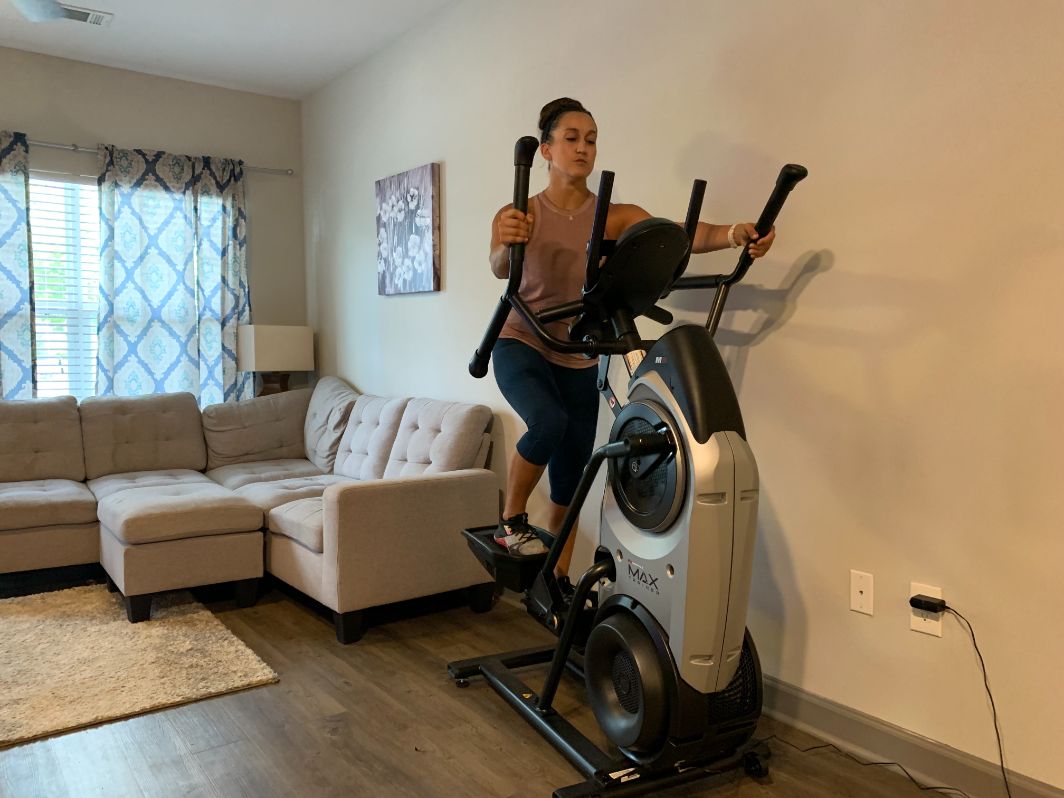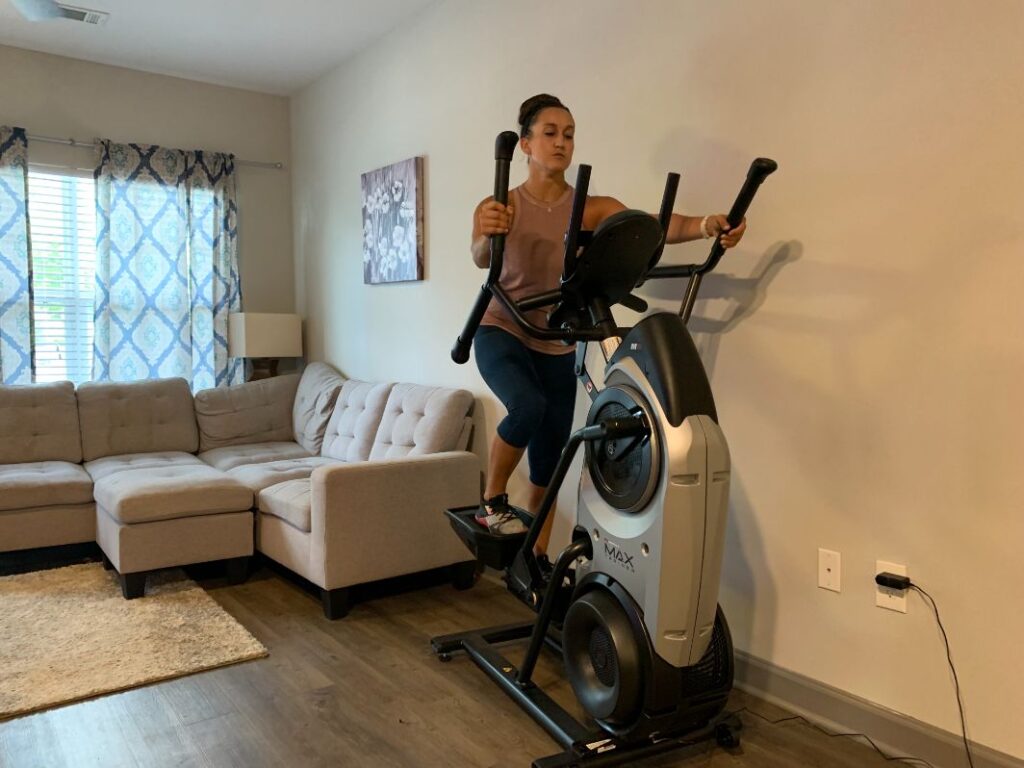 For more on this product, read our Bowflex Max Trainer M6 review.
| | |
| --- | --- |
| Footprint | 46" L x 26" W x 64.2" H |
| Built-in Workouts | 5 programs, compatible with JRNY |
| Resistance Levels | 16 resistance levels |
| Extra Features | USB port, tablet shelf, multi-grip handles, and heart rate monitor |
Other Commercial Ellipticals We Have Tested
Sole E25: The Sole E25 is an elliptical that we love, it just falls a little short of having the high-end features you would expect to find on this list (but does have a lower price tag).
Sunny Health & Fitness Magnetic: The Sunny Health & Fitness Magnetic Elliptical Trainer is a great budget elliptical but too basic to make this list, as it doesn't bring commercial-grade durability to the table.
NiceDay Elliptical Machine: With a super short stride length and basic screen, we felt this elliptical was better suited for our budget pick roundup.
How We Picked and Tested Ellipticals
We want to help you find the best suitable elliptical that will be perfect for you. Here is how we evaluate these machines:
Price: Does the price match the value of the machine?
Stability: If the elliptical you are using shakes enough back and forth to simulate an earthquake, then something needs to be done.
Technology: What tech features does it have? Is there a touchscreen? Does it connect to apps you might want to use?
Resistance and Incline Levels: Does the machine give you options for your workout with resistance and incline?
Stride Length: Can the length accommodate most users?
Warranty: Does the brand stand by its machine with a good warranty?
Reviews: We spend plenty of time reading reviews on the machines we test to determine how other people have rated them.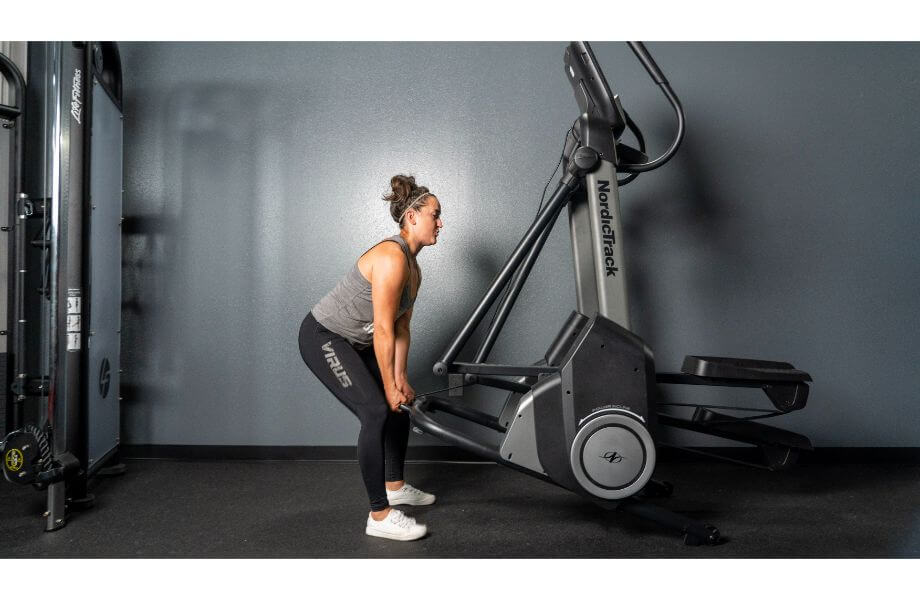 Benefits of Ellipticals
Ellipticals are great pieces of exercise equipment for your home gym for a number of reasons:
Easy on the joints with low-impact movement
Can provide a total-body workout through moving handlebars, moving pedals, and forcing core stability
Burns calories
Exercise improves mood and provides energy
Read our full guide to elliptical benefits for more info.
What to Look for in a Commercial Elliptical for Home Use
A commercial elliptical is one that features high-quality construction coupled with some technological features you might not find on more budget-friendly machines. Here are a few things to look at when buying an elliptical:
Durability
Commercial ellipticals are so-named because there is an expectation that they could live in a commercial gym. Therefore, these should be highly durable machines able to take multiple users throughout the day.
There are several ways to evaluate an elliptical's durability. First, check out its weight capacity. A commercial-grade machine should support 250 pounds at minimum. Secondly, check out the flywheel. The weight of the flywheel adds to the elliptical's stability. The heavier the flywheel, the better. Generally, on a commercial machine, we like to see flywheels of 20 pounds or more.
Size
Commercial ellipticals are typically big. They have large footprints to accommodate a longer stride and the machinery used to create inclines. Make sure you have the space to house one of these cardio machines before purchasing.
Technology
If you're investing four figures or more in an elliptical, you should expect some degree of technology benefits. Most commercial-grade machines come with Bluetooth connectivity to speakers and a larger monitor with more advanced metrics than their budget counterparts. However, once the price gets to be around $1,500, you should expect additional features, like streaming workouts and high-definition touchscreens.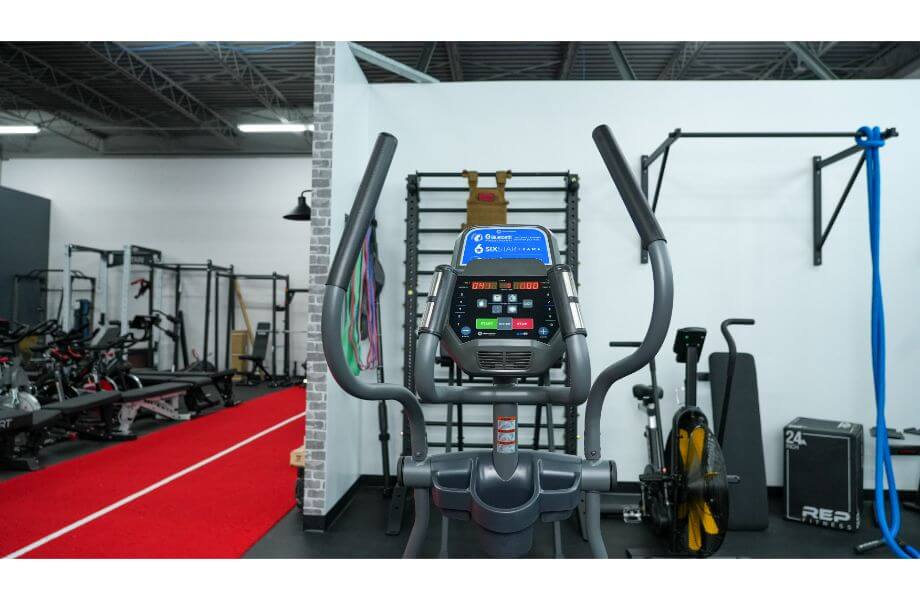 Workout Programming
Whether it's through the machine or via an accompanying app, there should be some kind of preset or included workouts on the elliptical. High-end ellipticals work with programs like iFIT, which has the ability to actually make incline and resistance adjustments during your workout. Ellipticals at an affordable price may simply have built-in workouts for targets like "calorie burn," "fat burn," and "interval training."
A good elliptical should provide a full-body workout that can be tailored to your fitness level. Moving handles target upper body muscle groups, and fixed handles help those who need a little help with balance. As you make progress, change resistance and incline to get a more challenging lower body workout.
Ergonomics
Check the machine's ability to accommodate your specific comfort level. Padded pedals, grips on the handlebars, and an adjustable stride length are all features you'll find on the best commercial ellipticals.
Conveniences
If you're used to some of the conveniences of an elliptical at a fitness center, you'll be pleased to know that commercial ellipticals typically come with many of the same benefits. Run a full evaluation of the machine you're considering to look for the following:
Water bottle holder
Media shelf/tablet holder
Accessory tray
Cooling fan
USB charging port
FAQs About Commercial Ellipticals
What are the top rated ellipticals?
Will an elliptical burn belly fat?
It's impossible to spot-reduce fat on your stomach. However, an elliptical can help you meet your health and fitness goals through burning calories and providing an intense workout. The best way to lose weight around your stomach (and elsewhere) is to do cardio and strength training workouts while eating a healthy diet.
Which is better, a treadmill or an elliptical?
It's hard to say which is better, a treadmill or elliptical. It truly depends on what your goals are. An elliptical can give your upper body a workout, where a treadmill does not. A treadmill is great if you're training for a road race, where an elliptical won't provide the same kind of feel.