We test and review fitness products based on an independent, multi-point methodology. If you use our links to purchase something, we may earn a commission. Read our disclosures.
Founded in 1975, NordicTrack is a well-known presence in the home fitness cardio equipment space including exercise bikes, treadmills, and rowers. Of-the-moment brand Peloton shares an affinity with NordicTrack for creating engaging, interactive programming.​​ Something NordicTrack has over Peloton? A line of ellipticals, all compatible with iFIT programming.
RELATED: iFIT Reviews
In this NordicTrack AirGlide 14i review, we'll let you know how this piece stacks up to the competition and if it's worth the nearly $2,000 price tag. While the brand is calling this the "new" AirGlide 14i, this is actually an upgrade to a now-off-market machine, the NordicTrack Commercial 14.9, which we have used and reviewed. We'll dive into the new features and the new name below.
Cardio Experts With Over 25 Ellipticals Tested
Our team of expert product testers have used more than 25 ellipticals. Heck, we've even curated an entire roundup with the best ellipticals for your home gym.
For this NordicTrack AirGlide 14i review, expert tester and lead reviewer for Garage Gym Reviews Everything, Lindsay Scheele had her hands (and feet) on this machine to test out a variety of cardio workouts.
During our testing process, GGR product testers are tasked with a rigorous fitness equipment testing methodology that helps us set standards around price, overall workout experience, durability, setup process, programming, and ergonomics. We also think it's incredibly important to shed light on the customer service, not just the products, which you will see in this review.
AirGlide Elliptical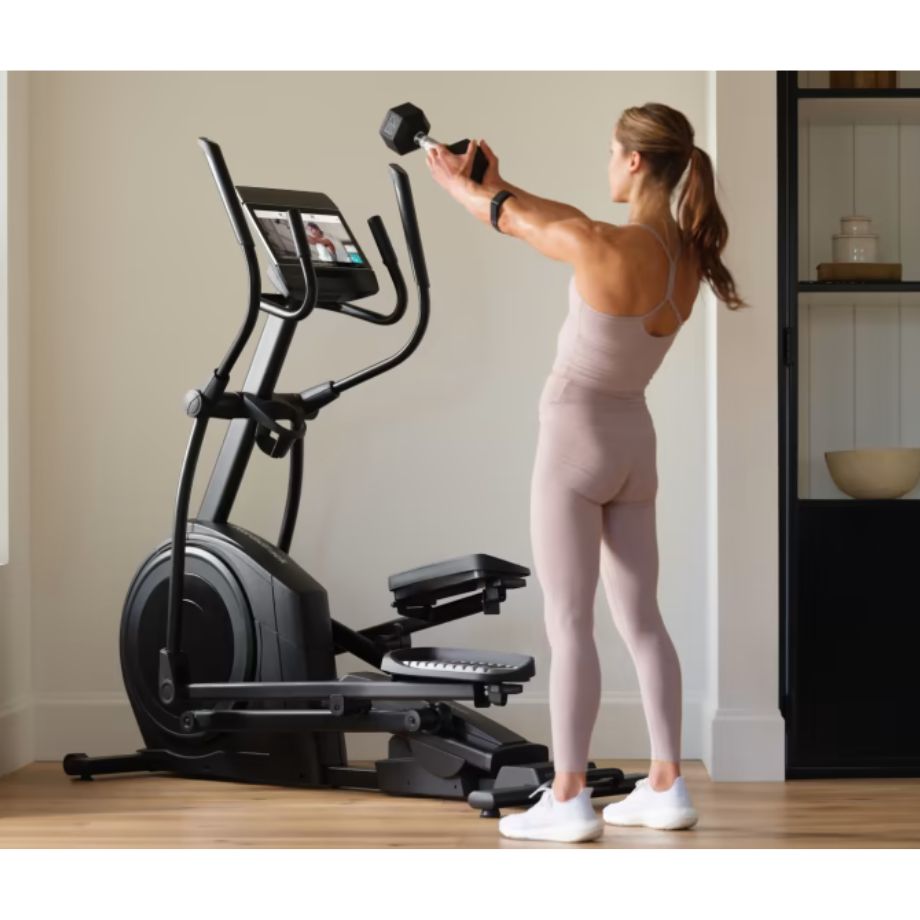 GGR Score: 4.38
Product Highlights
Elliptical machine with incline and decline settings

14" touchscreen display

iFIT interactive programming

Adjustable stride length

Built-in fan and speakers
Pros & Cons
Pros
Automatic trainer control with iFIT
30-day iFIT trial included
Large, cushioned pedals
Bluetooth speakers
Quiet drive system
Cons
Expensive price tag
iFIT trial requires your credit card
iFIT requires monthly membership fees
Bottom Line
The NordicTrack AirGlide 14i Elliptical offers both incline and decline training, an adjustable stride length, and a 14-inch touchscreen display for iFIT interactive programming. You'll enjoy the AirGlide if you want to break a sweat with expert instruction and motivation from iFIT trainers and coaches.
A Quick Look NordicTrack AirGlide 14i
Within the NordicTrack brand, there are four ellipticals for purchase: The Commercial 9.9, FS10i, and the FS14i, and the latest AirGlide 14i. These range in price from about $1,500 to $2,500, depending on the features of each. The AirGlide 14i is pretty much in the middle with a price tag of $1,799.
RELATED: NordicTrack FS14i Review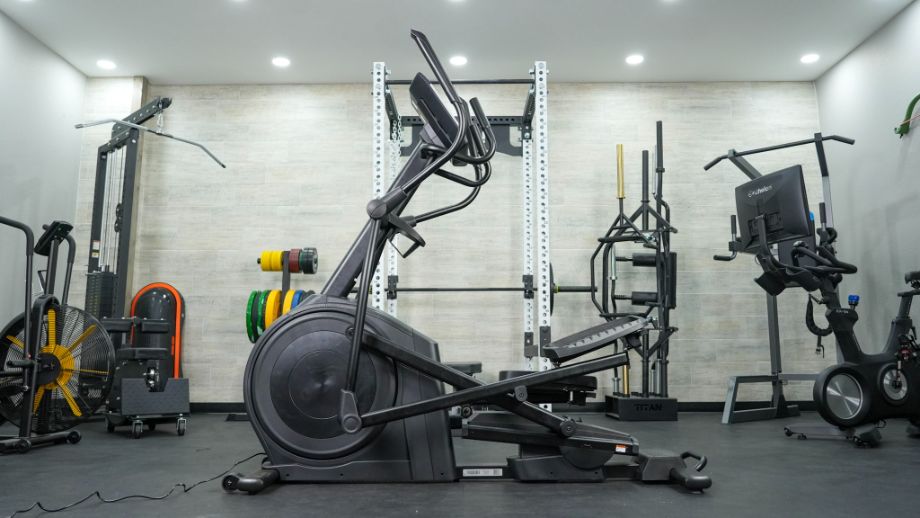 If the AirGlide seems familiar, it's because it's the updated version of the NordicTrack Commercial 14.9 with a new name. The biggest upgrade is that the new 14i has a decline option (down to -5% grade) and incline training (up to 20% grade).
During our testing process, the team found the decline was practically the only new, stand-out feature. Regardless, we'll walk you through our experience and cover all the specifications.
Before You Buy
White glove delivery and assembly is worth it for this elliptical because assembly is a doozy.
If you assemble yourself, you'll need a wrench, which isn't included in the box, to help you assemble the AirGlide.
Check out the Google Maps feature on iFIT; you'll be able to see real street views on your routes if you want to simulate exercising outside.
Is NordicTrack AirGlide 14i Worth It?
When the first iteration of the AirGlide, then-named the Commercial 14.9, launched, it was priced around $2,000. The AirGlide, which features a sleeker design and decline features, is priced at $1,799. Still, we know that is not a cheap addition to your home gym.
However, this elliptical does offer solid features and interactive programming. Keep in mind that you'll have to budget for the recurring monthly membership fees for iFIT if you choose to subscribe to the programming.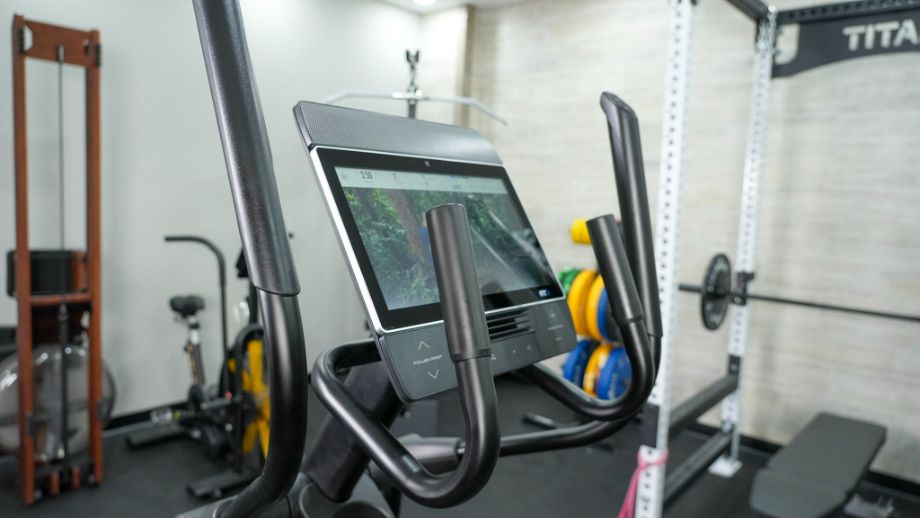 When it comes to value, expert product tester, Lindsay Scheele gives the AirGlide elliptical a 4 out of 5 stars. While she knows this is a hefty investment for exercise equipment, she also understands there are some desirable features on the 14i, including a heavy flywheel, adjustable stride, and iFIT interactive programming.
"I think if you are looking for a quality elliptical with smart features available, this is a good one to go with," says Lindsay. However, she recommends if you're not super tech-savvy (or you're unlikely to take advantage of the iFIT library) it might be worth looking at our top picks for the best budget elliptical.
RELATED: Sunny Health & Fitness Magnetic Elliptical Review
Great for:
Low-impact cardio
Interactive workout programs
Trainer-led studio workouts
Not recommended for:
Small home gyms
People who prefer manual mode
Budget shoppers
NordicTrack AirGlide 14i Specs
| | |
| --- | --- |
| Price | $1,799 |
| Footprint | 69″ L x 25″ W x 71″ H |
| Weight | 244 lbs in-box weight |
| Weight capacity | 300 lbs |
| Flywheel | 32 lbs |
| Drive system | Front drive |
| Display | 14" HD touchscreen |
| Incline and decline | -5% decline to 15% incline |
| Stride length | 17.8″ to 18.5″ auto-adjustable |
| Warranty | 10-year frame, 2-year parts, 1-year labor |
Workout Experience on the NordicTrack AirGlide 14i
When the AirGlide first launched, we thought it was a brand new machine. However, when it arrived at our testing facility, the packaging and even the elliptical itself had "Commercial 14.9" on it. GGR head of content and expert product tester, Kate Meier, GGR Head of Content and CPT, USAW-L1, CF-L1 directly reached out to iFIT (formerly known as ICON Fitness) to get the scoop.
RELATED: Best NordicTrack Ellipticals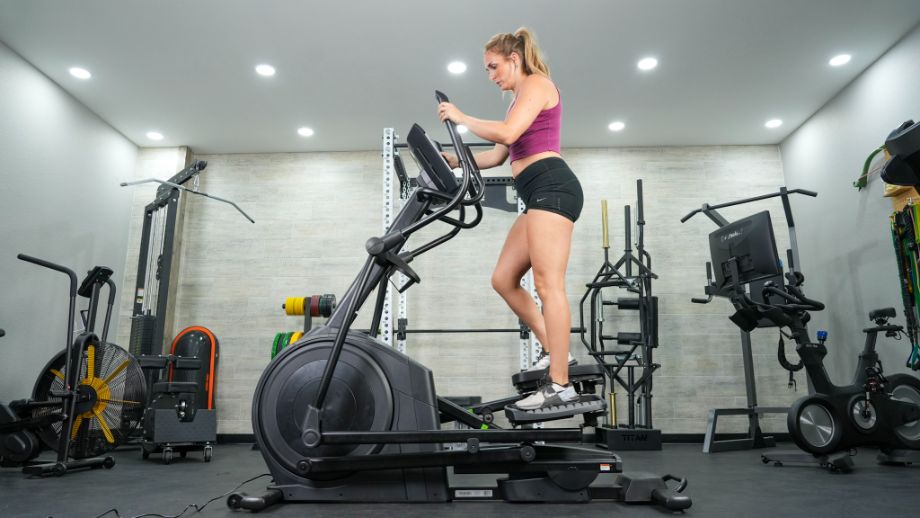 Turns out the AirGlide is essentially an upgraded version of the 14.9 with a name change. Katie Blankenfield, global affiliate manager with iFIT, let us know where the inspiration came from saying, "it is called AirGlide to help signal that ellipticals are a great low-impact exercise, especially with our silent magnetic resistance that can help provide a light and airy striding experience."
And we don't disagree, Lindsay Scheele, lead reviewer for Garage Gym Reviews Everything, didn't have any joint pain or aching feelings after several workouts, including a 25-minute hill climb class.
"I took the 'climbing pyramid' class which consists of climbing three mountains," says Lindsay.
"The way they do this is increasing your resistance incline for 20-second sprints and then backing off. The iFIT personal trainer was fantastic, and I was automatically excited about the class because the second song was from the 'Barbie' soundtrack," says Lindsay. "There is nothing like good music to make you try hard."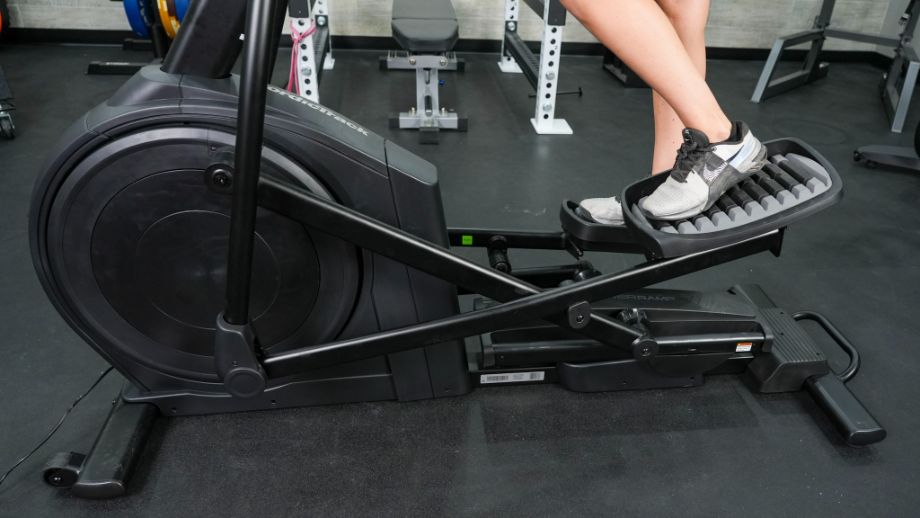 One thing Lindsay notes is the fact the AirGlide is branded with SMR (silent magnetic resistance), but she found that it's not the quietest machine during incline and decline changes. "When the incline changes, the incline motor is so loud you can hear it over the music," she explains.
Plus, both Kate, who tested the original Commercial 14.9 in 2021, and Lindsay mention there is no shelf for your smartphone, just the built-in screen. We don't find this to be a dealbreaker, but it's worth mentioning you won't have a place to put it while you work out.
Overall, the AirGlide earns a 5-out-of-5-star rating for workout experience. "It's such a solid machine, and the programming is high-quality," says Lindsay.
RELATED: Best Smart Home Gym Equipment
Footprint and Portability
The AirGlide 14i is quite a large machine and will not earn a spot on our best compact elliptical roundup. The footprint will take up nearly 6 feet length and about 2.5 feet in width. You'll want to consider (and measure) your space in order to properly use the 14i elliptical.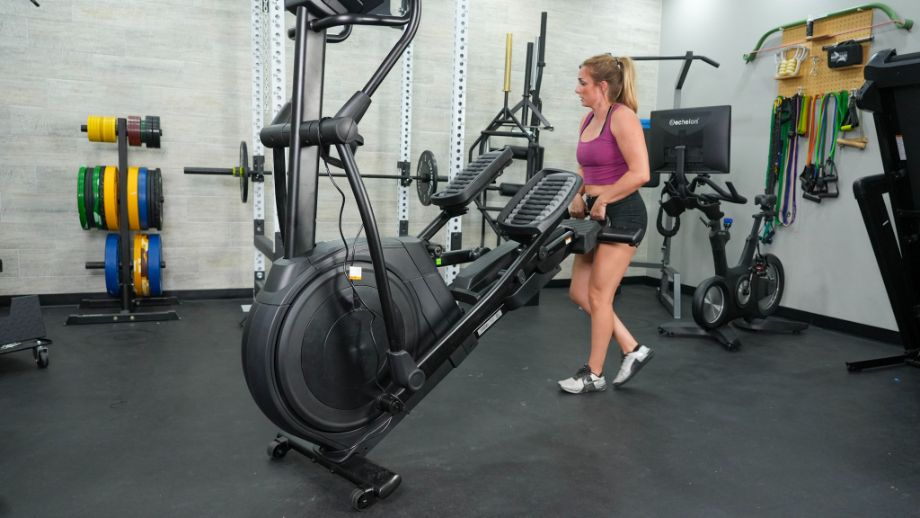 Additionally, it isn't the lightest elliptical, weighing over 200 pounds. But it is moveable because of the attached transport wheels and handle. Product testers Lindsay and Kate were able to move it single-handedly, but you can always grab an extra person to assist if needed.
Durability and Construction
When testing ellipticals, we often look at the overall weight, weight capacity, and flywheel weight to help us determine the durability. TypicallyEssentially, a heavy piece of equipment will rock and shake less than a lighter machine. And the less shaking and rocking an elliptical endures, the more solid and longer lasting it becomes.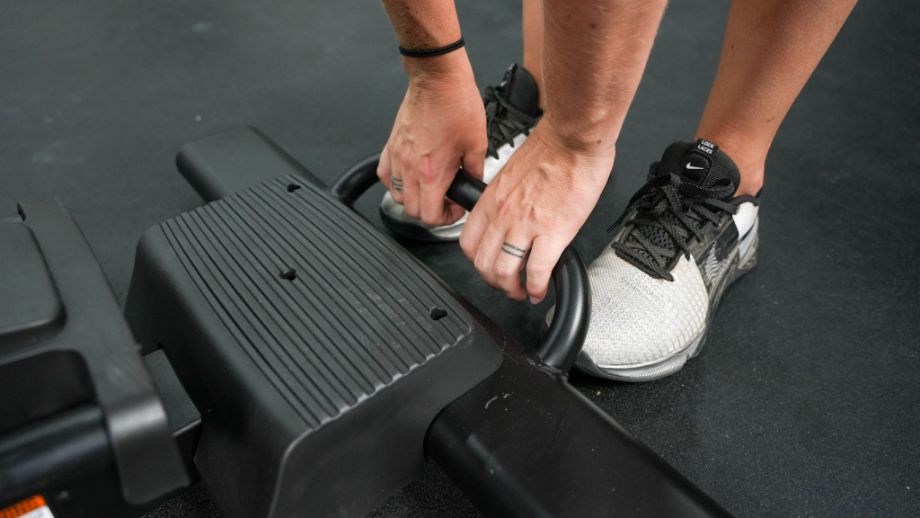 The AirGlide 14i is a new, upgraded version of the Commercial 14.9 elliptical. In our previous testing rounds with 14.9, the elliptical was sturdy and offered solid steel construction and a powerful 32-pound flywheel. Tester and GRR head of content Kate Meier notes, "As long as the elliptical is on flat ground, I didn't notice any issues with shaking or rattling."
We are glad to see that this is one aspect of this elliptical that hasn't changed. The new-and-improved AirGlide earns a 5-out-of-5-star rating for durability. Tester Lindsay Scheele thought the machine felt locked to the ground during slow, fast, and interval workouts. It also felt solid when she changed the incline and decline settings.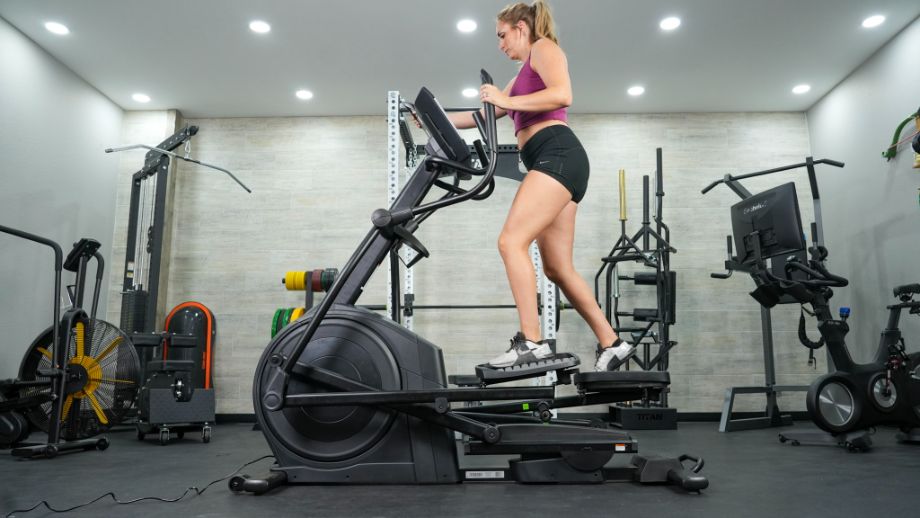 The one thing we noticed was the fact the AirGlide offers 300-pound user weight capacity, while the older version (the Commercial 14.9) could accommodate up to 350 pounds. However, 300 pounds is the industry standard for elliptical machines.
RELATED: Horizon EX-59 Elliptical Review
Customizations and Ergonomics
The AirGlide earns a 5-out-of-5-star rating in the customization category because of the auto adjustable stride that can change from 17.8 to 18.5 inches depending on the incline, terrain, certain muscle activation, or personal preference.
Additionally, with one-touch control buttons, you can enable automatic trainer control (aka "AutoAdjust"), which puts your iFIT coach in charge of incline, decline, and resistance levels. These automatic controls also work with the Google Maps feature for terrain changes. This feature allows you to exercise with a street view nearly anywhere in the world—but we'll touch on that more later.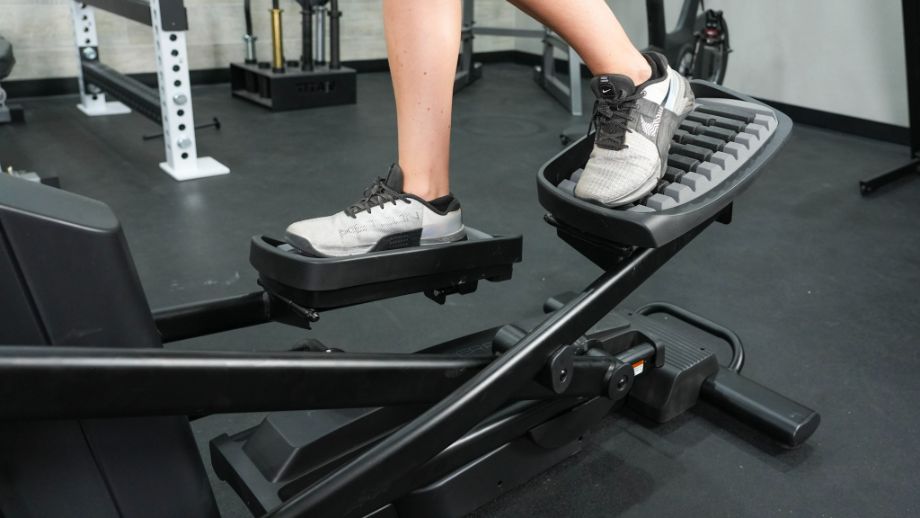 You'll be able to customize your workout from -5% decline to 15% incline and take advantage of 22 levels of digital resistance. There are also two sets of handlebars: One moving and one fixed. From our testing experience, a fixed set of handlebars makes getting on and off the machine a little easier.
Lastly, the oversized cushion pedals provide a soft landing for your feet and feature three different angles: toes tilted up, neutral, or toes tiled down. Each angle provides a different emphasis on your lower body (which you can also do during strength exercises like the squat). When toes are up, you'll have more activation through your hamstring and glutes and when your toes are tilted down, you'll feel more of a quad burn.
With all these customizations for your workout, height, or personal preferences we also give the AirGlide a 5-out-of-5-star rating for ergonomics.
Technology Benefits and Conveniences
The NordicTrack AirGlide 14i is loaded with tech features and a 14-inch smart HD touchscreen to display iFIT programming and a variety of workout metrics.
Across the top of the screen, expect to see metrics like calories burned, time elapsed, heart rate, incline, distance, pace, and speed. On the bottom, you can control the ramp incline or decline, fan level, volume, and resistance.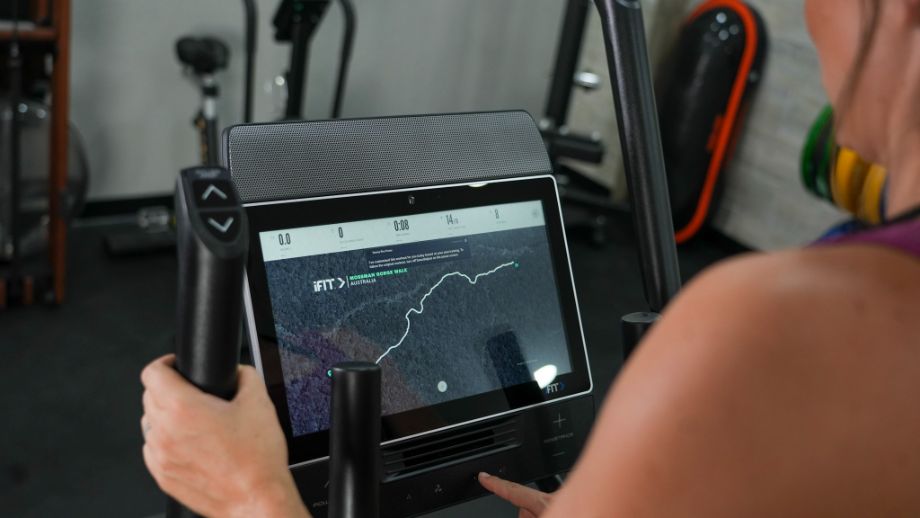 We'll dive into iFIT details momentarily, but first let's cover some additional convenience you'll be able to take advantage of during workouts:
Built-in workout fan
Oversized water bottle holder
Two 2" digitally-amplified speakers
Bluetooth connectivity capabilities
Oversized cushion pedals
Customizable stride length
Dual handlebar options
Additionally, with a heart rate monitor you'll be able to utilize the brand's "ActivePulse" technology. Essentially, while wearing this optional "SmartBeat" heart rate monitor (which is sold separately on the NordicTrack website), it wirelessly connects to the AirGlide elliptical and automatically adjusts your speed, incline, and decline settings to maintain your optimal heart-rate zone.
And that is not the only thing that automatically adjusts. The "AutoBreeze" workout fan also increases or decreases wind speed based on your workout intensity.
Interactive iFIT Programming
One of the main draws for the NordicTrack AirGlide 14i is interactive programming. With your purchase of the 14i, you get a free 30 days of iFIT, which gives you access to thousands of live and on-demand workouts. However, be aware that you must put in your credit card to activate the free trial. If you don't want to be charged once the trial ends, make sure to cancel in advance or it will automatically charge you. If you decide you want to continue with iFIT membership, there are three options:
iFIT family membership plan (with multiple profiles) for $396 per year
Monthly family membership plan for $39 each month
iFIT individual membership plan (with one profile) for $144 per year
Monthly individual membership plan for $15 each month
What to Expect With iFIT Workouts
iFIT is interactive programming compatible with the AirGlide. It is also available on other NordicTrack, ProForm, Free Motion, and Matrix machines. Not only can you follow along to classes on the elliptical with an instructor in a room, but you can also utilize the Google Maps feature to take your workout on the road (virtually of course), or around the world at pre-selected destinations.

RELATED: ProForm Hybrid Trainer Elliptical Review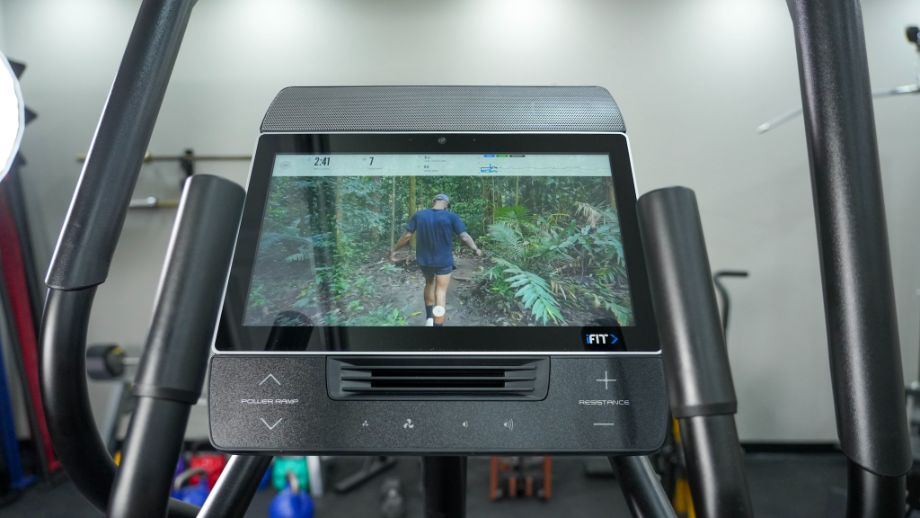 With iFIT, not only do you get classes compatible with your machine, but you also are able to take a variety of other workout programs depending on your fitness goals including cycling, walking, road biking, strength training, rowing, yoga, and HIIT.
Because you get so many types of training, our product testers agree that iFIT is an all-around deal for home gym owners. Overall, NordicTrack earns a 5-out-of-5-star rating for dynamic programming. Throw in some of the best adjustable dumbbells in there, turn on a strength workout, and you'll have a solid thing going.
RELATED: Biking vs Walking
With the AirGlide, you can watch iFIT videos on your elliptical screen or download the iFIT app and take it on the go. There are thousands of classes to choose from with new ones appearing every day. You can view them on-demand at any time, which is helpful if you have a weird schedule. There are also live races and events, which is not quite like Peloton's live classes, but a nice option.
RELATED: Peloton vs iFIT
That said, there is an iFIT community board where you can comment and encourage friends and other members. It reminds us of an early 2000's chat board, but it could work for some people. We think the community aspect is something iFIT can improve upon to take this platform to the next level.
NordicTrack AirGlide 14i vs Commercial 9.9
Overall, our product testers agree that NordicTrack manufacturers high-quality and long-lasting cardio equipment for home gyms. However, the equipment isn't cheap. For this reason, we wanted a side-by-side comparison of the new AirGlide 14i with the least expensive elliptical from NordicTack: The Commercial 9.9.
The AirGlide features a bigger 14-inch touchscreen and both incline and decline training, but the Commercial 9.9 has a lot of similarities including the automatic trainer control and adjustable stride length.
That said, if you spend $300 more on the AirGlide, you'll get an easy-to-view screen and more training capabilities with the decline option. Overall, the new AirGlide is worth the price tag if you're considering a front drive elliptical from NordicTrack.
For more, check out our NordicTrack Commercial 9.9 review.
| | | |
| --- | --- | --- |
| | Commercial 9.9 | AirGlide 14i |
| Price | $1,499 | $1,799 |
| Footprint | 68.25″ L x 28.75″ W x 68.5″ H | 69″ L x 25″ W x 71″ H |
| Weight | 244 lbs in-box | 244 lbs in-box |
| Weight capacity | 350 lbs | 300 lbs |
| Display | 7" smart HD touchscreen | 14" smart HD touchscreen |
| Stride length | 17.5″ to 18.7″ | 17.8″ to 18.5″ |
| Flywheel | 25 lbs | 32 lbs |
| Incline and decline | 0% decline to 20% incline | -5% decline to 15% incline |
Customer Experience
For overall customer experience with NordicTrack, our expert product testers have had quite the range. We've seen everything from one-week to following up on questions all the way to ultra-quick and helpful live chat responses. It's honestly a hit-or-miss experience. For this reason, we give them a 3.5-out-of-5-star rating in the customer service department.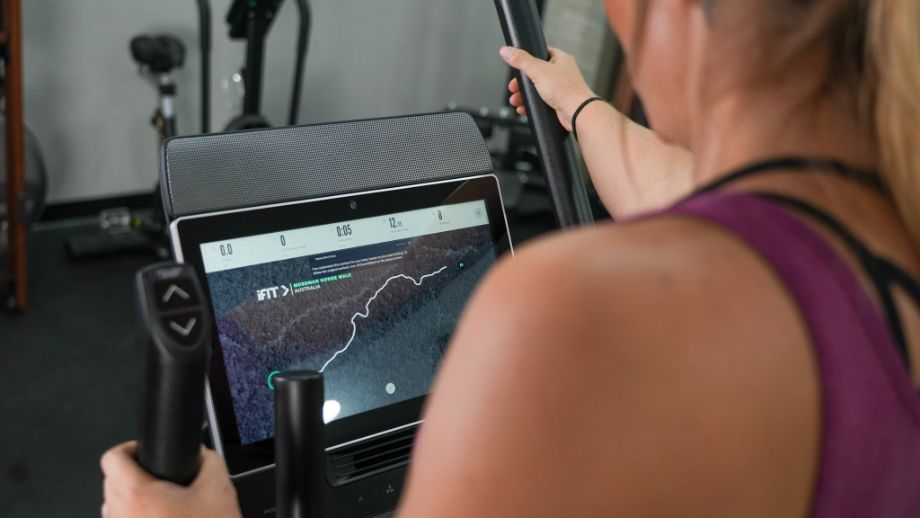 To contact NordicTrack you can use the live chat feature on the website or call a phone number listed at the bottom of the webpage.

When it comes to other aspects of the customer experience (like product warranties, fair return policies, and options to finance your purchase) we give NordicTrack at a 4-out-of-5-star rating. We docked a point because the warranty policy falls a little short compared to industry standard for elliptical machines.
Warranty Policy
For most NordicTrack cardio equipment, you'll receive a 10-year warranty for the frame. While 10 years is a long time, to get a perfect score from us, the policy has to last 15 years (with the absolute best up to a lifetime).
You'll also have a two-year parts warranty and one-year labor warranty, which are in-line with the norm. It's also important to note that NordicTrack can void your warranty if you store or use this elliptical in your garage.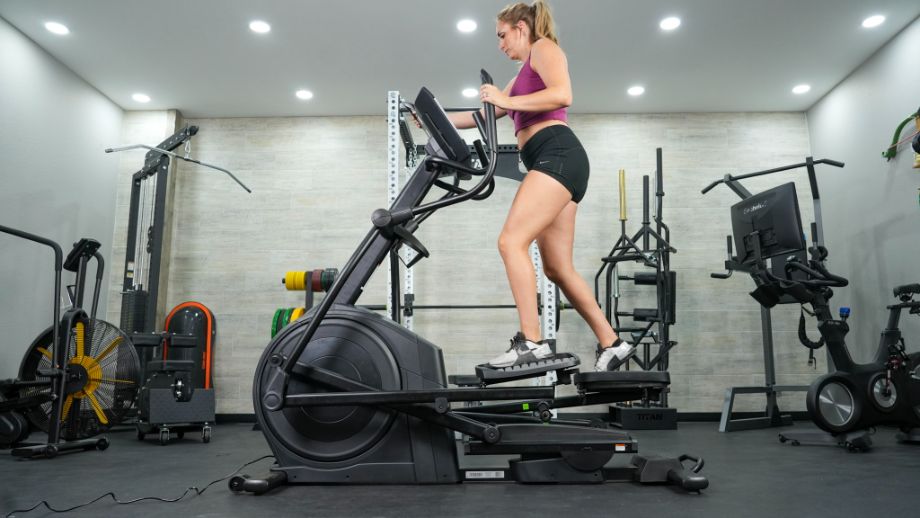 Return Policy
The return policy for NordicTrack is pretty standard for large pieces of fitness equipment. You'll have 30 days from your delivery date to request a return and there are no refunds for delivery or shipping charges that have been incurred.
You also have to pay an additional $250 in return shipping and a 10% processing fee. NordicTrack has the right to deny your return if there is anything missing or damaged.
Financing Options
NordicTracks partners with TD Bank to offer financing with loan terms between 12 to 43 months. If you qualify after a credit check, you may be able to receive 0% APR for 12 to 39 months. All other buyers will have access to financing rates between 4.99% to 29.99% APR with terms between 39 and 43 months.
Delivery and Setup for the NordicTrack AirGlide 14i
NordicTrack makes the ordering process a chinch, that part was no problem. However, it is worth noting that on top of the cost of the elliptical, for an additional $199 fee, you can choose to add room of choice delivery and assembly to your order. Without the added fee, you'll get curbside delivery and no assembly.
Assembly is where things get tricky. And we knew that going into it because our product tester Kate Meier had a difficult assembly experience with the previous model, the Commercial 14.9 elliptical.
"Assembly was rough. You definitely need a second person," says Kate about the Commercial 9.9. "Make sure to read the directions thoroughly before getting started and do not unbox any small parts before you need to use them. You'll save yourself lots of hassle and general irritation."
Based on our experience with the Commercial 14.9, our team knew it would be worth having it professionally assembled because the AirGlide 14i is essentially the same machine.
"We did the white glove service delivery and assembly from the third party company provided," explains GGR product tester Lindsay Scheele.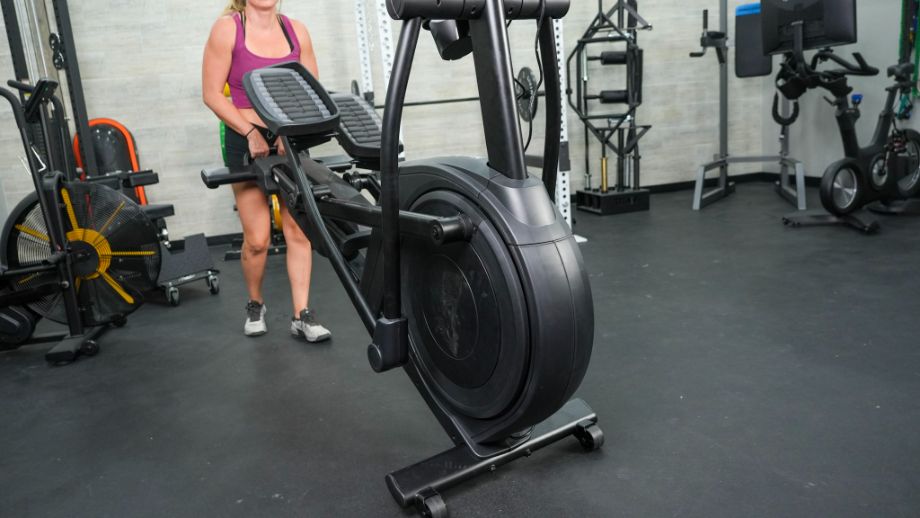 "The delivery and assembly team spent over two hours trying to build the elliptical and ended up putting the arms on upside down and not finishing the project," says Lindsay.
Lindsay goes on to say that the rest of the GGR team stepped in to finish the job. "Our team was able to fix and finish the build in about 20 minutes," she adds.
Because our team experienced an assembly debacle, NordicTrack earns a 3-out-of-5-star rating for delivery and setup.
Additionally, Kate notes from her experience with the Commercial 14.9, that you'll want to be sure to locate your free 30-day trial of iFIT. "It's a card that comes in the box and it can be easy to miss in all the cardboard and styrofoam," says Kate.
Customer Reviews
At the time of writing this review, the NordicTrack AirGlide doesn't have reviews on Google, Amazon, or the brand website.
From our overall experience with the NordicTrack brand, many customer reviews enjoy the equipment and typically have complaints about customer service. NordicTrack is not known for being the most prompt to respond to concerns or warranty claims.
However, there are a number of positive customer reviews on other NordicTrack products boasting about iFIT programming and sturdy construction of cardio machines.
Final Verdict of Our NordicTrack AirGlide 14iReview
While the AirGlide 14i is new elliptical, it's really the upgraded version the Commercial 14.9 with addition of decline options. That said, it's still a solid choice for anyone looking for a low-impact cardio machine with the ability to follow along with a myriad of interactive workouts and virtual personal trainers.
Here are some of our point to take into consideration before clicking the "add to cart" button:
Be sure to account for the month membership (or annual) fees of your iFIT subscription.
Automatic trainer control allows you to have a hands-off, challenging workout led by world-class personal trainers.
The new AirGlide provides both incline and decline training to help add variety to your workouts.
Make sure to measure your gym area before buying—the AirGlide is a big piece of equipment.
Final Rating
NordicTrack AirGlide 14i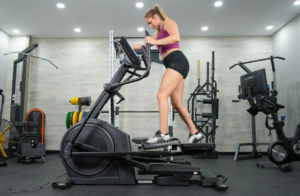 In our NordicTrack AirGlide 14i review, we'll cover the new and improved features on this upgraded elliptical with a brand new name.
Product Brand: NordicTrack
Product Currency: $
Product Price: 1799
Product In-Stock: InStock
NordicTrack AirGlide 14i: FAQs
Below we answer some of the most frequently asked questions on the AirGlide 14i:
Does NordicTrack have an elliptical?
NordicTrack has four elliptical machines in the current lineup: AirGlide 14i, Commercial 9.9, FS10i, and FS14i.
What is a FreeStride elliptical?
The NordicTrack FreeStride ellipticals are designed to give you three different stride options. With the FreeStride machines you can mimic running, stepping, or the traditional elliptical pattern.
How much does NordicTrack 14i weigh?
In-box shipping weight for the NordicTrack 14i is 244 pounds.
Can you watch TV on NordicTrack 14i?
NordicTrack machines with touchscreen displays are designed to support iFIT programming. You can only use the screen for iFIT and you will not be able to use other apps, streaming platforms, browse the internet, or watch TV.
What is the warranty on the NordicTrack 14i?
NordicTrack offers a 10-year frame warranty, two-year parts warranty, and one-year labor policy. 
Are NordicTrack ellipticals good?
NordicTrack makes some of the overall best ellipticals for people who like incorporating technology into their workouts. The brand has four different cross trainer machines that range in price so there are a variety of options based on your budget.
Is there a weight limit for the NordicTrack Commercial NordicTrack 14i elliptical?
There is a 300-pound user weight limit on the NordicTrack AirGlide14i elliptical. 
What is the stride length for the NordicTrack AirGlide 14i elliptical?
The NordicTrack 14i offers an automatic adjustable stride ranging between 17.8 and 18.5 inches. This can be adjusted to hit different muscle groups and give you a full body workout.