We test and review fitness products based on an independent, multi-point methodology. If you use our links to purchase something, we may earn a commission. Read our disclosures.
Choosing the right cardio machine for your home gym can be tricky. Do you want to run? Or bike? Or need something low-impact? Will it help you reach your goals, or just sit in a corner and collect dust? How do you get the most out of your investment?
The ProForm Hybrid Trainer XT offers up a recumbent exercise bike and elliptical in one piece of equipment. Though separately, this definitely isn't the best bike or elliptical I have used, I do think this machine offers a lot of value for those looking for versatility, space efficiency, and budget-friendly cardio options. As you'll see in this ProForm Hybrid Trainer elliptical review, there is a lot to like here, but also some things you should know before you buy.
ProForm Hybrid XT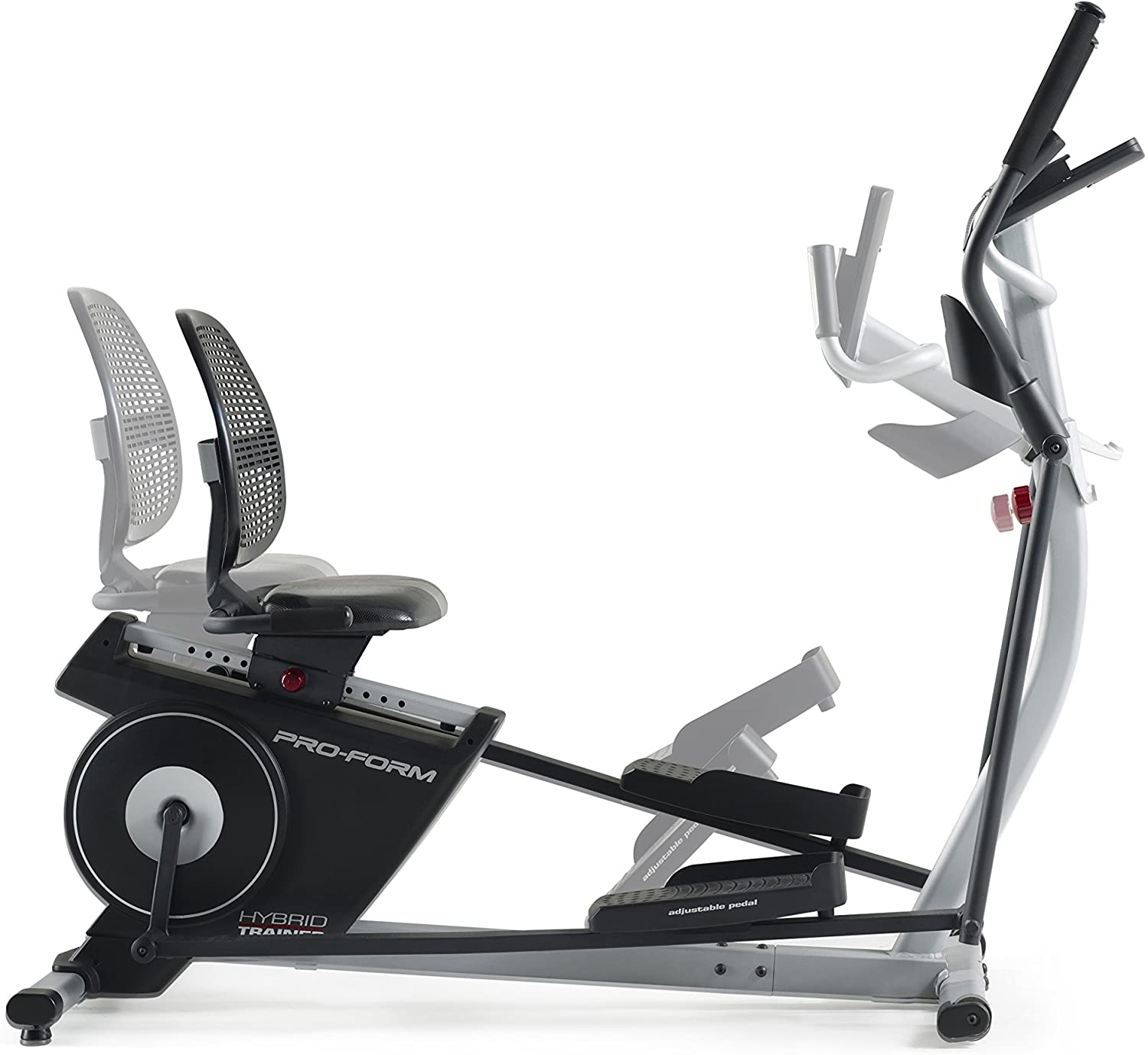 ProForm Hybrid Trainer
Now you can access the benefits of two machines in one. In two quick steps the Hybrid Trainer XT evolves from an elliptical to a recumbent bike. Simply adjust the pedals and console. And with the latest in fitness technology at your fingertips, you can enjoy daily motivation like never before with workouts designed to get you started and keep you motivated.
Why You Should Trust Us
Home gym equipment is kind of our thing here at Garage Gym Reviews. I have personally assembled and tested some of the best elliptical machine and bikes on the market. As a team, we have had our hands (or, usually, our feet) on close to 100 cardio machines.
In testing, we apply an in-depth methodology to evaluate and score each one. We look at factors that include durability, performance, warranty, customer reviews, and footprint.
After assembling the machine myself, I used the ProForm Hybrid Trainer for a number of workouts to assess how the machine performs. I tested it with and without the iFIT programming and wheeled it around some very tight spaces to see if it's friendly for those who need portable equipment.
A Quick Look at the ProForm Hybrid Trainer XT
ProForm is a leader in quality fitness equipment for home gyms. The brand's motto is, "We train to live." I think the Hybrid is a good example of that; it's a machine that fits into your life by giving you options: Use it as an elliptical or use it as a recumbent bike.
My Tips
Because you'll be seated and standing on this machine, place it in an area where you'll have enough headroom.
I like that this machine saves space if you want a bike and elliptical, but it is still a fairly big piece of equipment that you won't want to have to move around much, so plan on parking it and leaving it.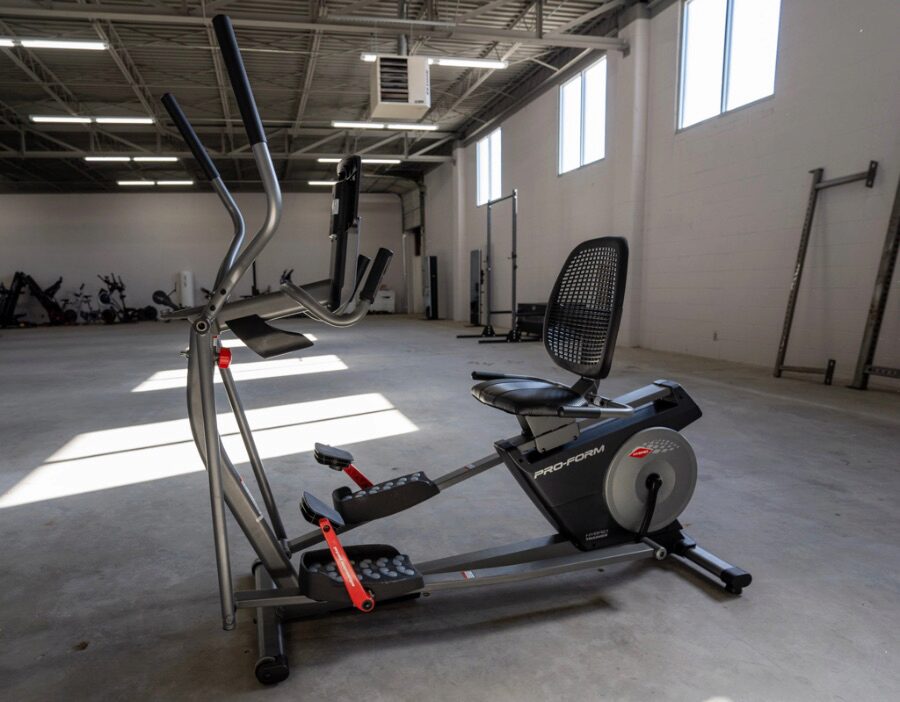 Pros:
2-in-1 low impact cardio machine
Affordable at well under $1,000
Adjustable screen for viewing while on the elliptical or bike
Interactive programming with iFIT
Cons:
15-inch elliptical stride may be uncomfortable for taller users
Storing machine in non-climate-controlled spaces voids the warranty
Some returns could incur a $250 fee
Is the ProForm Hybrid Trainer XT Worth It?
This hybrid trainer is an excellent addition to some home gyms, but it's not for everyone. Check out who would love it and who would leave it.
Great for:
Those wanting variety in their cardio workouts
Home exercisers with limited space
Individuals on a budget
Beginners
Not recommended for:
Those who prefer a treadmill or an upright bike for cardio workouts
Taller people due to the short stride length
ProForm Hybrid Trainer XT Specs
| | |
| --- | --- |
| Footprint | 60.5H x 24.5W x 70.5D inches |
| Weight | 117 lbs |
| Weight Capacity | 250 lbs |
| Stride Length | 15 in |
| Warranty | 5-year frame, 90-days parts and labor |
| Built in Programs | 16 (8 bike, 8 elliptical) |
| Resistance Levels | 16 |
| Flywheel Weight | 13 pounds |
| Performance Monitor | Mileage, speed, calories burned, heart rate, and duration |
Using the ProForm Hybrid Trainer XT
Honestly, I didn't expect to like this machine. If you look at it as just an elliptical or just a bike, it's not exactly cutting-edge. In fact, it's pretty basic. But once you get moving, you might be pleasantly surprised like I was.
Right off the bat: This isn't the machine for you if you want to do super intense cardio. If you're training for a cycling event, for example, I'd recommend looking at other exercise bikes. But, if you simply need a machine that gets your heart pumping, and you have multiple users or simply enjoy having options, then I really like the Hybrid.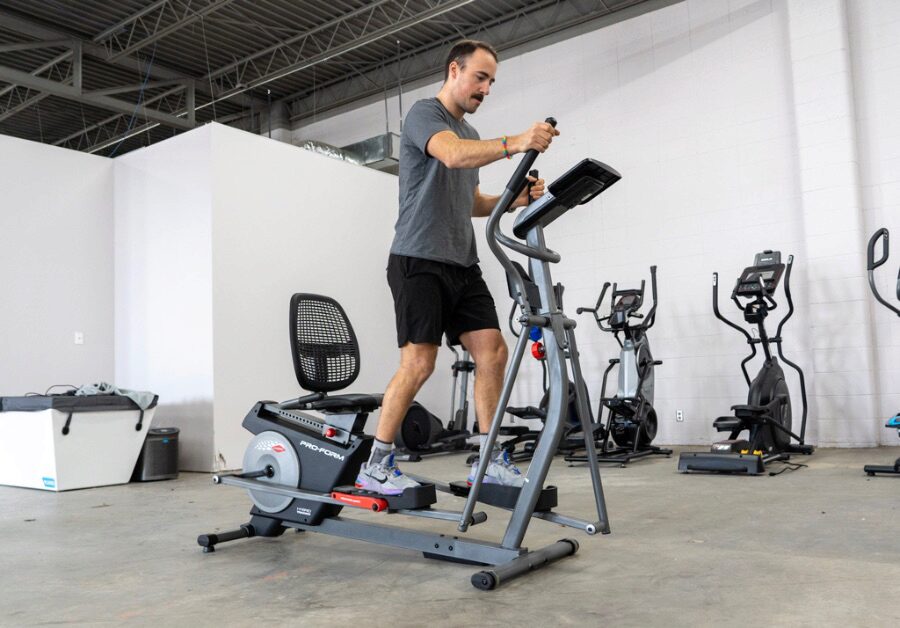 Programming
Access to iFIT trainers and programming is a game-changer. I've used iFIT while testing machines like the ProForm Pro 9000 Treadmill as well as countless other machines from ProForm and NordicTrack. I also have the app on my phone, so I can do yoga classes or strength training off equipment as well.
The Hybrid syncs with iFIT, but not in a sexy way like you see on the fancy touchscreen of the NordicTrack AirGlide 14i Elliptical. Instead, the Hybrid uses a Bluetooth connection to your phone. So, you do need a smart device to take advantage of the on-demand classes (which will fit nicely into the tablet holder on the machine). Once connected, however, iFIT controls the machine and adjusts the resistance for you whether you are on the bike or elliptical.
If you don't want to pay for the iFIT subscription (which isn't really that expensive; an individual plan breaks down to just $15/month), then you can use the built-in workout programs. There are eight bike programs and eight elliptical programs. The basic LCD display helps you navigate among your options and gives you feedback throughout your workout.
Working Out
There are 16 levels of resistance, which I found to be sufficient enough for what I wanted to do. The flywheel is 13 pounds–definitely nowhere near the heaviest or most durable out there. However, I felt like the machine moved well enough the entire workout.
RELATED: Best Elliptical Workout
While biking, there isn't any movement side-to-side. When you use it as an elliptical, you might notice some slight shaking. I weigh around 140 pounds, and when I kicked up the speed, the elliptical trainer did have some movement. It's slight, and it isn't concerning, but it's there, and could be more pronounced in heavier users.
There may be an adjustment period using this 2-in-1 machine. When using it as a bike, the movement is more pushing back and forth rather than traditional pedaling, due to the fact that the pedals are out in front of you rather than under you. Once you get the hang of it, it feels more fluid.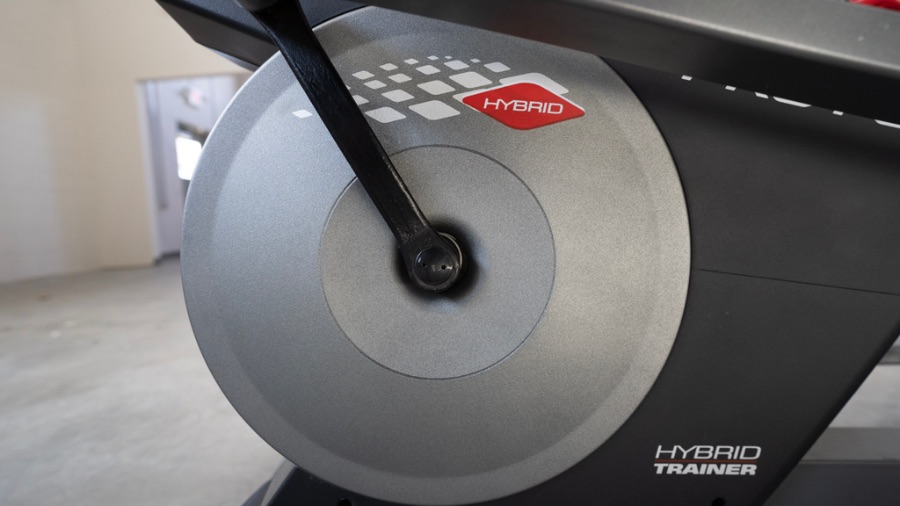 Transitioning Elliptical to Bike
It's pretty easy to move from elliptical to bike and bike to elliptical. The screen actually adjusts so you are able to easily view it whether you are in the adjustable seat or standing on the pedals. You do this by just pulling on a knob and locking it into whichever position you need. You also have to either flip up the adjustable pedals for the bike, or put them down for the elliptical.
A Comfortable Total-Body Workout
The seat on the Hybrid–which adjusts forward and backward–is incredibly comfortable and padded. It actually has integrated lumbar support to reinforce good posture. I could have sat and pedaled for hours.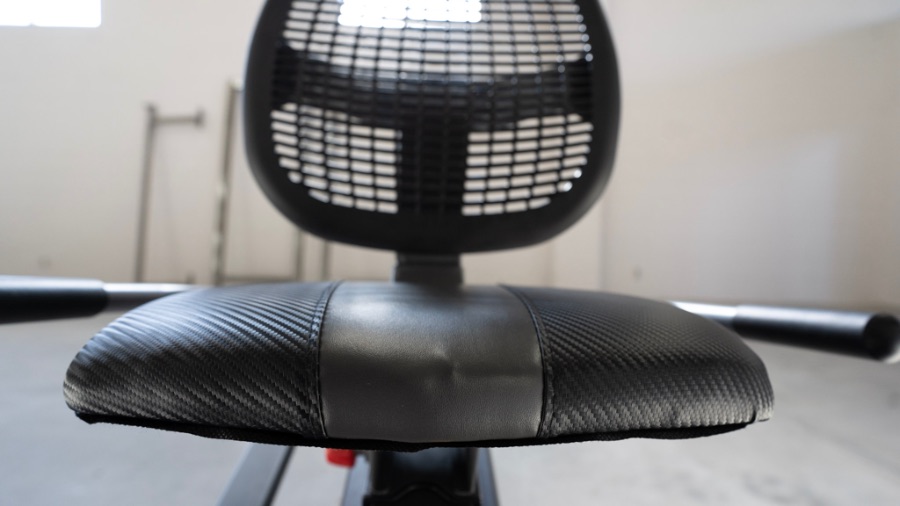 I also like that, when in use as an elliptical, you can use moving or fixed handlebars, just depending on if you want that added upper body workout. Both sets of handles have soft grips as well as heart rate pulse sensors.
As a hybrid machine, this elliptical has a pretty short stride at just 15 inches. Generally, you want an 18- to 20-inch stride, especially if you're a taller person. For those of us under 6 feet, however, the shorter stride is just fine. The pedals for both the elliptical and bike are oversized and padded.
Just like with most cardio machines at this price point, there is a water bottle holder and a media shelf for your smartphone or tablet.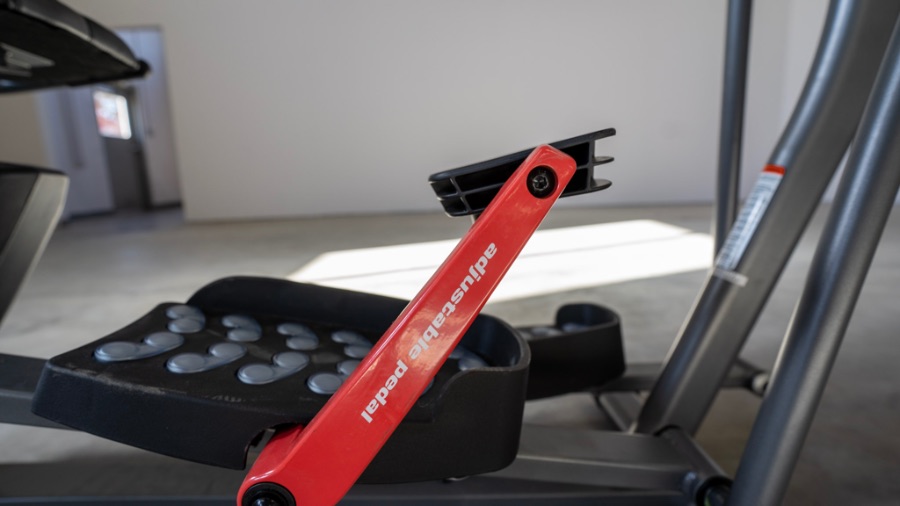 Size and Durability
By nature, an elliptical or bike footprint is going to be sizable. This machine is 60.5 inches tall, 24.5 inches wide and 70.5 inches long. If you have to store this machine while not in use, it has wheels on the front to assist in moving. It weighs in at 117 pounds, so with the assistance of the wheels, you can move this solo.
This hybrid trainer has a 350-pound user weight capacity, which is substantial given its own weight. The 13-pound flywheel is a little light, and it's the reason the machine moves a little more than other ellipticals might (flywheels are one of the mechanisms that increase a machine's stability). Overall, I think it's a fairly sturdy machine for the people who I think would benefit the most from it: those who work out recreationally and just want to sweat a little. If you're into a guns-blazing elliptical machine workout, look elsewhere.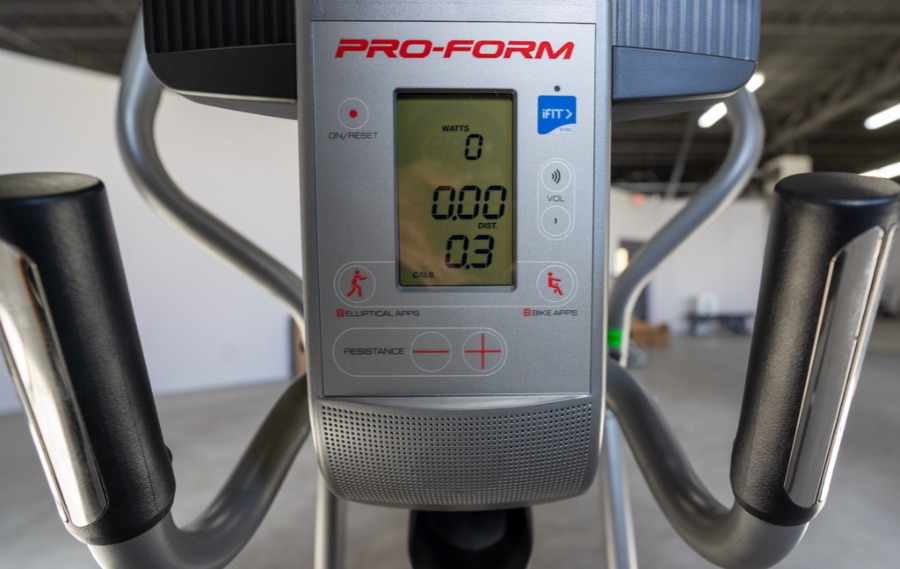 ProForm Hybrid Trainer XT Assembly
This elliptical/bike needs to be assembled upon arrival. I was able to complete this task solo in an hour and found the instructions clear and easy to follow. However, I'm also someone who has put together dozens of pieces of cardio equipment.
If you'd rather not spend your time and effort putting the equipment together, you can arrange for in-home assembly for $199. I think this is a good idea for most people, and the price for assembly is pretty on par with what most brands offer.
RELATED: Elliptical vs Bike
Customer Experience
Ordering the ProForm Hybrid Trainer XT is as easy as going to the website and clicking the "Add To Cart" button. By ordering directly from the ProForm website, you can take advantage of the free shipping option. When equipment is priced low, I often fear I'll get hit with large shipping fees. Not the case with this item.
If you're not ready to pay $599 in full, ProForm has financing options of 0% APR and no interest for 12, 36, or 39 months. Monthly payments will range from $16/month to $50/month. You won't be breaking the bank with this piece of equipment on any option.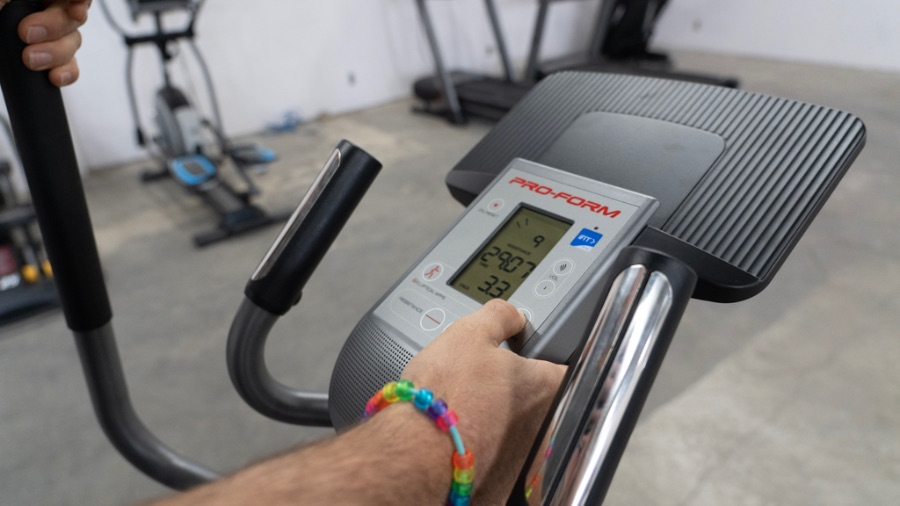 Returns
If you're not satisfied with the ProForm Hybrid Trainer, you can request a return within 30 days of your delivery date. ProForm doesn't offer a refund for any shipping, and returns will include a return shipping charge of $250.
Warranty
The warranty on this hybrid trainer is slightly better than comparable equipment. You receive a 5-year frame warranty and 90 days for parts and labor with an option to purchase a 3-year extended warranty for an additional $149.99.
Customer Reviews
On the ProForm website, customers had positive feedback on this hybrid trainer. They appreciated it was easy to assemble and simple to switch between the elliptical and bike during a workout. Customers also praised it for being quiet during use, a great low-impact workout, and a good value overall. Some had trouble activating the console, but the problem was resolved once it connected to iFIT.

Final Verdict of Our ProForm Hybrid Trainer Elliptical Review
The ProForm Hybrid Trainer XT is an excellent choice and solid price point for a combination of bike and elliptical training for those who don't have the space or budget for two separate machines. Having the iFIT membership is a great bonus, but not totally necessary if you just want a decent workout.
ProForm Hybrid Trainer XT Rating
ProForm Hybrid Trainer XT
The ProForm Hybrid Trainer XT offers up a recumbent exercise bike and elliptical in one piece of equipment. This machine offers a lot of value for those looking for versatility, space efficiency, and budget-friendly cardio options.
Product Brand: ProForm
Product Currency: USD
Product Price: 599
Product In-Stock: InStock
ProForm Hybrid Trainer XT FAQs
What is a hybrid trainer?
A hybrid trainer combines two popular modes of cardio training in one piece of exercise equipment: the elliptical and the bike. This gives you variety within a single workout and possibly delivers better results. It also accommodates multiple users in one household who may have different fitness goals or simply prefer different exercise machines.
What body parts will I use on the Hybrid Trainer?
Because the ProForm Hybrid Trainer combines an elliptical and a bike, you have the ability to work for most muscle groups. As a cross-trainer elliptical, the machine forces you to use your arms, core, and legs. In bike mode, you'll be using mostly your legs. 
Do I need a large space for this machine?
This fitness machine measures 60.5" H x 24.5" W x 70.5" D, so it takes up a space of about 5 feet by 2 feet. It has transport wheels and can be moved if you need to store them and use them in different locations.
Is the Hybrid Trainer a loud piece of equipment?
No, this machine has magnetic resistance which means it's a pretty quiet machine. In fact, It's trademarked as SMR, Silent Magnetic Resistance.