We test and review fitness products based on an independent, multi-point methodology. If you use our links to purchase something, we may earn a commission. Read our disclosures.
Maybe you're like me and have the attention span of a fruit fly. I'm always looking for the next big thing and can't stand to be bored. This carries over into my fitness routine, too––I love to mix things up and try new ways to stay fit.
If I'm sounding a lot like you, you'll definitely want to read this NordicTrack FS10i review. This innovative elliptical (can I even really call it that?) claims to be a 3-in-1 machine that helps you stride, run, and step to your heart's content. But does the FS10i really live up to the hype? Guess you'll have to keep reading to find out…
Exercise Equipment Gurus
You probably know people that just love to talk about things they don't actually know anything about. So annoying, right? Luckily, our team of expert product reviewers and testers do actually know a ton about fitness equipment. In fact, we have the certifications to back it up–– we're CrossFit Level 1 trainers, nutrition coaches and certified personal trainers who want to help you find your best fit.
NordicTrack FS10i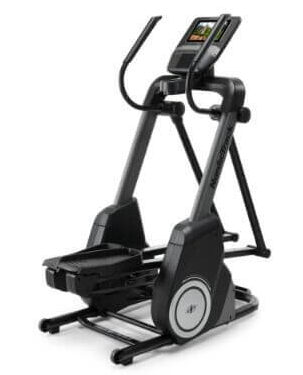 NordicTrack FreeStride FS10i

When you're looking for a high-intensity but low-impact workout, ellipticals are a great option to save your joints from the inevitable wear and tear running brings. NordicTrack's cardio legacy is respected for providing quality machines, solid warranties, and technology-driven programming.  The NordicTrack FreeStride FS10i trainer lives up to its brand's reputation. Featuring a 32-inch adjustable stride length, up to 10% incline options, 24 levels of resistance, and a respectable 375-pound user weight capacity, the FS10i may be entry-level, but it's anything but basic. This trainer is the ideal combination of an elliptical, stepper, and treadmill all in one compact, multipurpose unit. It's sturdy, durable, and user-friendly.This trainer comes equipped with iFIT providing access to thousands of live and on-demand workouts. The interactive HD screen is on the smaller side but it does enable an immersive and motivational workout experience. Not interested in a membership platform? Not a problem with the FS10i, as it houses 56 pre-programmed workouts to choose from. One drawback: The FS10i works off of a 20-pound inertia-enhanced flywheel, which falls on the lighter side—meaning, it may not provide enough resistance or stability for more conditioned athletes.
A Quick Look at the NordicTrack FS10i
In the NordicTrack FreeStride Trainer Series of ellipticals, there are only two options to choose from: the FS10i and the FS14i. The FS14i is almost a carbon copy of the FS10i, except for three things: decline training options, bigger touchscreen, and a larger price tag.
My Tips:
NordicTrack offers excellent financing options if you can't afford the almost $2,000 price tag.
A 30-day free iFIT trial is offered with the FS10i.
Make sure to firmly touch the different jump buttons. Lightly tapping won't cut it on this machine.
Pros:
24 levels of resistance
375-pound weight capacity
Stable machine with no shaking while in use
Virtually silent magnetic resistance
Oversized pedals
32-inch auto-adjustable stride
iFIT workouts available to stream
10-inch touchscreen
Cons:
Extremely heavy at 284 pounds
Difficult to move
Only one set of handles
Can be difficult to change your stride
Warranty is voided if you store this in your garage
Is the NordicTrack FS10i Worth It?
The NordicTrack FS10i provides a unique, low-impact workout that some will be head over heels for. However, it might not be worth it for you at close to $2,000. Not sure if this machine fits the bill? No worries, check out who I think is an ideal match for the FS10i and who should look elsewhere:
Great for:
Tall people or those with long strides
People who enjoy interactive programming
Heavier people
Not recommended for:
Budget buyers
Those who need an easy-to-move machine
Someone who just wants a standard elliptical
NordicTrack FS10i Specs
Footprint
Weight
Weight capacity
Display
Warranty
Incline
Flywheel
Digital Resistance Levels
Stride Length
58.5″ L x 29.5″ W x 74″ H
284 lbs
375 lbs
10" Smart HD Touchscreen
10-year frame warranty, 2-year parts warranty, 1-year labor Warranty
0 – 10%
20 lbs
24
32"
Not Your Typical Elliptical: Using the NordicTrack FS10i
The NordicTrack FS10i is meant to be a 3-in-1 cross-training machine––you're supposedly able to use it as an elliptical, a stepper, and even a treadmill. What an intriguing idea that also sounds mildly gimmicky.
According to the NordicTrack website, you'll be able to change the movement of the machine to mimic one of the three options by just changing how you're stepping. Essentially, I got on the machine and started using it like a traditional elliptical. I then tried to do a stepping motion, which was harder than I thought it would be. It almost felt like the oversized pedals didn't want to transition with me.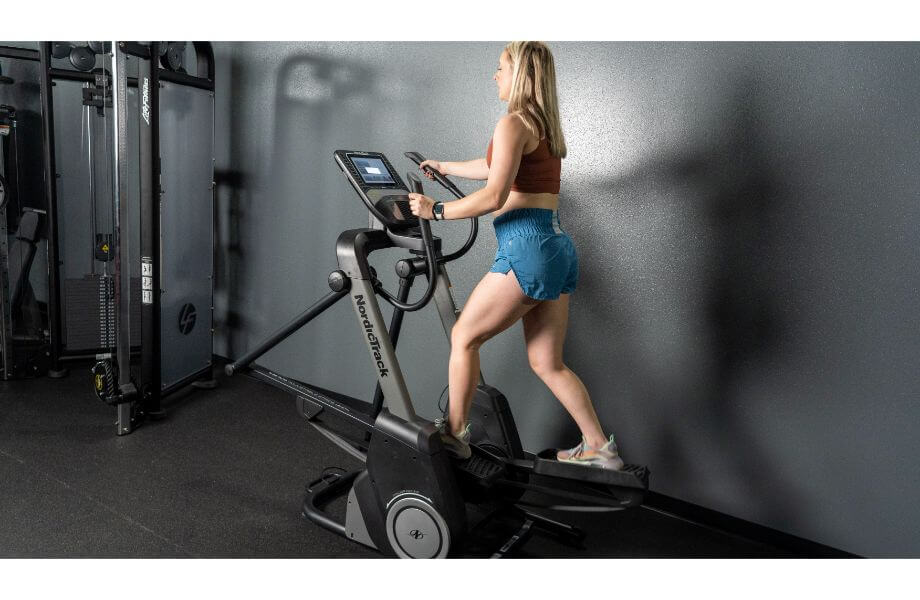 Eventually, the movement started to match up with what you'd associate with a stepper machine, but not immediately. I didn't think it was a seamless transition, but once you got it to work, it was fun to switch things up.
However, I don't really agree with calling the FS10i a treadmill. When I think of a treadmill, I think of a machine that allows the user to run, walk, or jog, which usually involves higher-impact movement since you're taking your feet off the ground. On this machine in the "treadmill" function, the strides may mimic someone running, but you won't be taking your feet off of the oversized pedals at any point.
This doesn't mean I don't like the FS10i, but I would personally classify it as more of a 2-in-1 rather than a 3-in-1.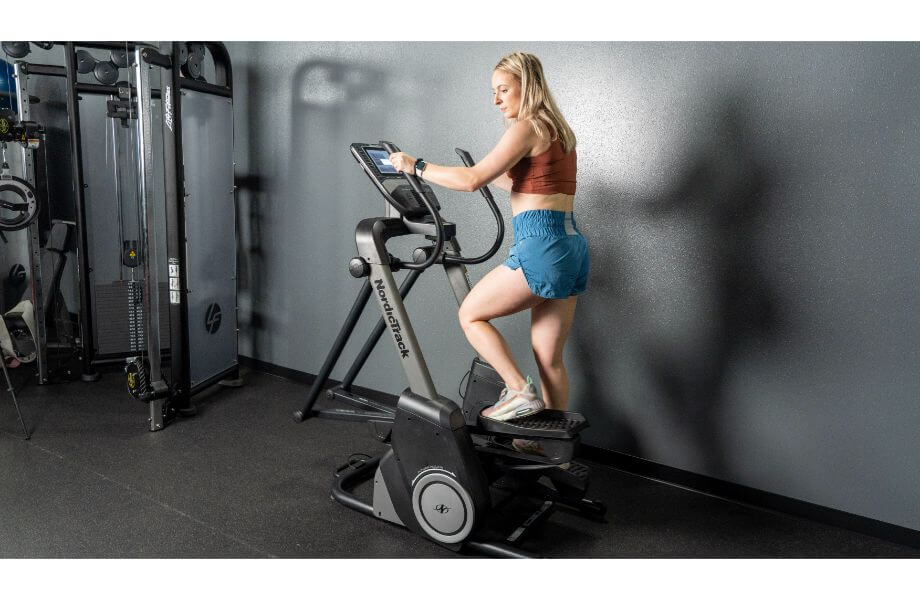 I like that you can make your workout harder with 24 resistance levels and incline options from 0 to 10%. The industry standard for resistance levels on elliptical machines is 12, so this is doubled.There is also auto adjusting resistance (if you want to use this feature) while using iFIT programming (subscription sold separately).
Durability
One of the most impressive aspects of this machine is its seemingly durable structure. I felt absolutely no play in the machine when I was using it, which is always a green flag. It's clearly a well-built and stable machine, and it reminded me of one of those workhorse ellipticals you'd find at your local gym.
Plus, this is a machine I'd recommend for heavier people. The industry standard user weight capacity for an elliptical is 275 pounds, and the FS10i maxes out at 375 pounds (yay, we love inclusive equipment).
The flywheel on the FS10i is 20 pounds, which hits the mark of what you want to see (between 16-20 pounds). In order for your elliptical to run smoother and with less noise, you'll want a heavy flywheel.
Footprint and Portability
When Kate Meier, Garage Gym Reviews Head of Content, moved the 284-pound NordicTrack FS10i, she was shocked.
"I wouldn't want anyone to move this on their own," Kate admitted, as she did just that.
Luckily, she's a competitive weightlifter and could handle it just fine, but for those of us who are not snatching 150+ pounds regularly, we probably shouldn't if we want to keep our backs and legs intact.
Even with the included transport wheels, I would definitely recommend grabbing another person to move this machine around a room. If you're trying to take this up or down stairs, don't. Just hire professional movers. It isn't worth getting hurt over.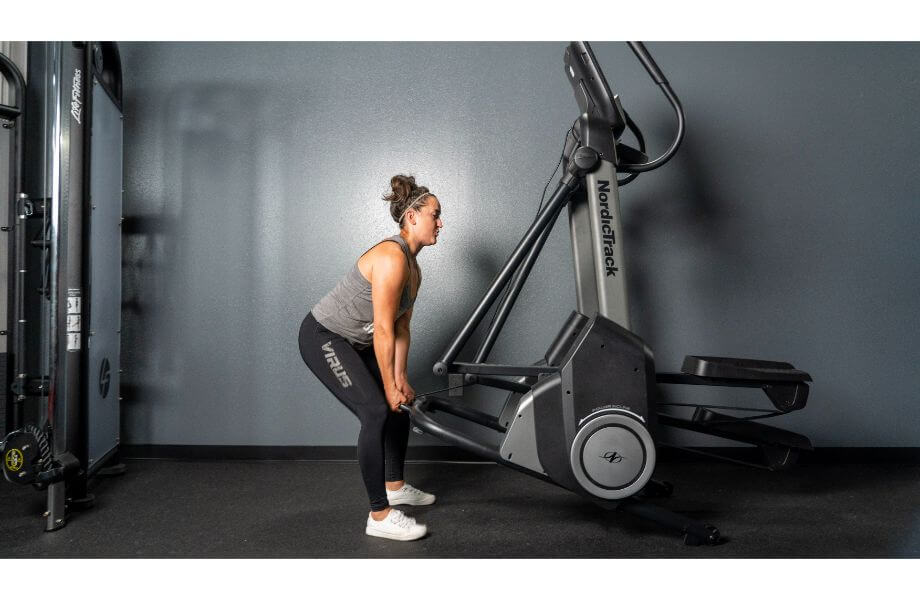 With that said, this machine still isn't as much of a space hog as something like a front drive elliptical. It's a heavy machine, but it doesn't have a footprint that is much longer than your average center-drive elliptical machine.
The Ergonomics
Unlike cheaper ellipticals, the FS10i has textured, oversized pedals that would fit most people's feet easily. I won't say everyone, because there might be someone out there with a 36-inch-long foot, but for us average people, it'll work just fine.
The 32-inch auto-adjustable stride length is super impressive. For some context, typical ellipticals usually have 18 to 20 inches of stride length. I'm guessing they made the stride on this extra long for the "treadmill" movement, but it also makes it ideal for tall folks.
Technology Benefits and Conveniences
The FS10i has a 10-inch touchscreen that can be used to view iFIT programming (subscription sold separately). I've previously tested iFIT and really liked it as a comparable competitor to Peloton's app. You can purchase a family membership (for up to 5 people) for $39 per month, or get an individual for $15 per month. Besides using iFIT with the FS10i, there are a multitude of classes you can take off of the elliptical including strength training, running, rowing, pilates, and more.
RELATED: HIIT Elliptical Workouts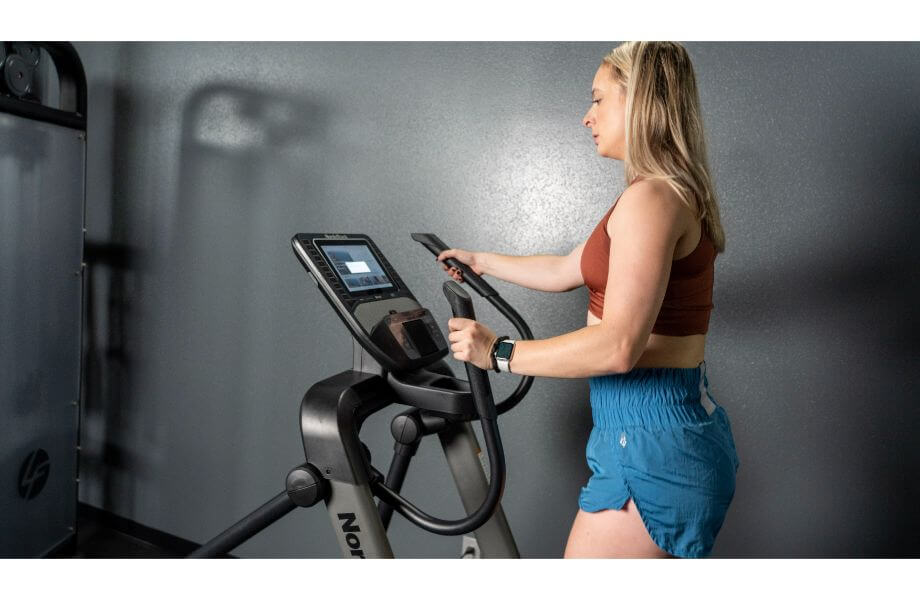 On either side of the screen, you'll find various jump buttons for both the incline and speed. Pro tip: you need to press firmly on the buttons for them to work; a light finger graze won't cut it. Besides the usual suspects like volume options and fan settings, you'll find nice extras like Bluetooth connectivity and a water bottle holder.
Assembling the NordicTrack FS10i
Since the NordicTrack FS10i is such a hefty machine, Garage Gym Review's Operations Manager Sam "asSAMbly" Presley decided to sit this one out (so he thought) by ordering white glove delivery and installation for an additional $199.
NordicTrack's white glove delivery involves two experts putting your new machine in your room of choice and assembling it in its entirety. In this case, the FS10i build was halted because all of the needed parts were not in the box. I'm not really sure how that happens, but the builders themselves had no clue how to get the parts.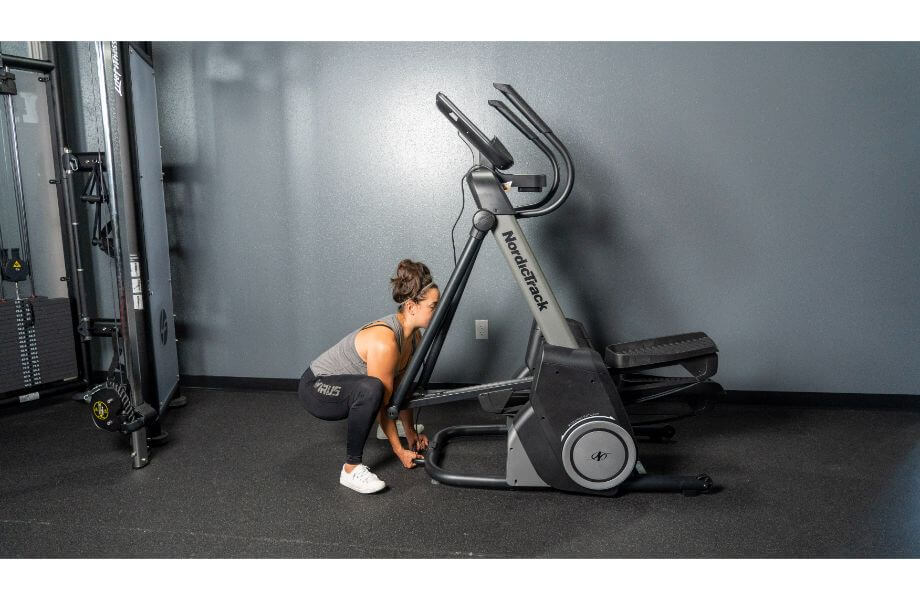 asSAMbly was forced to contact NordicTrack and they were able to send us the missing parts. If something similar happens to you, you can contact customer service by calling 1-833-680-iFIT (4348).
Unfortunately, when things like this happen, the builders do not come back to complete the job and you're forced to finish the assembly process yourself. Although Sam didn't anticipate assembling this machine, he was able to jump in and get it done with the help of another person.
"The parts that weren't installed previously were fairly easy to put in the right place," Sam explained. "Overall, I feel like this would be a pretty simple build, but due to the size, you may want to have two people."
Customer Reviews
NordicTrack generally makes excellent products, but I wish they allowed reviews on their site that aren't just for iFIT. I like to know what others think, and they're making it difficult for no reason. Okay, rant over.
I found this machine was also available on Amazon and a few other retailers, but there were only 13 reviews. So weird… Even weirder, the average rating was 2 out of 5 stars, which I disagree with.
Unhappy customers mentioned they felt like the FS10i wasn't really a 3-in-1 and that the machine was unstable. I'm wondering if they put it together incorrectly or didn't tighten parts. I personally was very impressed with the overall stability of the machine.
Happy reviewers liked how quiet and stable the machine feels (glad some people think it's stable). However, I wouldn't put too much stake into the 2-star rating because there are just so few reviews to go off of.
Final Verdict of Our NordicTrack FS10i Review
Bottom line: I like the NordicTrack FS10i, and I can see it being a great fit for some people. Here are my key takeaways, after testing this machine thoroughly:
Generous stride length
Heavy machine will require assistance to move
Considered a 3-in-1 elliptical, but I feel like it's really a 2-in-1
Expensive, but financing is offered
NordicTrack FS10i Rating
NordicTrack FS10i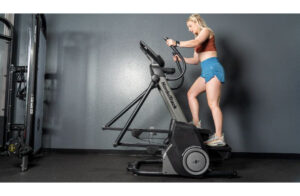 Check out my NordicTrack FS10i review to see if this innovative 3-in-1 machine is all it claims to be.
Product Brand: NordicTrack
Product Currency: USD
Product Price: 1899.00
Product In-Stock: InStock
NordicTrack FS10i FAQs
Is NordicTrack FS10i worth it?
This is a bit of a loaded question if you ask me. What might be worth it for some people isn't to others. I like the FS10i, but only you're able to determine if it is what you're looking for.
How much does NordicTrack FS10i weigh?
The FS10i weighs a whopping 284 pounds. Make sure you have the space in your home gym to accommodate this large elliptical trainer!
Is the NordicTrack FS10i FreeStride Trainer a low-impact cardio machine?
Yes, the FS10i is a low-impact machine. Since you'll never take your feet off the pedals and are simply just striding or stepping, you'll be able to increase your heart rate without putting unnecessary strain on your joints.
What are some extras I should look for when shopping for an elliptical machine?
You'll find different extras based on your price range. You might find things like on-demand workouts, Wi-Fi capabilities, Google Maps, and Bluetooth Audio on higher-end models. Even on a mid-range or budget machine, I like to see heart rate monitors and a workout fan if possible.