We test and review fitness products based on an independent, multi-point methodology. If you use our links to purchase something, we may earn a commission. Read our disclosures.
Whether you only have $300 to spend or an unlimited budget, our list of the best magnetic rowing machines has you covered for whatever you're looking for.
I'm a big fan of rowing for cardio because it is low-impact. Do you have a lingering injury or just don't want to pound the pavement? No problem, a magnetic rowing machine will still help you get your heart pumping without unnecessary joint agitation. 
Our expert product testers have spent many hours rowing (and researching) in our quest to find you the best magnetic rower on the market. Our team is practically drowning in certifications (think personal trainers, CrossFit-L1 coaches, nutrition coaches, and more), so it's obvious we know fitness equipment. Whether you're into intense rowing machine workouts or more steady-state cardio, we have you covered. (Check out our best rowing machine list as well.)
5 Best Magnetic Rowing Machines in 2023
Best Magnetic Rowing Machines Video Review
Best Magnetic Rowing Machine Overall: Hydrow Rower
Good for: Individuals who want a luxury rowing experience with on-demand programming and smooth operation
Best Magnetic Rowing Machine Overall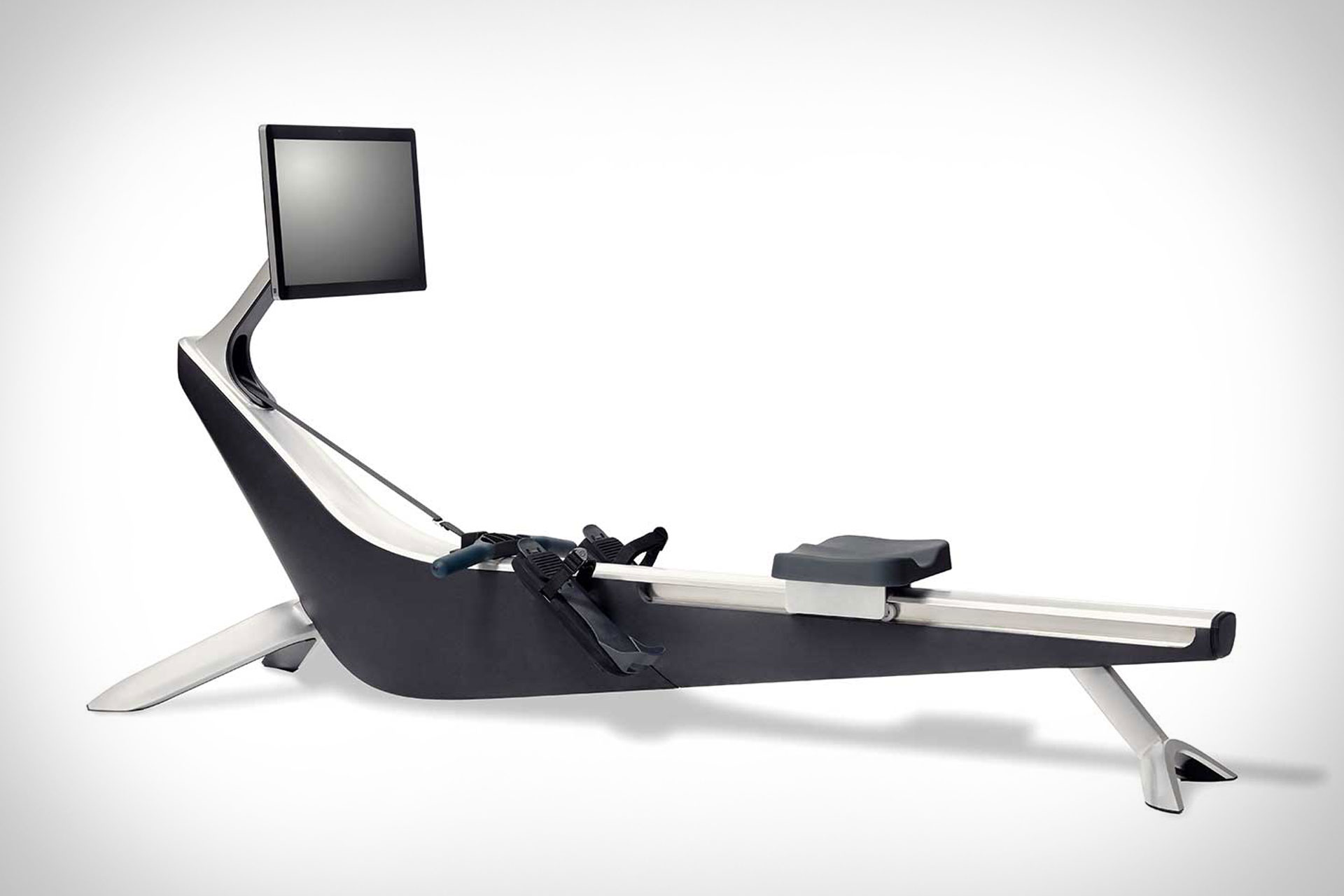 Hydrow Connected Rower
We completely re-engineered the rowing machine with patented technology, making each stroke feel like you're out on the water. Then, we built an immersive experience around it. The Hydrow was designed from the ground up. While the design team wanted to create a unique machine that was elegant and sophisticated for the home, it was just as important to engineer a machine that was unmatched in performance and built to last. Hydrow's brilliant 22" touchscreen display and impressive front-facing speakers bring the river to your living room, captivating you from the moment you sit in its seat. The Hydrow's patented drag mechanism is electromagnetic and computer-controlled. The distinctive components make it the closest thing to being on the water.Garage Gym Reviews Exclusive: Use code ROWGGR to receive $150 off any purchase that includes a rower
Pros:
Smooth, magnetic drag mechanism
Easy to assemble
Stellar interactive programming
375-lb weight capacity
Financing options available
White-glove delivery available (costs extra)
Cons:
Expensive at around $2,500
Extra $38 monthly cost for the programming membership
5-year frame warranty could be better for the price
Customer service is spotty, according to Hydrow customer reviews
The Hydrow is like the Peloton of the rowing world. The programming is well-thought-out and engaging, and the screen provides a larger-than-life experience for the user. Plus, you likely won't mind leaving this machine out for guests to see––the Hydrow is sleek with clean lines you'd see in modern architecture, crafted with both aluminum and steel.
RELATED: Peloton Bike Review
Not only does the Hydrow look aesthetically pleasing, but it's also smooth while in use and virtually silent. Contrary to what you might find on less expensive machines, the drag mechanism doesn't catch oddly or leave you with choppy strokes.
Plus, the user weight capacity of 375 pounds is excellent, making this an inclusive option for heavier people who want to row.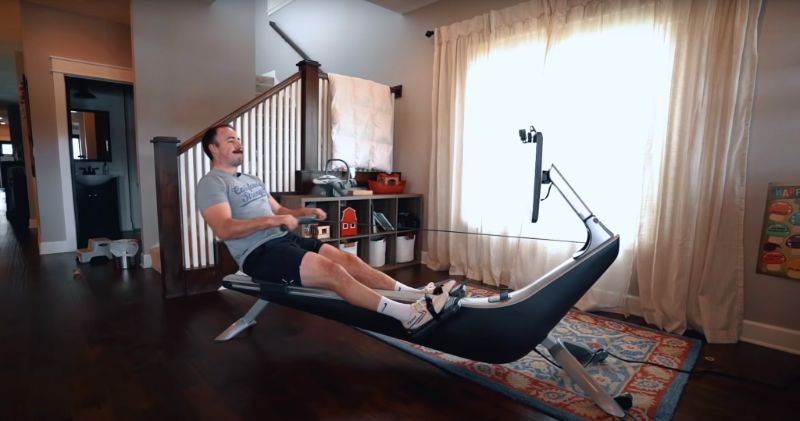 Unfortunately, with an almost $2,500 price tag—plus an additional $38 per month for programming—this isn't going to be cheap enough for everyone's home gym. Luckily, Hydrow does offer financing options via Klarna (that you have to qualify for) to make the cost easier to swallow.
My real only complaint besides the price? The subpar warranty. For such a high-end model, it is surprising that the warranty for the frame is only five years. In this price range, the industry standard is a 10-year warranty on the frame of a rower. This is something Hydrow can definitely improve upon in the future, and would likely make buyers feel more confident in the durability of their purchase.
Read our full Hydrow Rower review.
| | |
| --- | --- |
| Price | $2,495 |
| Product Weight | 145 lbs |
| Dimensions | 86″ L x 25″ W x 47″ H |
| Weight Capacity | 375 lbs |
| Programming | Hydrow Interactive Programming; $38 per month |
| Monitor | 22-inch HD touchscreen |
Best Interactive Magnetic Rowing Machine: Aviron Tough Series
Good for: Gamers, beginners, competitive folks, and heavier people
Best Interactive Magnetic Rowing Machine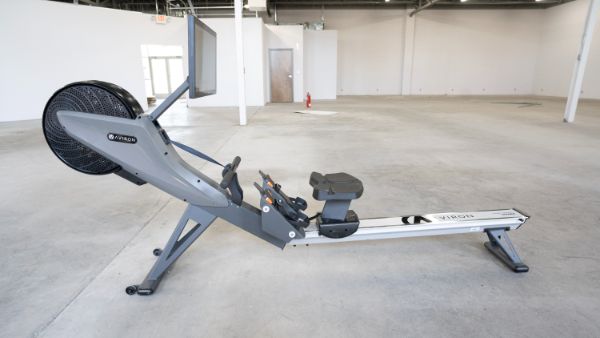 Pros:
Engaging, gamified programming
507-lb weight capacity
High levels of resistance
Easy assembly
Financing is available
Free standard shipping
Cons:
Lots of plastic used
Expensive at around $2,500
High demand means longer shipping times (2-3 weeks at the time of writing)
Even after trying dozens upon dozens of different cardio machines, I've never run across anything like the Aviron Tough Series rower. This magnetic resistance rowing machine has unique programming that turns a cardio workout into a fun arcade game. With eight different categories to choose from like Power Play or Competition Mode, you won't lose interest quickly in the Aviron.
The Aviron membership is only $25 per month, which seems fair to me, and is lower than many competitors. I enjoyed the many game options I could choose from and the ability to even view YouTube on the screen was a win.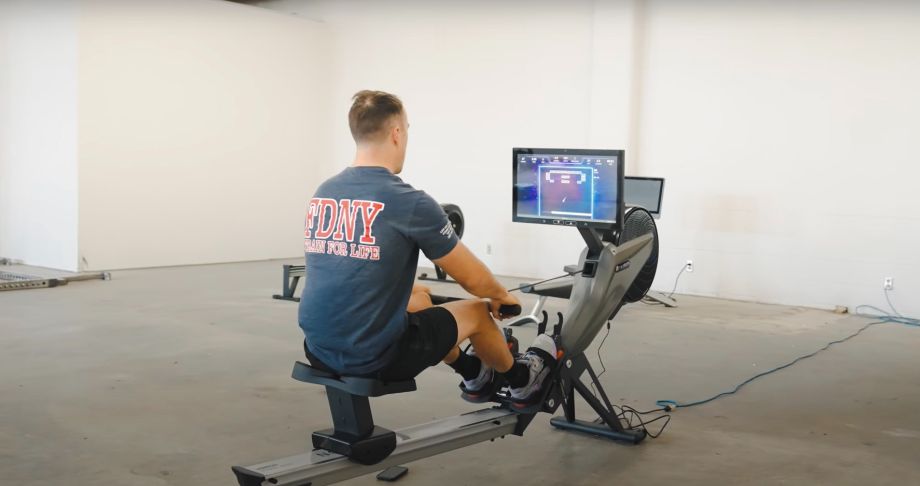 I can see the Aviron Tough Series rower being an excellent option for someone who isn't wild about working out and needs a different way to stay engaged. Plus, with an over 500-pound user weight capacity, this is another great option for heavier folks.
As much as I love the Aviron rower, I am slightly concerned about the amount of plastic used on this machine. So far, there have not been any durability issues on my end, but it is worth noting that plastic is much less durable than, say, steel or aluminum.
Check out our full Aviron Rower Review.
| | |
| --- | --- |
| Price | $2,499 |
| Product Weight | 125 lbs |
| Dimensions | 98″ L x 21″ W x 44″ H |
| Weight Capacity | 507 lbs |
| Programming | Aviron membership; $25 per month |
| Monitor | 22-inch HD touchscreen |
Best Magnetic Rowing Machine Under $1,000: ProForm 750R Rower
Good for: A mid-range rower with built-in workouts and various resistance options
Best Magnetic Rowing Machine Under $1,000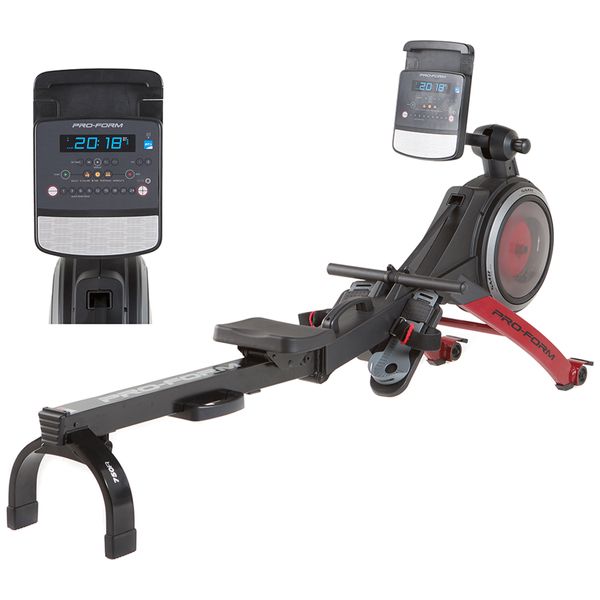 ProForm 750R Rowing Machine
The ProForm 750R Rowing Machine is a magnetic rower that works with an iFIT subscription. It's certifiably mid-tier as far as rowers go, clocking in at around $800 but still packing plenty of features. It has a full-length slide rail that folds when not in use, plus a console that adjusts vertically to accommodate different heights and preferences.This rower doesn't have a large display like some other fancy smart rowing machines, but it does have a sturdy device holder that can support a full-sized tablet. So, to stream workouts, you'll need your own device, but that makes the 750R a great option for people who already have a tablet. Because there's no big touchscreen, you can store this rower vertically if you need to.The 5-inch high-contrast display shows basic rowing metrics, including time elapsed, estimated calories burned, distance rowed, and pace.
Pros:
Around $800
Compatible with iFIT programming
24 levels of magnetic resistance
20 built-in workouts
Lots of adjustments are able to be made
Cons:
250-lb weight capacity
Small LCD monitor
Need personal smart device to use iFIT programming
Looking for a magnetic rowing machine under $1,000 with interactive programming connectivity? Check out the ProForm 750R Rower! This $800 cardio machine can connect to iFIT programming (sold separately, $39 per month) for an integrated experience that feels a lot more high-end than the price suggests.
I particularly love the auto-adjust feature that comes with this rower (when using iFIT). Essentially, the machine will adjust to match whatever the instructor says so all you have to worry about is giving the workout your all. Want to be in control of your own destiny? No problem, with 24 levels of magnetic resistance, you'll be able to customize your workout to fit your individual needs.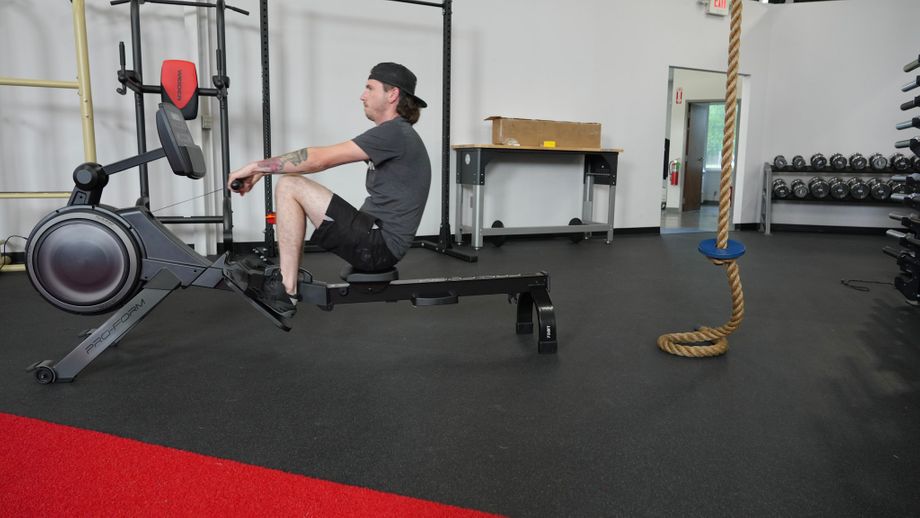 It is worth noting that you do need access to a smart device if you want to use iFIT, which in our opinion is one of the best rowing apps, because the 750R Rower doesn't have a touchscreen, just a small LCD display. If you're not interested in paying for a monthly membership, never fear! With 20 built-in workouts, you'll still be able to get a wicked cardio workout in without splurging for iFIT.
If you weigh more than 250 pounds, this machine will unfortunately not work for you. I wish the weight capacity was higher; especially for the price and 116-pound product weight, but it isn't.
Take a look at our entire ProForm 750R Rower Review.
| | |
| --- | --- |
| Price | $799 |
| Product Weight | 116.6 lbs |
| Dimensions | 86.5" L x 22" W x 45.5" H |
| Weight Capacity | 250 lbs |
| Programming | iFIT membership compatible |
| Monitor | 5-inch backlit multi-color display |
Best Budget Magnetic Rowing Machine: Sunny Health & Fitness SF-RW5801
Good for: Individuals with a tight budget who want a cardio machine that folds easily
Best Budget Magnetic Rowing Machine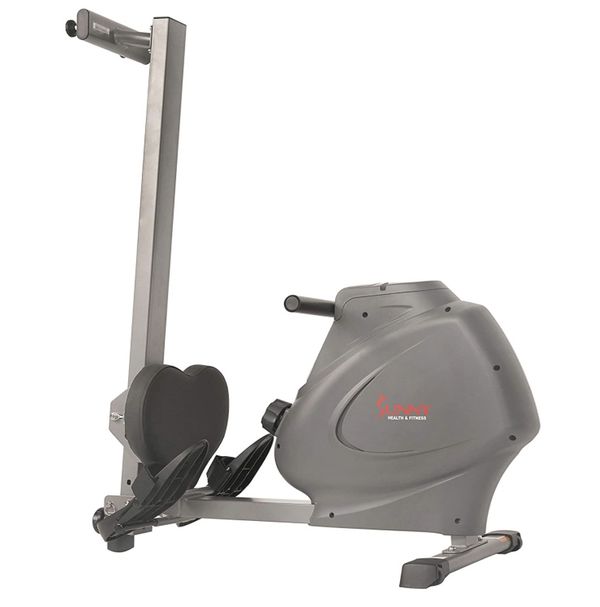 Sunny Health & Fitness SF-RW5801 Magnetic Rower
Looking for a small-space-friendly and budget-friendly rowing machine? Check out the Sunny Health & Fitness SF-RW5801 Magnetic Rower, which features 16 levels of magnetic resistance and a comfortable seat for less than $300. In addition to its palatable price tag, this rower has a space-saving design with a slide rail length of just 43 inches and a total length of 77 inches (most rowers have a total length between 86 and 90 inches). This rower also folds up when not in use so you can store it out of the way.Keep in mind that a shorter seat rail means this rower might not be a good fit for taller people, as they may not achieve full extension of the legs. Still, for the average person, this rower will get the job done.The RW-5801 has a basic LCD display that tracks time, calories, and distance. It also has a device holder so you can stream your favorite rowing workouts on different apps or YouTube.
Pros:
Super affordable and under $250
Light at under 50 pounds
Foldable rowing machine
16 levels of resistance
Padded seat
Cons:
Rail of rower is very short
Subpar warranty
No tech features
Nylon foot straps may fray over time
When I originally reviewed the Sunny Health and Fitness SF-RW5801, I quipped that I've had nights out pricier than this rowing machine. At around $220, this machine is an extreme budget option that I actually feel comfortable recommending (which doesn't often happen). With 16 total levels of resistance, you'll be able to easily customize your workout without much extra effort.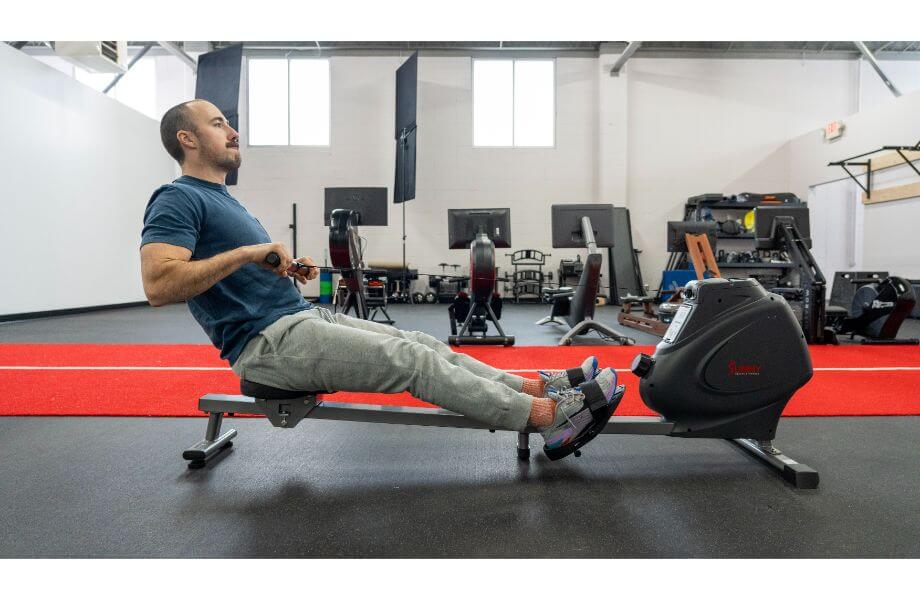 Plus, if you're short on space (or are actually just short), you'll appreciate the compact size of the SF-RW5801. Under 50 pounds and foldable? Sounds ideal for apartment or condo living if you ask me. It is worth noting that if you are on the taller side (think 5 foot, 9 inches tall and up), this rower may not work for you. The rail on this machine is quite a bit shorter than, say, the ever-popular Concept 2 RowErg.
If you think of IKEA furniture and your body does an involuntary shudder thinking of the assembly process, you'll like putting together the SF-RW5801. This is one of the more simple machines our GGR Operations Manager and expert assembler Sam "asSAMbly" Presley has put together. In this case, no need to pay extra for professional assembly. Provided you follow the instructions and are able-bodied, this shouldn't take you more than 30 to 40 minutes.
Read our Sunny Health and Fitness SF-RW5801 review.
| | |
| --- | --- |
| Price | $220 |
| Product Weight | 49.6 lbs |
| Dimensions | 77" L x 23" W x 22.5" H |
| Weight Capacity | 285 lbs |
| Programming | N/A |
| Monitor | SPM performance monitor |
Best Magnetic Rowing Machine for Cross-Training: NordicTrack RW900
Good for: People who want lots of varied, on-demand workout options on a comfortable, magnetic rower
Best Magnetic Rowing Machine for Cross-Training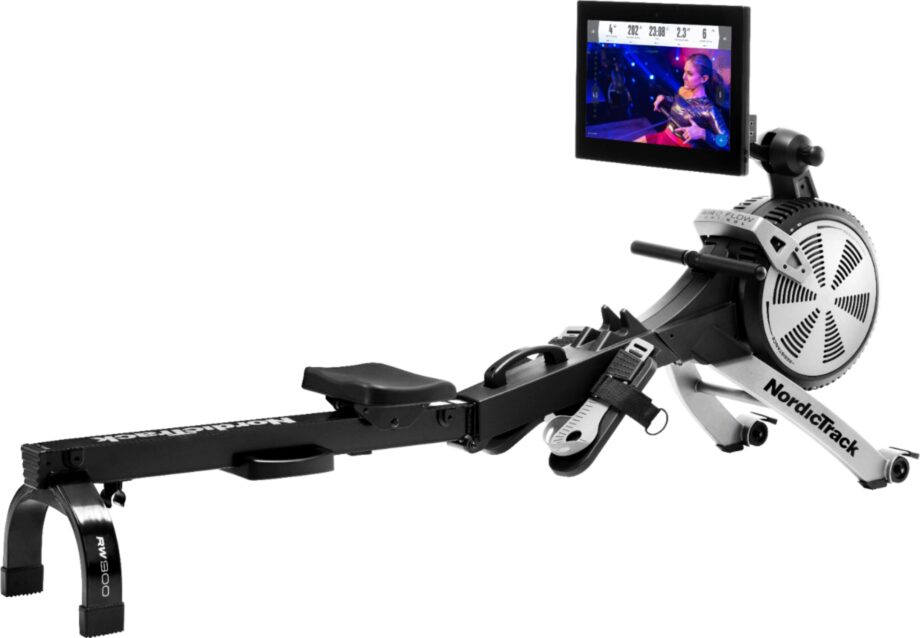 NordicTrack RW900
With the RW900's Rotating Smart HD Touchscreen, you can take part in immersive workouts, then hop off your rower for a strength training session or yoga in beautiful locales. Every iFit rowing workout features Automatic Trainer Controll where our world-class trainers adjust your rower's digital resistance for a great workout. Experience the difference of Automatic Trainer Control. Our elite trainers can auto-adjust your digital resistance while the manual air resistance allows you to control another level of intensity. Our oversized, pivoting pedals with quick-release, adjustable foot straps give you the confidence that you'll stay secure during your most intense trainer-led workouts.
Pros:
26 levels of magnetic resistance
Large HD touchscreen
Stable while in use
Comfortable seat
Bluetooth connectivity
Financing options are available
Cons:
250-lb user weight capacity
Heavy at 163 lbs
Very oversized foot cradles and pedals
Must purchase an iFIT subscription to really get the full experience
No matter what kind of activity you mainly enjoy doing (think CrossFit, soccer, or powerlifting), it is important to vary your workouts to prevent overtraining. In this case, the NordicTrack RW900 can help users cross-train by providing 26 levels of resistance, low-impact cardio, and a full-body activating workout.
Plus, the NordicTrack RW900 has a giant 22-inch touchscreen, where compatible iFIT programming can be viewed. I'm a big fan of the swivel screen, which means you can easily utilize iFIT workouts of a different modality besides rowing (without pulling out an additional smart device). How's that for cross-training at home?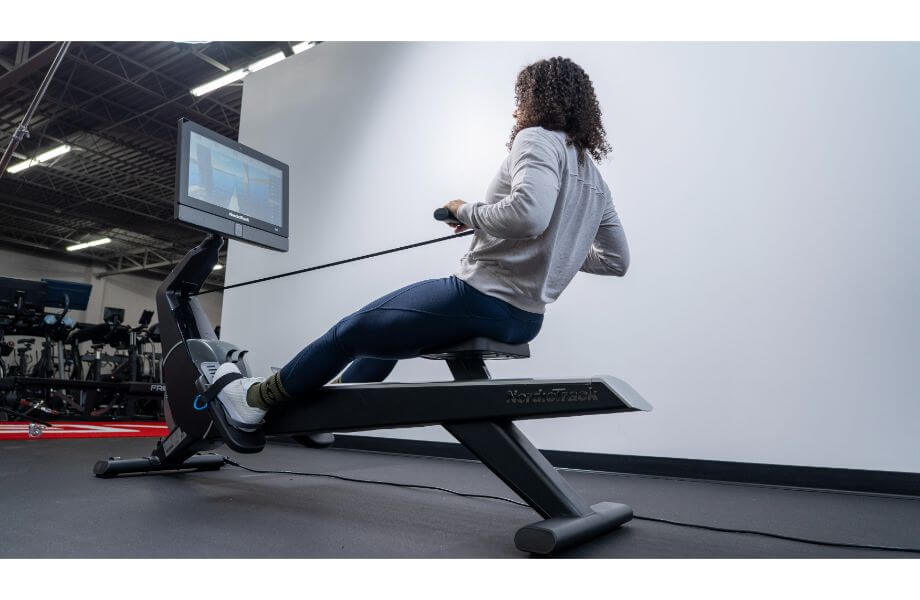 While using the RW900, I was struck by how quiet the machine was. Sure, it is a magnetic rowing machine (which is a typically silent means of resistance) but still–– this would be a great option for people who may workout early in the morning while other family members are still sleeping.
It is worth noting that this indoor rower is pretty heavy. At 163 pounds, you'll likely need another set of hands to help you transport the unwieldy cardboard box that the RW900 comes in. With this rower being on the heavier side, I was surprised by the low user weight capacity of 250 pounds. For a rowing machine that costs around $1,800, I'd expect the number to be at least 300 pounds in order to make this a more inclusive option.
Read the full NordicTrack RW900 review.
| | |
| --- | --- |
| Price | $1,799 |
| Product Weight | 163 lbs |
| Dimensions | 82″ x 22″ x 54″ |
| Weight Capacity | 250 lbs |
| Programming | iFIT programming compatible |
| Monitor | 22-inch HD touchscreen |
Other Magnetic Rowing Machines We Researched
Want to hear about the other magnetic rowing machines that didn't quite make the cut? Check them out below:
Sunny Health & Fitness SF-RW5515: With almost no differences in the specs, we'd recommend the Sunny Health and Fitness SF-RW5801 over the SF-RW5515 due to the cheaper price.
Fitness Reality 1000 PLUS Bluetooth Rower: This rowing machine has a super small LCD screen, which doesn't make it a great option for people who have eyesight problems.
BodyCraft VR500: For a foldable rowing machine, we were impressed with the 350-pound weight capacity. However, for almost $1,800, the technology is lacking.
How We Chose The Best Magnetic Rowing Machines
When evaluating magnetic rowing machines, we have a list of specs and features we look at for each. Here's an inside look at the method to the madness:
Footprint: How much space do you need to dedicate to this machine? Is it suitable for small spaces?
Portability: Is it heavy? Can it be folded? Does it have transport wheels?
Value: What's the price? How does this compare to comparable models?
Technology: Is there Bluetooth connectivity? Are there preset workout programs? Is there interactive programming or a touchscreen?
Metrics: Can you view stats on a digital monitor or large LCD screen?
Ergonomic: Is it comfortable to use?
Warranty: Is the frame warranty longer than five years?
Assembly: How difficult is it to assemble? Is professional assembly available?
Durability: What is the construction of the rower? Does it have a steel frame? What is the weight capacity? How heavy-duty is the machine?
Adjustability: Can the footrests or seat be adjusted to accommodate different people?
Noise: How loud is the rower?
In-Use: How is the rowing workout experience?
Financing: Does the brand offer financing on the rower?
Customer Service: Are customers able to cash in on the warranty if needed? Does customer service respond promptly to any inquiries?
Benefits Of Magnetic Rowing Machines
Magnetic rowing machines can be a great addition to your home gym. Here are some of the reasons you should consider investing in one:
Aerobic Exercise
Like a treadmill or an elliptical, a magnetic rowing machine can provide a way for the user to get in a solid cardio workout. Studies have shown that regular aerobic exercise can be a way to decrease your risk of cardiovascular disease. That's a good enough reason for me!
Full-Body Workout
Besides providing an aerobic workout, rowing machines can also help you strengthen your entire body. Since you're using your legs/lower body to drive the majority of the machine (with a little assistance from your upper body), this is considered a full-body workout since it works a lot of the muscle groups. However, I still would recommend incorporating strength training into your exercise routine alongside rowing to help you maintain bone density.
Weight Loss
Although you should always consult with your doctor or a licensed medical professional before attempting to lose weight, rowing can be a great tool to help you achieve your goals (combined with good nutrition).
RELATED: Rowing for Weight Loss
How To Use A Magnetic Rowing Machine
It is important to have good posture when using a rowing machine to prevent unnecessary injury. Certified personal trainer and Garage Gym Reviews writer Amanda Capritto breaks it all down on how to row like a pro.
"To remember the right steps after learning how to row properly, repeat the words 'catch, drive, finish, recover' to yourself," Capritto explains.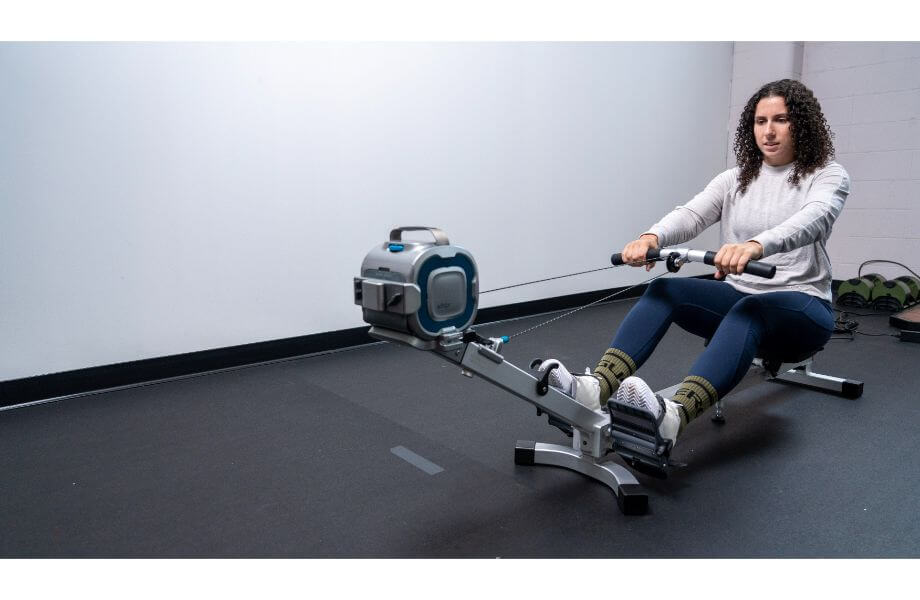 Magnetic Rowers vs. Air Rowers vs. Water Rowers vs. Hydraulic Rowers
Not sure what the differences are between the four different types of rowers? Check the specs out below for a better idea:
| | | | | |
| --- | --- | --- | --- | --- |
| Resistance System | Magnetic Rower | Air Rower | Water Rower | Hydraulic Rower |
| Adjustable resistance | Usually have adjustable resistance settings | Based on how fast or slow the user rows, resistance is self-generated | Based on how fast or slow the user rows, resistance is self-generated | Usually have adjustable resistance settings |
| Noise Level | Quiet | Loud | Average | Quiet |
There are four main types of resistance you'll find when looking at rowers for home use: magnetic, air, water, and hydraulic. In this roundup, we're talking about magnetic resistance, which is generally one of the quieter options. On magnetic rowing machines, you usually have various resistance options, which are based on the flywheel interacting with magnetic components.
RELATED: Air vs Magnetic Rowing Machine
Air resistance rowers typically make loud, industrial-fan sounds when in use. This is because the flywheel is actually a giant fan, and the resistance level is user-generated. The faster the individual rows, the more difficult the resistance will be.
Water resistance machines also utilize self-powered resistance, but instead of using a fan, it utilizes water. If you've ever seen the Ergatta Rower or WaterRower, you'll be familiar with the peaceful sloshing of water in the round tank. I kind of like the noise personally, but it is louder than, say, a magnetic rower. (Read our guide to the best water rowing machines.)
Last but not least, a hydraulic rower uses (shocker) hydraulic resistance. The user will utilize the rowing arms to simulate an actual rowing-on-the-water type motion. These machines are generally the cheapest and most compact option, but they don't operate in the same way a traditional magnetic or air rower would.
What To Look For In A Magnetic Rowing Machine
Not sure where to even start when it comes to looking at magnetic rowing machines? No sweat, we have you covered!
Price
This is a personal decision based on your financial situation. Sure, the majority of people would love to be able to drop a casual $2,000 on a rowing machine, but that isn't always possible. Luckily, I've recommended some solid budget options (and more expensive ones with financing available) so you can still live within your means.
Programming
If you're looking for fun, interactive programming to keep you engaged on your magnetic rower, you likely won't find that on a budget machine. However, if you're looking to save a little cash, consider getting a machine with a device shelf to stream your own programming. My personal favorite for rowing? The Hydrow membership that simulates rowing on water!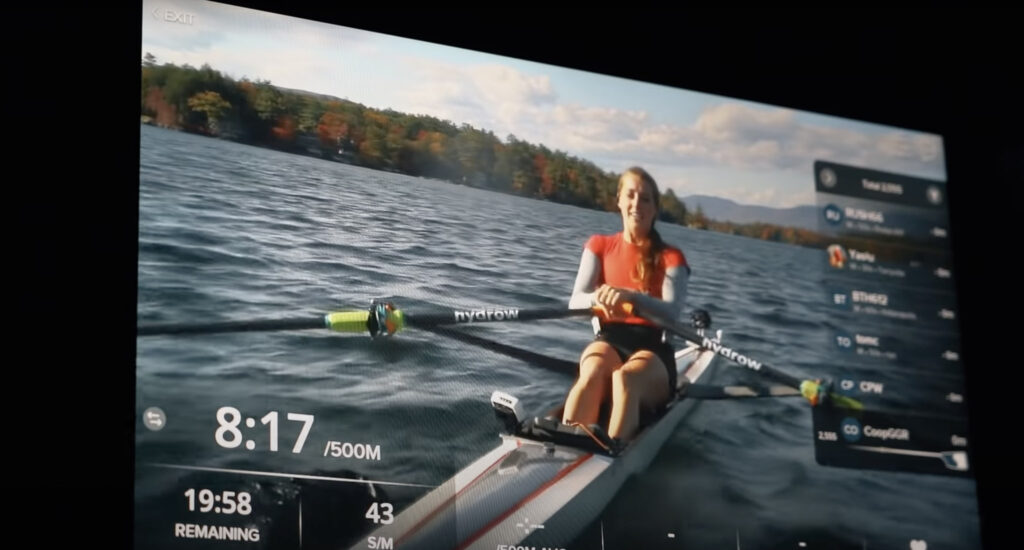 Space and Dimensions
Do you live in a shared space or perhaps a small apartment? You'll need to consider the footprint of your potential rowing machine to make sure it will fit in your space. Luckily, a multitude of magnetic rowing machines are foldable, which can be helpful for storing against a wall or in a closet when not in use.
Length and Size
All you tall folks listen up––make sure the monorail on your magnetic rowing machine is long enough for you to get a full stroke in. For example, the Concept 2 RowErg has a rail of 54 inches, which can accommodate individuals up to 6 feet, 9 inches tall. Some of the more inexpensive options have shorter rails to lower the cost, so be aware that this may be the case.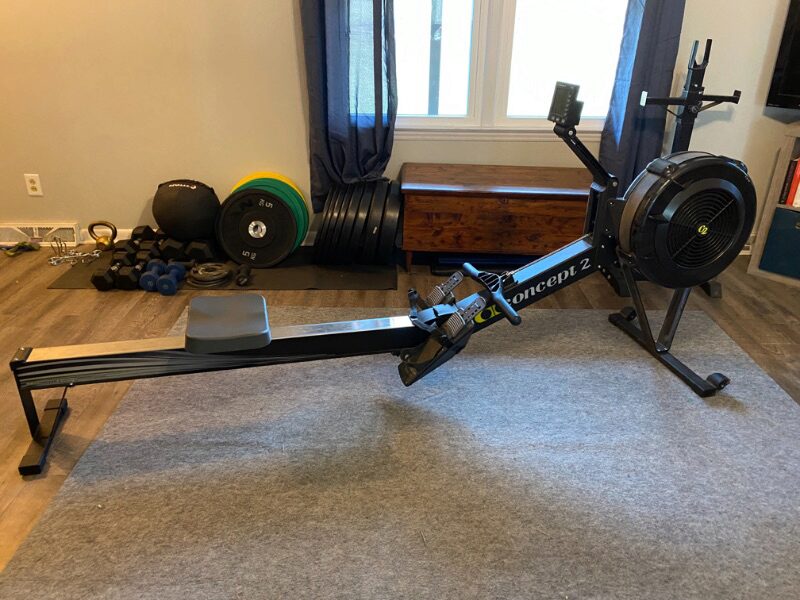 Weight Capacity
On a decent rowing machine (of any type, not just magnetic), you'll want to look for a weight capacity of at least 250 pounds. If you're heavier, there are plenty of options available that can hold 300 or more pounds, but be warned––the price tag will be higher.
Extra Features
Do you always have to have two water bottles on deck at all times and need dual cup holders? Maybe you swear by Bluetooth connectivity to sync your Apple watch or heart rate monitor to whatever cardio machine you're using. No matter what extra feature or features you're looking for, make sure your potential magnetic rower has it!
Best Magnetic Rowing Machines FAQs
Do magnetic rowing machines need electricity?
Yes, magnetic rowing machines need electricity. Make sure to have a compatible outlet available if you plan to purchase a magnetic rowing machine.
Is a magnetic rowing machine better than an air rowing machine?
Neither is necessarily better, it all has to do with what you're looking for. An air rowing machine usually does not have adjustable resistance, whereas a rower with a magnetic resistance system does.
Are magnetic rowing machines quiet?
Yes, magnetic rowing machines are fairly quiet pieces of exercise equipment. This makes them a good option for those who want to put a rowing machine in their home without dealing with the sound of something noisy like an air rower.
How much should I expect to pay for a high-quality home rowing machine?
This 100% depends on the features you're looking for in your indoor rowing machine. Do you want a machine with a high weight limit, or maybe a long slide rail? Keep in mind that you will pay more for machines that have touch screens or preset programming.