We test and review fitness products based on an independent, multi-point methodology. If you use our links to purchase something, we may earn a commission. Read our disclosures.
As little as a decade ago, a typical home gym might include fitness equipment like dumbbells, a barbell, and weight plates (maybe add a piece of cardio equipment.) Smart home gym equipment was simply not a thing and certainly didn't have a hold on the masses like it does today. 
The Aviron Tough Series Rower was a great example of a piece of smart home gym equipment that innovated the industry by storm. In this Aviron Rower review, I'll take a look at what made this now-discontinued rowing machine so special and why you should consider it if you find it on the secondary market.
The Tough Series was replaced by the Aviron Strong Series Rower if you're looking for a new piece of equipment. I know what makes a good rowing machine—after all, my team of certified personal trainers and competitive triathletes has tested the best rowing machines on the market from the ever-popular Concept2 RowErg (formerly called the Model D Rower) Ergatta Rower, Hydrow, and CITYROW.
Aviron Tough Series vs. Aviron Strong Series — What's the Difference?
Aviron Strong Series Rower
Product Highlights
Compact rower featuring game-led software 

Durable construction made with premium steel and aluminum

Features a 22" rotating touchscreen, wide 20" seat, and a 19" handlebar that rotates for a more ergonomic grip

Width on footplate can be adjusted

2 front transport wheels and upright storage

Impressive maximum user weight capacity of 507 lbs and a 6', 8" height maximum

Equipped with up to 100 lbs of resistance derived from a dual air and magnetic resistance system

Over 500 workouts provided
Pros & Cons
Pros
Compact
Quality build
100 lbs of resistance
Adjustable footplates
Gamified experience
Hundreds of workouts
Cons
Shorter length may feel constricting for some
Monthly subscription required for full functionality
Bottom Line
If you are looking for a high-tech, well-made rower with a ton of workout options, the Aviron Strong Series Rower may be for you.
The Aviron Strong Series rowing machine replaced the Aviron Tough Series rower in October 2022 and for the most part kept everything the same, with some slight changes to the machine's functionality and ergonomics. For one, the screen now rotates so you can follow off-rower workouts, has a more compact frame, and can be stored upright.
Read the full Aviron Strong Series Rower review to get the full breakdown on how these two machines differ, along with an Aviron Strong vs Impact series comparison.
| | |
| --- | --- |
| NEW Strong Series Rower | Tough Series Rower |
Rotating 22" HD  touchscreen
Weighs 114 lbs
Maintains max user weight of 507 lbs 
6'8" height maximum
Over a foot shorter; total length 83.5" (7')
Low rail (10") and high seat (20") 
Wide 20" seat 
Wide 19" handle 
Patent-pending adjustable-width footplates allow users to adjust to their body type and comfort 
Rotating handlebar 
Includes 2 front wheels
Stores upright with no supports or wall mount required
22" HD touchscreen—does not rotate
Weighs 125 lbs
Max user weight: 507 lbs
6'8" height maximum
98" total length
Low rail (10") and high seat (20")
Wide 20" seat
Wide 19" handle
Handlebar does not rotate
Does not store away
Aviron Rower Video Review
A Quick Look at the Aviron Rower
The Aviron Rowers are different from any other smart rower on the market. Although they feature a large touchscreen and are subscription based, the Aviron Rower stands out for its video game-like programming sans studio classes (like the Echelon Row-s or Peloton Row has).
My Tips:
This is a machine designed for gamers/those in need of extra motivation; if you're a beginner or looking for a "fun" way to exercise, take advantage of the video game-inspired workouts.
If you want to up your back workout, you can crank up the resistance really high.
For most people, we'd recommend the lower-priced Aviron 'Impact Series' Rower as the Tough Series adds quite a few unnecessary features for most trainees.
Aviron Rower Specs
Aviron has two different rowers available for purchase: the Aviron Strong Series Rower and the Aviron Impact Rower. The Strong Series Rower is $300 more than the Impact, at $2,200. Although there aren't a ton of major differences between the two, there are a few.
| | | |
| --- | --- | --- |
| | Aviron Tough Series Rower | Aviron Impact Series Rower |
| Dimensions | 83.5" L x 27" W x 48" H | 97″ L x 21″ W x 43″ H |
| Screen | 22" HD rotating touchscreen | 22" HD touchscreen |
| Weight capacity | 507 lbs | 397 lbs |
| Height capacity | 6'8" | 6'7" |
| Weight | 114 lbs | 97 lbs |
| Warranty | 10-year frame, 1-year parts, additional available for purchase | 2 years parts, 10 years frame |
| Workout profiles | 8 | 8 |
| Dual resistance | 16 levels | 16 levels |
| Foldable | No (stores upright). | Yes |
| Price | About $2,200 | About $1,900 |
Using the Aviron Rower
The Aviron Tough Series Rower is truly unlike anything I've tried in the past. Aviron has combined a high-quality cardio machine with unique, gamified programming I haven't seen before.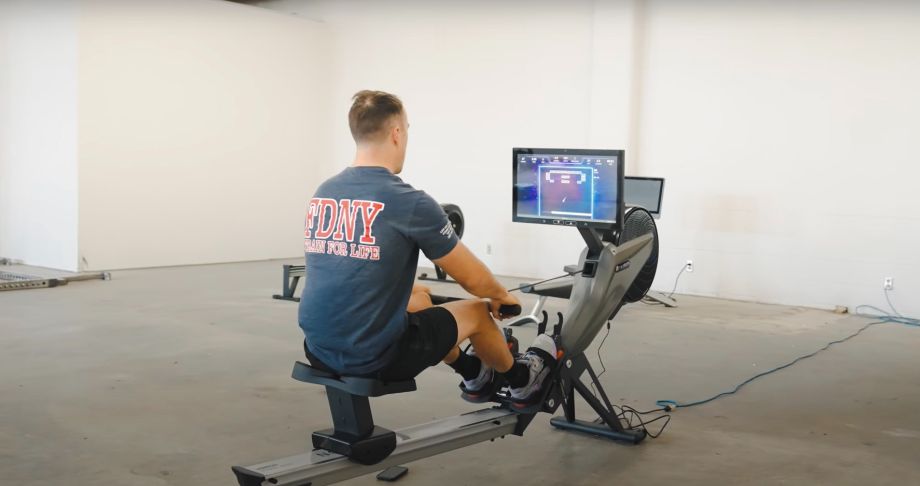 Resistance
To start off, this rowing machine has both fan and magnetic resistance available. I'm used to seeing one or the other, so to see both on one machine is kind of cool. Although you cannot adjust the fan resistance (like you may have guessed), you are able to toggle the magnetic resistance up and down using the monitor.
The fan resistance is similar to what you see on something like the Concept 2 RowErg: Essentially, working against air is what makes your workout harder or easier. The only real adjustment you make on a machine with air resistance is through a damper, which can allow more or less air in, making it harder or easier to spin the flywheel.
By adding in adjustable magnetic resistance, Aviron has given you the ability to really take your rowing workout up a notch. Crank it up as much as 100 pounds of resistance to really target your back muscles as you pull for more strength-based rowing.
High-Tech Rowing Experience
In terms of the screen, this 22-inch HD beauty features a snappy touchscreen with engaging graphics. Not sure if my Wi-Fi is just incredible (humble brag) or if the Aviron rower is just that quick, but either way, I didn't experience any issues with lagging. You'll be able to log in to your account via the top left corner.
Something I really appreciate about the Aviron is the metric monitor. Although you won't be able to access the arcade-style programming unless you pay the $29 per month membership fee, you can always use the metric monitor for free (and sans Wi-Fi). The metric monitor will show all the interesting data that comes with one of your workouts, including distance, time, calories burned, and more. You're also able to pair a Bluetooth heart rate monitor to the rowing machine if you'd like to view it while working out.
Ways to Work Out
Either of the Aviron Rowing machines offers eight different categories for you to get your sweat on (with the subscription of course):
Virtual Rowing: Allows you to feel like you're rowing through bodies of water all over the world.
Arcade: Video-game like programming to make it feel like you're not really working out.
Guided Programs: Trainers virtually lead you through different workouts (without a studio setting).
Power Play: Collect points as you play games while rowing.
Competition: Take part in events against other Aviron rowers.
Coached Programs: Learn how to row with better form, or conquer other useful things like gaining power or strength.
Pros vs. Joes: Compete against actual professionals to challenge yourself.
Games: Play games that are controlled by how fast or strong you row.
Performance: See useful stats like meters, calories burned, watts, and time rowed.
Programming That Creates Accountability
Personally, I think the subscription is worth the cost. I particularly like how interactive Aviron has made their rowing machines. Similar to Facebook messenger, you can see when your friends are also rowing on the left hand side of the monitor. It is then very simple to invite them to row with you or compete in various challenges. I think this makes the rowing experience more fun for people who appreciate a community aspect while working out.
The programming also allows you to view various leaderboards. You can view a leaderboard that has only your friends or the entirety of people who use the Aviton subscription service. As someone who is particularly competitive, this keeps me accountable and makes me want to beat both my friends and random people from the internet I'll never meet in person.
RELATED: Best rowing apps
Another sweet feature? The monthly challenges that Aviron creates. If you complete them, you'll earn special badges that you can rub in your friends faces. Not that I'd do that or anything…
If you're eager to see how your rowing has improved over time, you can view your lifetime workout stats via your account. You'll be able to view things like split time, what mode you were on, how long you rowed for, and calories burned.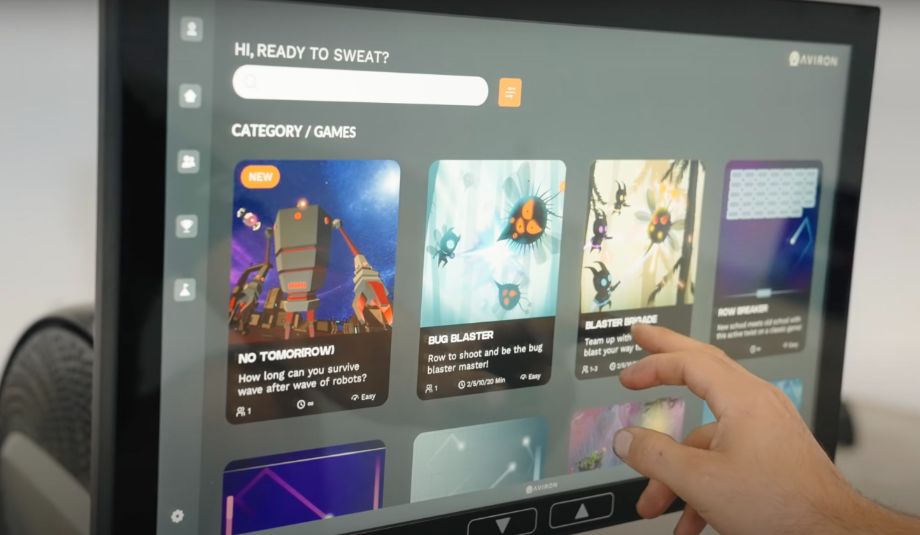 Construction and Aesthetics
The look of the Aviron Tough Series Rower is pretty sleek as far as rowing machines go. There is only one visible wire, which makes it look less cluttered if you need to leave it sitting out all the time.
I was impressed with the touchscreen right off the bat, as the 22-inch HD monitor is simple to use and aesthetically pleasing. The Tough Series Rower I tested has "commercial grade components," which make it slightly more durable than the light-weight Impact Series Rower.
Ergonomically speaking, this rower was very well-thought out. The seat sits quite a bit higher (at 20 inches) versus a traditional rowing machine you might be used to. This is supposed to make it easier for the user to get on and off the machine, and might be easier for people with bad backs to get off and on.
The foot spacing is also rather non-traditional. If you're someone who rows competitively, you might notice the spacing between the feet is wider than usual. This is to supposedly help the average rower row longer versus closer feet spacing, which I'm informed promotes power. It's also pretty cool how customizable the feet are. If you have particularly long feet, the foot pads are able to be adjusted to accommodate you. Another cool feature? The long screw that allows you to easily secure your feet in place.
Both the rail and the seat are slanted to help promote proper form when rowing, which I believe is important to avoid injury. I especially appreciate that they made the rail longer to accommodate more people comfortably (up to 6'8" according to the Aviron website).
I was particularly intrigued by the choice to use a nylon belt versus a chain. I do think it is quieter and smoother (at first at least), but I am interested to see how it wears over time. The material looks very much like a seatbelt you might find in a car.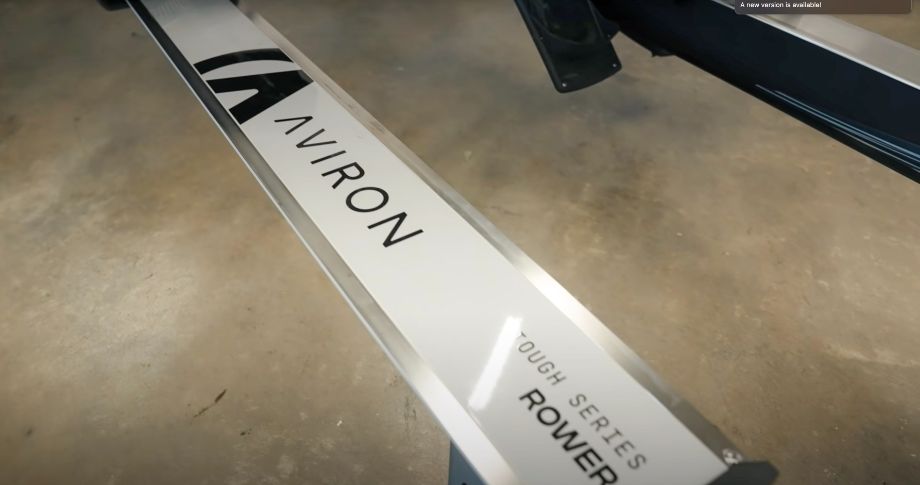 Aviron Rower vs. Hydrow
Hydrow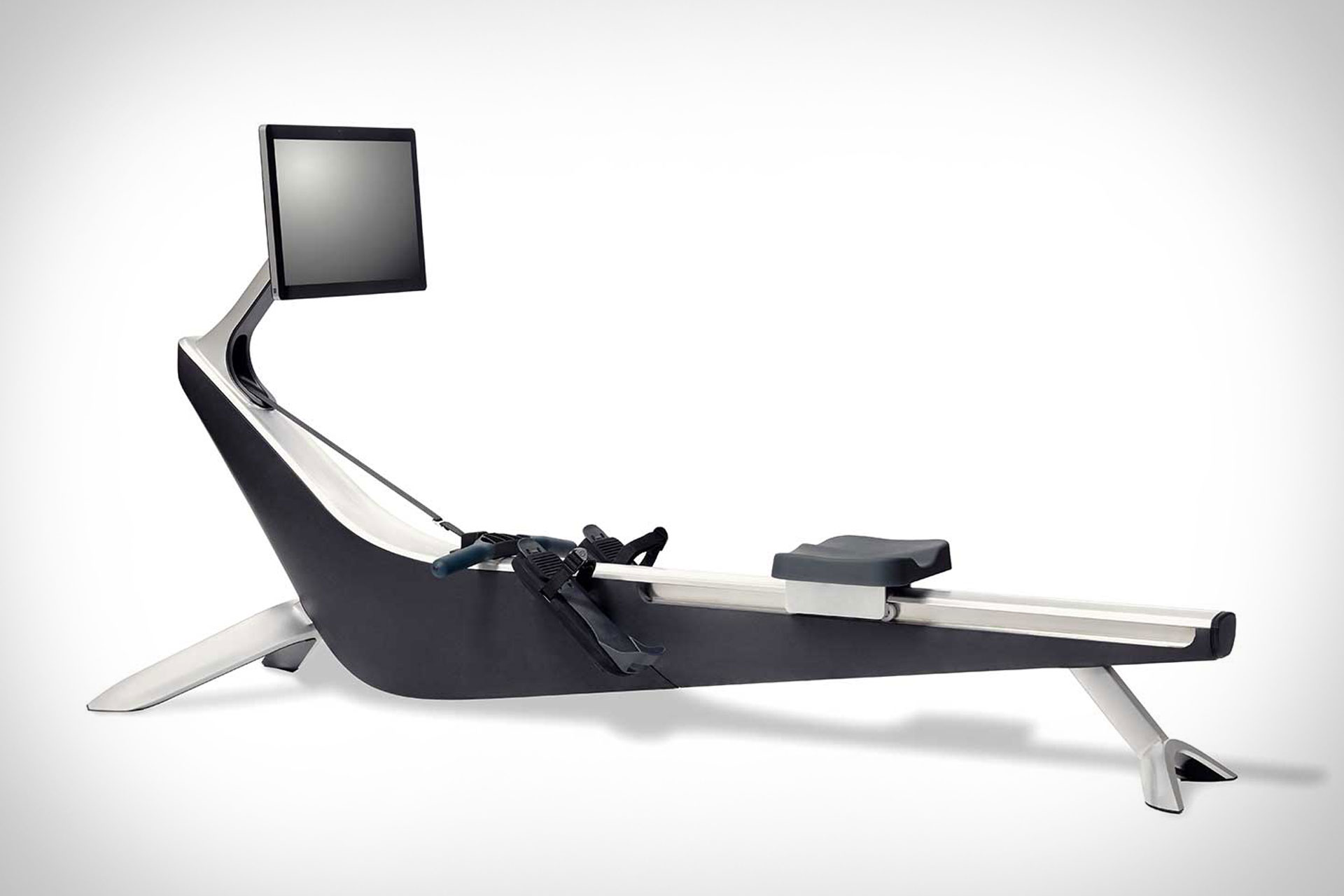 Product Highlights
Sleek and sexy design
16″ touchscreen display
Magnetic resistance done right
Gorgeous virtual rowing workouts filmed on location all over the world
Smooth rowing experience
Pros & Cons
Pros
Consistent and smooth magnetic rower
Engaging interactive programming
Ability to compete against others via a leaderboard
Sleek and modern design
Cons
Just under $2,500 for the Hydrow Essentials Package
Additional subscription fee for programming
Limited customer service contact options
Bottom Line
This is a fantastic, advanced rowing machine ideal for people who have the money to spend and the desire for trainer-led workouts.
At about $2,500, the Hydrow Essentials Package is almost the same price as the Aviron Strong Series Rower. However, the Aviron monthly membership is $29, versus the $38 of the Hydrow.
Honestly, I'm a big fan of both machines, although I do use my Hydrow every week. Personally, I love the format of the Hydrow classes being on water. The camera work and time that went into filming each class makes it feel like I'm really immersed in actually rowing. Plus, I love the leaderboard feature and being able to compete with a ton of people.
I do think the Aviron presents an interesting twist on working out, especially with the gamified programming. For people who are particularly interested in video games and less so in working out, this might be a great way to marry the two. I'm all for anything that gets more people active, healthy, and moving.
The main difference between the two is probably in terms of the resistance. The Hydrow Rower uses magnetic resistance , whereas the Aviron uses both fan and magnetic resistance. This doesn't change a ton, but some people have strong preferences one way or another so I feel it is important to note. I do like that the Aviron feels like a full-body workout since you can adjust the resistance quite high.
RELATED: Best Rowing Machine Workouts
Customer Experience
The warranty of the Aviron Rowers is a 10-year frame and two-year warranty for parts. If you're not 100% satisfied with your new rowing machine, you have 30 days to return it in the original condition for a full refund.
Ordering and Assembling the Aviron Rower
If you're someone who loves ordering new gym equipment but dreads the assembly process, you'll love the Aviron Rower. It was super easy to assemble, as the instructions were clear and all the tools needed were included.
If paying $2,500 all at once sounds like a daunting task, you can finance the rowing machine through Affirm for 6,12, or 36 months with 0% APR financing. Plus, free shipping is included.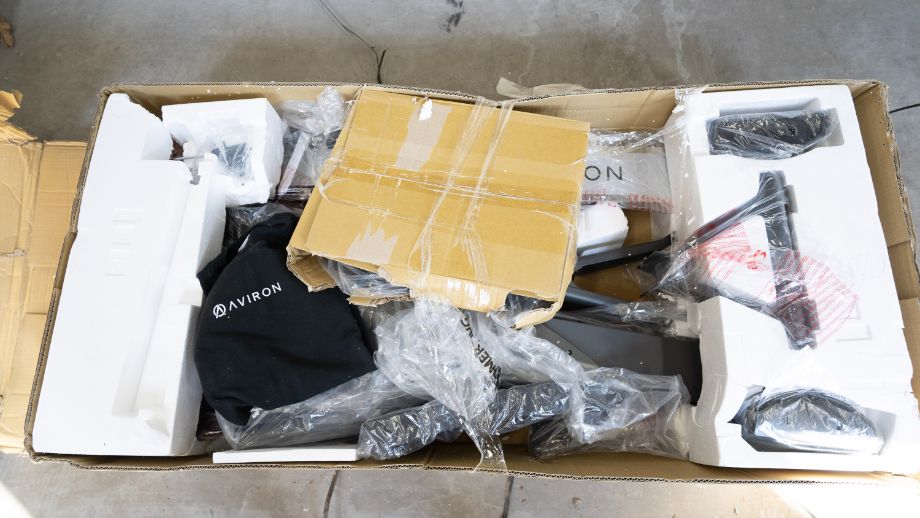 Customer Reviews
With over 400 reviews on the Aviron website, this rowing machine gets 5 stars out of 5. I do want to say, this seems slightly suspicious to me, like the company is filtering out or deleting any less-than-perfect reviews. I find it hard to believe that no one has anything negative to say about the rowing machine.
Don't get me wrong, I think it's great, but even the best things have critics. All of the reviews on the website gush about the machine's sturdiness, great customer service, and fun programming.
Other review websites seem to echo many of my comments—that the machine is sturdy, but that it's pricey and quite large.
Final Verdict of Our Aviron Rower Review
The Aviron Tough Series Rower is a solid machine with unique programming that is largely foreign to fitness. If you're looking for a fresh twist on a piece of smart home gym equipment and need some additional motivation to reach your fitness goals, this is a tremendous option. The only real kicker is the somewhat expensive price tag, but it's comparable to the other smart options on the market and offers a very unique experience.
Aviron Rower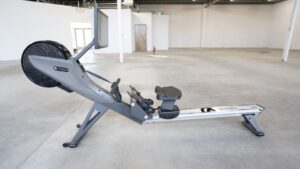 The Aviron Rower is a great gamified rowing machine for people looking for a fresh take on interactive programming.
Product Brand: Aviron
Product Currency: $
Product Price: 2500
Product In-Stock: InStock
Aviron Rower Review FAQs
How much is the monthly membership for Aviron?
As of the publication of this review (Winter 2023), the Aviron monthly subscription cost is $29.
Can I do strength training workouts with my Aviron membership?
Although there are a lot of cool features and programming to do with your Aviron rowing machine, they don't specifically offer strength classes like you may be used to seeing with Peloton or iFit. However, since you are able to change the resistance up to 16 notches, the Aviron website mentions resistance levels 11-16 are great for gaining strength in your back and arms.
What type of exercise equipment do I need besides an Aviron Rower for solid home workouts?
Rowing workouts can definitely help you achieve your cardio related fitness goals, but to gain muscle, I'd recommend adding additional equipment for the most effective workouts possible. Consider purchasing an olympic barbell, weight plates, and possibly some dumbbells for home use.