We test and review fitness products based on an independent, multi-point methodology. If you use our links to purchase something, we may earn a commission. Read our disclosures.
Yes, I will admit. Sometimes I am one of those people who wears their Apple Watch Series 6 with formal wear and looks like a Spy Kid. Oh, well, sue me. No, actually, Apple, sponsor me! Anyways, I'm going to review the Apple Watch Series 6 and let you know all my thoughts about it. Spoiler alert: I'm a fan.
In this Apple Watch Series 6 review, I dig deep into information about the tech features, workout tracking, and overall durability. I'll let you know why I personally think this smartwatch is worth the money (and it ain't cheap).
Why You Should Trust Us
I've written about and tried quite a few different fitness trackers– budget-friendly options like the Fitbit Inspire 2, the tracker many CrossFit elites wear (the Whoop Strap 3.0), and the Garmin Forerunner 245. I've even compiled a list the best fitness trackers on today's market.
Apple Watch Series 6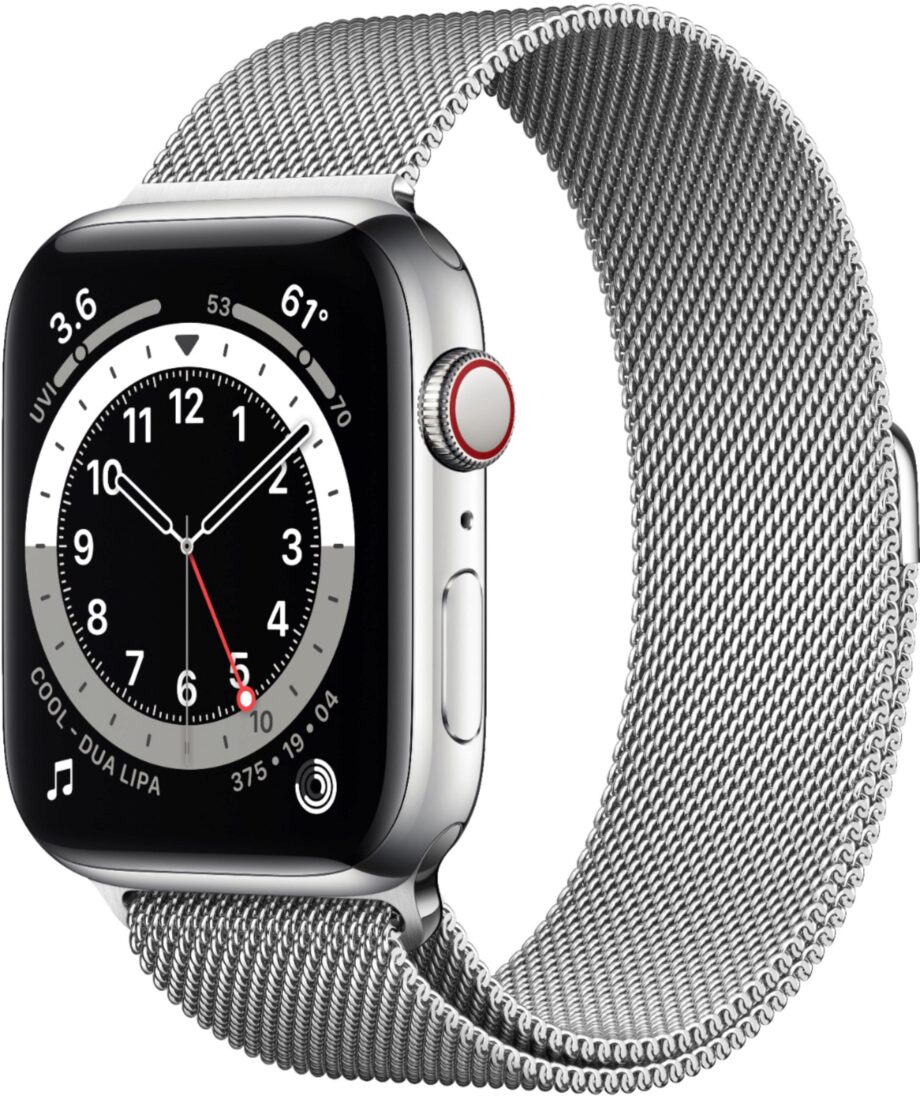 Apple Watch Series 6
Measure your blood oxygen level with a revolutionary sensor and app. Take an ECG anytime, anywhere. See your fitness metrics at a glance with the enhanced Always-On Retina display. With Apple Watch Series 6 on your wrist, a healthier, more active, more connected life is within reach.Want to know more? Check out our full Apple Watch Series 6 review.
A Quick Look at the Apple Watch Series 6
Apple has been a mainstay in the technology space for quite a while. However, the first Apple Watch didn't make its debut until 2015. In the years since, Apple has continued to add new and innovative features to the watches, making each iteration better than previous ones.
Coop's Tips:
Buy a screen protector for your watch, darnit! You'll regret it if you don't. I never realized how much I swing my arms when I walk before I got my Apple Watch…
You might consider purchasing a few different straps to switch between if you want to wear it all the time – maybe a fancier looking one, a workout band, and a casual band.
My Favorite Things:
80+ total exercises are able to be tracked on the watch
Water resistant up to 50 meters
Can connect with friends/family who have Apple watches and view their activity or compete against them
Ability to answer calls through your watch or see texts as they come through
Smartphone like functionality with features like Siri
My Callouts:
Huge price range ($399-$1499) depending on what style, size, and materials you get
So many features that it can be confusing if you're not tech savvy or patient to learn everything
After a few years, each of the Apple Watch models becomes obsolete. It isn't a piece of tech you'll have for a decade, but then again, what is?
Is the Apple Watch Series 6 Worth It?
Great for:
Technology savvy people who love learning about the latest and greatest.
People who don't mind spending a little extra for a luxury wearable.
Individuals who want to be able to see real-time metrics to further their health and wellness goals.
Those interested in upgrading their current Apple Watch to get the new features.
Not recommended for:
Someone on a tight budget. No shame if that's you, but I'd recommend something like the Xiaomi Mi Smart Band 6.
People who want a really simple fitness tracker without confusing extras.
Those who can't remember to charge their watch each night.
What Does the Apple Watch Series 6 Do?
The Apple Watch Series 6 has many useful features. Here's a list of some of them:
Sleep tracking
An SpO2, or blood oxygen sensor
Track 80+ fitness exercises
View VO2 Max
ECG (heart rhythm tracking, which can be life-saving)
Ability to listen to music, audiobooks, and podcasts
Barometric altimeter
GPS
Ability to take calls and view texts
Water resistant up to 50 meters
View fitness trends and compete with friends
Apple Pay
Fall detection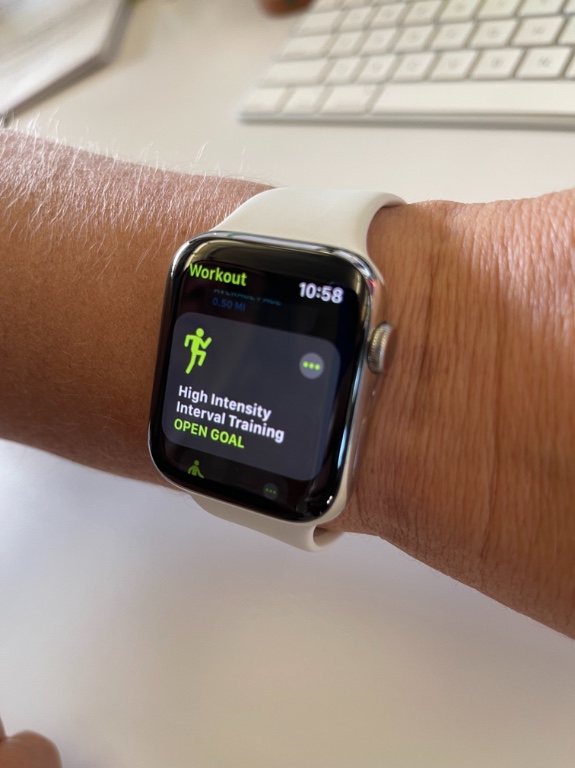 Using the Apple Watch Series 6
I've owned my Series 6 since December of 2020, and it was my first time owning any Apple Watch. I honestly wasn't sure I would be into it but boy, was I wrong. I love being able to track pretty much every workout under the sun and even being able to track with different workout programs. There are 80+ different exercises you can specifically track, including unique hobbies like curling, sailing, and Tai Chi!
RELATED: Best Online Workout Programs
Naturally, I used mine for more tame activities like running, walking, functional training, HIIT, and hiking. I love being able to easily see how many active calories I've burned as well as the duration of the workout and my heart rate. Since owning the Apple Watch Series 6, I feel like I've been much more in tune with what a good workout looks like for me by using the data provided.
I'm an especially big fan of trying to close the three rings within the activity app. If you're not familiar with what I'm talking about and decide to purchase an Apple Watch Series 6, you'll have found your new obsession. Each of the three rings means something different – red is move, green is exercise, and blue is stand. You are able to set individual goals (that you work to hit each day) by scrolling to the bottom of the activity app.
Both the exercise and stand categories are based on time. The move goal is based on calories burned throughout the day. If you hit all three of your pre-set goals, the watch will light up with multi-colored fireworks to congratulate you. You can also earn awards for hitting your goal multiple days in a row or even burning a certain number of calories within a month. It can be a fun and encouraging way to hit your fitness goals.
Apple Watch Series 6 vs. Apple Watch Series 5
If you're someone who already owns the Apple Watch Series 5, there are a few key differences (although not many) between that and the 6. Here are some things the Series 6 has (that the Series 5 doesn't):
Blood oxygen level
Faster charging capabilities
Better wi-fi
Brighter display
New processor
Apple Watch Series 6 vs. Apple Watch SE
The Apple Watch SE is the cheaper version of the Apple Watch Series 6. If you're looking to spend less money, know that you'll sacrifice a few different features. These include blood oxygen monitoring, the ECG app, and the always-on Retina display. The SE will run you a little more than $100 less than the Series 6, so it might be wise to determine if these are useful features for you.
Using the Apple Watch without an iPhone
It is useful to know that you cannot pair your Apple Watch with an Android, Samsung Galaxy, or other smartphone that isn't an iPhone that uses iOS. However, you can use what is called "family setup" to set up a watch for a family member who doesn't have an iPhone (the person setting the watch up MUST have an iPhone). This is useful if you want your child to have an Apple Watch, but they might not yet have a cellphone. You'll even be able to control some aspects of their watch through your phone.
Keep in mind that some features of the Series 6 will not be available to that user since they don't have an iPhone – blood oxygen app, cycle tracking, irregular heart beat, ECG, and the news app.
Aesthetics
You can purchase an Apple Watch Series 6 in either stainless steel or aluminum. The stainless steel cases come in silver, gold, and graphite. The aluminum cases come in new colors like silver, gold, blue, space gray, red, and black. I personally have the aluminum case in silver with a white, silicone sport band. I've heard people are a big fan of the braided solo loop band because there are a variety of size options to choose from. You simply slip it around your wrist like a bracelet.
You can purchase watch band options made of a variety of materials both from the Apple store and from other retailers. I love how many options are available because you can easily switch between a more casual band and a fancier option. It makes this fitness tracker much more wearable than a watch that doesn't have the option to switch out the band.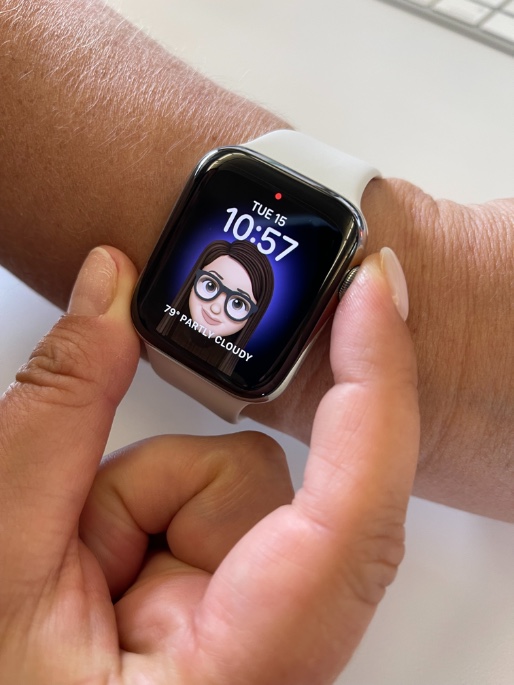 Health App
One of my favorite features that connects between your iPhone and Apple Watch is the health app. You can view your daily steps, workouts over the past 7 days, and headphone audio levels. I like seeing the audio level because it's a good reminder for me to turn down my volume if I don't want to have hearing issues at 60. Other things you can view within the app include cycle tracking, walking+running distance, handwashing, and sleep patterns.
You can also browse additional health features and health sensors including:
Activity
Body Measurements
Heart (heart rate monitor, electrocardiogram, cardio fitness, heart rate variability)
Mindfulness
Mobility
Nutrition
Respiration (blood oxygen measurements, oxygen saturation)
Symptoms
Vitals
Apple Watch Series 6 Specs
Display:
Always-On Retina LTPO OLED display
Water Resistance Rating:
50 meters
Chip:
S6 SiP with 64-bit dual-core processor
Charging:
Can go up to 18 hours without a charge
Dimensions:
40mmHeight: 40mmWidth: 34mmDepth: 10.7mm
44mmHeight: 44mmWidth: 38mmDepth: 10.7mm
Weight:
40mmAluminum: 30.5gStainless Steel: 39.7gTitanium: 34.6g
44mmAluminum: 36.5gStainless Steel: 47.1gTitanium: 41.3g
Brand:
Apple
Finishes:
Aluminum, stainless steel, titanium
Sensors:
Accelerometer, Altimeter, Barometer, Compass, ECG, Gyroscope, Heart Rate, Light Sensor and Pulse Oximeter
Connectivity:
Bluetooth, Wi-Fi, NFC
Dial Type:
Digital
Ordering the Apple Watch Series 6
I ordered my Apple Watch Series 6 off of Amazon and it came within a week. Amazon offers both free shipping and free returns so it seemed like a no brainer to me. However, you can order off of the Apple website if you prefer. If you'd rather finance your purchase, you can pay over 24 months with 0% APR.
When you open your brand new Apple Watch Series 6, expect to find the watch face, magnetic charger, two different sized watch bands, and the instruction manual.
Customer Experience
I've owned Apple products for years and have always found their customer service to be on point. If you're lucky enough to be near an Apple store, you are able to go in person to get help at the Genius Bar where an Apple employee will try to answer any questions you might have. If it's a relatively simple issue, they often can fix it for you on the spot. With the COVID pandemic, I've seen the wait time get pretty long, so I'd recommend making a reservation online for assistance instead of simply showing up.
If you'd rather, you can call Apple for support over the phone. Apple has different phone numbers for you to call based on where you're located. If you're in the USA, you can call 1-800-275-2273 with questions. I've also been known to check out the support page on the Apple website for simpler questions about features and different technology questions.
Warranty
For the Apple Watch Series 6, there is a 1 year hardwear repair limited warranty with 90 days of complimentary support included with your purchase.There is also the option to purchase AppleCare+ for $79. With AppleCare+, you're covered for an additional year and two incidents of accidental damages.
Returns
If you're not 100% pleased with your Apple Watch, you can return it within 14 days of receiving it. Simply sign into the Apple website "order listing" page and follow the prompts to get a return authorization.
Customer Reviews
Since the Apple Watch Series 6 is so popular, it doesn't come as a surprise that it has over 40,000 reviews on Amazon with an average score of 4.8 out of 5. Positive reviews mentioned they love how the watch connects to your iPhone for text and call notifications. People also said they enjoy the useful health data and sleek appearance with lots of options for changing out the band.
On the negative side, people complained that you cannot use the Series 6 if you have an iPhone 6 or older. The battery life was also criticized for not lasting very long compared to other fitness trackers like Fitbit.
Final Verdict
Apple Watch Series 6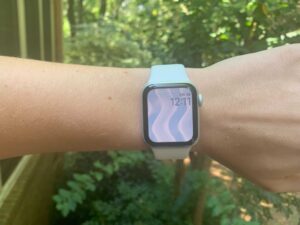 In this Apple Watch Series 6 review, I dig deep into information about the tech features, workout tracking, and overall durability. I'll let you know why I personally think this smartwatch is worth the money (and it ain't cheap).
Product Brand: Apple
Product Currency: $
Product Price: 429
Product In-Stock: InStock
Apple Watch Series 6 FAQ
Is the Apple Watch Series 6 expensive?
Should I charge my Apple Watch 6 every night?
You should definitely charge your Apple Watch Series 6 every night. The watch only has 18 hours of battery life on a full charge. I would recommend charging it next to your iPhone before you go to sleep. 
Is the Apple Watch 6 waterproof?
The Apple Watch Series 6 isn't what is considered to be waterproof, but it is water resistant up to 50 meters. However, it isn't a good idea to take this smartwatch deep diving into the ocean. You'll probably ruin it. Taking a shower? Should be good.