We test and review fitness products based on an independent, multi-point methodology. If you use our links to purchase something, we may earn a commission. Read our disclosures.
The name Stamina may not evoke the same brand recognition as say, NordicTrack, but it does have its own lengthy history. Founded in 1987, Stamina focuses on creating affordable workout equipment like Pilates reformers, compact striders, strength equipment, exercise bikes, and rowing machines.
In terms of rowing machines, Stamina produces a ton of different SKUs (and I really mean it). You'll find close to 30 different options on both Amazon and the brand's website. In these Stamina rowing machine reviews, we'll do a deep dive on the bevy of available choices to help you find your best fit.
The Four Elements of Rowing Machines
Most of us know the four classic elements of the universe, which were coined by the ancient Greeks: fire, air, water, and earth. The different types of rowing machines follow this pattern closely. You can find air, water, magnetic, and hydraulic rowers in many home gyms. If you look closely, interesting parallels are everywhere (or maybe I just think too hard).
Regardless of the type of home rowing machine you're interested in purchasing, GGR can help you find your ideal match. We're a team of expert product testers and reviewers with years of experience in the fitness industry. After all, GGR is made up of certified personal trainers, former college athletes, and nutrition coaches. We love all things fitness and enjoy sharing our knowledge with you.
Air Rowers from Stamina
Air rowers are powered by both the user and a large fan, the latter of which is typically located at the front of a rowing machine. A popular air rower is the CrossFit-favorite Concept2, which also features a convenient damper to control the amount of air used during a workout. However, not all air rowers have this feature, so be sure to check your potential machine's specs before purchasing (if this is important to you).
Browse the 11 low-impact air rowers presently offered by Stamina:
Stamina X Air Rower
Good for: A budget-friendly (and foldable) air-resistance rower
The X Air rower is one of the eleven currently offered air rowers from Stamina. This affordable cardio machine is under $800 and foldable.
"It works as intended for home use," customer Jaiel explained. "It has a strong and sturdy steel frame. However, the seat is really small and uncomfortable."
"The machine is simple and just does the basics, but enough for the price," Jaiel added. "Also, it took less than 30 minutes to assemble."
You won't find any crazy bells and whistles on this machine (as Jaiel said), but the machine could be a good addition to any of your favorite high-intensity interval workouts.
If you're a heavier person, I wouldn't recommend the Stamina X Air rower. This machine only has a user weight capacity of 250 pounds, which is slightly below average. For context, high-end rowers can have a user weight capacity of up to 400 pounds, which is the inclusivity I think every company should strive towards.
Magnetic Rowers from Stamina
Magnetic rowing machines are gaining popularity, thanks to options from Hydrow and Aviron that incorporate gamification into their interactive programming. Although you won't find a touchscreen on any of the current rowers from Stamina, you'll still get the traditional, quiet workout you'd expect with various levels of resistance to choose from.
Take a look at the six currently offered magnetic rowers from Stamina:
Stamina Avari Magnetic Rower
Good for: Someone who wants adjustable, magnetic resistance
The Stamina Avari Magnetic rower is under $1,000 and has 12 different resistance levels. According to customer reviews, this rower is very quiet, even when on the highest resistance setting.
The Avari rower comes with a chest heart-rate strap, which can be used in tandem with the heart rate workout program on the machine.
I particularly like the oversized pedals on the Avari, as these would fit most people's feet (unless you have GGR writer Anthony O'Reilly's size 15 feet). The footplates also have an adjustable nylon strap with a textured base for additional grip.
Although this machine is a reasonable 75 pounds, it isn't foldable like some of the other rowers from Stamina. This isn't out of the ordinary, but you'll need to plan to keep this machine out in the open even when it isn't in use.
Hydraulic Rowers from Stamina
Hydraulic rowers are generally compact pieces of fitness equipment and depending on the design, feature one to two pistons. With this type of rower, a cylinder is used to generate resistance in tandem with the piston or pistons. Since hydraulic rowers have arms, the user makes the piston and cylinder move as they move the arms. If this didn't make much sense to you, no sweat. Just check out one of Stamina's seven hydraulic rower options to get a better idea of what the heck I'm talking about:
Stamina BodyTrac Glider 1050 Rowing Machine
Good for: A small space or someone on an extreme budget
Let me keep it real with you: The Stamina BodyTrac Glider 1050 is not going to be the peak of quality. However, it can be a great purchase for a certain type of person. If you're someone in a super tiny space or are on a really tight budget, you may appreciate what the 1050 has to offer.
At just 39 pounds, the 1050 is lightweight and simple to move from room to room. Plus, it's even foldable for easy storage.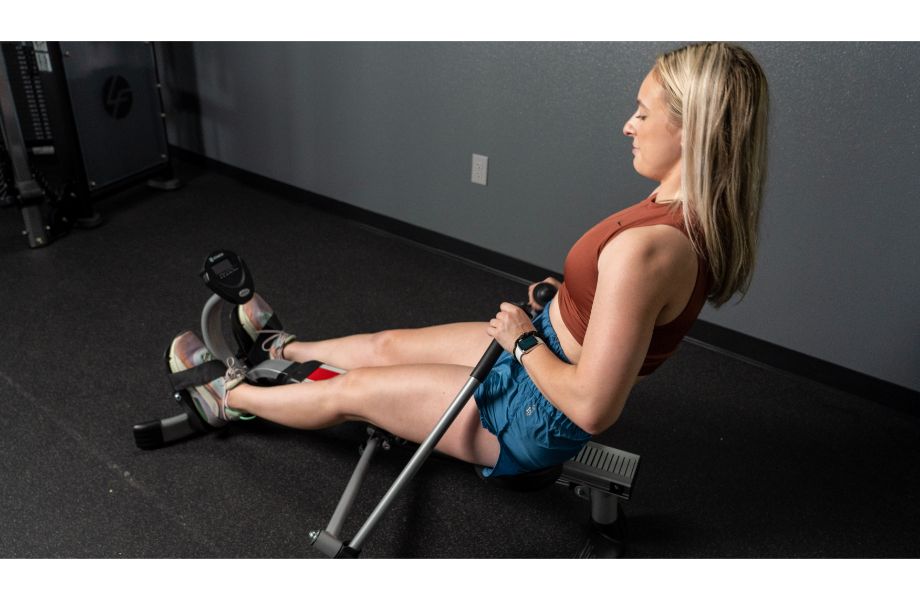 GGR editor (and certified personal trainer) Nicole Davis tested this machine alongside myself. Here's what she had to say:
"It's really compact and foldable, so it's easy to hop on and go," Nicole explains. "It also mimics rowing in a boat, which seems unique to a majority of rowers out there."
As a person who is close to six feet tall (especially with shoes on), I found the monorail to be a bit short for my taste. The Stamina website doesn't share the exact length of the monorail, but I can tell you from personal experience that it's quite short. If you're tall like me, you likely will not be able to get full extension during the 'drive' portion of rowing.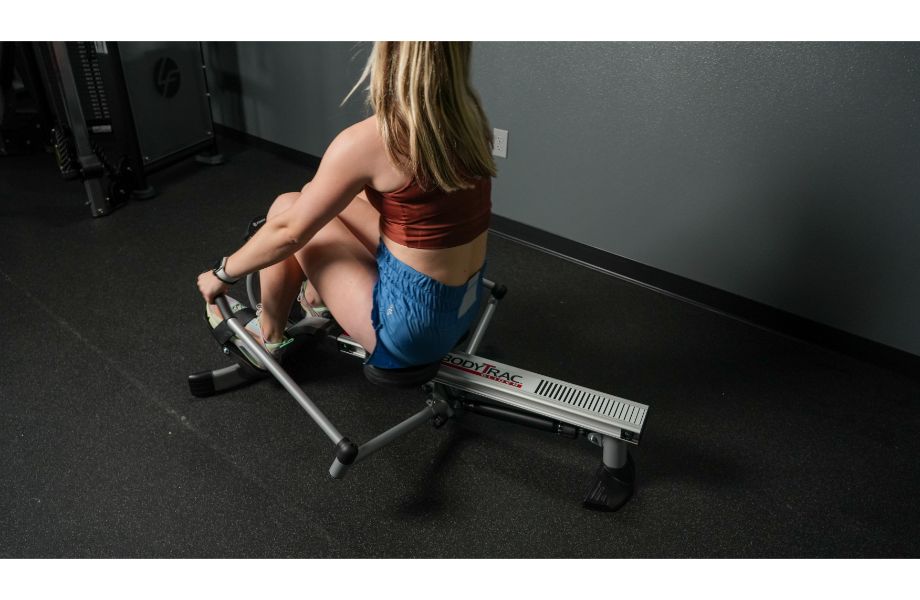 However, this doesn't mean I didn't have an enjoyable experience on the 1050. I truly enjoyed using this and thought it was fun and different.

For those with balance issues, you may want to choose something different. The Stamina BodyTrac Glider 1050 is extremely low to the ground and not the easiest to mount and dismount.
Read more in the Stamina BodyTrac Glider 1050 review.
Water Rowers from Stamina
Instead of the flywheel generating power by interacting with magnetic pieces, a water rower utilizes water (and the user) to generate resistance. Popular examples of water rowers include the CITYROW Go Max, the Ergatta, and the Mr. Captain Water rower.
Stamina currently features a few different water rowers to peruse:
Stamina Elite Wave Water Rowing Machine 1450
Good for: Someone who wants a foldable water rower
The Stamina Elite Wave is a water rower that costs around $1,300. For context, the popular water rower, the Ergatta, costs $2,400. Although $1,300 is not a small sum of money for the majority of people, it is over $1,000 cheaper than the Ergatta, which is something to keep in mind.
The 1450 features interactive programming known as müüv, which comes complimentary with the purchase of your rower. This programming isn't video-based like most options out there. Instead, it uses auditory cues to push the user during their workouts. I'm actually a big fan of audio-only workouts (hello, Peloton outdoor), so I like the concept of müüv.
The best part of the 1450? The foldability! This cardio machine is able to be folded upright for convenient storage in a closet or against the wall. The water tank stays upright while the rest of the machine is able to be folded. No leaks or spills and more space. We truly love to see it.
It is worth noting that this machine has a subpar warranty of three years. For the price, I'd expect to see at least five years of coverage, so this is a bit disappointing. However, the brand does offer additional protection for one, two, or three years, but it'll cost you cold, hard cash.
Which Stamina Rowing Machine Should You Buy?
Now that you better understand what each type of rowing machine is, you can focus on the nitty-gritty details of the available Stamina options. Here are some questions to ask yourself before buying anything:
What's my price range?
What type of resistance do I prefer?
What user weight capacity do I need?
What dimensions will work for my space?
Does this machine need to fold or compact in some way?
Does this machine have transport wheels?
Does this rower have a padded seat?
Are the foot straps and footrests adjustable and will they fit my feet?
Can the resistance be adjusted in any way (whether that is via a damper or knob)?
How long does the seat rail need to be to suit my height?
What extras do I want on my rower: Bluetooth, a tablet holder, LCD monitor, or a heart rate monitor?
Stamina Rowing Machine Comparison Chart
Check out this comparison chart to see a side-by-side look at four different Stamina rowers:
| | | | | |
| --- | --- | --- | --- | --- |
| | Stamina X Air Rower | Stamina Avari Magnetic Rower | Stamina Body Trac Glider 1050 Rowing | Stamina Wave Water Rowing Machine |
| Type of resistance | Air rower | Magnetic rower | Hydraulic rower | Water rower |
| Price | Around $800 | Around $1,000 | Under $330 | Around $1,300 |
| Dimensions | 78.5" x 18" x 29" | 81" x 20" x 24.5" | 58.25" x 42.5" x 18.125" | 85.35" x 20.25" x 32.75" |
| Weight | 63 lbs | 75 lbs | 39 lbs | 71 lbs |
| Warranty | 3-year frame, 90-day parts | 3-year frame, 90-day parts | 1-year frame, 90-day parts | 3-year frame, 90-day parts |
| Material used | Steel, metal, and plastic | Steel and aluminum | Steel and aluminum | Steel and nylon |
| Weight limit | 250 lbs | 275 lbs | 250 lbs | 300 lbs |
Stamina's Brand Policies
Brand policies are more important than you think. It's critical to consider things like the warranty offered, general return policy, and possible financing options. Wondering where Stamina stands on these issues? Check it out below:
Warranty
The industry standard for a rowing machine warranty is between five to 10 years on the frame, two years for parts, and a year for labor.
Unfortunately, Stamina does not meet the warranty industry standard on any of their rowing machines. The best warranty they offer is three years for the frame and just 90 days for parts. This doesn't necessarily mean you shouldn't purchase a rower from Stamina, but you should curb your expectations about durability.
The majority of the rowers made from Stamina are under $1,000 (sans a few stragglers), so if you purchase a budget machine, you're likely not going to get the same durability you'd find on a high-end option.
To cash in on your warranty, you can call Stamina at 800-375-7520 or register your machine online.
Returns
If you purchase your Stamina rower from the brand's website, you have 30 days to return the machine. For those who purchase from a third-party retailer (like Amazon), you'll need to follow their specific policies and procedures.
The industry standard for rower returns is 30 days, so Stamina hits the nail on the head. However, the brand's website does not specify if the customer is responsible for shipping charges or not (but I'd assume they are).
If you want to return your Stamina rower, you can email customer service at customer.care@staminaproducts.com. They'll respond during normal business hours Monday through Thursday and until 3 p.m. on Friday.
Financing
Stamina does not currently offer any financing options on their website. The brand only accepts payments from major credit cards like American Express, Visa, Mastercard, and Discover.
However, Stamina rowers are sold at a variety of retailers, some of which do offer financing options. If this is something you need, consider purchasing your machine on Amazon, Dick's Sporting Goods, Walmart, or HSN. All of these sites will break up your payments into chunks (did anyone else picture Campbell's Chunky soup?) to help you get the machine you want at a price you can afford.
Stamina Rowing Machine FAQs
Is Stamina a good brand for rowing machines?
Stamina produces affordably priced rowing machines that are suitable for most home gyms. The brand also offers a variety of compact rowers, which will work for those who live in smaller spaces. 
However, if you have a larger budget or want more technology features, I suggest looking elsewhere. If this is you, I recommend the Hydrow rower for a sleek cardio machine that has a ton of tech-y features and stellar interactive programming.
What are the best rowing machines?
How long should you row on a rowing machine?
How long you should row on a rowing machine depends on a variety of factors. Firstly, it is important to keep your current fitness level in mind. If you're never rowed before, you can't expect to be able to sustain 60 minutes without a little practice. 
It's also a good idea to keep your fitness goals top-of-mind when deciding how long to row. Are you rowing for weight loss, for fun, or for improved cardiovascular endurance? These questions can help you determine the amount of time you should row.
Still feeling unsure? When in doubt, contact a certified personal trainer. They'll be able to evaluate your level of fitness coupled with your goals and recommend something that will work for you.