We test and review fitness products based on an independent, multi-point methodology. If you use our links to purchase something, we may earn a commission. Read our disclosures.
The saying "you get what you pay for" has never rung truer than when I'm testing cardio equipment like rowing machines or fitness tools like massage guns. I don't know about you, but I get quite annoyed when something expensive proves to be much better than the cheaper alternative—but then find myself glad I decided to "buy once, cry once."
In this Stamina BodyTrac Glider 1050 review, you'll learn a lot about this ultra-affordable rowing machine and a lot about why, sometimes, forking out more cash is the better idea.
Serving Up The Truth Since 2014
It's always been GGR's mission to provide honest, real reviews on fitness products. That's been a founding principle since the day Coop started this platform and it remains true now that GGR has a team of certified fitness professionals testing equipment and writing reviews. While we believe most products have their place, we also believe it's our duty to make sure your money is well-spent.
Stamina Body Trac Glider 1050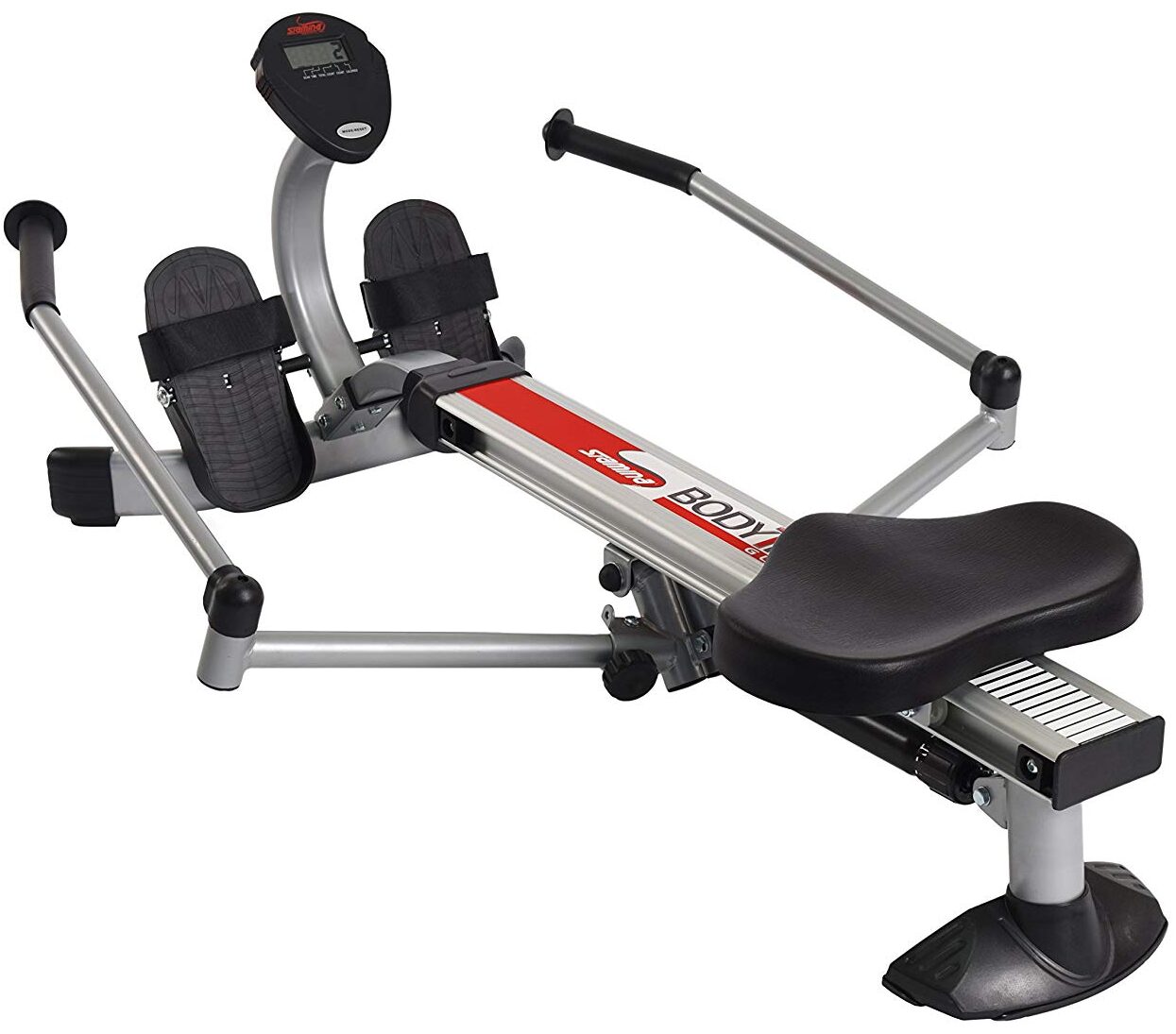 Stamina Body Trac Glider 1050 Rowing Machine
Full-motion arms on the Stamina BodyTrac Glider simulate the feel of rowing on actual water. The unique design allows for a full-body, effective workout for every major muscle group - including back, legs, arms, abs and glutes. Rowing is also widely known to aid in improving cardiovascular health and burning calories.Stay focused during exercise with an easy-to-read LCD monitor and see your workout time, stroke count, calories burned and total strokes accumulated. When you want to increase or decrease the intensity of your stroke, simply adjust the hydraulic cylinder.Comfort for Lasting ResultsFor extra support and stability, the BodyTrac Glider moves along a smooth ball-bearing roller system and includes features to enhance your comfort, including textured foot plates with straps, a molded seat and padded hand grips. Fold the arms after you've completed your workout for an easy way to save space.
A Quick Look At The Stamina BodyTrac Glider 1050
The Stamina Body Trac Glider 1050 rowing machine is a hydraulic rower, which is the only type of rowing machine we typically don't recommend. There are air rowing machines, like the Concept2 RowErg, our top pick for the best rowing machine overall; there are also magnetic rowing machines and water rowing machines.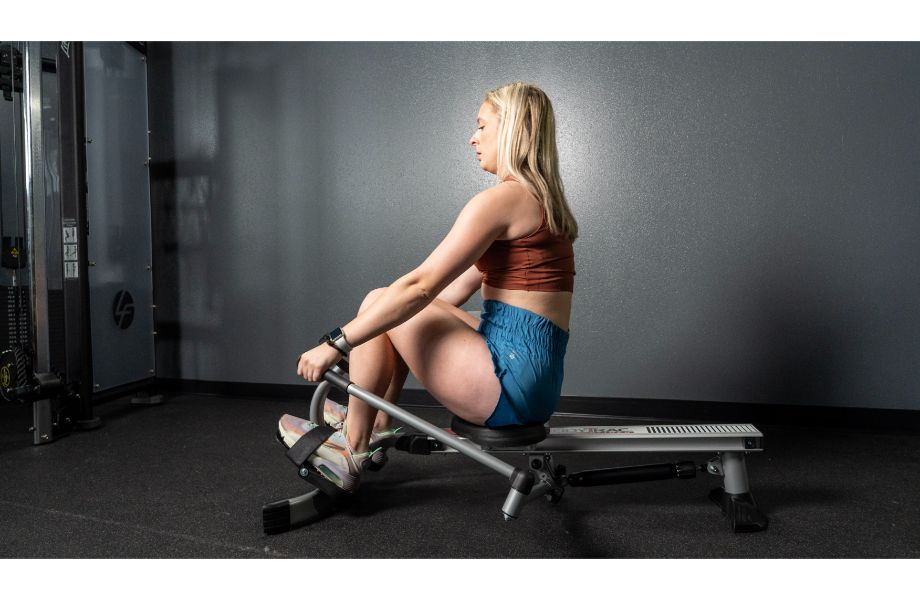 Hydraulic rowers don't make any of our guides to the best rowing machines because they simply aren't as versatile or as durable as any of the other three types. If the name didn't make it clear, this type of rowing machine uses hydraulics to create resistance. Specifically, there are pistons attached to handles, and when the exerciser pulls on the handles, the air or fluid inside of the pistons provides resistance.
Many people gravitate towards hydraulic rowing machines like the Stamina BodyTrac Glider 1050 due to the low price point. At less than $200, the BodyTrac Glider does seem like a good deal. But is it really?
My Tips:
Hydraulic rowing machines aren't designed for heavy use, so if you plan to row frequently, check out other options, such as magnetic rowing machines.
This rowing machine won't work for very tall people. Something with a longer monorail, such as the Concept2 RowErg (Model D Rower), is a better choice.
Hydraulic rowing machines require more maintenance than other types of rowers, so be prepared for that.
Pros:
Costs less than $200
Takes up very little space
Folds up even smaller for easy storage
Wide, padded seat
Easy to move, only weighs 38 lbs
Feels more like rowing on real water than magnetic and air rowing machines
Expert assembly available for an extra fee
Financing available with an Amazon credit card, Amazon Prime account, or through Affirm
Ships free with Amazon Prime
2-year protection plan available for an extra fee
Cons:
Slide rail is too short for people over 5'8" to get full hip extension
Hydraulic pistons require regular maintenance
Monitor is tiny and doesn't display much information
Foam grip on handles will likely tear
Foot plates are way too small for most people
Resistance levels aren't challenging for conditioned people
Paltry warranty
Is The Stamina BodyTrac Glider Worth It?
I'm usually inclined to say that budget-friendly pieces of fitness equipment are good for someone, somewhere.
In the case of the BodyTrac Glider, though, it's tough to recommend when there are many other rowing machines available for similar price points that will probably last much longer and provide a much better workout experience.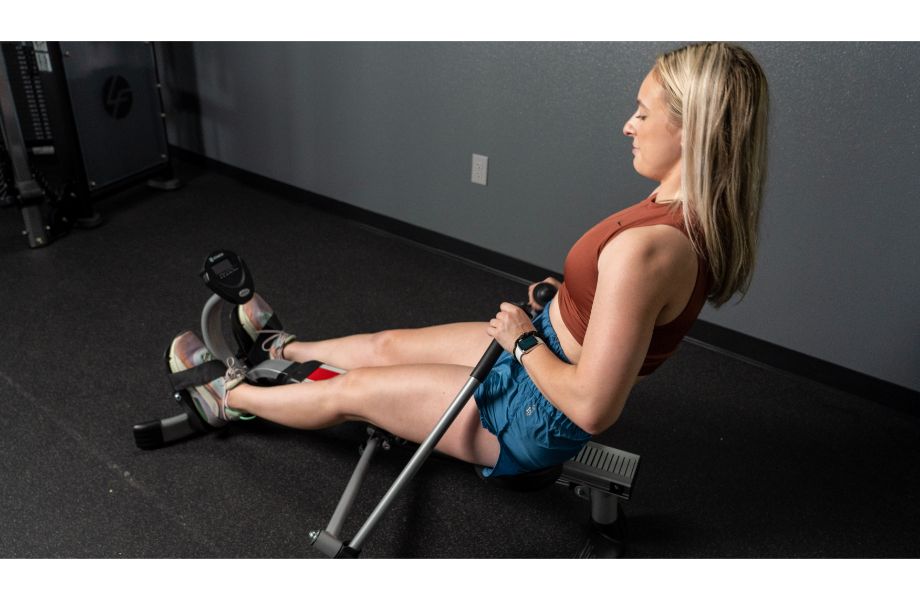 For example, for about $100 more, you could get the Sunny Health and Fitness SF-RW5801 rowing machine, which our roster of product testers liked so much it made our guide to the best budget rowing machines.

Still, the BodyTrac Glider 1050 has overwhelmingly positive reviews on Amazon, so it's still safe to say that there is indeed a target market for it.
Great for:
People looking to spend less than $200
Exercisers who don't row very frequently, or for very long during a single session
Anyone who seriously needs to maximize space
Not recommended for:
Conditioned, experienced exercisers looking for a challenging workout
People who have a little more wiggle room in their budget
Anyone who cares about rowing stats like stroke rate and 500-m split time
Stamina BodyTrac Glider 1050 Specs
| | |
| --- | --- |
| Dimensions | 58.25" L x 18.13" W (42.5" H when folded) |
| Display | Small LCD screen |
| Product Weight | 38 lbs |
| User Weight Limit | 250 lbs |
| Bluetooth | No |
| Transport | Carry only |
| Resistance Type | Hydraulic |
| Resistance Levels | 8 |
| Programming | Compatible with muuv app |
| Warranty | 1-year frame, 90-day parts |
Related: Read our guide to the best budget rowing machines.
Workout Experience
Two Garage Gym Reviews staff members tested the Stamina BodyTrac Glider 1050 in our Springfield, Missouri, equipment testing facility.
Here's what Garage Gym Reviews staff writer Caroline Lubinsky had to say: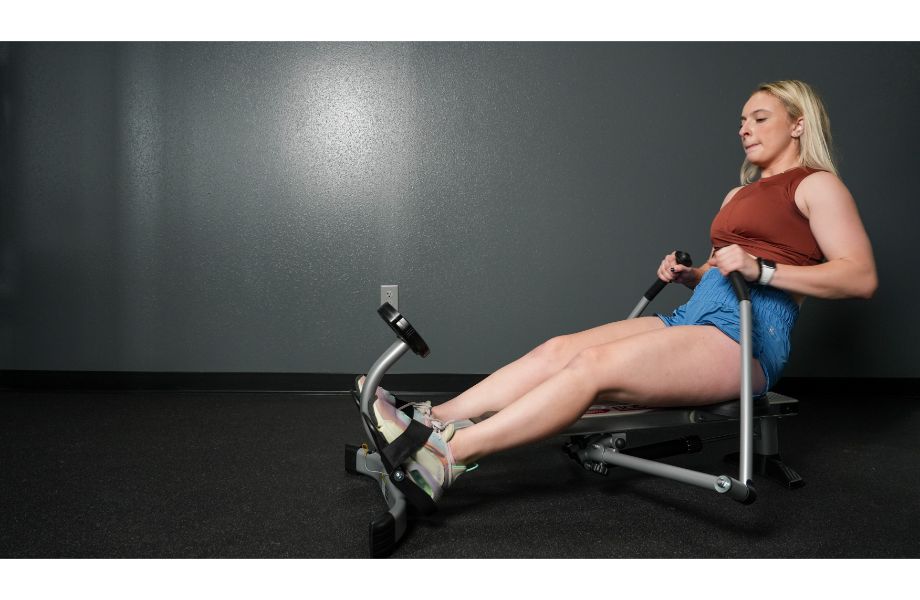 "The Stamina BodyTrac Glider 1050 is an interesting machine. The footprint is comically small, and the foot pedals are some of the most janky I've ever tried. They flop around like a fish out of water when you try to put your feet on them to use the machine. However, I actually liked the rowing motion the 1050 provided, because it emulated rowing on water. Unfortunately, since the slide rail is so short, I wasn't able to get a full leg extension, which was disappointing."
GGR editor Nicole Davis agrees that the hydraulic piston mechanism better mimics rowing on a boat, which is typically unique to water rowing machines.
However, according to Nicole, there's no easy way to change the manually adjustable resistance: Since the piston is basically underneath the seat, you may find yourself stopping in the middle of your workout to change the resistance.
Also, the highest resistance setting wasn't challenging for Nicole, and she believes more conditioned people will find it even easier. The takeaway here is that the Stamina Body Trac Glider may be a decent option for beginners, but we wouldn't recommend it for experienced fitness enthusiasts.
RELATED: How to Use a Rowing Machine
The Ergonomics
Overall, this is not a machine for taller or bigger-bodied people. This is for two reasons: The foot cradles are crazy small, and the slide rail is rather short.
GGR editor Nicole wears a women's size 7.5 shoe, and the footplates were fine for her. However, Caroline, who wears a women's size 9 shoe, did not find the foot rests adequate in size. Her feet were hanging off of the top of the foot rests, and she constantly had to adjust the foot straps, making for a frustrating workout experience.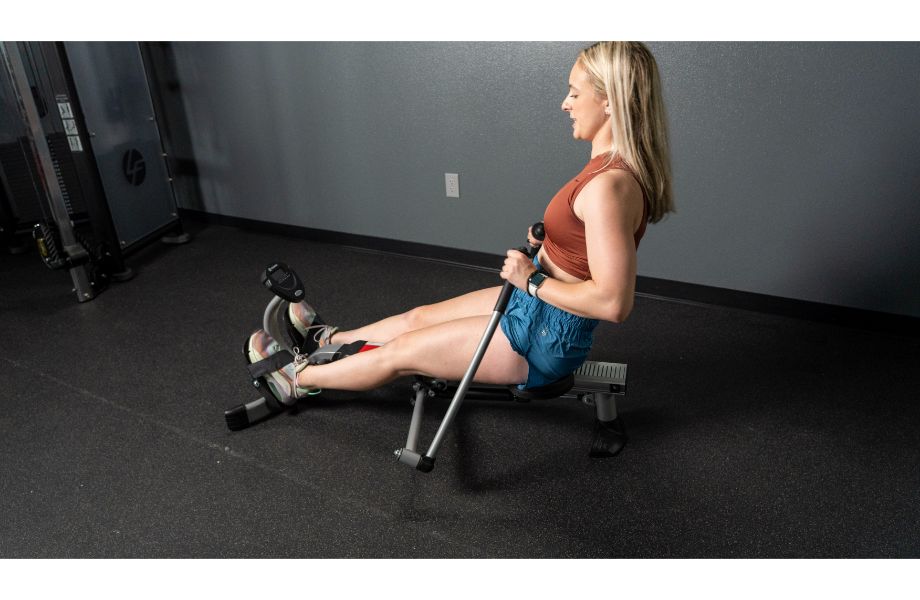 The monorail that supports the seat is only about 3 feet in length, meaning if you're taller than 5 feet, 8 inches or have an inseam longer than about 28 inches, you may not be able to achieve full range of motion, specifically hip extension, (which is crucial to good rowing technique) on this machine.
On the upside, the molded seat is comfortable, as are the foam hand grips. The rowing arms are easy to grab, although people with longer arms may not ever reach full elbow extension.
Related: Rowing Machine vs Elliptical: Which Is Better?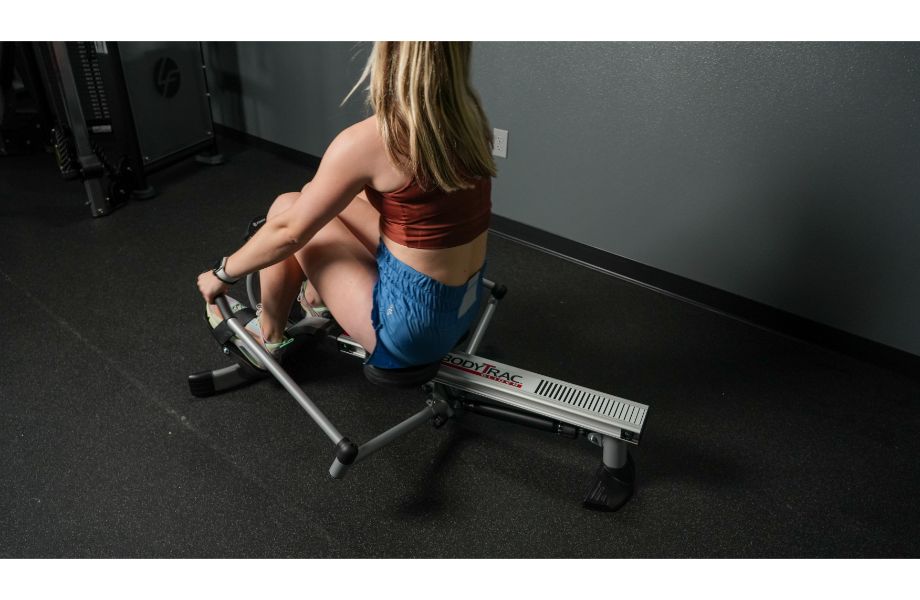 Footprint and Portability
If the Stamina BodyTrac Glider shines anywhere, it's footprint and portability. The machine is extremely compact and foldable, plus "easy to hop on and go," as Nicole noted after testing it.
It's only about 58 inches long during use, and it folds up to be even smaller for storage. When folded, the BodyTrac Glider measures just 42.25 inches in height and less than 20 inches in width. If you're working with a very tight space, this rowing machine could be a good option for you.
While the BodyTrac Glider doesn't have any transport wheels, it weighs just 38 pounds, so it's easy for one person to move. Even someone new to fitness should be able to pick it up, or at least drag it, considering it weighs the same as a small child.
Durability and Construction
Neither of our product testers were impressed with the durability of the Stamina Body Trac Glider. The velcro straps on the footplates are very thin, Nicole noted, and it "feels cheaply made overall with questionable welding [and] quite a bit of plastic."
Specifically, there are plastic bushings that connect the main frame to the pivot point that seem suspect, Nicole says. Some customer reviews do mention that these bushings have failed.
The aluminum center beam on the slide rail seems durable enough, but it only supports 250 pounds, which isn't up to par with the 300-pound standard that's generally considered the minimum acceptable for rowing machines. Steel frames are generally more durable.
This rower also features a ball-bearing roller system, which is good for a smooth ride, but will require maintenance (like oiling) over time.
Tech Specs
Don't expect any sweet high-tech features from the Stamina BodyTrac Glider. It's as bare-bones as they come, with a simple LCD monitor that only tracks workout time, stroke count, calories burned, and total strokes accumulated.
This is to say: The BodyTrac Glider is not a good choice for people who are serious about rowing for exercise and want to know stats like 500-meter split time and strokes per minute.
One tech-y feature worth calling out is that this product is supported by müüv, a smart audio coaching app. The app provides a follow-along assembly video, personalized workouts tailored to the equipment you own, and a music listening experience from iHeartRadio. Nicole notes that there is no phone holder, though, so this will be hard to utilize effectively.
Stamina Rowing Machine Comparisons
Stamina makes many, many rowing machines, most of which are in the budget-friendly realm. This chart provides a comparison between several Stamina hydraulic rowing machines. (If you're interested in Stamina air rowing machines, check out our Stamina ATS 35-1403 air rower review, which includes a chart comparing many other Stamina products.)
| | | | | |
| --- | --- | --- | --- | --- |
| Model: | Stamina Body Trac Glider 1050 (in this review) | Stamina BodyTrac Glider 1060 | Stamina EasyRow Hydraulic Rower | Stamina InMotion Rower |
| Resistance System: | Hydraulic | Hydraulic | Hydraulic | Hydraulic |
| Price (at the time of writing): | $169 | $190 | $210 | $160 |
| Footprint: | 58.25" L x 18.13" W x 42.5" H | 49.25" L x 36" W x 20" H | 70" L x 23.25" W x 43" H | 56.5" L x 23.5" W x 19" H |
| Product Weight: | 38 lbs | 37 lbs | 56 lbs | 27 lbs |
| Warranty: | 1-year frame, 90-day parts | 1-year frame, 90-day parts | 3-year frame, 90-day parts | 1-year frame, 90-day parts |
| Weight Capacity: | 250 lbs | 250 lbs | 300 lbs | 250 lbs |
Related: Air vs. Magnetic Rowing Machines
Customer Experience
Your customer experience will vary depending on where you buy your rowing machine. If you buy it on Amazon, which we recommend, you're eligible for Stamina's one-year warranty on the frame and 90-day parts warranty. Buying on Amazon also means your purchase can be returned for free. Amazon also offers various financing options and purchase protection, plus the option for expert assembly for an additional fee.
Ordering and Assembling the Stamina BodyTrac Glider 1050
Although Amazon offers expert assembly, you probably won't need it. The Stamina BodyTrac Glider is a small, lightweight machine that takes just about a half-hour to assemble with one person. Having a second person could be helpful if you are unfamiliar with assembling fitness equipment. But, according to our GGR Operations Manager Sam Presley, this rowing machine has a simple bolt-together design.
Customer Reviews
Although our team of product testers wasn't impressed with the Stamina BodyTrac Glider 1050, it seems that most buyers are. This rowing machine has overwhelmingly positive reviews on Amazon and, at the time of writing, has an average rating of 4.3 out of 5 stars with more than 5,000 reviews.
Customers praise the machine for its budget-friendly price and ease of use. Critical reviews mention that the pistons lose resistance after about 10 minutes of rowing, and that maintenance is a pain. Overall, it seems that most buyers are enjoying their Stamina BodyTrac Glider 1050, and some think it could have minor improvements.
Final Verdict of Our Stamina BodyTrac Glider 1050 Review
In the words of our product tester and GGR editor Nicole, "For $160, you get what you pay for."
"Despite the seemingly subpar specs," she continues, "it has overwhelmingly good reviews. And a good portion of reviewers did say their rower lasted for years, so there's that."
Still, she noticed that a lot of people modify their machine in some way, such as elongating the foot cradles and replacing the straps, to make it more user-friendly.
Full Rating
Stamina BodyTrac Glider 1050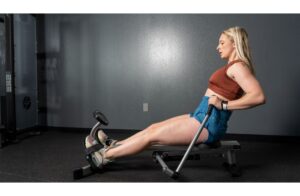 In our Stamina BodyTrac Glider 1050 review, find out if this hydraulic rowing machine is worth buying.
Product Brand: Stamina BodyTrac
Product Currency: USD
Product Price: 169.00
Product In-Stock: InStock
Stamina Rowing Machine FAQs
Commonly asked questions about the Stamina rowing machines are:
Is a rowing machine a good total body workout?
Yes, rowing machines provide a great low-impact workout that can improve cardiovascular health and muscular endurance. Rowing works all of your muscle groups and gets your heart rate up. Check out our guide to beginner and advanced rowing machine workouts.
What does the BodyTrac Glider do?
The Stamina BodyTrac Glider is a hydraulic rowing machine. It provides a full-body workout just like other rowing machines do. This particular home rowing machine has 8 levels of resistance to help beginner rowers meet their fitness goals. 
Related: Rowing Machine Benefits
What is a hydraulic rowing machine?
A hydraulic rowing machine is a type of rower that, well, uses hydraulic resistance. It uses pistons or hydraulic cylinders to create that resistance. The exerciser pulls on the arms of the machine and slides on the seat monorail to complete a rowing stroke.