We test and review fitness products based on an independent, multi-point methodology. If you use our links to purchase something, we may earn a commission. Read our disclosures.
Remember the old adage your mom probably said to you a billion and a half times growing up? Something like "If you don't have anything nice to say, don't say anything at all" ringing a bell? In my case, if I don't have something nice to say about a piece of fitness equipment, I'm still going to say it, because any potential customer and reader deserves to know what I actually think.
In this Stamina ATS 35-1403 Air Rower review, I'm going to lay it all out on the line for you––the decent, the bad, and the really bad about this budget machine. Plus, I'll tell you the different kinds of things you need to look for in your next rower.
Sub-Par Rower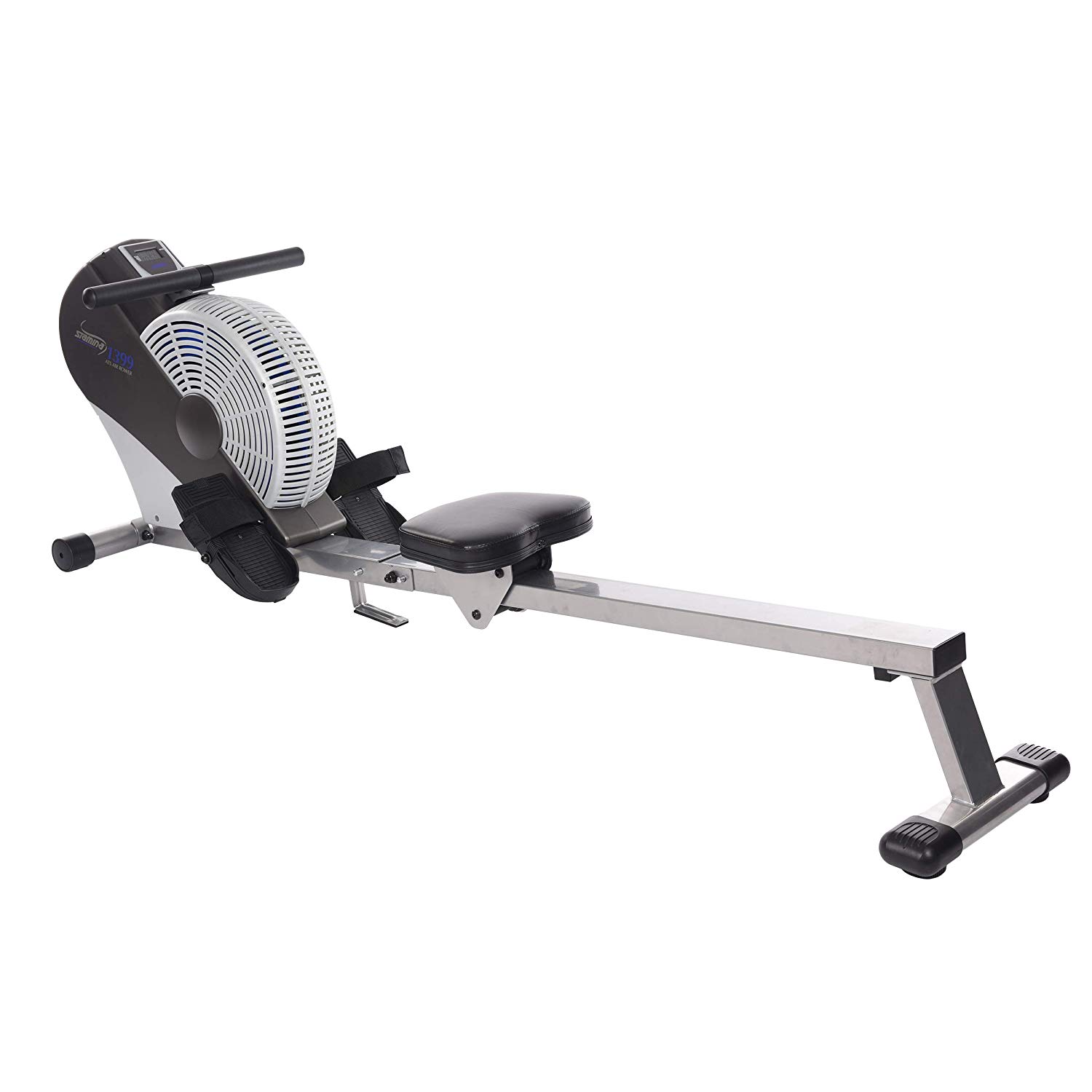 Stamina ATS Air Rower
Providing all the basics you need in a rower at a wallet-friendly price, the Stamina ATS Rower may be a good choice for the casual rower.  The ATS features wind resistance, an oversized seat rail, padded upholstered seat, small LCD display with live fitness feedback, and a smooth glide. The harder you work, the more resistance you will feel. The ATS also uses a strap and return spring rather than a chain for the rowing mechanism. The intent is to decrease noise but some felt the pull feels inconsistent. The ATS is equipped with an oversized seat rail designed to accommodate taller users. However, seat stoppers may limit the range of motion for these rowers. Constructed from carbon steel, the ATS supports weights up to 250 pounds which is a bit lower than industry standard but not surprising for the price. Several reviewers found fault in the design of the footplates which have a more aggressive angle. This forces the knees to protrude too far forward which leads to improper form and stress on the knees. A 3-year warranty covers the frame and only a 90-day warranty on parts. Issues have been reported with the return spring strap breaking so be sure to assess its quality within the 90-day window.Still, the ATS is a value purchase that can be folded and stored out of the way when not in use. It may be a good option for casual rowers or those that live in smaller spaces.
Making Honest Calls Since 2014
Garage Gym Reviews was started in 2014 as a way to help improve the quality of fitness equipment that is put out for consumers. We only recommend the best options on the market, and our team of product testers and fitness experts will give you nothing but our honest opinion on each product.
A Quick Look At The Stamina Air Rower
Stamina is a brand that sells a wide variety of inexpensive fitness paraphernalia including rowers, exercise bikes, pilates reformers, strength equipment, and compact striders. Of the 26 different rowing machines they currently boast on their site, there are a handful of air rowers.
These air rowing machines offered by Stamina are constantly going in and out of stock, with supposedly different models having almost identical specs. Consider me confused. However, when I speak about our testing experience in this Stamina rowing machine review, I'm referring to the Stamina 35-1403 ATS Air Rower Rowing Machine. But know that a few of the air rowers are super similar (as proven by the spec chart below).
My Tips
2AA batteries are needed to operate the display.
Register your Stamina rowing machine here in order to cash in on the warranty.
Pros:
Decently padded seat
Inexpensive
Compact footprint
Textured footplates for grip
Simple to build
Foldable
Cons:
Many plastic components
Shakes while in use
No defined resistance levels
Short seat rail
No tech whatsoever
Subpar warranty
Is The Stamina ATS Air Rower Worth The Money?
The Stamina ATS 35-1403 Air Rower is an inexpensive cardio machine that might be a good option for you. However, it is not something I'd recommend for most people. Check out who I think might appreciate it and who should leave this rower behind:
Great for:
Short people
Compact spaces
A budget option
Not Recommended for:
Anyone taller than 5' 6"
People who want any tech features
Durability
People who want a magnetic rower or enjoy water rowing
Comparing Various Stamina Air Rowing Machine Models
To really shed light on how similar a few of the Stamina Air Rowing Machines are, I've decided to create a spec chart comparing the details. Take a look for yourself:
| | | | | |
| --- | --- | --- | --- | --- |
| Model: | Stamina Air Rower 1399 | Stamina 35-1403 Air Rower | Stamina Elite ATS Air Rower 1405 | Stamina | X Air Rower |
| Resistance System: | Air resistance | Air resistance | Air resistance | Air resistance |
| Price (at the time of writing): | $315 | $299 | $325 | $360 |
| Footprint: | 77 x 18 x 28 inches | 77 x 18 x 22 inches | 78.5 x 19.75 x 31.5 inches | 78.5 x 18 x 29 inches |
| Product Weight: | 54 lbs | 54 lbs | 63 lbs | 63 lbs |
| Warranty: | 3 years frame/90 days parts | 3 years frame/90 days parts | 3 years frame/90 days parts | 3 years frame/90 days parts |
| Weight Capacity: | 250 lbs | 250 lbs | 250 lbs | 250 lbs |
| Floor Protectors: | Yes | Yes | No | No |
As you can see by this chart, some of the rowing machines from Stamina are almost duplicates of each other, sans a few inches here and there on the footprint. This reminds me of Sunny Health and Fitness, which seems to do similar things with their rowing machines and treadmills.
However, I'm actually a big fan of the Sunny Health and Fitness SF-RW5801 Rowing Machine, which is even cheaper than the 35-1403 Air Rower. If you're looking for a budget rowing machine that I stand behind, I'd suggest checking it out.
Stamina 35-1403 Rowing Machine: What an Air-Head!
For context, when looking at indoor rowing machines, you'll generally come across four different types of resistance: magnetic, hydraulic, water, and air. In the case of the Stamina 35-1403 Rower, it works on wind resistance, which means the harder the user rows, the more difficult the resistance should be. Key word here is should. Now before anyone thinks I'm an air resistance hater, I'm not. The Concept2 RowErg (also known as the Concept2 Model D) has air resistance, too, and my HIIT-loving self bows down to the G.O.A.T of rowers.
The Stamina 35-1403 doesn't have the feeling of resistance levels, even if you're rowing harder. Expert product tester Amanda Capritto has rowed many hours, and is no stranger to an air resistance rower. She was really disappointed with the resistance and the flywheel as a whole on the 35-1403.
The Ergonomics
Besides the well-cushioned seat, this rowing machine just isn't doing it for Amanda and I. At 5 feet, 6 inches tall, Amanda is a good 3 to 4 inches shorter than me, yet still found the machine to be uncomfortably short.
If you're my height of 5 feet, 9 inches or taller, forget about it––you certainly won't be getting a full range of motion on this machine. If you're a much shorter person, this might be great for you if you often find the rails of typical rowers are too long for you.
Amanda also found that the seat rail has an "intense decline angle to it," which puts your legs and hips in a different position than what they are on the best rowing machines.
Müüv App
Stamina has a (currently) free "smart audio coaching" app called Müüv. This app is available for download on both Google Play and the Apple App store, which means it will work on pretty much any smart device.
I must say, although this app is compatible with most of the Stamina products, it wouldn't work the best with the 35-1403 rower. There is no device holder for this machine, which would make it difficult to use or watch your phone or tablet while rowing. I guess you could technically keep your phone in your pocket, but it likely wouldn't be very comfortable during a typical rowing stroke.
Since there isn't Bluetooth connectivity on this rower either, you won't have any integrated stats to view, just the small LCD screen connected to the 35-1403.
Durability and Construction
The durability (and construction) of the 35-1403 definitely leaves something to be desired. Sure, the frame is made of mostly steel, but the rest has a ton of plastic. According to fellow expert product tester and GGR writer Amanda Capritto, she feels similarly.
"To be frank, anyone could look at this rower and see that it has less than average durability," Capritto explains. "The seat cover is made of thin nylon and there are many plastic components, including the flywheel housing."
Even though this Stamina rower claims it can handle a maximum user weight of 250 pounds, I highly doubt it. Amanda says she felt extremely unstable on the workout machine, even though she isn't close to the weight limit.
Plus, since the machine is held together by bolts, there are more chances for this rower to fall apart. I think this is likely why the parts warranty is so short (90 days)––Stamina knows it won't stand the test of time, even with just home use.
Footprint and Portability
One of the best things about the 35-1403 is its small dimensions and foldability. At under 60 pounds, this machine weighs as much as your black lab or golden retriever does, making it pretty simple to pick up. Also an added bonus––this machine will not squirm to get down like your dog probably would.
Although Stamina does include two transport wheels to make moving the machine easier, I found that it did not, in fact, make it any easier. The rower has to be in the perfect position for them to assist in any capacity, so it can be tough to move the machine this way.
Footprint-wise, this machine is small. At just 77 inches by 18 inches by 22 inches unfolded, you won't have many issues fitting this inside your spare bedroom or home gym. Plus, you have the added bonus of being able to fold the 35-1403 for easy storage under your bed or in a closet.
Technology
The technology on this machine is close to non-existent. Seriously, the only thing you'll find on this machine that has any technological capabilities is the tiny LCD monitor, and that's being generous. You definitely won't find a touchscreen or Bluetooth connectivity on the 35-1403.
On the screen, if you can even call it that, you'll be able to view stats like speed, distance, time, and calories burned. Plus, get ready to be wowed by the single button that will allow you to change modes (yes, that was heavy sarcasm).
Just so we're clear, the mode button doesn't give you access to a preset program or anything like that. Instead, you have to use this button to view the various metrics I mentioned in increments of two. You can't even see all the stats at once… (brb, smacking my head).
Customer Experience
I'll be honest: I'm extremely underwhelmed by the warranty provided by Stamina on this machine (and frankly, all their other air rowers as well). With the purchase of the 35-1403, you get a three-year warranty on the frame and only 90 days for parts. For context, the industry standard is around 10 years on the frame, two years on parts, and one year on labor.
I did not feel confident about the durability of the parts, and clearly Stamina isn't either since the warranty is only 90 days. What the heck?!
It is worth noting that you'll need to register your machine on the Stamina website in order to ever be able to use the warranty. Even if you purchase this machine on Amazon (which, if you're planning to purchase, it is cheaper there), you can still register this machine on the brand's website.
If you want to return the 35-1403, Amazon has their standard returns process in place. To get the process started, click the 'Returns and Orders' tab in the top right hand corner of your screen. You have 30 days to return your rower for a refund if you aren't satisfied, provided the machine is in new condition.
Ordering and Assembling the Stamina ATS Air Rower
Ordering the Stamina ATS Air Rower is as simple as ordering laundry detergent from Amazon. Simply add it to your cart, and you'll get automatic free shipping (even if you're not a Prime member). I didn't see any options to get the machine professionally assembled, but you honestly don't need it, as this is easy to build.
Garage Gym Review's Operations Manager and expert assembler Sam "asSAMbly" Presley was the lucky individual who got to put the Stamina ATS Air Rower together. Here are his thoughts on the process:
"The Stamina Rower was pretty easy to build," Sam says. "It comes packed in a fairly small box, making it easy to move to the room you want to build it in. I believe it had about six screws and several pins to hold it all together. Overall, it was pretty easy to build and took me under 30 minutes to complete."
I do like that Amazon offers financing for this rowing machine. You can pay as little as $25 per month (interest free) if you qualify for the Amazon Rewards Visa Card.
Customer Reviews
With over 2,000 reviews on Amazon, the Stamina ATS Air Rower receives a 4.1 out of 5 possible stars. This is honestly a lot higher than I expected, but the people have spoken I suppose. Satisfied customers liked the compact footprint and easy assembly process.
Less-thrilled patrons reported that the rower has a stunted range of motion, weak parts, and a bad warranty. Essentially, those who loved this machine really loved it, and those who hated it really wanted a refund. If this doesn't tell you almost every piece of fitness equipment has an ideal buyer, nothing will. We all have different wants, needs, fitness levels, and body types, so nothing will work the exact same way for everyone.
Final Verdict of Our Stamina ATS 35-1403 Air Rower Review
Let me be honest with you: Amanda and I would not recommend the Stamina Air Rower 35-1403. We understand that it is inexpensive and compact, and if you want the machine for that, go ahead—we won't stop you. However, with the shortness of the rail, the shakiness, and the concerns with durability, we think you can do better, even in the $300 price range.
If you're looking for a budget rowing machine that we would recommend, check out the Sunny Health and Fitness SF-RW5801 Rowing Machine or any others on our guide to the best budget rowing machines.
Stamina Air Rower Rowing Machine Rating
Stamina ATS 35-1403 Air Rower
The Stamina ATS 35-1403 is a budget-friendly, compact rower with a simple build.
Product Brand: Stamina
Product Currency: $
Product Price: 299
Product In-Stock: InStock
Stamina Rowing Machine FAQs
Is Stamina a good brand for rowing machines?
Personally, I prefer other brands who make budget home rowing machines, such as Sunny Health and Fitness. Stamina Products Inc. doesn't make horrible rowing machines, but I've definitely tried better, even for the price.
How long should you row on a rowing machine?
"The ideal duration of a rowing machine workout depends on what type of workout you're doing," certified personal trainer Amanda Capritto explains. "A high-intensity interval workout, for example, shouldn't be longer than 20 minutes. If you're doing a steady-state, moderately paced workout, anywhere from 30 to 60 minutes will help you meet the federal physical activity guidelines."
Is rowing better than running?
"At the end of the day, running and rowing are both great cardio exercises but rowing has a few advantages. For one, you're using your upper- and lower-body muscles on a rower, whereas only your lower body gets worked during running. Rowing is also easier on your joints since it is low-impact," certified personal trainer Anthony O'Reilly adds.
Can you get a full-body workout with a rower or is it just a cardiovascular workout?
You can get both a full-body workout and get your heart rate up with a rowing machine. However, I recommend also incorporating strength training into your workout routine to help with bone density. Disclaimer: Please contact your doctor or a licensed medical professional for additional questions specific to you about exercise.
Does the Stamina 35-1403 rowing machine have a heart rate monitor?
No, this rowing machine does not have a heart rate monitor of any kind. The only kind of monitor present on this machine is the performance monitor, where you can monitor various metrics like time elapsed and calories burned.