We test and review fitness products based on an independent, multi-point methodology. If you use our links to purchase something, we may earn a commission. Read our disclosures.
Indoor rowing machines provide everyone from beginners to fitness veterans a fantastic way to get in a full-body workout. While many people are familiar with expensive models like the Ergatta or Hydrow, there are plenty of affordable rowing machines out there for budget-minded people. In our guide to the best budget rowing machines, we highlight the best inexpensive home rowing machines with different types of resistance.
More Than 10 Years Of Rowing Experience
I alone have been exercising on indoor rowers since I began doing CrossFit in 2012. Others on our team of product testers, including multiple certified CrossFit coaches and personal trainers, have also been using various rowers for years. On top of that, we have more than a dozen rowing machines in our equipment testing facility.
Best Budget Rowing Machines in 2023
Best Budget Rowing Machine Overall: Proform 750R Rower
Good for: People who want a smart rowing machine for under $1,000
For a mid-tier smart rowing option, take a look at the ProForm 750R Rower, which packs a ton of tech features into an under-$1,000 price tag.
The 750R doesn't have a touchscreen display, but it is Bluetooth compatible, so you can connect your own tablet to stream workouts. ProForm rowing machines work with iFIT, a leading workout programming app that offers hundreds of rowing workouts alone, not to mention strength training, yoga, and other types of exercise.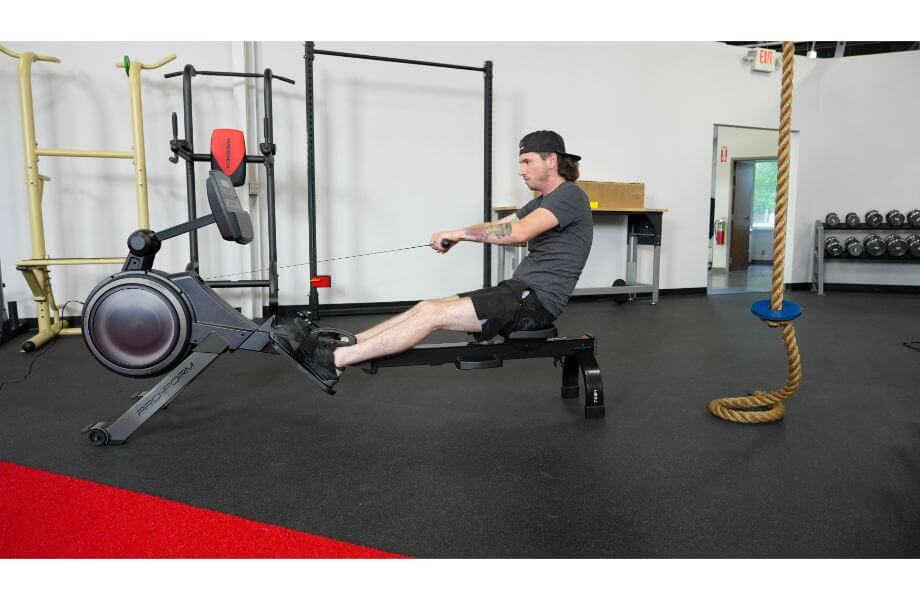 Not only does this Bluetooth-enabled rowing machine support iFIT programming, but it also features AutoAdjust, which allows your iFIT trainers to automatically and remotely change the resistance on your rowing machine during a workout. This means you don't have to lean forward during a rowing stroke and can focus on the workout.
The 750R is just over 86 inches in length, but it has a space-saving design that folds up for storage when you're not using it. The one thing I truly don't like about this piece of gym equipment is the pivoting foot pedals. I prefer fixed pedals, but people with limited ankle mobility may appreciate this feature. All things considered, this is a solid, budget-friendly smart rower option.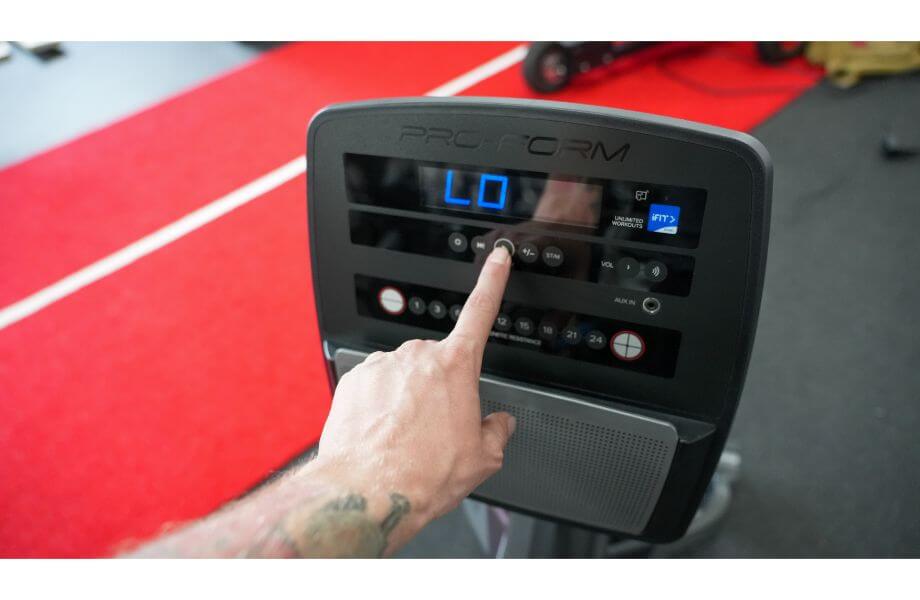 Check out our full and in-depth Proform 750R Rower review here.
| | |
| --- | --- |
| Price | About $700 |
| Product Weight | 116 lbs |
| Dimensions | 86.5" L x 22" W x 45.5" H |
| Weight Capacity | 250 lbs |
| Resistance Type | Magnetic |
| Programming | iFIT |
| Monitor | 5" LCD screen + device holder |
Best Magnetic Budget Rowing Machine: Sunny Health & Fitness Folding Magnetic Rower RW5801
Good for: Home gym owners who want a basic magnetic rowing machine they can fit in small spaces
Looking for an entry-level rowing machine to find out if you enjoy rowing for exercise? I recommend the Sunny Health and Fitness SF-RW5801, which I tested at our Springfield, Missouri, testing center. I tested several magnetic rowing machines under $500 in comparison to this Sunny Health & Fitness one, and found this to be the best option for the price.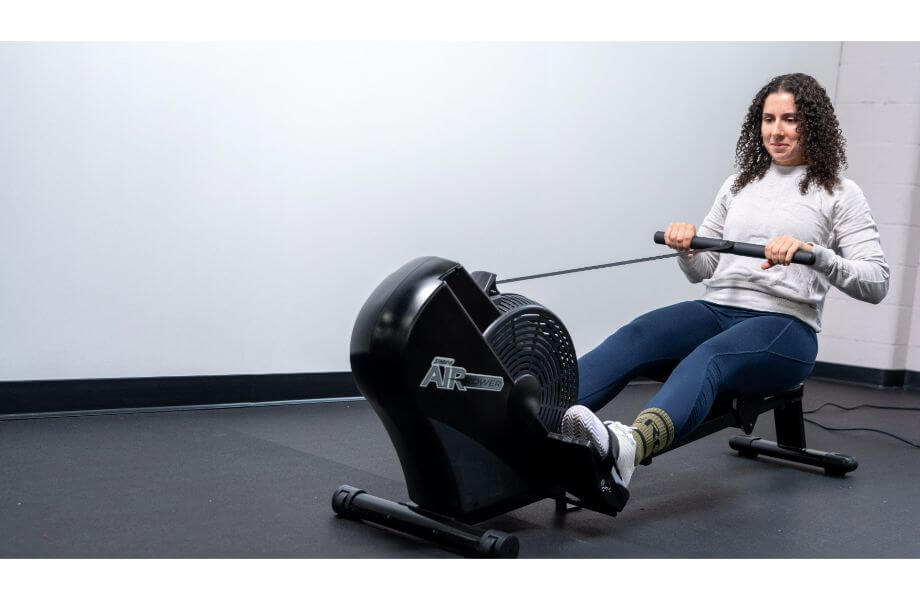 This came as no surprise to me, since Sunny Health & Fitness is known for making good budget-friendly fitness equipment. (Our team of product testers loves many of their treadmills and elliptical machines.)
This rower, though small, is pretty mighty. It features 16 levels of magnetic resistance, and at the higher end, I felt I could get a decent workout despite having pretty good rowing endurance and stamina. For someone who's just starting out, the resistance on the RW-5801 rower is more than enough.
Though the wide padded seat and angled handles make this rowing machine comfortable enough for long workouts, I do want to point out that the slide rail is a mere 43 inches. This might be a problem for taller people. For reference, a slide rail between 50 and 56 inches is considered full-sized, and that's what you'll find on the Concept2 rower (54 inches to be exact). Some high-end smart rowers have even longer slide rails.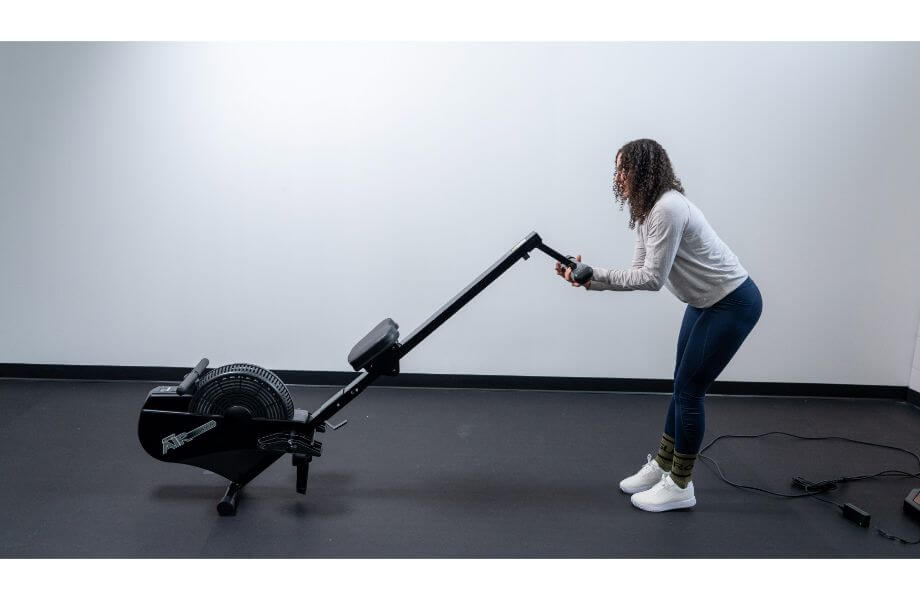 For the size and price of this rowing machine, I'm impressed with the 285-pound weight capacity. And although it doesn't have pre-programmed workouts, it sports a handy device holder so you can stream your favorite fitness apps or YouTube workouts.
| | |
| --- | --- |
| Price | About $200 |
| Product Weight | 50 lbs |
| Dimensions | 77" L x 23" W x 22.5" H |
| Weight Capacity | 285 lbs |
| Resistance Type | Magnetic |
| Programming | None built-in |
| Monitor | LCD screen + device holder |
Check out my full Sunny Health And Fitness SF-RW5801 Rowing Machine review.
Best Smart Budget Rowing Machine: NordicTrack RW600 Rowing Machine
Good for: Trainees who want a smart rowing machine with more tech capabilities, but don't have $1,500 or more to invest
Most smart rowing machines cost upward of $2,000 (see Hydrow, Ergatta, and Aviron). But the NordicTrack RW600 Rower sits at a palatable price point of about $1,000, yet retains most of the features people are looking for in a smart rower. Those features are: Bluetooth connectivity, digital resistance, scenic waterway rowing workouts, live classes and on-demand workouts, and it comes with one of the best rowing apps with cross-training workout options. 
Surprisingly, for the price, this rower even includes and integrated touchscreen display, which is tough to find for a thousand bucks. Though the screen is on the small side, it still boasts beautiful HD graphics.
Smart features aside, the NordicTrack RW600 has a solid build—the hardware is good. It has a similar frame to the NordicTrack RW900, which our product testers completed many workouts on. The slide rail features a slight angle to support good rowing technique, and it's constructed primarily of aluminum and steel with some plastic parts.
So, while this rowing machine may not fit your traditional idea of budget-friendly, it is certainly affordable compared to other smart rowing machines on the market.
Read our full NordicTrack RW600 rower review.
| | |
| --- | --- |
| Price | About $1,000 |
| Product Weight | 117 lbs |
| Dimensions | 87″ L x 22″ W x 47″ H |
| Weight Capacity | 250 lbs |
| Resistance Type | Dual air and magnetic |
| Programming | iFIT |
| Monitor | 10″ touchscreen |
Best Air Rowing Machine Under $1,000: Fitness Reality Air & Magnetic Rowing Machine
Good for: People who have Amazon Prime and want something similar to a Concept2 RowErg for about half of the price
If you're itching for a Concept2 RowErg (our all-time favorite rower that's consistently topped our guide to the best rowing machines through several updates) but don't want to fork out a grand for one, check out the Fitness Reality Air & Magnetic Rowing Machine. With an Amazon Prime account, this rower costs less than $250—a steal.
There's a catch, though: That price is an "only-sometimes" thing, so you'll have to monitor the page or set up deal alerts.
Coop tested a super similar rower, the Murtisol Air Resistance Rowing Machine, and found, overall, that it didn't seem as durable but performed well during various types of rowing machine workouts and felt a lot like the Concept2 rower. He expects, however, that buyers would spend more on maintenance or even have to get a whole new rower after a few years.
Before diving into the specs of this air rower, I want to come right out and say I'd encourage everyone to save up for a Concept2 RowErg instead of handing over nearly $250 for this one.
But if you want an air rowing machine right now and you don't have $1,000, this is a solid choice.
The Fitness Reality Air & Magnetic Rowing Machine and Concept2 RowErg have an extremely similar build and share many of the same specs.
The Fitness Reality also has a few built-in workouts, although I couldn't gather from the product listing or other reviews of this machine what exactly those rowing sessions entail. If it's like the Concept2 RowErg, I imagine they include basic interval training and distance-for-time workouts.
| | |
| --- | --- |
| Price | About $225 (with Amazon Prime, when on sale) |
| Product Weight | About 44.2 lbs (in box) |
| Dimensions | 23″D x 70″W x 26″H |
| Weight Capacity | 300 lbs |
| Resistance Type | Air & magnetic |
| Programming | Some preset workouts |
| Monitor | LCD screen |
Best Budget Water Rowing Machine: Sunny Health & Fitness Obsidian Surge 500
Good for: Home gym owners who want a good-looking water rower for a low price
Water rowing machines are typically large, heavy, and expensive—not the Sunny Health & Fitness Obsidian Surge 500!
Although our product testers haven't been able to work out on this rowing machine just yet, we've tested plenty of Sunny Health & Fitness rowers (and other cardio equipment), so we can confidently recommend the Obsidian Surge 500 as the best budget water rower based on our past experiences and research.
The Obsidian Surge features a large water tank with a 16-blade fan for resistance. With water rowers, your pace determines the resistance, much like on a real paddle boat—the faster you paddle, the harder it gets.
For a budget-minded product, this erg tracks many metrics, including: calories, time, distance, strokes per minute, total strokes, and 500-meter split time. However, customer reviews from experienced rowers report that the erg does not accurately track meters.
One review states that the erg only counts meters when the nylon strap is being pulled, and not while the flywheel is still spinning. The real-world equivalent of this would be assuming a canoe comes to a dead stop in between paddle strokes, which obviously isn't the case. If you're just looking for low-impact exercise and aren't worried about stats, this isn't problematic.
Worth noting: There is a smart version of this rower (model name SF-RW5713) that costs about $100 more. It's Bluetooth-enabled and connects to the SunnyFit app, which has guided workout programs. You can connect the smart version to a heart rate monitor, too.
| | |
| --- | --- |
| Price | Around $500 ($350 if you have Amazon Prime) |
| Product Weight | 92 lbs |
| Dimensions | 80" L x 22" W x 34" H |
| Weight Capacity | 300 lbs |
| Resistance Type | Water |
| Programming | 15 preset workouts |
| Monitor | LCD |
Best Value For The Money: Concept2 RowErg
Good for: Trainees who are serious about rowing and want the best bang for their buck (and a product they know will last a long time)
When it comes to rowing machines, it really does not get better than the Concept2 RowErg (also known as the Concept2 Model D Rower). This isn't just the best rowing machine our product testers have ever tried—it's one of the best pieces of cardio equipment in general, hands down.
When you try a Concept2 rowing erg, you'll quickly realize that Concept2 doesn't care about flashiness or high-tech specs (although the erg does look good, too). They care about making high-quality hardware with longevity. In truth: Some people in our home gym community are using Concept2 ergs from the 1990s and early 2000s. These things are built to last.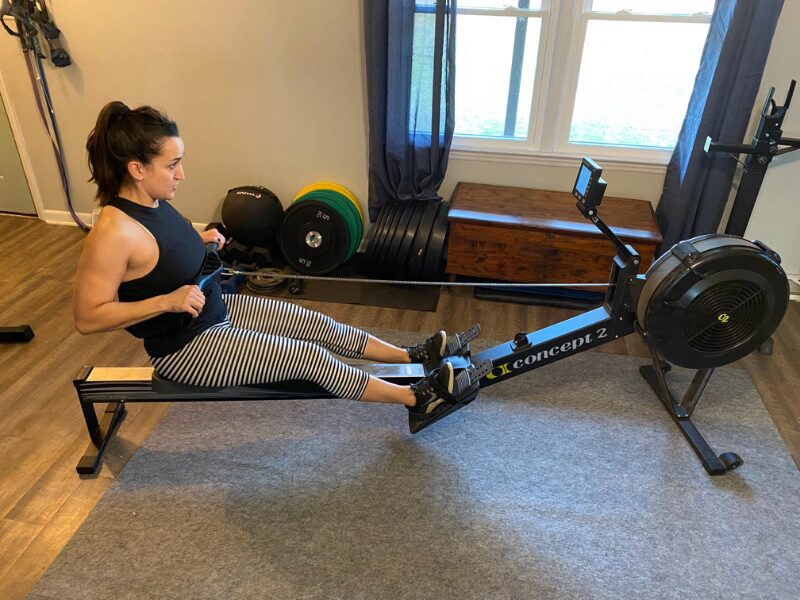 The RowErg sports a powerful wind-resistance flywheel with 10 damper settings, so resistance is virtually unlimited. The newer model features the PM5 monitor, which is Bluetooth-enabled and connects to a number of fitness apps. Even without connecting to an app, the PM5 tracks meters rowed, calories, time elapsed, 500-meter split time, intervals, and watts. The PM5 also has five basic built-in workouts you can choose from.
Concept2 RowErgs are known for providing great workouts. I, and many others on our team of product testers, can vouch for this after years of using RowErgs for CrossFit workouts and general conditioning.
I don't have anything bad to say about this rowing machine, but if I had one callout, it'd be that it has quite a large footprint. With a length of 96 inches, it takes up a good bit of floor space, and it doesn't fold. However, it has large front-mounted transport wheels that allow you to prop it up vertically. Or, you can disassemble it into two parts.
| | |
| --- | --- |
| Price | $1,100 |
| Product Weight | About 57 lbs |
| Dimensions | 96" L x 24" H x 14" W |
| Weight Capacity | 500 lbs |
| Resistance Type | Air |
| Programming | 5 preset programs |
| Monitor | LCD display |
Other Budget Rowing Machines We Researched
Here are some other budget-friendly rowing machines that we've tried and/or researched.
Sunny Health & Fitness Rowing Machines
Sunny Health & Fitness produces an absurd number of rowing machine models. Aside from the two we included in this guide—the RW-5801 and Obsidian Surge 500—our product testers have also tried some other magnetic rowing machine models from this brand, including the SF-RW5515 and SF-RW5987.
We also did thorough research on other Sunny Health & Fitness models and ultimately decided that the RW-5801 and Obsidian Surge 500 were the best fits for our guide to the best budget rowing machines.
Sunny Health & Fitness also makes rowers with hydraulic resistance, which are typically even less expensive than rowers with magnetic, air, or water resistance, but in testing, we've found they don't provide as good of a workout.
Stamina Rowing Machines
Stamina Fitness is another brand with a ton of cardio equipment. We tried the Stamina ATS Air Rower and didn't find it to perform well enough to justify the price point of about $340. Additionally, our testers researched the Stamina Body Trac Glider, Stamina DT Rowing Machine, Stamina Wave Water Rower, and more. But, because we haven't tested them and didn't have a great experience with the ATS Air Rower, we don't recommend them.
Fitness Reality 1000 Plus Magnetic Rowing Machine
The Fitness Reality 1000 Plus is a popular budget rowing machine on Amazon. We haven't tried it, but based on the product specs and price point, it seems to be a good value.
Merax Water Rowing Machine
The Merax water rower has good reviews on Amazon (4.6 out of 5 stars at the time of writing), but our product testers haven't tried it and don't have any experience with other products from this brand, so we'll refrain from recommending it until we know more about the brand and the product.
XTERRA Fitness ERG220
A magnetic rowing machine, the XTERRA Fitness ERG220 simply doesn't match up to our pick for the best budget magnetic rowing machine. For instance, the ERG220 has just eight resistance levels, while the Sunny Health & Fitness RW-5801 has 16.
How We Chose The Best Budget Rowing Machines
Our product testing team has spent hundreds of hours on rowing machines, from the fanciest options to the downright most basic ones available. Our experience with rowing machines spans several years—collective decades—and includes many different forms of rowing workouts.
To bring you this guide to the best budget rowing machines, we ordered and tested several rowing machines that cost less than $1,000 and judged them against a set of criteria, including:
Price (obviously)
Construction
Durability
Footprint
Portability
Comfort
Ergonomics
Workout programming
Tech capabilities
Delivery and setup
Value
Customer reviews
Warranty and returns
We took detailed notes as we tested the products you see on this list and tested many of them in direct succession for head-to-head comparison.
Benefits Of Budget Rowing Machines
There is no shortage of benefits to rowing for exercise: They're a great tool to help you reach your fitness goals. Some of the benefits of rowing include: improved cardiovascular health, endurance, and musculoskeletal health. They work your lower body and upper body, and can contribute to sustainable weight loss over time if you're consistent with it. Plus, rowers are versatile, efficient, and relatively accessible to all fitness levels.
Full-Body Workout
Rowing actually recruits nearly 85% of all muscles in the body.
Value
Rowing machines typically cost less than a treadmill or a very high-quality exercise bike, and because they target so many muscles you're getting much more bang for your buck.
RELATED: Rowing for Weight Loss
How To Use A Rowing Machine
If you're going to start rowing, it's important to understand the proper technique. A rowing stroke involves four steps: legs, lean, pull, reverse. Some people call these steps the catch, drive, finish, and recovery. To learn more about how to use a rowing machine, check out our in-depth guide to rowing machine technique with a video demonstration and free sample workout.
What To Look For In A Budget Rowing Machine
Consider these factors before hitting "add to cart."
Price
I think I can safely assume that if you're reading a guide to the best budget rowing machines, you're careful with your dough and want to make sure you're getting a good value for your hard-earned dollars. Price is an obvious factor when deciding on a budget-friendly rowing machine: Set your limit first, and then set out on your search.
Construction and Durability
Just because something is comparably inexpensive doesn't mean it should crumble under pressure. Look for rowing machines with aluminum and steel construction where it matters—the slide rail and main frame—and durable plastic for other parts, like flywheel housing and caster covers. Particularly when looking at low-cost rowing machines, check the maximum user weight capacity. Often, cheaper rowers don't have a fully steel frame, which affects the weight capacity greatly.
Resistance Type
There are three main types of rowing machines: air, water, and magnetic. They're all good and provide similar workouts, but it's important to choose the best type for you. Magnetic rowers have defined resistance levels and are usually very quiet; air rowers have unlimited resistance but are louder; and water rowers also have unlimited, user-dependent resistance but require more maintenance.
Monitor and Programming
Every rowing machine should at least have a basic LCD monitor that tracks basic metrics, such as time elapsed and meters rowed. In the budget-friendly category, it's unlikely that you'll find a perfectly accurate monitor, but I want to stress that it doesn't matter if you're just looking for a machine to get some moderate exercise on.
Space and Dimensions
Measure, measure, measure! I can't stress enough the importance of checking product dimensions and accurately measuring your space before buying something. This is especially pertinent for small home gyms. Check the folded dimensions, too, if you plan on storing your rower differently when not in use.
Adjustability and Ergonomics
The slide rail length, handle angle, seat contour, foot cradle adjustments, and monitor angle all make a difference in your overall rowing workout experience. Most people will want a slide rail of at least 42 inches; taller people will want something around 50 inches or more. Foot cradles should have multiple adjustment options to accommodate different-sized feet and shoes.
Best Budget Rowing Machine FAQs
What is the best rowing machine?
After thoroughly testing more than 20 rowing machines, our product testers think the Concept2 RowErg is the best rowing machine overall. You can find our other top picks in our guide to the best rowing machine.
Which type of rowing machine is best?
Our team is a fan of air rowers, but magnetic rowers and water rowers have their benefits. The key is figuring out which characteristics of each would benefit you. Then, choose the type that best suits your needs.
How do I choose a rowing machine?
When choosing a rowing machine for your home gym, make sure to factor in things like price, construction, warranty, flywheel type, metrics, monitor, programming, space, and adjustability.
What is the best rowing machine for a beginner?
Is a budget rowing machine worth it?
Absolutely! Rowing machines target nearly every muscle in the body and provide excellent cardiovascular workouts. They're one of the most high-value exercise machines on the market.